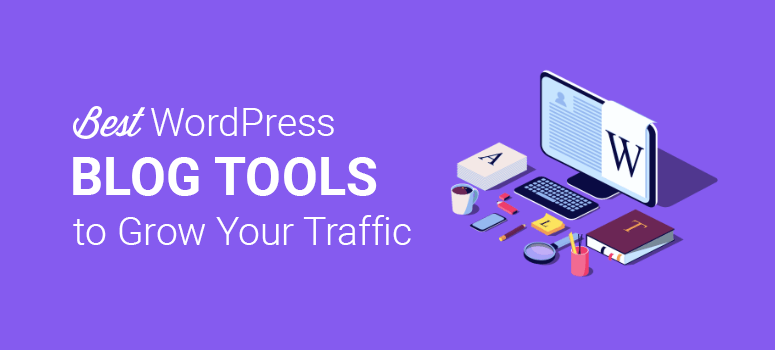 Are you looking for the best blogging tools for your WordPress site?
To run a successful blog, it's important to have the resources you need to support its growth. Otherwise, it'll be difficult to expand your brand, boost your online presence, and encourage engagement from your audience.
But what kind of blogging tools do you need? In this article, we'll compare the best so you can choose what works for you.
Before diving into the list, though, let's look at reasons why using blog tools can benefit your website or business.
Why Use Blogging Tools on Your WordPress Site?
There are several reasons why you need blogging tools on your website.
1. Boost Online Presence
Providing useful information and insight will attract readers to your website and encourage them to engage with it. If you help them solve a pain point or share your knowledge, it'll convince them to come back and continue taking action. To produce sales and collect customer information, you need to create a strong online presence that drives traffic to your website, and blogging does exactly that.
2. Save Time
Instead of performing every task manually, blogging tools and resources save you time by simplifying the blogging process. Whether it's editing content, creating graphics, or searching for relevant keywords, blogging tools take away a lot of the hassle and make it easier to manage.
3. Grow Your Audience Faster
When you use tools that support your blog's growth, you make room for visitor growth as well. And when you know who your audience is, it's easier to create relevant blog content that provides solutions. Blogging tools give your blog what it needs to cater to your readers and build a loyal following.
Now that we know the benefits of using blogging tools on your website, let's look at the top choices currently on the market.
Best WordPress Blog Tools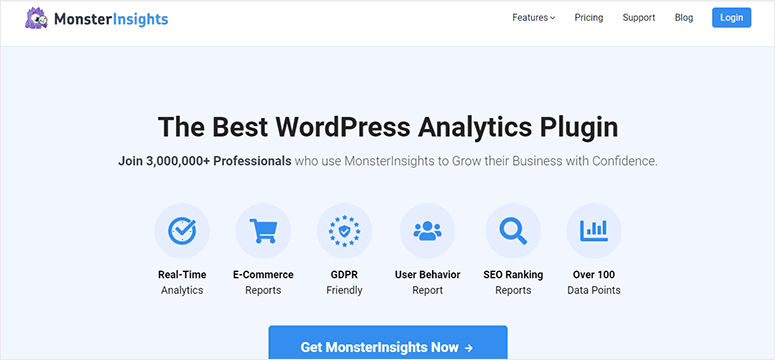 MonsterInsights is the best and most popular Google Analytics plugin for WordPress. You can access all types of information about your website and view its progress straight from your WordPress dashboard.
MonsterInsights lets you easily monitor important KPIs about your blog's performance. Its reports are simple and easy to understand, so even complete beginners will quickly know what's happening on their blogs.
This plugin also lets you create customized reports to see the specific information you're looking for. It's easy to monitor how users navigate your website, where they spend the most and least time, and see when they bounce. Analyze your traffic stats in real-time, track affiliate link clicks, receive SEO ranking reports, and more.
Get started with MonsterInsights today.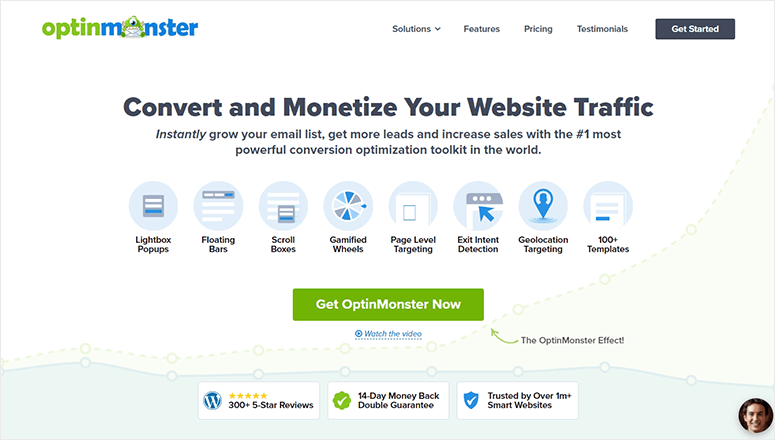 OptinMonster is the best lead generation tool for your blog and is trusted by more than 1,000,000 websites around the world.
OptinMonster's conversion optimization tools give you what you need to grow your email list and drive more traffic to your blog. You can create high-converting optin forms including exit-intent popups, floating bars, sidebar forms, lightbox popups, and more to collect your readers' information.
The plugin's behavior detection rules redirect site visitors to your blog's most popular posts to boost your page views and increase user engagement. Its A/B testing allows you to test different layouts, headlines, copy, and styles to see what brings the best results.
Get started with OptinMonster today.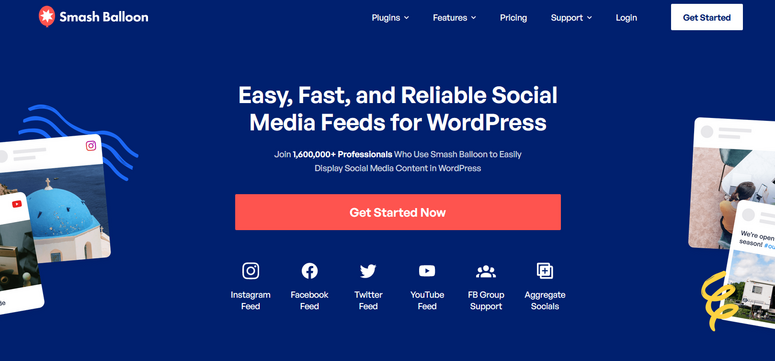 Smash Balloon is a popular social media feeds plugin for WordPress. Used by 1,600,000+ users worldwide, it gives you an easy way to share social content in your blog posts without unnecessary hassle.
Smash Balloon lets you embed social feeds into your blog posts from Twitter, Instagram, Facebook, and YouTube. You can choose from different layouts to match your branding and keep a cohesive look on your blog. It automatically adopts your theme's colors and fonts to make the process even faster.
You don't need to know any coding to use Smash Balloon since it does the hard work for you, so beginners and experts alike can easily set up and use this plugin.
You can display multiple social media feeds in WordPress including a timeline feed, photo feed, video feed, events feed, hashtag feed, and much more. This plugin is 100% responsive so your social content will look beautiful no matter what device users are on.
Get started with Smash Balloon today.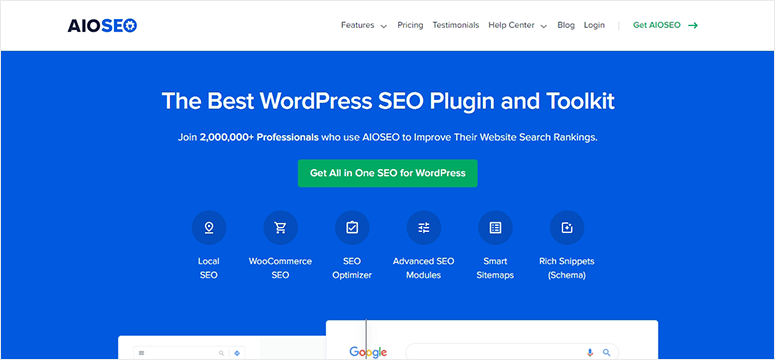 AIOSEO is the best SEO plugin for WordPress and is used by 2,000,000 website owners and bloggers looking to advance in search engine rankings. If you run a blog, it's essential to ensure it's optimized for search so your target audience can easily find and click on your content.
AIOSEO is user-friendly and has all the features needed to optimize your blog content so it's ready for the public. It comes with an SEO Audit Checklist that analyzes your entire website and detects errors so you can fix them and boost your conversions.
This plugin makes it easy to optimize every blog post and add critical information including title tags, meta descriptions, keywords, and more for adequate SEO optimization.
Get started with AIOSEO today.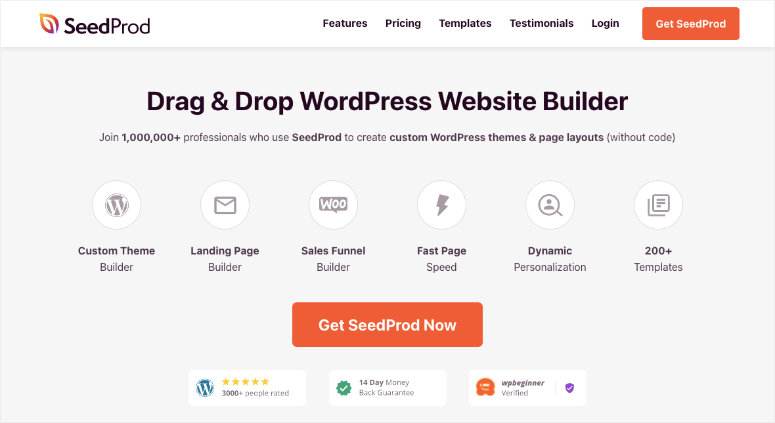 SeedProd is the best landing page builder for your WordPress website. You can easily create high-converting landing pages to build excitement around your blog and grow your email list.
SeedProd uses a drag-and-drop builder to create landing pages which makes it easy to use. Its pre-built templates are beautiful and easy to customize to your liking.
With SeedProd, you can create a countdown landing page before your blog launches, so you can still collect visitor information and use it to your advantage. It integrates with the most popular email marketing services including ConvertKit, Campaign Monitor, Constant Contact, AWeber, and more.
Get started with SeedProd today.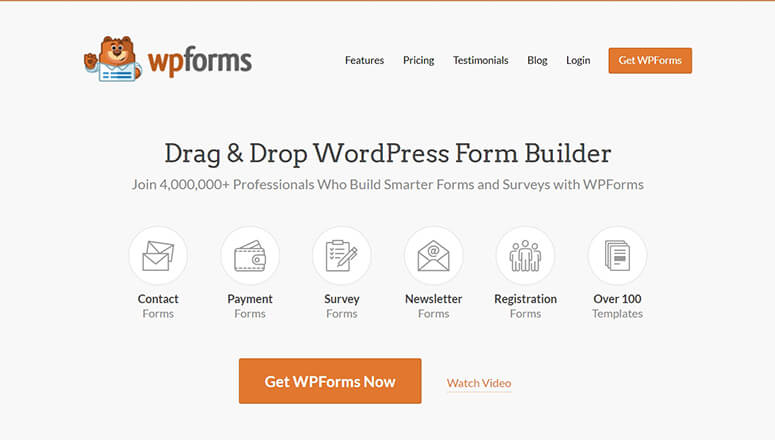 WPForms is the best contact form plugin for WordPress and will help you collect readers' information as they scroll through your blog posts.
With WPForms, you can create any form you'd like including payment forms, survey forms, newsletter forms, registration forms, and more. It comes with 100+ templates and is responsive and mobile-friendly.
It's easy to create and maintain a relationship with your blog readers using WPForms because it works to build your email list. Its smart conditional logic helps you gather user information so you can create the most relevant blog content.
Get started with WPForms today.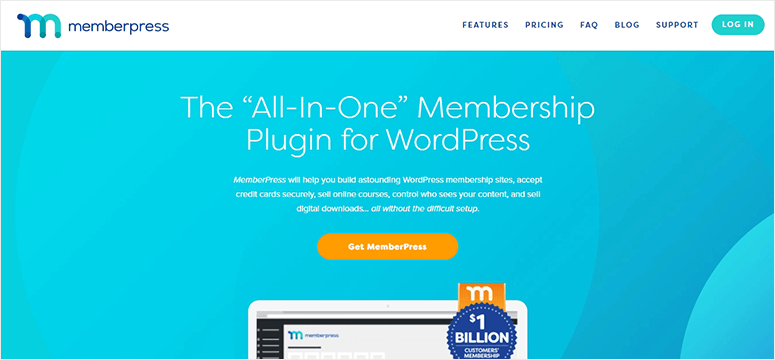 MemberPress is the best membership plugin for WordPress. It helps you build a membership site exclusive to users who register, which is great for exclusive content, selling online courses, building an exclusive blog audience, and more.
With MemberPress, you can charge your readers to gain access to specific content on your blog. It's easy to create, manage, and track membership subscriptions to continue growing your audience and making sales.
MemberPress is a simple solution and beginner-friendly. It works with any WordPress theme to ensure your site stays beautiful and holds onto its brand aesthetic.
This plugin comes with powerful access rules that give you full control over the blog content users see based on their membership. You can restrict access to posts, pages, tags, categories, and more.
Get started with MemberPress today.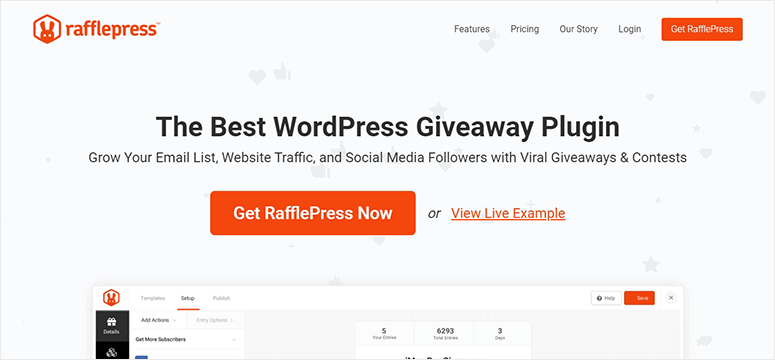 RafflePress is the best contest and giveaway plugin for WordPress. You can easily set up and run a giveaway on your website to grow your email list and drive more traffic to your blog.
RafflePress can convince your blog readers to keep coming back to your website for updates, sales, and promotions. It's a fun way to get your audience engaged with your brand and get them to check out more of your blog content.
It's easy to create giveaway campaigns with its drag-and-drop builder, premade templates, and one-click entry. It also integrated with 3rd-party marketing tools, such as Zapier, Mailchimp, ConvertKit, AWeber, and more.
Get started with RafflePress today.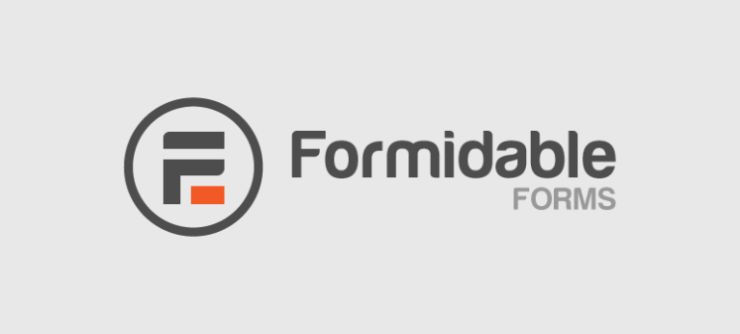 Formidable Forms is a powerful contact form plugin you can use on your blog to collect email addresses and other important visitor information. It lets you create all types of forms including payment forms, registration forms, survey forms, and more.
Formidable Forms creates solution-focused forms that are easy to create thanks to its drag-and-drop builder. Its visual styler makes your forms look great with any theme and comes with a multitude of customization options.
You can turn your forms into quizzes, polls, and surveys. You can also create smart forms with conditional logic for more relevant answers in your forms.
Get started with Formidable Forms today.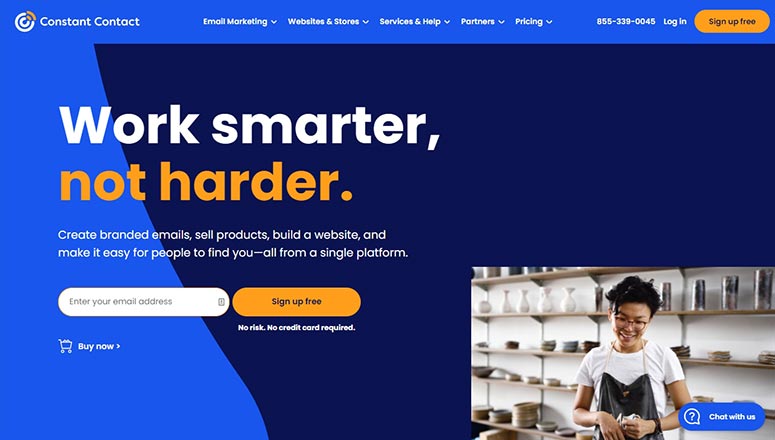 Constant Contact is a popular email marketing service that lets you send emails and sell products from a single platform.
Once you start gaining subscribers, you'll need a powerful email service provider that can keep up with your email list as it grows. With Constant Contact, it's easy to manage your subscribers, automate tasks, create campaigns, and much more.
Constant Contact comes with a drag-and-drop email editor and several customization options to turn any newsletter into your own. It also has list segmentation, triggered email options, list-building tools, and much more.
Get started with Constant Contact today.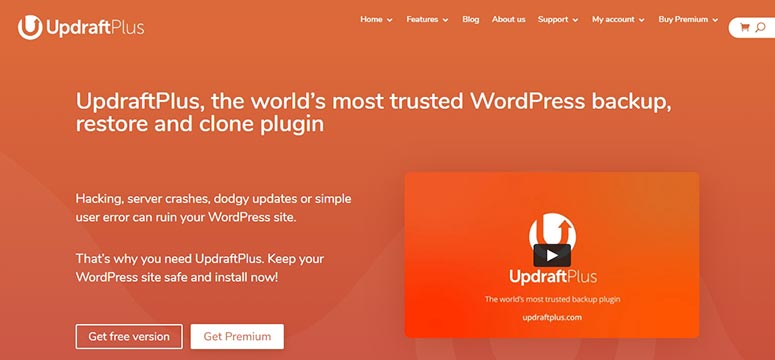 UpdraftPlus is a must-have blogging tool to keep your content backed up and safe from getting lost in case anything unexpected errors occur.
One of the worst things that can happen to your blog is losing your data without having a backup. UpdraftPlus safely stores your content and protects it from hackers, viruses, and dodgy updates.
Used by more than 3,000,000 bloggers and website owners, UpdraftPlus is a simple yet effective backup solution. It's multi-site compatible, backs up endless non-WordPress files and external databases, and comes with WP-CLI support.
Get started with UpdraftPlus today.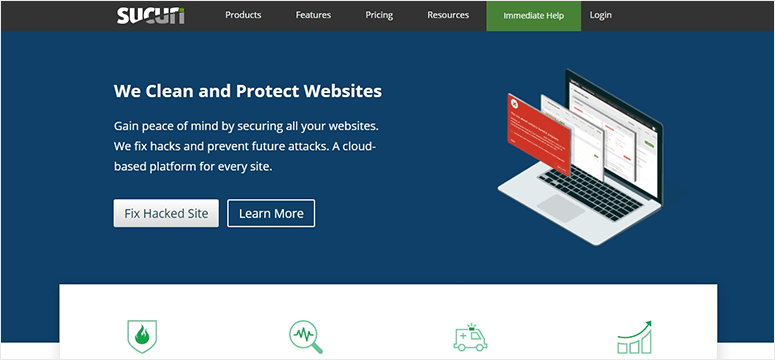 Sucuri is a full-fledged security service you can use for your blog. It allows you to secure your website, fix hacks, and prevent future attacks before they occur.
Sucuri uses Web Application Firewall (WAF) and Intrusion Prevention System (IPS) to protect against website threats. It scans for malicious code and prevents hackers, threats, and suspicious behavior from gaining access to your site.
Additionally, Sucuri backs up your content to ensure a zero-risk recovery. You can set up automatic backups to ensure that your blog content stays safe for good. It also improves your site speed and comes with multiple caching options.
Get started with Sucuri today.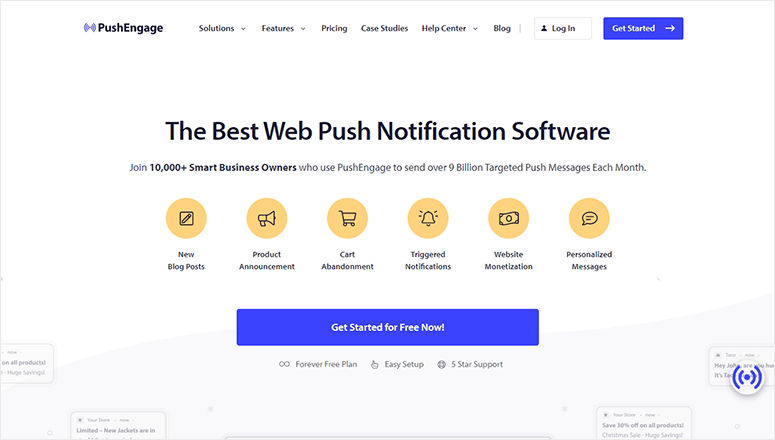 PushEngage is the best web push notification software you can use on your website.
Push notifications are a great way to drive traffic to specific blog posts, send targeted messages, increase email signups, boost sales, and more. With PushEngage, creating these notifications for your site is easy and takes less than 10 minutes.
PushEngage comes with smart web push automation and drip campaigns so your website can target users on autopilot. Its dynamic segmentation and personalization help you further grab your visitors' attention and direct them where you want them to go.
Get started with PushEngage today.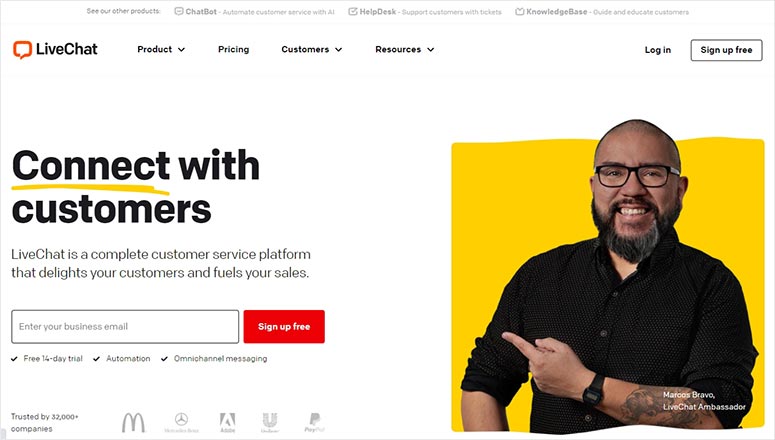 LiveChat is a customer service platform designed to cater to your online audience and encourage them to keep returning to your website.
Your customer service representatives can easily access LiveChat from their desktops, tablets, or mobile devices to cater to users on the go. It lets you answer visitors' questions, direct them to relevant content, provide them with solutions, and more.
LiveChat comes with customization options, personalization, reports and analytics, and security encryption among other features. Some of its powerful integrations include Salesforce, Zendesk, Stripe, HubSpot, Mailchimp, and more.
Get started with LiveChat today.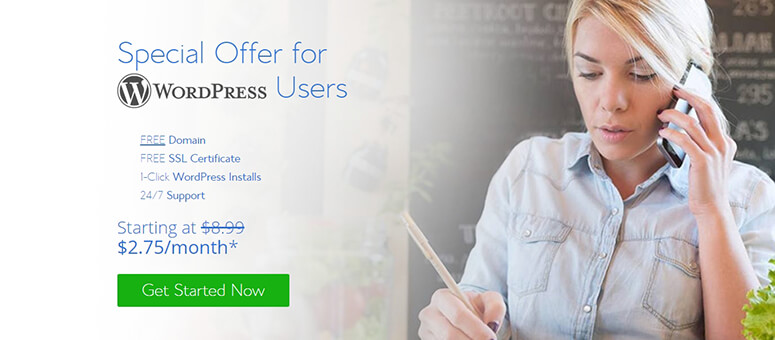 Bluehost is a web hosting service you'll need to create your website in the first place. Choosing the right one is critical for a smooth experience in creating and managing a blog.
Bluehost comes with 24/7 WordPress support, one-click installation, and a 30-day money-back guarantee. You get a free domain name for the first year and gain access to design templates and marketing tools to boost your conversion rate.
This site builder is easy even for beginners to use and anyone can take advantage of its powerful yet simple features. Manage online ordering, bookings, customer chat windows, and more from one platform.
Get started with Bluehost today.
And there you have it! These are the best blogging tools you can use for your WordPress website.
We hope you enjoyed this article. If so, feel free to check out our list of resources on the top WordPress plugins.
That post breaks down the best plugins on the market so you can choose the right ones for your WordPress site.