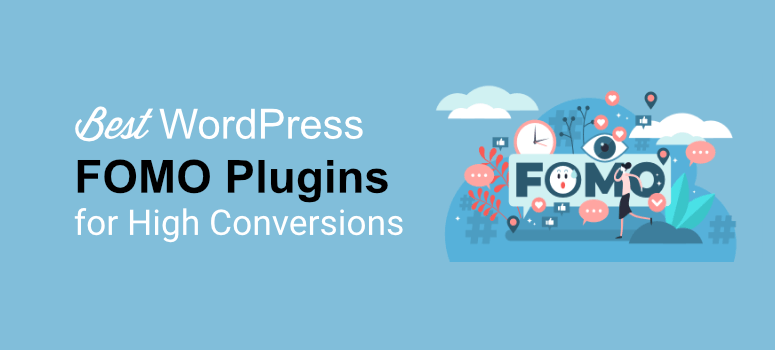 Looking for the best WordPress FOMO plugin to boost sales and grow your business?
WordPress FOMO plugins help you show real-time purchases, social proof, and the activities of people on your site. With this feature, you can persuade new visitors to take action like buy, sign up, or register by instilling the fear of missing out on something awesome that you have to offer.
In this post, we've put together the best FOMO plugins that help you increase your conversions. But first, let's learn why you need to use FOMO plugins on your WordPress site.
Why Use FOMO Plugins on WordPress?
FOMO (fear of missing out) is a popular marketing technique used to attract visitors and create urgency so that they engage with your brand and convert into customers/subscribers.
The thing about FOMO is that it exists everywhere. Everyone fears losing out on a good opportunity. Take for instance when you see your friends attending an event on your Facebook feed, you get curious and want to join in too. Or when you see a crowded restaurant and want to try the food since everyone seems to be enjoying it.
Marketers around the world have tapped into this common human behavior to increase sales and engagement. But just how do you leverage FOMO to grow your website?
The good news is that you don't have to hire marketers or research tons of strategies to use FOMO.
For WordPress users, there are plenty of FOMO plugins that let you easily apply these strategies to your WordPress site in a few clicks. FOMO plugins come with plenty of features that include:
Social Proof: Display ratings, customer reviews, and testimonials to build trust with new customers
Time-Limited offers: Create a sense of urgency by adding a countdown timer to the offer's validity
Closed Access: Limit access to premium content only if they sign up or purchase a membership plan
Lead Magnets: Encourage visitors to convert to subscribers by offering them freebies
Limited Edition: Offer exclusive or VIP benefits such as limited edition merchandise or priority boarding
Recent Activity: Show the visitors the recent purchases, sign-ups of other users
These strategies will help you instill FOMO among your visitors in a way that will work in favor of your business. With that said, let's jump straight into our list of the top FOMO plugins for WordPress.
Best FOMO Plugins for WordPress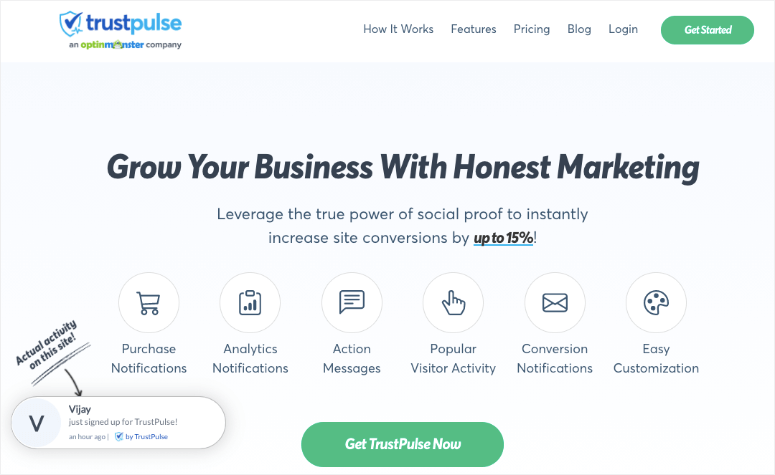 TrustPulse is the best WordPress FOMO plugin to increase sales and conversion with social proof notifications. In fact, it's proven to instantly boost conversions by up to 15%.
With its built-in social proof notification builder, you can create and display WordPress FOMO popups in minutes. First, you can customize the messages, colors, images, and other elements to match the style of your brand.
Then you can tell TrustPulse what kind of activity you want to track and showcase.
So for instance, you can choose Recent Activity which shows real-time activity such as purchases, sign-ups, email subscriptions, and more.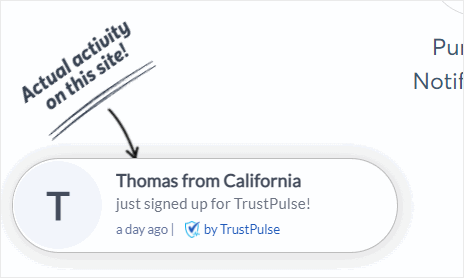 You can also show On-Fire notifications which track the number of people taking action on your website in a given period.
Moreover, TrustPulse lets you add action messages to show custom notifications and information to grab your visitors' attention.

Like this, you can customize the settings according to your preference and display the notification wherever you want within your website. You get full control over which pages they appear on and even where on the page.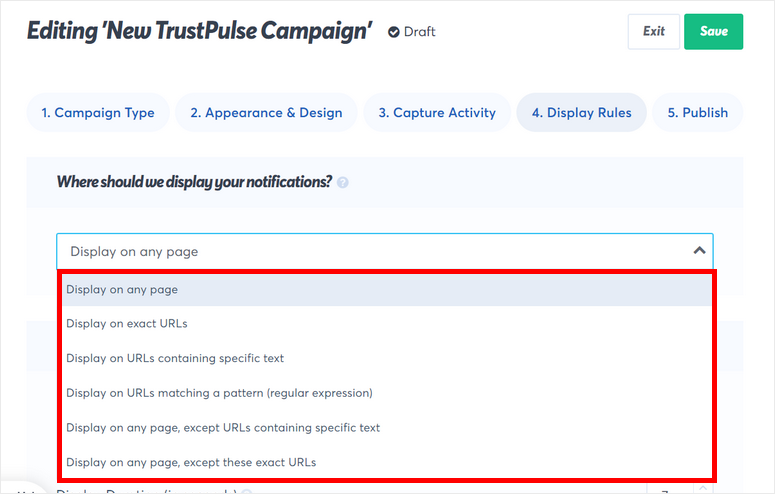 Not only does this social proof tool work with WordPress, but it also integrates seamlessly with Shopify, Drupal, Squarespace, and more.
For more details, you can check our TrustPulse review. Or you can get started with our tutorial: How to Create Automated Recent Sales Notification Popups.
Highlights:
Beginner-friendly interface
Fully customizable campaigns
Multiple types of social proof notifications
Smart targeting and timed display
Responsive popups that can be turned off for mobile users
Accurate stats and analytics to monitor your campaign
Pricing:
Starts at $5 per month.
Get started with TrustPulse today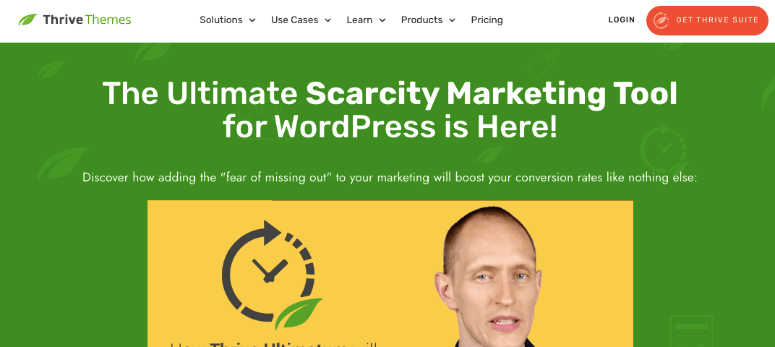 Thrive Ultimatum is a scarcity marketing tool that lets you add the 'fear of missing out' to your marketing campaigns. You can set up one-time campaigns with fixed dates or set them to automatically recur. There's even an option to create evergreen scarcity campaigns that once expired will restart on their own after a certain period of time.
Here's a preview of some of the campaigns you can create with this tool: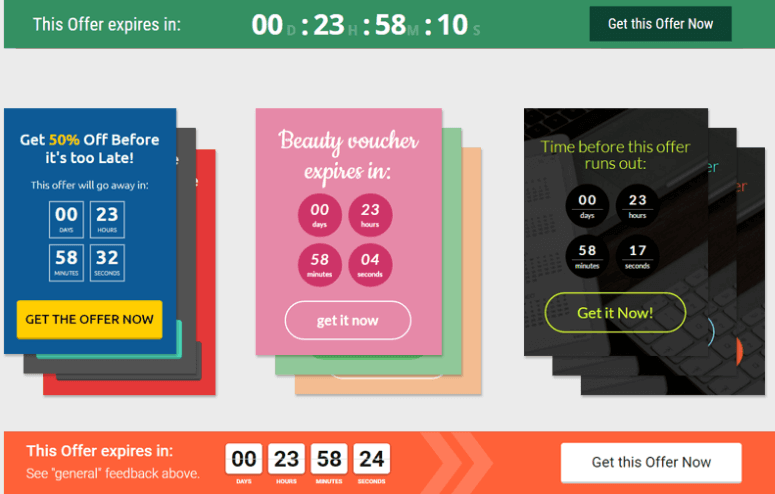 There's a Lockdown feature that gives you control over which pages can be seen by customers. By locking down your special offer page, you can show your offer only to certain people who are eligible and whose countdown timer is still running.
For everyone else, you can redirect to a "sorry, expired!" page or a page with an upcoming offer that's yet to launch.
There's a drag and drop builder to customize your designs. So no matter your level of expertise, you'll be able to use scarcity marketing to boost your business.
Highlights:
Professionally designed templates
Countdown timers, widgets, floating banners
100% conversion focused elements
Drag and drop builder
Fully customizable
Pricing:
Starts at $99 per year.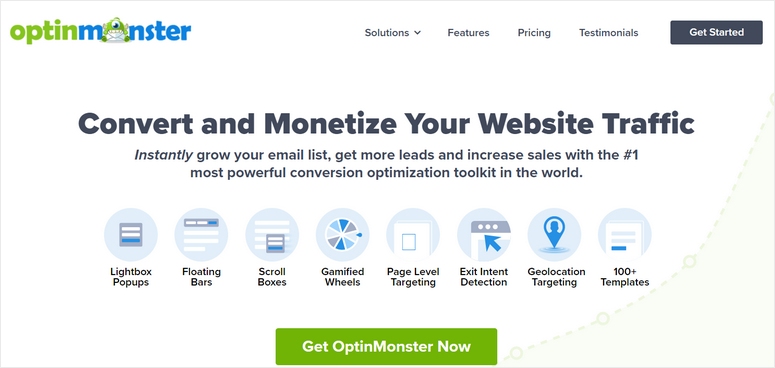 OptinMonster is the most powerful conversion optimization and lead generation tools for WordPress. It's perfect for blogs, online stores, agencies, B2B companies, and webmasters.
No matter what type of website you have, OptinMonster has a solution to help you get more subscribers, increase sales, and convert website traffic to customers.
OptinMonster comes with 50+ templates and an easy drag-and-drop campaign builder that makes it easy to create beautiful high-converting campaigns.
This includes popups, slide-ins, floating bars, scroll boxes, inline forms, and more.
The great part about this plugin is that it comes with built-in FOMO elements that you can easily add to your campaigns. This includes stunning images, countdown timers, coupon wheels, and more.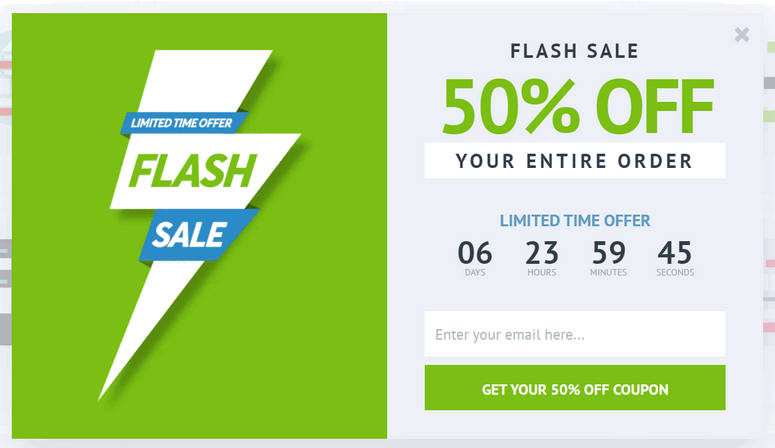 Now where OptinMonster really shines is its audience targeting features. This means you won't have to display the same popup to all your visitors. Instead, with just the click of a button, you can decide when, where, and to whom your popup appears.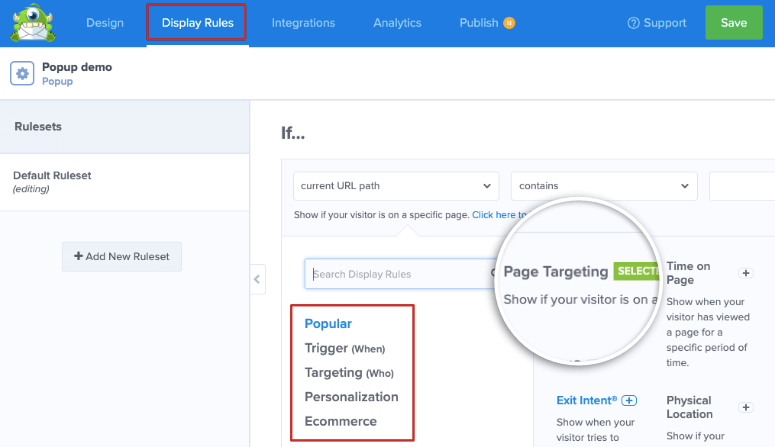 For instance, you can set targets according to the geographical area, user behavior and actions, exit-intent, and cart abandonment, and that's just to name a few.
OptinMonster also offers seamless integration with all popular email services. That way, all new leads will instantly be added to your email account and any trigger emails you have set up will be sent to them automatically.
For more details, you can check our OptinMonster review.
Highlights:
Stunning templates that are ready to use out of the box
Easy to use campaign builer
Built-in analytics and A/B testing
Powerful integrations with email services and Google Analytics
1-click audience targeting options
Pricing:
Starts at $9 per month.
Get started with OptinMonster today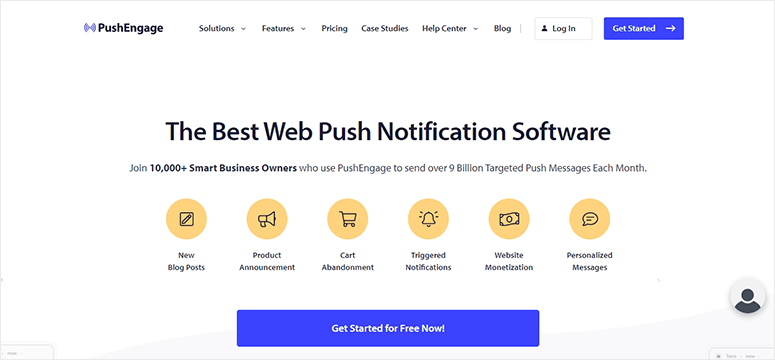 PushEngage is the best push notification app that lets you connect with your subscribers through browser notifications.
You can send messages to your visitors even when they aren't actively browsing your site. They simply have to allow browser notifications to sign up, no email required so you can target a larger audience.

You can let customers know about new products, back-in-stock products, flash sales, and more.
There's an option to add a call-to-action to each notification. This means you can encourage visitors to come back to your site to read a new blog post, get a limited-time offer, and more.
You also get tools for personalizing alerts to make them more appealing to customers. And there are features to send your push notifications to customers based on their location and time zone so they'll get it when they're most likely to be online.
This tool includes a handy dashboard for tracking CTR and subscription frequency so you can work to improve the effectiveness of your notifications.
PushEngage supports desktop and mobile notifications via all popular web browsers like Chrome, Safari, Edge, Opera, Samsung, UC Browser, and Firefox.
For more details, you can check our PushEngage review.
Highlights:
Send notifications based on customer actions, timezones, location, and more
Set up automated, drip, and triggered campaigns
Set up an RSS feed to instantly alert people when new content is posted
Multilingual support for creating notifications for an international audience
7 optional custom message pop-ups.
Pricing:
Free plan for up to 500 subscribers. Paid plans start at $9 per month.
Get started with PushEngage today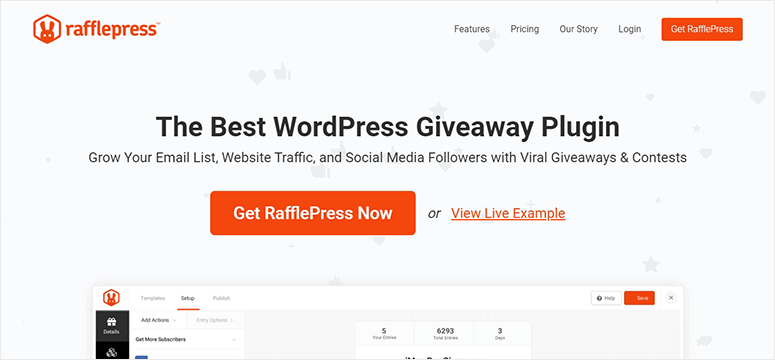 RafflePress is the #1 WordPress giveaway and contest plugin that helps you increase engagement and grow your traffic.
Contests are a great way to engage with your visitors and improve your brand awareness. By adding a prize along with a deadline for entry submissions, you can use it to create FOMO for your products and services.
With RafflePress, you can set up full-fledged contests and giveaways on your site within minutes without any coding or professional help. So anyone who wants to promote their products can easily use this tool.
RafflePress lets you add actions that participants have to complete to enter the contest. So for instance, you can ask them to subscribe to your newsletter, share your products, visit a social media profile, and more.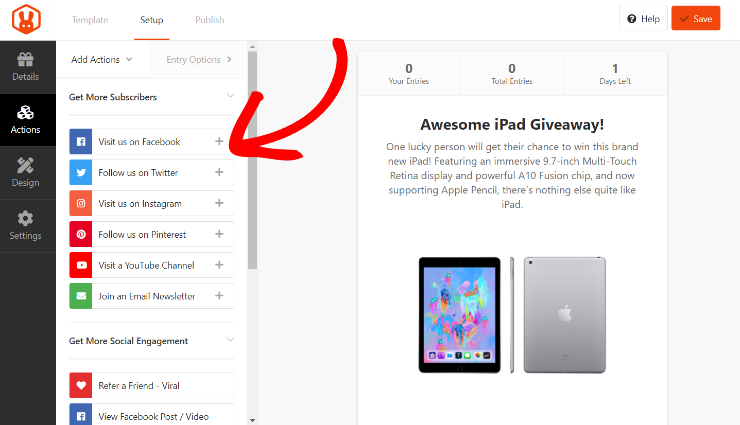 What's more, it lets you show the number of participants for your contest. When your visitors see others participating, they can't help but join in to get their reward.
All of this makes RafflePress a great FOMO tool to increase user engagement and interaction on your site.
For more details, you can check our RafflePress review.
Highlights:
Responsive and attractive content templates
Easily set up conditions for contest eligibility
Protection from spam and fraud entries
Tracking options for optimizing contest results
Integration with social media and email marketing tools
Pricing:
Starts with $39.50 per year for the Plus plan.
Get Started with RafflePress today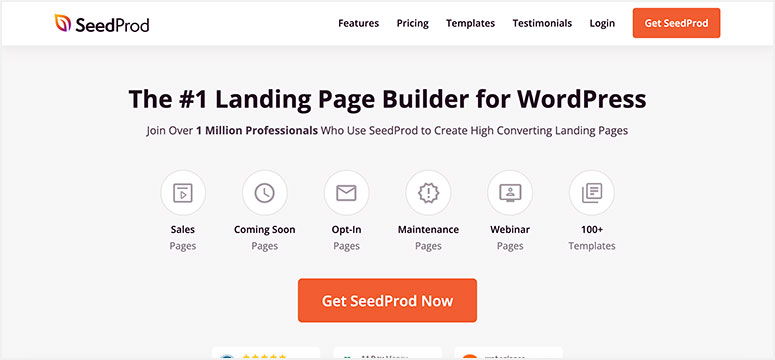 SeedProd is the best landing page builder for WordPress. It lets you easily create any type of landing page for your site such as sales, splash, lead squeeze, thank you pages and more.
You can even enable coming soon mode and display your own custom under construction page. And if you add in an optin form, you can collect subscribers and get preorders even before you launch your site.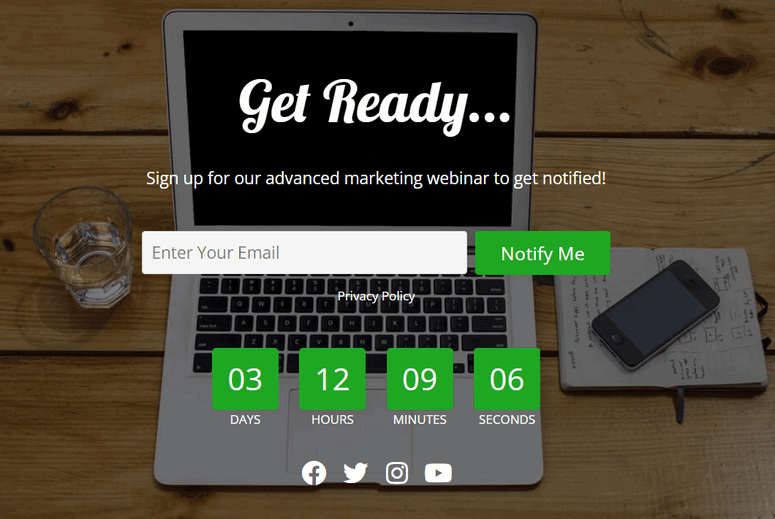 SeedProd is loaded with FOMO elements like countdown timers, animated headlines, product catalogs, and more. Also, SeedProd lets you completely customize page elements like fonts and colors. By choosing the color palette you can create or customize your page in no time
It even integrates with other WordPress plugins like WPForms and RafflePress, so you can display your forms and giveaways on your landing page with just a click.
SeedProd is a perfect choice if you are looking to create high-converting landing pages or a coming soon page that will delight your visitors and generate more leads.
For more details, you can check out our SeedProd review.
Highlights:
User-friendly interface
Stunning premade page designs that are fully responsive
Drag and drop page builder
Built-in coming soon and maintenance mode
Powerful integrations with email providers and WooCommerce
Supports CSS customizations
Pricing:
Free version with basic features. Paid plans start at $39.50 per year.
Get started with SeedProd today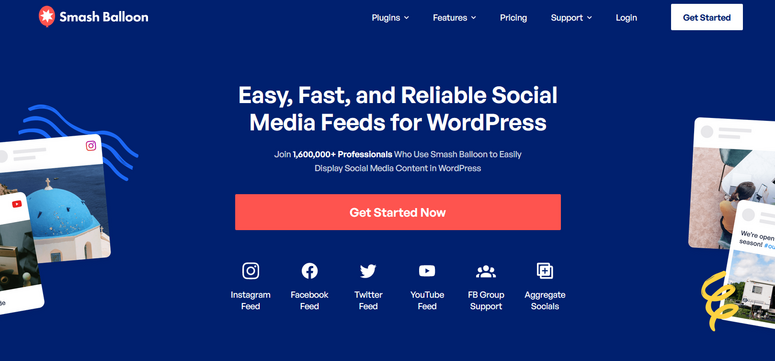 Smash Balloon is the best social media feed plugin for WordPress sites. It lets you display social media content and feeds from Facebook, Instagram, Twitter, and Youtube in a neat layout on your site.
It even has a powerful Social Wall plugin that lets you can combine platforms to display all your social media content in a single feed.
By showcasing the engagement you get on your social media posts, your site visitors will be encouraged to interact with your content. They can follow, like, share, and even comment on your posts so that they aren't missing out on engaging with your social media content.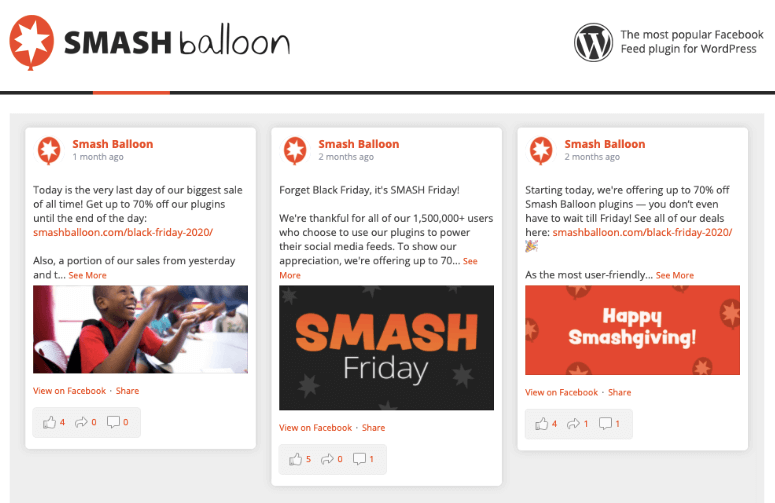 You can boost your website and social media engagement at the same time. And Smash Balloon is just the plugin to help you do that.
Smash Balloon is designed to be easy for anyone to set up and use. Once you connect your social media account, you can customize the layout and stylings to showcase your social media feed the way you want.
You can filter the posts by hashtags, media type, event, and more. Plus, you can even add social buttons such as like, share, follow, and comment to increase interactions.
For more details, you can check our Smash Balloon review.
Highlights:
Easy to set up and use
Customization and styling options
SEO optimized and mobile-friendly
Ensures best performance and website speed
Show number of likes, shares, reactions, and comments
Pricing:
Starts at $49 per year.
Get started with Smash Balloon today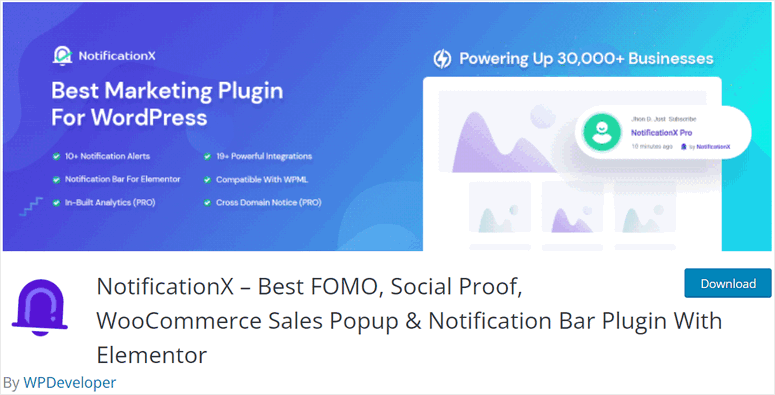 NotificationX is a free WordPress social proof plugin that allows you to display social proof notifications for many different actions such as sales, email subscriptions, downloads counts, and more.
You get 7 different types of notification templates from which you can also create many other types of notification.
Notification X also integrates with more than 14 popular plugins and tools including WooCommerce, Google Analytics, CovertKit, Zapier, Envato, Easy Digital Downloads, and many more.
It doesn't offer powerful customization features as TrustPulse. However, its interface is pretty easy to use so if you're a beginner on a budget, you can use this simple notification tool to get started.
Highlights:
Over 30 different design templates
Integrated with powerful WordPress LMS plugin Tutor LMS
Create your own ad notification bar
A pop-up window with customizable notification
Email subscription alert
Allows multiple notifications
Pricing:
Free version available in WordPress repository. Lifeplan plan costs $319.
Get started with NotificationX today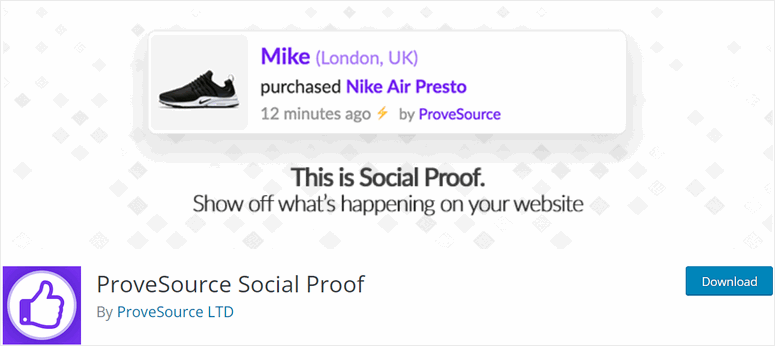 ProveSource is an easy-to-use FOMO WordPress plugin that uses social proof to increase your conversions.
It lets you customize the settings and decide where and to whom you will display the notification. For example, you can show the social proof popups to only new visitors or only logged-in users. You can even display them on specific pages.
There are also options to change the popup shape, color, and position to suit your site's theme.
One thing to keep in mind about ProveSource is that even if you don't have sales or subscribers yet, you can manually create sales and subscription notifications. But we recommend that you never use fake sales notifications. They can jeopardize your business in so many ways, it's just not worth it.
Added to that, when you compare this plugin to similar options on the market, ProveSource is quite expensive. You can get better features such as analytical tracking and smart targeting with TrustPulse (which is priced at one-third the cost).
Highlights:
Display recent sales and newsletter subscriptions
Visibility Control
Integrates with WooCommerce, MailChimp, and Easy Digital Downloads
Detailed documentation
Pricing:
Free for up to 1,000 visitors. Paid plans start at $24 per month.
Get started with ProveSource today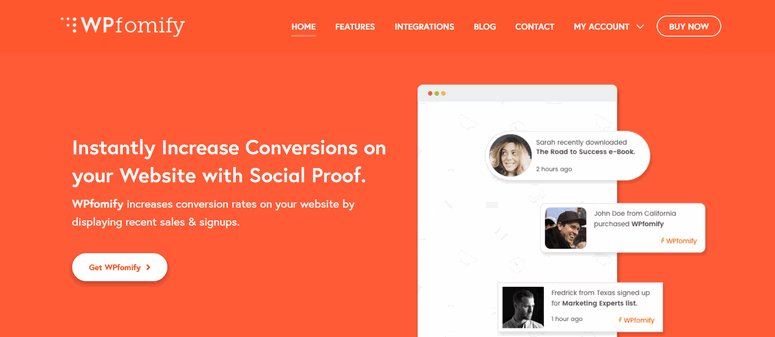 WPfomify is a social proof marketing plugin that helps you boost your sales and conversions on your WordPress website.
You can show recent reviews, testimonials, user activity, display the number of people visiting your site, and sales notifications. And to customize everything, you get a convenient notification generator interface.
WPfomify comes with a long list of integrations like WooCommerce, Zapier, Envato, MailChimp, LearnDash, and many more.
The downside here is that this plugin is super expensive and there's no free version available. Though it's a popular one, it doesn't offer as many features as you'd want when trying out FOMO marketing.
Here too, we'd recommend TrustPulse over WPfomify because it's packed with more features and advanced settings at a really affordable rate.
Highlights:
Layout options to control the appearance of your notifications
Lots of positioning options including sticky notification bar
Ability to choose how many different notifications to show and how often to rotate/repeat them
Automatic conversion tracking using UTM tags
Target specific pages or devices
Pricing:
There is a one-time license that costs $399. Free trial available.
Get started with WPfomify today
That's our list of the best FOMO plugins for WordPress. Now even though we've narrowed it down to just 9 plugins, we know it might be hard to pick just one. We give you our verdict next.
Which is the Best FOMO Plugin for WordPress?
After reviewing the best FOMO plugins for WordPress, these are our 3 top picks for you:
TrustPulse is undoubtedly the best WordPress FOMO plugin of all. It is beginner-friendly yet offers powerful options to implement FOMO strategies on your site. With its beautiful pre-built designs, you can create eye-catching social proof notifications. 
OptinMonster is the best lead generation tool for any type of website. This tool gives tons of campaign designs and customization options along with FOMO elements such as countdown timer and lead magnets. 
RafflePress is the best WordPress contest plugin that helps you interact with your audience and make them promote your products online. It is a great tool to attract new customers and grow your business.
Apart from this, SeedProd is another great tool if you want to build up hype for your products or brand. With coming soon pages, you can create anticipation and excitement among your visitors which helps you to convert better. 
We hope this article helped you find the best FOMO WordPress plugin to increase engagements and conversions on your site.
For your next steps, you can check out these resources:
The first post will help you increase your website traffic and conversion rates. The last two posts will help you add social proof notifications and push notifications to your site for more visitor engagement.