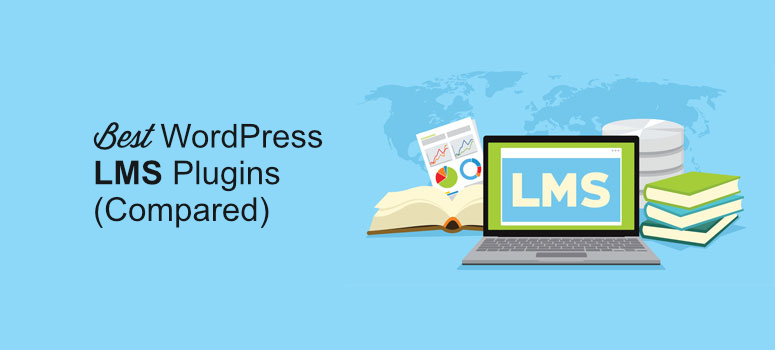 Are you looking for a learning management system (LMS) plugin for your WordPress site?
By using an LMS plugin, you can easily turn your WordPress site into an online learning platform like Udemy without writing a single line of code. These plugins help you create, manage, and sell online courses right from your dashboard.
In this article, we've compared the best WordPress LMS plugins available on the market. But before that, let's have a quick look at what an LMS is and how it differs from a membership plugin.
What is LMS?
LMS is a software program that helps you create, manage, and deliver eLearning courses, also known as online courses.
A few basic features of a WordPress LMS plugin are:
Instant feedback: A good platform provides instant feedback so learners can identify what they know.
Grading system: One of the best ways to make learning fun is by implementing a grading system that shows your students' progress.
Certification: As a reward, you can also offer certification to those who have successfully completed their courses.
And a lot more…
A WordPress LMS will help you easily handle the administration, documentation, tracking, reporting, and delivery of your online courses right within your WordPress dashboard.
WordPress LMS vs. Membership Plugin
A WordPress LMS platform is designed to create online courses and learning programs. It allows you to restrict course content to enrolled students. It also gives you access to gamification methods to entice students to take new lessons and, ultimately, increase engagement.
WordPress membership plugins, on the other hand, can do a lot more than simply protect your course content. In fact, some membership plugins offer powerful LMS features. This allows you to create a fully functional membership site and an engaging eLearning experience for students, all-in-one.
If you want to offer a simple course with a quiz at the end, a basic LMS plugin might be perfect for you.
On the other hand, if you want to offer multiple online courses, plus additional exclusive content and members-only forums, then a membership plugin with LMS features would be a better option.
Now that you know the differences between LMS plugins and membership plugins, let's compare some of the best WordPress LMS plugins to create online courses.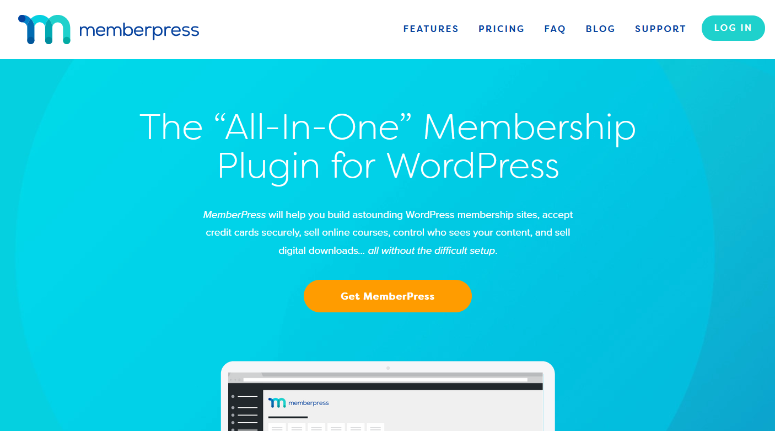 MemberPress is the best WordPress membership plugin and it includes powerful LMS features. With this plugin, you can easily create online courses as well as make multiple membership levels, protect exclusive content, sell digital downloads, build members-only forums, and more.
Creating online courses is super simple with MemberPress. Using the visual course builder, you can drag and drop lessons, topics, images, videos, and more, to build your course curriculum.
Plus, you can created tiered paid membership pro plans to offer different levels of membership and benefits.
Some of the key features MemberPress offers are:
Memberships: Create multiple courses with different membership options like one-time payment or recurring subscriptions.
Access Rules: Control what content users can see based on what membership or digital products they've purchased.
Content Dripping: Release courses or other exclusive content gradually, instead of all at once.
Course Progress Tracker: Ability to see how subscribers are progressing through the curriculum. Subscribers can track their own progress too.
Coupons: Generate coupons to run promotions and giveaways to attract new members.
MemberPress also offers a special Classroom Mode setting. This automatically styles your course so you can ensure it looks professional and engaging for eLearners.
This plugin enables you to set up multiple payment gateways for accepting payments for courses. It's perfect for creating a membership site with multiple online courses and other premium content.
Price: $179 per year
Get started with MemberPress today.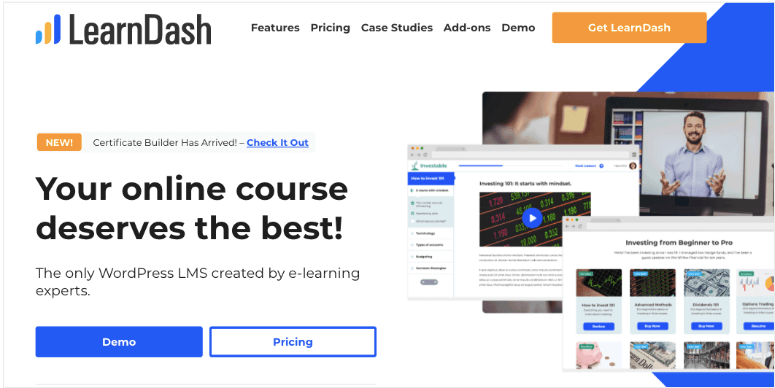 LearnDash is the best WordPress LMS plugin that makes it super easy to create and sell courses, deliver quizzes, award certificates, and more.
It enables you to offer a robust learning experience to your members and supports the latest gamification, social learning, and micro-content trends.
Some of the ways you can sell your online courses from LearnDash are:
Memberships: Sell traditional membership access to your entire online courses.
One-time price: Allow users to make individual online course purchase.
Subscription: Maximize revenue through recurring payments and subscriptions for your online course.
Course licenses: Allow organizers to purchase the license in bulk and grant access to their staff members.
There's also a premium addon called Multiple Instructors that you can use to allow others to create their own paid courses on your site. You can then earn revenue from selling your courses as well as through commissions from other instructors.
With LearnDash, course creation and management have never been easier. You can let your students unlock new courses based on the points they earn as they complete courses. This increases user engagement in your online courses. You can also offer front-end user profiles where members can track their learning progress.
This plugin for WordPress is great for academic organizations, that offer online learning courses to their students.
Price: $159 per year
Get started with LearnDash today.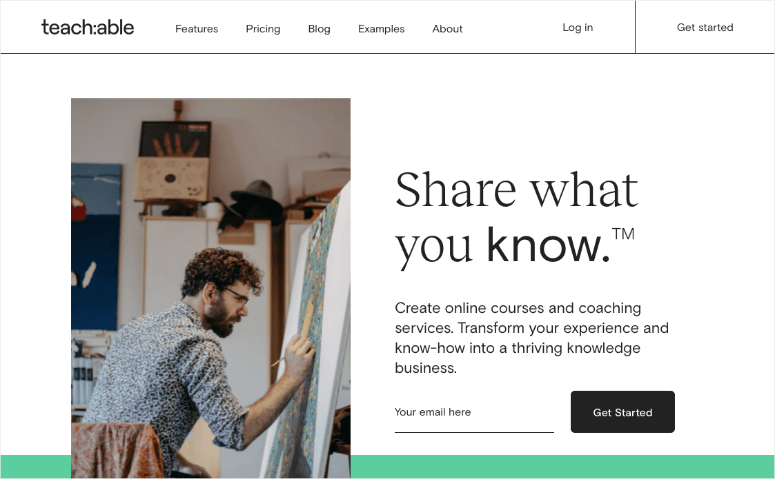 Teachable is a standalone online course creator tool that allows you to build beautiful online courses with ease. You can either integrate your online courses into your existing site or host them on a teachable subdomain.
Teachable comes with powerful tools such as quizzes and discussion forums to help you create an immersive learning experience for your students. The pricing starts at $39 per month, which includes all the basic features such as custom domain support, drip course integration, coupon code support, integrated email, and affiliate marketing, etc. In addition, you'll have to pay a 5% transaction fee for every sale of paid courses.
This plugin is great for WordPress users who offers private tuitions, or online classes on a one-on-one basis.
Price: Create one course for $29 per month. Higher plans start at $99 per month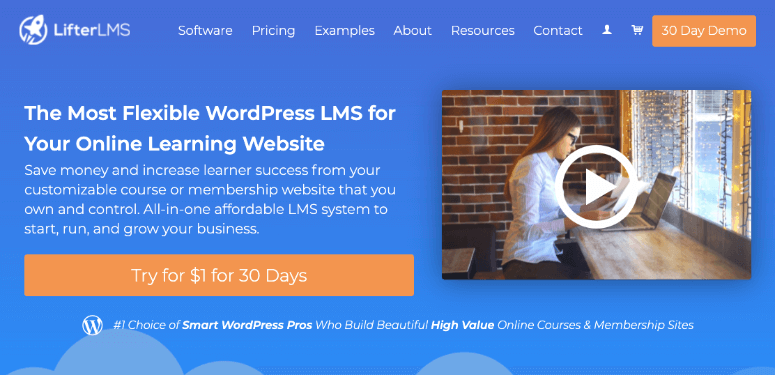 LifterLMS is another powerful LMS plugin for WordPress that makes it easy to create and sell online courses on your site.
You can easily expand its core functionalities by integrating it with powerful extensions, including Stripe, PayPal, Authorize.net, MailChimp, and more.
Similar to LearnDash, LifterLMS also has a keen focus on engagement by providing powerful features like achievement badges, certificates, social learning, 1:1 private coaching, and more.
You can monetize your LMS platforms using different methods:
Membership: Sell site-wide membership that provides access to every course.
Bundle: Sell course bundles to boost your revenue.
Members-only pricing: Allow users to make individual course purchase. You can also set members-only pricing to make paid memberships so valuable.
Addons can be purchased individually for $99 each, or save big with a bundle set for $299.
LifterLMS is perfect for anyone who wants to create and sell an online membership course on their website.
Price: $120 per year
Get started with LifterLMS today.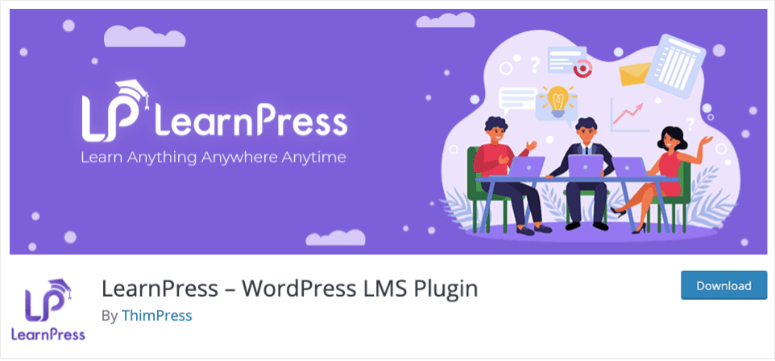 LearnPress is a free LMS plugin for WordPress that comes with all the important features you'll ever need. Unlike most other LMS plugins in this list, LearnPress comes with a setup wizard that makes onboarding easy for all levels of users.
With its beautiful interface, you'll find it easy to create courses, and export or import courses from different websites that also use LearnPress. The core plugin is intended to be lightweight, but you can expand it with powerful extensions. It supports content dripping, quizzes, grading, and a lot more.
This WordPress LMS plugin allows you to seamlessly integrate with bbPress forums, BuddyPress social networks, and add powerful storefront features using, WooCommerce.
A bunch of free addons are also available with LearnPress:
Wishlist: Students can add courses to a wishlist.
Course review: Add social proof by publishing user-generated reviews for your courses on your site.
Prerequisite courses: Require users to pass certain courses to enroll other courses.
LearnPress is great for anyone who wants to create a learning community and frequently create quizzes, or sell products through their knowledge-based website.
Price: Free
Get started with LearnPress today.
Want the full addons bundle? Click here to get the complete LearnPress addons bundle.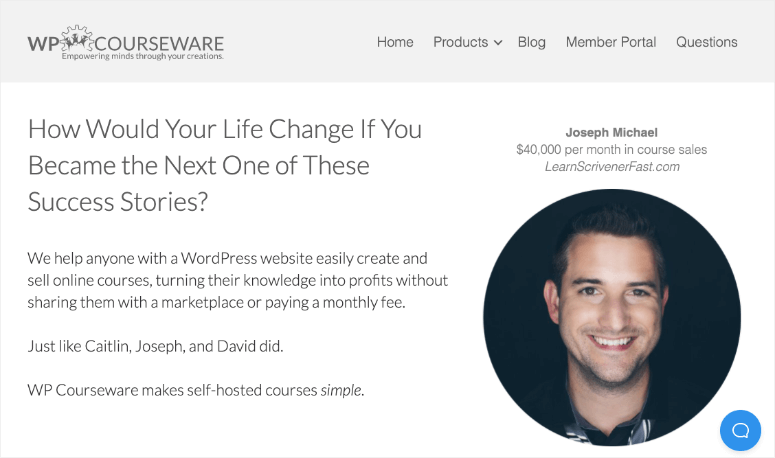 WP Courseware is an easy to use solution for creating and selling online courses on your WordPress site. It comes with a drag and drop builder that makes course creation hassle-free. Once your course units are created, you just need to drag and drop them per your needs, and your course is built.
With its powerful quiz feature, you can create advanced quiz types, set timers, and set retake limits.
WP Courseware is also bundled with advanced automation tools that send personalized emails triggered by student activities. To help improve your students' proficiency, you can set up custom feedback messages that can be configured to be sent based on students' scores.
Like any other WordPress LMS, WP Courseware is also shipped with course content drip feed system that enables you to schedule the release of your content at specific intervals from enrollment.
This plugin can be a great option if you want to create an online course with advanced features like creating quizzes and tests, set timers for tests, etc without any coding.
Price: $129 per year
Get started with WP Courseware today.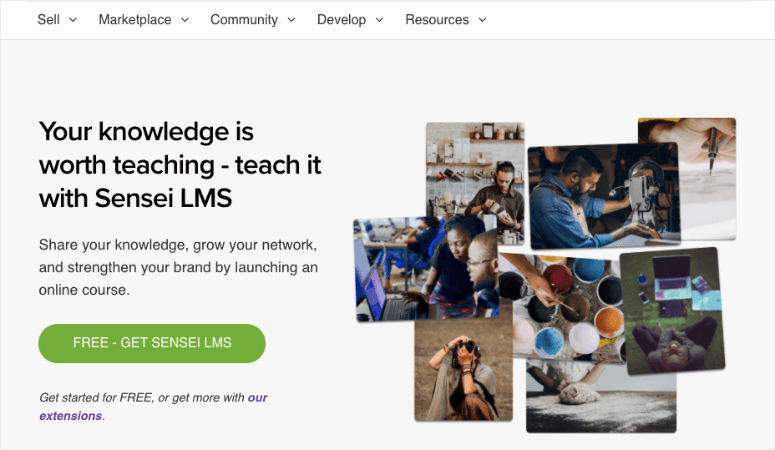 Sensei is a powerful premium plugin that transforms your WordPress website into an advanced learning platform. Sensei is built by the same team behind WooCommerce, the leading WordPress-based eCommerce plugin.
Sensei is not a full-featured membership plugin. It handles the creation and publishing of online courses, but in order to sell access, you will need to use it in conjunction with membership or eCommerce plugins.
Creating courses with Sensei is easy and straightforward. Sensei provides simple reporting facilities that give you an overview of your content, grades, and students registered with the site.
Sensei is not as feature-rich compared to other best LMS plugins for WordPress. Plus, only limited extensions are available to enhance core functionalities.
Sensei is a wonderful option if you want to create a professional online course for free.
Price: Free
Get started with Sensei today.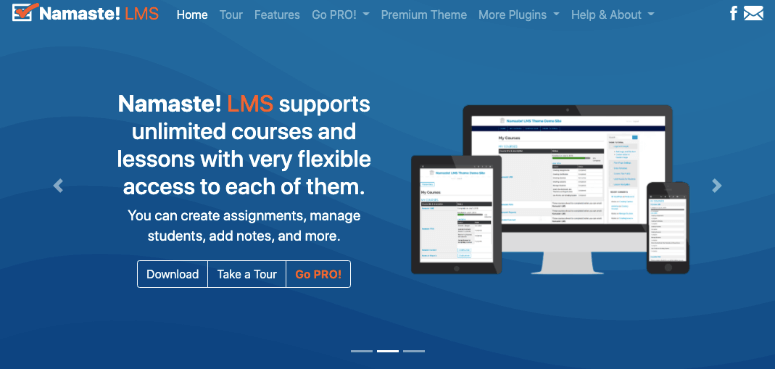 Namaste! LMS is a free LMS plugin for WordPress. It allows you to create different rules for accessing courses after completing the prerequisite courses.
A few benefits of using Namaste! LMS are:
Certificates: Students can earn certificates after completing a course
Grade system: Analyze students' performance using the grade system.
Badges: Award badges that can be showcased on any website.
Progress bar: The premium version of the plugin lets you enable a progress bar that shows students how they do in each course.
Compared to other best LMS for WordPress, the addons and features for Namaste! are limited.
Namaste! is a good option for anyone who wants to create an online course for free and wants to add advanced features to their courses like creating certificates and badges for their students, grading systems to analyze students, etc.
Price: Free
Get started with Namaste! LMS today.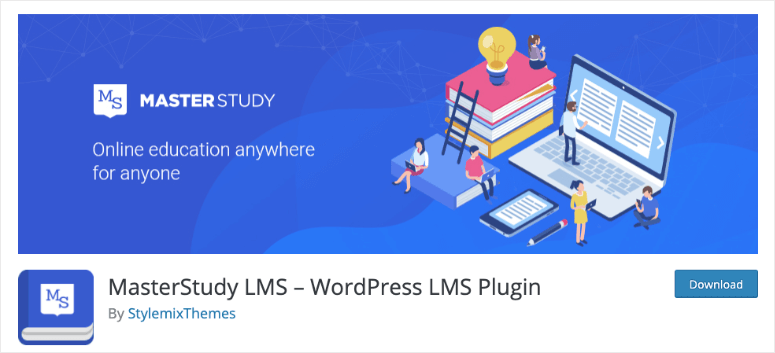 MasterStudy LMS is a free LMS plugin created by StylemixThemes. With MasterStudy LMS you can easily create, customize, and manage amazing online lessons.
Some of the key features MasterStudy LMS offers are:
Variety of Lesson Types: 3 types of lessons (text, video, slideshow).
Countdown: Real-time countdown timer in quiz.
Quiz Results: Quiz results that display correct/incorrect answers.
Messaging: Messaging and announcement system.
Certificates: Certificate generation.
Course Wish List: Users can add courses they want to take to their wish list.
Although MasterStudy LMS is packed with features, they're lacking in gamification features that make learning more fun for your students.
The MasterStudy LMS plugin is free and can be used with any WordPress theme. MasterStudy LMS also offers MasterStudy Pro, which is a MasterStudy premium WordPress theme that takes the plugin to the next level. It offers additional premium plugins, 24/7 support, extra features, and ready-to-use demos for $69.
MasterStudy LMS is a wonderful option for anyone who wants to enable the gamification feature for their online courses. Using this feature you can teach your students to solve problems by applying the characteristics of game elements.
Price: Free
Get started with MasterStudy LMS today.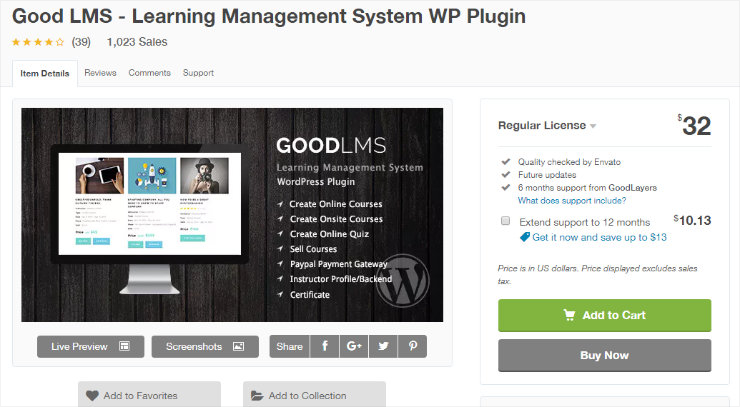 Good LMS is a premium LMS plugin on the CodeCanyon marketplace. Creating online courses is easy with Good LMS because it's much like creating a WordPress blog post, allowing you to build quizzes, courses, and certificates right from the WordPress dashboard.
Some features include process lines, coupon codes, real-time countdowns, student backend where learners can see their scores and progress, course badges, retakable quizzes, and more.
Good LMS costs $32 for a regular license which gives you future updates and 6 months of support from GoodLayers. If you want to extend your support for 1 year, you'll need to pay an extra $10.13.
This plugin is a premium but cheap LMS plugin to create an online course.
Price: $32 per year
Get started with Good LMS today.
Which is the Best WordPress LMS Plugin?
After comparing all the different WordPress LMS plugins, we believe that MemberPress is the best WordPress LMS plugin for most users because it offers powerful LMS features and the most comprehensive membership functionality. It comes with tons of useful extensions that enhance the core functionalities of your WordPress site. And it is also part of our best WordPress Plugins for every website.
We hope this WordPress LMS comparison article helped you find the best LMS platform for your site.
Once you select the best LMS for WordPress, you can get started with creating your first course. We have a step-by-step guide to help you do that: How to Create an Online Course With WordPress (Step by Step).
You may also want to check out our helpful resources on:
These posts are packed with info to help you grow your learning platform, improve user experience, and get more signups for your online courses.