Are you wondering how to run a giveaway? RafflePress boasts about being the best WordPress giveaway plugin on the market. In this review, we'll take a look at the RafflePress plugin and its features to find out if it's the most powerful and user-friendly WordPress contest plugin.
Let's get started.
About RafflePress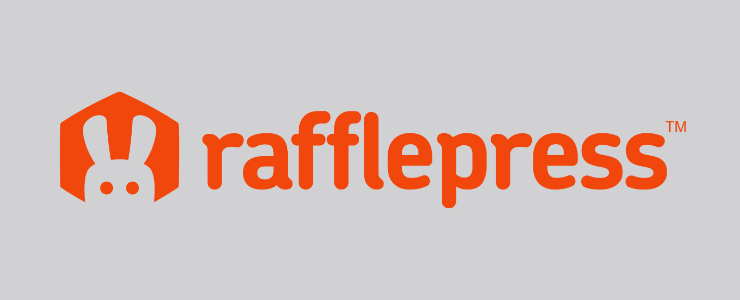 RafflePress is the best WordPress giveaway plugin on the market that makes it easy to run a successful online contest. The team at RafflePress noticed that most WordPress giveaway plugins were bloated, buggy, slow, and hard to use. So, they created RafflePress with the goal of providing a giveaway plugin that's both powerful and easy to use.
RafflePress is an official WPBeginner verified plugin and it comes from the creator of SeedProd's Coming Soon Page plugin. In 2018, SeedProd joined Awesome Motive Inc., the company that's behind popular plugins such as OptinMonster, WPForms, and MonsterInsights.
Why Should You Run a Giveaway with RafflePress?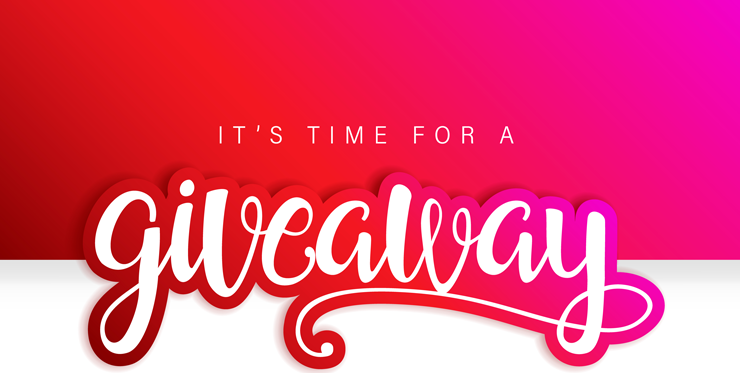 If you're wondering why you should create a giveaway contest in the first place, let's take a look at some of the benefits:
1. Increase Website Traffic
Running an online contest is a great way to get more traffic to your website. RafflePress offers built-in viral sharing that rewards users with bonus entries if they refer-a-friend or share your giveaway on social media.
2. Grow Your Email List
When running a giveaway, you can require users to sign up for your email list in order to receive entries for your contest. People will rush to become a subscriber for a chance to win your contest.
3. Boost Social Media Followers
You can also allow users to follow you on Twitter, Instagram, Facebook, and more in exchange for bonus entries to your giveaway, which can quickly boost your social media followers.
4. Generate Targeted Leads and Sales
Running a successful giveaway can even help you generate more targeted leads and sales. Because a viral giveaway boosts your brand awareness, more people will be introduced to your business and what you have to offer.
For instance, KnivesShipFree.com ran a successful contest that boosted their revenue by over $10,000.
RafflePress Review: Overview of Features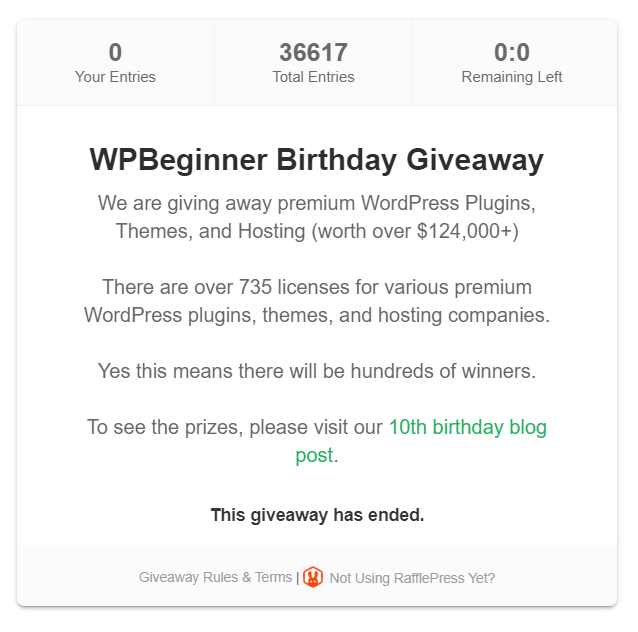 RafflePress offers everything you need to easily and successfully run a giveaway online. Let's take a quick look at some of their standout features:
Drag and Drop Giveaway Builder – The RafflePress drag and drop giveaway builder allows you to build a giveaway campaign in minutes, without touching a line of code.
Pre-Built Giveaway Templates – They offer pre-built giveaway templates to help you reach your goals, whether it's to get more email subscribers, followers, etc.
Responsive, Mobile Friendly – The RafflePress giveaway widget is 100% responsive, so it'll look great on desktops, tablets, and mobile.
Refer-a-Friend – You can create viral giveaways and get the word out quickly with the RafflePress Refer-a-Friend feature.
Social Media Integrations – The plugin makes it easy to grow your following on Facebook, Instagram, Twitter, YouTube, and more.
Fraud Protection and 1-Click Entry – 1-click entry makes it easy for users to enter your contest while eliminating fraud entries.
Marketing and CRM Integrations – RafflePress seamlessly integrates with many of the best email marketing services and CRM Software.
Giveaway Landing Page – A "distraction-free" giveaway landing page will help you get more entries for your giveaway.
Tracking and Retargeting – Use the success tracking and retargeting feature to reach your conversion goals.
As you can see RafflePress offers a ton of features to help you create the most successful giveaways. Now, let's take a look at how easy it is to create a viral giveaway with RafflePress.
RafflePress Review: The Easiest Way to Create a Viral Giveaway
RafflePress is designed with ease-of-use in mind. So, if you think creating a giveaway will be difficult, it's not.
Let's go over how to run a giveaway with RafflePress.
After installing and activating RafflePress, as well as validating your License Key, you can start to build your first giveaway.
Click on the RafflePress icon in your WordPress dashboard, this will take you to a new window. Click Add New near the top of the screen.

Next, you'll be prompted to name your giveaway and choose a giveaway template. RafflePress offers giveaway templates such as Classic (which allows you to create any type of giveaway), Grow Your Email List, Refer-a-Friend, Grow Your Facebook Page, and more.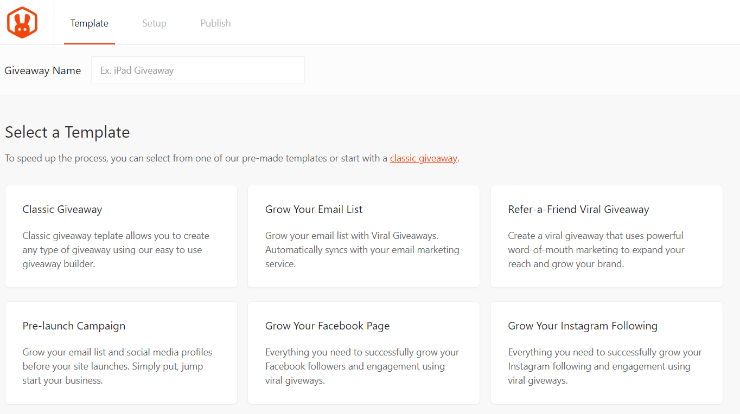 After choosing a template, you'll be taken to the RafflePress giveaway builder where you can set up your giveaway prize details. After all, a great prize is what will get you a lot of contest entries.
Here you can choose the name of your prize, for example "Beats by Dre Headphones", include a short description of the contest prize, and upload an image of the prize.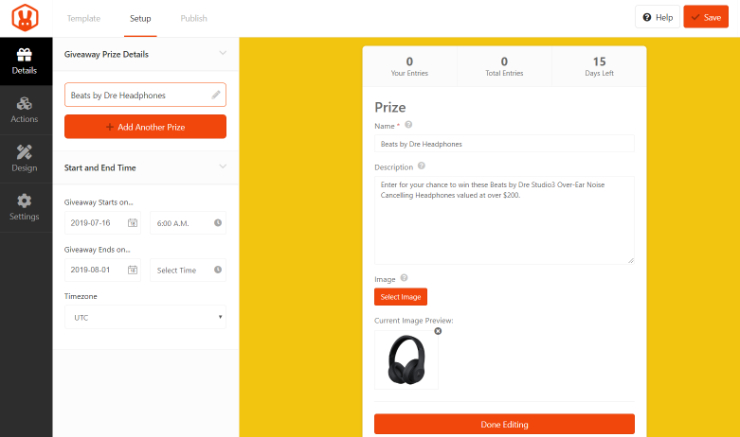 If you have multiple prizes, you can click the + Add Another Prize button to add more. You can also set the start and end dates for your giveaway as well as the time zone.
The most exciting thing about RafflePress is all of the actions they offer. You can add as many actions as you want to your giveaway in order to reach your goals and give people multiple entries to the contest.
For instance, if you want to grow your following on social media, you can choose actions like Follow us on Twitter and Follow us on Pinterest.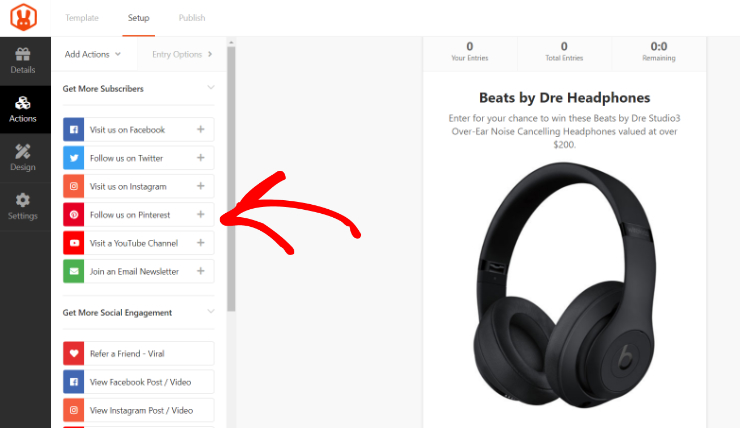 You can also choose how many entries each of these actions will give the giveaway participants.
Plus, their Refer-a-Friend action can help make your giveaway go viral. With this action users can get extra entries for sharing your contest on any social media platforms or by email.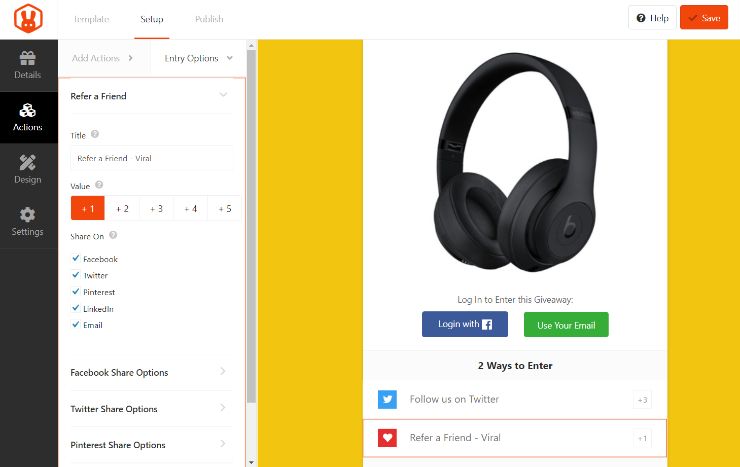 RafflePress also offers design options. So, you can choose your font, background color, layout, button color, and more.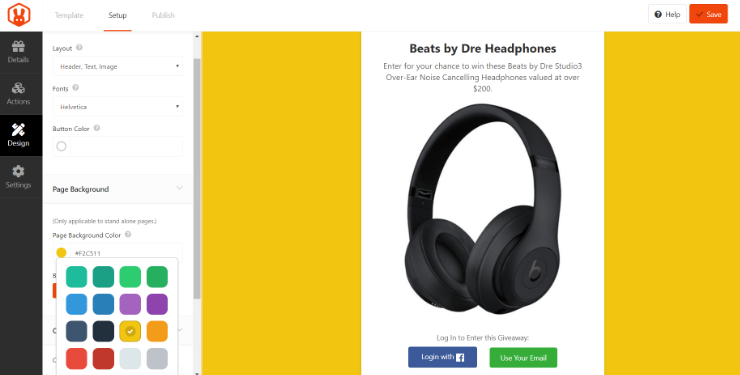 Once you've finished creating your giveaway, sharing it is super easy too. You have 3 options for sharing your giveaway online including:
RafflePress WordPress Block – Use the RafflePress WordPres Block to embed the giveaway in your WordPress post or page (new WordPress block editor).
WordPress Shortcode – Use the WordPress Shortcode to embed your contest in the classic WordPress Editor, inside your WordPress theme, or in sidebar widgets.
Giveaway Landing Page – Create a distraction-free landing page for your giveaway to get more conversions and engagement.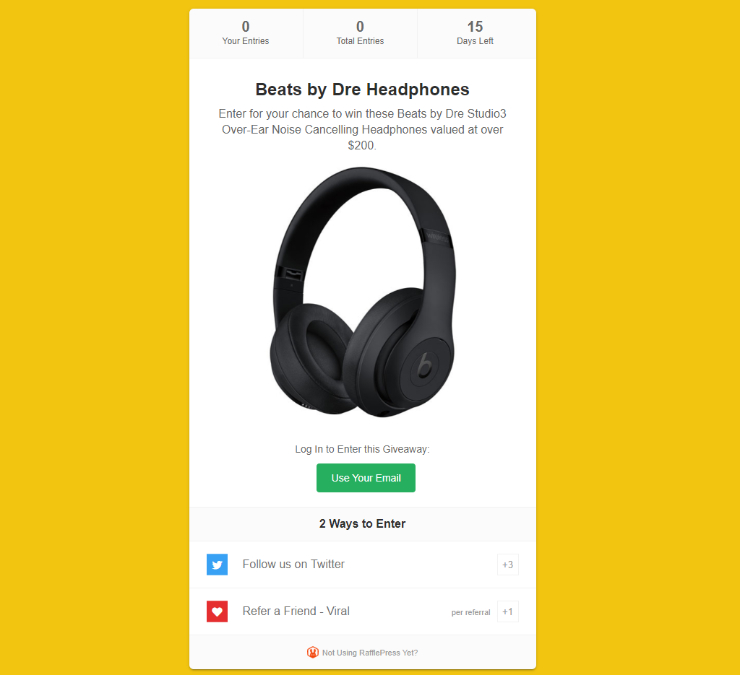 As you can see, building a giveaway with RafflePress is simple but they provide powerful features that allow you to create the exact type of online contest you want.
Pricing for RafflePress
RafflePress offers 4 different pricing plans: Plus, Pro, Growth, and Ultimate.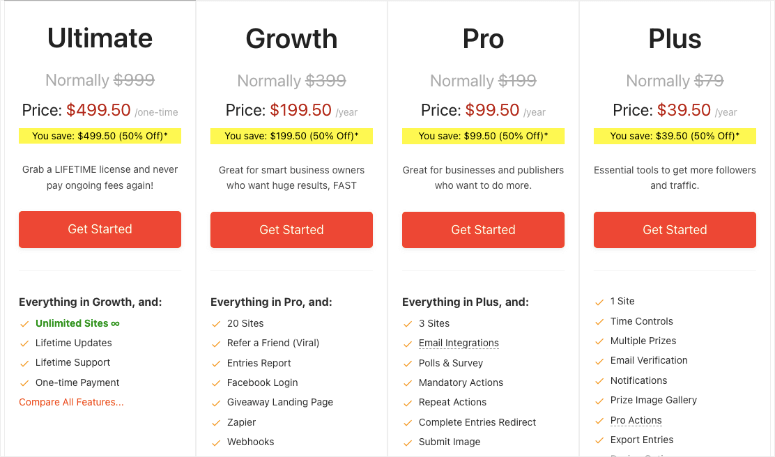 RafflePress Plus costs only $39.50/year and comes with all of the essential tools you need to grow your traffic and get more followers. The Plus plan is for running giveaways on 1 website. It offers features such as time controls, multiple prizes, email verification, notifications, Pro actions (such as Follow on Twitter to enter), and more.
The Pro plan is $99.50/year for 3 websites and it's great for businesses and bloggers who want to hold regular giveaways and do more with them. This plan comes with features from the Plus plan as well as email integrations, polls and surveys, mandatory actions, submit image, and more.
The Growth plan which costs $199.50/year is best for business owners that want fast, big results. With the Growth plan you get everything in Pro and 20 sites, refer-a-friend (viral), social logins, giveaway landing page, and more.
Finally, the Ultimate plan is for a lifetime license and costs a 1-time fee of $499.50.
At the time of writing this article, you can get started with RafflePress for 20% off the regular pricing.
Our Verdict: Should You Use RafflePress to Create a Giveaway?
RafflePress calls itself the best WordPress giveaway plugin for a reason. If you've never created a giveaway before, there's no need to worry — with RafflePress you can build a successful giveaway in minutes.
Plus, the features they offer make it even easier to reach your goals. Whether you want to build your social media following, grow your email list, increase your website traffic, or boost brand awareness, you can do so easily with RafflePress.
We recommend RafflePress to anyone that wants to run a giveaway quickly and easily.
Get RafflePress Now »