Is your website fast enough? Having a fast website is essential for boosting your SEO rankings, reducing bounce rate, and increasing overall sales.
With our free website speed test tool, you can analyze how fast your website loads, and what you can do to boost your page speed.
How Does Our Website Speed Test Tool Work?
To analyze your page load time, all you have to do is enter your website URL and hit the Analyze Website button.
Our WordPress speed test tool for your website provides you with the following information: Test overview, improvement suggestions, and details about the load time.
I. Overview
In the first section, you'll get a basic overview of the test at a glance.

Page title
Screenshot of your site
Time taken to load the site
Performance grade
Page size
Number of requests being sent.
II. Improvement Suggestions

Our speed test tool gives you detailed insights on how to improve your website speed. You can click on the dropdown menu to see which files need to be optimized on your site.
III. Details on Load Time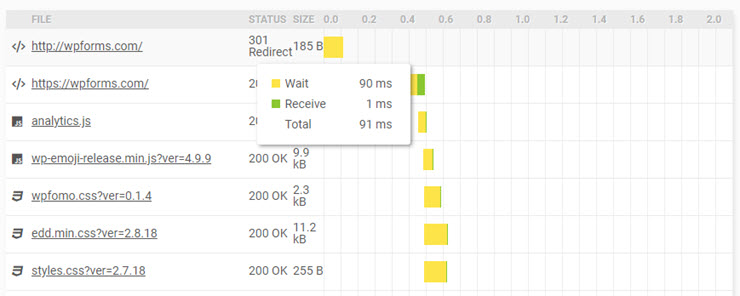 For even more detailed information on load time, you can look at the table displayed below the suggestions. The table shows you how much time each file took to load.
How to Use Our WordPress Speed Test Tool to Improve Your Website
Now that you've got detailed information on your website speed, the next thing you probably want to do is boost your website performance. Below are a few ways to speed up your WordPress website.
1. Install a WordPress Caching Plugin
Using a cache plugin improves your WordPress site's performance significantly. A cache plugin generates static files from your dynamic WordPress website. Once a static file is generated, your web hosting server can serve that static file instead of processing a comparatively heavier dynamic WordPress PHP scripts. By serving static files to your visitors, you can reduce the bandwidth consumption, resulting in boosting your website speed.
To find the right plugin for your needs, you can check out the best WordPress cache plugins.
2. Use a Content Delivery Network
Did you know that users in different geographical locations may experience different loading times on your website? This is why using a content delivery network (CDN) is important.
Using a CDN helps you improve your page speed significantly. A CDN is a network of multiple servers distributed throughout various locations around the globe. Whenever someone visits your website, CDN identifies their geographical location of that visitor and serves the static files through a server that is closest to them.
Many web hosts offer a free CDN with their hosting plan. Our #1 pick is Bluehost. Another good option is Sucuri – a powerful security plugin with a powerful CDN.
Find more of our best recommendations here: Best CDN Services to Speed Up Your Website.
3. Optimize Images for Speed
Images often account for most of the downloadable bytes on a web page. By optimizing your images for speed, you can improve the page load time of your site.
Let's take a look at some ways to optimize the images on your site.
Compress images: We highly recommend you optimize your images for the web before uploading the heavy image files directly from your phone or camera. Alternatively, you can also use an image compression plugin on your site.
Lazy loading: Are you using too many images on a web page? Then, with lazy loading, you can load images only when they're visible to your visitors, which helps you improve page load time significantly.
4. Combine Files to Reduce HTTP Requests
As you install more plugins, they add their own JavaScript and CSS files. Each additional file is an HTTP request.
Combining all those files into a single file is one of the best ways to reduce HTTP request and speed up your website. Alternatively, you can reduce HTTP requests by only loading CSS files that are absolutely necessary for each individual page. This can be done with a free plugin, Asset Cleanup.
You could also get an all-in-one plugin like WP Rocket that will help you optimize the speed of your site from multiple angles. When you install the plugin, it will auto-apply most of the recommended measures to improve the performance of your site.
We've covered the steps you need to take in detail in our guide: How to Boost WordPress Performance & Speed (Expert Advice).
Now go ahead and analyze the speed of your website.