We built IsItWP's free website uptime status checker to offer you the best way to analyze whether your website is down for everyone or just you.
What Is Uptime?
Uptime is the period that your website is available and operational. In technical terms, it's the uninterrupted time your hosting server experiences.
Usually, uptime is expressed as a percentage of the total available time, "99.95%", for example.
Ideally, uptime should be at 100%. In order for the website to receive 100% uptime, then it means it was available and accessible all year long, 24/7, without any downtime.
Factors that Affect Your Website Uptime
There are a lot of factors that can affect your web hosting server's uptime including:
Security threats
Hardware failures
Natural disaster
Human error
Backup disk corruption
Power outage
This is why no web hosting provider can guarantee 100% uptime. However, anything below 99.9% is considered unreliable.
To compare the uptime of different hosting providers, take a look at our complete web hosting review.
How Does IsItWP Uptime Checker Work?
IsItWP's free website uptime status checker is the best way to analyze whether your website is down for everyone or just you.
Here's how our uptime checker works:
1. Submit Your URL to Our Uptime Checker Tool
To test your website availability, all you have to do is enter your site's URL in our Website Uptime Status Checker tool above and click the Analyze Website button.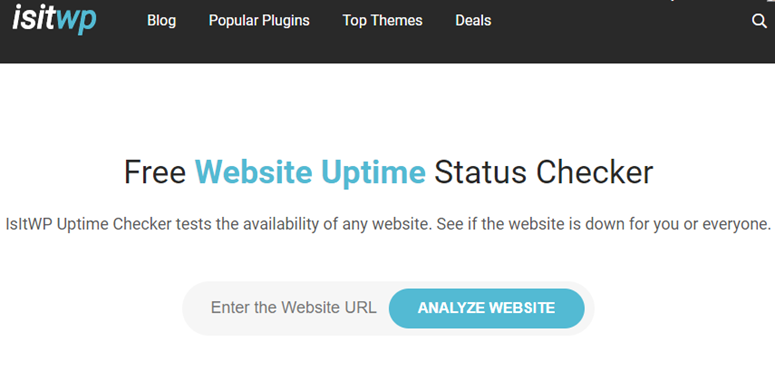 2. Our Tool Monitors Your Site's Uptime
After your website URL is submitted, our free website uptime status checker tool checks whether your website is available.
3. You Get the Result
Once the tool runs its checks, you'll get the uptime status test results immediately. Alongside, you can also find out the following details of the site you're testing.

The latest screenshot of the site
Title of the site
Hosting provider where the site is hosted
Whois info of the domain name
That's how easy this website status test tool is to use. You don't need any expert knowledge or premium tools.
Website Downtime and Consequences
In order to understand the importance of website uptime, we need to discuss what happens if your site goes down for a few minutes.
Downtime Sabotages Your Online Reputation
Nothing sabotages your online reputation faster than having your website unreachable to your potential visitors.
Your customer expects your website to stay operational around the clock. When your website is down, it hurts the trust of your audience, and they see that your website is unreliable. If you experience frequent outages, then it's in your best interest to switch over to a reliable WordPress hosting provider.
Downtime costs you sales and revenue
Website outage directly translates into lost sales and revenue. Your customers won't be able to purchase your products as long as the outage lasts.
Impacts Your SEO
Having frequent downtimes can also affect your website's SEO negatively.
When you have frequent downtimes, Google sees that your website is unreliable. Obviously, they don't want to send users to a website that is unreliable because it provides their users with a bad experience.
My Website Is Down. What Should I Do Next?
Is your website not working for you?
Simply follow the step-by-step guide below to figure out the reason for the outage and get the site back online.
Verify Yourself – Is It Really Down Right Now?
First things first, before you conclude that your site is down, it's worth taking a moment to ask yourself, is it down for everyone or just me?
Using our free website uptime status checker is the best way to verify if your website is actually down for everyone or just you. To conduct the website availability test, all you have to do is specify your website URL and hit the Analyze Website button.
That's it!
Once your URL is submitted, our system will ping your site and tell you whether your site is available or not.
If Your Site is Down Only for You…
Is your site available for everyone but not for you? Follow these steps:
The easiest step is to access the website using incognito mode from your browser. If you're able to access it, it might be a caching issue.
Delete your browser history, cookies, and cache and then try to access the website again.
One of the common reasons for not being able to reach your website could be a DNS issue. If you've recently updated your DNS and you can't access your site with your local computer, then you might want to check if the new DNS has been updated in your location.

Head over to a DNS propagation checker like WhatsMyDNS.net and perform a DNS lookup to verify if the new DNS has updated. The checker lets you check your domain name's current IP address and DNS record information against multiple name servers located in different parts of the world.

If your DNS has been updated in your location, but you're still unable to visit your site, then try clearing your browser cache. This enables you to see the most recent version of your website.

Another issue could be because you're using a VPN. Some websites have security software that detects this and could flag it as a bot. You might want to turn off your VPN and try again.
If Your Site is Down for Everyone…
Is your site not available for everyone? Then follow the step-by-step guide below.
1. Check With Your Web Hosting Provider
There are several reasons why a website may be down.
Get in touch with your web host customer support about your site being down. Let them know when you've noticed the issue and ask if there were any problems with the web servers.
You might also want to ask your hosting provider to check your logs for anything suspicious. A reputable hosting provider will always help you out if they find anything unusual and even provide suggestions to fix it.
If you're facing frequent outages, then you might consider moving your website to a reliable WordPress hosting provider.
The main problem with reviewing a host on their uptime is that you have no real way to test their guarantee. When your web hosting provider says that they provide 99.9% uptime, you have no choice but to simply believe them.
To sort out this problem for our users and to figure out whether web hosting services live up to their uptime promises, we've created test WordPress sites with all major hosting providers and added dummy content to them. This way our test sites look and feel like typical WordPress websites. Then in each site, we conducted a few different server availability and speed tests to figure out whether the site is capable enough to handle traffic surges during peak load time.
We've also recorded how each website responds to server requests from different geographical locations and also analyzed if there were any downtime during the test.
If you're looking to switch over to a reliable hosting provider, we strongly recommend you to take a look at our complete web hosting review and compare uptime and web services of different hosting providers.
2. Scan Your Website for Malware and Fix It
If you suspect that your site's been hacked or injected with malware, then you might want to scan your WordPress website with our Free WordPress Security Scanner.
To follow security best practices, you might also want to check out this ultimate WordPress security guide.
3. Confirm Your Domain Registration is Paid
Last but not least, confirm if your domain registration fee is paid. If it's not, then please go ahead and pay the fee, so your website can be online quickly.
Below are a few tips to make sure you don't forget to pay your registration fee on time.
Set up auto renewal: Enabling auto renewal ensures hassle-free registration fee payment.
Pay several years in advance: If you don't prefer enabling auto-renewal, you might pay several years in advance.
Use current email address: Make sure to provide your current email address to your domain registrar. This ensures that you receive all email notifications on time.
Without a doubt, uptime is one of the biggest factors you need to check when choosing a web hosting provider for your site.
If you're just starting out, then we recommend choosing Bluehost or Hostinger. Bluehost is officially recommended by WordPress, and they're offering our users a free domain name, free SSL, and over 60% off on WordPress hosting.
Get started with Bluehost today!
You can also read our complete Bluehost review.
FAQs on Website Uptime Checker
How do I check the status of any website?
The best way to check the status of a website is by using IsItWP's Free Website Uptime Status Checker. It's reliable and can be used for any website. You'll see if the website is down for you or everyone.
You can check any website even if you're not the owner. So if you see Slack, Amazon, or any social media site such as Facebook or Twitter is not working, you can quickly use this tool to check if it's down for everyone or if you have a connection issue.
How is Website Uptime calculated?
Uptime is calculated based on the number of hours that your web hosting server is available during a given period of time.
Here's how the uptime of your web hosting server is calculated:
The total number of hours your website was available is divided by the total number of hours per year multiplied by 100.
That means, uptime = (Total available time/total time per year) x 100
Let's take a look at an example. We know that there are 365 days per year so in terms of hours, there are a total of 365 x 24 = 8760 hours. And if there were 4 hours of downtime per year, then the calculation would be:
(8756 / 8760) x 100 = 99.95%
How can I check the status of a website for free?
At IsItWP, our Website Status Checker is absolutely free for anyone to use. You never have to sign up and pay a fee. Simply enter the website domain name in the search box and hit the 'Analyze website' button. You'll see if the website is down or not.
How do I find out when a website was down?
To check the downtime history of your website, you can use a tool like Sucuri. This acts like an all-round website checker tool that has an uptime monitoring section where you can check your site's availability. Then you can see detailed information and a chart that shows you how much uptime, downtime, and outage your site experienced.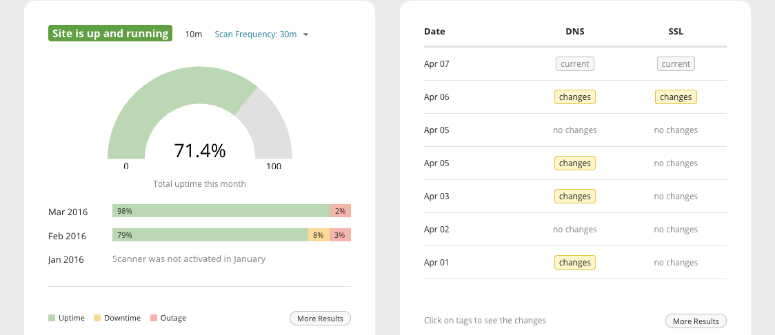 Almost all good web hosts also let you see your uptime stats. This functionality can be found inside your hosting dashboard.
Where can I check if a website is safe?
The strongest indicator that a website is safe is the padlock in the address bar that tells you if the site has SSL installed. This encrypts all data that's transferred to and from that site.

If there's something wrong with this HTTP status or SSL is not installed, then you'll see a warning on the site like "Your connection is not private". This doesn't mean the site is down, but Google prevents users from going to the site as it could be at risk of a data breach or malware attack.
You can also look out for trust badges from popular companies like Verisign, McAfee, and PayPal. If you suspect a website is malicious, you can use a tool like ScamAdvisor to run a check.
Which is the best tool to protect my site?
We recommend Sucuri. It's a robust security plugin that monitors your site for any kind of suspicious activity or attack. It lets you put up a strong firewall to protect your website against hackers and bad bots. It also has website monitoring, IP whitelist, brute-force and DDoS protection. If you're site ever comes under attack, they'll clean up the attack for you. You may also want to check out 9 Best WordPress Security Plugins Compared.
My website is not appearing in search engines. Does that mean it's down?
No, it doesn't mean the site is down. If your website isn't appearing in search engine results, then you need to improve your site's SEO. Follow our Beginner's Guide to WordPress SEO.
How do I check my website response time?
You can check the site response time using our Free Website Speed Test Tool for WordPress. It will test your page load times and site speed in real time.