How Our Headline Analyzer Tool Works
Our Headline Analyzer tool enables you to write irresistible SEO headlines that drive traffic, shares, and rank better in search results. Here's how the tool works.
Step 1: Enter an SEO Headline
To analyze how clickable your title is, specify your desired SEO title in the title bar and hit the Analyze button.
Step 2: Review Your SEO Headline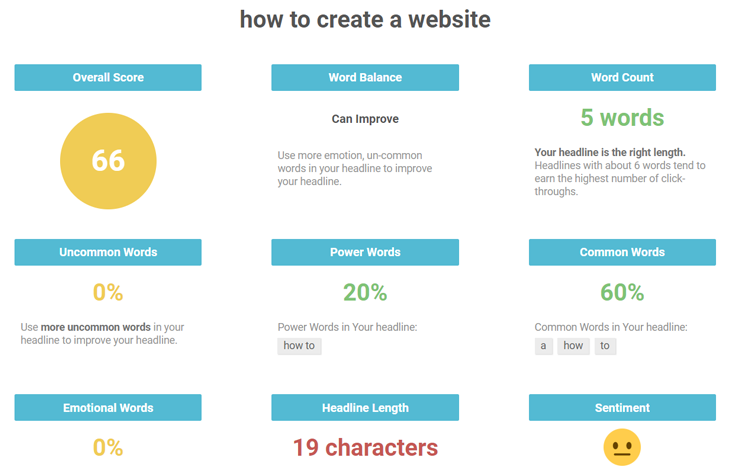 Once you hit Analyze, you'll see a detailed analysis of how enticing your SEO title is.
Overall score: For best results, strive for 70 or above
Word balance: Find a perfect balance between common, uncommon and emotional words
Word count: Headline with about 6 words tend to drive more click-throughs
Uncommon words: Use more uncommon words to improve your headline
Power words: Using power words, make your headline stand out from the rest
Common words: Combine your headlines with common and uncommon words.
Emotional words: Emotionally triggered headlines are likely to drive more clicks (also called EMV or emotional marketing value)
Headline length: This shows the number of characters in the headline
Sentiment: Identify what sentiment your title triggers, such as positive, negative, or neutral
Search preview: Make sure your title doesn't cut off in search results
Step 3: Refine the Headline Based on the Analysis
Tweak and refine the headline based on the suggestions provided by our Headline Analyzer tool. Then test the refined title again with the Analyzer and see if the tweak improves the overall score.
While this tool is a must have for bloggers, any website with blog content should use a headline analyzer. So we suggest bookmarking this tool so that you can quickly check your headlines any time you need.
How to Write Irresistible SEO Headlines That Work
A whopping 8 out of 10 people may not even read your content if the title isn't captivating enough. To drive traffic, share, and improve SEO rankings, you'll need to create magnetic headlines that attract your audience.
Let's take a look at a few tips on writing irresistible SEO headlines that work.
Come Up With 2-3 Headlines for a Post
Your headline can make or break your content. Sadly, most writers don't take much effort to write a click-worthy headline.
It's in your best interest to come up with at least 2 to 3 headlines for an article to ensure your headline is catchy enough. When you write multiple headlines, you'll be forced to refine your original title until you find the right one.
Find a Perfect Word Balance
Using power words in your title is another good strategy to increase the clickthrough rate on Search Engine Result Pages (SERP) and drive more traffic. Power words trigger an emotional response, get people excited about your content and make them click on your title.
A few examples of power words are:
Greed words: special, skyrocket, six-figure
Curiosity words: sneak peek, limited, shocking
Sloth words: freebie, gift, how-to
Lust words: sex, shameless, sinful
Vanity words: amazing, elegant, epic
Trust words: according to, expert, proven
Anger words: abuse, annoy, B.S.
Fear words: backlash, beware, caution
There are many word banks you can use. We suggest checking out 700 power words to boost conversions.
Keep in mind that you'll want a nice balance among common, uncommon, emotional, and power words. With that structure, you can ensure that your title isn't keyword stuffed, is readable and also encourages users to click on it.
Make Sure Your Headline Doesn't Cut Off in Google
When writing SEO titles, a common practice is to keep the number of characters under 60 so as to make sure the title fits in the search snippet. Some SEO plugins also recommend certain character count to ensure the title doesn't cut off in SERP. However, Google now calculates page titles in pixels rather than by character count.
Characters can vary in width. For example, some characters, take up more space (like 'W') than others, such as 'i'. Currently, Google's display titles max out at 600 pixels.
The best possible way to ensure your title doesn't cut off in Google is by making sure your title characters only take up 600 pixels.
With our Headline Analyzer tool, you can preview how your title will look like in Google Search results. and see if it fits in the SERP.
Start Using Our Free Headline Analyzer Tool
Last but not least, it's essential for you to test your headlines with our Headline Analyzer tool. Not only does it provide a visual representation of your headline in Google Search results, but it also evaluates the headline on a scale of 1-100 to improve readability, SEO, and sentiment.
Want to know if your title is enticing enough to attract traffic? Just go back to our headline analyzer tool and start testing your title.
FAQs on Headline Analyzer
Below are some of the common questions are users ask us often in their quest to write better headlines.
What is a headline analyzer?
A headline analyzer is an online tool that lets you check any headline you create to test out how it will perform with your audience on search engines, ads, social media, or email.
It helps you write headlines that drive traffic, shares and rank better in search results.
What is the purpose of a headline?
The headline of your post captures the attention of the reader. It gets them to click on your article and read it. That's why you always need a great headline that's persuasive and relatable to your audience.
Which is the best Headline Analyzer
The Free Headline Analyzer Tool from IsItWP is the best headline analyzer. You can use it to find out how your headline will perform and to improve your score so that you publish a powerful headline that gets clicks and reads.
There are other tools too that give you an impression score, engagement score, and scores based on different headline types as well.
What is a good score on headline analyzer?
70 and above is a good score on our Headline Analyzer.
Are headlines important for SEO score
Yes, headlines can affect your SEO rankings. Google has certain SEO guidelines you need to follow for meta titles, subheadings, and meta descriptions that will help you rank higher on their SERPs (Search engine page results).
How do you analyze a headline?
The best way to analyze a headline is to use our Free Headline Analyzer Tool. It's so easy to use and you won't have to spend time manually trying to write a great headline.
This tool will do all the work for you and give you a headline score based on its length, sentiment, search previews and word balance.
What are the requirements for headline analyzer?
Our Headline Analyzer tool is free and easy to use. There are no requirements as such. You simply need to enter your headline in the search box and hit the 'Analyze' button to get your results.
What is the main difference between a Headline Analyzer and a Headline Studio?
Headline Analyzer is a free tool from IsItWP to test your subject and headlines. It's 100% free and you never have to sign up or pay for the service.
Headline Studio is a tool from CoSchedule that lets you start with a very basic version for free. You need to pay for recommendations.
Is there a WordPress plugin to analyze headlines?
Yes, you can use All in One SEO. It's the best WordPress SEO plugin and once installed, it will analyze your headlines and display a score along with recommendations right inside the post editor.
It even runs an SEO audit and gives your entire site an SEO score and suggests what SEO improvements you need to make. The tool will help you add recommended search engine optimization measures on your site even if you aren't an SEO expert.
How to test subject lines for email subscribers?
You can use our Email Subject Line Analyzer. This tool will help you with headline writing for emails.
You can also A/B test your email headlines. You can do this inside your email marketing service like Constant Contact, Brevo, or Drip.
Can I set up A/B testing headlines for my website?
Yes, Google Optimize lets you split test your website content. You can set this up easily using a plugin like MonsterInsights. Follow our guide: How to Use Google Optimize in WordPress (Step by Step).
For more helpful content, follow our IsItWP blog. We regularly publish roundups of the best themes, hosting providers, website builders, and plugins for WordPress. We also have tutorials to help you build, grow, and manage your website.