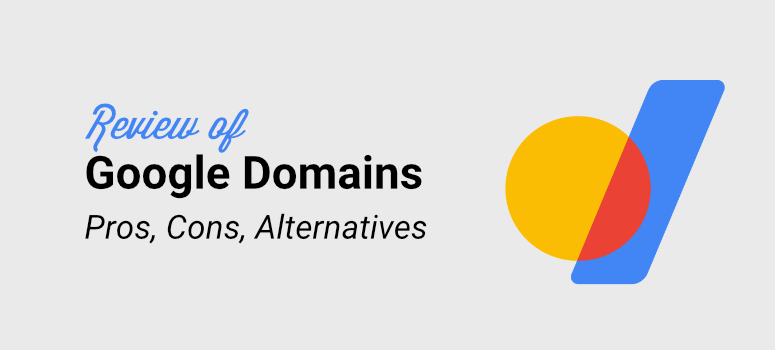 Do you want to get an honest review of Google Domains?
Google Domains has a lot to offer as a domain name registrar and they make it easy to start a website. However, they are relatively new in the domain market compared to long-time players like Domain.com and Bluehost.
In this review, we'll reveal everything you need to know about Google Domains before you register your domain name with them.
Overview of Google Domains

Google has built a trusted name as the ultimate search engine in the world. Their popularity grew so much that the word 'google' became synonymous with 'online search'.
So when Google launched its domain services in 2015, it was easy for users to trust the brand knowing that they'll get good service.
Added to that, if you're already using other Google products and services like Gmail, GSuite, and Google Search Console, then it becomes easy to connect your domain to them.
The main drawback here is that Google Domains only offers domains. They don't have web hosting plans. So for instance, you can sign up for a web hosting plan with Bluehost and get your domain for free. Then you can start building your website right away.
With Google Domains, you can only buy a domain. Then you need to get a hosting plan from say, Bluehost or Hostinger. Then you need to point your domain to your web hosting service.
Only after that can you start building your website. So if you're a beginner, you may find this needs more technical know-how to get started.
That said, let's take a look at the highlights of Google Domains.
Google Domain Highlights
Google Domains has a lot to offer. Here are its main features:
Powerful domain name search
Easy domain registration
Simple Pricing
Domain forwarding
Supports 300+ domain extensions
Enhanced security and speed
Domain transfer services
24/7 support
Custom email accounts with email forwarding
Like any product or service out there, Google Domains comes with its pros and cons. This will help you decide whether or not Google Domains is the right choice for you. So next, let's take a look at pros and cons of Google Domains.
Pros of Google Domain
1. Simple Interface
When you visit the Google Domains website, the first thing you'll notice is that it's a really simple platform. It's explained in simple words and is so easy to understand.
If you're a beginner, you'll find it super easy to search for the domain name you want using the search tool.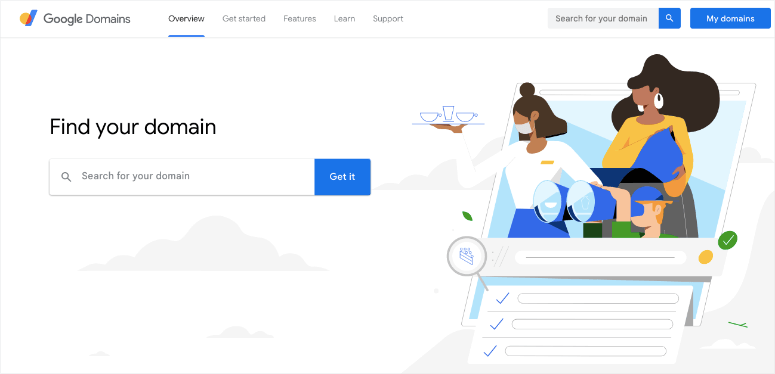 You'll see if your domain name is available along with popular extension options. You'll also see related domain names that you might be interested in.
Now you can choose the domain name along with the extensions you want.
Keeping things simple, Google makes it easy to connect to other Google services like Gmail. However, if you want to connect your site to Google Analytics, you'll still need to follow a technical process. We recommend using the MonsterInsights plugin to connect your site in just a few clicks.
2. Domain Insights
What stands out about Google compared to other domain registrars is this. When you choose a domain name, a new section appears with insights into why the domain name is good and why it's not.
It will comment on the extension you've chosen such as .net, .org, or .com domain.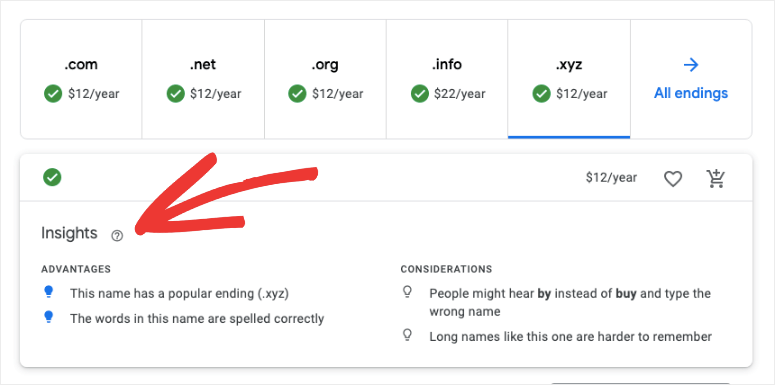 For instance, if your domain choice is too long, Google will tell you that a long name is harder to remember. This is super helpful when you're buying a domain to understand its value and potential.
3. Easy Checkout
Google makes your checkout easy and simple. You just need to select your new domain name and then click on the cart icon to checkout.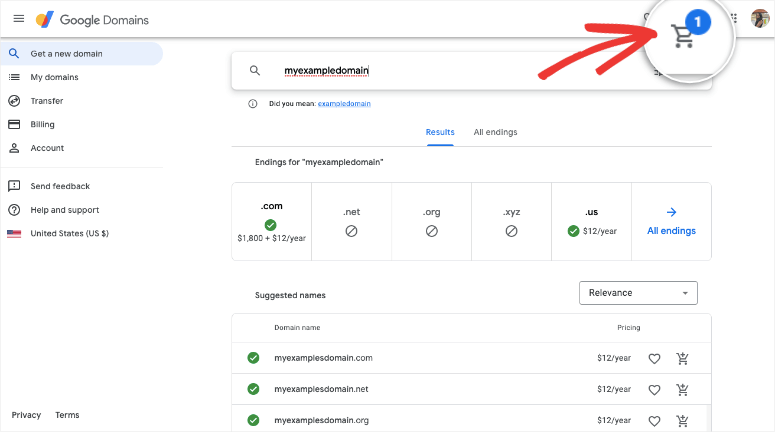 On the checkout page, you won't see too many addons and upsells being pushed on you. Google only suggests getting a business email with Google Workspace.
Next, you'll also see domain privacy protection added to your domain registration. This prevents your personal information from being added to the WHOIS database which is a public record of all domain owners.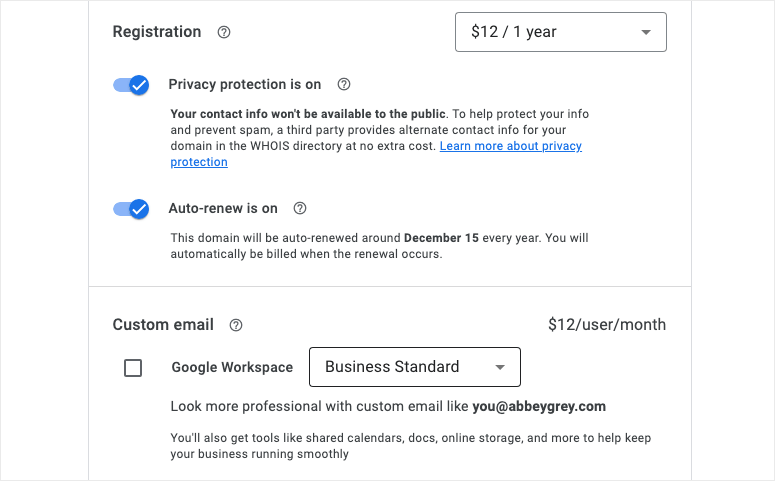 You can then make the payment and the domain name is yours. You can access your Google domain using your existing Google account.
4. Powerful Domain Management
Google lets you share access to your domain. This makes it easy for agencies to grant access to clients. Or you could share domain access with coworkers, freelancers, and team members.
Added to that, you can create up to 100 subdomains with your domain name. This lets you run multiple sub-websites such as blog.example.com and news.example.com.
If you're an advanced user and you want to migrate your domain name or upload your DNS information to another server, then Google lets you download your DNS records (domain name system) to standard formats like BIND and YAML.
5. Domain Security
To protect your domain account from unauthorized access, you can add 2-factor authentication. This means you'll need to enter a real-time password sent to your mobile or email to log into your account.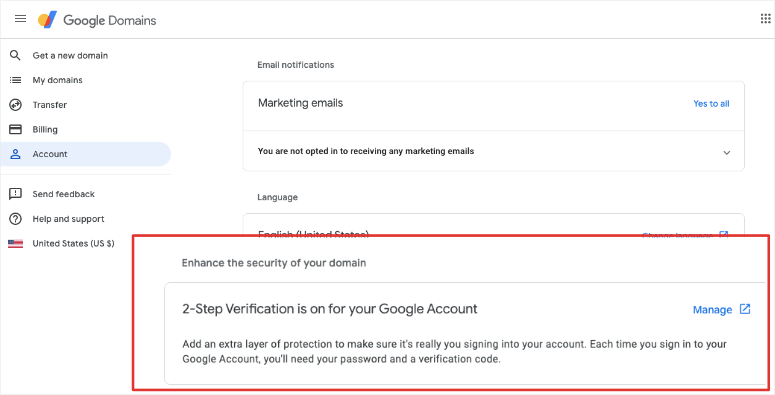 Next, you also get access to One-Click DNSSEC. This protects your domains from threats like cache poison attacks and DNS spoofing.
6. Scalability
Google Domains includes Cloud DNS support. This lets you scale the load your domain can handle as your website and traffic grow. Google provides super-fast DNS resolution at no cost.
7. Google Domains Support
You can connect with Google customer support staff through chat or email to get a resolution on any of your domains.
There's also a Help center with lots of tutorials, guides, and other documentation. You can use this as a self-help solution to resolve any problem you might be facing.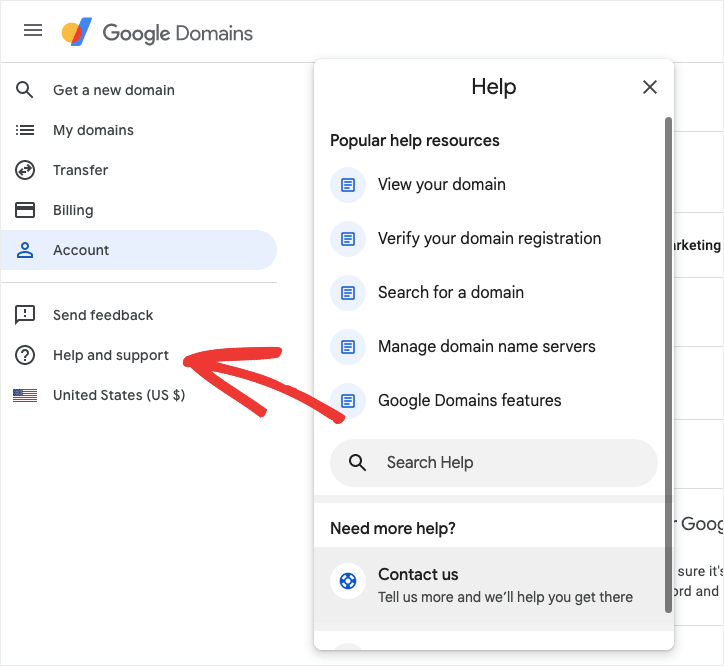 That's all the pros of Google Domains. Now let's take a look at what might prevent you from registering your domain with Google.
Cons of Goole Domains
1. No Web Hosting
Google offers only domain registration. To get your website online, you'll need to buy a web hosting plan from a hosting company like Bluehost, SiteGround, or Hostinger.
See our top picks here: 11 Best Web Hosting Companies for Small Businesses.
After you buy your domain and hosting plan, you'll need to point your Google domain to your web hosting servers.
You can use your Google domain name with any website platform such as Wix, Shopify, and Squarespace. However, we recommend using WordPress. It's free to use and gives you complete control over your website.
You can install WordPress easily through most hosting services such as Bluehost, Namecheap, GoDaddy, and so on.
You need to find and update your DNS servers. It's not too hard to do that but it can be a bit nerve-wracking for new users. For more on this, check out this guide from Nameboy: How to Point a Domain Name to Another Web Host Server.
2. High Domain Prices
Google's standard rate for domain registration is $12. This is inclusive of WHOIS privacy protection.
The actual price of your domain name can vary depending on its market value, branding potential, SEO history, and so on.
You'll want to see this guide: How Much Does It REALLY Cost to Build a Website? (Expert Answer).
Our recommendation is to get a web hosting plan and domain name together. With Bluehost, you can sign up for a web hosting plan for as low as $2.75 per month. You'll get a free domain name (1-year registration), SSL, and CDN (content delivery network) included.
Click Here to Claim this Exclusive Bluehost Offer
3. Limited Domain Extensions
Google supports 300 extensions (TLDs) and you'll get most of the popular extensions including .com, .org, and .net. However, there are 1,000+ domain extensions available. If you're looking for extensions that are out of the ordinary, check Domain.com.
That's all the cons of Google Domains that we know of. Now that we have a fair understanding of Google Domains, let's compare it to the top domain players in the market.
Google Domains Alternatives
For its ease of use and competitive pricing, Google Domains gets a thumbs up from us. However, we honestly feel there are much better deals out there.
Here are the top competitors of Google Domains:
1. Bluehost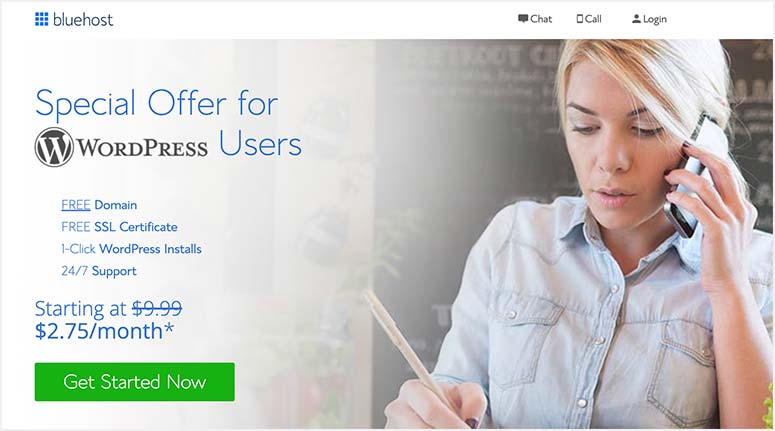 Bluehost is the most trusted web hosting company and are even officially recommended by WordPress.org.
With Bluehost, you can get started for as low as $2.75 per month and you'll get everything you need to set up your website with ease. This includes:
Web and WordPress hosting
Domain name
SSL certificate
CDN (Content Delivery Network)
Custom email address
WordPress installation
App installer
SEO and marketing tools
It's the best option for beginners as well as seasoned developers. Whether you're a blogger, business owner, or have an online store, you'll find a plan within your budget that has all the features you need.
2. Domain.com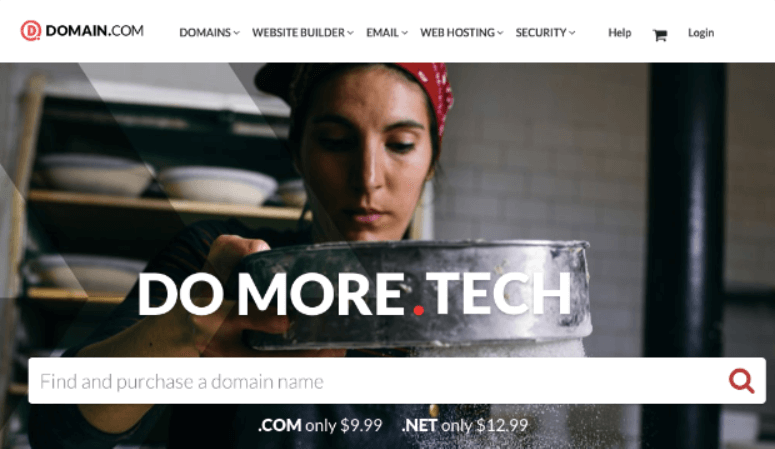 Domain.com is one of the oldest domain registrars and web hosting providers in the world. They have a huge portfolio of web services including domain registration service, web hosting, website builder, professional custom email accounts, domain privacy protection, web security, and more.
At Domain.com, you can register all top-level domain name extensions (TLDs) and even dozens of country code top-level domains (ccTLDs).
See our complete Domain.com Review.
You can get started right away at $3.75 per month for a web hosting plan with these features:
Unlimited storage
Scalable bandwidth
10 MySQL databases
5 FTP logins
Free SSL certificate by Let's Encrypt
Free domain for the first year
3. Hostinger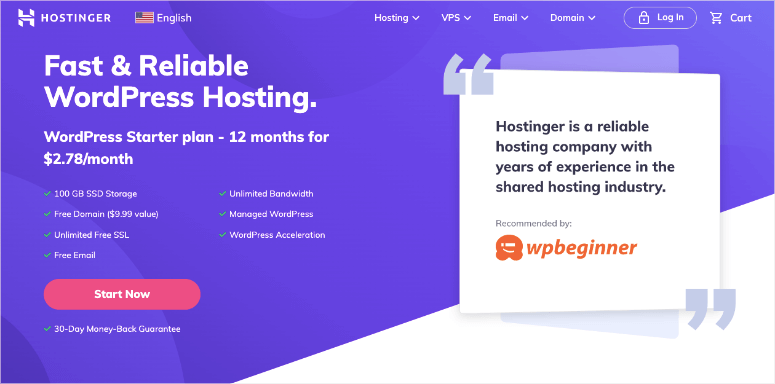 Hostinger is one of the fastest and most reliable web hosts, especially for WordPress websites. They offer a number of hosting plans to suit different budgets and website needs. It's a great choice for beginners as you'll get a handful of management tools to get started with your first website.
You can get started for as low as $1.99 per month for 1 website with the Single Shared Hosting plan.
However, we recommend the Premium Shared Hosting plan. You can host up to 100 websites for just $2.99 per month.
You'll get free domain registration for 1 year. Plus, your plan will include:
Free email
Unlimited free SSL
Unlimited Bandwidth
Daily backups
Unlimited databases
Managed WordPress
WordPress Acceleration
Added to all this, your sites will be protected with Cloudflare Protected Nameservers.
You may also want to check out our list of the 11 Best Domain Registrars & How to Choose One.
Now that you know the best alternative options, if you've decided on Google Domains, we'll show you how to register your domain name with Google.
How to Register a Domain with Google Domains
On the Google Domains website, search for your domain name.
Google will show you a list of available domain names that match your search. You'll also see domain extensions and prices for that domain name. One thing to keep in mind is that the renewal prices almost always stay the same. So when you're renewing your existing domain, you won't have to worry about any huge charges.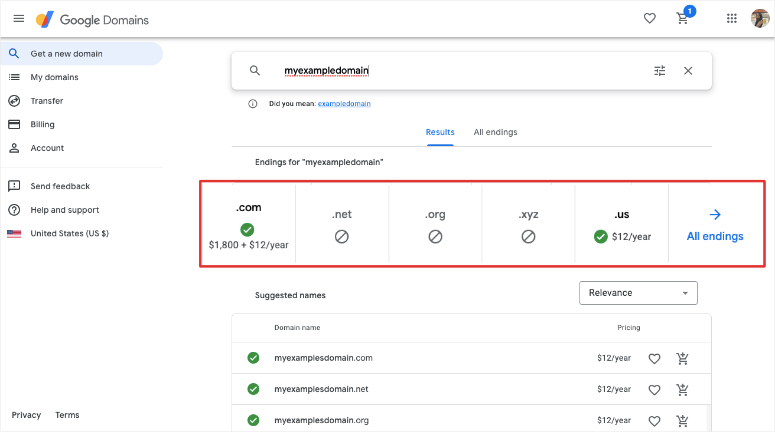 If you want to buy multiple domains, you can keep adding the ones you want to your cart.
If you aren't ready to buy the domain name but want to store the domain name idea for later, you can use the heart icon to add the domain name to your favorites list.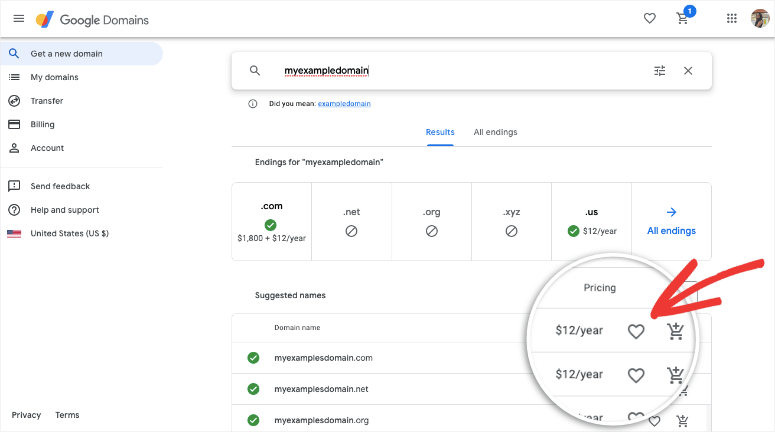 Need help coming up with a good domain name? Try out our free Domain Name Generator to brainstorm domain name ideas.
Once you've added your domain name to your cart, you can checkout.
On the checkout page, Google Domains offers a few options here: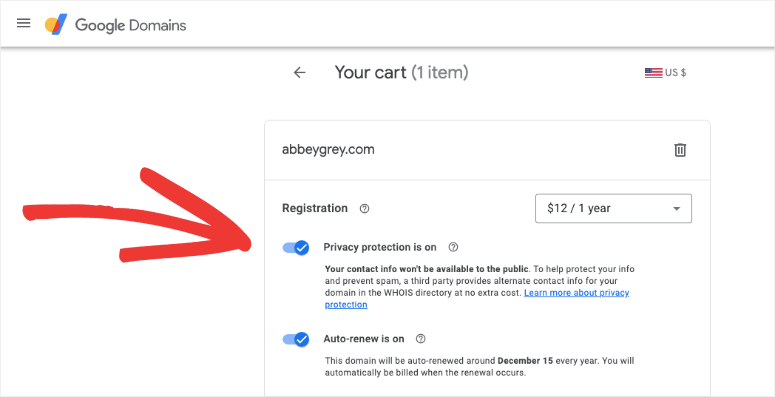 First, domain name privacy protection is automatically enabled for you. We recommend leaving this on. It doesn't cost you anything.
In case this feature is disabled, then domain privacy protection is not supported for the domain you've chosen.
Next, Google also turns on 'auto-renew'. This means your domain name will be renewed when it's near expiry and you'll be charged automatically. This is a recommended option if you want to make sure you never lose your domain name because you forgot to renew it.
After this, Google will let you decide whether you want to subscribe to a Google Workspace account.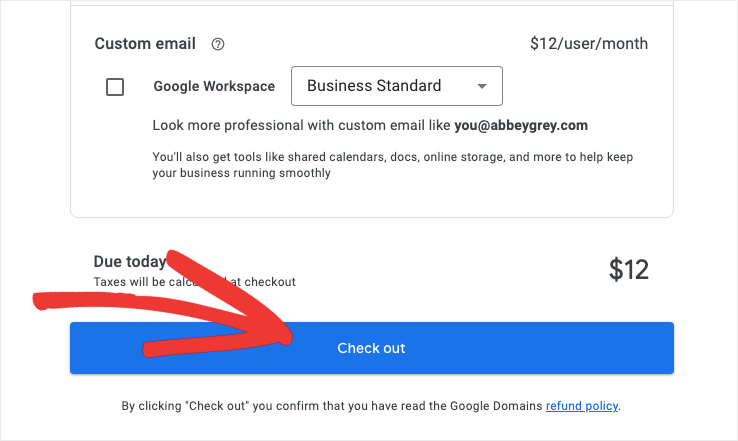 Now click on the Check Out button and you'll see an information form.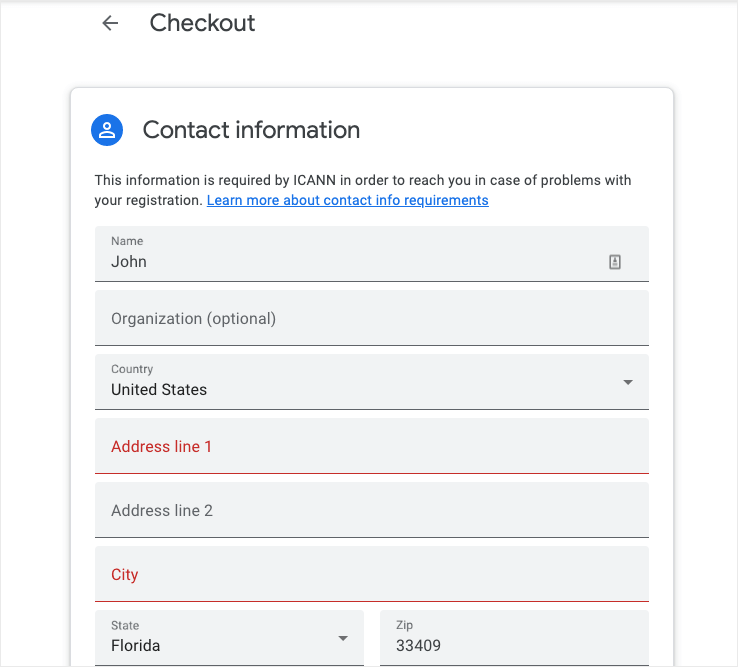 You need to enter your name, email, and phone number. This contact information is added to the WHOIS database so that anyone can find out who owns a given domain name. This is made compulsory by ICANN, the governing agency of the Internet.
However, with domain privacy protection enabled, you don't need to worry about this. Google will replace your personal details with their company details.
After you enter your details, click on the Save and Continue button.
Then you can review your purchase and complete the payment for your domain name registration.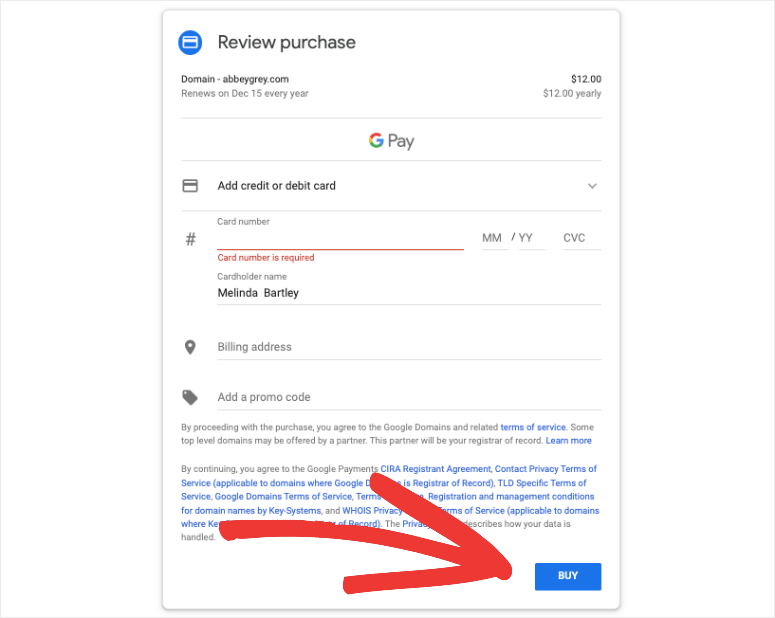 That's it! You've successfully purchased your domain from Google.
That's all we have for you. We hope you found this Google Domains review helpful. Up next, we have more tutorials and guides to help you:
These guides will help you get started with your website and get the right tools to grow and monetize it.