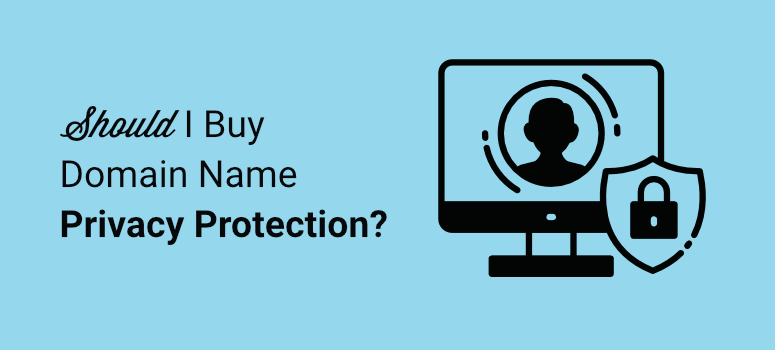 Are you wondering whether you need to spend your money on domain name privacy protection?
ICANN (the governing body over domain names) requires all website owners to make their personal information available to the public. And while there's a good reason for this, it could compromise your professional (and personal) life.
In this post, we'll explain what domain name privacy protection is and help you decide whether you should buy it or not.
Then, at the end of this post, we'll recommend several options where you can buy protection if you decide it's right for you.
But first, let's get more clear on what domain privacy protection is and why you might want it.
Understanding What Domain Privacy Protection Is
To explain what domain privacy protection is, you first need to know what the ICANN and WHOIS databases are.
What Is ICANN?
ICANN is the Internet Corporation for Assigned Names and Numbers. In the 1990s, the internet grew exponentially and had become so vast that it needed a formal organization to put policies and procedures in place.
And in 1998, ICANN was launched as a non-profit corporation based in Los Angeles. It currently operates the WHOIS database, and also receives input from communication providers and other internet-related organizations across the globe.
What Is the WHOIS Database?
When you buy and register a domain name for your website, you need to provide your personal details such as your name, email address, mailing address, and phone number.
These details are made publicly available in the WHOIS database (also known as ICANN Lookup).

This database is basically a list of all the registered domains. Anyone can search this database to find out who owns a domain name and see if a domain is available or not.
Aside from your personal information, the WHOIS database provides other details such as the registration and expiration date of your domain.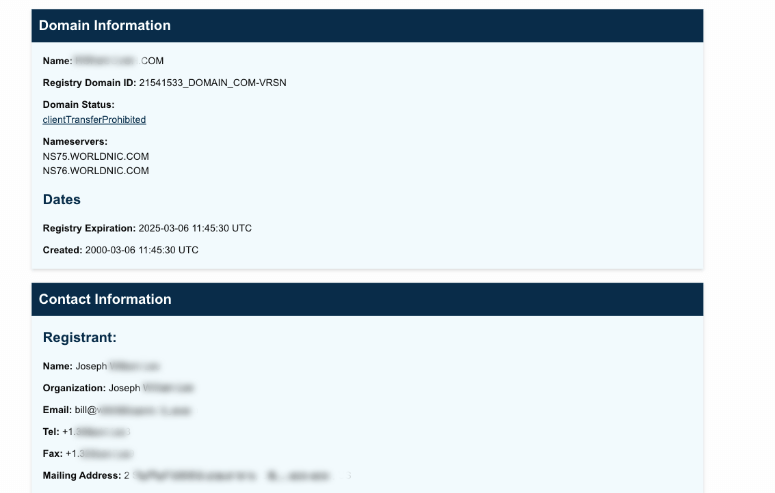 This database is very important as network admins can use it to identify and fix problems or to address various legal purposes.
Plus, it provides a way to maintain accountability for people who operate and own domains. For instance, if someone is using your trademarks on their site, you can use the WHOIS database to find the owner and resolve the issue.
What Is Domain Privacy Protection?
When you disclose your personal details on public records to everyone online, it also becomes available to hackers and malicious threats.
Your data can be used by anyone and sold to unsolicited spammers, telemarketers, and fraudsters.
To prevent this from happening, you can use WHOIS privacy protection to conceal your personal details.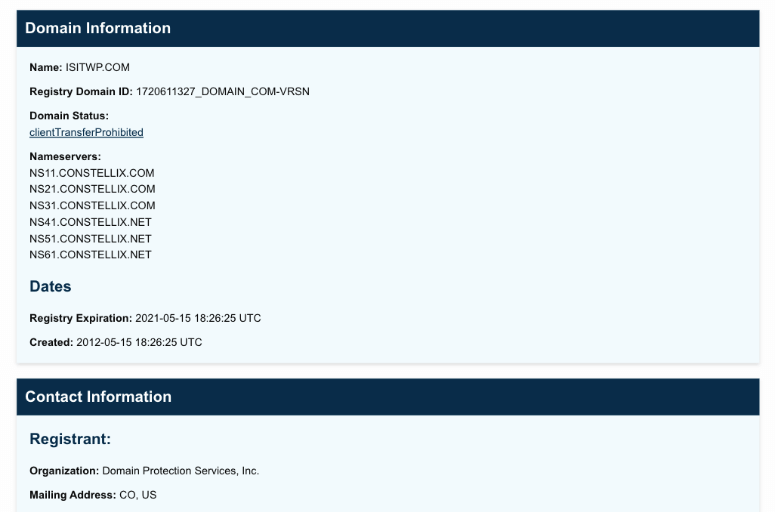 Most web hosting providers and domain registrars offer this service where they replace your personal details with their company information.
Now that we know more about ICANN and WHOIS, let's look at 6 reasons why you need domain privacy protection for your site.
6 Reasons Why You Need Domain Privacy Protection?
Domain Privacy Protection isn't mandatory, but there are plenty of reasons why you need it.
1. Website Security
Most website owners tend to use personal details as their usernames and passwords. And hackers are well aware of this.
They prowl the internet looking for these details and use them to break into your website. And if your details are available on public record, it can expose you to such dangers and threats out there.
With domain privacy, you can keep your details hidden so that hackers can't access them.
2. Personal Security
With domain privacy, you can ensure that your personal details aren't available to potential stalkers and identity thieves.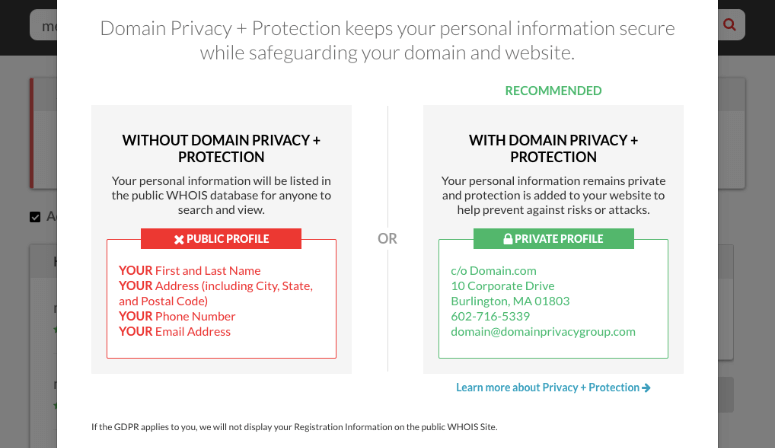 You also don't have to worry about your information being shared and sold to unwanted companies, fraudsters, and marketers.
3. Hide Your Site From Competitors
If you're building a website with a new concept or product that isn't out on the market yet, you may want to keep your details private.
Competitors also won't be able to look up any other domains that you own.
4. Block Domain Flippers
Domain flippers buy and sell domains and are constantly on the lookout for in-demand domain names.
They use the WHOIS database to find your contact information and then make you an offer to sell your domain.
By hiding your details, you can prevent persistent offers on your domain when you're not interested in selling.
5. Avoid Spammers
Spammers can pick up your contact information from the WHOIS database and send you promotions and other annoying campaigns.
Your inbox can soon be flooded with unsolicited emails and messages or, worse, you could receive spam phone calls. This is not only annoying but can pose a real problem as legitimate business communications can get disrupted in the mix.
6. Hide Your Location
Many times, companies sell products that cater to a market in a different country. This is quite common in eCommerce and software companies.
There are also times where your company may be registered to a different address than where you operate.
In cases like this, you'd want to make sure no one can track down your original physical location or registered address. With privacy protection, your address and location will be hidden, like so: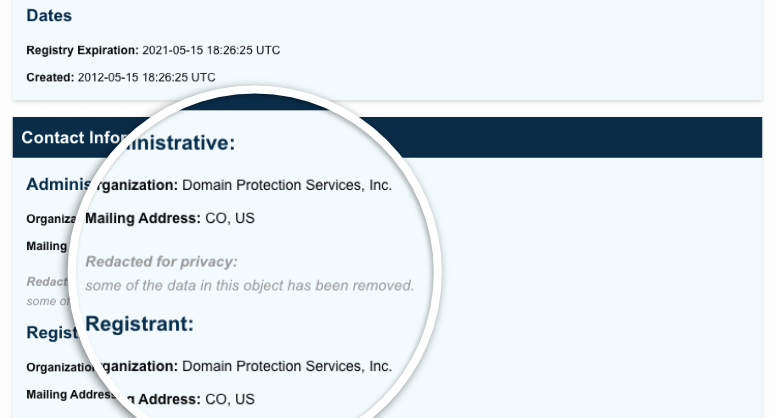 As you can see, there are plenty of benefits that come from domain name privacy protection.
Can I Use Fake Information to Register My Domain?
Now, you may be wondering if you can just enter random details to register your domain to avoid these issues.
Unfortunately, that's not possible. When you register a domain, it's similar to registering an asset like real estate with the governing authority.
You need to provide authentic information because the information will be verified.
You'll need to use the correct email address because ICANN will periodically ask you to verify the validity of that email address to keep your website live.
Here's a sample of the email that ICANN sends out regularly to domain owners.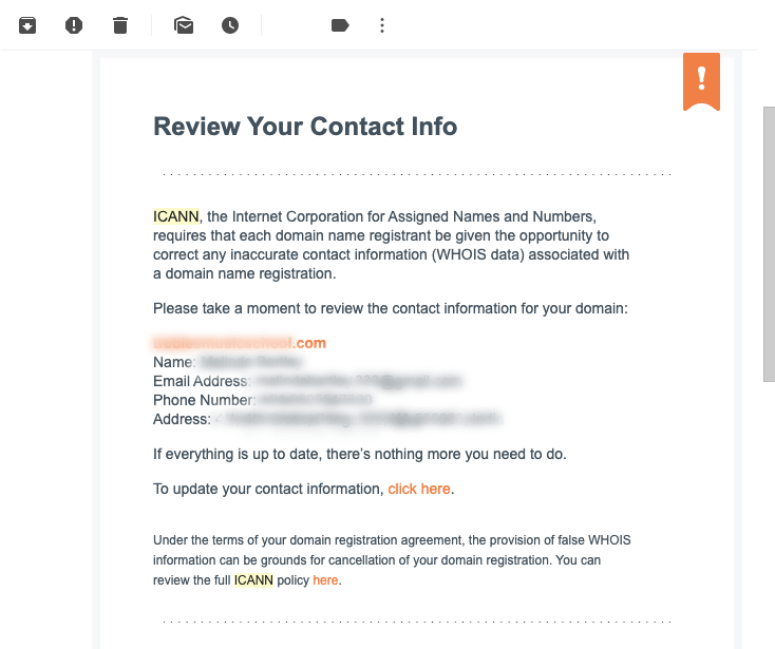 And it clearly states that if you provide false information, they can cancel your domain registration.
How Do You Get Domain Privacy Protection?
Getting Domain Privacy Protection is really simple. You can buy domain privacy protection before or after registering a domain name.
And usually, web hosts and domain registrars will add it to your cart automatically and you can choose to remove it, or they'll suggest purchasing it before you checkout.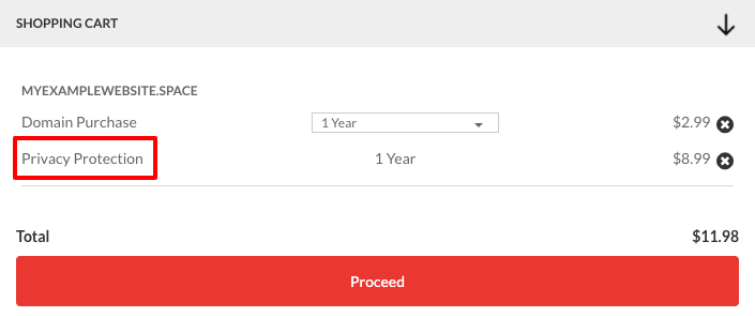 We recommend doing it before you register a domain because this way your personal info is never made public in the WHOIS database.
However, if you have already registered a domain and want to hide your information now, you can still purchase privacy protection, though it may take up to 48 hours for the WHOIS database to refresh.
After it does, your info will be removed from public view and replaced with generic details.
People will still be able to see when the domain was registered and when it's expiring.
Here are a few domain registrars we recommend that offer privacy protection at affordable rates. These rates may vary depending on the value of your domain name.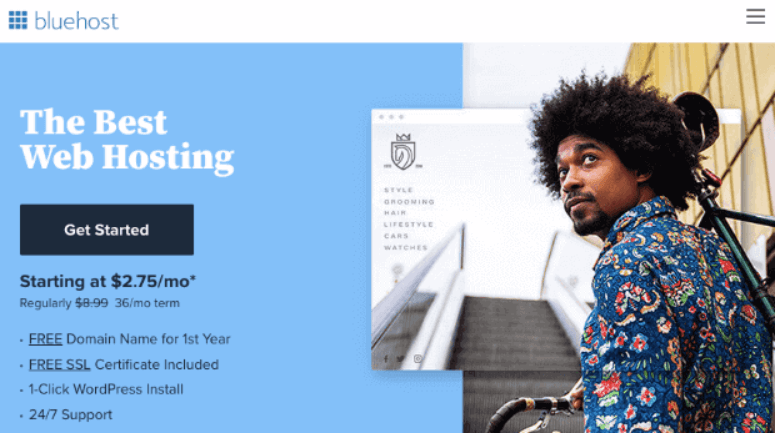 Bluehost is a very popular web hosting platform. In fact, it's officially recommended by WordPress for WordPress websites. It offers domain privacy at $11.88 per year with every domain. And if you opt for one of the higher hosting plans (Choice Plus and Pro), domain privacy is included in the package.
Bluehost has an exclusive deal or our IsItWP users. You can use our Bluehost Coupon to save up to 70% off and get a free domain name.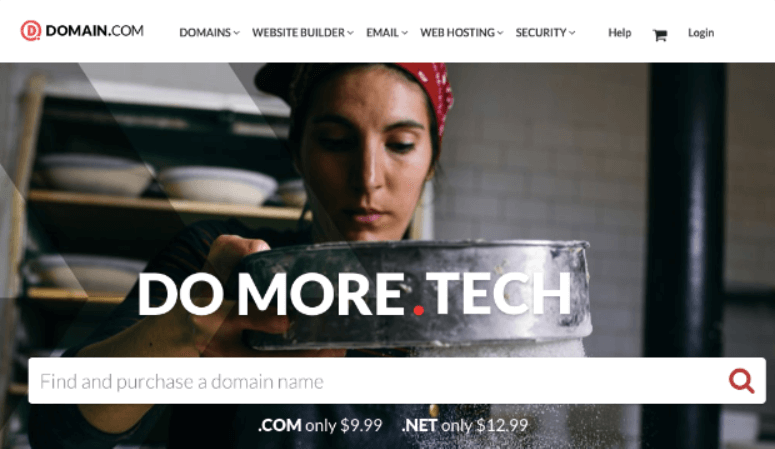 Domain.com is one of the most popular domain registrars and best web hosting solutions. You can add privacy protection to new and transferred domains at approximately $8.99 per year. Plus, you'll get a free SSL certificate.
To learn more about this, check out our extensive Domain.com review.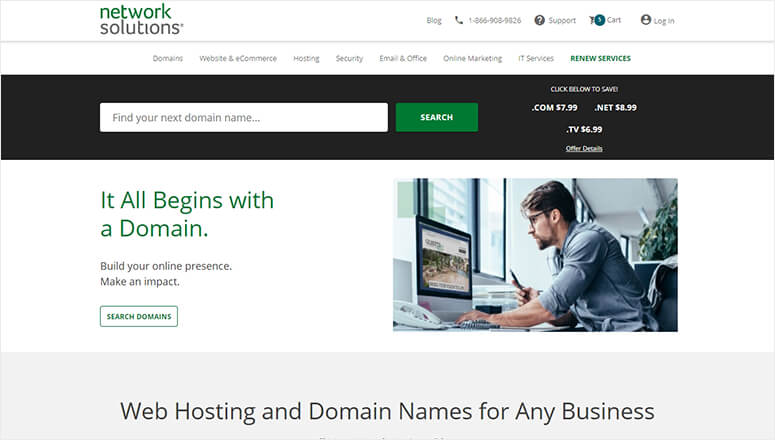 Network Solutions is a domain registrar and web hosting solution.
It gives you access to all the things you need to start a website such as a domain name, web design, SSL certificate, and business email.
You can also transfer your domain name to Network Solutions. And it has a built-in WHOIS search to see what information is publicly available for your domain.
See our full Network Solutions Review.
Private domain registration costs $9.99 per year.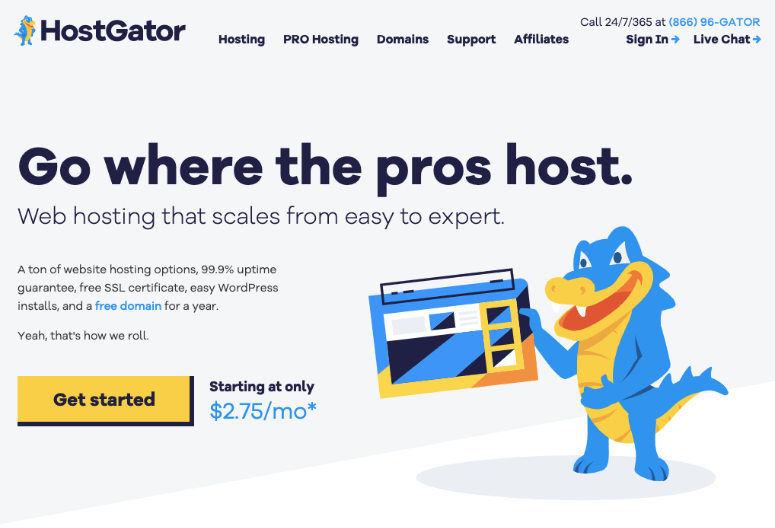 HostGator is a great hosting service provider that offers affordable hosting plans and domain names.
HostGator is trusted by over 10 million users which lists them among the top web hosting providers in the world.
If you plan to buy hosting with them, then they offer a free domain name, email, and web hosting. And you can add domain privacy protection for $14.95 per year.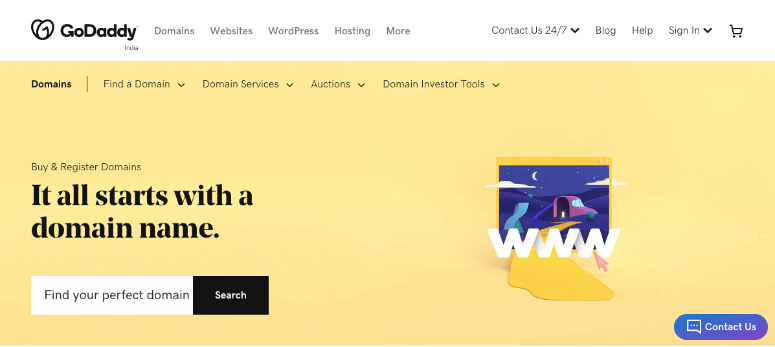 GoDaddy is one of the most popular web hosting services around the world.
You can find and register your domain name with them. And GoDaddy will suggest adding domain privacy protection before you checkout. It costs approximately $10 to $15 per year.
And with that, you should have your answer to 'Should I Buy Domain Name Privacy Protection?'
In a nutshell, domain name privacy protection isn't mandatory for website owners, but it can save you heaps of trouble. It has far too many benefits and comes at an affordable cost of approximately $9 to $15 per year.
So it's definitely a worthwhile investment to ensure your site and personal data is secure.
We hope you found this article helpful. If you're just setting up your website, you'd likely benefit from these resources, as well:
These posts can guide you in choosing the right platforms and tools for your website so you can get started on the right foot.