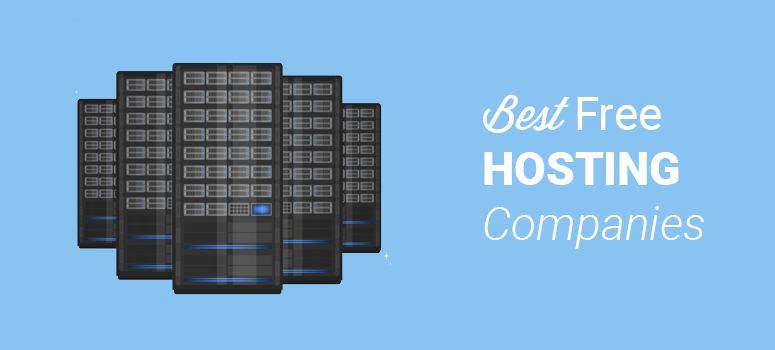 Looking for a free web hosting service? Then you're in the right place.
In this article, we'll show you some of the best free hosting companies on the market.
Before we dive in and start comparing the best free web hosting services, let's examine whether free hosting is the right solution for your site, how it would affect your online presence, and what's the catch with it.
Choosing the Best Free Web Hosting Service
People usually choose a free hosting company when they're on a tight budget and don't want to spend a dime on web hosting. But free hosting can come in handy for students who are tight on budget. Free web hosting for students helps them work on their startups and projects which are only meant for learning and grading.
Not to mention, if something's free, then there's always a catch and free web hosting is no different.
Before you choose a free web hosting service, let's debunk one of the most persistent myths about website hosting: web hosting is expensive.
Is Hosting a Website Really Expensive?
A lot of people choose a free web hosting service because they think hosting a website is expensive and won't fit into their budget.
The reality is, when you're starting out, you can choose a reliable cheap hosting platform for as low as $2 to $4 per month. Some of these cheap hosting companies even offer free domain names, SSL, and a nearly 100% uptime guarantee.
That means, for just $2, you'll get everything you need to build your site from the ground up. These cheap hosting services even ensure that your website will always remain online thanks to their excellent uptime guarantees.
In a nutshell, even if you're under a tight budget, you can find a web hosting plan that's affordable and meets your requirements.
Free Web Hosting Sites – What's the Catch?
Hosting a website certainly costs money. So how can a web hosting company offer its services for free without going bankrupt? Are there any downsides to choosing a free web hosting service?
Ads: To make money, web hosting companies often show their ads on your website's footer. To get ad-free hosting, you'll have to upgrade to a paid plan.
Limit your traffic: A free web hosting service often limits your traffic, which holds you back from growing your business.
Lock in: A free web hosting company often makes it really hard to move your website to other platforms.
Honestly, you'd be better off building your site using a cheap hosting service when you're just starting out. We believe that using a free web hosting service is a bad idea unless you're creating a test site.
You can get started with a web hosting plan for as low as $2.75 per month and use WordPress.org to build your site. This will give you access to tons of free website themes, builders, plugins, and add-ons. So overall, you can enhance your site's functionality while saving a lot of money in the long run.
That said, let's take a look at some of the best almost-free website hosting services first. Then, if you're still not convinced, we'll show you the best free hosting companies.
Top 5 Almost-Free Hosting Companies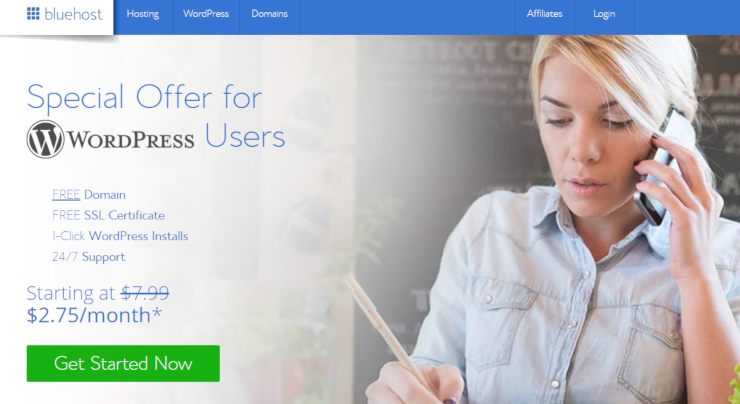 Bluehost is one of the best cheap hosting services available on the market. It's also officially recommended by WordPress.org. With every new web hosting account, you'll get a free domain name, free SSL, and an over 60% discount on web hosting.
Currently, Bluehost hosts over 2 million websites worldwide. There will be no ads on your website plus no downtime either.
We've negotiated an exclusive deal with Bluehost for IsItWP users, so you'd only have to pay $2.75 per month. You'll get free 1-year domain registration, free SSL, free CDN, and one-click WordPress installation.
This makes it ideal if you want to get started on a small budget especially if it's a personal website, small business, or simple blog.
Bluehost is really one of the best web hosting services. It comes packed with features like daily backups, malware security, SEO tools, WordPress auto-installer, and more, making it absolutely worth it. They also have a 30-day money-back guarantee so you have nothing to worry about.
Read our complete Bluehost review.
Get started with Bluehost today!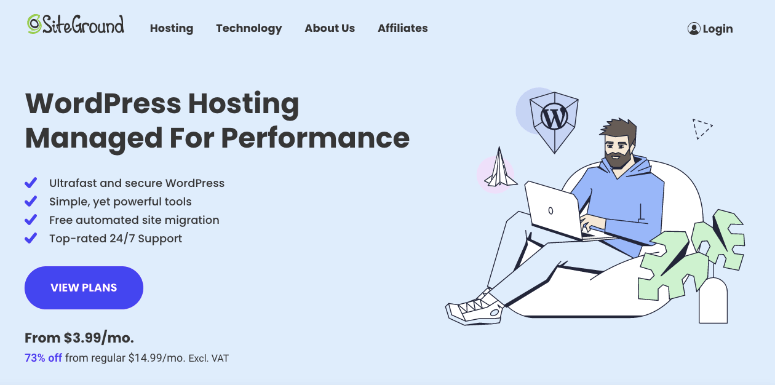 If you want a premium web hosting service that doesn't compromise the speed of your site, then SiteGround could be your best choice.
SiteGround is a feature-packed web hosting service with several data centers around the world. It gives you everything you need to get your site up and running. Plus, it offers cloud hosting solutions with tons of performance and security features.
SiteGround focuses on speed with superfast SSD storage, plus you get free Cloudflare CDN services. It is one of the best hosts for small businesses, startups, and bloggers. SiteGround offers a cheap web hosting plan for as low as $3.99 per month.
Read our complete SiteGround hosting review.
Get started with SiteGround today!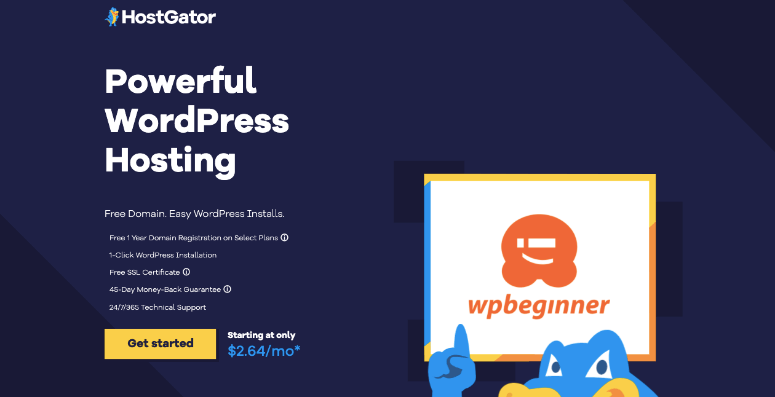 HostGator rocks the cheap hosting space with its affordable starter plans and easy setup. HostGator powers over 2 million domain names all around the globe.
You get unmetered bandwidth, unlimited storage, one-click apps installation, and so much more.
You can try out their service risk-free for 45 days and, if you're not fully satisfied, you can get a complete refund. HostGator's award-winning 24/7 customer support is available via live chat, telephone, email account, or knowledge base.
With HostGator, you can start your website for $2.64 per month which is a great deal.
Read our complete HostGator review.
Get started with HostGator today!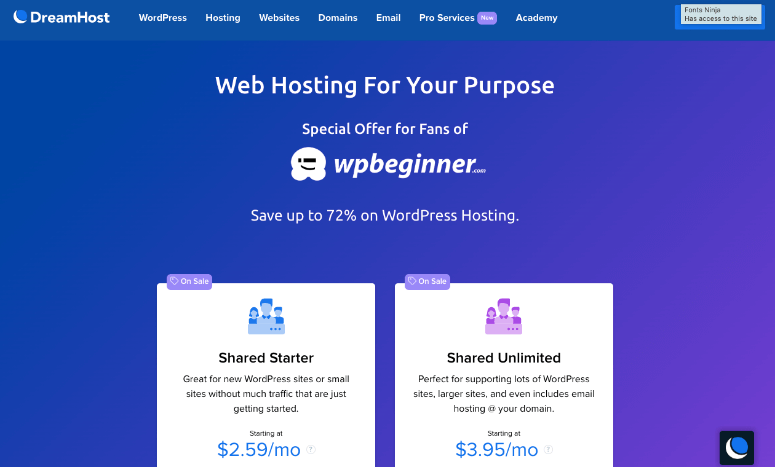 DreamHost is a leading web hosting service that has grown and maintained a successful hosting business for the last 2+ decades.
With their cheap hosting plans, you'll get a free domain name, free SSL encryption with Let's Encrypt, a 1-click WordPress installer, and more. With all their hosting packages, you get unlimited traffic which means unlimited bandwidth. Dreamhost doesn't track it so you never get charged fees for overstepping the limit.
With DreamHost, you can save up to 47% on WordPress hosting. Their hosting plans start at $2.59 per month.
Read our complete DreamHost review.
Get started with DreamHost today!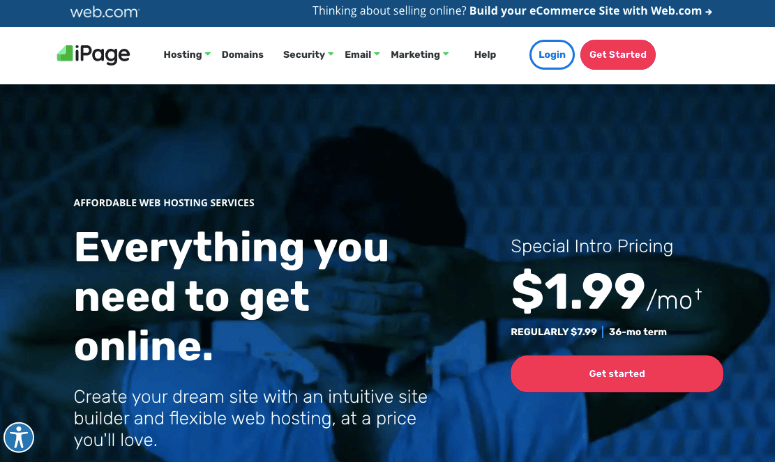 iPage is probably the cheapest (yet still reliable) hosting service in the shared hosting vertical. iPage gives you everything you need to build your site from scratch, such as a website builder with thousands of free templates, a free domain name, and a free SSL certificate.
You can sign up for the iPage shared hosting plans for as low as $1.99 per month.
Read our complete iPage review.
Best Completely Free Hosting Sites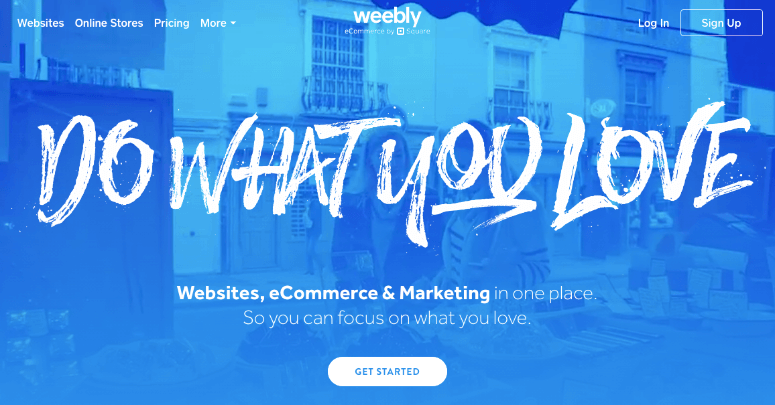 Weebly is another popular free website builder, which is now a part of the Square product suite. Whether you want to build a site or an online store, Weebly makes it super easy to kick it off in minutes.
The free Weebly plan enables you to build a basic website. Your free site will be hosted on a weebly.com subdomain. Your site will also have a Weebly link in the footer.
For advanced features like a custom domain setup, eCommerce store, site stats, and email marketing, you can upgrade to a premium plan.
Read our complete Weebly review.
If you're using Weebly and looking for a way out, check this complete guide on how to move your website from Weebly to WordPress.
Get started with Weebly today!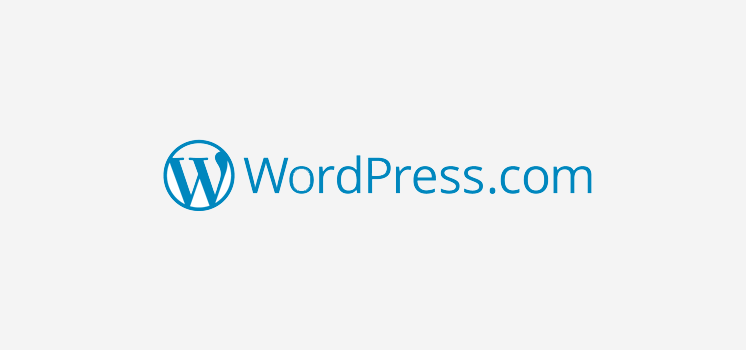 WordPress.com is a free blogging platform that helps you easily build a blog or a site from the ground up. Unlike other free site builders, WordPress.com offers 3 GB of storage space, dozens of free themes, and all the other essential features you can think of.
The free site will be hosted on a WordPress.com subdomain and will be highly optimized for search engines.
Their premium plan lets you connect a custom domain, offers unlimited disk space (up to 200 GB), and even integrates a storefront with your WordPress.com site.
Get started with WordPress.com today!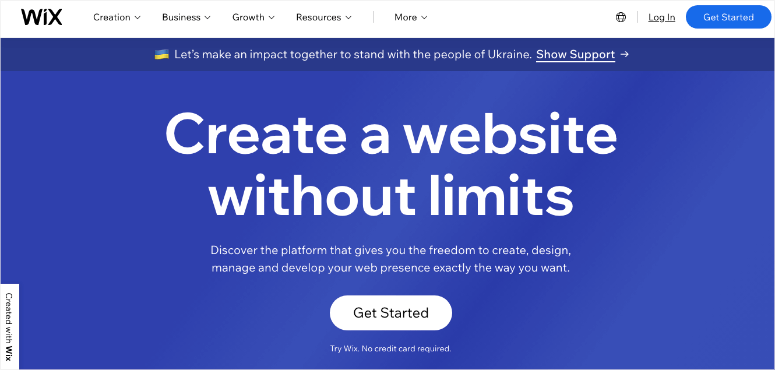 Wix is a free website builder that allows you to quickly start a site from the ground up. The best thing about Wix is that you don't have to learn any of the technicalities of hosting and website building. You can simply sign up for Wix and start building your own website you've always wanted with its drag and drop builder.
The free plan doesn't allow you to use a custom domain name such as IsItWP.com or WPBeginner.com. This is what your site URL will look like: https://username.wixsite.com/sitename
To connect to your own domain name, you'll have to upgrade to a premium account.
Read our complete Wix review and see how Wix.com is different from WordPress.org.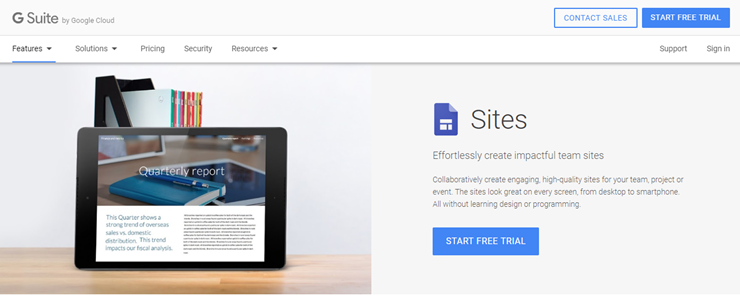 Google Sites is part of G Suite and enables you to create a highly customizable website by collaborating with your team members. As Wikipedia says: it's a structured wiki and web page creation tool offered by Google.
With a standard Google account, you can create as many Google Sites as you want for free. The only catch is that your site will be under Google's domain and your site address will look like this: sites.google.com/view/yoursite
To use a custom domain name, you can sign up for a G Suite account.
Get started with G Suite and Google Sites today!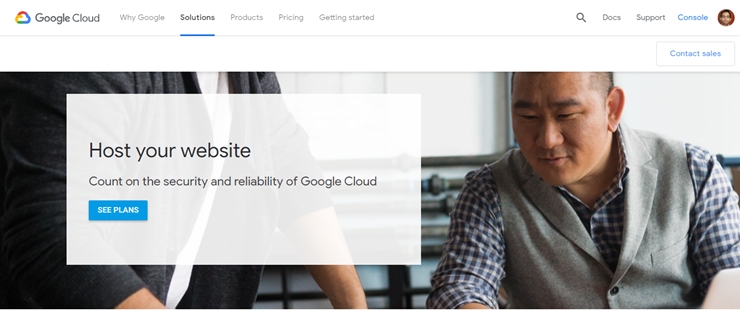 Google Cloud Platform is the best free hosting company on the market.
With Google Cloud Platform, you can host your website for a free trial that lasts for 12 months. They also offer an Always Free tier, which provides limited access to many common GCP resources.
However, keep in mind that Google asks for your credit card information when signing up to verify your identity and distinguish actual customers from robots.
Get started with Google Cloud Platform!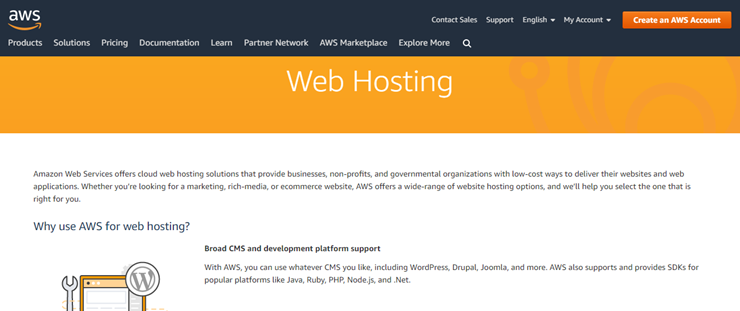 If you want to host a static website on a free web hosting service, then you might want to check out Amazon Web Services (AWS). AWS offers a few different types of free plans such as Always Free and 12-months free accounts.
The free AWS account might be a good solution for users who want to explore their platform and master their technical skills.
That's our list of the best free and cheap web hosting plans. Next, we'll give you our verdict.
Which is the Best Free Web Hosting?
Weebly and WordPress.com are the best free web hosting options on the market.
Weebly lets you build a basic website for free which is great for beginners. You don't need to add a credit card or any other detail to set up your site. However, the free version is very limited and you don't have complete control over your website. Since you're hosting on their servers, Weebly can also remove your site at any time without prior notice.
WordPress.com is ideally designed for bloggers with a 3 GB bandwidth space and access to WordPress themes. The website will be hosted on the WordPress.com free subdomain. Unlike other web hosting providers, you don't get a cPanel (control panel) and access to install premium WordPress plugins.
Free web hosting comes with limitations like storage space limit, no free email, no custom domain, and so on. You may start your site with a free web hosting company, but you'll need paid hosting sooner or later.
Therefore, we recommend Bluehost, the best web hosting solution so far. The best part about Bluehost is the exclusive 70% discount for IsItWP users on web hosting.
On top of the premium hosting plan, you get a free domain name and a free SSL certificate for one year. This reduces your hosting cost to $2.75 per month, worth every penny you pay.
You can then install a free content management system like WordPress or Joomla to build your site.
We hope this guide helped you find the best free web hosting service for your site.
If you enjoyed this article, you might also want to check out the following article:
These guides will further help you understand what is web hosting, find hosting resources, and set up a website from scratch.