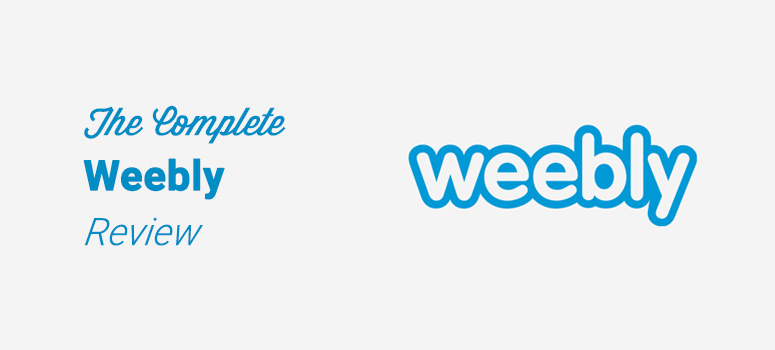 Looking for a simple website platform to start your new website?
If so, then Weebly may be the platform you're looking for. It's a simple website builder that allows you to create a website easily without having to worry about any technical setup or coding.
However, there're more things that need your careful consideration when choosing a website platform. In this Weebly review, we'll take a look at its most important features, functionalities, pricing, and more to help you make the right decision.
About Weebly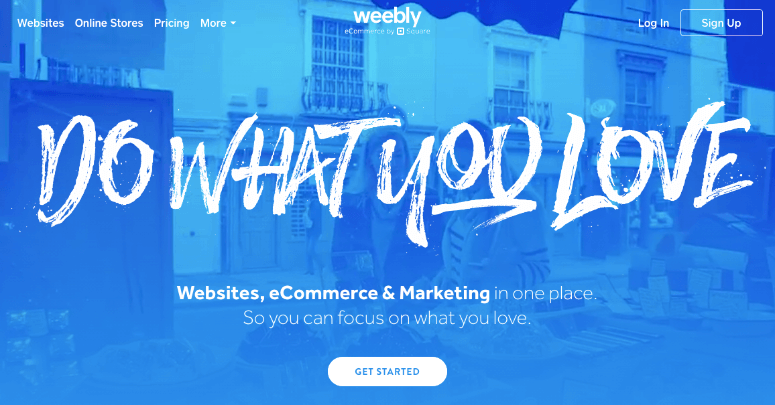 Weebly is one of the most popular website builders available on the market. It enables you to easily create a website for business, eCommerce, portfolio, blog, or a variety of other purposes.
Weebly is a fully hosted platform that provides you with both hosting space and a domain name to start your website. Hence, you won't need to look for a hosting provider and domain registrar to start your website. However, there're a few compromises like limited customization options, limited control over your data, etc.
It includes plenty of easy-to-use website making tools that allow you to build professional, mobile-optimized sites without touching a single line of code. In addition, it also has handy tools for marketing, analytics, and search engine optimization (SEO) to grow your business faster.
Started in 2007, Weebly currently powers over 50 million websites online. In May 2018, it was acquired by Square, an online payment company. Because of this, it now comes with more powerful eCommerce features and more payment processing options.
Getting Started with Weebly
To start a new website on Weebly, go to the official Weebly website and click Create an online store or build a professional website. For this example, we'll choose the second option.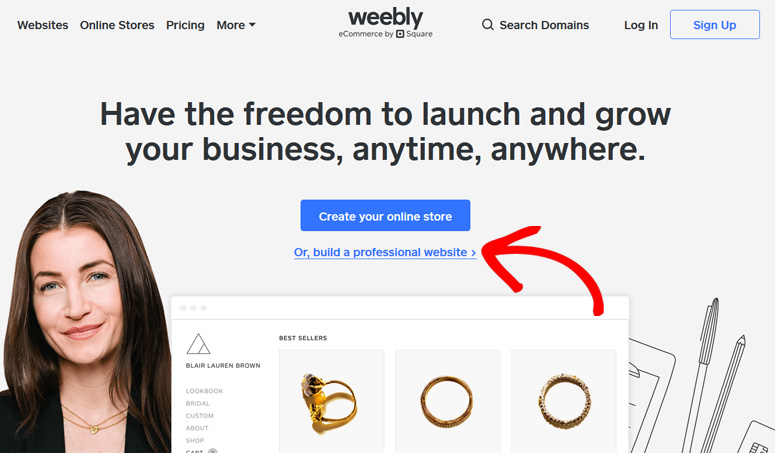 After that, you can choose a theme for your website.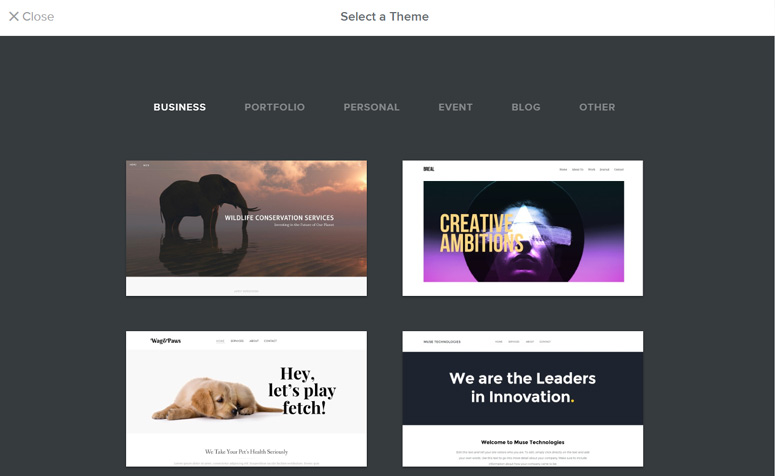 There're several themes listed under different categories like business, portfolio, personal, event, blog, and others. You can preview a theme by clicking on it; and, if you like the design, you can choose it by clicking the Start Editing button.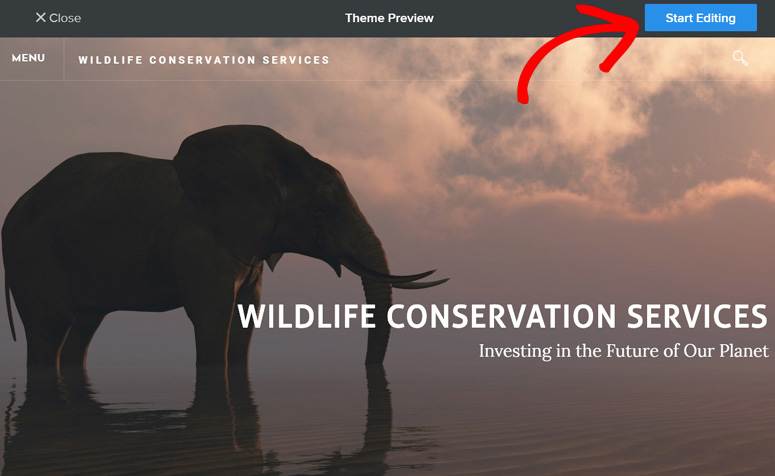 If you want to check their other themes, you can click Close and preview the other themes using the above method.
After you've selected your theme by clicking the Start Editing button, you'll see a new window where you can select your domain name. You can search for a domain name for your website by typing a keyword in the search box.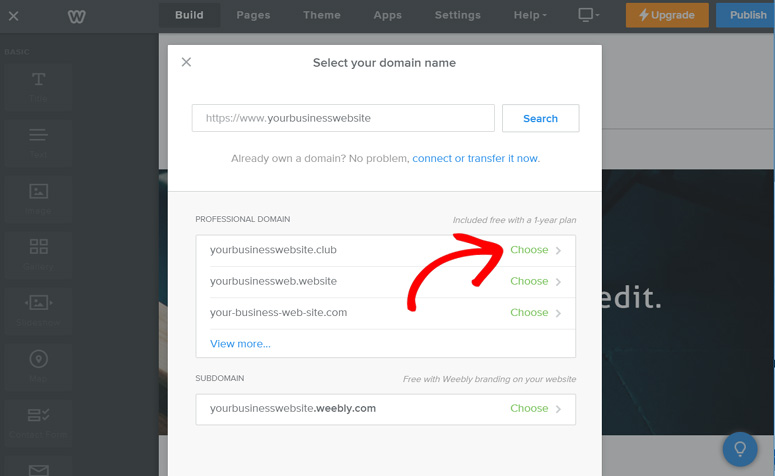 There, you'll see the available domain names matching the keyword you entered in the search box. In the results, you'll see some professional domain names and a free Weebly subdomain. If you like any name from the available professional domains, you can click the Choose option to proceed.
Next, you'll see the Weebly pricing page. You'll need to choose one of the available premium plans to use the domain you've selected. If you buy any 1 year Weebly plan, you can use the domain name free of cost for 1 year.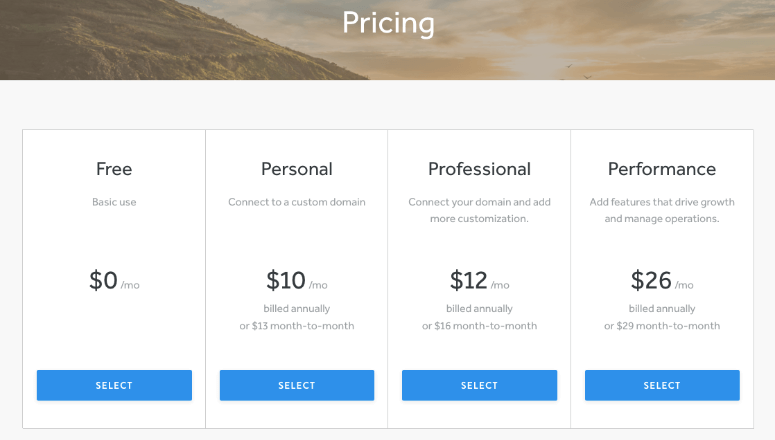 Click Select to proceed. Then, choose a Weebly subscription for 1 month, 1 year, or 2 years. There are discount offers for longer-term subscriptions.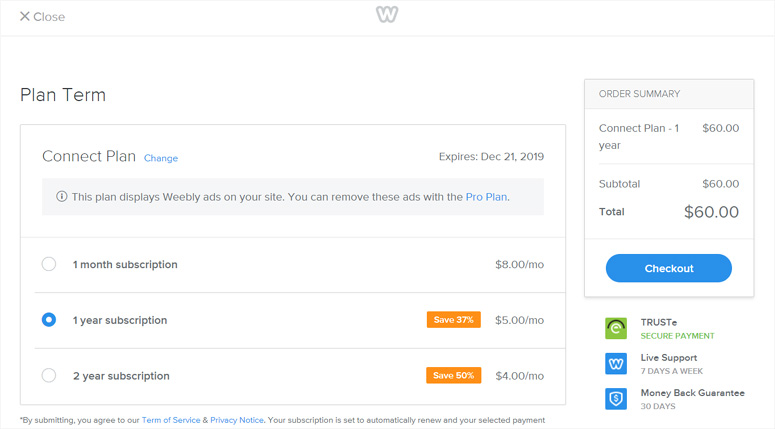 Choose a suitable subscription plan and then click Checkout.
Next, you'll need to enter your payment details and billing information.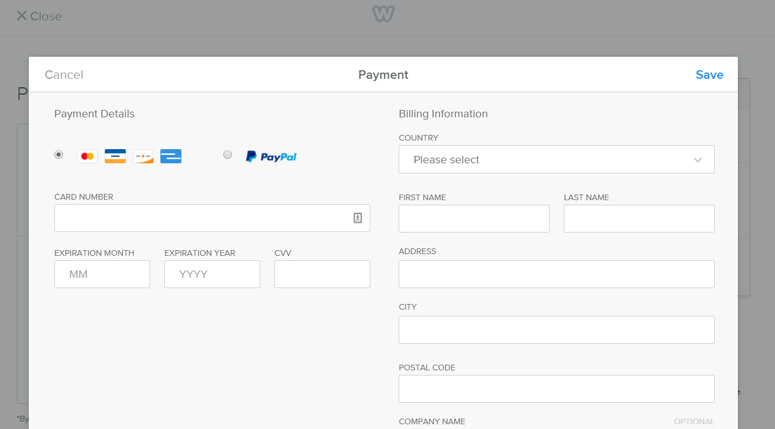 After you've entered the necessary information, you can click the Save button. Then, you'll be taken to the Weebly editing interface.
But, if you aren't 100% sure about starting a professional website and want to test the Weebly platform first, you can choose the free Weebly subdomain.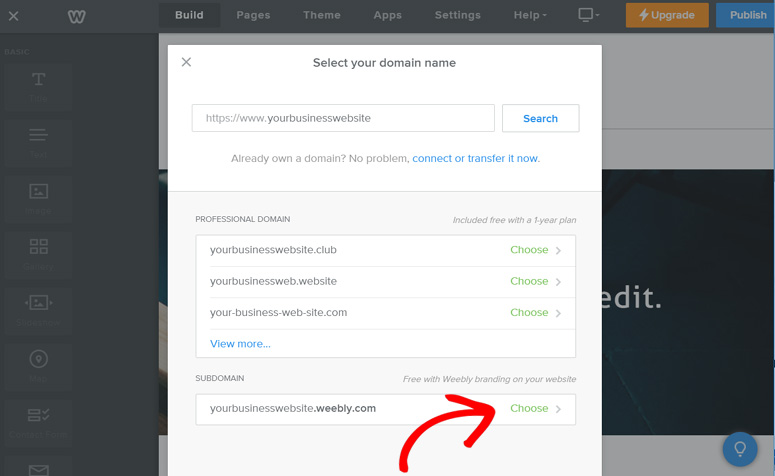 As shown in the above image, the free Weebly subdomain includes the keyword you searched and .weebly.com attached to the end. Here's an example of Weebly subdomain: https://yourbusinesswebsite.weebly.com.
Simply click the Choose button to proceed. Then, you'll see a Setup Complete notice in a new window.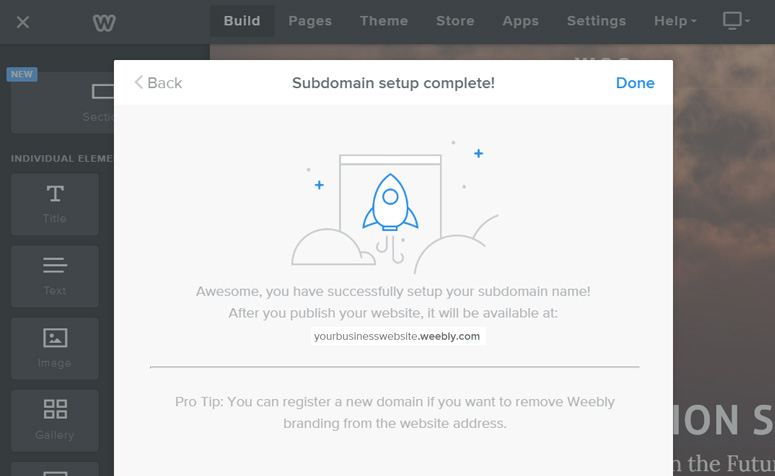 You can click the Done button to start editing your website.
After that, you'll see Weebly editing interface.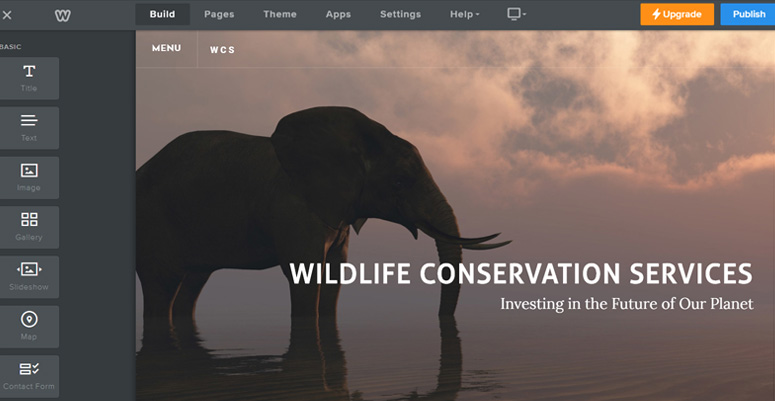 You'll see drag and drop elements in the left-hand side panel and a live preview in the main area. If you want to add any elements, you can simply drag them from the left side panel and drop them in the area you want them added.
Editing any existing element or content is very easy. You can directly click on anything, be it a background image or text, for editing. Upon clicking on any element, editing options will appear on the screen.
For example, here's what the text editor looks like:

You can edit every element on your existing theme, add new elements, and fully customize your website. Once you're done, you can click the Publish button to make your new Weebly site live.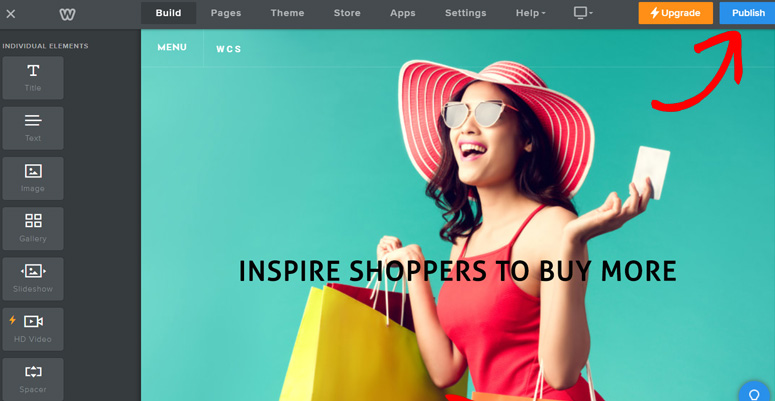 Then, a new window will appear where you'll see a Website Published notice.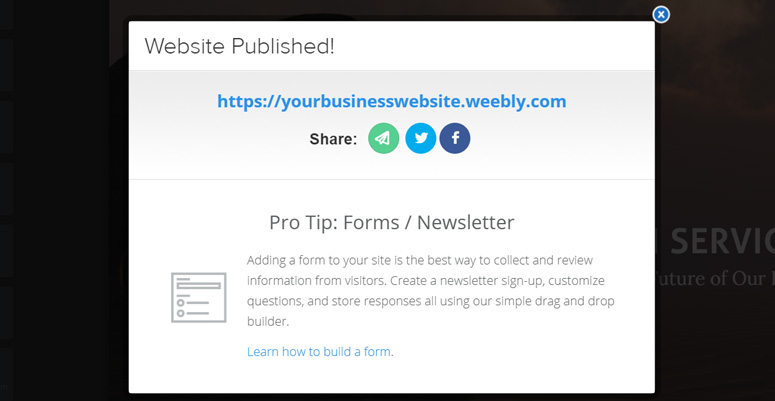 You can click the link to visit your website.
That's it! It's very easy and quick to start a new website with Weebly.
Weebly for Creating eCommerce Stores
Weebly provides an equally simple platform for creating an eCommerce store. There're several eCommerce themes to start with. After you've started a new online store, there're plenty of features and functionalities pre-built to allow you to design and run your online store at maximum efficiency.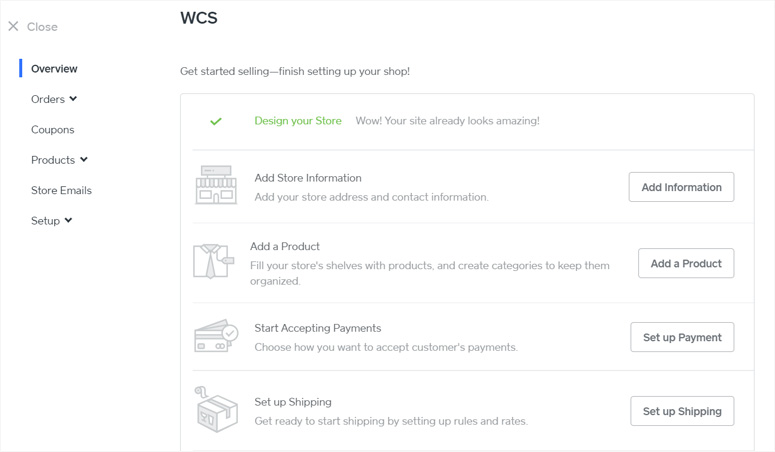 You can add store information, add products, set up payment options, shipping options, taxes, coupons, etc. easily all from one place.
Adding products to your store is very simple. You can add products, set pricing, add a product photo, define its type as a physical good, digital product or service, add shipping information, etc. from a single place.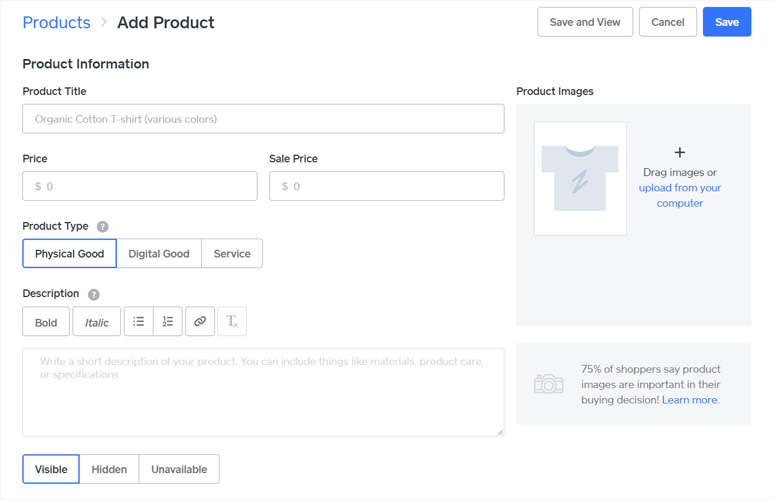 Design Possibilities on Weebly
Design options in Weebly are primarily based on themes and elements. You can choose a theme from the available themes and customize it. You can also add new elements, or edit and customize the existing elements to design your Weebly site.
There're more than 100 professional-looking themes for multipurpose websites. It has a good number of themes designed specifically for business, portfolio, personal website, blog, event, and online store.
When starting a new website in Weebly, you'll need to select a theme; however, you'll have the option to change it later if you don't like it anymore.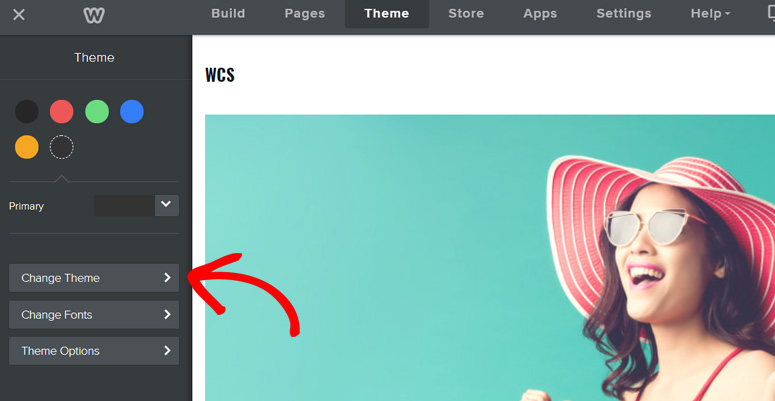 The design possibilities in Weebly are great; however, they're limited. You don't have easy access to third-party themes.
Weebly Apps for Adding Functionalities to Your Weebly Site
There're over 300 Weebly apps which you can add to your Weebly site to add new functionalities. Using the apps, you can boost traffic, connect your social media accounts, and improve sales.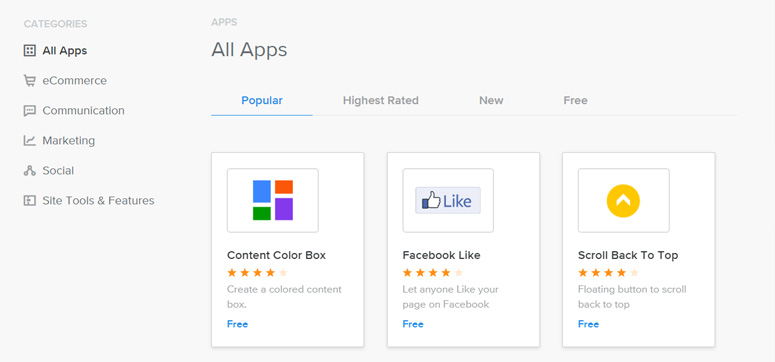 Some of these apps were created by Weebly while some were created by third-party businesses to connect their services with Weebly.
Pricing and Support for Weebly
Weebly is a free and premium website builder platform. They provide a free website platform for users who're okay with a Weebly subdomain like https://yourbusinesswebsite.weebly.com.
If you want to start your website with a professional domain name, you'll need to subscribe to one of their premium plans.
The personal plan starts at $10 per month when billed annually. This lets you connect to your own custom domain.
The next plan is Professional and that costs $12 per month. You get a free domain and unlimited storage. This also removes Square ads so that your site looks 100% your own.
The highest plan is Performance at $26 per month and gives you access to advanced eCommerce features.
Weebly has a rich knowledge base with hundreds of user-friendly articles in it. You can find answers to most of your simple queries in the knowledge base. For more technical queries, you can contact support via their community forum, chat, email, or by phone.
Weebly vs. WordPress – Which Platform You Should Choose
WordPress is the most popular website platform in use today and powers over 28% of all websites on the internet. It's an amazing alternative to Weebly for creating websites.
WordPress comes in 2 flavors known as WordPress.com and WordPress.org. WordPress.com is a fully hosted platform like Weebly whereas WordPress.org is a self-hosted platform. To start a new website on the WordPress.org platform, you'll need to buy a domain name and hosting and install WordPress yourself. For more details, check out our article on WordPress.com vs. WordPress.org.
However, using self-hosted WordPress is rewarding in many ways. First, it gives you the ability to control your website data completely. Since you host your website on your own hosting account, you'll have full control over your website resources and data. This is not the case when you're hosting your site on cloud-based website builders like Weebly.
Second, you have limited design and customization options with Weebly in comparison to WordPress. With WordPress, you'll have easy access to thousands of free and premium themes in the official WordPress.org directory, theme marketplaces, and third-party theme companies. Whereas, with Weebly, you're limited to around 100 official themes created by Weebly.
In addition, there're thousands of free and premium plugins for extending your WordPress site's functionality. There're dozens of plugins which do a similar job, and, due to the competition, there're really amazing products available. On the other hand, Weebly has limited apps.
With regard to pricing, the basic plan for a Weebly website costs $10 per month whereas you can start a WordPress website for just $2.75 per month with Bluehost.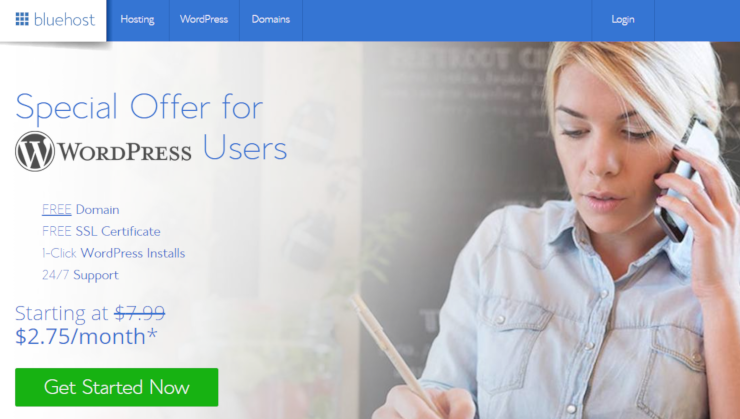 If you're ready to invest some time and effort, WordPress is a far better platform than Weebly. You can use Weebly for simple websites and personal blogs, but if you have grander plans in mind then it's not the platform for you.
Although it looks a bit difficult to start a WordPress website, it's not that complex. If you're interested, you can follow our step-by-step tutorial on how to make a WordPress site and easily get your site online within minutes.
Also, check out this guide on how to move your website from Weebly to WordPress.
Our Verdict on Using Weebly for Building Your Website
Weebly is a truly simple website builder which lets you create a website with minimal effort. The easy-to-use drag and drop builder provides a hassle-free website making experience.
There're hundreds of Weebly themes to personalize your site's design and over 300 apps to provide additional features and functionalities. Its design and customization options are sufficient for average users; however, it may be difficult to create a unique design if you have bolder plans for your business.
In conclusion, we believe that Weebly is a great platform for beginners to start their online presence. It provides a really simple, user-friendly platform for building a website. We give it 4 out of 5 stars. Here's the breakdown of our review scores: