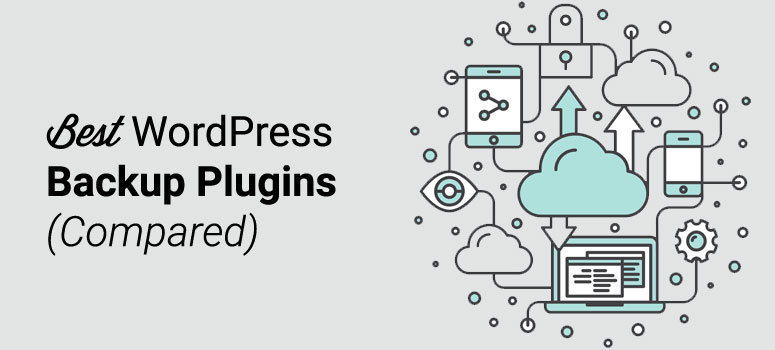 Looking for the best WordPress backup plugins?
Backups are important to keep your website safe. Whenever your website crashes for any reason, you can quickly retrieve your site from the most recent backup without losing content and files.
In this article, we will help you choose the best WordPress backup plugin for your needs by comparing the most popular WordPress backup plugins on the market.
Choosing the WordPress Backup Plugin
Regardless of the size of your business, investing in the correct WordPress backup plugin is totally worth it, because the most expensive backup is the one you never did!
Most of the time, your web host will create a backup of your WordPress website but this isn't enough. Sometimes, these backups fail to be restored. It's best to create your own site backups that are separate from your hosting company.
Now you can take a manual backup of your WordPress files on your own and for free, but when you need to restore it, you'll run into a load of problems.
Since there are dozens of WordPress backup plugins available, it's easier and safer to rely on them. But it can be tricky to choose the right one that fits your needs. Below are a few things you will need to look for in a WordPress backup plugin:
Backup methods:
Database backup: Some plugins allow you to only backup your WordPress database.
Complete backup: Some plugins let you backup your entire website, including your WordPress database backup and all files.
Scheduled backup: With this option, you can create scheduled backups to run automatically, giving you peace of mind.
Backup location:
Back in the day, most WordPress backup plugins let you store your backup files only on your own server. Now, to improve security, all good WordPress backup plugins support sending your backup files to remote locations such as Dropbox, Google Drive, or Amazon S3. That way, you can easily restore your files, even if your entire website gets hacked.
Now it's time to take a look at the best WordPress backup plugins on the market!
The Best WordPress Backup Plugins
No time to read the full list right now? No worries. You can download our free PDF of the following list to take with you for later.
The PDF comes with all the WordPress plugins listed below, a description, and links to the plugin itself for faster access.
Download the PDF list of these 9 WordPress backup plugins.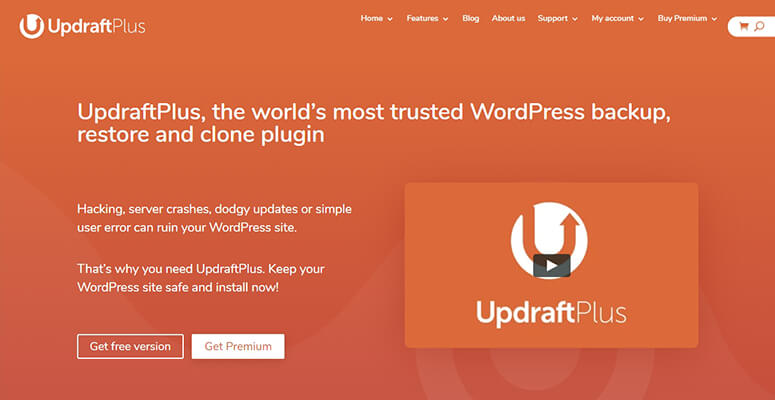 UpdraftPlus is one of the best WordPress backup plugins on the market. It's been rated as the most popular backup solution for WordPress, with over a million active installs.
Even with the free version of the plugin, you can easily set up full, manual, or scheduled backups of all your website files including your database, plugins, and themes. Restoring your files is simple, and you can do it with minimal technical knowledge.
Best of all, it supports multiple cloud storage options including Google Drive, Dropbox, and Amazon S3.
While the free version is fully-packed with all the essential features and backup optionsh, you can easily enhance the core functionalities with their premium version.
Key features
Incremental backups that can be done manually or be scheduled
Plenty of addons to extend functionality
Secure storage options
Restore backups from your control panel
Cost: The basic version is free. Premium plans start at $42 per year.
Get started with UpdraftPlus today.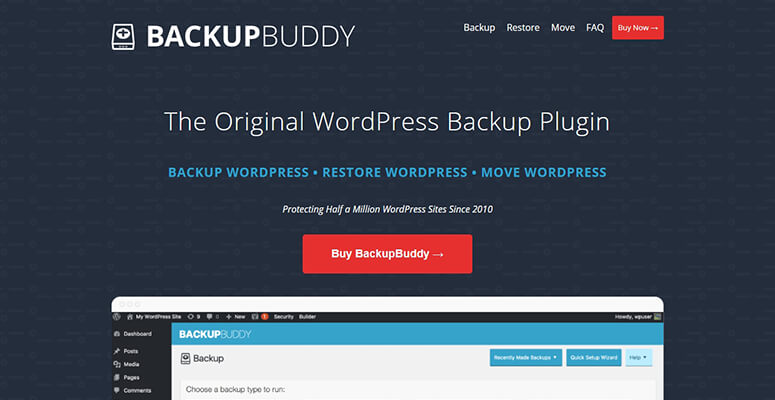 BackupBuddy has been around since early 2010, protecting a half a million WordPress websites.
With just a few clicks, it enables you to backup your entire website from your WordPress dashboard. You can schedule automatic backups, send your backup files to a remote secure location, and restore your files quickly.
The ability to repair and optimize your database is one of the unique features BackupBuddy offers. With every plugin purchase, you will get 1 GB of free Stash Live storage. Stash Live continuously backs up your database changes such as new or modified posts, putting your mind at ease. Best of all, Stash Live works perfectly well even if your site is hosted on cheap shared hosting.
Key features
Backup WordPress files and database
Scheduled automatic backups
Easy restore process
Offsite secure backup storage
Cost: Starts at $80 per year.
Get started with BackupBuddy today.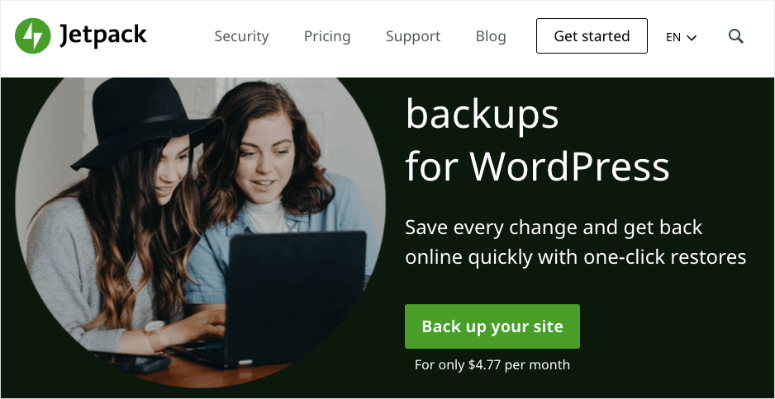 Jetpack Backups is a real-time backup plugin for WordPressm. It automatically saves your site changes in the backup, so when your website crashes, you can restore the most recent version in 1-click.
It provides an activity log to find out the actions taken on your site. This way, you'll know who's responsible of breaking your site. Jetpack Backups has a mobile app that lets you restore your website from anywhere.
With this plugin, your website comes back to the normal in just a few minutes. If you don't like the updates on your site, you can also revert changes to go back to an earlier version.
Key features
Restore site from anywhere through desktop or mobile app
Unlimited backup archive
Real-time backups and automated daily backups
Cost: Backups cost $4.77 per month (billed annually). The complete Jetpack suit costs $47.97 per month (billed annually).
Get started with Jetpack Backups today.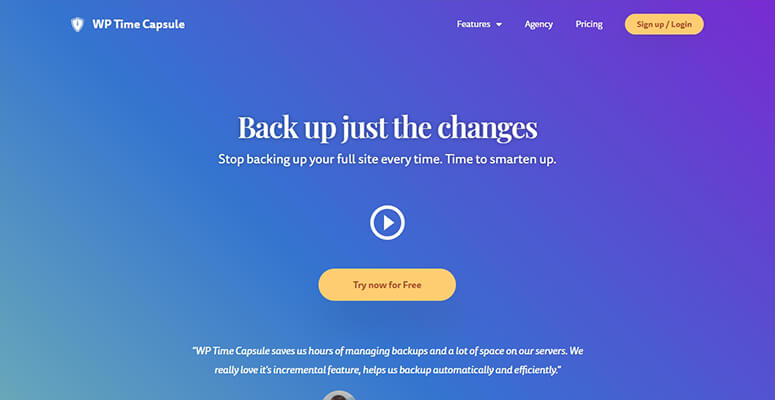 WP Time Capsule is a perfect solution for you if you want to back up only your recent files, and not your entire WordPress site. With WP Time Capsule, you can back up your website to your favorite cloud storage sites like Google Drive, Dropbox, or Amazon S3.
The main benefit of WP Time Capsule is that it consumes considerably fewer server resources since it doesn't compress and zip your backup files.
In order to use WP Time Capsule on your WordPress site, register for an account on WP Time Capsule, install the free plugin, and then connect the cloud app with your plugin so that you can send your WordPress backup files to your preferred location. After completing a full backup, you can schedule a time for backing up your recently changed files.
Key features
Automated backups as you make changes/edits
1-click restore
Test changes on staging site
Cost: Starts at $49 per year. One-time payments are available starting at $149.
Get started with WP Time Capsule today.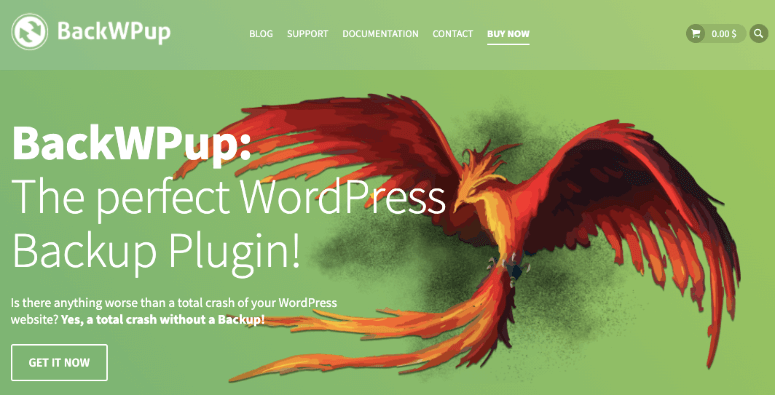 BackWPUp is yet another backup plugin that backs up your complete WordPress installation and saves them to a remote location of your preference such as Dropbox or Amazon S3.
The premium version allows you to store backup files to Google Drive and Amazon Glacier.
Some of the unique features of the premium version are:
Back up to multiple destinations per job.
Synchronize files on remote backup location like Google Drive, Dropbox.
Backup specific file path of your site per your needs.
Cost: The basic version is free. Pro version starts at $69 per year. Renews at $39.
Get started with BackWPUp today.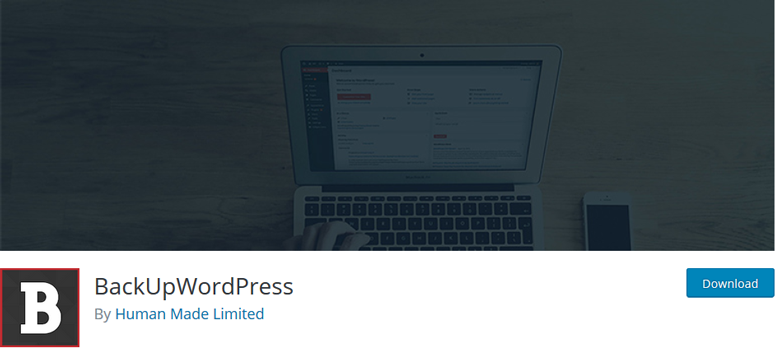 BackUpWordPress is an easy-to-use backup plugin because it doesn't require any setup configurations on your end. Upon activation, it backs up your files directly out of the box.
By default, backup files are stored in /wp-content/backups location of your website, but you can easily change the path if you want to. Since all files, including your non-WordPress files, will be backed up in your WordPress site root folder, it's strongly recommended to change the path so it's secure.
The plugin can work on Linux and Windows servers alike. It also enables you to exclude the files you don't want to back up.
BackUp WordPress now supports the free version with occasional updates. Premium add-ons have been discontinued.
Key features
Supports low memory shared host environments
Exclude files and folders from backup
Send backup file to your email
Cost: Free.
Get started with BackUpWordPress today.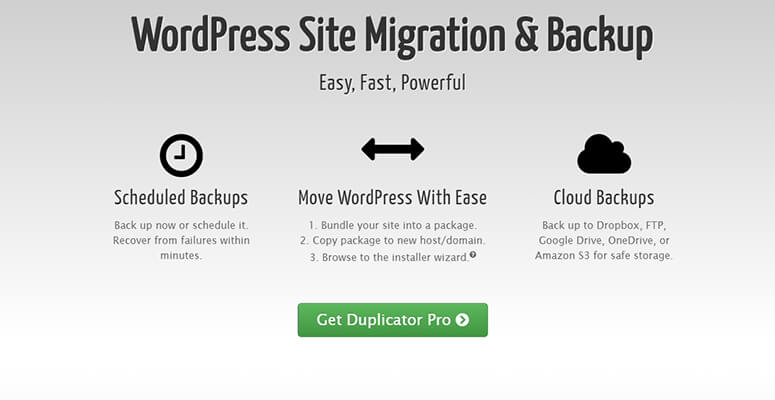 Duplicator makes it easy to back up all your WordPress files in zip format, so you can download them offline, migrating across the same or different servers.
One of the unique advantages of using Duplicator is its ability to clone your pre-configured sites. Rather than manually configuring your favorite themes or plugins, Duplicator allows you to configure a single site and bundle it up. This way you can migrate your pre-configured WordPress sites to different locations, eliminating the need for reworking.
Like many other popular WordPress backup solutions, Duplicator allows you to schedule backups, send them to cloud storage, and send yourself email notifications.
Key features
Scheduled and immediate backups
Migrate site with ease
Cloud storage to Amazon S3, Google Drive, Dropbox, and more
Cost: Free. Duplicator Pro starts at $69 per year.
Get started with Duplicator today.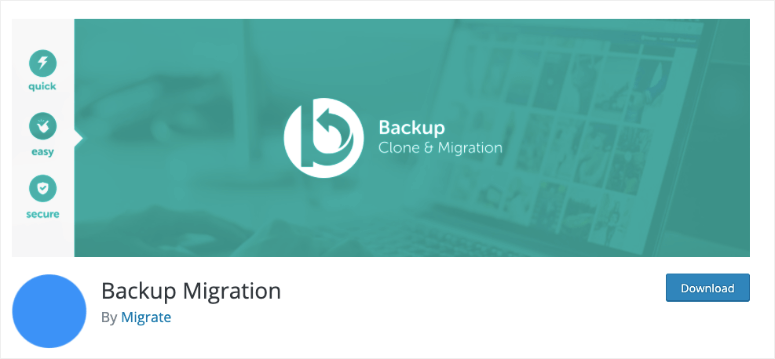 Backup Migration is a free WordPress backup plugin for manual and automated backups. After the installation, you can click on the create backup button to get started with backups.
It also lets you schedule backups on a daily or monthly basis. The Backup Migration plugin has several premium-like configurations to define which files/databases should include in the backup, define the backup location, define the name of your backup, and so on.
Key Features
Control what's added and excluded in the backup
Local storage options
Easy backup and restore process
Cost: Free. The premium version BackupBliss starts at $19.98 for 6 months.
Get started with Backup today.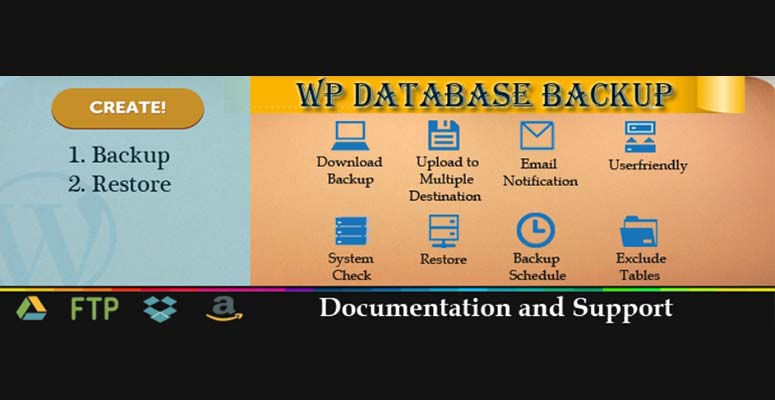 WP Database Backup is yet another free database backup plugin.
With WP Database Backup, you can create and restore backups in just a single click. It offers slightly more features than WP-DB-Backup does, but is overall very similar.
Key Features
Easy configuration
Store your database backup in a remote location
Supports multiple storage destinations
Sort and search backup from a list
Provides extensive documentation to help walk you through the process
Cost: Free. The pro version WP All Bakcup starts at $22.
Get started with WP Database Backup today.
And there you have it. That's our list of the best WordPress backup plugins that you can use to create a copy of your site. If you still want to explore out more backup plugins, we recommend checking out BlogVault and BoldGrid.
Before we wrap up, we'll give you our recommendation on the best backup plugin for any WordPress site.
Which Is the Best WordPress Backup Plugin for You?
Without a doubt, UpdraftPlus is the best WordPress backup plugin for your website. UpdraftPlus is THE complete backup solution that comes with all the essential features, right out of the box. Best of all, even the free version offers an abundance of features, even when compared to other premium plugins.
However, if you decide to choose a premium WordPress backup plugin that offers live backup whenever your files get changed, then you can use BackupBuddy. It also allows you to scan and repair common issues, which is a huge plus. With its Stash feature, the plugin saves a lot of your server resources as well.
We hope this article helped you find the best WordPress backup plugins for your needs.
To further secure your WordPress site, you might also want to check out the best WordPress security plugins and ultimate WordPress security guide.