Are you looking for a complete WordPress backup plugin? With over a million active installs, the UpdraftPlus plugin is rated as the most trusted backup plugin in the WordPress repository.
In our UpdraftPlus review, we'll take a look at its features, addons, and what sets UpdraftPlus apart from its competition.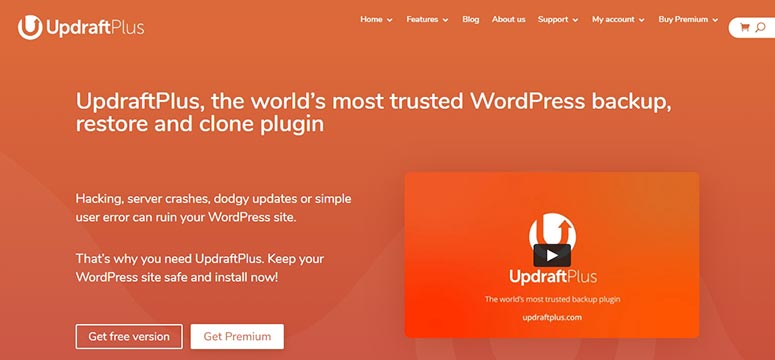 Do You Need a WordPress Backup Plugin?
As a WordPress user, it's critical for you to back up your WordPress files and databases regularly to a secure location. In case data loss happens due to an accident, malicious attack, or other catastrophe, making regular backups can be a lifesaver. That way, you can easily restore your files and databases, even if your entire website gets hacked, corrupted, or erased.
A good WordPress backup plugin allows you to easily back up and restore your complete WordPress website. It should also enable you to send your backup files to a secure remote location for higher security.
How Does UpdraftPlus Stack Up Against the Competition?
UpdraftPlus is one of the best backup plugin in the WordPress repository.
That said, in the backup space, there are plenty of competitors that include Duplicator and BackupBuddy. See our full list here: 12 Best WordPress Backup Plugins Compared.
Duplicator is pretty powerful and can help you take backups for free with no worries. You can also hop onto the premium plan and get scheduling and automation features. See our full review: Duplicator Review: We Tested Their Backups & Migration
So is UpdraftPlus really the best WordPress backup plugin? In our UpdraftPlus review, we've put their promises to the test.
Let's take a closer look at UpdraftPlus and how it stays ahead of its competitors.
1. All-in-one WordPress Backup Plugin
UpdraftPlus is the complete WordPress backup plugin for your site. Whether you want a backup plugin that does a complete backup, stores in the cloud, and restores WordPress files and databases with a single click, UpdraftPlus has you covered.
The core plugin comes with all features you'll ever need from a backup plugin. For advanced features like cloning and migration, non-WordPress files backup, and more, you can install the respective addons on your site.
2. Easy-to-use Interface
One of the main advantages of UpdraftPlus is that it provides an easy-to-use interface that makes it easy to back up your WordPress site even if you're an absolute beginner. If you can read and click, then you can backup, schedule, and restore your WordPress files and databases.
3. The Only One-size-fits-all Backup Solution for WordPress
Whether you're a hobby blogger, small business, eCommerce merchant, or an online publication, you'll find UpdraftPlus immensely useful. It's best suited for websites of all sizes and budgets.
The free plugin comes with tons of built-in backup features. That means even if you don't have a budget for a backup solution, UpdraftPlus has you covered.
In fact, it's a "set it and forget it" backup system. All you have to do is simply install the plugin and schedule your backups to a remote location.
UpdraftPlus Features- A Sneak Peek
1. Perform Complete, Manual, or Scheduled Backups
One of the main benefits of UpdraftPlus is that it allows you to perform complete, manual, or scheduled backups quickly and easily.
To set up a backup, all you have to do is click on the Backup Now button. Then you'll be asked whether you need to back up databases or files or both (combined backup).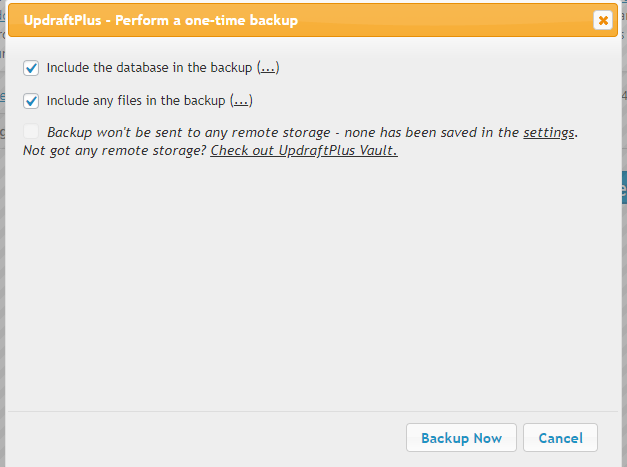 You can either choose a manual backup or schedule the backup at a regular interval. The plugin also provides an option to choose the number of scheduled backups you can retain. By default, the retainer is set for 2 scheduled backups.
2. Back Up to a Remote Location
If you need to back up your site to a remote location, you'll have to configure it in the Settings first.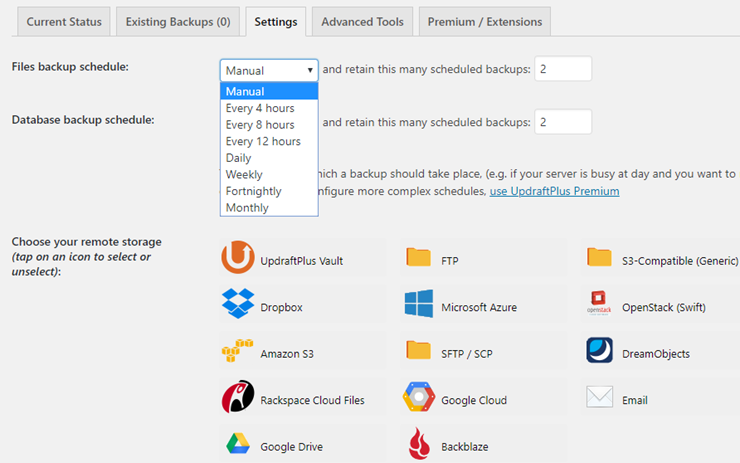 It's highly recommended to opt for a remote backup option rather than simply storing your backups on the web server where your website is hosted. It helps you secure your data from server-wide risks.
With a premium addon, you can send a backup to more than one destination.
3. Easily Clone and Migrate Your WordPress Site
You can migrate your WordPress site with the Migrator addon. The migrator addon performs a direct site-to-site migration. The addon also comes with several useful functions you'll need during site migration, including search and replace.
If you want to clone a website for testing or need to build a custom site on local or temporary domain and then transfer it to the live site later, you might want to give the addon a try.
4. Restore Backup Even from Other Plugins
If you currently using a free backup plugin that doesn't come with a restore option, then you can use UpdraftPlus along with its Importer addon. The Importer helps you restore your website from any other backup plugins.
5. Other Useful Features
Multisite compatibility: Backup/restore control panel is available in the Network dashboard. This allows you to easily manage your WordPress backups of different sites from a single dashboard.
Backup non-WordPress files and databases: You can also backup WordPress core files, non-WordPress files, and databases.
Manage which users can access backups: With the Lock Settings addon, you can lock access to UpdraftPlus via a password. This way you can ensure that only the right users are able to access backups.
Run from WP-CLI: Advanced WordPress users can manage UpdraftPlus through WP-CLI (Command-Line Interface). By managing the plugin with command-line interface, users can speed up their WordPress development process.
Scheduling: The core plugin allows you to schedule your site backup based on your preferences. You can schedule automated backups every 4, 8, or 12 hours. If you don't want to set up multiple schedules in a day, you can opt for daily, weekly, fortnightly, or monthly backups.
Extensive remote storage options: Backing up to a remote storage location is highly recommended to avoid server-wide risks. UpdraftPlus provides the widest range of remote storage options such as Dropbox, Google Drive, Amazon S3, etc.
UpdraftVault storage: If you're tired of using a third-party remote storage option, you can opt for UpdraftVault storage. The benefit is that UpdraftVault is fully integrated into the plugin, so you can manage backup in just a couple of clicks.
High security backup: UpdraftPlus allows you to encrypt your database backups for security.
Powerful reporting and monitoring features: UpdraftPlus also provides you with a sophisticated reporting tool that displays the status of backups in progress and alerts you in case of errors and warnings.
Related: Easily Back Up Your WordPress Site.
UpdraftPlus Pricing
UpdraftPlus is best suited for websites of all sizes regardless of your budget.
A lite version is available to download for free in the WordPress repository. The lite version is sufficient for you if you want to set up or schedule a complete backup of your site. You can also quickly restore your site in case you lose the data. The lite version also enables you to set up remote backups to Dropbox, Google Drive, Amazon S3, UpdraftVault, Rackspace Cloud, FTP, DreamObjects, Openstack Swift, and email.
The pricing for the premium version starts from $70 for 2 site license. With the premium version, you'll get access to all addons, free support and updates for a year, and free 1GB storage for the UpdraftVault subscription.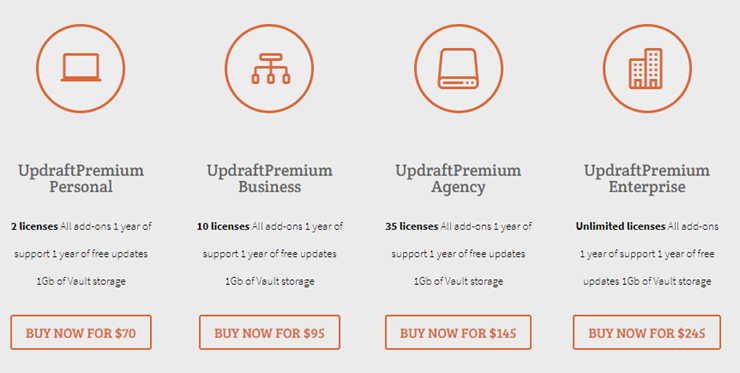 There are 5 different payment plans for UpdraftPlus.
Personal: 2 licenses for $70.
Business: 10 licenses for $95.
Agency: 35 licenses for $145.
Enterprise: Unlimited licenses for $195.
Gold: Unlimited licenses for $399 per year.
If you need to use only a certain addon without having to subscribe to any costly premium plan, you can purchase the necessary addons individually.
UpdraftPlus Support
The extensive documentation provided by UpdraftPlus helps you walk through every aspect of using the UpdraftPlus plugin.
The support is provided through support forums. The UpdraftPlus team maintains two forums: a WordPress forum for users of the free plugin and a customer support forum for the premium customers. If you're not a paying customer, you can purchase a support package to get assistance.
However, if your purchase the support package for an incident that turns out to be related to a bug, you'll get a full refund.
Our Verdict on UpdraftPlus as the Best WordPress Backup Plugin
With over a million active installs, UpdraftPlus is the most popular scheduled backup plugin in the WordPress repository. In terms of features, it's one of the most comprehensive WordPress backup plugins.
UpdraftPlus makes it easy to set up and restore backup for even absolute newbie users. It supports more cloud backup options than most other plugins.
If you need a backup solution that doesn't compromise on speed, UpdraftPlus is the best choice. Since it's highly optimized for server performance, it consumes fewer server resources when compared to most of its competitors.
We hope you liked this review and if so, you may want to see our tutorial: How to Easily Back Up Your WordPress Site (Step by Step).
We can say that UpdraftPlus is the one of the best WordPress backup plugins on the market.
Get UpdraftPlus Now »