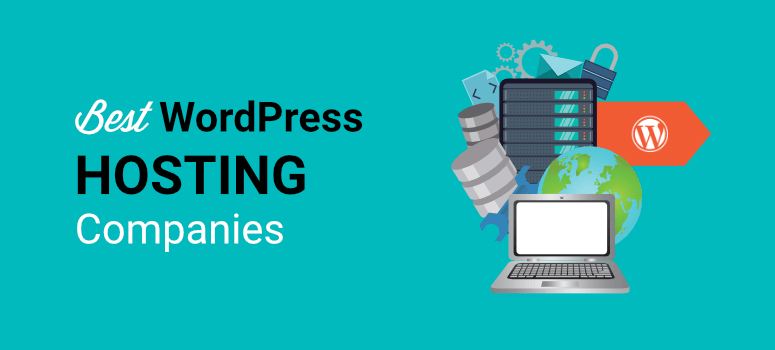 Do you want to find the best hosting plan for your WordPress site?

Choosing a good web host for your WordPress site is far more important than most website owners think.
There are cheap web hosts that let you get started on a small budget. But if you want to optimize speed and performance, improve search engine rankings (SEO), and actually make your website a success, then you need to use a reliable WordPress hosting company.

That said, there are so many companies that offer hosting plans, so how do you choose?
Even if you narrow down to the popular ones like Bluehost, SiteGround, HostGator, and WP Engine, how do you know which is the right WordPress host for your needs?
To help you pick the right WordPress host, we did the research for you and created a detailed comparison of the top WordPress hosting companies.
Whichever host you choose, you need to make sure that you use these top 3 most important factors in choosing a WordPress hosting company:
Speed (load time): Speed is a critical element to provide the best user experience on your site and boost your SEO.
Availability (uptime): Users expect your site to be up around the clock, so you'll need to choose a WordPress hosting with maximum availability.
Support: Choose a WordPress hosting that has a good reputation for resolving customer issues in a timely manner.
With these factors in mind, let's take a look at the top WordPress hosting providers.
Top Best WordPress Hosting Companies (with Pros and Cons)
Before we start, we must tell you that the reviews below are based on actual data and experience. We used test sites to put each of these companies through multiple tests (speed, uptime, features, support, and pricing).
If you're interested to know more, we've added an explanation of our detailed WordPress hosting review process.

Now, if you want to skip all the details and get the top choices right away, here's a table with the top 5 WordPress hosting companies along with the details you need:
From the data above, our top picks are Bluehost and SiteGround. We'll tell you why below as we discuss the top WordPress hosting companies along with their features, cost, pros and cons.
Load time: 689 ms
Uptime: 99.99%
Support: 9/10
Website: Bluehost.com
Highlight: High performance with affordable plans
Bluehost is one of the largest web hosting companies in the world, powering over 2 million websites worldwide. Since 2005, they've been involved in the WordPress community and it's worth noting that they are officially recommended by WordPress.org.
We recommend Bluehost to anyone who wants to start their WordPress blog, eCommerce store, or any kind of website with ease. You'll get a fast and secure hosting plan at an affordable rate.
If you're wondering how Bluehost stacks up against other web hosts, you'll find our expert comparisons helpful:
Pros:
You get a free domain name (for 1 year), free SSL, and free site transfer.
Their hosting servers are secure and you get free malware scans from Sitelock.
With their custom shared WordPress setup, Bluehost makes it easy to build a website even if you're an absolute beginner.
Free Cloudflare CDN
They offer tiered plans so you can choose one according to your needs for SSD storage, bandwidth, and multiple domains.
Free Softaculous Apps Installer
Cons:
They no longer provide email-based support for technical assistance. However, you'll get superior support via live chat or phone.
Monthly billing option is not available.
To avail maximum discount, you'll need to opt for 3-year hosting plan.
Pricing:
When you purchase WordPress web hosting with Bluehost, you'll get over 70% discount on your hosting fees, a free domain name, and free SSL. Hosting packages start at as low as $2.75 per month.
Get Bluehost WordPress Hosting Plan »
Load time: 649 ms
Uptime: 99.98%
Support: 10/10
Website: SiteGround.com
Highlight: Superior speed and security
SiteGround is a reliable hosting company and one of the few top hosting brands that's not been acquired by Endurance International Group, a leading web hosting company.
SiteGround is a bit more expensive than other traditional web hosts because they offer superior speed, auto-updates, along with proactive security and backup.
For example, they operate on Google Cloud to create a powerful and technically superior hosting service.
All of their hosting plans are eCommerce enabled and come with out-of-the-box caching features and unlimited databases.
We recommend SiteGround to users who need a great hosting service, which is stable, secure, and super fast. Check out this SiteGround coupon.
SiteGround is a leader in the hosting industry and outperforms most web hosts in terms of speed and features. See our expert's comparison between
Pros:
For blazing fast website, you'll get Solid State Drives with any SiteGround plan.
Get enhanced performance with NGINX, HTTP/2, PHP7 and free CDN.
Data centers in 3 continents for superior site experience.
Geeky WordPress features such as WP Staging and Git Integration are available for advanced users.
Cons:
Starting plan is a bit costlier than other hosting providers.
You can't waive off the domain name registration fee.
For geeky WordPress features like special cache, 1-click WordPress staging and repo creation, you'll have to choose their expensive GoGeek plan.
Pricing:
Hosting plans start as low as $3.99 per month.
Get SiteGround WordPress Hosting Plan »
Load time: 181 ms
Uptime: 99.9%
Support: 10/10
Website: Hostinger.com
Highlight: Simple with advance optimization features
Hostinger is a professional WordPress hosting provider offering different web hosting plans. It also offers WordPress cloud hosting and dedicated WordPress hosting solutions along with a website builder to build your website right away.
It has a simple and intuitive setup. From hosting to a domain name, everything is available on a 1-click button. It provides quick WordPress installation and advanced optimization to ensure fast websites.
You should check out our complete Hostinger review for more details.
Pros:
Free domain name with premium plans (for first year)
WordPress multisite support WP-CLI integration
30-day money back guarantee with each plan
Cons:
It offers only 1 business email account.
It has entry level hosting options. Doesn't provide dedicated hosting solutions.
No email or phone support.
Pricing:
Prices start at $2.69 per month.
Get Hostinger WordPress Plan »
Load time: 445 ms
Uptime: 99.90%
Support: 7/10
Website: Dreamhost.com
Highlight: High speed and easy website creation
DreamHost is a leading web hosting service provider that hosts around 1.5 million websites, with over 400k happy customers, spanning throughout more than 100 countries.
Like Bluehost, Dreamhost is also an officially recommended hosting provider by WordPress.org. It's a PCI compliant web hosting too.
DreamHost comes with everything you need to start a WordPress site. For effortless website creation, your hosting account will be preinstalled with WordPress. All plans include a free domain name, free SSL certificate and free website firewall.
DreamHost comes out on top for its high performance and speed. See how it compares to other web hosts in this list:
If you're looking for a superior WordPress host that offers effortless website creation with high-speed SSD storage, then DreamHost could be the best choice.
Pros:
Unmatched 97-day money back guarantee
Independently owned and operated
Powering millions of websites since 1997
Cons:
Low uptime
Live chat support is not available 24/7.
Phone based support requires additional payment.
Pricing:
Prices start from $2.59 per month.
Get DreamHost WordPress Hosting Plan »
Load time: 582 ms
Uptime: 99.99%
Support: 9/10
Website: WPEngine.com
Highlight: Best managed WordPress solutions
WP Engine is a leading managed WordPress hosting service provider based in Austin, TX. Being one of the first companies to offer best managed WordPress hosting solutions, they boast an impressive customer list including Yelp, Asana, National Geographic, PBS, and MyFitnessPal.
To offer your WordPress website the highest possible availability, speed, scalability, and security around the clock, they've partnered with Amazon Web Services and Google Cloud Platform.
WP Engine also has a PHP Test Driver to preview your site on a new PHP version to make sure it's not broken. There's no site migration needed as all you need to do is select the desired PHP version with a single click!
We recommend WP Engine to users who need reliable managed WordPress hosting for their high-traffic website. WP Engine will take care of WordPress updates and PHP updates, while also proactively blocking cyber threats to ensure the best level of website security.
For more on this web host, you'll be interested in our head to head comparisons of WP Engine:
Pros:
They're more than just a managed WordPress hosting company and equip you with a suite of high-performance solutions for your WordPress site.
24/7 WordPress support via chat.
One-click staging tool for testing new WordPress plugins and other features before pushing it to your production site.
Automatic updates after analysis and testing
Cons:
Plans are expensive for small websites.
Built specifically for users who want managed WordPress hosting. Unmanaged WordPress hosting option isn't available.
In order to ensure high website performance, not all plugins available in the WordPress repository are allowed to install on the WP Engine environment.
Pricing:
Prices start at $20 per month.
Get WP Engine WordPress Hosting Plan »
Load time: 691 ms
Uptime: 99.96%
Support: 10/10
Website: HostGator.com
Highlight: Unmetered bandwidth and unlimited storage
HostGator hosts millions of domain names from all over the world. They particularly rock the shared hosting space with their affordable starter plans. They also offer you a 45-day money-back guarantee, so you can try out the hosting service risk-free.
All hosting plans include AdWords credits worth $100 and Bing + Yahoo Search credits worth $50.
HostGator is a top contender among the best hosting providers. They stand out for offering unmetered bandwidth and storage on their plans. Added to that, you'll get free AdWords credits to start promoting your site right away.
To see how this WordPress host performs among the competition, see our complete HostGator comparisons:
Pros:
Get award-winning support 24/7 whenever you need via email, live chat or phone.
Get all the beginner-friendly tools you'll need in your hosting plans including free website builder, one-click WordPress installation, unlimited email addresses.
45-day money back guarantee to try out the hosting service risk-free.
Unmetered disk space and unmetered bandwidth.t
Cons:
A free domain name isn't provided with any of their hosting plans.
For shared hosting, SSD storage isn't available.
Onboarding experience isn't as smooth as other WordPress hosts, like Bluehost. This can confuse newbie users who have never worked on a cPanel to build a WordPress site.
Pricing:
Prices start at $2.64 per month. You can use our HostGator coupon to get a big discount on web hosting.
Get HostGator WordPress Hosting Plan »
Load time: 697 ms
Uptime: 99.92%
Support: 9/10
Website: GreenGeeks.com
Highlight: Eco-friendly web hosting
GreenGeeks is the world's #1 green energy web hosting provider. They are an excellent WordPress hosting provider that delivers security, reliability, and performance while staying committed to the environment.
No matter what hosting options you need, the GreenGeeks platform will meet your requirements.
GreenGeeks offers blazing-fast SSD based hosting solution for you. Whenever you need assistance, you can count on their 24/7/365 superior customer support. They also provide a 99.9% uptime guarantee and a 30-day money back guarantee.
They put back 3 times the power they consume into the grid in the form of renewable energy.
You may also want to read our comparisons before you make your decision:
Pros:
Offer SSD storage for blazing fast website performance.
Free domain name or transfer
300% green web hosting
Cons:
The hosting fee can be a bit expensive since they offer only SSD storage.
Low uptime
If you opt for the monthly plan, then you'll have to make a one-time payment of $15 as the setup fee.
Pricing:
Prices start at $2.95/month.
Get GreenGeeks WordPress Hosting Plan »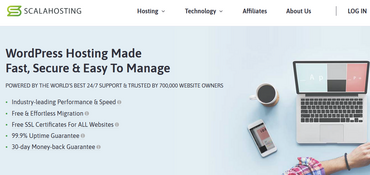 Load time: 577 ms
Uptime: 99.99%
Support: 10/10
Website: ScalaHosting.com
Highlight: Fully managed, cloud-based VPS at low prices
Get started with ScalaHosting »
ScalaHosting is another top-rated WordPress hosting provider that's trusted by over 700,000 website owners.
They offer a few different plans for shared or dedicated WordPress hosting. All of these plans come with 1-click WordPress installation, unlimited emails and databases, unlimited bandwidth, and more.
ScalaHosting offers superior 24/7/365 customer support via chat and a ticket system. There's a 30-second response guarantee for chat and a 15-minute response guarantee for tickets.
They also provide a 99.9% uptime guarantee and a 30-day money-back guarantee.
Pros:
Free domain, SSL certificate, and CDN.
Freesite migration.
Expert 24/7 chat support and fast ticket response time.
Remote daily backups of your data.
Cons:
Higher fees upon plan renewal.
Limited storage on basic plans.
Smaller knowledge base compared to other hosting providers.
Pricing:
Prices start as low as $2.95 per month.
Get ScalaHosting WordPress Plan »
Load time: 2.60 s
Uptime: 99.98%
Support: 8/10
Website: iPage.com
Highlight: Cheapest WordPress web hosting
iPage provides reliable web hosting for the cheapest possible price. It was founded in 1998, and now hosts over a million websites around the globe. iPage was acquired by Endurance International Group (EIG) in 2010, and now they have offices in 6 worldwide locations and 2 data centers in the US.
iPage provides the best cheap hosting in the shared hosting vertical. Regardless of the size of your business, you can find the right hosting plan that suits your needs. They also offer 30-day no questions asked money-back guarantee.
Unlike other hosting providers, iPage provides only one shared hosting plan which is a good option for blogs, individuals, startups, and small businesses. They also offer $200 worth of ad credits for Google and Bing.
Pros:
Free tools including 1-click WordPress installer, free domain name and SiteLock security tool.
You can create unlimited email addresses for your website.
No hidden charges when signing up for a web hosting account.
Cons:
Unlike other hosting providers, the basic plan doesn't offer cPanel.
There is only a single hosting plan for shared hosting.
The website builder comes with hosting but is not entirely free. If you choose their website builder over WordPress, then bear in mind that you'll be able to build only 6 pages for free.
Pricing:
iPage hosting offers start at $1.99 per month.
Get iPage WordPress Hosting Plan »
Load time: 982 ms
Uptime: 99.91%
Support: 9/10
Website: InMotionHosting.com
Highlight: Environment-friendly green data centers
Get started with InMotion Hosting »
InMotion Hosting comes with a lot of desirable features, including SSD storage, unlimited bandwidth, and a free domain. Unlike most other shared hosting services, InMotion Hosting gives you a choice of data centers. That way you can choose the nearest data center for improving the page load time.
They often emphasize their commitment to the environment on their marketing channels. To reduce carbon output and cut cooling costs, they use advanced Outside Air Cooling Technology. This reduces carbon output by 2000+ tons per year. They've also opened up a green data center in Los Angeles.
They offer an unmatched 90 days money-back guarantee to try their service risk-free. They also offer the best reseller hosting plans to help you in distributing the web hosting and earn money from it.
Their friendly hosting support team gives you fast, accurate responses to your hosting questions via email, phone, and live chat.
Read our InMotion Host review »
To help you decide if InMotion Hosting is right for you, we've compared this host with the competition:
Pros:
Get SSD storage for all hosting plans. Unlike old spinning hard disk drives, SSDs don't have any moving parts, which improve your site's performance.
Free automated data backups
Best in-class money back guarantee. Try the service risk-free for 90 days.
They're committed to eco-friendly policies.
Cons:
Since InMotion Hosting only offers SSD storage, their plans are expensive than other web hosts.
Montly payment plan isn't available.
No plan in shared hosting allows unlimited website hosting.
Pricing:
Prices start at $3.49 per month.
Load time: 1.28 s
Uptime: 99.90%
Support: 9/10
Website: A2hosting.com
Highlight: Developer-friendly
A2 Hosting is a developer-friendly hosting provider that gives you all the flexibility you need to build a website. A2 Hosting gives you unlimited disk space and bandwidth for hosting your website. They also allow you to choose from Windows or Linux hosting and install WordPress with the 1-click installer.
Their anytime money-back guarantee is one of the main things that sets A2 Hosting apart from its competition. You can try out their service risk-free and if you're not satisfied with their hosting, you can cancel your hosting account and get a full refund within 30 days. After 30 days, you'll be eligible for a prorated refund for unused service.
To help you decide if A2 Hosting is right for you, we've compared this host with the competition:
Pros:
Developer-friendly hosting platform
Two great OS options to choose from – Windows or Linux
Anytime money back guarantee
Cons:
Starting plans are a bit expensive compared to other hosting services such as Bluehost.
There are 4 different WordPress hosting plans, so choosing the right plan can be overwhelming to an average user.
Low uptime
Pricing:
Prices start at $2.99 per month.
Get A2 Hosting WordPress Plan »
Load time: 901 ms
Uptime: 99.99%
Support: 10/10
Website: LiquidWeb.com
Highlight: Good managed hosting with robust security
Liquid Web is the leading managed hosting company, which specializes in WordPress hosting, best WooCommerce hosting, and more.
Liquid Web handles all the technicalities of operating a hosting server, so you can build a website without having to worry about maintaining or optimizing your server for better performance.
Most managed hosting providers update your WordPress installation while leaving your plugins alone. However, Liquid Web automatically updates your plugin as well to secure your website from any potentially vulnerable threats.
We recommend Liquid Web to our users who're looking for a managed WordPress hosting provider.
To see how this web host performs against its competition, see our comparisons:
Pros:
No metered pageviews or traffic limits
Hassle-free hosting with automatic WordPress plugin updates
Easily set up website with developer tools and staging site option.
Cons:
Not an affordable solution for a small website with minimal traffic.
Hosting discount is applicable only for 3 months.
Unmanaged hosting service isn't available.
Pricing:
Prices start at $13.30 per month.
Get Liquid Web WordPress Hosting Plan »
That's our list of the best hosting sites for WordPress.
This WordPress hosting review is created with a single goal in mind: Help users choose the best WordPress hosting easily.
Although choosing a highly performing WordPress hosting is critical for your website, you might not want to spend your time and resources on testing every single hosting service available.
To save you time, unlike other sites, we've set up a test site on all the top WordPress hosting providers out there and conducted a few different server performance tests as well.
To mirror the production environment on these test sites, we've installed the default Twenty Seventeen theme, added dummy content including images, and then, conducted different speed and performance tests.
That way you can understand how the server would perform in a real live environment
Speed and Performance Tests
Below are a few speed tests and performance tests we conducted on all the top WordPress hosting providers.
1. Website Speed Test with Pingdom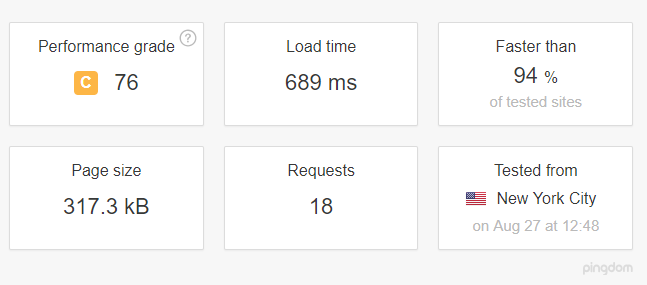 Pingdom is a popular way to monitor your website's speed and availability. Using Pingdom, we recorded the page load time of our test websites hosted on all the top WordPress hosting providers.
The page load time tells you how long a specific page took to load in its entirety, including all images, scripts and other files.
2. Performance Test with Load Impact

To analyze the performance of a web hosting server, only recording the page load time is not enough. That's why we've used another testing tool, Load Impact to see how a web hosting provider performs during a traffic surge.
Load Impact gives you a chart that shows a green graph that displays the number of active users in a test, and a blue graph that shows user load time during a test.
3. Server Response Time with Bitcatcha

Bitcatcha allows you to analyze server response time by ignoring the content of a site. Server response time is the time taken by a web server to respond with the first byte of content after a request is made to load a web page.
Bitcatcha averages the loading speed from eight different global locations: New York, LA, London, Brazil, India, Singapore, Japan, and Australia. The speed for each location is measured three separate times, and then the results are averaged.
It helps you get a broader overview of how your server responds globally to the page requests.
Aside from testing and recording the performance metrics, we've also conducted a thorough review of different hosting features. We also examined what type of hosting support they offer, like live chat, phone, or ticket-based email.
Choosing a WordPress Hosting Plan
Most hosting providers offer a wide variety of WordPress hosting plans. Wondering which one is the best choice for your website needs? Let's take a look at a few different WordPress hosting plans:
Free WordPress blogging with WordPress.com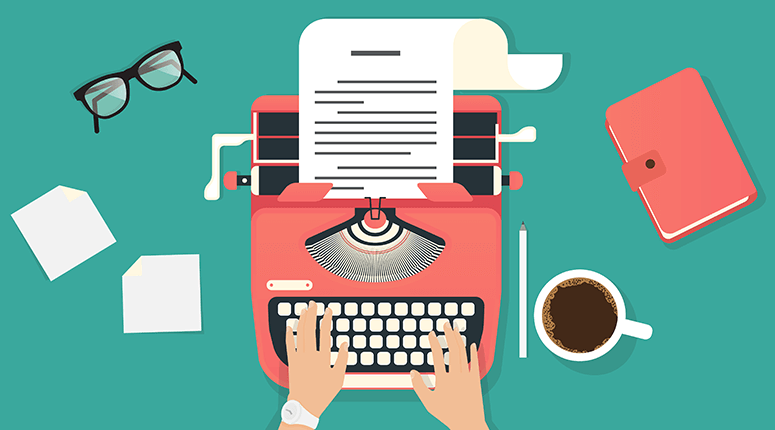 WordPress.com is a free blogging platform that helps you create a blog without having to pay a penny for hosting. While it allows you to easily set up a blog and publish content by creating a free account, the downside is that the platform comes with a lot of restrictions that limit your abilities to grow it.
Due to the fact, free WordPress.com is not a reliable platform if you're getting serious about building WordPress blogs and websites.
It doesn't give full control over your WordPress site.
It doesn't allow you to monetize your site with popular advertising networks like Google AdSense.
With the free WordPress.com, you're not allowed to install a plugin to extend your site just like a hosted platform. Read the difference between WordPress.com vs. WordPress.org.
You can't pick a custom domain name for your blog that's easy for your visitors to remember.
You may also find other free WordPress hosting providers but they're unreliable as you never know when they'll stop offering their free service. I'd rather go with a paid hosting setup than an unreliable hosting service, which risks my efforts and hard-earned reputation.
WordPress hosting: Shared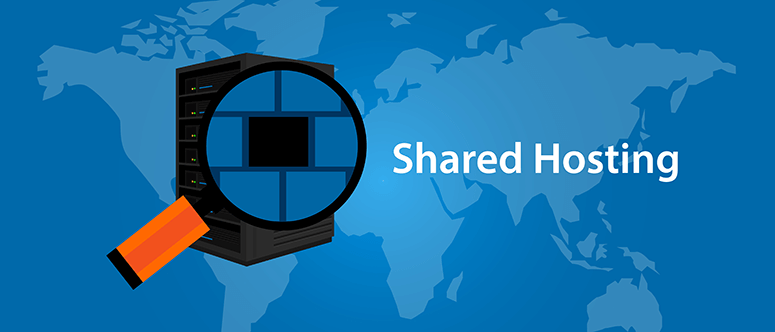 Choosing a shared hosting service is the best way to start your WordPress website if you're just starting out and are expecting a low traffic volume. With shared hosting, server resources including RAM and storage space are shared across different users of your hosting provider. This is how your hosting providers can profitably sell your website hosting spaces at a minimal price.
Even though resources are being shared, there's nothing to be worried about because only you can access your site's files and MySQL databases.
Shared hosting could be the best choice for blogs, personal websites, small businesses that expect only a low traffic volume. It's the best entry-point for users who're just getting started with their WordPress website.
Shared servers allow for cheap WordPress hosting and often come with all the set of features you can ever expect from your hosting provider, such as 1-click WordPress install, and excellent uptime guarantee, and so on.
To get started with your WordPress website, you can install WordPress using the 1-click WordPress install wizard, and easily customize the site and build content by logging into your WordPress dashboard.
Managed WordPress Hosting

If you're looking to create a WordPress site with an optimized hosting server built specifically to boost your WordPress site's performance, you need to look for a managed WordPress hosting service.
Want to know how managed WordPress hosting differs from other hosting services? Take a look at the pros and cons of managed WordPress hosting.
Pros:
Ease of management: If you opted for a managed WordPress hosting service, you don't have to handle the technical aspects of maintaining your server. Your hosting provider will manage it, so you can focus on the business/marketing aspects like creating and publishing great content.
Security: Most managed WordPress hosting services come with auto-updates, automatic WordPress vulnerability fixes, and regular data backup, which give an extra layer of protection to your site. This also gives you peace of mind since you don't necessarily have to install and manage complex WordPress security plugins to provide bulletproof security. You should also read out the ultimate WordPress security guide for more details.
Speed: Most reputed managed WordPress hosting providers, like WPEngine and Liquid Web offer content caching at the server level, so you don't necessarily need to use content caching solutions or content delivery network to speed up your site.
Expert support: In case you need help regarding your WordPress site's performance, you'll get expert WordPress assistance from the support team.
Cons:
Expensive: Compared to shared hosting, managed WordPress website hosting is quite expensive.
Limitations: Some managed WordPress hosting providers like WPEngine, Kinsta, and Flywheel don't allow you to use certain plugins that might clash with their hosting service. You also won't get access to control panel as most of the website's functions are controlled by the web host.
Only WordPress sites: Obviously, you can't build a non-WordPress website on your managed WordPress hosting account.
Now that you know the good and the ugly side of hosting your WordPress site on a managed WordPress hosting environment, the next question you might be asking yourself is that whether you need a managed WordPress hosting for your site.
If your WordPress website outgrows your existing hosting environment and you constantly had to hire WordPress experts to optimize your site, you might need to choose a managed WordPress hosting service.
Conversely, if you're a WordPress beginner, looking to build a WordPress site quickly and easily, shared hosting could be the best choice. Since all major shared hosting providers make it easy to build a WordPress website with a 1-click install wizard, shared hosting is the best solution for beginners.
Check out this comparison between shared vs. managed WordPress hosting.
WordPress Hosting: VPS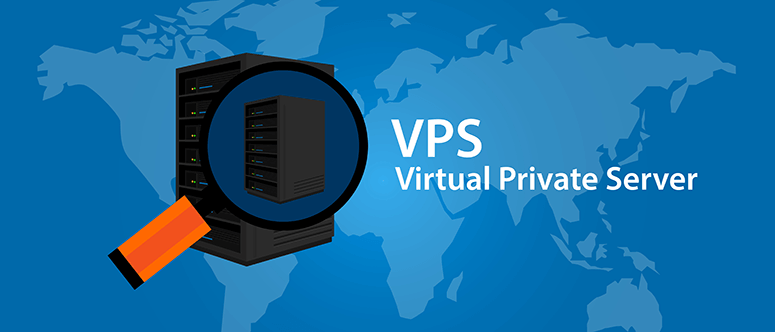 VPS hosting is an abbreviation for Virtual Private Server hosting. A best VPS hosting gives more power and flexibility to your website than a shared hosting service.
WordPress VPS hosting is basically an independent partition of a physical server. With virtualization, it creates multiple virtual partitions of a physical server that enables you to effectively control your own resources and configure them the way you want.
While you'll still be sharing server resources with other websites hosted on the same physical server, VPS gives you almost as much control as a dedicated server. You also get a tremendous amount of bandwidth and storage solely reserved for your site.
VPS WordPress hosting could be the best choice for websites that expand rapidly, which also needs excessive bandwidth and security beyond the shared hosting ecosystem.
Best of all, VPS is scalable meaning your hosting provider can adjust the amount of server space allocated to your site as your need evolves.
WordPress Hosting: Dedicated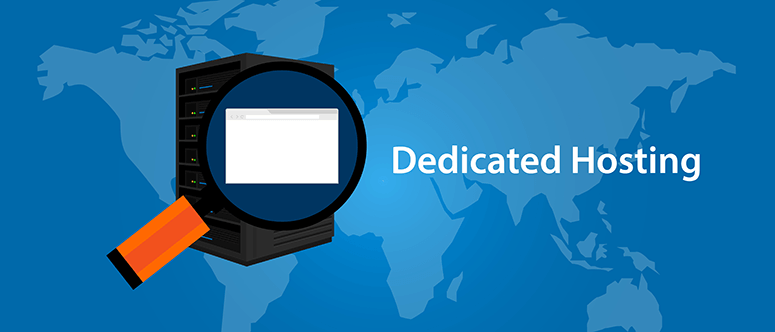 Hosting your WordPress site with a dedicated server could be the right choice if you need to host an extremely high-traffic site without sharing its resources with any other users. With a dedicated server, you're leasing an entire physical server only for hosting your WordPress site.
That also means you are in full control over your server, including the choice of the operating system, hardware, etc. Since you're leasing an entire server, it's a no-brainer that dedicated server hosting will cost you a lot more than shared and VPS hosting services.
Dedicated servers allow for the most secure WordPress hosting so your site will be less vulnerable to hacking and other security threats. If you don't want to employ a system administrator, it's highly recommended to get a managed dedicated server.
Don't miss this chance to read fully about web hosting including shared vs VPS vs dedicated hosting.
Best WordPress Hosting – Quick Recap
Take a look at our WordPress hosting review table for a quick recap.
Ideally, you should choose a WordPress hosting service, that's fast, affordable, and promises high availability.
If you want our recommendation for the best web hosting for WordPress, we suggest you choose Bluehost. Not only Bluehost is affordable for blogs and small websites, but they're also officially recommended by WordPress.org.
If you've selected a web host for your new website and aren't happy, you can easily switch to a new web host.
FAQs (Frequently Asked Questions)
1. Is GoDaddy good for WordPress hosting?
GoDaddy WordPress hosting plans start at $3.99 per month (if you commit to a 3-year plan). The lowest plan gives you 30GB storage which is all right if you plan on running a single small site. GoDaddy tends to push unnecessary add-ons which can inflate your WordPress hosting costs.
2. What is the best website hosting for WordPress?
We believe that Bluehost is the best website hosting for WordPress. They are priced at competitive rates. Plus, they give you a free domain name, SSL certificate, and CDN making it really affordable for anyone to create a website. It far surpasses the competition to take the #1 spot as the best WordPress hosting company.
3. What is the fastest WordPress hosting service?
By the results of our speed tests, Dreamhost is the #1 choice if you're looking for the fastest web host for WordPress sites. But keep in mind, they are lower on the downtime scale.
4. Is hosting free with WordPress?
The simple answer is no. WordPress is an open-source content management system (CMS) that lets you build websites for free. You'll need to buy a hosting plan and domain name to launch a WordPress site on the internet.
5. Is SiteGround good for WordPress?
SiteGround comes with lots of features and a user-friendly interface that makes them a top performer in the WordPress hosting space. With the GrowBig and GoGeek plans, you get access to unmetered traffic, free SSL, free domain, enhanced security, and eCommerce, to name just a few highlights. However, our top recommendation for WordPress hosting is Bluehost.
6. Is WordPress.com good for hosting?
WordPress.com is a fully hosted platform which means that the hosting is included in your website plan. They control everything related to your web hosting server so you won't be able to access or modify server settings. To be clear, WordPress.com does not offer any web hosting plans.
7. How much does WordPress hosting cost?
WordPress hosting plans range from $1.99 per month to $23 per month depending on the web hosting service you choose.
We hope this guide helped you find the best WordPress hosting service. For your next steps, we've handpicked these resources for you:
These tutorials will help you create and launch your website, and we've also added in a security guide so you can make sure your website is protected with robust security features right from the start.