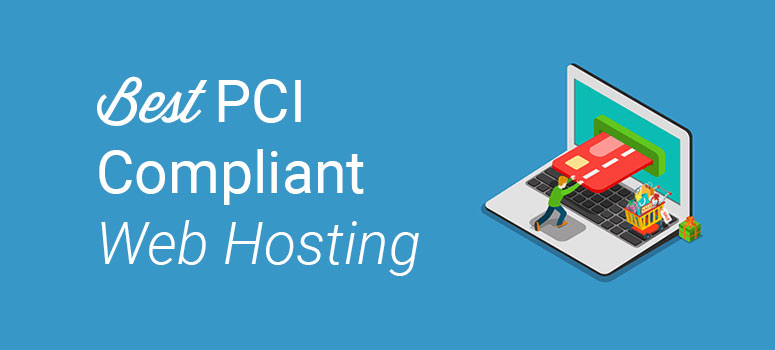 Is your web hosting PCI compliant?
To securely accept online payments on your site, you'll need to choose a good PCI compliant web hosting service. In this article, we'll explain the importance of PCI compliance and show you some of the best PCI compliant web hosting providers on the market.
What Is PCI Compliance?
To reduce credit card fraud and ensure the secure processing, storage, and transmission of cardholder data by online merchants, the (PCI-SSC) Payment Card Industry Security Standards Council has designed and enforced a set of security standards.
These standards are forged through a coalition of major credit and debit card companies, such as Visa, Master Card, and American Express.
To be able to accept credit card payments on your site, your website is required to be PCI compliant.
Choosing a PCI Compliant Web Hosting
If you're planning to accept online payments via credit card on your website, you'll need to ensure you're hosted on a PCI compliant web hosting service. Failure to remain compliant with the PCI standards can result in the suspension of credit card processing privileges, fines, increased card processing fees, etc.
PCI compliant standards include a number of technical aspects, which can't be fulfilled on shared servers.
That means if you're starting an eCommerce store, you'll need to ensure your web hosting provider is PCI compliant.
Typically, VPS and dedicated servers are configured to be PCI Compliant by default, but keep in mind that any configuration changes you made to your server may affect your PCI Compliance.
Now that you know the importance of choosing a PCI compliant web hosting company, let's take a look at some of the best PCI compliant web hosting providers on the market.
Load time: 582 ms
Uptime: 99.99%
Support: 9/10
Website: WPEngine.com
WP Engine is a PCI compliant hosting provider and also one of the first few companies to offer WordPress centric managed hosting solutions. They boast an impressive customer list including Yelp, Asana, National Geographic, PBS, and MyFitnessPal.
Aside from PCI compliant servers, they also offer your WordPress website the highest possible availability, scalability, and security around the clock.
Pricing: $20 per month (when billed annually). You can use our WP Engine Coupon to get a discount.
Load time: 689 ms
Uptime: 99.99%
Support: 9/10
Website: Bluehost.com
Bluehost is a beginner-friendly PCI compliant web hosting company. Unlike WP Engine, it doesn't come with a PCI-compliant eCommerce hosting plan. However, with some configuration changes, you can ensure it's fully compliant.
If you're starting an eCommerce site with Bluehost, below are a few features that you may find helpful:
A free SSL certificate and dedicated IP address
Secure online payments
PPC credits to promote your online store
Pricing: $9.95 per month. You can use our Bluehost coupon to get a discounted deal.
Load time: 691 ms
Uptime: 99.96%
Support: 10/10
Website: HostGator.com
HostGator WordPress Cloud is the fastest web hosting provider on the market. By default, it doesn't come with PCI compliance configuration. However, it offers assistance with PCI certification settings. HostGator recommends you to properly update your WordPress core, theme, and plugins to ensure you're fully compliant.
With HostGator WordPress Cloud hosting, you'll get:
Faster page load time
Support for setting up WooCommerce store
Full control of resource usage
Pricing: $5.95 per month (40% off). Don't miss our HostGator coupon for discounted offers.
Get started with InMotion Hosting »
InMotion Hosting is a web hosting provider that also offers managed and unmanaged VPS and best dedicated hosting solutions. All their VPS and dedicated hosting accounts are PCI compliant.
InMotion Hosting has partnered with Trees for the Future, a non-profit organization dedicated to offset carbon footprints by planting trees. Their industry's leading money back guarantee allows you to try their hosting service, risk-free, for 90 days.
InMotion Hosting also offers:
Automatic daily backups
Lighting fast VPS servers
Access to SSH keys
90-day money back guarantee
Pricing: $19.99 per month. For a discounted price, you should check out our InMotion Hosting Coupon.
Read our full InMotion Hosting review »
Load time: –
Uptime: –
Support: 8/10
Website: GoDaddy.com
GoDaddy is a budget-friendly web hosting company. All their eCommerce related products are entirely PCI compliant, which means your payments are secure on GoDaddy. However, if your website requires card details from customers, then you need to assess it yourself for PCI compliance.
With GoDaddy, you'll get:
Automatic account setup
99% uptime guarantee
Daily website backups
Automatic WordPress core updates
Pricing: $2.99 per month (70% off). To get the discount, you can check out our GoDaddy coupon.
Read our complete GoDaddy review »
Load time: 901 ms
Uptime: 99.99%
Support: 10/10
Website: LiquidWeb.com
Nexcess WooCommerce (by Liquid Web) hosting offers a perfect platform to host your online store. Their customer support team will help you in getting a PCI Compliance certification for your website and create a secure environment for online payments.
Nexcess WooCommerce hosting offers:
Partnership with Jilt to combat cart abandonment issues
Drag and drop page builder support by Beaver Builder
Fast and secure environment for eCommerce shops
Pricing: $12 per month. For more discounts, check out our Nexcess coupon.
Load time: 445 ms
Uptime: 99.90%
Support: 7/10
Website: Dreamhost.com
DreamHost WooCommerce is a managed WordPress hosting company. It's fully compliant to PCI DSS requirements. Like all other popular hosting providers, DreamHost only secures their servers and websites. If you host an online store on DreamHost, then you need to get your PCI compliant certification to process payments safely.
With DreamHost WooCommerce hosting, you'll also get:
Automatic server level caching for faster page load
Jetpack integration to add more features on your online store
VaultPress compatibility to create secure off-site backups
Auto updates for WordPress core, themes, and plugins
Pricing: $16.95 per month. Check out our DreamHost coupon to get discounted price.
We hope this article has helped you find the best PCI compliant web hosting companies to host your website. You may also want to check out our guide on 11 Best WordPress GDPR Plugins to Create a GDPR Compliant Site. You'll also want to see the best eCommerce hosting companies.