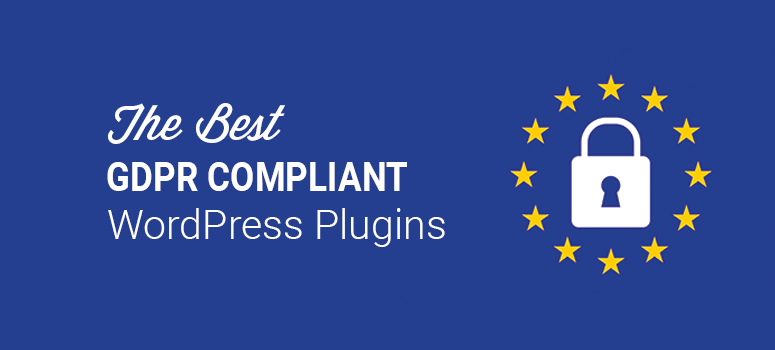 Are you looking for the best WordPress GDPR plugins?
Though GDPR laws are imposed by the European Union, no matter where you're located, if you are collecting any user data or using cookies for visitors from the EU, then you need to make your site compliant.
This sounds complicated but plugins make it easy to do so on your WordPress site.
In this list, we'll reveal the best WordPress GDPR plugins to easily make your site compliant.
Legal Disclaimer: Due to the dynamic nature of WordPress websites, no single plugin can offer 100% legal compliance. Please consult a specialist internet law attorney to determine if you comply with all applicable laws for your jurisdictions and your use cases. Nothing on this website should be considered legal advice.
What is GDPR and Why Do You Need Plugins for It?
GDPR (General Data Protection Regulation) is a privacy regulation passed by the European Union (EU) in 2018. It basically protects user data and gives them control over whether they choose to share it or not.
The GDPR framework is over 200 pages long and can get even American-based website owners into trouble if they don't comply.
Since GDPR is massively complex and would overwhelm this humble blog post if we were to explain it in full, we'll try to boil it down to the most prevalent issue.
Basically, even if you're outside of the European Union, if you have website traffic coming from the EU, you fall under this new ePrivacy regulation and you could be fined handsomely for not complying with it. That's right: if you fail to comply, you could be charged 4% of your business' earnings, or €20 million, whichever is greater. (Don't worry; they give you a warning first!).
The biggest issue for the average site owner is consent. In accordance with GDPR, you must obtain explicit consent from EU citizens before collecting or processing any of their personal information.
This, of course, causes a problem since most website owners use Google Analytics to track user ID / hashed personal data, IP addresses, cookies, and other behavioral profiling event data. And, if you don't have user consent, you cannot share any of that information with any of your Remarketing / Advertising (Google Adwords) accounts. If you do, you'll be fined.
So how do you get consent to gather the information you need? Via plugins, of course!
That said, let's take a look at the best GDPR WordPress plugins.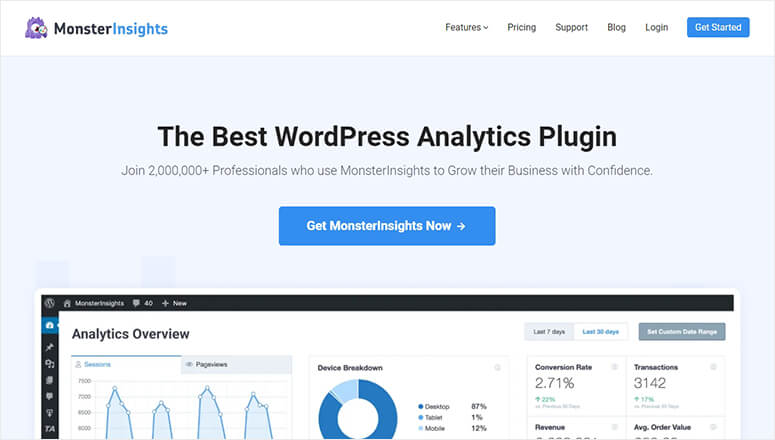 MonsterInsights is the best Google Analytics plugin and it's GDPR compliant. The plugin is user-friendly and also makes it to our list of the best WordPress plugins that you must use.
You can automatically anonymize or disable personal data tracking. Or, if you choose to continue tracking data, you can enable a consent box via plugin integrations unlocked with the MonsterInsights EU compliance addon. (Note: This addon is compatible with #3 on our list!).
When you have a consent box enabled, MonsterInsights waits until after the user has given explicit consent to begin loading the Analytics script. It also gives users easy ways to opt out of tracking cookie information, should they choose to.
This plugin is hands down a must-have for GDPR cookie compliance.
The key MonsterInsights features include:
Real-time analytics
eCommerce reports
Monitors user behavior
Universal tracking
Custom dimensions and reports
Affiliate links and ads tracking
Get started with MonsterInsights today!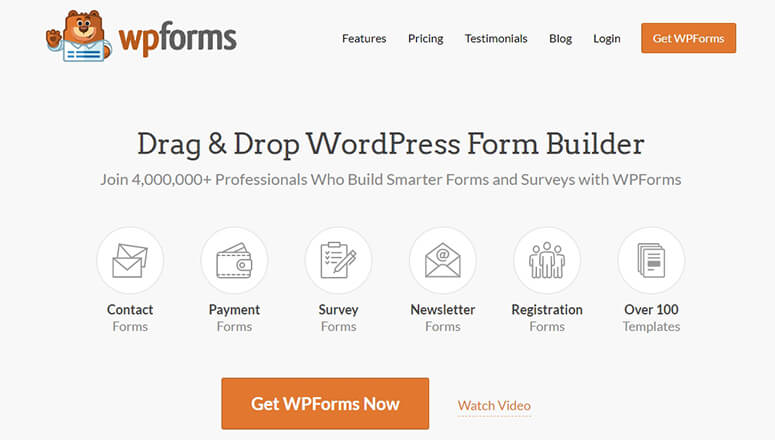 WPForms is the best contact forms plugin and is now a WordPress GDPR plugin too. With a single click, you can halt all cookies and geo-location tracking on your forms.
Additionally, you have the option to stop storing and collecting IP addresses and User Agent info related to form entries.
There's also a new form field option that lets you add a GDPR Agreement field so you can add a consent checkbox to your forms easily. This functionality is especially useful if you're using your form data to send information to your email marketing service or CRM software.
Plus, there's a filter you can use to add non-input fields to your form notification emails.
In a nutshell, WPForms makes consent management easier so that you can collect the data you need.
There's more! WPForms supports shortcodes, is multisite compatible, and comes with a ton of addons that let you add all sorts of enhancements to your WordPress forms.
There's a free version of the plugin in the WordPress.org plugin repository. The GDPR enhancements can be accessed by all users of WPForms no matter which version you're using.
Here are some of the key WPForms features:
Instant notifications
100+ form templates
Conditional logics
User entry management
Spam protection
Payment integrations
Get started with WPForms today!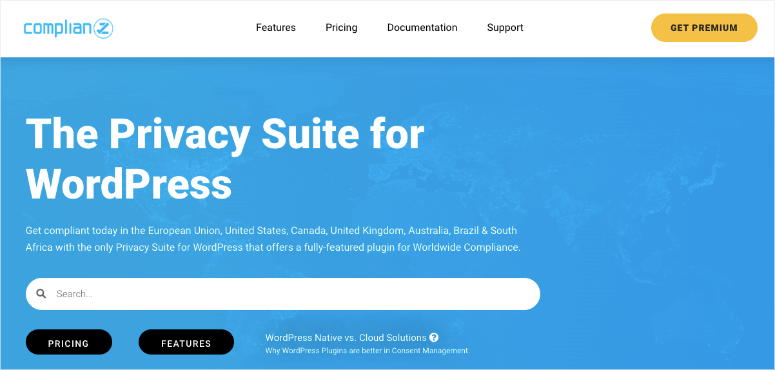 Complianz is a top-rated privacy plugin for WordPress that helps you keep your site in compliance with GDPR, DSGVO, CCPA, and PIPEDA. It uses a built-in cookie scan to create customizable cookie notifications for your region, or worldwide.
It also helps you to generate legal pages based on a questionnaire wizard, including cookie policy, privacy statement, 'do not sell my personal data' page, and more. Plus, you can block scripts and third-party cookies in your own style.
You also have complete control over the design of your cookie consent banner using custom CSS and templates, so it can match the design of your site and look professional.
Adding GDPR cookie consent notices to your site has never been easier. Not only that, but Complianz has all the integrations you need including Google Tag Manager, Hotjar, Adsense, Smash Balloon social feeds, and so much more.
The most notable Complianz features include:
Supported regions
Consent management
WordPress plugins integrations
Cookie banner
Multi-language support
Legal documents
Get started With Complianz today!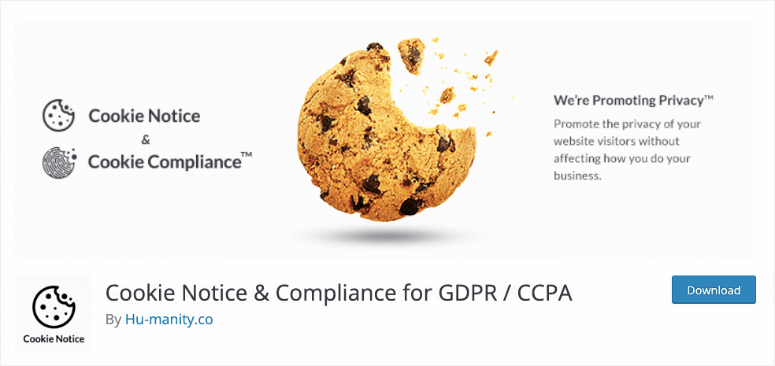 Cookie Notice is a free WordPress GDPR plugin. It lets you create a customizable message which is basically a cookie consent notice to tell your users that you use cookies on your site.
Furthermore, it allows users to opt-in (or out) of viewing your website. You can also include a redirection link on the notice to give users more information about your cookies and privacy policies.
Cookie Notice integrates with MonsterInsights, so we highly recommend using the plugins together.
Key features of his plugin include:
Customizable notice message
Link to Privacy Policy page
Consent on click, scroll or close
Multiple cookie expiry options
WPML and Polylang compatible
SEO-friendly
Get started With Cookie Notice today!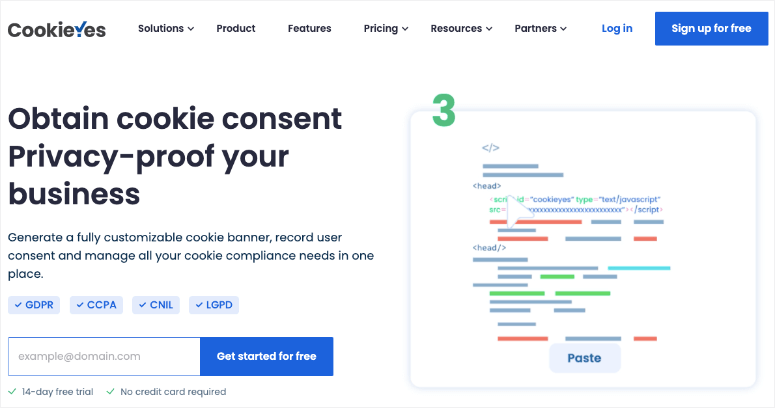 With CookieYes, you can easily obtain cookie consent by creating a fully customizable cookie banner. It lets you record user consent and manage all your cookie compliance requirements from a single place.
You can display the cookie banner in multiple languages. This banner is responsive and can be customized to align with your brand style. Added to that, you can add granulated user control which means the user can choose which types of cookies they want to accept or reject.
The plugin also comes with free tools to create a custom privacy policy and cookie policy to comply with GDPR and EU cookie laws.
The highlights of this plugin include:
Cookie notification with accept or reject options
Cookie bar in header or footer
Fully customizable including style, fonts, and color
Cookie audit module
Integrations with Official Facebook Pixel, Smash Balloon Instagram Feed, and Twitter Feed
Display the list of cookies on your cookie policy page using a shortcode
Get started with CookieYes today!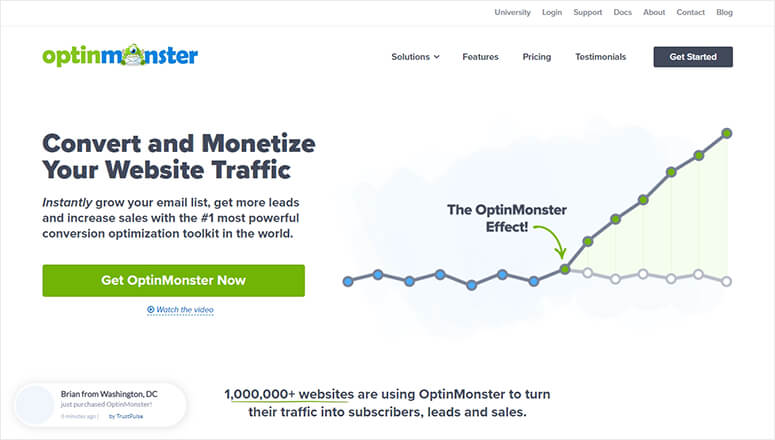 OptinMonster is the best lead generation software on the market. You can use it to create popups, floating bars, modals, slide-ins, and other campaigns. There's a user-friendly drag and drop editor that lets you customize campaigns to suit your website color, fonts, images, CTA buttons, and everything else.
OptinMonster utilizes intelligent targeting features to boost conversions, all while remaining GDPR compliant.
With a customizable checkbox for your privacy field, you can direct users to your Terms of Services, Privacy Policy, or ask for explicit consent.
OptinMonster is also SEO-friendly with built-in analytics and it also lets you connect directly to Google Analytics to track your campaign data.
Somehow landed in trouble despite taking all precautions? No problem. OptinMonster lets you fill out a form and get in touch with their audit concierge team.
OptinMonster only has a premium version that starts at just $9 per month.
The highlights of OptinMonster include:
Lightbox popups
Page level targeting
Geolocation targeting
Visual campaign builder
Behavior automation
Real-time analytics
Get started with OptinMonster today!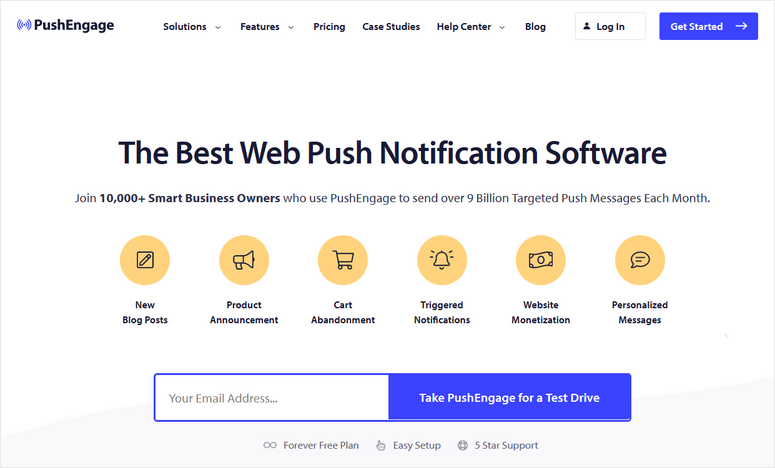 PushEngage is the best web push notification tool for desktop and mobile users. It's GDPR compliant and gives the option to unsubscribe notifications using a widget.
It also lets users opt out of automated profiling, which works based on user behavior and actions on your website. Your users can set their personal preferences and always ask for explicit consent for push notifications.
As a website owner, you can give consent for communication to the PushEngage team. It's easier to set your preferences from the PushEngage dashboard.
Here are the key PushEngage features:
Cart abandonment
Triggered notifications
Personalized messages
A/B testing notifications
Automatic drip campaigns
Goal tracking and analytics
Get started with PushEngage today!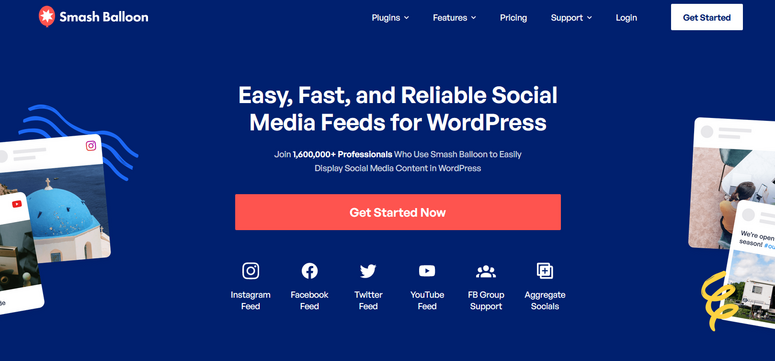 Smash Balloon is the best social media feed plugin for WordPress. It lets you display social content on your website from Instagram, Facebook, Twitter, YouTube, and over a dozen other social networks.
You can choose from different layouts to display your social feed in the best way possible. Smash Balloon even lets you make a shoppable feed which is great for eCommerce businesses to boost sales.
The Smash Balloon Instagram Feed Pro, Smash Balloon Facebook, and Smash Balloon Twitter plugins are GDPR compliant. The plugins add multiple permissions from the user to display content on the feed.
Check out the important Smash Balloon features:
Individual feed plugins
Custom widgets
Mobile responsive feeds
Optimized images
Easy embed options
Priority customer support
Get started with Smash Balloon today!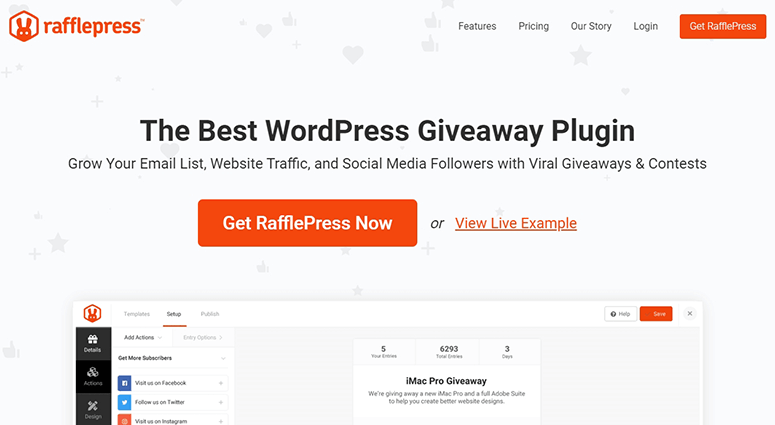 RafflePress is a popular giveaway plugin for WordPress. Using the drag and drop builder and viral giveaway templates, you can easily create a giveaway widget or landing page.
RafflePress also includes a 'Join an Email Newsletter' entry action that rewards participants with extra giveaway entries for becoming subscribers. The plugin includes a GDPR contest checkbox and a rules generator to help with GDPR compliance.
The top RafflePress features include:
Drag and drop giveaway builder
1 click entry and fraud detection
Powerful marketing integrations
Giveaway landing page
Tracking and retargeting
Premium giveaway templates
Get started with RafflePress today!

Your average run-of-the-mill share button plugins add tracking cookies by default. Shared Counts is different. With this plugin, static share buttons are loaded, while displaying share counts, and will only enable cookies after consent is received.
It's also developer-friendly and highly customizable.
Shared Counts' top features include:
Facebook share button
Twitter Tweet button
Share count total
Email sharing
reCAPTCHA support
LinkedIn share button
Get started with Shared Counts today!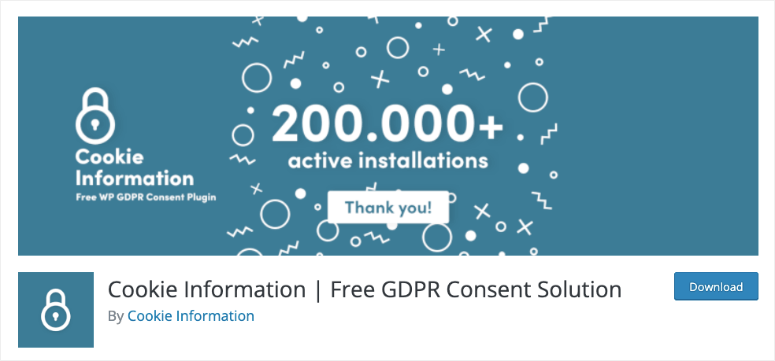 If you're using Contact Form 7, Gravity Forms, WooCommerce, or WordPress Comments then the Cookie Information plugin is a must-have consent plugin. This plugin was formally called the WP GDPR Compliance plugin.
With the plugin installed, you can automatically add a GDPR consent checkbox to those sections of your website.
The plugin is also multilingual as it lets you add a free cookie popup that you can translate to 40+ languages. It gives you access to a website GDPR consent log. And, your site will get a powerful cookie scanner that immediately notifies you when one of your webpages is illegally tracking and saving private data
The plugin also lets users request their data, stored in your website's database (after consent), through a special Data Request page. After making the request, they will be given temporary access to that information and, from there, can request their information be deleted, if desired.
Some of the key WP GDPR Compliance features include:
Encrypted audit logs
Double optin mail
Anonymize user data
Explicit visitor consent
Consent Log
Supports WordPress plugins
Get started with Cookie Information today!
We hope this article helped you find the best WordPress GDPR plugins to comply with EU cookie laws and data privacy laws. Another plugin that is worth checking out is WP AutoTerms.
You might also be interested in checking out SeedProd. It's the best WordPress theme and page builder. You can use it to create privacy policy pages to meet additional GDPR requirements.
And finally, you might also want to install a security plugin on your site that will scan and monitor your website at all times. This can help you prevent hacks, data breaches, and malware attacks. Check out: 9 Best WordPress Security Plugins Compared.
If you enjoyed this post, you may also want to read our following guides:
These articles will further help you get new member signups, share content with consent, create privacy policy pages, and more.