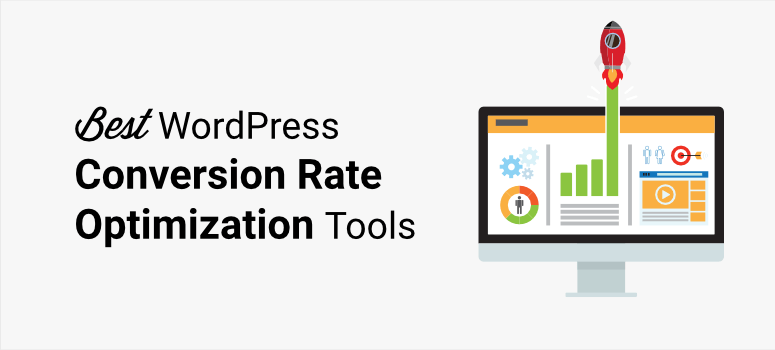 Are you looking for the best tools to skyrocket conversions on your WordPress site?
When you run a business or blog, it's important to use conversion rate optimization (CRO) tools to ensure that you generate leads, improve user engagement, and boost conversions.
In this article, we'll reveal the best conversion optimization tools on the market to enhance your marketing campaigns and grow your brand. But first, why should you use these tools on your site?
Why Use Conversion Rate Optimization Tools on Your WordPress Site?
Driving traffic to your site is important but it isn't enough if you want to monetize your website. You'll need to get them to convert into subscribers and leads to further their journey.
Conversion rate optimization or CRO tools make it easy to understand your audience, strategize your marketing and promotions, and get them to engage with your brand.
Here's where conversion optimization tools can really help you:
Target Your Audience: CRO tools collect valuable data on your visitors so you can create campaigns that they are more likely to engage with.
Improve Your Strategy: When you know where your visitors spend their time on your site and what content they avoid, you're able to improve your conversion strategy and improve lead generation.
Increase Revenue: The more you know your audience, the easier it is to create content, campaigns, and products relevant to their needs and interests, increasing your sales and profit.
Now that we know the benefits of having conversion tools on your website, let's look at the top choices currently on the market.
Best Conversion Rate Optimization Tools for WordPress
Below, we've curated a list of high-performing CRO tools that you can use to increase conversion rates exponentially.
We've factored in features, cost, and the results they produce.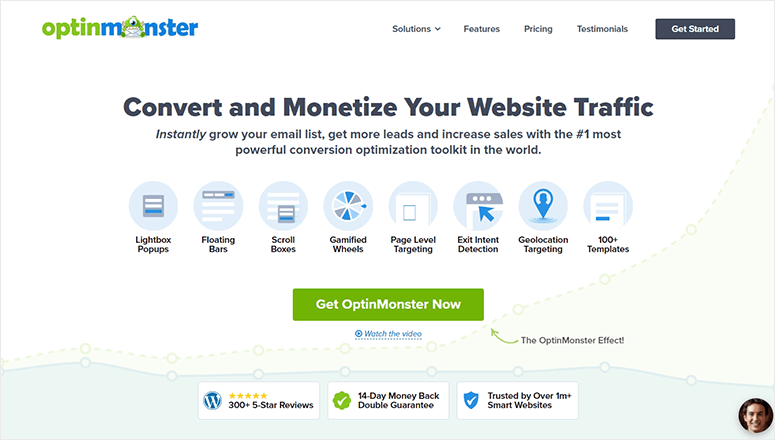 OptinMonster is the best lead generation plugin for WordPress. It helps you turn site visitors into customers by creating relevant, targeted campaigns.
Using its drag-and-drop builder and pre-made templates, you can create beautiful optin campaigns that grab visitors' attention and encourage them to take action. Choose from campaign types like lightboxes, sidebar forms, floating bars, countdown timers, inline forms, and more.
OptinMonster comes with powerful targeting rules like exit-intent, geolocation, device, scroll depth, and much more. Plus, it uses onsite retargeting and cookie retargeting to personalize marketing messages and boost conversions.
OptinMonster's integrations include Salesforce, HubSpot, Shopify, Mailchimp, ActiveCampaign, and more.
Features:
Conversion analytics and A/B testing to optimize results
Popular integrations with email services and marketing platforms
Precision targeting and powerful campaign triggers
Mobile-friendly campaigns
50+ pre-built templates and 9 campaign types
Cost: Starts at $9 per month (billed annually)
Get started with OptinMonster today.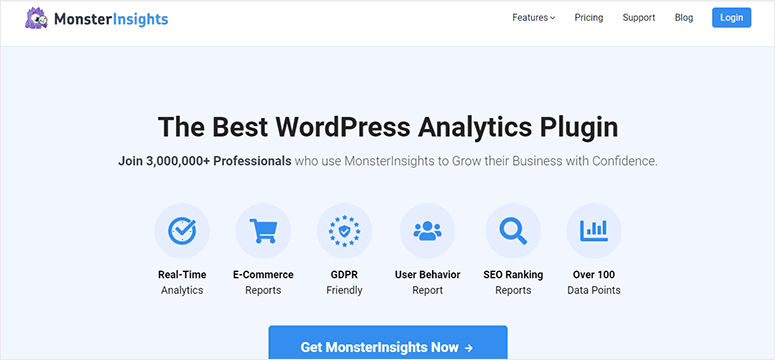 MonsterInsights is the best Google Analytics plugin for WordPress. It makes it easy to understand how users navigate your website and how it's performing as time goes on.
MonsterInsights lets you see your analytics reports straight from your WordPress dashboard so you never have to leave your admin to check site performance.
The best part about this plugin is that you can set it up in minutes and connect to Google Analytics in a few clicks. You'll never need to use any code or modify WordPress files, which makes it super beginner-friendly.
This plugin lets you run A/B tests on your site using the Google Optimize addon so you can see what works with your audience and what doesn't. Track your forms, focus keywords, media, custom events, URLs, revenue, and much more.
Features:
Universal website tracking across devices and campaigns
Enhanced eCommerce tracking
Real-time user stats
Set up custom dimensions to track for authors, categories, tags, searches, and more
Integration with popular plugins and services including MemberPress, Yoast, and WPForms
Cost: The lite version is free. The Plus subscription starts at $99.50 per year
Get started with MonsterInsights today.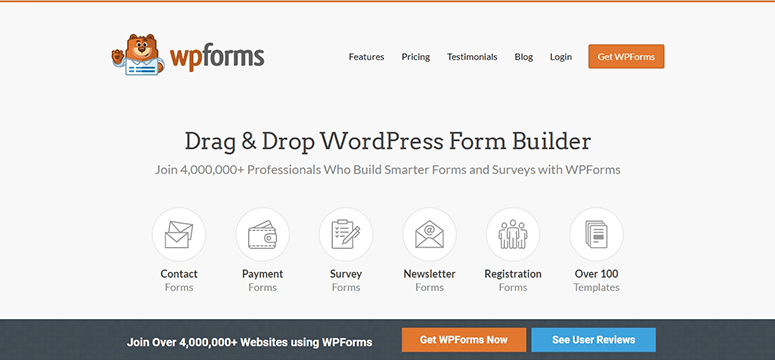 WPForms is the best contact form plugin for WordPress. It lets you create stunning, highly optimized forms for your website.
With WPForms, you can create any type of form you like, including contact, registration, newsletter sign up, surveys, and more. It's 100% responsive and looks great no matter which device visitors are using.
WPForms comes with a drag-and-drop builder so it's easy to design your online forms exactly how you want them. It integrates with popular email marketing services like Mailchimp, AWeber, ActiveCampaign, Constant Contact, GetResponse, and more.
WPForms is built for conversions with advanced features like conversational forms. It makes long forms seem more like a conversation by asking one question at a time. Plus, it comes with smart conditional logic to dynamically change form fields based on a user's response.
WPForms even has a User Journey addon to see a step-by-step breakdown of the user's path through your site, right up to their form submission. So you can optimize your user's journey and experience.
All of these features are designed to boost form completion rates and improve conversions
Features:
300+ pre-built form templates
Mobile-friendly forms
Smart conditional logic that shows or hides fields based on user selections
Multi-page forms
Smart captcha and spam protection
Cost: Free basic version. Premium plugin starts at $39.50 per year
Get started with WPForms today.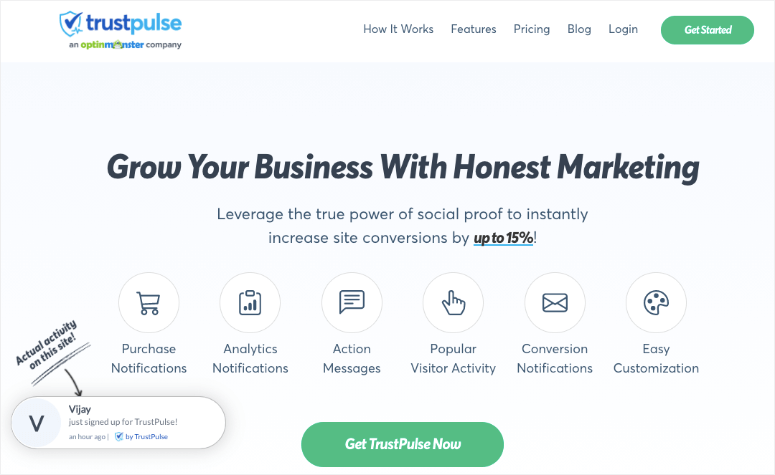 TrustPulse is the best social proof notification plugin for WordPress. It helps you convert visitors into engaged customers by showing them popups of recent sales and activity on your site.
When visitors see others taking action on your site, like buying a product or signing up for newsletters, it encourages them to do the same.
With TrustPulse, you won't need any coding skills as it comes with a beginner-friendly dashboard.
There are plenty of design options to match the popups to your site branding and WordPress theme. You'll be able to customize the message, colors, images, and more.
TrustPulse also integrates with popular platforms including WordPress, Shopify, Magento, Squarespace, and more.
TrustPulse helps build trust and confidence with your audience. In fact, this tool has been proven to instantly lift conversions by up to 15%.
Features:
Real-time activity tracking
Multiple popup types like recent activity, group statistics, and custom messages
100% customizable popups and flexible design options
Smart targeting rules
Stats and analytics to monitor your campaigns
Cost: Starts at $5 per month.
Get started with TrustPulse today.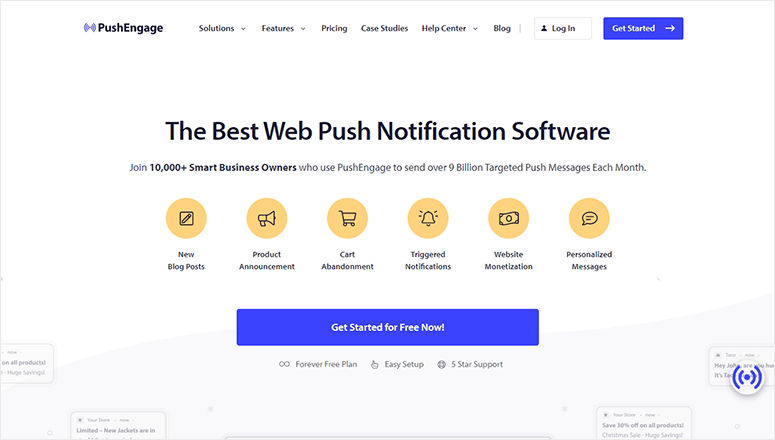 PushEngage is the best web push notification software for WordPress. It lets you send optimized push notifications to site visitors even after they've left your site.
It's easy to get them to subscribe to your browser notifications with just 1 click. Then you can send them targeted messages to drive traffic back to your site and increase conversions.
With PushEngage, you can alert customers to all kinds of messages including sales, promotions, discounts, and more. Based on user behavior, it sends triggered notifications to the right visitors at the right time.
It also comes with Attributes API that lets you personalize notifications with your subscriber's first name, address, hobby, and other relevant details.
PushEngage's notifications are completely customizable so you can change the text, CTA button, images, URLs, and more to match your marketing goals.
Features:
A/B testing
Goal tracking and analytics
Dynamic segmentation
Automatic drip campaigns
Offline notifications
Cost: There's a free plan available. Paid plans start at $9 per month
Get started with PushEngage today.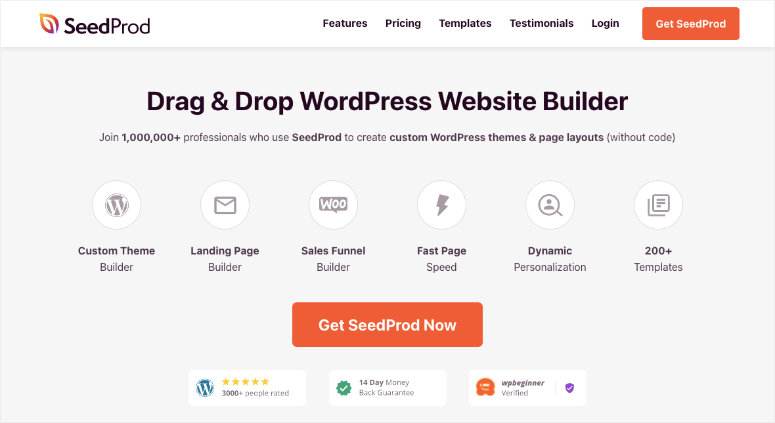 SeedProd is the best landing page builder for WordPress. It helps you create stunning, optimized landing pages for your site. So you can promote products, sales, webinars, events, and just about anything else you want.
SeedProd is beginner-friendly and makes it easy for anyone to design beautiful webpages for their site. There are 150+ premade templates that are designed for all major marketing goals.
With its drag-and-drop builder, you can add and remove elements as you go without touching a single line of code. You can also preview what your landing page looks like on mobile and other devices to ensure a positive user experience for your audience.
SeedProd also lets you add optin forms and integrate with popular email providers to streamline your lead generation efforts. Added to that, you can connect with WooCommerce to sell products directly from your landing page.
Features:
150+ landing page templates including sales, optin, coming soon, maintenance mode, webinar, login and thank you pages
Smart sections and blocks to create unique pages
100% responsive and mobile ready
20 built-in color schemes
Spam protection
Coming soon and maintenance mode
Cost: There's a free and paid version. The pro plans start at $39.50 per year
Get started with SeedProd today.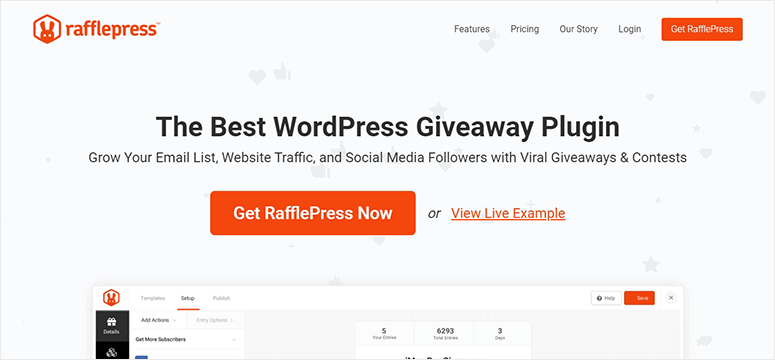 RafflePress is the best giveaway and contest plugin for WordPress. In minutes, you can create an optimized giveaway for your brand to boost user engagement, site traffic, and social following.
With RafflePress, you can create a giveaway in minutes without needing to code. Its drag-and-drop builder is beginner-friendly and comes with pre-built templates so you can build a campaign without any hassle.
RafflePress also lets you build and design a landing page for your contest to boost its engagement and visibility. Its tracking and retargeting features make it easy to identify your target audience so the contest gets maximum responses.
RafflePress integrates with popular social media platforms like Facebook, Instagram, YouTube, and Twitter so you can post your campaign anywhere. It also integrates with most email marketing services and CRMs so it's easy to merge and manage your data.
Features:
Pre-built giveaway templates
Multiple entry options
One-click entry
Spam and fraud protection
Responsive, mobile-friendly designs
Cost: Starts at $39.20 per year.
Get started with RafflePress today.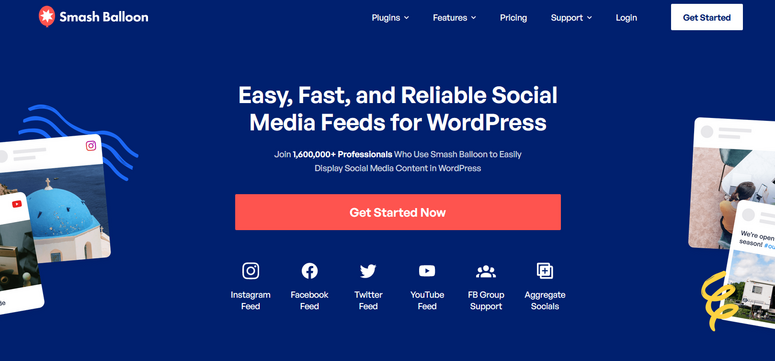 Smash Balloon is the best social media feed plugin for WordPress. It lets you display beautiful feeds on your website to show visitors your social content and convert them into followers.
You can display content from Instagram, Twitter, YouTube, and Facebook. Plus you get full control over which posts appear on your site.
Smash Balloon works wonders for website conversions because before customers take action on your site, they want to know that they can trust your brand. Your social content builds credibility with customers and encourages them to follow your accounts, signup for newsletters, purchase products, and more.
It takes 5 minutes to set up and after that, the feeds are automated. So as you post to your social media accounts, Smash Balloon will automatically fetch new content and display it on your site.
Inside the Smash Balloon dashboard, you'll find several customization options to make sure your social media feed blends well with the rest of your site.
Features:
100% mobile responsive
12+ feed layouts
Filters to control what posts are visible on your site
Multiple feed types including timeline feed, photo feed, video feed, events feed, hashtag feed, etc.
SEO friendly
Intelligent feed caching and backup system
Cost: Starts at $49 per year for one platform.
Get started with Smash Balloon today.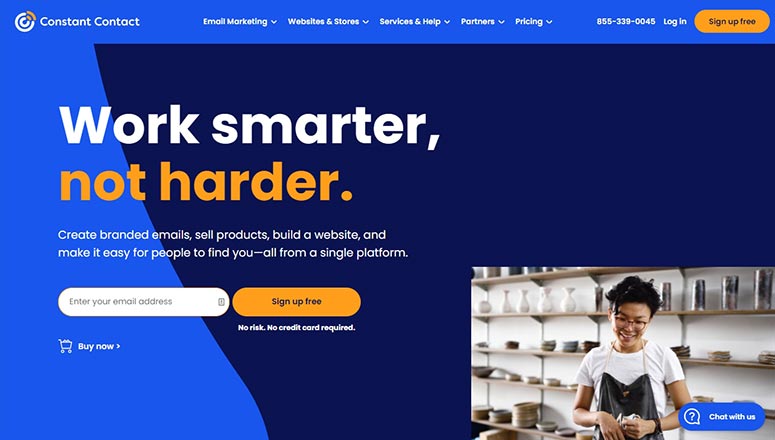 Constant Contact is a popular email marketing service and website builder for bloggers, business owners, marketers, and more. It lets you create and send targeted emails to your audience.
Constant Contact caters to beginners, intermediates, and experts so you can create an optimized email strategy no matter what level you're at.
Its email editor helps you set up autoresponders and drip email campaigns. You'll also find tons of design options to customize colors, fonts, images, and more to suit your branding and other content.
You can set up email marketing automation to perform scheduled or automated actions so you can stay on top of your content strategy.
Plus, Constant Contact makes it incredibly easy to segment your audience. This lets you identify and group similar subscribers together so you can deliver relevant, personalized campaigns to your audience.
Features:
240+ pre-built email templates
Drag-and-drop builder
Email marketing automation
Email list segmentation
User data and analytics
Cost: Starts at $20 per month.
Get started with Constant Contact today.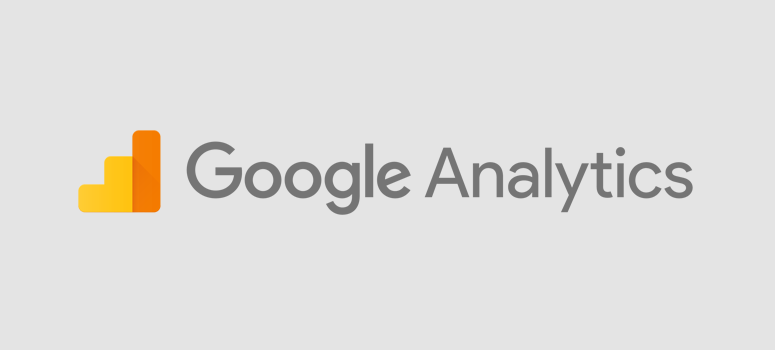 Google Analytics is a powerful tool for WordPress users and gives you all the insights you need to maximize conversions. It helps you easily track user actions and behavior on your site.
The more you understand them, the easier it is to build a site that boosts conversions and appeals to customers.
Google Analytics lets you track multiple websites from one account to easily monitor your data. You can see the number of visitors on your site, how long they spend on your webpages, where they drop off, referral sites, and more.
You can also perform A/B testing, monitor links, and connect systems used to measure CRM, points of sale, and other touchpoints.
For users unfamiliar with breaking down analytics, Google Analytics might be a bit tricky to navigate, which is why we suggest connecting it with MonsterInsights. This plugin takes comprehensive website data and turns it into reports that are easy to read. So you'll get all the insights you need without any hassle.
Features:
Tag management support
Custom segments at the session or user level
Reporting tools on your audience, acquisition, behavior, conversions, real-time activity, and more
User and conversion modeling
Data import
Cost: Free
Get started with Google Analytics today.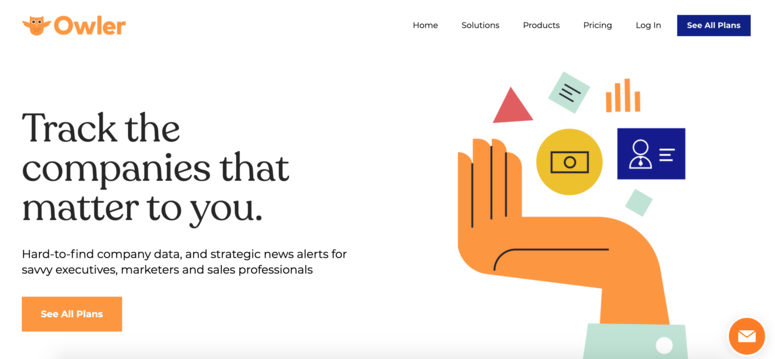 Owler is an insights platform that helps you spy on your competitors to get ahead and learn from their strategies. You'll receive news and alerts on the latest changes so you can stay on top of what's happening in your industry.
Owler's competitive intelligence feature lets you compile a list of companies you want to track. From there, it curates company data for you and alerts you to new trends, breaking news, and insights.
You can use this information to better appeal to your target audience and get ahead of the curve so your business has the latest content first.
Owler can provide you with information about other companies including private revenue estimates, CEO approval ratings, employee headcount, and more.
It also creates a data summary for you so it's easy to get an overview of the most important trends taking place in your industry.
Features:
Advanced search to filter by industry, sector, geography, revenue, employee count, and more
Competitive intelligence
Trend tracker and news alerts
Custom keyword alerts
Brand customization
Cost: Free, then starts at $99 per year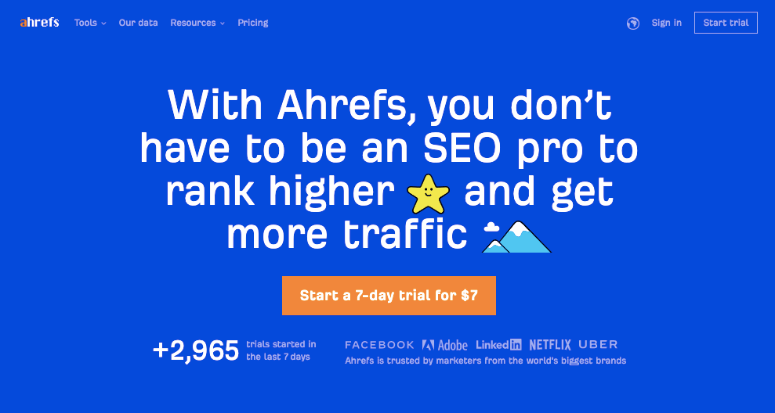 Ahrefs is another competitor research tool that helps you stay on top of your competition so you can give your customers the most relevant content first.
Ahrefs has different options to help you with keyword optimization, competitive analysis, rank tracking, and more It has everything you need to better understand your audience as well as your competition to provide the most relevant campaigns and boost conversions.
Ahrefs also caters to eCommerce businesses by identifying what customers buy online and analyzing their behavior across marketplaces. Monitor consumer demand, optimize retail search strategies, track your omnichannel performance, and much more.
Features:
Site audit
Deep market insights
Analyze competitive performance
Advanced keyword research tools
Audience analysis
Cost: Starts at $99 per month
Get started with Ahrefs today.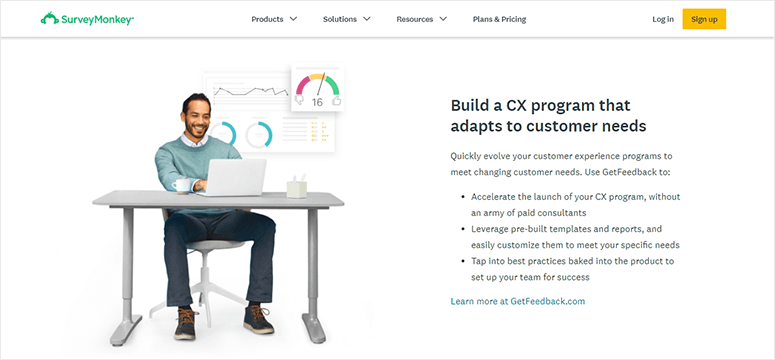 SurveyMonkey is a survey platform that helps you collect customer feedback so you can better understand your audience and enhance your growth.
SurveyMonkey lets you create polls, surveys, and quizzes to send to customers. You can collect user feedback through email, social media, mobile chat, weblinks, and more. Export your results, integrate the feedback with your apps, and use your insights to make informed decisions for your business.
SurveyMonkey comes with 150+ pre-built templates so it's easy to choose the right questions to ask customers. These questions include customer satisfaction, employee engagement, education, market research, and more.
Features:
150+ pre-written survey templates
Customer data and analytics
Integrations with Mailchimp, Salesforce, Microsoft Teams, Slack, and many more
Flexible permission controls
Cost: Starts at $32 per month.
Get started with SurveyMonkey today.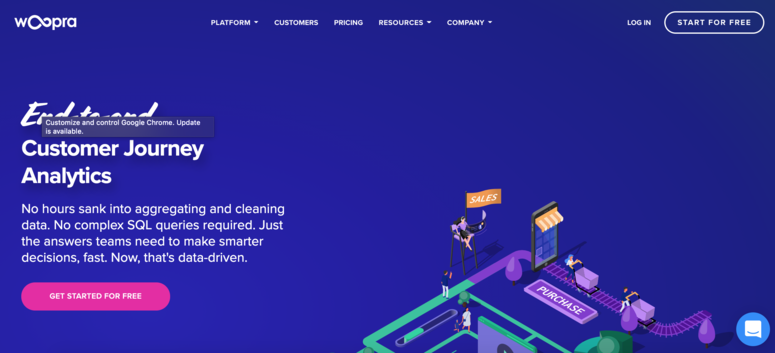 Woopra is a customer journey analytics platform that's built to help you better understand your audience and boost conversions on your website.
With Woopra, you can monitor customer data including trends, journeys, segmentation, retention, and more. Monitor product, sales, marketing, and support touchpoints with custom tracking. You can also take real-time action according to user behavior using its built-in triggers.
It also lets you sync existing user data from your databases and convert it into actions without requiring a single line of code. Woopra integrates with popular platforms including Mailchimp, Slack, Salesforce, AWeber, Dropbox, ActiveCampaign, LiveChat, Shopify, and many more.
Features:
Analytics of customer journeys, trends, segmentation, etc.
Built-in triggers for user behavior
Sync existing user data
Touchpoint optimizations
Cost: There's a free plan to get started with. After that, paid plans start at $349 per month
Get started with Woopra today.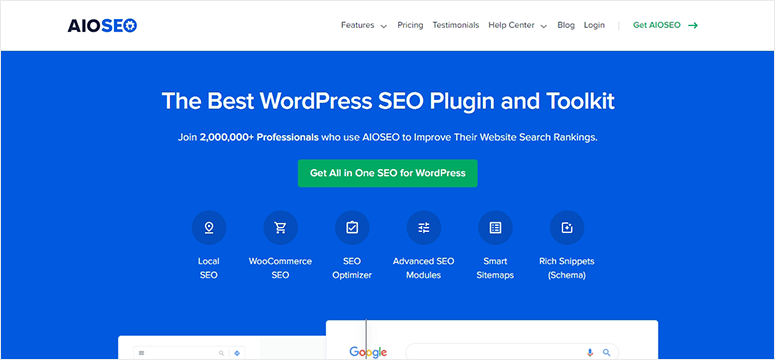 All in One SEO lets you build an optimized marketing strategy that helps you better understand your customers and appeal to their interests for higher conversions.
All in One SEO comes with recurring site audits, content research, backend analysis, SEO error detection, and much more.
It also gives you advanced eCommerce SEO support to optimize your product pages and product categories.
The tool makes it easy to optimize pages and products to drive more traffic to your site and boost conversions.
All in One SEO also integrates with social media platforms so you can connect to Facebook insights, let Google know which are your social accounts, and configure sitewide settings for social sharing.
Features:
Site audits
Full site redirects
On-page SEO checker
Headline analyzer
Cost: Starts at $49.50 per month
Get started with All in One SEO today.
And there you have it! These are the best conversion optimization tools you can use for your WordPress website.
We hope you enjoyed this article. If so, feel free to check out our list of resources on the top WordPress plugins. It breaks down the best plugins on the market so you can choose the right ones for your WordPress site.
If you run a small business and want to compare email marketing services, you can also take a look at our article on the best email marketing services available for WordPress. It tells you what to look for so you can make the best decision for your website.