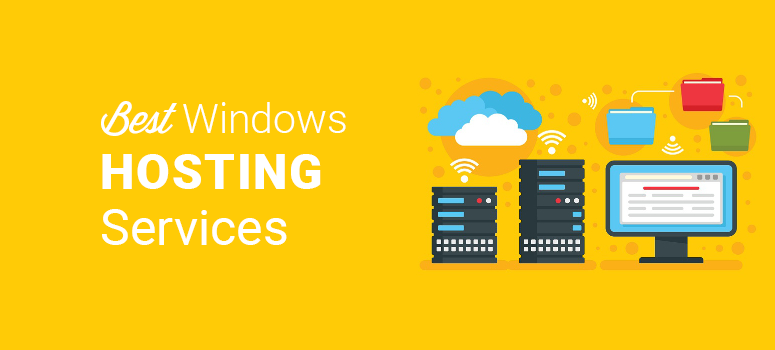 Are you looking for the best Windows hosting providers? With Windows Hosting, you can host websites based on ASP.NET.
Windows Hosting is the best bet for you if you want to run services like Exchange, Microsoft SQL Server or other Microsoft stack products for your website.
In this article, we'll show you some of the best Windows hosting services for your website.
What Is Windows Hosting? Is It Any Good for WordPress Sites?
Windows hosting is a web hosting that runs on a Windows operating system.
You can assume that almost every web hosting service runs on a Linux operating system if an operating system isn't specified explicitly.
Windows hosting is primarily used to operate a website that runs on Windows technology, such as ASP.net.
While you can host a WordPress site with a Windows operating system, it's not recommended due to the following reasons.
Windows Hosting vs. Linux Hosting: Which One Is Good for WordPress?
Let's take a look at a head-to-head comparison between Windows and Linux hosting.
Affordability: Usually, Linux hosting is a cheaper hosting option than Windows hosting.
Different setup: Setting up WordPress on Windows is completely different from that of Linux. For example, you'll have to update your web.config file to setup WordPress with Windows, but you don't find that file on your Linux WordPress setup.
Control panel: The most popular control panel for Linux hosting is cPanel, whereas, for Windows, the popular control panel is Plesk.
Most WordPress setup tutorials that you find on the web are based on Linux hosting. Plus, performance-wise, a Linux based WordPress web hosting service is much better than Windows hosting for WordPress sites.
If you want to host a WordPress site, choose a WordPress hosting service with one of the Linux distros as the operating system. If you'd rather want to host a website powered by any Windows technologies, then choose one of the Windows hosting services below.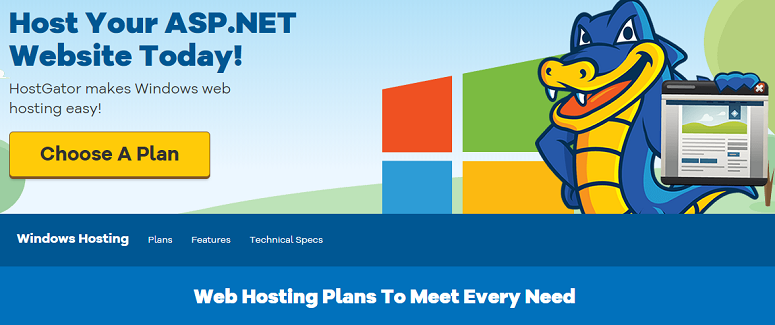 HostGator is one of the best Windows hosting services that offers all Windows hosting features, including Plesk control panel, powerful admin tools, free SSL certificate and their 24/7 award-winning hosting support. It has great Windows shared hosting plans, which starts at $4.76 per month. Based on the plan you choose, you can host up to 5 domain names.
You can also easily set up your professional email account with a few clicks, configure and access your emails from any mobile device and even eliminate spam with its strong spam filters.
Pricing starts at $4.76 per month.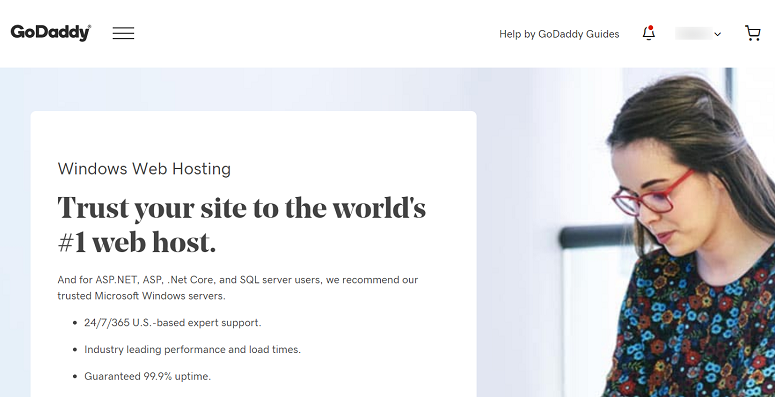 GoDaddy is a one-stop hub when it comes to starting your digital journey. Be it a domain name, Windows hosting service or a website builder, GoDaddy has the perfect solution for your business. GoDaddy has amazing Windows hosting plans for you to choose from. It comes with great storage options and has unmetered bandwidth as well.
GoDaddy's Windows hosting plan starts at as low as $5.99 per month. You'll get free SSL, a free domain name for the 1st year, premium DNS and a lot more.
Pricing starts at $5.99 per month.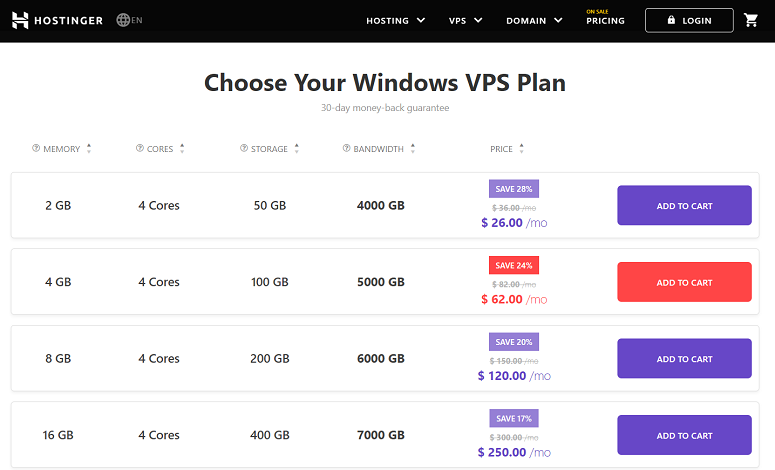 Hostinger is another company that offers one of the cheapest Windows VPS hosting services. You can choose your own plan based on the memory, storage, and bandwidth that you would need for your site.
Starting from 2GB, it lets you have up to 16GB memory for your site. Each of these plans comes with dedicated live chat support. You can also have unlimited hardware and SSD space, high-level enterprise data backup options, and a lot more. If you're not satisfied with their services you can get the money back within 30 days.
Pricing starts at $26 per month.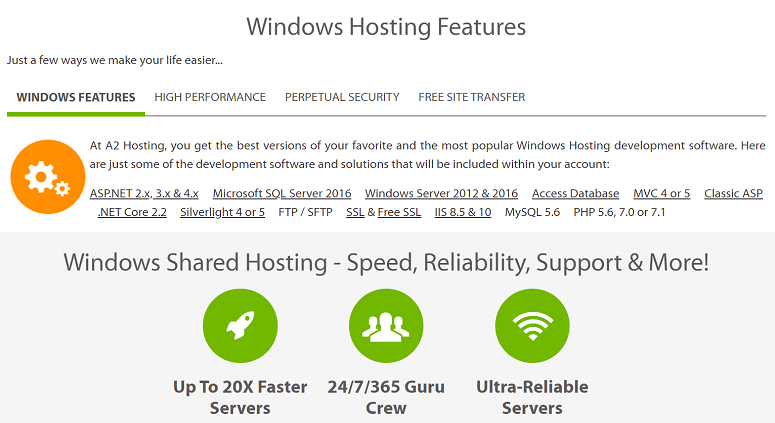 A2 Hosting used to offer Windows hosting service, however, this has been discontinued. You can sign up for email notifications to be alerted when A2 hosting decides to offer Windows hosting in the future.
As an alternative, you can choose a Linux hosting plan. You can also get a dedicated hosting plan that lets you install any OS of your choice.
Pricing starts at $2.99 per month.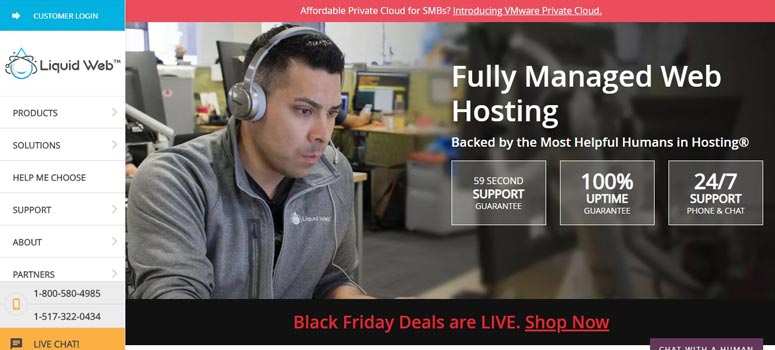 Liquid Web is a popular name when it comes to offering managed Windows hosting services. Liquid Web's Windows hosting is available for dedicated servers, cloud, and VPS hosting. Depending on the plan you opt for in the dedicated hosting option, it offers 8TB to 15 TB bandwidth. You can also have server protection and malware remediation with all the plans. To keep your data safe it also offers a great backup storage option as well.
For the cloud VPS hosting, you can have up to 10 TB for all the plans and 100 GB of free backup storage. To set up your website, email address, etc you'll get an intuitive Plesk onyx dashboard. Depending on the plan you choose, you can have up to 200GB of SSD disk space for your data.
Starts at $65 per month.
6. AccuWeb Hosting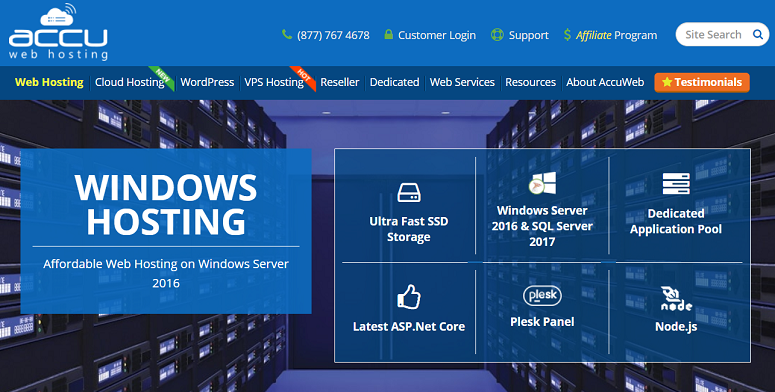 AccuWeb offers premium shared hosting services for windows and it can be a great option for both small and big businesses alike. Depending on the plan you opt for, you can have up to 5 domains in your account with free email accounts for each domain. It also offers 10GB to 60GB of SSD storage.
Once you choose your plan, your account will be activated instantly. To ensure all your data is safe, the company will automatically backup your site every day. The Plesk control panel makes it easy for you to handle and manage your website. It supports PHP8.1x and offers 500 MB storage space for each SQL storage database.
Starts at $3.49 per month
That's it!
These are some of the leading companies that offer powerful Windows hosting services. Once you're done selecting your hosting and domain name don't forget to set up a coming soon page on your site. This will help you get a head start with your marketing and promotion tactics and let you start building your email list.