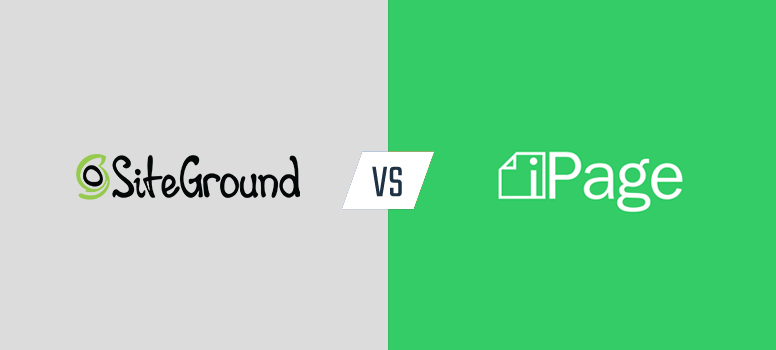 Are you looking for the best cheap hosting service? iPage and SiteGround are 2 of the most popular web hosting services available on the market. But which is truly the best choice: iPage or SiteGround?
Choosing the wrong web hosting provider could hurt your search rankings and business. And that's why we've written an UNBIASED web hosting comparison between iPage and SiteGround, so you can decide which one is the best option for your site.
Let's take a look at our head-to-head comparison between iPage and SiteGround.
SiteGround vs. iPage – Overview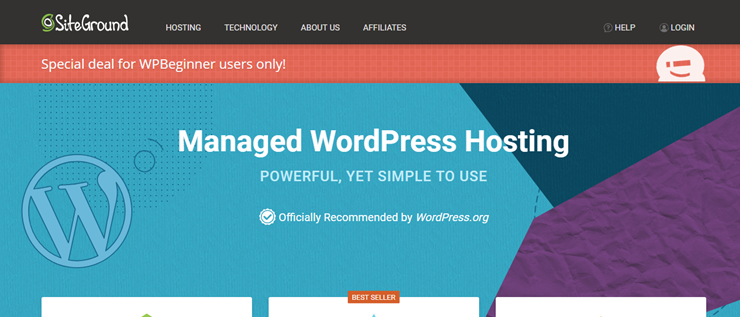 SiteGround is one of WordPress.org's officially recommended web hosting providers. They offer one of the best 24/7 support centers in the industry and maintain a high level of customer satisfaction.
Their hosting options run the gamut from cheap hosting all the way up to dedicated hosting servers. With their WordPress hosting service, they provide automatic WordPress upgrades, built-in WP caching, CDN, 1-click staging, and GIT version control.
They're one of the few companies that let you choose your preferred data center when signing up for a hosting service. Their data centers are located in the USA, Europe, and Singapore.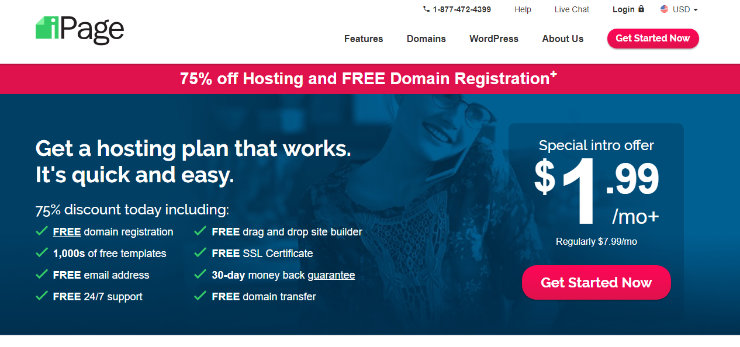 iPage is a hosting brand owned by Endurance International Group. They're well-known for their affordable hosting options, starting from as low as $1.99 per month.
iPage was founded in 1998, and now serves over 1 million websites across the globe. Just like SiteGround, they also provide a range of hosting options, including shared, WordPress, VPS, and Dedicated hosting.
iPage is an EPA green power partner, which means their data centers are powered by wind energy, reducing their carbon footprint a great extent.
SiteGround vs. iPage – Page Speed and Uptime
Page speed and uptime are the most important factors you need to consider when choosing a web hosting service.
According to studies, even a 1-second delay can result in a 7% reduction in conversions. Plus, Google continues to emphasize page speed in their algorithms.
Not to mention, if you're not taking page speed seriously, you'll likely lose SEO rankings and your customers will abandon your site.
Uptime is important because your visitors expect your site to be available around the clock. Uptime is usually expressed as a percentage of the total available time, such as 99.9%.
Often, web hosting providers boast about being the fastest and promise high availability with their hosting services. To test whether they live up to their hype, we signed up with both SiteGround and iPage and created a test WordPress site on each of them. We also installed a default theme, added dummy content, and uploaded some images to mirror a live environment on our test sites.
Then we conducted a few different speed and uptime tests on them.
Here're our results:

According to our Pingdom test, our SiteGround test site took only 649ms to load when tested from Dallas, Texas. That's faster than 95% of all tested sites.

When we ran the same test on iPage; our test site took 2.6 seconds to load.
In addition to our Pingdom test, we also used a testing tool called Load Impact to determine how SiteGround and iPage would handle server requests during a traffic surge.
For the test, Load Impact sent some virtual users (VUs) to our sites and gradually built up to 100 visitors at a time.

As you can see from our SiteGround test, there were a few spikes in the loading time graph. This is quite common in a shared hosting environment. However, our site never went down during the test.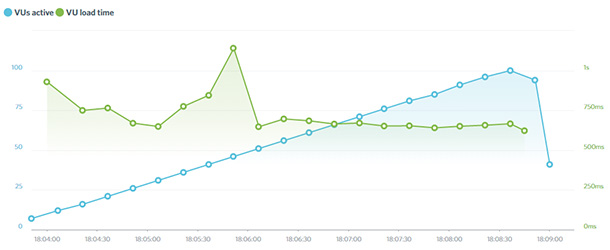 Our iPage site has slowed down when there were 50 users. The site quickly recovered within a few moments and page load times, but remained steadily low even with more users. However, it's worth noting that the site never went down during our speed test.
Winner: SiteGround
SiteGround vs. iPage – Ease of Use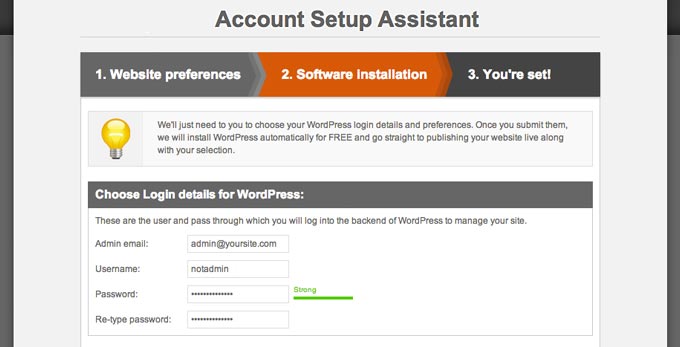 SiteGround allows you to manage your website and hosting account with cPanel.
They also offer dozens of 1-click installers for popular website scripts such as WordPress, Joomla, and Drupal.
You'll also get a basic drag and drop builder with every plan to create your website the way you want.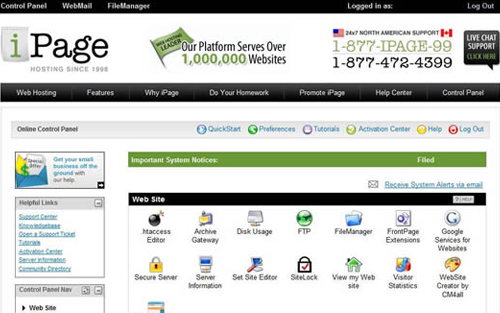 Now, let's take a look at iPage and how easy it is to manage a website on their platform.
All iPage hosting packages come bundled with an easy-to-use website drag and drop builder and a 1-click WordPress installer.
The main downside is that iPage doesn't offer cPanel. Instead, they offer their own customized version of a control panel which they refer to as vDeck. However, if you're accustomed to cPanel, which is the world's most popular web hosting control panel, then there'll be a bit of learning curve to tackle before mastering vDeck.
SiteGround vs. iPage – Features
Both SiteGround and iPage are likely to have a hosting option that works for your website, regardless of the size and budget of your online business. While SiteGround focuses on providing a blazing fast hosting experience with industry-leading speed technologies, iPage gives you all the entry-level features beginners need to easily kick off a site.
Let's take a look at a few areas where iPage stands out from the competition:
Unlimited websites: iPage only offers 1 cheap hosting plan. You can host unlimited websites with that plan without any extra cost; whereas SiteGround requires you to sign up for a slightly more expensive plan for unlimited sites hosting.
Drag and drop site builder: While iPage provides an in-house developed site builder, SiteGround offers Wix Builder with every web hosting plan.
Free ad credits: Get free ad credits worth $200 with every iPage web hosting plan.
Now that we know the benefits of iPage, let's take a look at a few areas where SiteGround excels in comparison:
Speed technologies: SiteGround offers CloudFlare CDN with every web hosting plan. You can also boost your load time with SuperCacher with a slightly more expensive plan.
Backup and restores: With every plan, you get free daily backups. And, with a slightly more expensive plan, you can avail free site transfers and backup restores.
Geeky features: If you need geeky advanced features such as PCI compliant servers and 1-click Git repo creation with your shared web hosting, you can subscribe to their GoGeek plan.
Winner: SiteGround
SiteGround vs. iPage – Support and Documentation
Both SiteGround and iPage offer 24/7 support via phone, email, and live chat.
You can also count on their knowledge bases, which cover every aspect of building a website from the ground up using their web hosting plans.
Winner: It's a tie
SiteGround vs. iPage – Pricing
Without a doubt, iPage's hosting options are way cheaper than SiteGround's. iPage offers a one-size-fits-for-all plan for cheap hosting. They provide only 1 cheap hosting plan, which costs only $1.99 per month; whereas SiteGround's cheap hosting plan starts at $3.95 per month.
SiteGround doesn't offer VPS hosting plans. However, they do offer cloud and reseller hosting.
However, you can use our SiteGround coupon to get BIG discounts.
Here's a detailed comparison between the pricing of different hosting options from SiteGround and iPage:
| | Shared | WordPress | VPS | Dedicated |
| --- | --- | --- | --- | --- |
| SiteGround | $3.95 /mo. | $3.95 /mo. | - | $269.00 / mo. |
| iPage | $1.99 /mo. | $3.75 /mo. | $19.99 / mo. | $119.99 / mo. |
Winner: iPage
Recap – SiteGround vs. iPage
SiteGround focuses on providing a super fast hosting experience to customers. They're one of the few shared hosting companies that let customers choose their preferred data centers when signing up for a hosting plan.
As a recommended WordPress hosting provider, they offer managed WordPress hosting as well as WooComerce hosting.
iPage, on the other hand, provides affordable hosting options for websites of all sizes and budgets. If you're already hosted on another hosting provider, you can take advantage of their free website transfers. Best of all, their free site builder lets you create a beautiful site with ease.
We hope this article helped you find the best web hosting service for your needs. If you liked this article, check out our complete SiteGround review or our full iPage review.