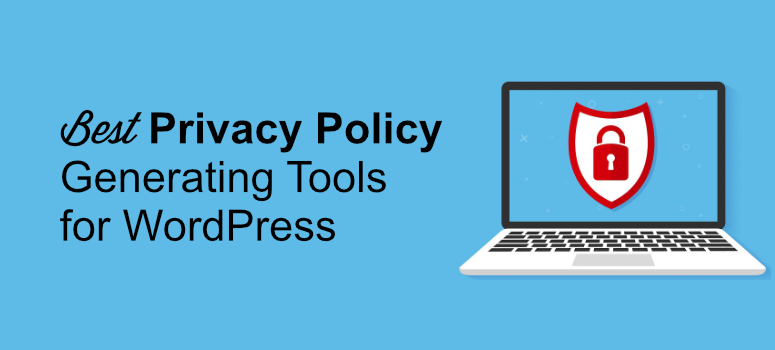 Are you looking for a good privacy policy generator for your WordPress website?
The privacy policy page is one of the most important pages that reveals how your visitors' personal data will be used and protected on your site. In fact, many advertising programs, like Google Adsense, ask the participating websites to include a privacy policy page on their websites.
What is a Privacy Policy Page
A privacy policy page is a statement from you, disclosing the information that you'll collect on your website from your visitors. This includes information you collect through cookies, registration, comments, subscription forms, etc.
This page also talks about how you would use the collected information. For example, if you are building an email list, then you need to ensure to your users that their email addresses will not be sold to or shared with any third-party websites.
WordPress offers various tools that can generate a privacy policy for your website. Since 4.9.6, WordPress comes bundled with a privacy policy generator. Here's a step-by-step guide on generating a privacy policy for your site.
Let's now move on to look at some of the best tools for WordPress that can help you create privacy policy.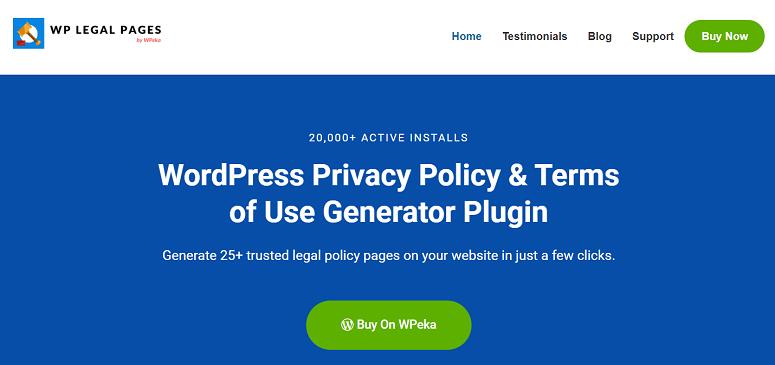 WP Legal Pages is a great plugin that makes it easy for you to generate a privacy policy for your website. All you need to do is to install the plugin on your site and then enter your business detail. Once you've done that, just hit the Save button for the plugin to generate your privacy policy.
You can have your 25-pages long policy in less than 5 minutes. This privacy policy can be used on any type of website. The plugin offers more than 25 templates to choose from for your privacy policy. You can use also WP Legal Pages to generate GDPR privacy policy, GDPR cookie policy, terms and conditions, medical disclaimer and a lot more.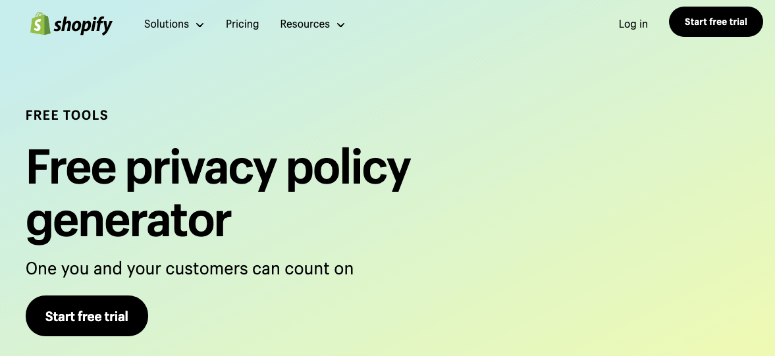 Shopify's Free Privacy Policy Generator is another amazing tool that you might want to check out. This tool is super easy to use. You just need to add your email address, password, and your store name and then hit the start the free trial button.

Shopify will take it from there and email you the privacy policy that they generate specifically for your website. If you don't want to start the Shopify free trial, just select the small box next to I'll skip the Shopify trial for now… option.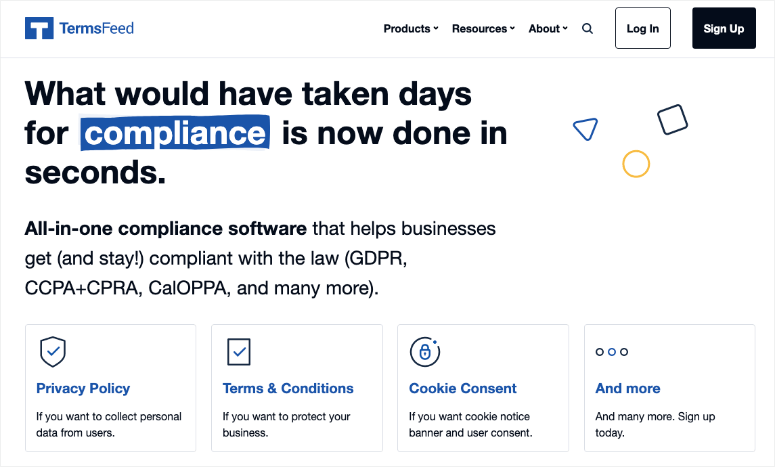 TermsFeed is another amazing plugin that can help you create a solid privacy policy for your website or app. With this plugin, you can create privacy policies, terms and conditions, terms of service, cookie policy and a lot more.
The plugin routinely monitors laws, acts, and regulations across different countries and states for any changes required for your generated policies. Besides, it will host your policy for free. You can integrate it with any platform like WordPress, Squarespace, Wix, etc.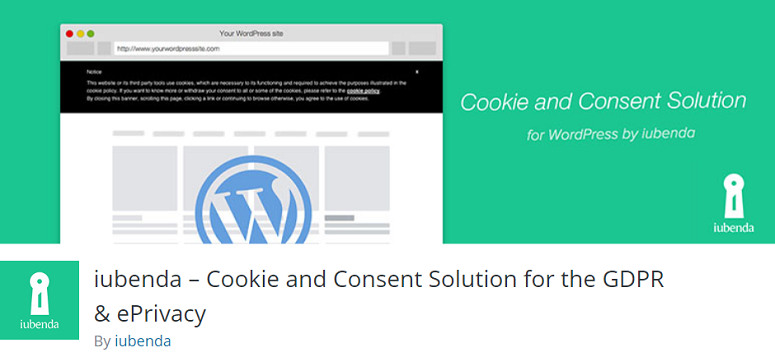 With Iubenda, generating a privacy policy for your business can be done in a matter of minutes for free. It lets you automate the implementation of ePrivacy (Cookie Law) and GDPR requirements by providing a fully customizable cookie banner, blocking scripts, and also lets you manage all aspects of cookie consent.
You can also use it to record, review, and maintain comprehensive GDPR records of consent for your web forms. Once you create your privacy policy page with Iubenda, you can insert its code in the header of your pages.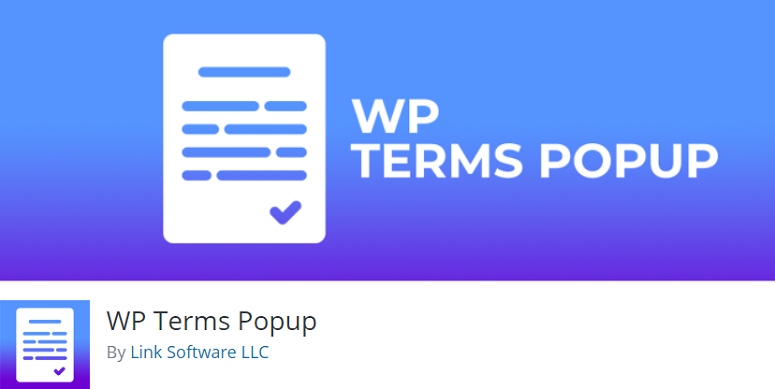 WP Terms Popup is a great plugin that ask users' consent on collecting information.
First, a popup will appear with a message, asking users for consent. Users' will be prompted to read the popup message and agree to the terms by checking the box next to the message.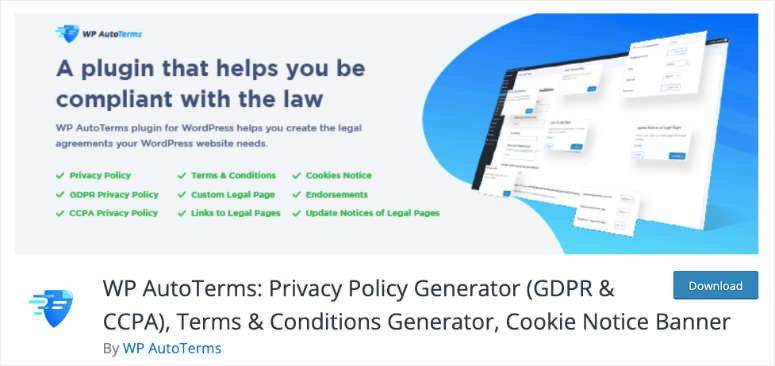 WP Auto Terms is yet another WordPress plugin that can help you create a range of legal documents for your site. This can be a Privacy Policy, a Terms & Conditions agreement or a Cookies Policy.
Aside from that, it also lets you create legal pages as well.

Oik Privacy Policy helps you create a privacy policy page for your business site. This page is fully customizable and you can tailor the information as per your website's requirement.
You can review the privacy policy draft, approve the privacy policy content and add that page to your navigation menu as well.
These are some of the best privacy policy generator tools for WordPress. We hope you find this article helpful. You might also want to check out the best GDPR compliant plugins and our tutorial on How to Add a Privacy Policy to Your WordPress Website (Step by Step).