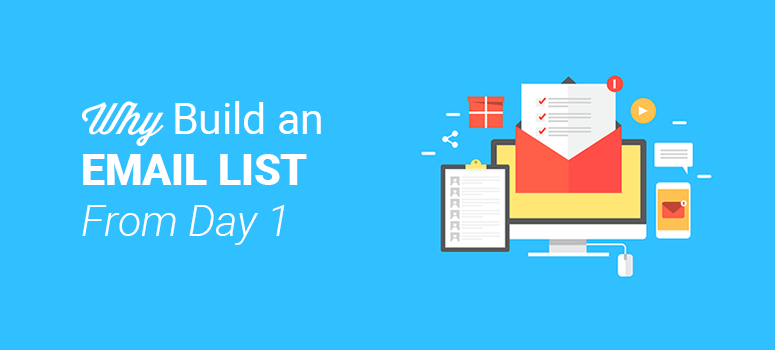 Do you want to create an email list? Most beginners who've just started their sites don't consider list building as important as it actually is. Before long, they realize the value of an email list, and how it can help them get more genuine visitors on their website or blog. And while it's never 'too late' to start building a list of the people whom you think are important for your business, why not get a head start?
In this article, we're going to show you why you need to build an email list (right away) and how you can build your own email list.
Introduction to Email Lists
When talking about email lists, what we actually want you to know is the process of collecting data about your potential clients or visitors. This data includes their name, email, phone number, etc.
There are multiple methods you can use to collect this data and build your own email lists. You'll also find many best email marketing services on the internet that can help store the data of your email lists and send personalized emails to all your subscribers easily. These email marketing services were built to promote your business and maximize your revenue.
For example, you can get permission from your users by adding a check option on the subscription form to send regular updates, promotional content, and greetings to them.
Also, check out our expert pick of the best email newsletter plugins.
Why Do You Need an Email List? (Right Away)
Many research studies have proven that email marketing is a win-win opportunity. Website visitors who willingly joined your email list and are allowing you to send emails to them are fully interested in your brand or service. These subscribers will read your emails and visit your website.
You can also convert your subscribers into customers because of the trust you build with them. Email marketing is more personal and beneficial than any other promotional methods, like social media marketing.
Check out our complete guide on how to create an email blast the non-spam way.
Below, we'll list some of the key points on the importance of an email list:
Customized Emails: Using an email marketing service, you can create interactive, customized emails for your subscribers. These emails help get more attraction and traffic to your landing pages. You can also take advantage of customized emails when running a promotional campaign.
Don't miss this step by step guide on how to create an email newsletter.
Targeted Users: It's simple. Sell to those who want to buy from you. The website visitors who joined your subscribers' list out of self-interest are your most genuine audience and you need them for your business. It's easy for you to create an attractive deal and share it with your subscribers. A win-win, again.
Personalized Content: Emails are personal and direct. The marketing software you choose does the magic for you by sending emails to your subscribers that mention their names in the email's subject. It creates a powerful impact when they see their name pop up in your email. These subscribers will be more likely to read your personalized email than any generic promotional content on a social channel.
Email is more effective: When you promote anything on social media platforms like Facebook, Twitter, Instagram, etc., it may get attention but it's not the same as the results you'll see with an email.
In fact, according to DreamGrow, email is a more effective sales and communications channel than social networking sites.

Now that you know why it's important for you to have an email list, the next thing you'll need to learn is how to build one.
How to Build an Email List (Step-by-Step)
Before we start, you should know that building an email list can take time. It's an on-going process and you'll need to be patient. You'll also need a few tools to build your own email list like a website or personal blog, an email marketing software, subscription forms, convertible optin popups, etc.
If you have a website or blog, then you can go ahead and start creating a subscription form. However, if you're just starting out, then check out our guides on how to make a website or how to start a blog.
Step 1: Create a Subscription Form
A subscription form is an easy way to grow your email list via your website or blog. You may have seen a subscription box when browsing other websites online.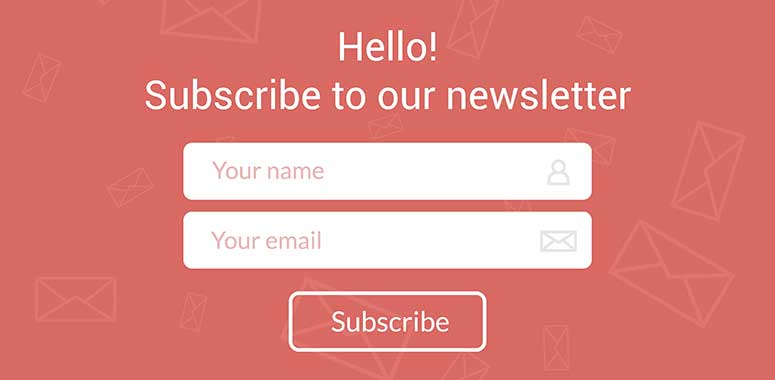 Your regular users will most likely subscribe to your email list using a subscription form. This form can be simple, including just name and email fields.
To create a subscription form on your WordPress site, you'll need to install and activate the WPForms plugin. Check out our guide on how to install a WordPress plugin.
WPForms is the best WordPress contact form plugin and easily integrates with multiple email marketing services like MailChimp, Constant Contact, SendinBlue, AWeber, and GetResponse. You can connect with any of these services to create your email list and send bulk emails.
Step 2: Connect an Email Marketing Service to Your Subscription Form
An email marketing service can do multiple things for you.
When a user fills out the subscription form on your website, it properly stores their data and manages the user's information based on lists they subscribed to. It enables you to send fully customized emails to all users on the list.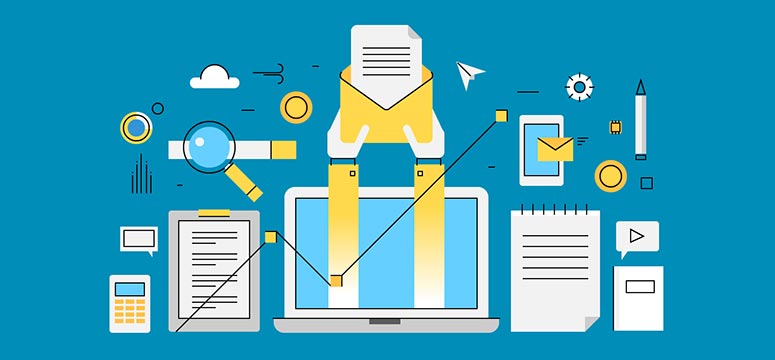 You can also track how many emails are opened and create custom reports to send more effective emails. Some of the top email marketing services allow you to do A/B testing to find out which type of emails are most likely to be opened by your subscribers.
We recommend using Constant Contact, the most popular email marketing software, as it works smoothly with WPForms. They also offer a 30-day free trial which means you can test their service for a month without paying them. If you get comfortable with Constant Contact, then you can start paying them after the first month. And, if not, then you can always check out these alternatives to Constant Contact. And if not; Agile CRM also provides a better way to manage email lists and customer relationships.
You should check out this guide on creating a sign up form with Constant Contact using WPForms.
Step 3: Add an Optin Popup to Get Even More Subscribers
Many website owners claim they created a subscription form but they're still unable to grow an email list. Why?
Because the users visited your website once and didn't subscribe to your email list are gone. You may not see them on your website ever again. That means you need to take action before they leave your site. Here come highly convertible optin popups to the rescue!
We recommend using OptinMonster, the best lead generation and optin form software in the world. It'll change the way your subscription form appears to users. OptinMonster has multiple options that include a lightbox popup, floating bars, slide-in scroll box, fullscreen welcome mat, and more.

Additionally, you can fully customize the look and feel of how you display your subscription form to the users. OptinMonster helps identify human behaviors and show your users what they're looking for.
Don't miss this article on best WordPress popup plugins.
For further assistance, you should check out our guides on how to create an optin form and how to create a popup form in WordPress.
What to Do After Building an Email List
Building an email list is a long-term process, and sustaining an email list takes a lifetime. Once you have a bunch of emails, don't hesitate to send them regular updates about your new products and services. In email marketing, you need to maintain consistency for your business to flourish.
You'll definitely want to check out this article on 23 effective tips to get more email subscribers.
We hope this guide helped you learn why you need to build an email list right away. If you liked this article, then you should also check out our expert picks of the best content marketing tools and business phone services.