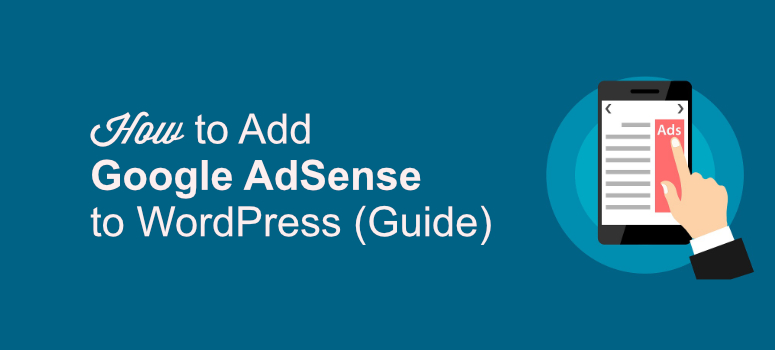 Wondering how to monetize your WordPress site with Google AdSense?
Google AdSense is the world's largest ad network that lets website owners make money by placing ads on their site. It's probably the easiest way to make money online for beginners.
However, many users don't know how to properly add these ads to their website for maximum profit. In this tutorial, we'll show you how to add AdSense ads to WordPress in a step-by-step manner. But before that let's have a look at how Google AdSense works.
How Does Google AdSense Work?
As a publisher, all you have to do is to submit your website to AdSense and once your site's approved, add the AdSense snippet to your site. Google automatically delivers ads that are targeted to your content or audience.
In a nutshell, this is how Google AdSense works for you as a publisher:
Choose your ad space
AdSense publishes the highest paying ads on your site
You get paid as visitors click on these ads
The ads are created and paid by companies that want to promote their products or services. You will receive 68% of the amount paid by the advertiser per click and the remaining amount goes as commission to Google. AdSense will pay you your share when your income reaches $100.
How Much Can You Earn From Google AdSense?
It's impossible to predict how much money you can earn from Google AdSense. There are several factors that'll determine the commission you'll receive such as how much traffic you get, what type of content you provide, where your users are located, how you set up your ads, etc.
Having said that, some publishers make a full-time income from Adsense and others make little to none.
While you can find some Google AdSense calculators on the web, none of them is a reliable tool.
When Does Google AdSense Pay Publishers
Google AdSense makes the payment by the 21st of every month. However, the payment is made only if your earnings reach or exceed $100. If you don't earn $100 in a month, your earnings will roll over to the next month.
Let's now look at how to get started with Google AdSense.
Step 1: Creating an Account With Google AdSense
To get started with Google AdSense, you'll first have to signup for a Google AdSense account.If you already have a Google account, you can use the same for setting up your AdSense account.
Google will review your application and send you a response (whether you've passed the review process or not) within 6-8 hours of filling out the form. They may reject your application if your website doesn't meet AdSense's terms and conditions or program policies. So make sure your website is completely ready and adheres to AdSense's terms and conditions before you submit your application for review.
If you clear the review process you can simply log in to your AdSense account.
Step 2: Copying the Google AdSense Code
To get the code, start by logging into your account. On the left side of your screen, you'll see an option called My ads. Click on it and select the New ad unit button.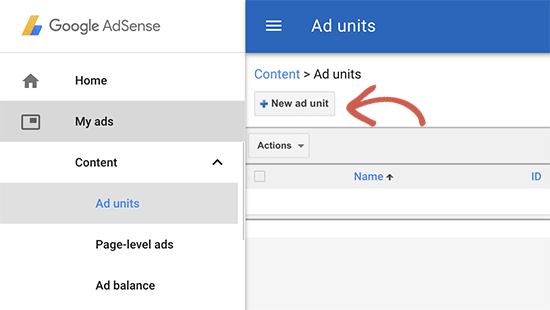 In the next screen, you'll be asked to choose an ad type. Select the ad type you want.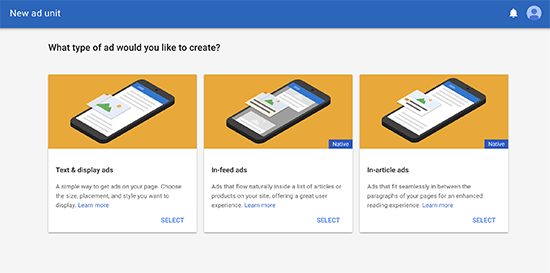 If you're not sure which one to select, you can start with the Text and display ads option. In the next step, you'll have to name your ad unit. This name isn't visible to your website users. It's only needed for internal use, so you can name it anything you want.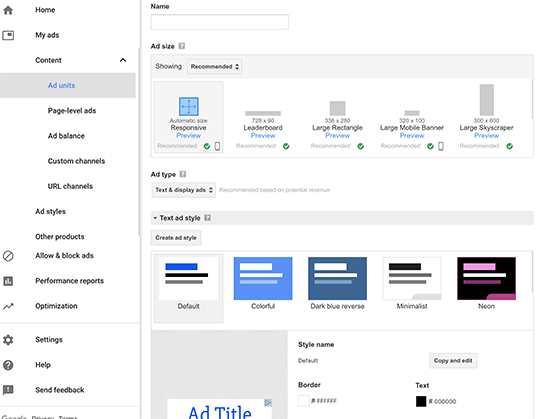 You can also select the size of your ads. Although you can choose any size you want, there are a few size recommendations for maximum profit. After selecting the ad size, you can select the ad type. For better results, you should select text and display ads type.
Next, select the ad style. Make sure to choose the best color scheme that blends in with your website. With custom channels, you can group individual ad units and get performance statistics for that group.
Google also lets you choose what to do if matching AdSense ads aren't found (which rarely happens). With this option, instead of showing a blank page, you can show your own ad.
Once you complete all the above steps, click on the Save and Get code button. You'll now see a success message on your screen. Below that, you'll see an ad code.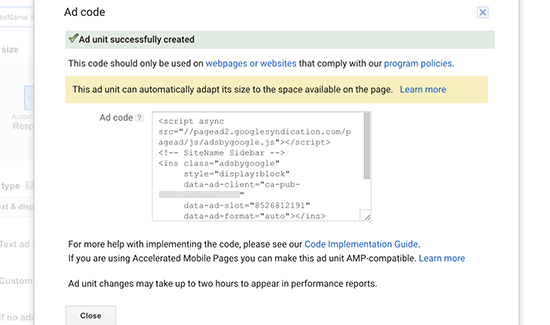 Copy the entire code and paste it in the notepad. We'll use this code in the next step. Now you can add this code snippet to WordPress in 2 ways.
Adding Google AdSense Code to WordPress Without a Plugin
Adding Google AdSense Code to WordPress With a Plugin
Let's have a look at both the ways separately.
Step 3.1: Adding Google AdSense Code to WordPress with a Plugin
We'll use the Adsanity plugin to display ads on your site. Adsanity is an ad management plugin that lets you create your ads as custom post types and display them on your site using widgets and shortcodes.
To get started, you'll have to install and activate Adsanity in your WordPress dashboard. Once that's done, go to Adsanity » Create Ads » External Ad Network.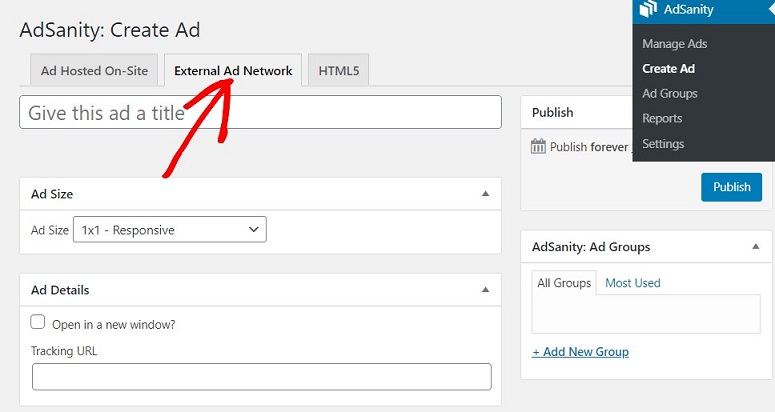 Now add a name to your ad, choose your ad size. Then scroll down to see a section called the Ad code. In this area, paste the Adsense ad code that you have earlier copied.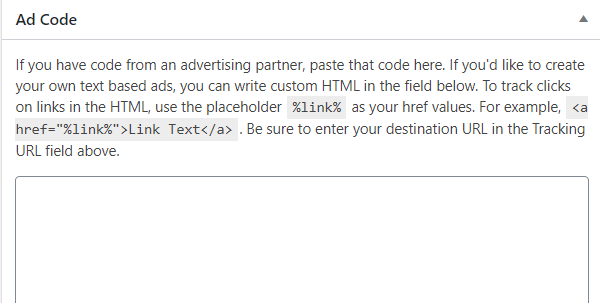 Once done hit the Publish button on your right-hand side.
Step 3.1.1: Displaying Your Ads Within Your WordPress Posts and Pages
Once the code is added, go to Post » Edit Post. Here you can add your ad slots. You'll find 3 options here.
AdSanity Ad Group
AdSanity Random Ad
AdSanity Single Ad
To find these options click on the + button to add a block. Now use the search option to find AdSanity.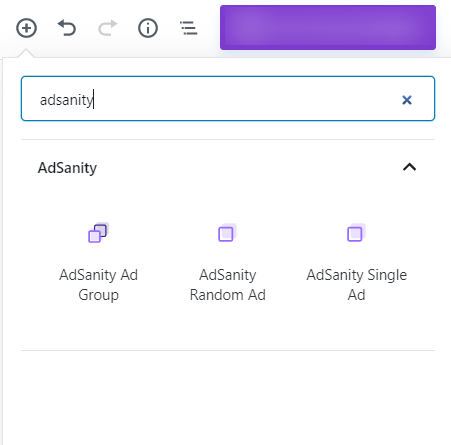 Below that you can use these options to add your AdSense ads to your site. For example, if you select the 1st option, you'll see a new pop up asking you to choose an ad group from the ones you've created. You can select it by clicking on the drop-down arrow next to it.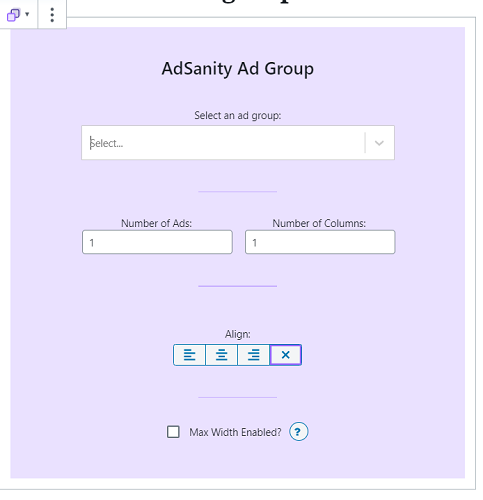 You can choose the total number of ads to show and pick columns and align them as well. This is particularly useful when you want to display a bunch of smaller ads together.
Once you've selected the ads, hit the Publish button on your right. You can do the same with the other 2 options as well.
Your ads should now be shown within your posts. You can use the same method to display ads within your pages.
Step 3.1.2: Setting an Expiry Date to Your AdSense Ads
Once your ad is published, you can also select an expiry date for your ads. For that just click on the Edit link below the Publish button. Now you can change the date under the until section.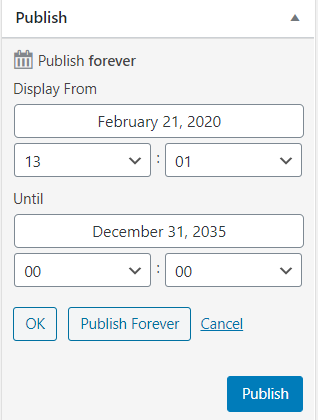 Your ad will automatically expire after the selected date. If you don't want your ads to expire, just select the Publish Forever option.
Step 3.2: Adding Google AdSense Code to WordPress (Without a Plugin)
To add the Google AdSense ads in your WordPress site, you should first know where you want your ad to be displayed. You can display it in the sidebars, within your content or anywhere you want. The most common place to display your ad is the sidebar of your website.
You can display your ads in the sidebars by going to Appearance » Widget in your WordPress admin dashboard. Now drag and drop the Custom HTML widget to the appropriate widget area and paste your Google AdSense code in there.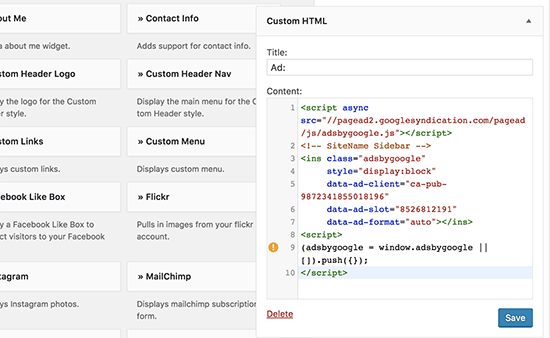 Once done, click on the Save button and you're done.
If you want more control over the way you display and manage your ads, you can try using an ad management plugin on your website. The best amongst these plugins is the AdSanity plugin.
Adding Google AdSense Ads to Your Site: FAQs
1. What's the Best AdSense Size
Selecting a good size for your ad is one of the most important factors if you really want to optimize it for maximum profit. Some of the most commonly used sizes are 336×280 and 300×250. These sizes fit well across all screen sizes and also have the best pay rate.
2. Can You Click on Your Own Google AdSense Ads?
Although it's tempting to click on your own ads or recommend friends and family to do that, keep in mind that this will make Google ban you from the program.
3. What's the Best AdSense Placement Area?
When it comes to placement, choose the area where your visitors pay more attention to. That way you can maximize clicks and make more profit. In that sense, it's recommended to place your ads within the content area between the title and your content.
4. What is Possibly the Best CTR in Google AdSense?
The CTR in Google AdSense is different for different websites depending on various factors like your website's topics, your audience type, ad placement on your site, etc. You can't really determine an ideal CTR for Google AdSense because there's no way to find out the click rates of other sites.
5. Why Is My Google AdSense Application Rejected?
If your AdSense application is rejected, that means your website doesn't meet the terms and conditions and program policies of AdSense. Make sure you read them to ensure that your site fulfills all the requirements before you apply for the program.
Apart from that, based on where you're geographically located, it's recommended that your website must be at least 6 months old and you as an applicant must be 18 years of age or above.
So that's it. We hope this article is helpful to you. You might also want to check out the best Google AdSense alternatives.