Looking for an easier way to manage ads on your site? The AdSanity WordPress plugin allows you to create and display banner ads of all sizes on your site using widgets and shortcodes, and get stats on views and clicks. Read all about how it's done in our AdSanity review.

Why You Need an Ad Management Plugin
Advertising is one of the easiest and most popular ways to make money from your WordPress website.
But if you've ever tried to display ads manually on your WordPress site, you know what a hassle it can be.
Using an ad management plugin can help you to stay organized and have more control over how your ads are displayed — and give you crucial statistics on how your ads are performing.
AdSanity works by allowing you to create ads as custom post types, and display them on your site using a widget or shortcode.
Ads can be displayed by themselves (either by specific ad or randomly chosen), or in groups. The ads default to your theme's styles, so if your theme is responsive, your ads will be, too.
How to Setup Your First Ad
After installing and activating the plugin, you can navigate to AdSanity » Manage Ads to get started.
Click the Create Ad button at the top of the screen.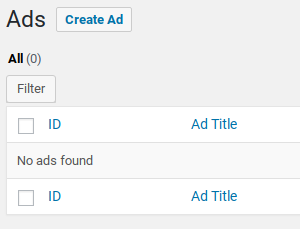 Here you'll enter the details of your ad and upload the banner image.
After entering a name for your ad, select the size.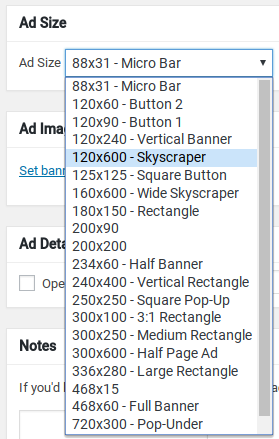 Then upload your banner image.
Under Ad Details, be sure to paste the URL you want to direct your visitors to when they click the ad. If you prefer, you can check off the box to open the link in a new window.
On the right side of the page, you can choose to add your new ad to an ad group. Groups are useful when choosing which ads you'd like to display together — more on that below.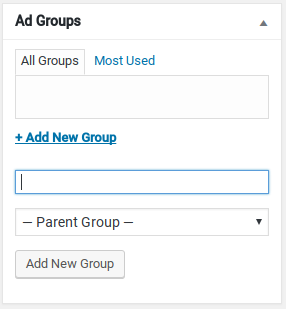 In the Publish box on the right, you can click the Edit link next to Publish forever to change the duration of the ad display.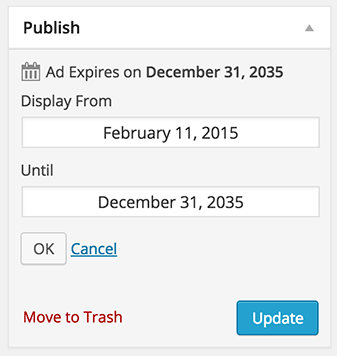 When you're finished selecting your options, click the Publish button.
To display your new ad, navigate to Appearance » Widgets.
You'll see that there are a few new widgets available to use.

The widgets are:
AdSanity – Single Ad: Display one specific ad of your choice.
AdSanity – Ad Group: Select an ad group to show all the ads at once.
AdSanity – Random Ad: Displays a random ad every time the page is loaded.
To display the ad you just created, use the AdSanity – Single Ad widget and select the ad name you entered. Then click Save.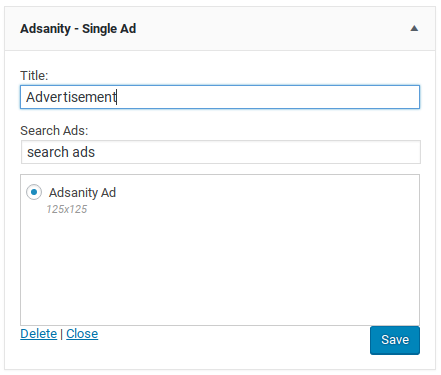 Your ad will now be displayed in your widget area!
Be sure to test it to make sure it's working correctly.
(Note: If clicking your ads brings you to a 404 page, go to Settings » Permalinks and click the Save button without making any changes. This will reset the permalink structure on your site to include the AdSanity custom post type, without affecting the rest of your site.)
You can also display ads on your site using shortcodes, which can be found in the official documentation.
Use this shortcode to display a single specific ad:
[adsanity id="put-the-ad-id-here" align="alignnone"]
And this shortcode will display an ad group:
[adsanity_group num_ads=2 num_columns=3 group_ids=1,2 /]
You can adjust the attributes to change the display:
num_ads: The number of ads that will be displayed together
num_columns: The number of columns
Group_ids: The ID of the ad group(s) you want to display.
To find your ad group IDs, navigate to AdSanity » Ad Groups and the ID number will be listed next to the group name.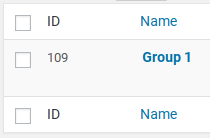 Once your ads are displayed, you can navigate to AdSanity » Stats to see data on your ad views, clicks, and CTR.
Documentation and Support
Documentation for the AdSanity plugin is sparse, with just a few short articles available online for basic troubleshooting and features.
If you're having trouble getting the plugin set up, you can submit a support ticket through the support site.
Our Verdict
AdSanity makes it easy to manage your ads and see basic statistics all from your WordPress dashboard.
If you're looking for more advanced features, like the ability to sell ad space directly or get more detailed analytics, then this plugin will be too basic for you.
While the documentation is lacking, the plugin is easy to use and the developers are responsive to support requests.
We give AdSanity 4 out of 5 stars. Here is the breakdown of our review scores:
Get AdSanity Now »
If you liked this article, then please consider following us on Twitter and Facebook. If you have any questions, please let us know by leaving a comment below.