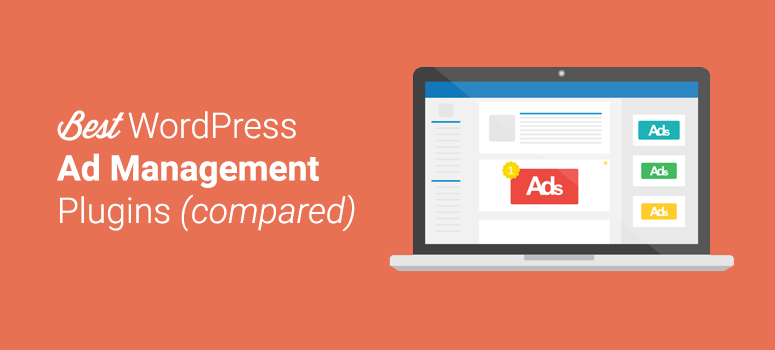 Are you monetizing your blog with ads? Not sure which ad management plugin to use? Using an ad management plugin gives you more control over your ads and helps you boost your revenue.
In this article, we'll show you the best WordPress ad management plugins to boost revenue.
Using a WordPress Ad Management Plugin
Monetizing your website with adverts is one of the best ways to make money online. Displaying ads on your site may seem like a no-brainer task. However, if you don't have control over your adverts, then you're probably leaving money on the table.
Every ad management plugin is unique in terms of features. Let's take a look at a few benefits of using an ad management plugin on your site:
Display ads in the most optimal locations to boost revenue
Sell direct ads as well as network ads easily
Save time by rotating and scheduling ads automatically based on your selection
Have more control over your ads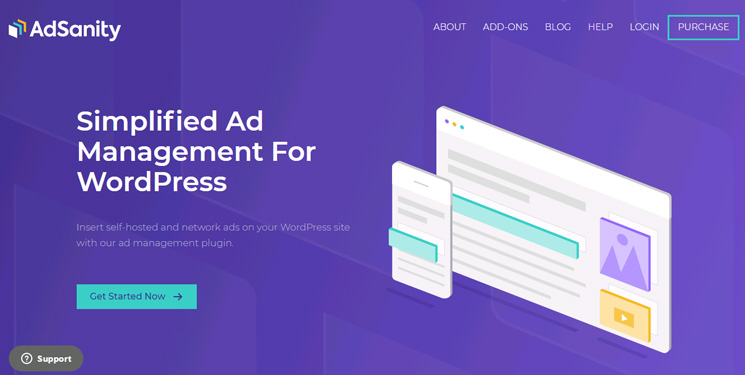 AdSanity is an easy-to-use ad management plugin for WordPress. AdSanity makes it easy to sell direct ads and network ads such as Google AdSense. The plugin was designed to be light and fast. The core plugin comes with all the essential features you need to succeed. You can add enhanced functionalities by installing addons.
The AdSanity plugin comes with graphical stats that give you insights into how well your ads are performing. The plugin also allows you to set begin and end dates for individual ads, so you can set and forget your ads without having to worry about replacing your ads on time.
Read our complete AdSanity review!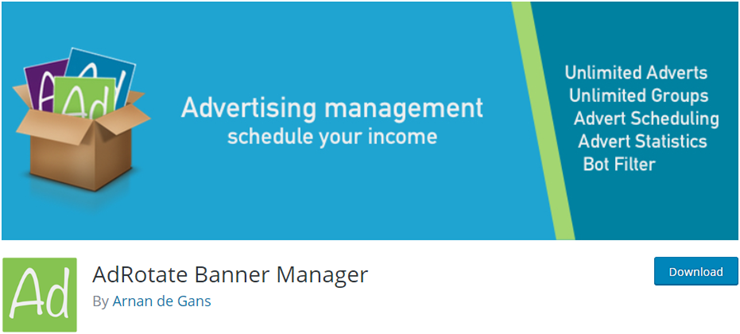 AdRotate is one of the best ways to plan your advertisement campaigns months in advance. It lets you create advanced time tables for when your advertisements will show up.
With the free version of the plugin, you can create your own ads and track your ad impressions.
Below are a few advanced features the pro version has to offer:
Geo targeting: You can display ads on your website based on your users' geographical location.
Mobile advertisements: You can show your ads based on your users' device.
Advertiser campaigns: You can save time by letting your sponsors create their own ads. All you have to do is review the ads before it goes live.
Premium support: AdRotate offers support via ticket-based email.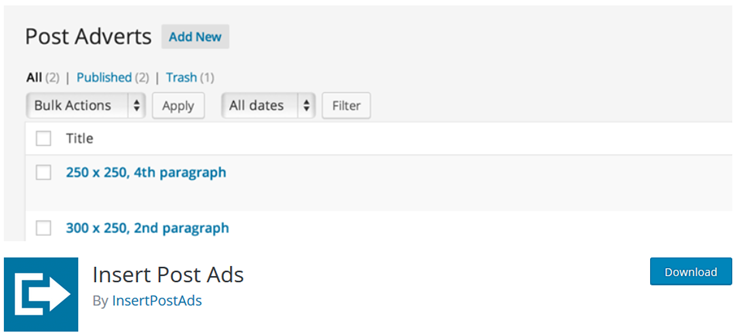 Insert Post Ads is a WordPress ad management plugin that allows you to place your ads within your blog posts. By placing your ads in the most optimal locations on your WordPress blog, you can increase the CTRs and generate more revenue.
With Insert Post Ads, you can display your network ads before content, after post content, or after a specified number of paragraphs.
Once the plugin is configured, your ads will be shown automatically based on your preferred ad location within your blog posts. If you want to, the plugin allows you to disable showing your ads on certain blog posts.

Ad Inserter is a popular ad management plugin that makes it easy to place network ads in the most optimal locations on your WordPress blog.
Besides the content area, the plugin allows you to display ads above the header, in the footer, between posts, etc.
Also check: How to Display Inline Ads
Ad Inserter allows you to adhere with the Google AdSense Terms of Services by not inserting ads near images or headers.
It also supports AMP (Accelerated Mobile Pages) ad integration, so you can easily display ads on AMP pages.

Quick AdSense is another Google AdSense insertion plugin that lets you randomly post your ads within your articles. The plugin makes it easy to disable showing ads on certain pages by manually inserting a small tag to your article.
Quick AdSense allows you to display ads specifically or randomly anywhere within a post. You can also display ads right after your first post.
The plugin comes with minimal configuration options, so you can easily manage your ads and boost your ad revenue.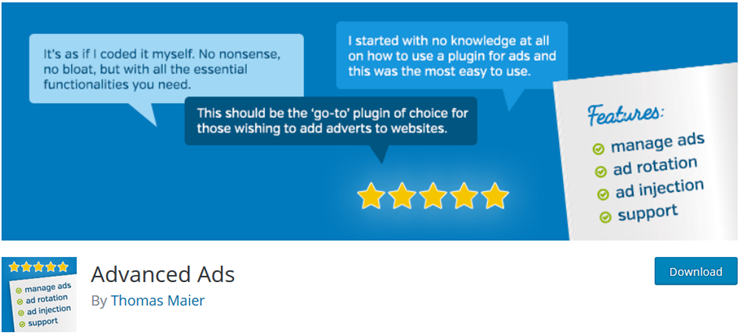 Advanced Ads is another plugin that enables you to create and display unlimited ad units on your WordPress site. The plugin lets you rotate ads based on customizable ad weight enabling multiple advertisers per ad space.
Since the plugin is based on WordPress standards, you can manage ads like you manage your articles in your WordPress dashboard.
By installing the Tracking addon, you can track ad impressions and clicks, compare stats for different periods, and more.
You can also display ads based on a lot of different factors including browsers, devices, cookies, membership levels, etc.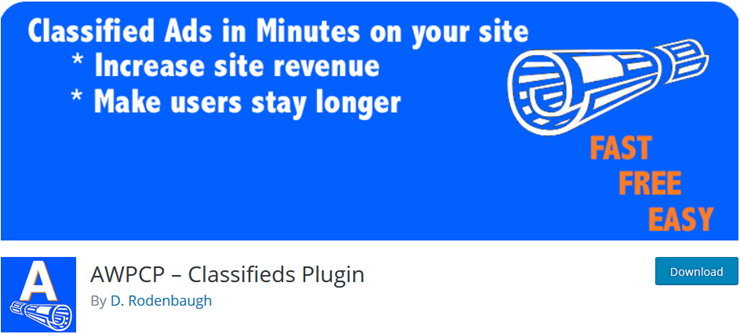 Another WordPress Classifieds Plugin is the best plugin for running a feature-rich online classifieds page on your website. The plugin allows users to search classifieds by city, state, country, etc.
Another WordPress Classifieds Plugin sends an email notification to the posters about expiration, renewals, and approvals for their ads.
In addition, the plugin also supports Google AdSense ads.

Do you want to sell direct ads based on different pricing models (CPC, CPM, CPP)? Then Advanced Advertising System is the perfect ad management plugin for you.
The plugin is relatively new in the WordPress plugin repository but it comes with tons of desirable features for ad management.
Here's how to display ads with Advanced Advertising System:
Step 1: Create a zone where you want to display ads on your WordPress website.
Step 2: Create an ad campaign and attach the campaign to the zone.
Step 3: Use a shortcode to display your ad on your website.
We hope this guide helped you find the best ad management plugins for WordPress. You may also want to read our article on the best ways to make money online.