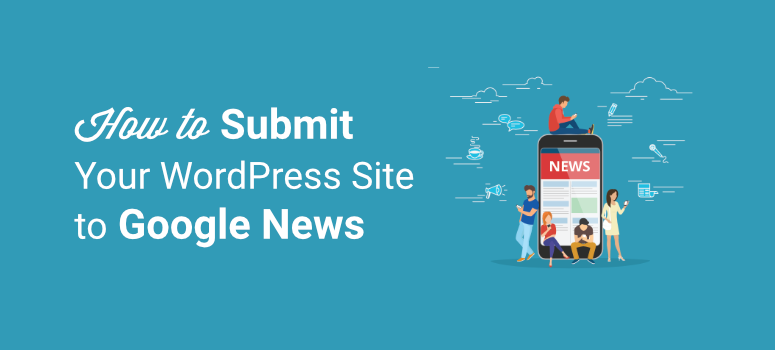 Do you want your website to get noticed by Google News?
By submitting your site to Google News, you can get your site to rank on the news results page. This will help you drive more viewers to your site and beat competitors. You can submit your site even if you aren't officially a news site but post content on current issues.
In this tutorial, we'll show you how to easily submit your WordPress site to Google News and reach a wider audience.
But first, let's understand what Google News is and how it works.
What Is Google News?
Google News is a news aggregator that is developed by Google. It selects and displays a list of approved news articles or posts that are the most relevant and up to date.
These posts are displayed at the top of search results and on the dedicated News tab. Below is an example of how Google News stories are listed: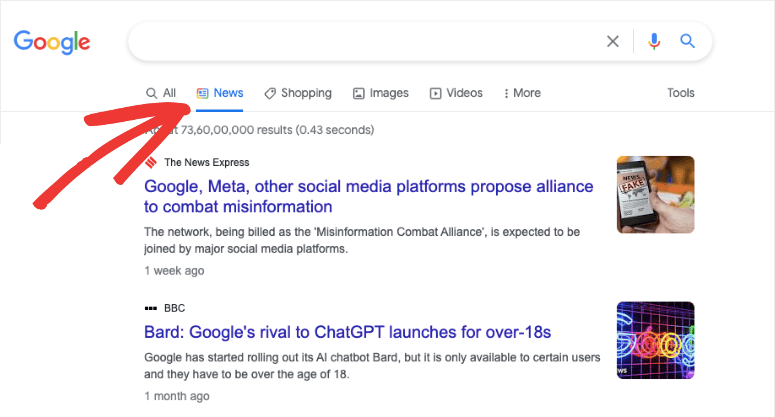 News stories are selected from publishers all around the world so that users get informed about local and global trends and issues. Users can access the latest posts from the last 30 days.
Keep in mind that Google News has rules and algorithms different from the Google search engine. So you need to submit your posts separately if you want to appear in the news stories.
When your website appears on Google News, here are a few ways you'll benefit:
Helps drive organic traffic
Builds more backlinks for your site
Improves your site authority
Ranks better in search results pages
Besides this, Google News lets its users personalize the news stories in their feed. This means they can choose which type of posts they want to see or hide.
So getting your site on the Google News stories will help you increase brand awareness and gain followers that are more likely to be engaged, revisit, and convert into leads and subscribers.
Now that you know what Google News is, let's learn how to submit your site to Google News in WordPress.
How to Submit Your Site to Google News?
Submitting your site to Google News is easy, but first, you need to make sure your site follows Google News policies.
Given the enormous amount of news they collect on a daily basis, Google News has rules to keep things organized and up to standard.
There are rules for writing, quality, accountability, authority, technical guidelines, readability, and more. So, you need to create your articles and news stories in compliance with these guidelines.
Only then can you submit your site to Google News.
Now let's dive right into the steps to submit your site to Google News.
Step 1: Add your Site to Google Publisher Center
To start the process, the first thing you'll need to do is configure Google Publisher Center settings. For this, you'll need to log in to your Google Account.
Once you're signed in, go to Google Publisher Center and click on the Add Publication option.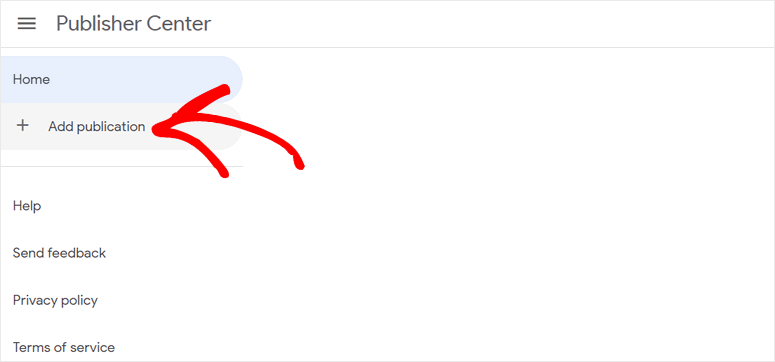 In the popup window, you need to enter your publication name, primary website property, and location.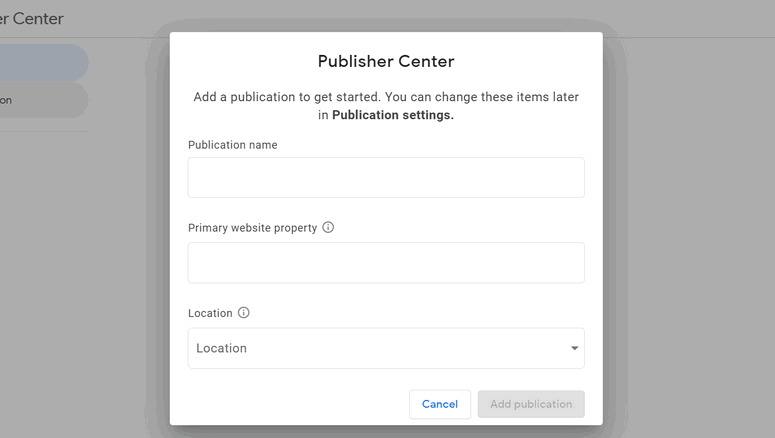 Then, you'll see your dashboard for Publisher Center in the next window. Click on the Publication settings option.

In the General settings, you can edit the basic information like Publication name, Primary Language, and Location.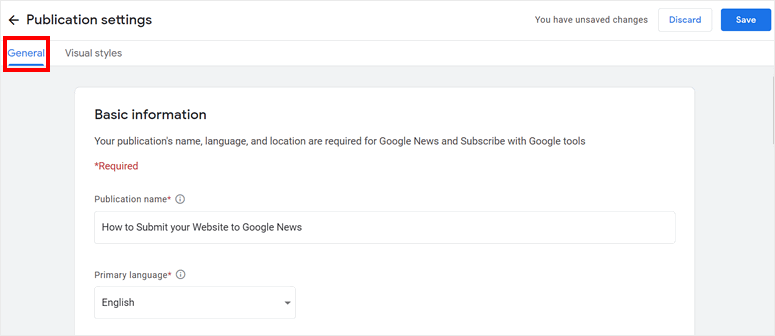 Next, you need to verify the ownership of the site URL. You can verify your site with Google Search Console (Google Webmaster Tools).
If you haven't set up Google Webmaster Tools yet, you can check our guide on how to set up Google Webmaster Tools for WordPress.

Once you verify your site, you can move on to other settings. You can add additional website property URLs and contacts for your publication.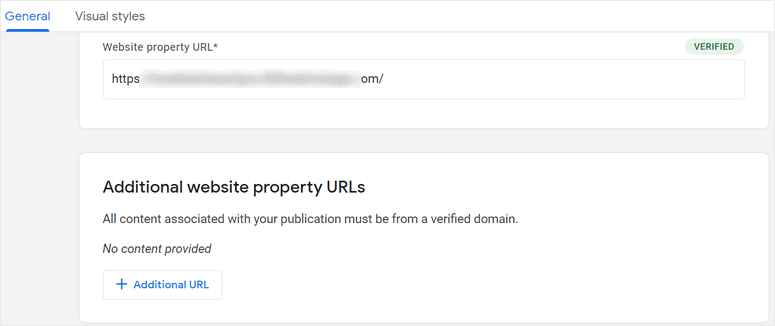 On the Visual styles settings, you can submit the images and fonts for your publication.
Here, you have three options that allow you to upload a square logo, rectangular logo, and fonts.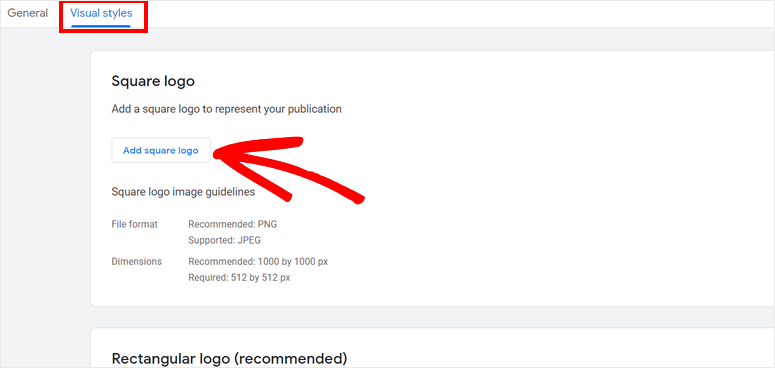 Once you're done with settings, click on the Save button on the top-right corner. Now you can set up the Google News settings for your site.
Step 2: Configure Google News Settings
On your publisher center dashboard, you'll see the option for Google News settings. Click on the Edit button there.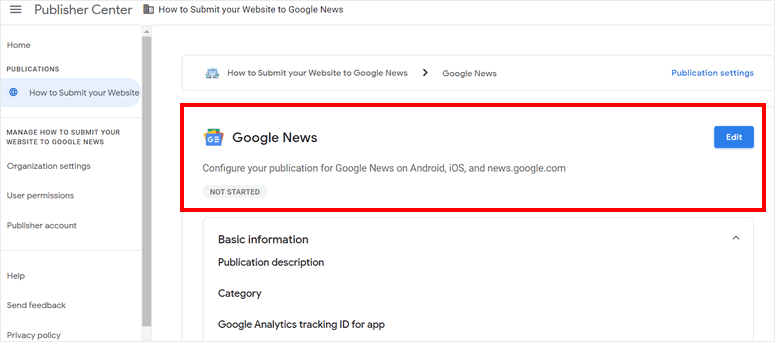 In the General settings tab here, you can add information like publication description, category, distribution, and more.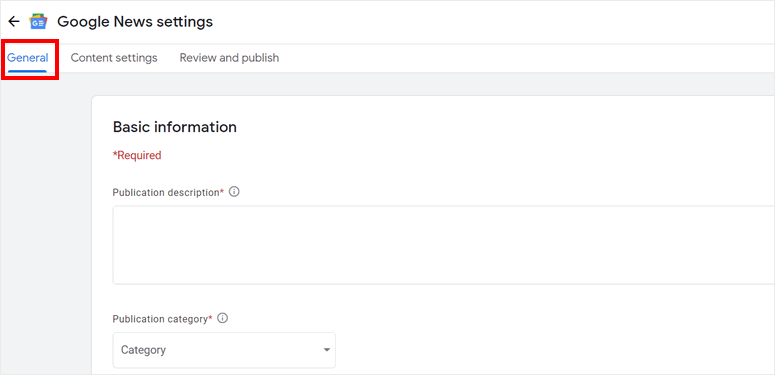 You can also track the views and engagement on your site by connecting your Google Analytics account. Or, you can add a tracking pixel URL for it.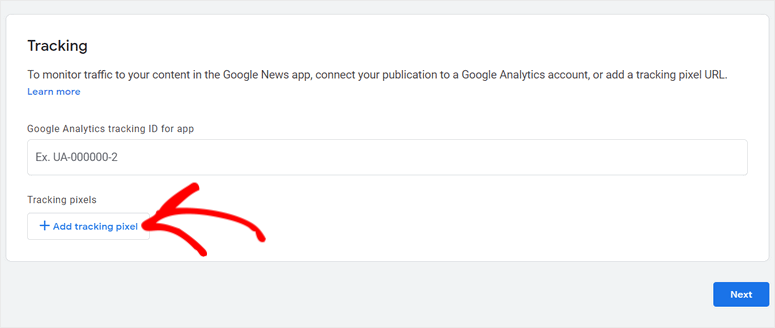 In the Content settings, you can add information about the sections in your publication. The sections you add will be displayed as tabs on the Google News app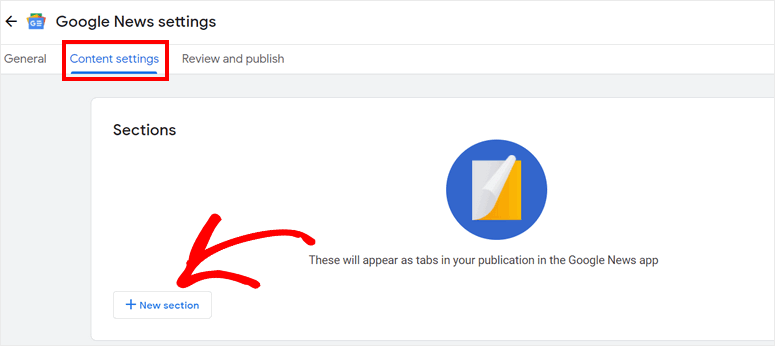 Along with that, you can create a group for testers and restrict your content for them. These sections of publication can only be accessed by them.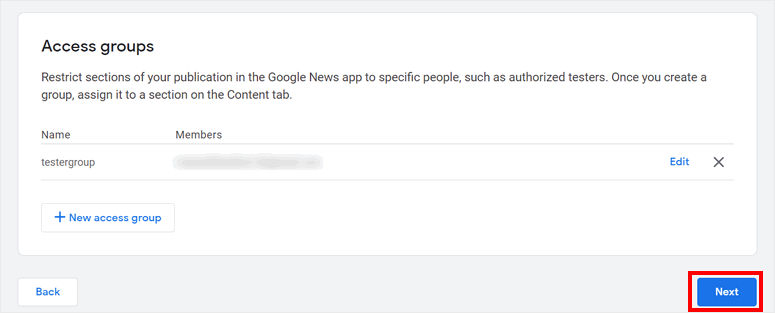 In the Review and publish settings, you can review any issues like missing contacts, descriptions and sections. You'll find an option to review and resolve them.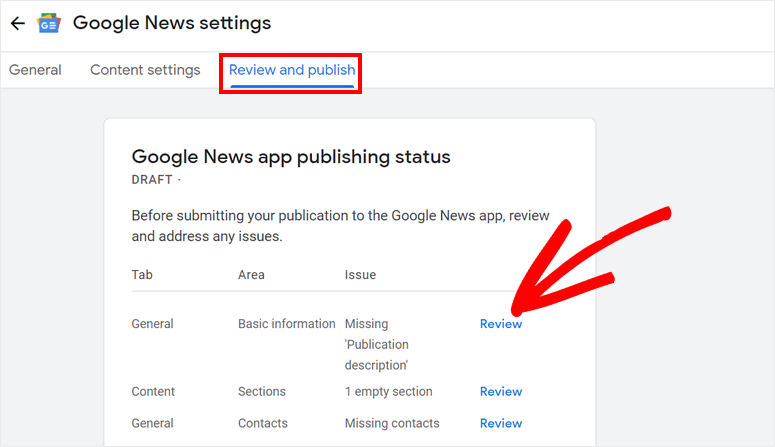 Once you review your issues, you can hit the Publish button. Then, your publication will be sent for review. Your post will appear in the Google News stories list after it is approved.
You can also test how your publication is displayed in Google News by following it.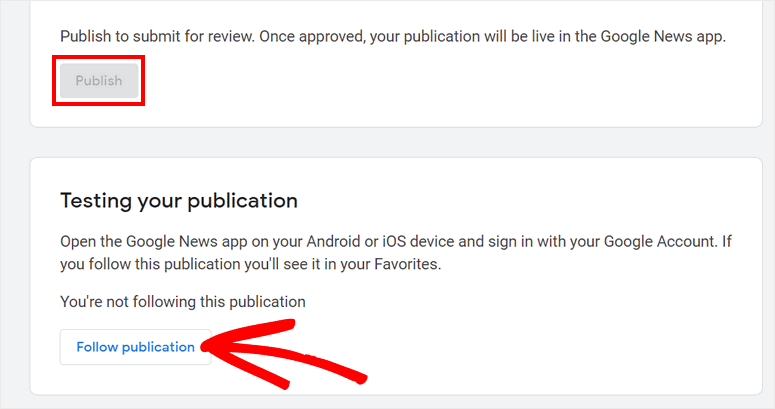 Now let's move on to the next step which is creating a Google News sitemap using a WordPress plugin.
Step 3: Create a Google News Sitemap
For Google to properly index your website, you need to create and submit a separate news sitemap. This will tell Google which pages and files you think are important on your site. It will also help you get your news articles indexed faster.
Creating a sitemap on your own may be difficult if you don't have technical SEO experience. Thankfully, you don't have to do this manually.
You can use a tool like All in One SEO (AIOSEO) to auto-generate your sitemap.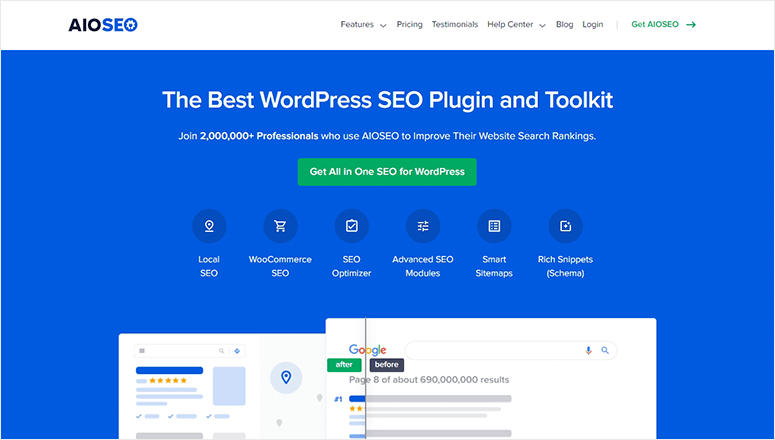 All In One SEO is the original SEO WordPress plugin that lets you optimize your site for better SEO rankings. It is packed with powerful SEO tools and features to get your site noticed by search engines like Google, Bing, and more.
With AIOSEO, you can automatically generate XML sitemaps, video sitemaps, and Google News sitemaps right inside your WordPress dashboard and submit them with a click of a button.
You can also choose which posts and pages are added to the sitemap and the best part is you'll never need to use any coding!
The reason we recommend a plugin is because there are too many technical requirements you need to take care of and as you grow, it's simply not feasible to handle it all manually. For instance, when you create and submit a news sitemap manually, you'll need to handle tasks like these:
Adding your new articles to the sitemap as soon as they are published
Including URLs of your articles published in the last 2 days
Remove older posts after 2 days
You also need to make sure you update the existing news sitemap and no other blog posts are accidentally added in.
With AIOSEO, once you enable the Google News Sitemap feature, you won't need to worry about all these requirements. You simply need to choose which posts and pages are added to the sitemap and the plugin will automatically handle the rest.
Plus, the plugin helps Google identify your site title, publication, date, and all necessary metadata to get your site indexed quickly.
Aside from sitemaps, AIOSEO offers useful features such as on-page analysis, site audits, local and WooCommerce SEO, and more. All of these features will help you create an SEO-friendly site.
With that, we'll show you how to submit your site to Google News using AIOSEO now.
First, you'll need to sign up for an All in One SEO account.
After you sign up, log in to your All in One SEO account and go to the Downloads page. Here, you can download the plugin and copy the license key to activate the plugin.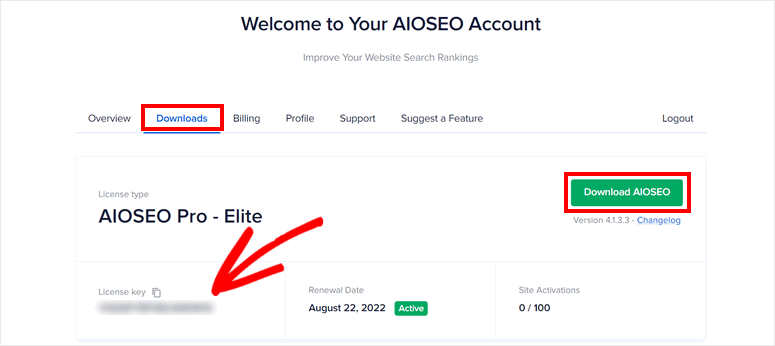 In your WordPress admin dashboard and install the AIOSEO plugin. If you want more information on this, you can check our guide on how to install a WordPress plugin.
Once you install and activate the plugin, there's a setup wizard where you can enter your license key and then configure optimal SEO settings for your site.
You can also navigate to the All in One SEO » General Settings tab and add the license key there.

Now, all you need to do is set up the Google News sitemap for your publication.
Step 4: Configure Google News Sitemap Settings
To submit your site to Google News, you need to generate a news sitemap.
For this, open the All in One SEO » Sitemaps tab and click on the News Sitemaps option.
Then, you can see a popup to enable Google News sitemap. Click on the Activate News Sitemap button.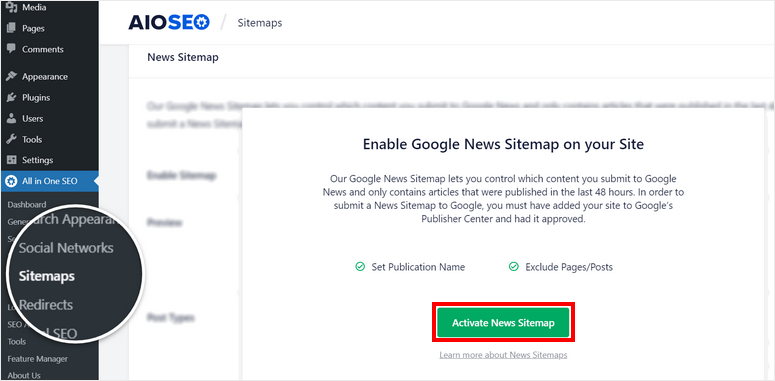 Here, you can see the News Sitemap settings like Publication Name and Post Types.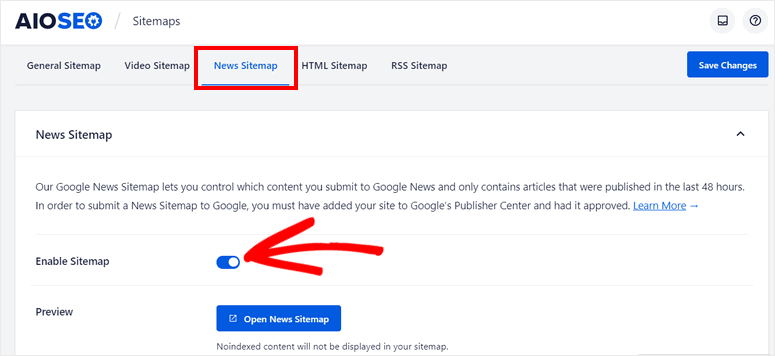 Enter the name of your publication and choose which post types to include in the news sitemap.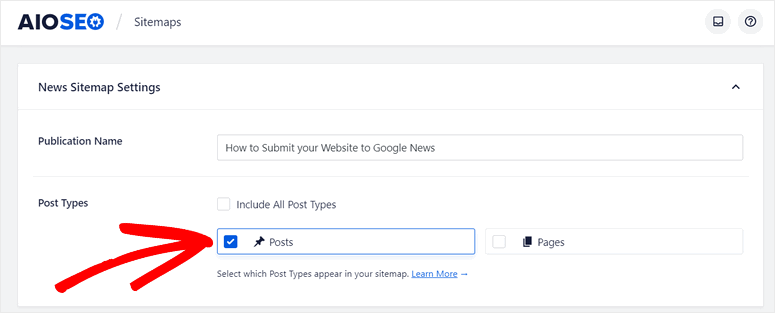 Also, you can select the Include All Post Types option to index all your pages and posts.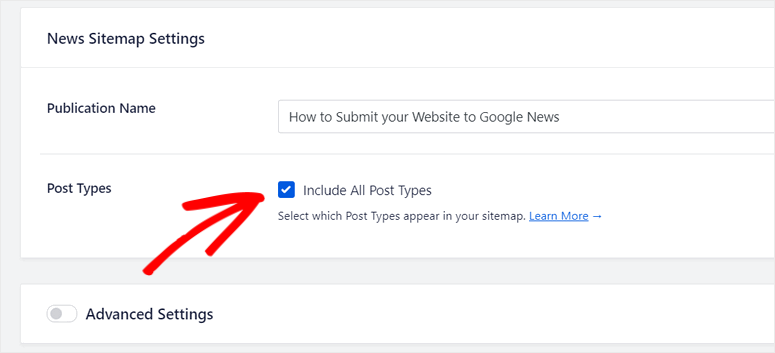 If you scroll down, you can see the Advanced Settings option. This option allows you to exclude certain posts and pages from getting indexed.
For your news sitemap, you only need to add the posts and pages including relevant and newsworthy content. So, you can remove pages that are not required.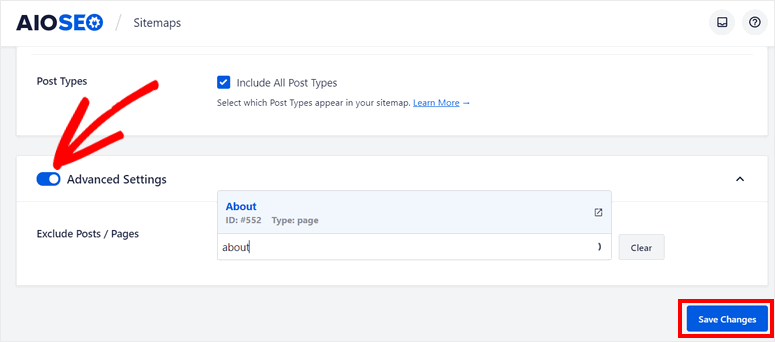 Lastly, don't forget to click on the Save Changes button at the end. Now, your sitemap will be created and submitted to Google News automatically.
To check, you can view your Google News sitemap by clicking on the Open News Sitemap button.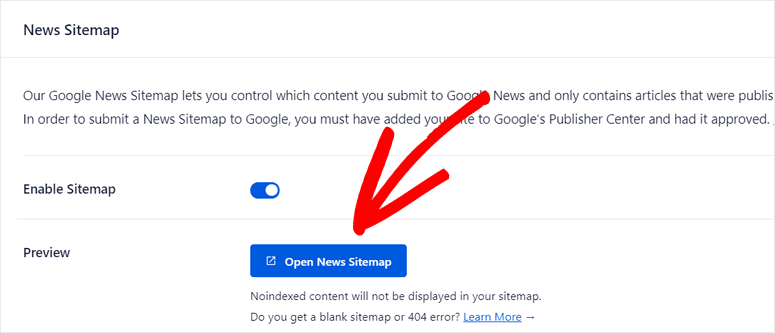 That's all we have for you today! We hope this article has helped you learn how to easily submit your site to Google News.
AIOSEO is the best SEO tool for WordPress that allows you to create and submit news sitemaps for your site in a few clicks. Besides creating sitemaps for your site, you can analyze your website content and solve SEO issues to make sure your site is properly optimized.
If you want to track the views and traffic on your news site, you can use a Google Analytics tool like MonsterInsights. With this plugin, you can easily connect your site to Google Analytics (even GA4) and view your stats and reports on your WordPress dashboard. 
For your next steps, you may want to check these resources out:
These posts will help you add more Google services like AdSense and Google Analytics to your WordPress site. The last one will help you choose the best SEO tools that help you improve your search result rankings and grow traffic.