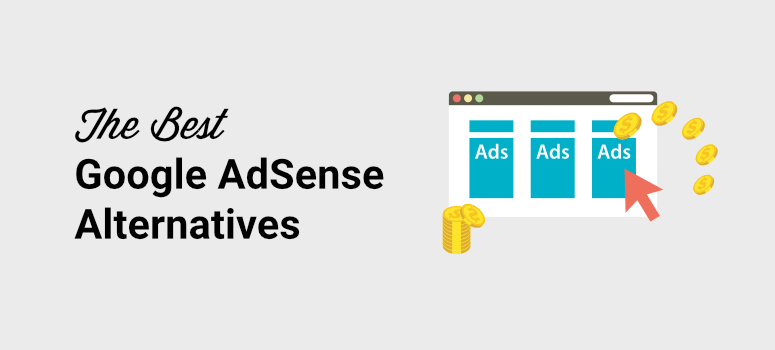 Are you looking for the best Google AdSense alternatives to monetize your website?
AdSense is the most popular advertising service in the world for earning money from ads. Site owners from around the world can sign up for free to start using the platform. However, if you feel AdSense isn't right for you, there are plenty of other options out there.
In this article, we'll share 9 of the best Google AdSense alternatives you can use.
How to Choose the Right AdSense Alternatives
Google AdSense is the #1 advertising network for publishers and site owners to make money through their content online.
It's so easy to set up and start earning from AdSense. All you have to do is to place the AdSense code on your blog and ads will show up once your account is approved. You can display responsive native ads, text ads, and image formats on your site.
However, there are many reasons to look for a reliable Google AdSense alternative.
Perhaps you've had a hard time getting approved for an AdSense account, or maybe your AdSense account's been banned.
You may also want to explore more ways to earn money alongside the Google AdSense ads program.
Whatever your reason is, there are 2 ways to monetize your blog with an AdSense alternative:
Choosing an alternative ad network is the best choice if you want an easy way to place ads on your site that will drive income.
Choosing an affiliate network would be a better option if you want to diversify your income by actively promoting third-party products in your content. You'll get a commission for every sale you make. For more on that, see how to start affiliate marketing.
Keep in mind that when you choose an alternative, one of the most important factors to look at is the CPC (cost per click) CPA (cost per action), and CPM (cost per thousand impressions) pricing models. Some ad services offer a flat fee payout, some take a commission, while others let you earn based on the number of impressions and clicks you get on the ads displayed.
In this list, we'll cover both kinds of Google AdSense alternatives we just mentioned. We'll also tell you how each platform pays you for displaying ads on your site.
Let's get started right away so that you can get to earning money faster.
Best Google AdSense Alternatives – Ad Networks
Below are the best ad platforms you can use to display ads on your site.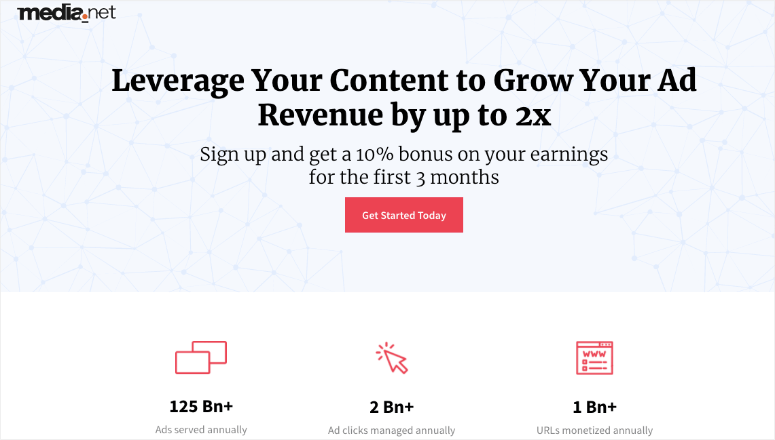 Media.net is the closest alternative to Google AdSense. They serve high-quality ads on over 500,000 websites. Plus, the platform and products are licensed by some of the largest publishers, ad networks, and other ad tech companies worldwide.
You can monetize your content with exclusive access to the Yahoo! Bing ad network.
Media.net is a top choice because it places contextual ads on your site which means the ads will be relevant to the content on each page of your site.
Your visitors will get a better user experience since the ads will be similar or related to what they are viewing.
With their native advertising technique, they improve user engagement and personalize the look of your landing pages. All their ads are fully responsive and look great on any screen size.
Media.net is by far the best alternative to Google AdSense.
Highlights
Contextual advertising with relevant ads
Cookie-free ads
Expect increased CTRs of up to 1.5x-4x
One ad tag with multiple ad formats
Detailed insights on ad performance to drive revenue goals
Payout
With Media.net, you get a certain rate for every 1,000 impressions, and Media.net pays out after 30 days. The minimum threshold is $100. You can track your performance in real-time to see how much you've earned.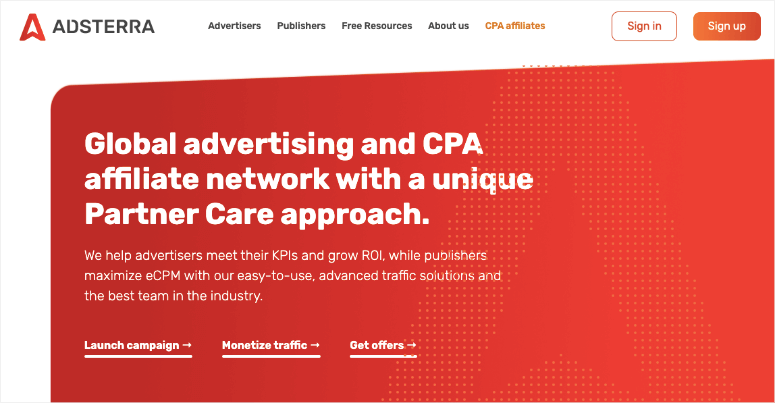 Adsterra is a digital advertising network for publishers and advertisers. It comes with a personal account manager to monitor the performance of your ad campaigns. You can target web and mobile traffic separately to make the most of your ads. It also shows real-time performance statistics for your ads.
All ads are secured by their in-house team and with the help of third-party solutions.
You can collect your payment through PayPal, Paxum, Wire Transfer, and Webmoney.
Highlights
High converting ad formats including pop under, social bar, push ads, native ads, video ads, and banners
Three-level security
Easy to use self-serve platform
24/7 multilingual online chat
Anti Adblock solution
Payout
The minimum payout for Adsterra is $5 and they pay twice a month to publishers on fixed days.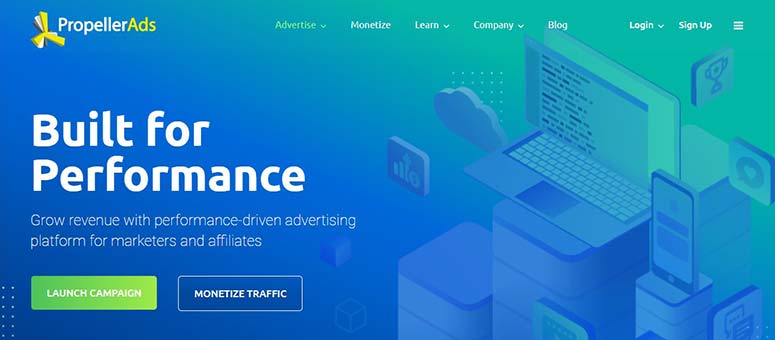 Propeller Ads is a performance-driven advertising and affiliate network that allows you to create conversion-focused campaigns.
It has an AI system that automates ad optimization and produces amazing results. Propeller Ads is a self-serving advertising platform with real-time, in-depth statistics on your ads' performances.
You get multiple ad formats including on-click ads, native ads, etc. It also comes with an affiliate program to earn commissions on sales.
There are multiple payment gateways so you can collect your income through the one that's best for you.
Highlights
Automated ad optimization
Fraud prevention technology
Powerful and easy-to-use self-serve platform
Cross-platform solution includes push notifications, interstitials, in-page push, onclick ads, and more
Payout
Propeller Ads pay on a 30-day basis. For a few select countries, they also offer weekly payments.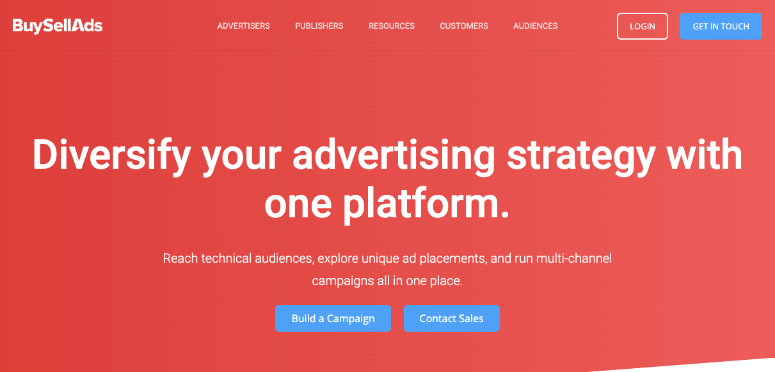 BuySellAds is one of the most popular AdSense-like ad providers that connects you with advertisers.
It helps you diversify your ad strategy to run multi-channel campaigns from one place.
You can find high-quality ad placements that line up with your content so that users see ads that are relevant to them. You can choose from native ads, dedicated emails, newsletter sponsorships, sponsored content, podcast ads, and display ads – plus custom options.
The best part is that you can reach targeted audiences at scale. And to top it off, you'll get insider insights on advertising trends in your industry. It'll show you which publishers are trending and what ad strategies are popular so that you can improve your own ad campaigns.
Highlights
Connect with top brands
Plug and play self-serve ad platform
Multi-channel ad placements
Email placements
Header bidding management
Commerce and affiliate management
AdBlock recovery tool
Payout
You set the fee for your ads such as $100/30 days. BuySellAds takes a 25% commission which means you'll get $75 after 30 days as your revenue share. Once your account reaches $50, you can request a cashout and get your earnings.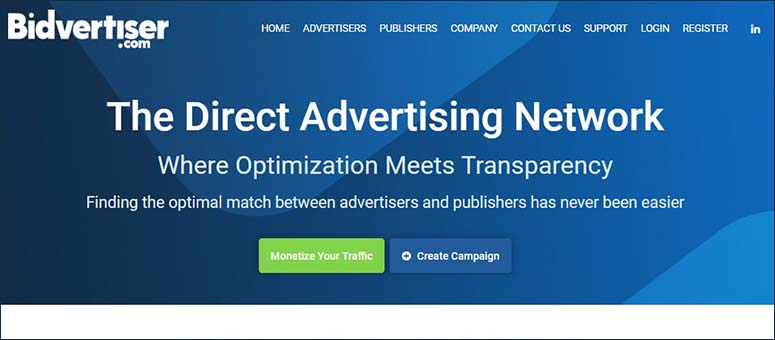 Bidvertiser is a direct advertising network you can use to monetize your website's traffic and content. It has a control panel to optimize your traffic and uses Smartlink technology to send your users directly to the chosen links. Unlike other ad services, your account will be approved right away. The ad formats include banner ads, sliders, popups, and more.
It works with your website, mobile apps, extensions, and all other resources to monetize your traffic. Bidvertiser displays safe ads and integrates with popular payment services, like PayPal, to dispatch your revenue.
Highlights
100% coverage across desktop and mobile
AI powered ad optimization technology
Get payment by PayPal, Bitcoin, wire and check
Display banners, pop under ads, sliders, smartlinks, XML and programmatic formats
Accurate traffic segmentation and identification
Rejects any kind of bot traffic, click farms, malwares and viruses
Payout
You can withdraw your earned revenue with a balance as low as $10.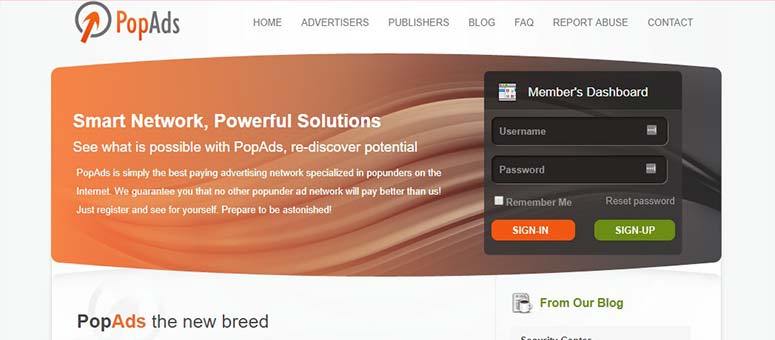 PopAds is a popular advertising network and ad publishing service. It's a direct alternative to Google AdSense and is a high-paying solution. You can get your account approved and start publishing ads on your website in no time.
All their ads are optimized to load quickly and efficiently. PopAds is liked by thousands of publishers for their unique payment criteria.
Highlights
Set you own ad price
No minimum traffic requirement
Fast payments handled daily
High security with SSL technology
One of the fastest support in the industry
Realtime reports and charts
Payout
There are no Net30 or Net60 payment terms. PopAds pays on a daily basis if you hit the minimum $5/day target.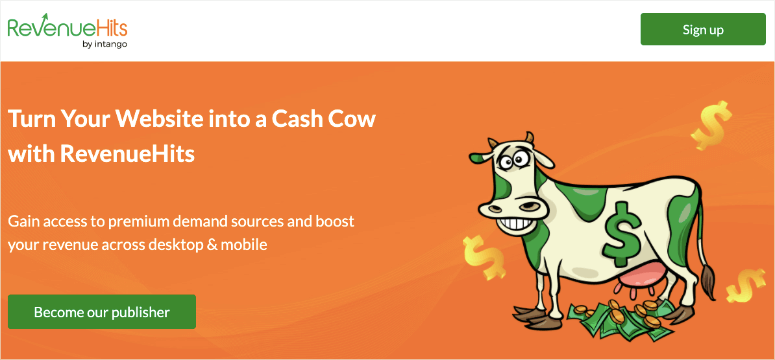 RevenueHits is another popular advertising network on the market. It guarantees quick approval of your account and boosts the ads to generate money from your website. It has different ad formats to display ads like banners, buttons, sliders, popups, etc.
You can take out your revenue through PayPal, Payoneer, and other popular payment gateways.
Highlights
No minimum website traffic required
Access to varied types of ads and formats
Proprietary anti-pop-adblocker
Desktop interstitial ads
Transperant payment models
Payout
The minimum income amount to withdraw your money is $50, and they pay on a net 30 basis.
Best Google Adsense Alternatives – Affiliate Networks
Below are the most popular affiliate marketing networks that let you display ads to earn revenue from your site.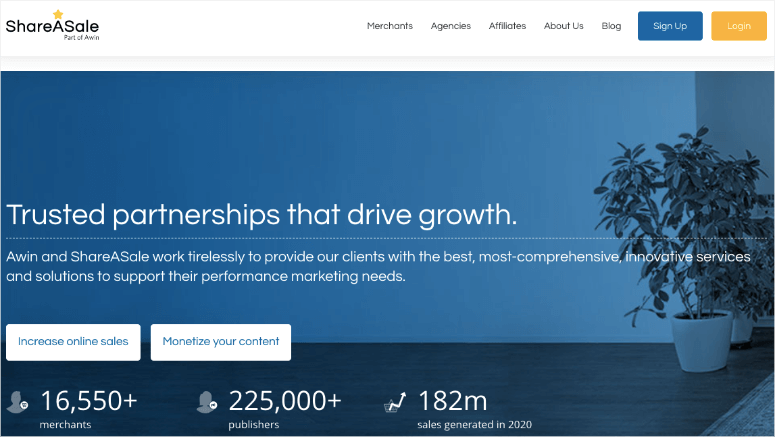 ShareASale is the most popular affiliate marketing network. It offers multiple categories like fashion, technology, business, etc. which allows different business niches to earn extra money. You can sign up for any product that's registered with ShareASale and get your commission on each sale.
It can be an alternative to Google ads as it generates income from your website traffic. It's easy to join and you can start making money with ShareASale as soon as you start your fashion, food, technology or any other website.
Highlights
Easy-to-use platform
225,000+ affiliate partners around the world
Robust data reporting and real time insights
Competitive, affordable and transparent pricing
Payout
You'll be paid on a monthly basis. However, you'll need the minimum $50 payment balance in your affiliate account to withdraw your revenue.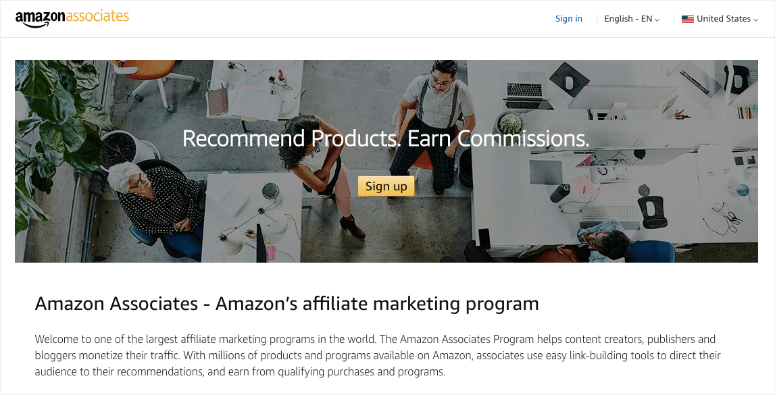 Amazon Associates (also known as Amazon Native Shopping Ads) is one of the best affiliate programs in the world. It may not be a direct alternative to Google AdSense, but you can earn commissions from selling Amazon products on your website. If you own an eCommerce store, then you can simply sign up for the Amazon Associates program and display dynamic image ads on your website.
Since Amazon has millions of products, you can choose to display the most relevant items to your product line. This is a great choice for bloggers to generate ad revenue through their content.
Highlights
Partner with top brands
Find, manage and build relevant brand partnerships.
Track your campaign performance
Easily find and replace broken links
Payout
Amazon Associates pays up to 10% commission on each sale.
You can also create your own Amazon affiliate store to earn more money.
The only downside is that you'll still only get paid if someone makes a purchase – you won't get paid just for impressions or clicks as you do with AdSense.
You may also want to check out our list of best affiliate marketing themes to start off your affiliate business with a bang.
That's our list of the best Google AdSense alternatives. Next, you'll want to set up Google Webmaster Tools so that you can track your traffic, monthly page views, and monetization. This will help you strategize and find the best ad space on your site that brings in money.
If you're still looking for more AdSense alternatives, here's our list of honorable mentions:
We hope this article helped you find the best Google AdSense alternatives to monetize your website. You may also want to check out other posts:
These posts will help you grow your blog, improve page views, and increase ad revenue.