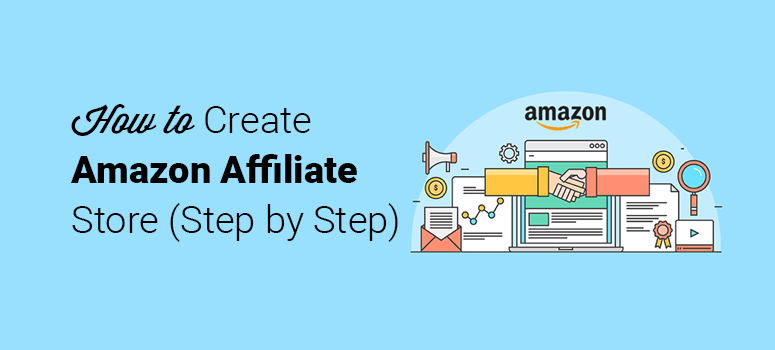 Do you want to add an Amazon affiliate store with WordPress? Amazon is the world's largest online store that helps thousands of merchants to sell products online across the world. They have an official affiliate system that allows affiliate marketers like you to recommend Amazon products to your website's audience and earn an affiliate commission.
In this article, we'll show you how to create an Amazon affiliate store with WordPress and make money online.
How Amazon Affiliate Store Makes Money
Amazon.com is the world's largest eCommerce store that sells millions of products online worldwide. They enable anyone to sell online by simply listing their products in their store.
The Amazon Associates is an affiliate program by Amazon that pays you for referring Amazon products. If a user purchases a product from your referral, you receive a commission.
All you have to do is to sign up for Amazon Associates, select the products that you want to promote on your website, obtain an affiliate / referral link to that product's listing and promote the product through that link on your site. You'll get a commission when someone purchases a product from Amazon by clicking on that link.
If you've ever dreamed of building an online store, but don't have the resources to create products and deliver them to your customer's doorstep, then creating an Amazon affiliate store is the best bet for you.
All you have to do is to join Amazon Associates, set up an online store with WordPress, find relevant products that you want to promote, and list them in your store.
Amazon Affiliate Store Examples
If you're wondering, how an Amazon affiliate store would look like, take a look at a few Amazon affiliate store examples for inspiration.
Example 1. www.headphones.com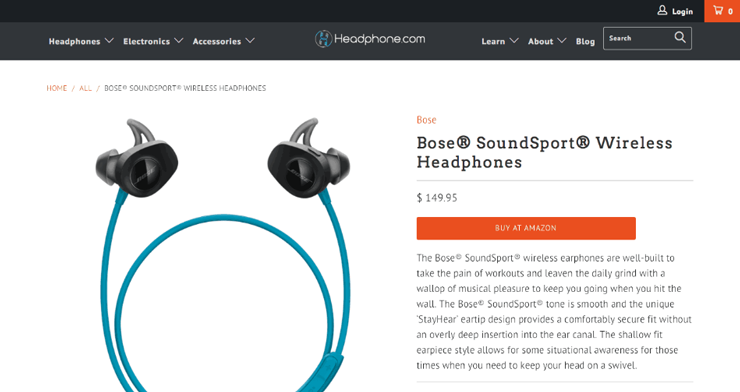 Example 2. www.autoblog.com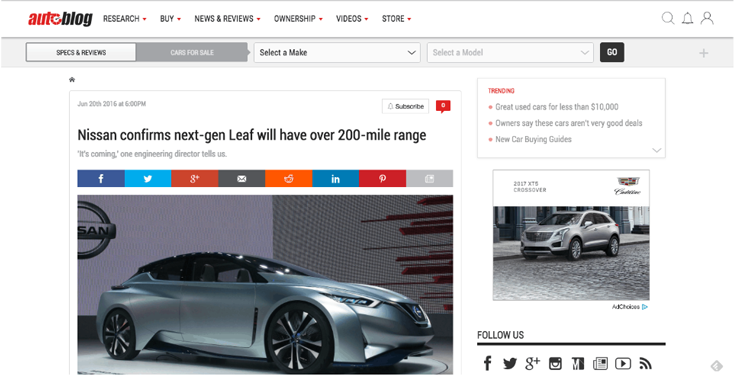 Example 3. www.home-designing.com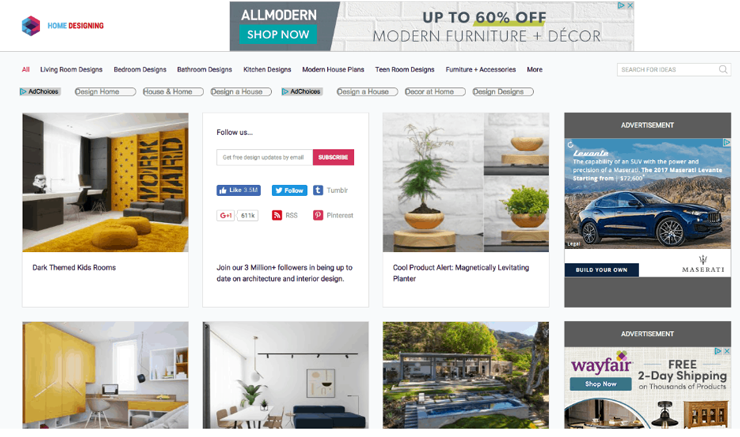 Starting an Amazon Affiliate Store (Step by Step)
While there are hundreds of eCommerce platforms available on the market, the easiest and most affordable platform is WooCommerce.
WooCommerce is a free eCommerce software that works on top of WordPress. It powers over 30% of all online stores.
Let's take a look at how to set up an Amazon affiliate store with WooCommerce.
Step 1: Create an Affiliate Store With WordPress + WooCommerce
Just any website, to build an eCommerce store that specifically sells Amazon products, you'll need to own a domain name and web hosting.
The combined cost of a domain name, SSL certificate, and WooCommerce hosting can seem like quite a lot when you're starting out with a new online store. The combined cost will be around $24.95 per month.
Fortunately, we've bargained a deal with Bluehost (a WordPress and WooCommerce recommended hosting provider) for our users to get a free domain name, free SSL certificate, and a huge discount on web hosting.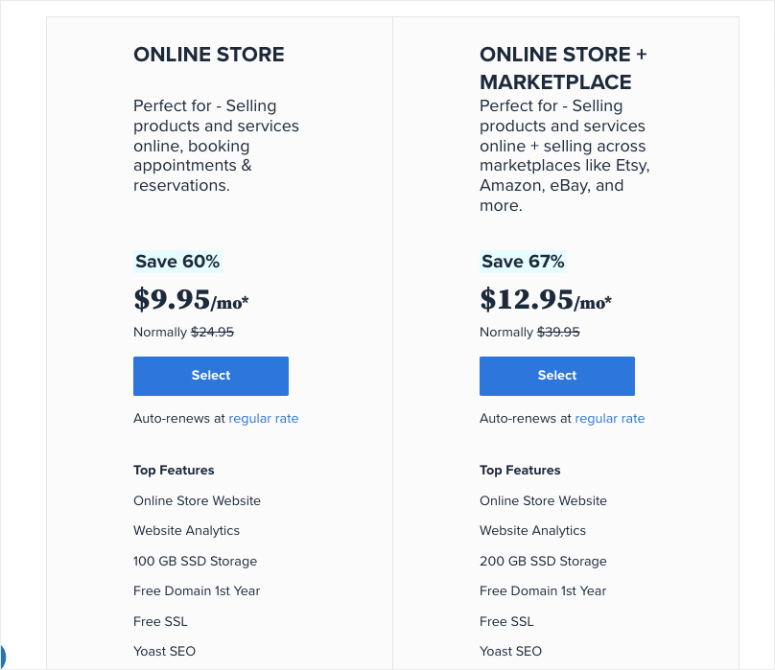 It will cut down your initial cost to $9.95 / month.
Click Here to Claim This Exclusive Bluehost Offer »
For a detailed step-by-step guide, check out how to create an online store. This guide will help you set up WordPress and WooCommerce for your Amazon affiliate store.
Once you are done with the installations, let's move on to sign up for an Amazon affiliate account.
Step 2: Join Amazon's Affiliate Program
To get an Amazon affiliate account, you can go ahead and sign up for Amazon Associates.
In the Amazon affiliate program website, click on the Sign up button. It's free to join.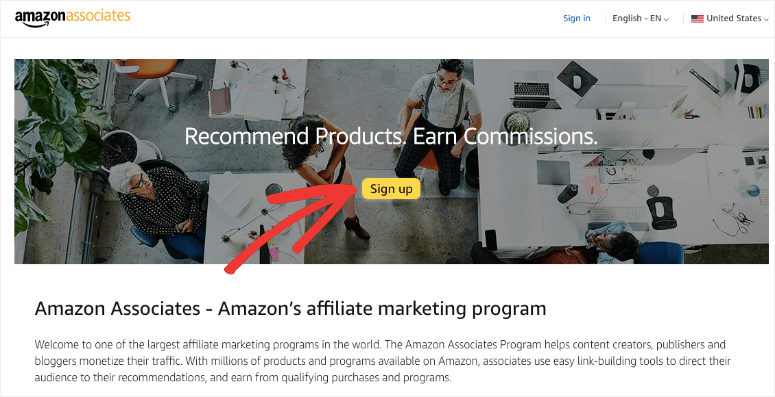 It will take you to the login page. You can either log into your existing account or sign up for a new account.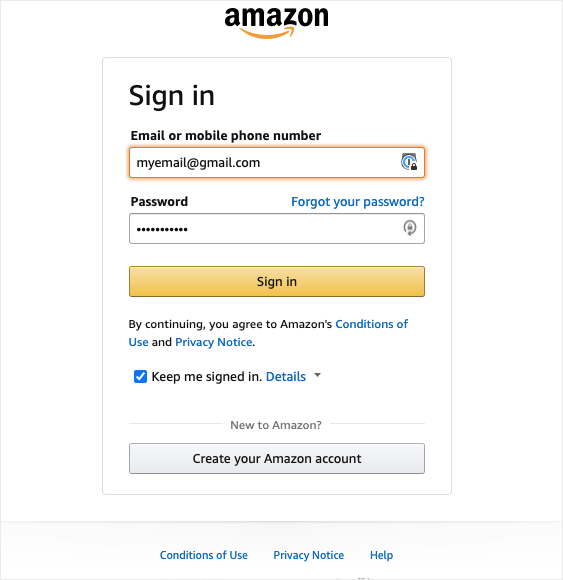 After logging in, you'll need to complete your profile to continue. You'll need to submit the payee information and your website or mobile app details.
Note: While submitting details, read the instructions clearly on each page.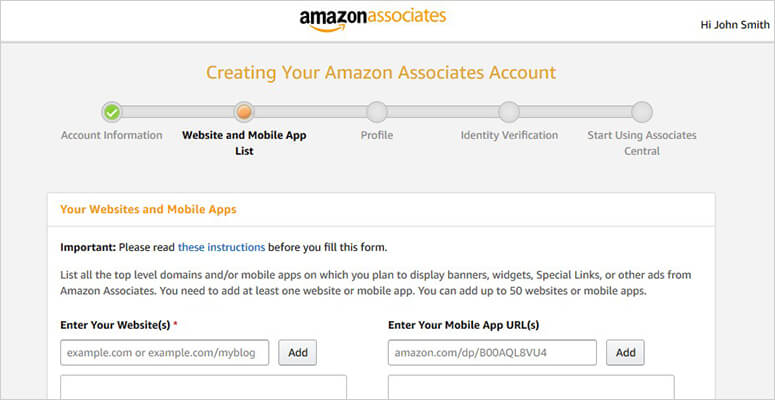 Once completed, you'll need to wait until your application is reviewed and approved by Amazon associates.
Step 3: Install an Affiliate Plugin
Before you add your affiliate links to your Amazon affiliate website, you'll need a plugin, like Pretty Links that lets you manage all your affiliate links in a single place within your WordPress dashboard.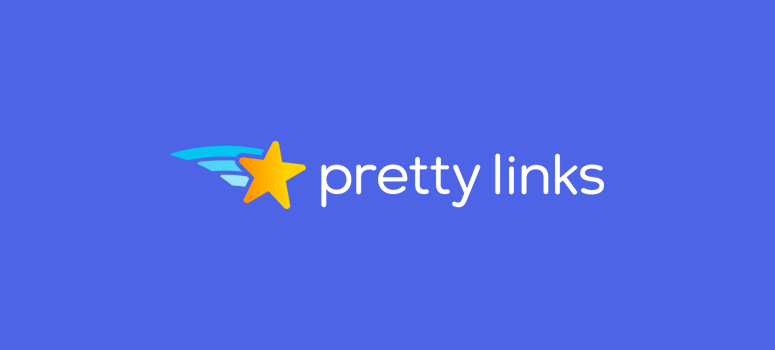 Whenever you want to change an affiliate link, you don't need to dig deeper into your site and manually alter all those URLs. Instead, you simply do that in your PrettyLinks panel, which will automatically change all the published URLs.
This plugin also helps you cloak the affiliate links that you promote on your website.
Affiliate links are typically long, ugly-looking URLs like this:
http://example.com/products/?product_id=123&affiliate_id
Pretty Links helps you cloak such affiliate links and make them shorter and neater:
http://www.yoursite.com/refer/productname
Step 4: Add Amazon Products to Your Store
It's easy to add your Amazon affiliate products to your WooCommerce powered online store.
The first thing you need to do is go to the Products » Add New page in your WordPress site's admin area. Start by adding a title and a full description of the new product.

Once added, scroll down to the Product Data section. In the product type dropdown, select External/Affiliate Product.

After that, you need to add the product affiliate URL.
Simply go to Amazon Associates and search for the product that you want to list on your site. Next, you need to click on the Get link button right next to that product to get its affiliate URL.

Go ahead and copy this URL. Now come back to your product page in the WordPress admin area and paste the URL in the Product URL field.

According to the terms of Amazon Associates, you shouldn't add product prices manually. You need to leave both the regular price and sales price fields blank.
Upon adding the product affiliate URL, scroll down the page to add a short and specific product description. Make sure to be precise in your words as this information will be displayed on your shop's front page and in the search results for users.

On the right side of the screen, you can set the main product image and add product gallery images. The main image will appear on the shop page and the gallery images will appear when the user opens the product for full view.
Note: Amazon allows you to add your custom product photos as the main and gallery images. It is not necessary to repost the same images available on Amazon.com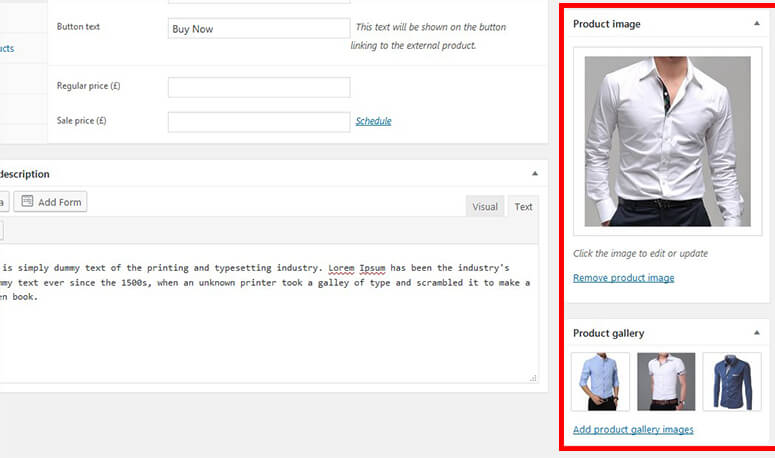 Once you are done with adding all the product information and images, go ahead and click on the Publish button to see the products on your site.
To add more products, you can repeat this process and visit your Amazon affiliate store to see all the products listed on the shop page.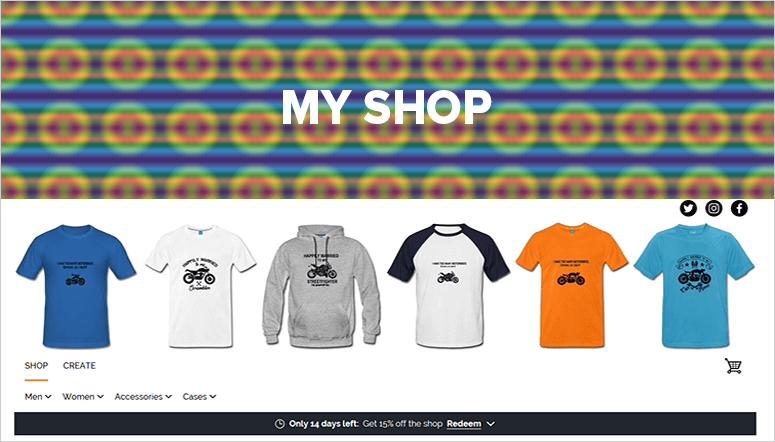 It's in your best interest to keep adding more relevant products often to your Amazon affiliate store. That way your regular visitors tend to keep returning to your online shop more often. You can also ask users to leave their feedback and reviews, which is the best way to add social proof to your site and convince users to make a purchase.
That's it!
Your Amazon affiliate store is now live and you can start making money online by selling more products. However, you need to expand the reach of your online store to get more visitors and customers.
Step 5: Track Affiliate Links in Google Analytics
While Amazon Associates lets you track which product performs the best on your affiliate store, for the best results, you might also want to track which links people click a lot and which one doesn't. To do that, you'll have to install Google Analytics on your WordPress site with MonsterInsights.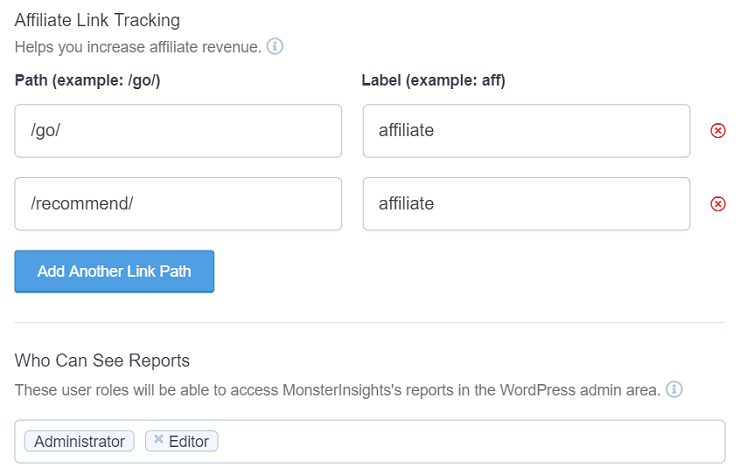 MonsterInsights also lets you enable affiliate link tracking on your website.
Here are a few benefits of affiliate link tracking:
You can find out exactly how users interact with your affiliate links. Analyze where people are clicking the most.
Find out which links are leading to the most conversions and focus on them.
View which pages are leading most affiliate sales and optimize them for more revenue.
Bonus: Tools to Optimize Conversions
You can list all the products you want on your website, but if people aren't convinced to buy them, you won't make any money.
This is why it's so important to use conversion-optimization tools on your site. These tools will help you showcase products you want to sell in the best light possible and get the visitor to click on it and buy. Here's our top pick of conversion-optimization tools:
OptinMonster is the best lead generation plugin for WordPress. It helps you turn site visitors into customers by creating relevant, targeted campaigns. Choose from campaign types like lightboxes, sidebar forms, floating bars, countdown timers, inline forms, and more. Then simply add powerful targeting rules with just a click. This includes exit-intent, geolocation, device, scroll depth, and much more.
TrustPulse is the best social proof notification plugin for WordPress. It helps you convert visitors into engaged customers by showing them popups of recent sales and activity on your site.
PushEngage lets you send optimized push notifications to site visitors even after they've left your site. These notifications appear in the subscriber's browser as a non-intrusive popup on the side.
SeedProd is the best landing page builder for WordPress. It helps you create stunning, optimized landing pages for your site. So you can promote products, sales, webinars, events, and just about anything else you want.
Thrive Suite gives you access to a long list of powerful tools to drive conversions. There are sign-up forms, quizzes, online courses, and more to drive your website's engagement, conversions, and sales.
For more tools, see our guide: 15 Conversion Rate Optimization Tools to Skyrocket Growth.
Amazon Affiliate Store Best Practices
1. Diversify Your Earnings
Now that your website is set up, you can diversify your earnings by selling your own eCommerce products to your store. You may also promote products from other affiliate programs.
2. Don't Duplicate Content From Amazon
Amazon has a strict content policy, so you're not allowed to copy content directly from Amazon. Oftentimes, Amazon affiliate store owners, grab the product images from the product manufacturer's website and create their own descriptions and other content.
3. Disclose Your Affiliate Partnership
To adhere to various international laws, you're required to disclose your affiliate partnerships on your site. For reference, you can check out IsItWP's FTC disclosure page.
We hope this article helped you learn how to create an Amazon affiliate store with WordPress + WooCommerce. You may also want to check out our beginner's guide on affiliate marketing.