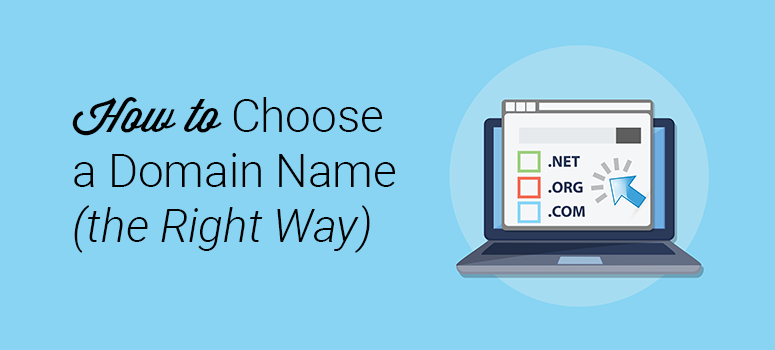 Do you want to start a website but are struggling with how to pick the best domain name? A good domain name is important to the success of your website or blog. After all, it's how your audience will find you on the world wide web. So, it can't be just a split second decision; you've got to spend time to come up with the best domain name possible. Plus, there are some domain name best practices you should know about to help you pick the right domain name for your website.
Luckily, in this article we're going to share some tips and tricks for how to pick the best domain name. Once you find the perfect domain name for your website, we'll then show you how to register your domain name for free! Let's begin.
1. Brainstorm Ideas and Research
The first step to picking the best domain name is to brainstorm some ideas and do some research. If you're thinking about how to choose a domain name for your blog or website, then you've probably been thinking about starting a blog or business for a while. So, you should have some ideas about what you want your blog to be about or what your business is going to be. This is important to choosing the best domain name because your domain name should relate to your business and your brand.
Start with a domain name generator tool to help you come up with some ideas. Try out the IsItWP Free Website Name Generator. Just enter in 1 or 2 keywords for your business or blog. For instance, if you want to start a website for an accounting business, try typing in the keyword "accounting".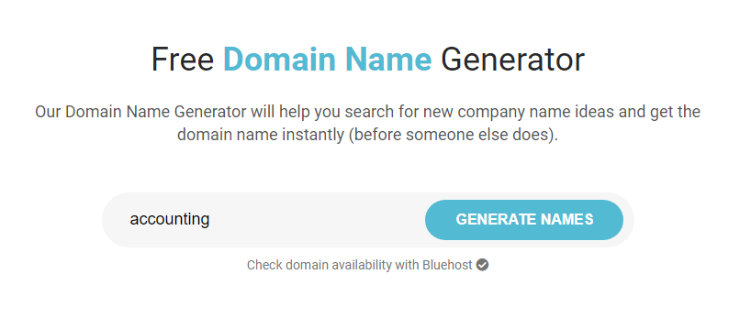 After you enter in the keyword, press the Generate Names button. The generator will then provide you with numerous domain name ideas that include your keyword.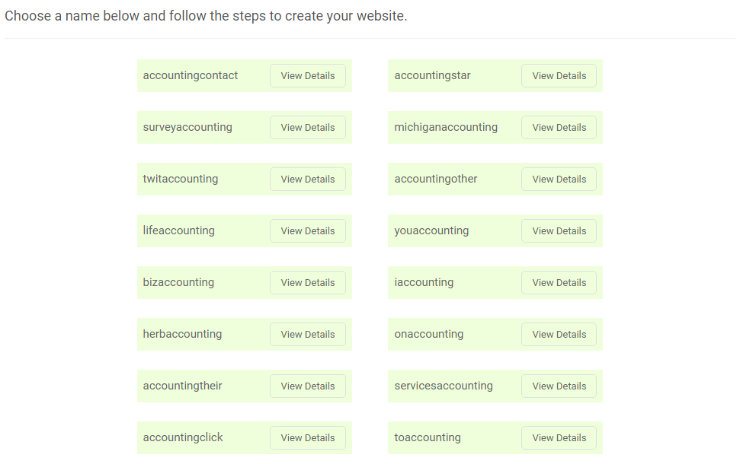 With a domain name generator like this one, you'll be able to brainstorm a ton of great domain name ideas for your website.
Don't forget that if you already have a domain name idea in mind, that you'll need to do research to make sure it's not already taken by someone else.
2. Pick the Right Domain Extension
When choosing a domain name for your blog or website, you also need to pick the right domain extension. A domain extension, which is also known as a Top Level Domain or TLD, is simply the suffix or the last part of a domain name. For example, with the domain name www.Google.com, .com is the domain extension. There are a number of different domain extensions that are used today, the most common ones include:
.com (commercial) – This is the most popular domain extension on the internet. It was originally created for commercial businesses but now it can be used for anything.
.biz (business) – This domain extension was created primarily for businesses whose preferred domain names were already taken with .com.
.org (organization) – Originally created for non-profit organizations and charity websites but now this domain name can be used by anyone.
.net (network) – An alternative to the popular .com domain extension that anyone can use, but originally created for network infrastructure use.
.edu (education) – This domain extension can only be used by accredited higher learning institutions like universities for instance.
.gov (government) – This domain extension can only be used by government entities.
Country specific – There are also domain extensions for specific countries like .ca for Canada and .in for India.
We recommend that you stick with .com for your domain extension because it's the most credible and established domain extension. Plus, since .com is so synonymous with the internet, many users type in .com by default because they're so used to it. For instance, if your domain name is AccountingByJudy.net, many users will instead type the more memorable domain extension .com without even thinking about it and won't be able to find your website. This is especially common for users who aren't tech-savvy.
You want your website to be as easy to find as possible and to also appear credible, which is why we recommend choosing the .com domain extension.
3. Use Keywords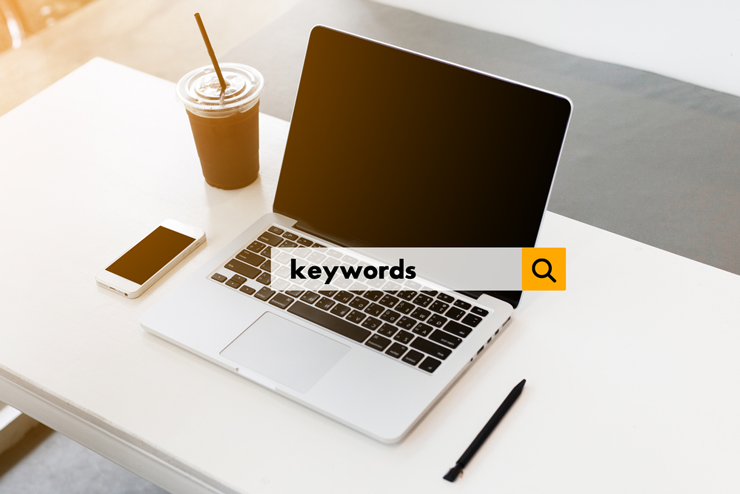 Using keywords is an important part in picking the best domain name. Keywords are how search engines can tell what your website is about. When someone searches for your keyword on the internet, if you include the keyword in your domain name, your website has a better chance of showing up near the top of search results.
Also check: Best SEO Keyword Research Tools.
For example, if a user searches for photography services on Google, and your domain name is PreciousPhotography.com, your website is more likely to show up in their search results. Whereas if you don't include keywords in your domain name and choose instead something like PreciousSnaps.com, your website may not show up in any search results for photography. It can be difficult to find a domain name that's available for top keywords like "photography" but you just have to be creative and mix the keyword with other unique words to find the perfect combination.
4. Target Local Keywords
Regarding keywords, if you have a local business that's focusing on a particular geographic area, you should target local keywords in your domain name as well. When users are searching for a business or service in their area, they typically add their city or state to the search to get results that are near them. For example, "landscaping Phoenix".
So, if you want to show up in local search results, add a local keyword to your domain name. Instead of BobsLandscaping.com, use BobsLandscapingPhoenix.com so that your website will show up in local search results.
5. Make it Easy to Type and Understand
When choosing a domain name, you might be tempted to come up a totally unique spelling to make your domain name stand out or change the spelling of a word because someone else took your preferred domain name. But, you should avoid picking a domain name that is too difficult for users to understand and type.
If you change the spelling of a word in your domain name, for example, taking a domain name like ProfessionalPainting.com and turning it into ProfssnlPaintng.com, it will be more difficult for users to find your website. Try to avoid double letters as well. For example, a domain name like Glassstatues.com is likely to be typed incorrectly by users. Keep it simple and easy to type.
6. Keep it Short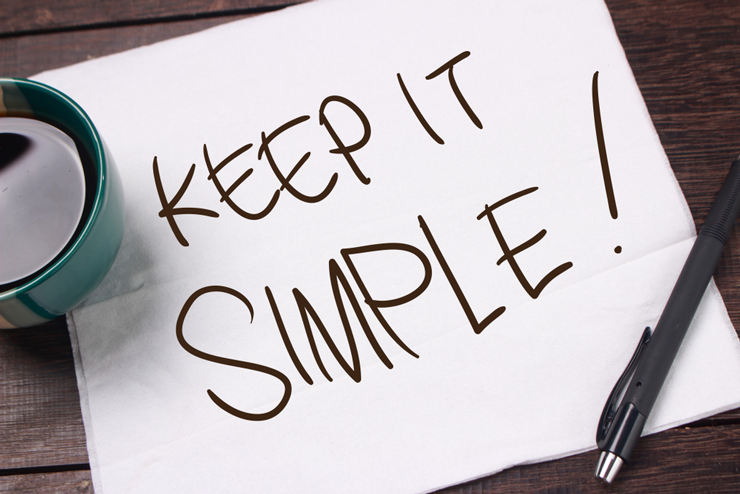 Nobody wants to type in a domain name that's 64 characters long. Not only is it annoying for users, but it also increases the chances of misspellings that result in your website not being found and a loss of traffic.
It's much better to have a domain name that's short and easy to remember. We recommend you keep your domain name under 15 characters long.
7. Avoid Numbers and Hyphens
You should avoid using numbers and hyphens in your domain name too. Numbers are often confusing for people because if you tell them "5" they might take it as "five", which can lead to misspellings of your domain name. If you do need a number in your domain name because it's in your business name for instance, you can register both variations to avoid this problem.
You'll want to avoid hyphens altogether as well because hyphens are often associated with spam domains and you don't want people to think your website isn't safe. Hyphens also lead to misspellings because many users will forget to add a hyphen when typing your domain.
8. Don't Be Generic – Be Unique
There are millions of registered domain names, so you have to make sure your domain name is unique and memorable. A domain name isn't just your online address, it's also part of your brand. So, while being easy to understand is important, it also has to be appealing and it has to represent who you are.
For example insurance.com is generic and boring, and it's also probably already taken by someone. But a domain name like GuardedInsurance.com is unique and memorable, and it says to your potential customers that you're a trustworthy company. Make sure your domain name will stand out in the minds of your website visitors.
9. Don't Pigeonhole Yourself
When coming up with a unique domain name, it's important not to pigeonhole yourself either. Picking a domain name that puts you in a box and only allows your business to be associated with one specific thing will present problems for you in the future when you want to grow and expand your business.
Picture this: You start a business making handmade ceramic ornaments and choose your domain name to be CeramicOrnaments.com. In the future however, you want to start making other things like mugs, plates, bowls, etc. Consumers who are interested in those kitchenware items might pass over or never even discover your website because of its limited domain name. Pick a domain name that will give you room to grow.
Bonus Tip: Register your Domain Name for Free
Once you've picked the best domain name, you need to register your domain name in order to protect it from being taken by someone else. Plus, you'll need to register your domain name in order to start building a website.
How do you register a domain name? Many website or some of the best blog hosting companies offer a domain registration along with hosting. We recommend choosing Bluehost, because you can get a FREE domain name, which is great if you're just starting out.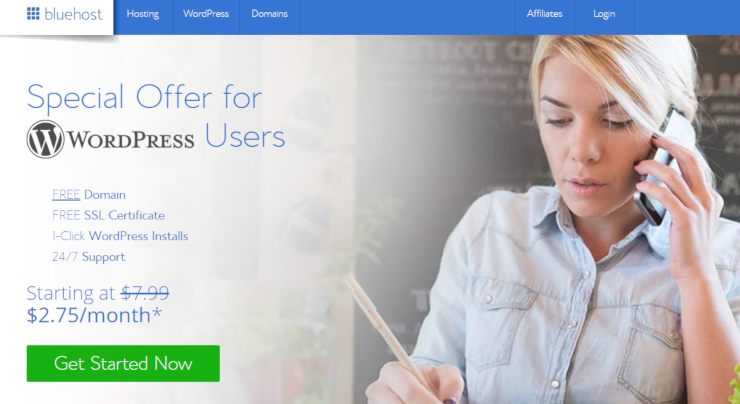 Along with a free domain name, Bluehost is offering our readers an awesome deal on website hosting. If you've got the perfect domain name in mind, you can get a free domain name, free SSL, and over 60% off on WordPress hosting.
Click Here to Claim This Exclusive Bluehost Offer »
Sign up for Bluehost today so you can claim your preferred domain name and get started on making a successful website.
See our full guide: 2 REAL Ways to Get a Free Domain Name (+ What to Avoid).
We hope these tips helped you learn how to pick the best domain name. If you enjoyed this post and want to learn more about domain names and websites, check out another of our posts on What's the Difference Between Domain Name and Web Hosting? (REVEALED). And you might find our list of the best domain name registrars helpful for your future domain registrations.