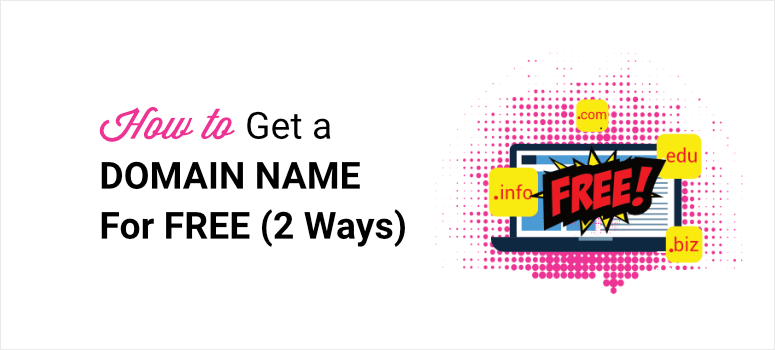 Are you looking to register your domain name for free?
Domain names can be expensive but there are tricks to get them for little to no cost. But free domains tend to be long and complicated which can make you look unprofessional.
In this guide, we'll show you 2 legit ways to get a free domain. We'll also talk about unsafe free domain options that you should stay away from.
Here's a table of contents you can use to navigate the post:
Let's get started!
Free Domain with a Web Hosting Plan
If you want to launch a website, you're going to need a domain name which is your website's address like isitwp.com
You'll also need a web hosting plan. This will give you access to a web server where you can store your website's files and database.
Domain names usually cost between $8 and $14 per year. A decent web hosting plan will cost between $8.99 per month. But you can get a good plan for much lesser using web hosting discounts.
Quite a few web hosts also give you a free domain when you sign up with their plan.
We recommend Bluehost. They are the best and most popular web hosting service in the market. We love them because they're reliable and have great customer support.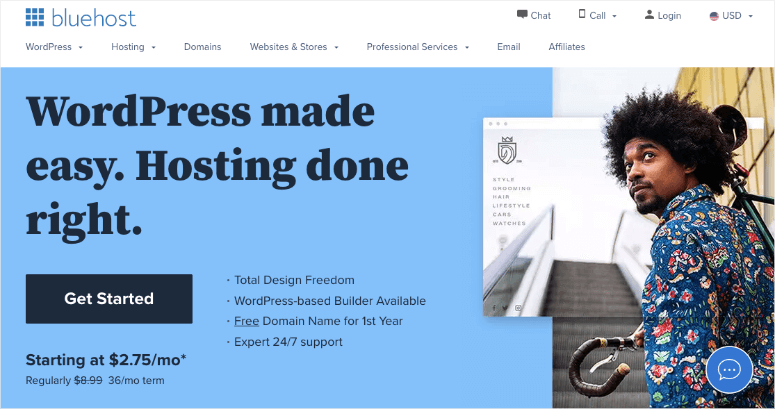 With Bluehost, you won't have to worry about choosing a long domain name with a random extension.
You can pick an available domain for free from top extensions including .com and .net. The free registration is valid for a whole year.
Here are the highlights of Bluehost:
Robust infrastructure with secure servers
Easy to use dashboard
Free business email
Free SSL certificate for data encryption
Free CDN for faster website speed
Domain privacy and WHOIS protection
When you're signing up for a hosting plan, you can choose from different kinds: Shared hosting, VPS hosting, Managed WordPress hosting, and Dedicated hosting plans.
If you're a beginner, then shared hosting is the most affordable and best option.
You can get started at just $2.75 per month.
Click Here to Get This Exclusive Bluehost Deal
You may also want to see other web hosts that offer free domain registration with their hosting plans:
These hosts also give you a free domain for the 1st year.
Free Domain with All-in-One Site Builder Plan
There are site builders that you can sign up with to start your website. They'll give you an all-inclusive plan that comes with hosting, SSL security, and a domain name.
Some of these platforms have a basic plan for free. So you can get started with zero budget. But the downside to that is you'll get a domain name with its branding attached.
So for instance, our domain name is isitwp.com:

With these free plans, you won't get a domain name like this. Instead, your domain may look like myblog.wordpress.com.
If you want to go ahead with this kind of free domain and website hosting plan, take a look at platforms like:
They let you sign up and create websites and landing pages for free.
If you want a proper premium domain name, you'll have to sign up for a paid plan.
These plans usually cost more than setting up your website with Bluehost. However, they'll take care of website maintenance. So if you aren't tech-savvy, you may want to go for this option.
But keep in mind, when you choose these site builders, you'll be limited in terms of customization and adding new features to your site. This is why our top pick is Bluehost. When you sign up for a hosting plan, you'll be able to install WordPress (the .org version which is free for all – see the difference here » WordPress.com vs. WordPress.org.) This combination of Bluehost + WordPress is affordable, flexible, fully customizable, and scalable.
That said, if you want to sign up for a paid site builder plan and get a free domain name along with it, here are our top picks:
These builders will give you proper domain extensions like .com, .net, .biz, or .org.
Now that you know how to get a free domain name using legit ways, we feel it's important to let you know that there are other free domain options but they aren't safe.
So, up next, we'll give you tips on what to avoid.
Which Free Domains to Avoid
There are a few domain registrars that let you register low-end domains for free. Or at least that's what they claim.
You'll get domain extensions like .tk, .ml, or .cf. These domain extensions make you look unprofessional but that's not the main concern.
Most of these domain providers are sketchy and could lead to security issues. These sites include Freenom, Dot TK, and GetFreeDomain.Name
When you use these websites, you'll notice that they show you a list of domains but when you select one, it says 'unavailable'.
We also strongly recommend staying away from unsecured websites. You risk infecting your browser and computer with malware.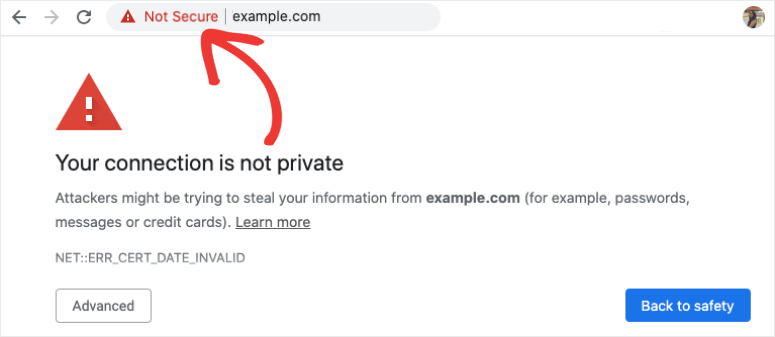 Added to that, these websites come with zero customer support. When it comes to web hosting and domains, you will need customer support at some time or the other. It could be for troubleshooting technical issues, renewals, domain transfers, and so on.
This is why we strongly recommend investing in a trustworthy hosting plan like Bluehost, Hostinger, HostGator, and SiteGround, and others. You'll get a free domain name for one year included in your plan. And with these platforms, you can have peace of mind knowing your data is in safe and reliable hands.
We hope you found this post helpful in getting a free domain name for your website. If you're ready to register it, see our step by step tutorial: Beginner's Guide: How to Register a Domain Name (+ Tip on How to Get It for FREE).
Next, you'll want to see:
You might find these guides handy in your next steps to getting the right domain name and building your website.