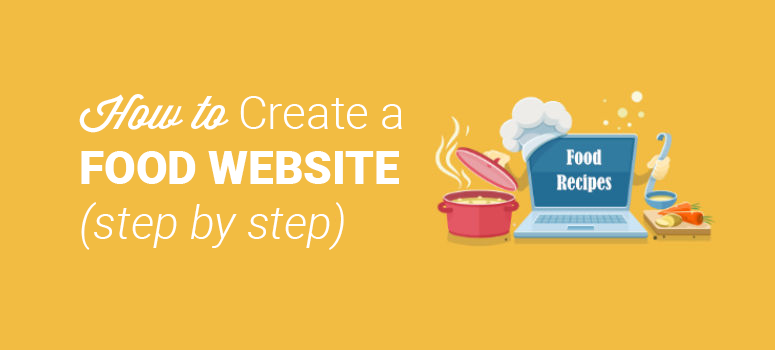 Want to create a food and recipe website? That's a fantastic idea! Whether you're running a blog that reviews fare from local restaurants or sharing your own recipes, a perfectly-crafted WordPress website can ensure you grab readers' attention.
In this article, we'll share how to create a food and recipe website in 4 easy steps.
Starting a Food and Recipe Website
Many naysayers will tell you that the food and recipe niche is oversaturated with online content. While it's true that many food and recipe websites exist on the internet, you shouldn't let that stop you from following your dream.
The simple truth is: everyone eats food, and fresh recipes are always going to be needed. As a unique individual with your own writing voice and style, you'll bring something special to the table just by being you.
That said, in order to stand out from the crowd, you'll need to hone in on your individual uniqueness. You'll need to figure out exactly what makes your content truly different. To do that, you'll need to choose a niche within the food and recipe genre.
The most successful food and recipe websites are specialized. They've chosen a niche. Rather than serving up mediocre content in numerous categories, let your audience feast on 1 or 2 niche categories catered by a master content chef. Just like a fine dining experience, when it comes to a successful food blog, quality over quantity always wins the day.
Examples of food and recipe niches are:
Eating on a budget
Vegan or vegetarian meals
Soups and stews
Fried foods
Health-conscious cooking
Soy-free, gluten-free, nut-free, or sugar-free recipes
Cultural dishes
Kid-friendly foods
Cooking with insects
Those are just a few suggestions off the tops of our heads. We're sure you can think of more. The wonderful thing about starting a food and recipe website is that the niche possibilities are endless. Take your time and dig deep into your foodie soul. Just as the tastiest dishes are crafted with love, your food and recipe blog should also stem from the heart. What foods are you the most passionate about?
Once you've chosen your food niche, follow the steps below for the recipe to success.
Step 1: Choose a Domain Name and Hosting for Your Food Site
The first step to create a food and recipe site is to make a website with WordPress.
Once you have the basic framework down for a "generic" website, you can then tweak it to your heart's content to turn it into the food and recipe website of your dreams.
To do this, you'll need a domain name and web hosting.
A domain name is your website's address on the internet, also known as your URL. For example, our domain name is IsItWP.com; and that's what you type into your web browser to find us online. Your website domain name should be related to the food niche you chose. Utilize keywords connected to your food or recipe genre.
If you need help choosing a domain name for your website, we recommend using our website name generator.
Web hosting, on the other hand, is where your website's files are stored. Think of it this way: if your domain name is your address, your web hosting is your house. Makes sense so far, right? This is why you need both a domain name AND web hosting to build a proper website.
Fortunately, you can get both of those elements for a discounted rate from our friends at Bluehost!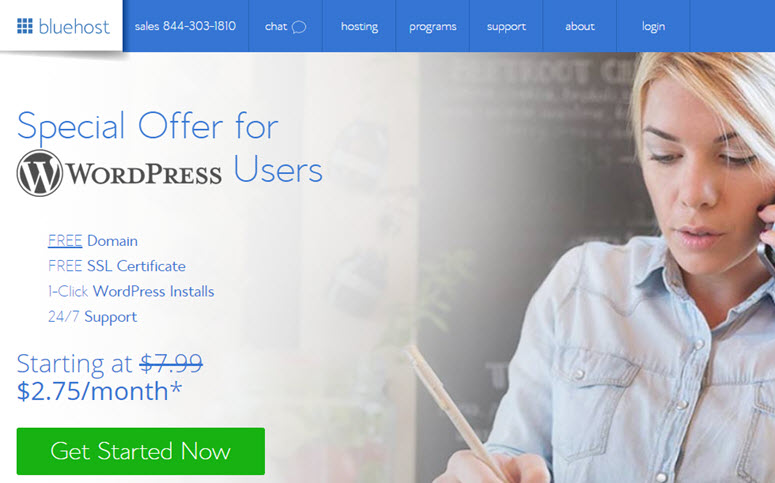 Bluehost is offering IsItWP readers a free domain name, free SSL certificate (to secure your site), and a MASSIVE discount on WordPress web hosting.
Click Here to Claim This Exclusive Bluehost Offer »
Once you're all set with a domain name and web hosting, it's time to move onto the second step!
Step 2: Install WordPress for Your Food Blog
If you chose Bluehost (recommended above) for your web hosting, installing WordPress will be easy.
In the past, Bluehost offered a 1-click installation for WordPress. It couldn't possibly get any easier than that, right? Incorrect. Bluehost took it up another notch and made the process completely effortless by pre-installing WordPress, by default, on new websites.
Also check: In-depth Review of Bluehost Web Hosting.
Now, all you'll have to do is choose a theme for your WordPress site, enter in your site's title, write your tagline, and you'll be ready to rock. Let's see how that looks, step-by-step:
For the theme, just choose anything for now. You can always choose a different theme later on (we have some awesome ones to choose from later on in this guide). Your primary goal right now is to get started with WordPress. All the other little details can be sorted out and modified later.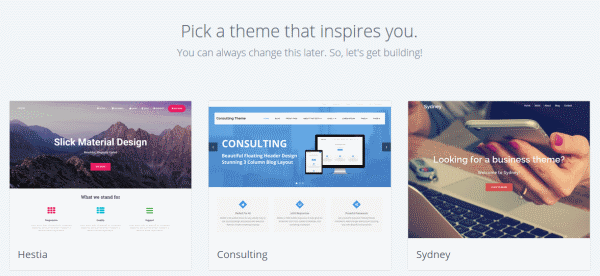 On the next page, write your title and tagline in the given fields.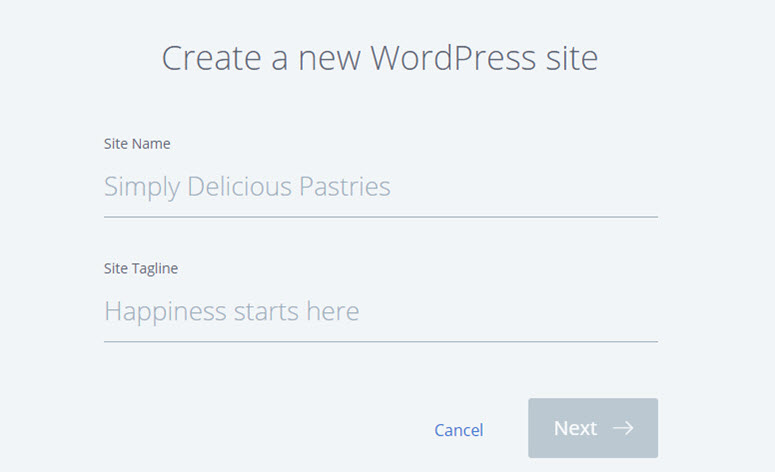 After filling out your details, click Next. Bluehost will then automatically install WordPress for you, hassle-free, and you'll see a screen like this once the installation has successfully finished: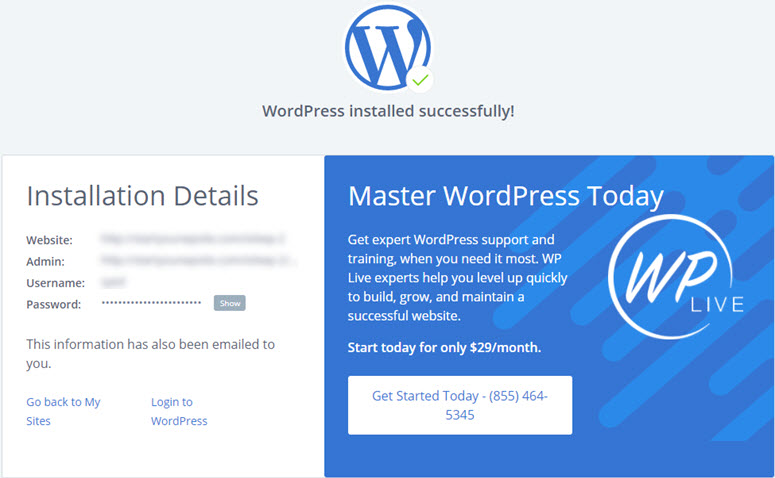 Your WordPress login credentials will be sent to your email account.
Now that you have WordPress installed on your website, you can log into your WordPress dashboard by appending wp-admin to your URL. Your login URL will look something like this: https://yoursite.com/wp-admin
Use the credentials you were emailed to log into your brand new WordPress website.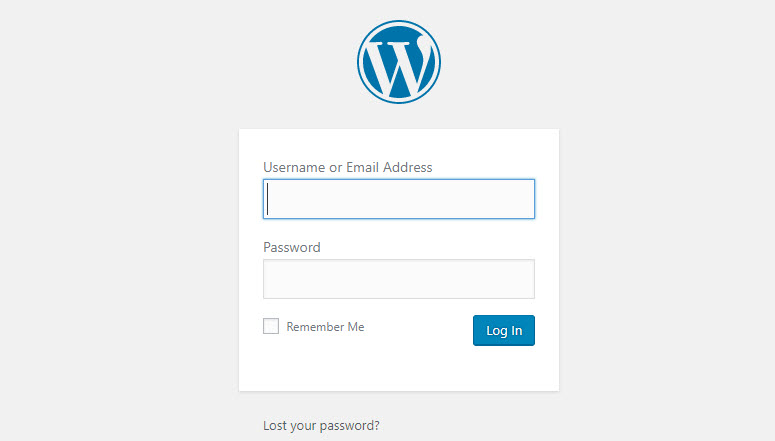 If you didn't choose Bluehost for your web hosting, you can read our complete guide on how to install WordPress for more information. We cover every possible scenario, including how to install WordPress manually from your computer.
Once you have WordPress installed, move onto the third step.
Step 3: Choose the Perfect Food Theme
If you're looking for a quick, free theme to get you started, you can download and install one from the WordPress theme repository. You can access this from your WordPress dashboard.
Simply click on Appearance » Themes and then click Add New.

From there, you can search for a free WordPress theme you like using their search function: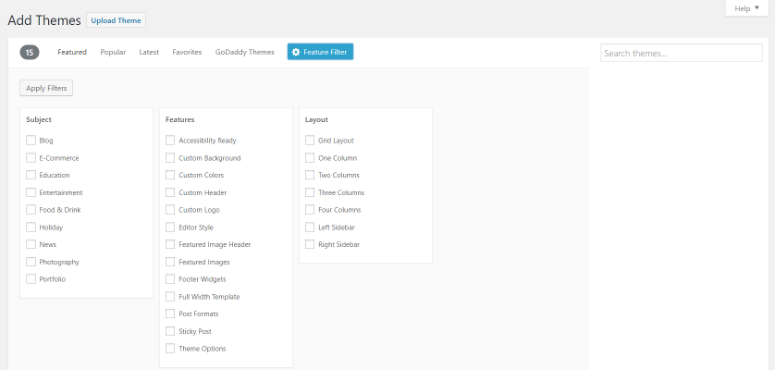 Or, if you already have a theme downloaded, you can upload it by clicking the Upload Theme button at the top of that page.
Once you find the theme you desire, click Install and Activate to have it go live on your site. From there, you can customize it from Appearance » Customize.
To make it even easier for you, we've compiled a list of our favorite WordPress themes for food and recipe websites below. If you don't want to go through the hassle of searching for a theme on your own, feel free to choose one of our recommendations.
Keep in mind that using a built-for-purpose WordPress theme (ie: a food and recipe theme) comes with a unique set of pros and cons. The major 'pro' is that the theme will come pre-loaded with everything you'll need to create a professional-looking website in the food niche. However, the primary 'con' is that these pre-loaded features can restrict your flexibility when it comes to customization.
If you want to hit the ground running and jump right into launching your food or recipe website with a pre-built framework, then the themes listed below are fantastic options. But, if you have a specific vision in mind that requires massive customization, you'd be better off choosing on of our favorite multipurpose WordPress themes and then tweaking it with food or recipe-specific plugins.
The following themes are all responsive and will look great on any device: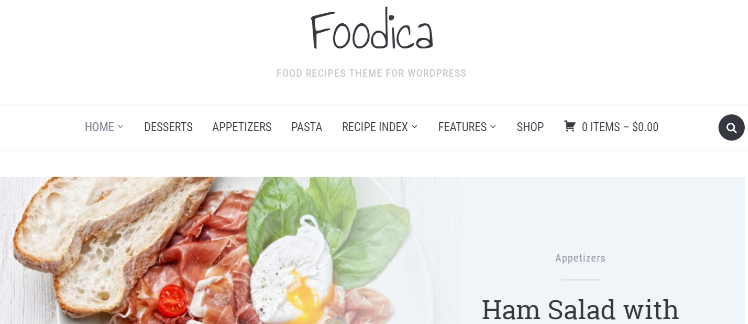 This gorgeous magazine-style theme is perfect for any type of food-based or recipe website. With 10 color schemes to choose from, you'll easily be able to match your site to your branding.
Foodica features its own recipe index, as well as a beautiful slider for featured images. Plus, it's integrated with WooCommerce so you can effortlessly turn your website into an online store. If you're selling cookbooks, recipe cards, pre-made meals, or anything else; this is the perfect theme for you!
Get Started with Foodica Today!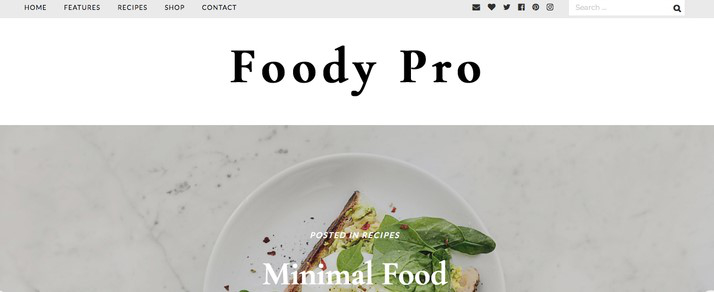 Lightweight and optimized for speed, FoodyPro is translation-ready, SEO-friendly, and fully-integrated with WooCommerce.
It's incredibly fast without sacrificing style. It has a tight, professional look and features a custom recipe index as well as multiple widget-ready areas.

Foody lets you get started immediately thanks to 2 demo websites you can install at the click of your mouse. Prefer to build your website from scratch? No problem! Foody has plenty of customization options to get you off on the right foot.
This theme also includes 2 premium plugins, Revolution Slider and WPBakery, for FREE!

Restaurants, cafes, food review blogs, and recipe websites all have a great time with the Food4Soul theme. We especially love its transparent header area, which is ripe for customization.
Food4Soul is a classy, portfolio-style theme that has everything you need to create an eye-catching food or recipe website.

Foodie Pro is a sophisticated minimalist-style WordPress theme that's packed with a ton of powerful features. You can build your site from scratch, or use the pre-made templates to get you rolling.
As a StudioPress theme, Foodie Pro runs on their ever-popular Genesis framework; ensuring that your website always runs as smoothly as possible.
For more options, go to 15+ Best WordPress Restaurant Themes Compared.
Step 4: Install a Visual Builder
By default, WordPress has the block editor installed. You can use this to customize your theme. However, it's limited in functionality. For more options to build and expand your site, then you need a visual builder. Here are our top 2 choices: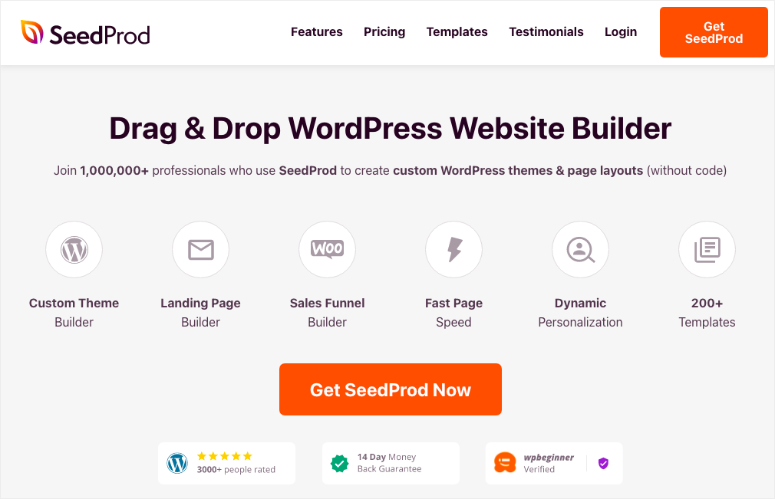 SeedProd is the best drag and drop visual builder for WordPress. It comes with a theme builder and page builder as well.
You'll find premade theme kits and page templates to choose from. The reason we prefer SeedProd over the default builder is that you can build a stunning design even without any prior experience.
Everything can be changed directly on the preview of the site.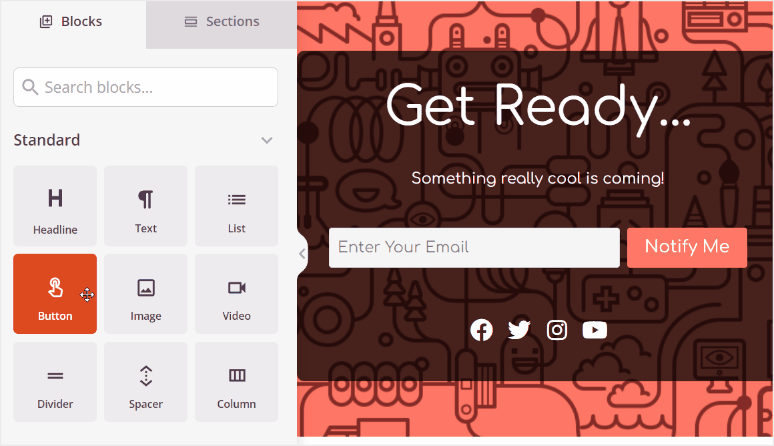 It has powerful options to build custom landing pages, attention-grabbing under construction pages, and coming soon pages.
The plugin offers some useful addons, including Unsplash.com addon, multilingual addon, and so on. You can build beautiful landing pages using the addons and the available themes.
Get started with SeedProd today.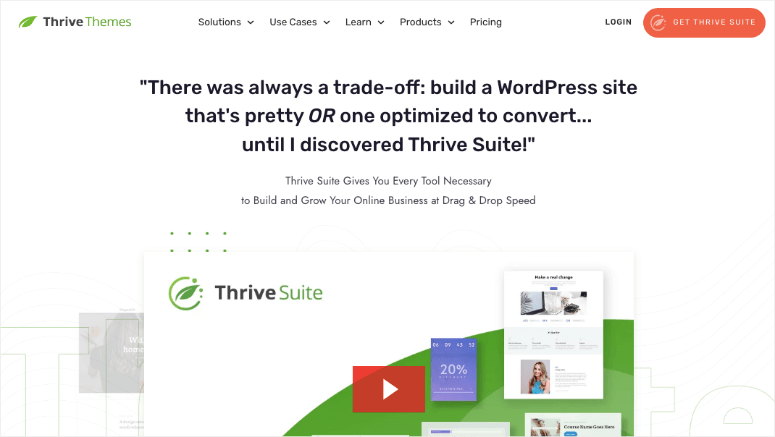 Thrive Themes is a suite of conversion-focused tools that include themes, theme builder, landing page builder, and more.
For instance, Thrive Architect is the fastest visual WordPress page builder. It lets you create beautiful content and layouts for your website.
This builder is focused on conversions. So any page you build can be optimized to drive maximum leads and sales.
With Thrive, you get an instant drag and drop editor. So you can just 'click to edit' anything you want. There are page templates that you can use that are responsive, beautifully designed, and fully customizable.
You can create professional-looking design for your site in no time.
Get started with Thrive Architect today!
Want more options? Check out the Best WordPress Landing Page Builders.
Step 5: Install the Perfect Plugins
In order to access free WordPress plugins to get you started, you can zip on over to the WordPress plugin repository via your site's dashboard.
Click on Plugins » Add New to get started.

From there, you can use the search function to find useful free plugins for your website:

Once you find something you like, Install and Activate it to test it out!
For your convenience, we've listed a few of our favorite plugins below.
The following is a mix of plugins every website should have, along with a few that will truly make your food or recipe website shine:

WP Tasty is hands down the best plugin to add recipes to your site. It's packed with such powerful features to make your food and recipe site look professional and give your user the best experience.
There are recipe card templates and layouts that you can use. This helps you add consistent formatting, clearly laid out recipes, an organized ingredient list, and step-by-step instructions to your site.
WP Tasty is a bundle of 4 plugins:
What we really like is the Google SEO Recipe Schema feature. This ensures every recipe you create is structured and optimized so that it ranks on Google. This will help you get more traffic to your blog.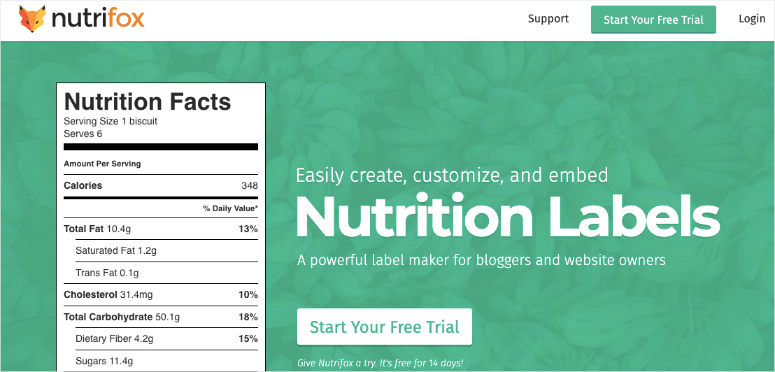 Need to make nutrition labels? Then Nutrifox is the plugin for you. Simply paste your ingredients and it will create a nutrition label for you.
The labels are customizable and responsive.
For more recipe plugins, check out 7 Best WordPress Recipe Plugins For Your Food Blog.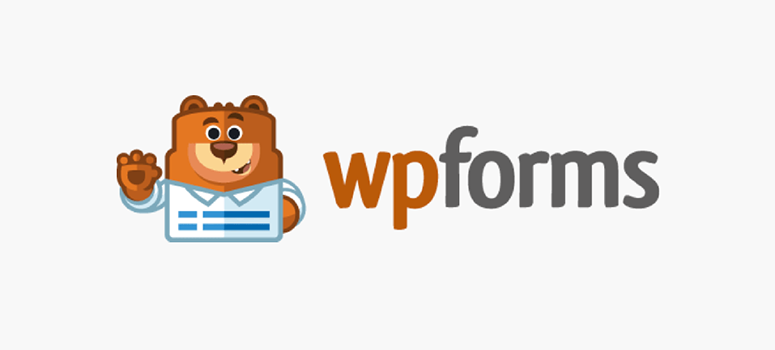 As the world's best contact forms plugin, WPForms is just what you need to get in touch with your readers and potential customers. Plus, with its Post Submissions addon, you can encourage your readers to send in their own recipes or blog posts to make sure you have a never-ending stream of content.
IsItWP readers get 10% off when they use the coupon code SAVE10 at checkout!
Get Started with WPForms Today!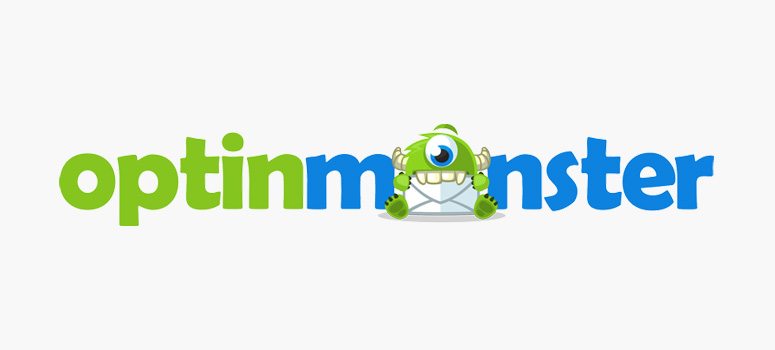 OptinMonster is the world's best lead generation tool on the market. With it, you can skyrocket your newsletter subscriptions, turn visitors into customers, and so much more.
If you have a product promotion, a freebie to give away, or simply want to snag some reader emails; OptoinMonster is the tool for you.
Get Started with OptinMonster Today!

Having a lot of traffic means nothing if you don't have in-depth data to analyze those visitors with. MonsterInsights is the perfect plugin to help you track, manage, and analyze your website's visitors.
In a few simple clicks of your mouse, you can connect your WordPress website to your Google Analytics account. From there, you can view all of the stats you'll ever need right from the comfort of your WordPress dashboard. No more having to go to third-party websites!
Get Started with MonsterInsights Today!

Food and recipe websites are all about imagery. Nothing quite sells a reader on a food blog quite like images of tantalizing, drool-worthy meals.
Unfortunately, pictures of amazing food dishes are often quite large and can slow down your entire website; which is bad for overall user experience. In order to combat this, we recommend using reSmush.it! This handy plugin shrinks your images, without sacrificing quality, so that they're instantly speed-optimized.
Get Started with reSmush.it Today!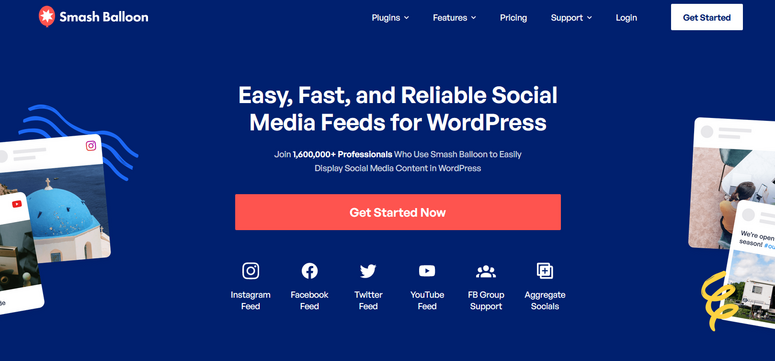 With Smash Balloon, you can easily embed social media feeds on your food and recipe website. For example, if you have a food Instagram account, you can add your Instagram feed to your website with just a few clicks. This lets you add additional content to your site and it helps grow your social media following too.
Aside from Instagram, you can also embed Twitter, Facebook, and YouTube feeds on your site with Smash Balloon. Plus, you can easily customize the feeds to match your brand.
Get Started with Smash Balloon Today!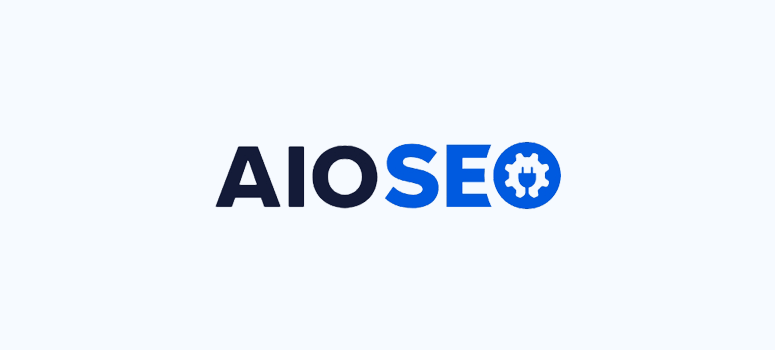 Search engine optimization (SEO) is important in order to rank on search engines and be discovered by your target audience. All in One SEO's setup wizard will automatically help you choose the best SEO settings for your site.
Plus, it will guide you through the search engine optimization process on your posts and pages, grading how well you used your recipe and food keywords in your written content. Not only will it score how well your content is optimized, but it will give you an actionable checklist of improvements you can make.
Get Started with All in One SEO Today!
We hope this article helped you learn how to create a food and recipe website in WordPress.
You may also want to see our guides: 7 Best Food Delivery WordPress Plugins (Compared) and How to Set Up Online Food Ordering for Restaurants.