Do you want to boost your email list signups? OptinMonster is the best conversion and lead generation tool on the market today.
In this OptinMonster review, we'll take a look at the plugin's features and what makes it the best lead generation tool for WordPress-powered websites.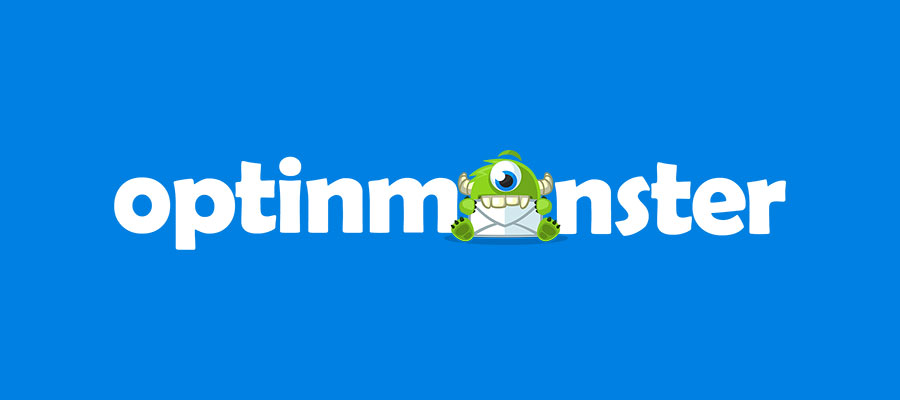 Why You Need a Lead Generation Plugin?
Email is the most cost-effective way to reach out to your users and customers. But you need to get your potential customers' email addresses first before you can send them any emails. Seems obvious, right? Of course, sending users unsolicited emails is called spamming, and using spammer tactics will be detrimental for your business and your website. You have to tread carefully.
This is why you see websites asking for your email address, and asking for your permission before engaging with you. Even large websites like Facebook, Twitter, and Instagram engage in cautious email marketing and want your email address. It really is the BEST, and the most powerful online marketing tool.
The problem is, adding a simple signup form to your website doesn't work very well on its own. Users often ignore those "basic" signup forms.
Without a lead generation plugin, 70-90% of people visiting your website today will never come back again. However, a properly-integrated and cleverly-used lead capturing plugin can help you convert those visitors into subscribers and paying customers.
OptinMonster Review: How It Helps You Grow Your Business
OptinMonster is more than just an optin & lead generation tool. It's a complete conversion optimization software that helps you grow your email list, plus increase sales and revenue.
Although you can find a lot of different use cases, in our review, we'll explain how OptinMonster can help you grow your business if you're a publisher or an eCommerce merchant.
OptinMonster for Publishers
If you're a publisher, below are a few examples of how OptinMonster can help you grow your business.
1. Grow Your Email List Rapidly
OptinMonster makes it easy to create an eye-catching optin form that converts. With its behavior detection technology, you can show the right campaigns at the right time to the right visitors. That way, you can ensure that your optin forms are displayed when your visitors are most receptive to subscribing to your email list.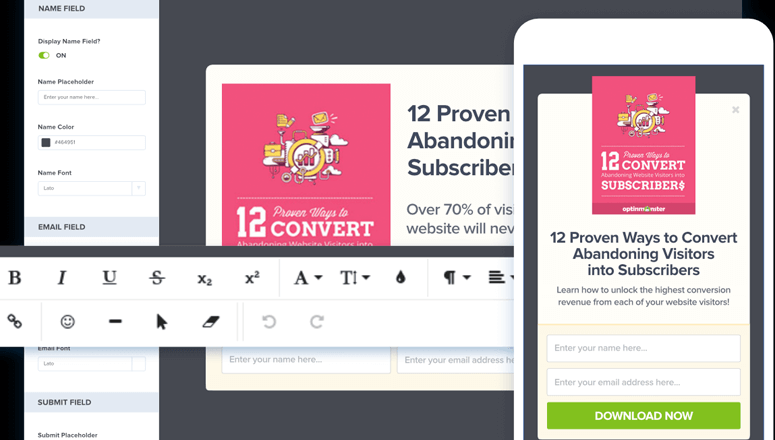 For example, if you were mentioned on a top blog in your niche, then perhaps you'd want a targeted campaign just for the people visiting from that particular blog. With OptinMonster, you can show highly-customized messages based on the referral source to turn your visitors into subscribers.
Similarly, you can run a targeted campaign based on the user behavior, page of your site, visitors' location and device (desktop, mobile, or tablet), and more.
2. Increase Pageviews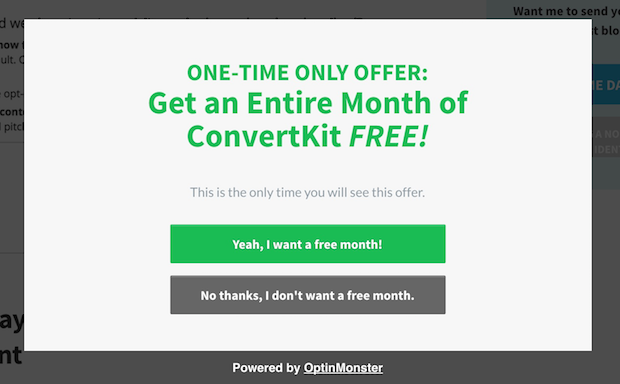 Aside from growing your email list, OptinMonster can help you grow your pageviews. It redirects your engaged website visitors to your most popular pages with their behavior detection rules combined with the Yes/No feature.
3. Turn Your First-Time Visitors Into Regular Visitors
Studies show that over 70% of first-time visitors will never return to your site. In most cases, this means that about 98% of your marketing efforts are going to waste and you're losing money in customer acquisitions as well.
With an email list, you can build a connection with your visitors and encourage them to visit your site more often.
Rather than sitting idly by while your potential customers leave your site, you can use OptinMonster to show a targeted campaign or popup form at the precise moment your visitors are about to leave. That way, you can convert an additional 2 to 4% of your first-time visitors into subscribers and possibly turn them into regular visitors.
OptinMonster for eCommerce Business
If you're an eCommerce merchant, below are a few ways OptinMonster can assist you in growing your business.
1. Reduce Cart Abandonment
Shopping cart abandonment is probably the biggest challenge eCommerce retailers have to tackle.
OptinMonster's exit-intent technology shows a targeted campaign to abandoning visitors and encourages them to convert before they leave.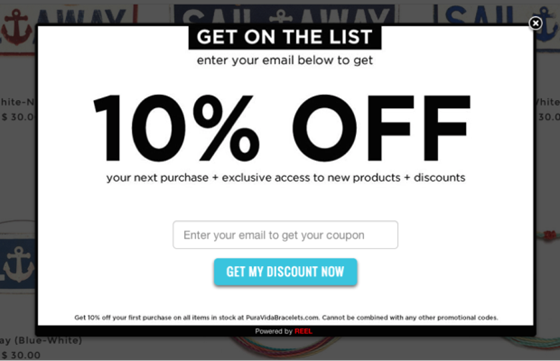 Below are a few campaign ideas you can display to your abandoning visitors:
An invitation to chat with a support agent
A special discount offer to encourage a purchase
An invitation to download your lead magnet by joining your email list
2. Grow Your Email List
Of course, growing an email list is vital for your eCommerce business. With OptinMonster, you can create highly-targeted campaigns to grow your email list and convert your subscribers into customers.
3. Onsite Retargeting
'Retargeting' is a buzzword in the eCommerce industry.
Traditional retargeting is offsite retargeting that targets your customers after they leave your site with personalized ads.
OptinMonster allows you to run onsite retargeting that targets your potential customers on your site before they leave by prompting a customized exit popup campaign.
The exit popup will be triggered at the precise moment your customers are about to leave.
OptinMonster for WordPress: Create Campaigns Within WordPress
OptinMonster is a standalone product, which means you can build conversion optimization campaigns on any website, regardless of which website platform you're using.
However, the new OptinMonster update for the WordPress plugin comes with the flexibility to create and manage your optin campaigns within the WordPress dashboard, so you don't need to switch screens to deploy your optin forms.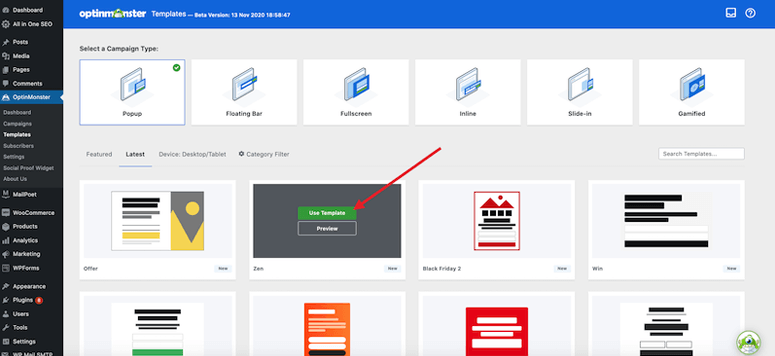 You can also monitor the performance of your campaigns, enable/disable an optin form, share campaigns, and more.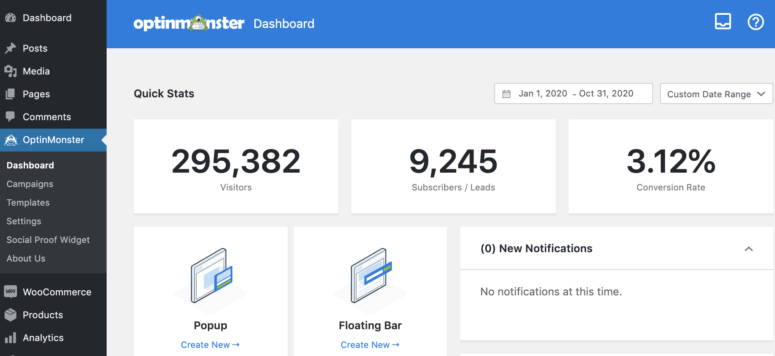 Among other things, the OptinMonster WordPress plugin lets you split tests your campaigns, preview the output, duplicate campaigns, and delete a campaign easily.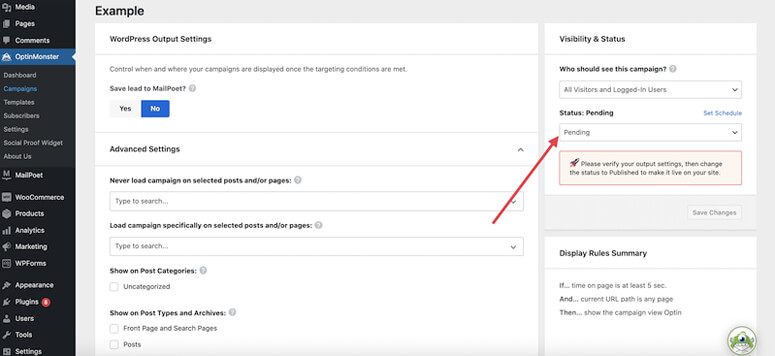 OptinMonster Pros and Cons
OptinMonster is the best lead generation and conversion optimization software on the market, but like every platform, it has its positives and negatives. Take a look at the pros and cons to decide if it's right tool for your needs.
Pros
1. Creating Beautiful Optin Forms with OptinMonster
OptinMonster comes with many different kinds of optin forms that you can add to your website.
Lightbox popups
Slidein Optin forms
Mobile-Friendly Popups
Below the content optins
Floating bar optin forms
Sidebar optin forms
and more
You can use templates or start from scratch. All these optin forms are endlessly customizable with the intuitive drag and drop builder. You can use your own colors, fonts, images, and text for all the optins you create.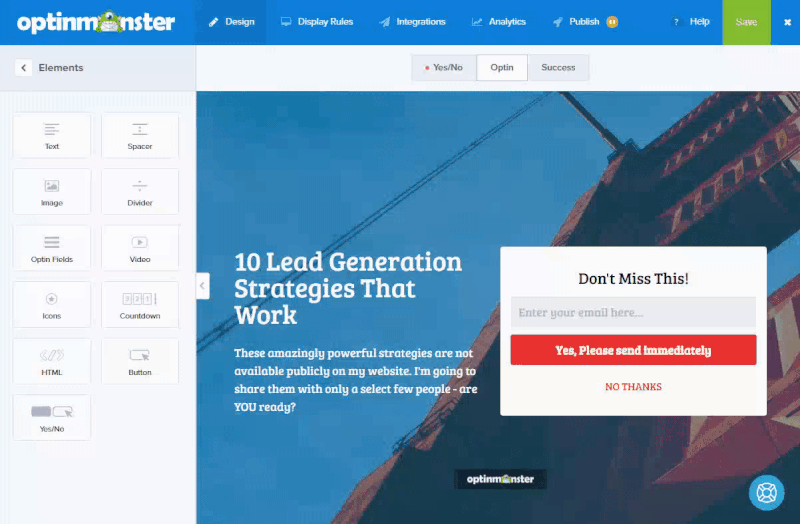 Using these optin forms, you can boost your email signups and get potential leads to increase conversions.
2. Optins That Actually Convert
OptinMonster offers an amazing set of features to boost your conversions with simple optin campaigns.
Exit-Intent™ Technology lets you show optin forms when a user is about to leave your website.

Scroll Based Triggers show a popup or any other optin form when a user has scrolled down a page.
Page-Level Targeting allows you to create targeted optins for different pages

A/B Split Tests lets you display different optin forms to find out which one gets the best conversions.
Time-Based Triggers show your customers a well-placed offer at just the right time during their visit.
Built-in Analytics shows how well your optins are doing. This helps you find out your best performers and optimize your strategy.
Geo-Location Targeting show campaigns that are targeted based on the geographical locations of your visitors.
MonsterLinks™ 2-step Optins display a popup form when a visitor clicks on an image or link.
InactivitySensor™ target inactive visitors and convert them into subscribers.

If you're new to all this, you can use playbooks from OptinMonster. These are ready-to-use campaigns that use the same strategies, rules, and structures that successful brands use in their marketing. So you're more likely to see high levels of success from your campaigns.

3. Fullscreen Welcome Gates with OptinMonster

Want to quickly get your users' attention? Nothing works better than a fullscreen call to action. It works great, and no other tool does it better than OptinMonster.

Most lead generation services on the market redirect users to a different page. This puts your site at risk of getting penalized by Google for using doorway pages.

OptinMonster displays a fullscreen welcome gate or interstitial without redirecting users. This is the safest way to display a fullscreen call to action to your users.

With OptinMonster's drag and drop builder, you can create highly-engaging welcome gates that will boost your conversion rates through the roof.

4. Clever MonsterLinks™ with OptinMonster

MonsterLinks™ adds a 2-step optin to any link or image on your website. It uses the psychology principle known as the Zeigarnik Effect which states that those who initiate are more likely to finish the process.

Since the user has already begun an action (by clicking the link or a button), they are much more likely to complete the action (subscribe) which makes MonsterLinks™ far more effective than any traditional subscribe form on your website.

5. Engage Users with MonsterEffects™ with OptinMonster

OptinMonster comes with a set of visual effects called MonsterEffects™ to make your optins look more engaging and interactive.

These effects help you catch your visitors' eyes and increase conversions by adding custom CSS effects in your popup. OptinMonster comes with dozens of built-in CSS3 animation effects that you can apply to your popups.

These effects are beautiful and are instantly noticed by users. They also make your popups appear lively and improve the user experience on your website.

6. More Conversions With Yes/No Forms

OptinMonster's Yes/No Forms can engage users with a multi-step form. A multi-step optin campaign can segment your users into two lead magnets, show relevant discount offers, redirect to pages based on user selection, and improve affiliate earnings.

OptinMonster lets you display Yes/No Forms with the Fullscreen Welcome Mat campaign to let visitors select their choices and visit the relevant landing page. This helps increase conversions and generates more revenue.

7. Better Email Deliverability With TruLead™ Lead Verification

TruLead™ is an AI-powered lead verification tool for checking email addresses that your users enter on optin forms. It analyzes each email address before adding it to your contact lists.

You can define custom rules and filters to verify leads. It lets you block domain names, IP addresses, strings, and characters. TruLead™ also prevents temporary and free email addresses that are used for spamming purposes from adding to the list.

Other than that, it autocorrects spelling errors for popular email providers, including Gmail, Yahoo, and so on. This way, you get the correct email addresses and an engaged email list, which is proven to improve your email deliverability rate.

The rejected leads will be available for you to review for up to 30 days before they get deleted permanently from your OptinMonster account.

Cons

Now that you know the top features of OptinMonster, let's take a look at some of the downsides.

1. No Free Plans

One of the goals of OptinMonster is to make an enterprise-grade lead generation solution accessible to websites of all kinds.

Even though OptinMonster doesn't have a free plan, compared to their competitors with similar feature-set, OptinMonster is the most affordable lead generation solution on the market.

However, if you're after a free lead generation tool, OptinMonster isn't the right tool for you.

2. OptinMonster is Not a WordPress-Specific Product

OptinMonster is a standalone product, meaning you can build campaigns on any website platforms, like WordPress.com, WordPress.org, Blogger, Shopify, Joomla, and so on.

With that said, with OptinMonster plugin 2.0 update, it lets you build and manage campaigns right within your WordPress dashboard.

On top of that, unlike other WordPress-specific popup tool, OptinMonster doesn't consume your website hosting bandwidth to load the campaigns. Why? Because OptinMonster campaigns are hosted and loaded from OptinMonster's best-in-class hosting servers. Even during a traffic surge on your site, you can rest assured that your campaigns will always be up and running and won't crash your site.

How Does OptinMonster Stack Up Against the Competition?

OptinMonster is the best product when it comes to lead generation. Let's take a look at a few areas where OptinMonster excels in comparison to other lead generation tools.

1. Loads of Features

Some cool features of OptinMonster are:

Drag and drop builder: The powerful drag and drop builder makes it easy to build stunning optin forms in minutes.
Campaign types: OptinMonster comes with 8 different campaign types to display the most attention-grabbing offers to your visitors such as lightbox popup, full-screen welcome mat, slide-in scroll box, floating bar, countdown timer, etc.
Campaign triggers: Using smart campaign triggers, you can display the right campaigns to the right person at the right time. OptinMonster provides more campaign triggers than any other lead generation solutions such as exit-intent, scroll trigger, inactivity sensor, etc.
Targeted campaigns: In addition to detecting user behavior, OptinMonster lets you create targeted campaigns based on the traffic source, the page or section of your website, geographical location, and devices of your visitors.
Seamless integrations: Integrating your favorite email marketing services with OptinMonster is a breeze.
Actionable Insights: OptinMonster provides you with detailed stats that help you identify how well your lead generation campaigns are performing. You can also easily A/B test your lead generation ideas and stick to what works best with your audience.

2. Easy to Use

OptinMonster makes it easy to build a lead generation campaign even if you're an absolute beginner. If you can point and click, then you'll be able to create beautiful optin forms, no design or coding skills required.

Its interface is tidy, which makes creating optin forms much easier than any other tools. On top of that, the built-in templates make it easy to get started, so you don't always have to start from scratch.

It also provides seamless integration with your all favorite email marketing services, so you can easily build a lead generation campaign that converts.

3. Perfect for Businesses of All Kinds

OptinMonster comes with all the features you can expect from a lead generation tool. Whether you're a publisher, eCommerce merchant, B2B business, or any other marketer, you'll find OptinMonster immensely useful alike.

4. High Performance

Since OptinMonster is a hosted platform, it doesn't consume server resources like other popup plugins that are built for WordPress. That means high performance is always assured without slowing down your site.

Check out these best WordPress popup plugins.

OptinMonster Pricing & Support




Basic: The pricing for OptinMonster starts at $9 per month for a single site license with all the basic tools.

Plus: Their Plus plan costs $19 per month which includes everything in the Basic plan, plus features like InactivitySensor, Attention Activation, Content Locking, and MonsterEffects.

Pro: Their most popular Pro plan is priced at $29 per month, which provides access to every feature available for 3 sites. This plan also includes advanced features like exit-intent technology, MonsterLinks, and referrer targeting. Plus, you can use a custom domain.

Growth: The Growth plan supports 5 sites, includes everything in Pro, and is best for eCommerce sites. You get access to coupon wheels, scratch 'n' win campaigns, and eCommerce targeting. It also includes eCommerce integrations like Shopify, WooCommerce, BigCommerce, Easy Digital Downloads, and more.

You also get access to activity logging and client login details for $49 per month. Plus, you can use custom branding to make the app looks like it's your own.

As a paid solution, OptinMonster comes with premium support through a ticket-based system. The response time for tickets is incredibly fast. They have their own in-house support team consisting of experts who are well-versed in the product and the conversion needs of their customers.

There's also extensive documentation available for those who want to do things on their own. This includes tutorials, how-to guides, and videos.

Our Verdict on OptinMonster as the Best Lead Generation Tool

OptinMonster offers the most comprehensive set of features offered by any conversion optimization/lead generation tool on the market.

In terms of ease of use, it easily outshines every other tool we've ever tried. It's incredibly easy to use and works with all the popular email services, CMS, and eCommerce platforms.

We can confidently say that OptinMonster is the best lead generation and conversion optimization tool. We give it 5/5 stars, here is the breakdown of our review score:

Get OptinMonster Now » See OptinMonster Coupon »