Do you want to know if the WP Tasty plugin is right for you?
WP Tasty is a smart solution for food bloggers to display recipes, roundups, and more. It makes it easy to monetize your blog as well.
In this plugin review guide, we'll explore what WP Tasty has to offer and how you can benefit from it.
Why Choose WP Tasty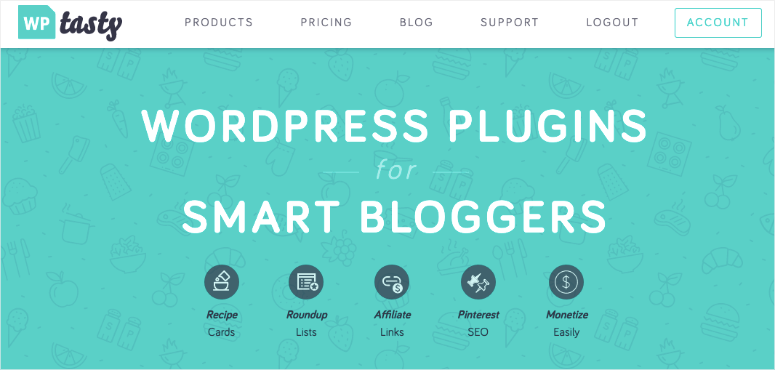 WP Tasty is hands down the best WordPress solution for food bloggers. It's easy to use so new bloggers can get started with no web design expertise.
Not just that, it helps you grow your traffic, monetize, and customize your blog the way you want.
WP Tasty is a bundle of 4 plugins:
WP Tasty works seamlessly with the block editor as well as popular WordPress builder plugins like Elementor.
WP Tasty is trusted by some of the biggest names in the food blogging industry including Sally's Baking Addiction, Pinch of Yum, Fit Foodie Finds, Cookie + Kate, and Gimme Some Oven.
That said, let's take a look at what each of the plugins has to offer.
WP Tasty Highlights
Since WP Tasty consists of 4 plugins that can be bought separately or as a bundle, we'll cover them one by one so that you get a clear breakdown of what each plugin offers.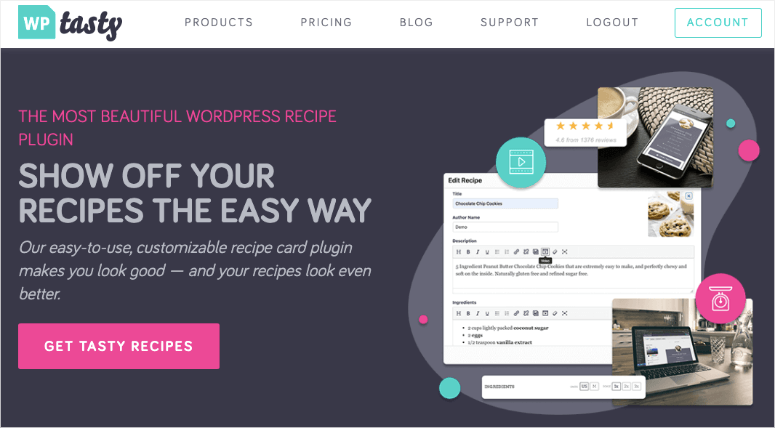 Every time you publish a recipe, you can give your readers an experience they'll savor for a long time. With Tasty Recipes, you can create this seamless user experience using beautiful recipe formats.
There are 6 beautiful recipe templates that are responsive so they look good on all devices. Added to this, the plugin auto-picks up the styles from your theme to make your recipe cards fit right into your site.
With consistent formatting, clearly laid out recipes, an organized ingredient list, and step-by-step instructions, it can also make it easier for the user to find exactly what they're looking for faster.
You only need to install this plugin once and set it up. After that, you can keep adding new recipes within minutes.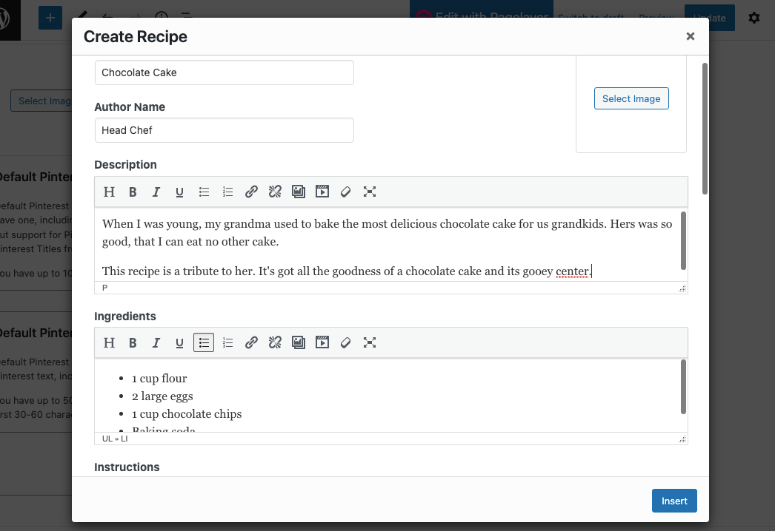 Here are a few highlights that you'll love:
Showcase user star ratings
Unit conversions from US to metric units
Video integration
Complete nutritional data
Jump to recipe shortcut button
Custom, share, print, and save buttons
Recipe scaling
Ingredient checkboxes
Copy ingredients to clipboard
Custom translations
Social icons
And there's more. Tasty Recipes makes it easy to optimize your recipes for SEO. Behind the scenes, the plugin uses JSON-LD structured data to provide an in-depth view of your recipe to search engines, including Google Search and Pinterest. Using schema and aiming for rich snippets can get more visibility on search engines.
The plugin is lightweight so it doesn't load your site. This keeps your site functioning at optimal speed so that your readers get the best experience.
For more on SEO, see our guide: The Complete Beginner's Guide to WordPress SEO. This will help you make sure your metadata, schema markups, and other aspects of your site are optimized for search engines.
Next, WP Tasty integrates with Nutrifox making it easy to create and display beautiful nutritional data labels on your recipes complete with serving size, calories, proteins, carbs, and so on.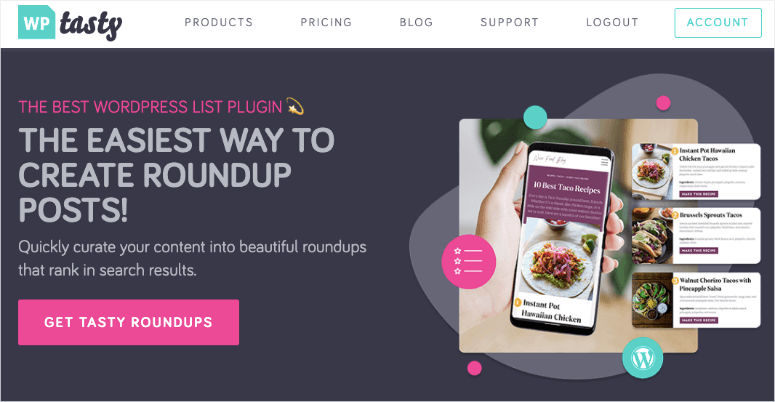 If you want your blog to get to the top ranks of Google and stay there, you have to publish fresh content regularly.
Now, this can be tough to do especially if the food blog is a side hustle, as it is with many.
One of the best ways to put out fresh articles is to do roundups of your recipes. For instance, the 10 best Mexican dishes or the 5 best chocolate pie recipes.
If you have to sit down and put these together manually, it could take up a lot of your time. This is where Tasty Roundups comes in.
It has a built-in search function that automatically pulls post images, titles, descriptions, and links to your roundups.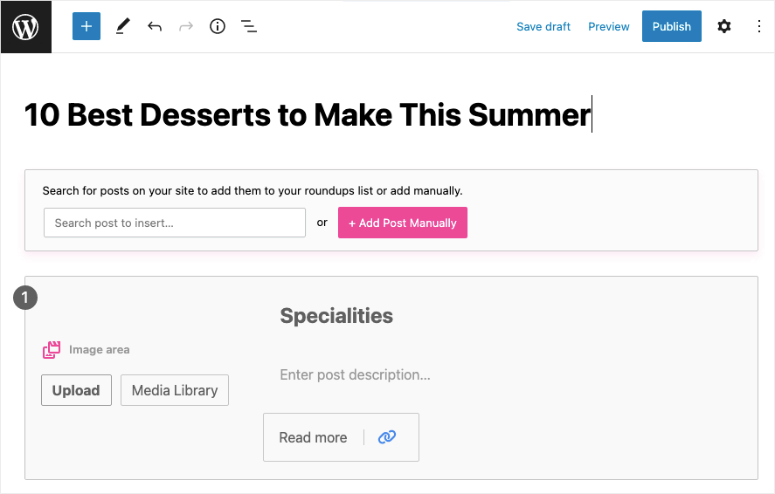 There's no manual copy-pasting involved! It's fast and easy.
The best part is the plugin makes sure your roundups look professional with consistent formatting, simple design, and clear links to source posts.
Here are a few highlights that you'll love:
Unlimited roundups
Unlimited listicles
3 layout options
Autofill images and content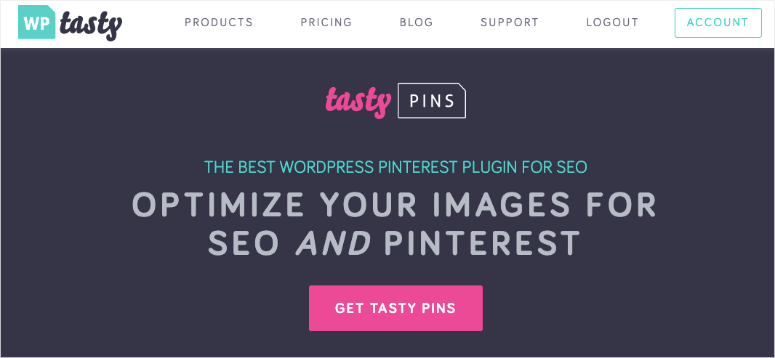 Pinterest is one of the biggest sources of traffic for food blogs. If you aren't already on Pinterest, you need to sign up now. People looking for creative ideas for food, recipes, and related stuff are on Pinterest. So that's one of the best places to get new readers for your blog.
The WP Tasty Pins plugin helps you seamlessly connect your blog with your Pinterest account. Then you can use its powerful features to grow your blog and get more engagement.
So for instance, you can add hover buttons to your images. Then when a reader scrolls over the image, they'll get a reminder to save or 'pin' image.
After they pin image, there's also an option to add a Pinterest follow box. Like this, you can boost your followers in so many different ways.
Next, you can optimize and boost images for SEO and Pinterest. You can set descriptions for your images that will perform well in Pinterest searches.
You can also include hashtags, keywords, and alt text in posts and images so that your posts are optimized for both Pinterest and search engines.
Tasty Pins lets you control which images are shown or hidden on Pinterest. This way, if your image isn't perfect for Pinterest, you can just hide it from your Pinterest page with the click of a button.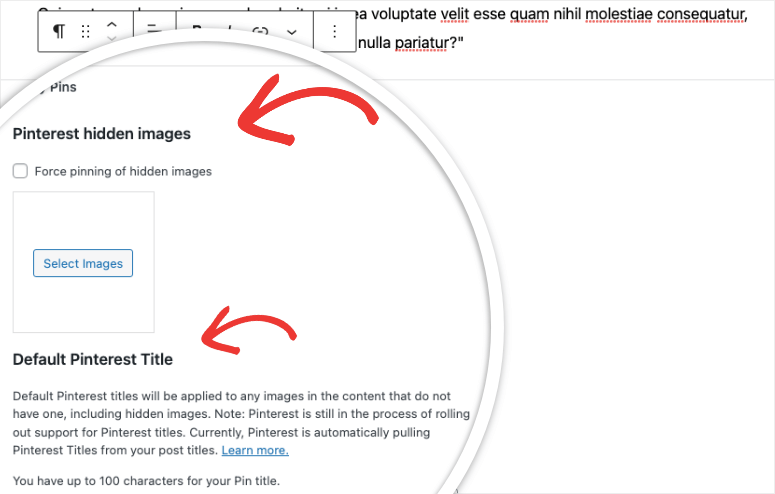 Here are a few highlights that you'll love:
Save button on images
Pin hidden images
Follow box after pinning
CTA banner on first image
Custom descriptions for browser extension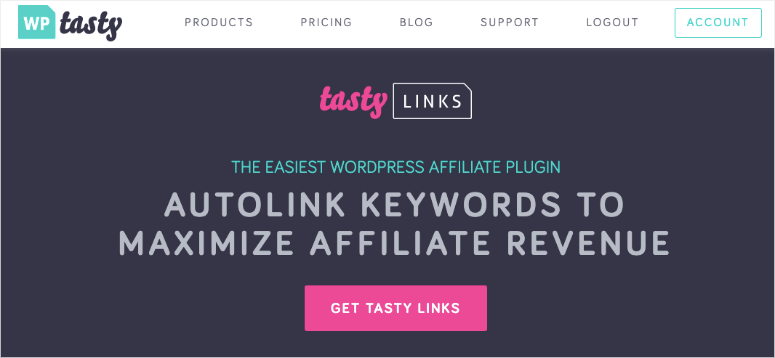 Tasty Links makes it easy to autolink keywords to affiliates. You can select URLs, and then have the keywords inside those posts automagically linked to the correct affiliate.
This helps you promote affiliate links better to maximize your revenue. Plus you can add 'nofollow' and 'sponsored' attributes for these links. You can also add a piece of disclosure text where needed.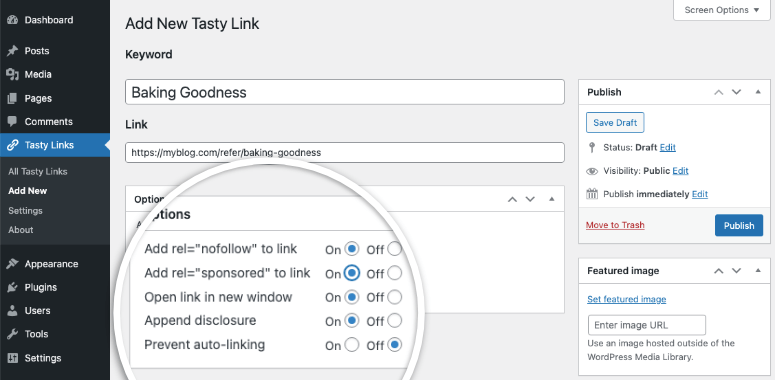 You can also link to Amazon affiliates and the plugin will automatically pull the image into your Tasty Link.
The plugin even gives you granular control so you can make sure links don't show up in certain parts of your post.
Now Tasty Links doesn't have to be just about affiliate links. If you've published an awesome guide or a page that you want to promote, you can create an autolink for it.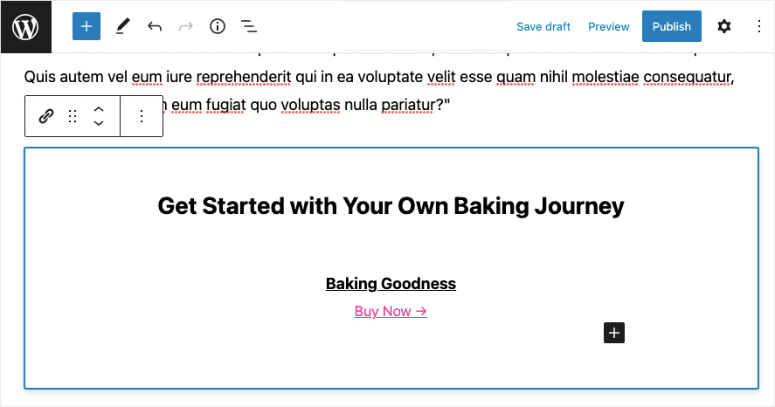 Then when you're creating new posts, you can autolink that page easily.
WP Tasty Pricing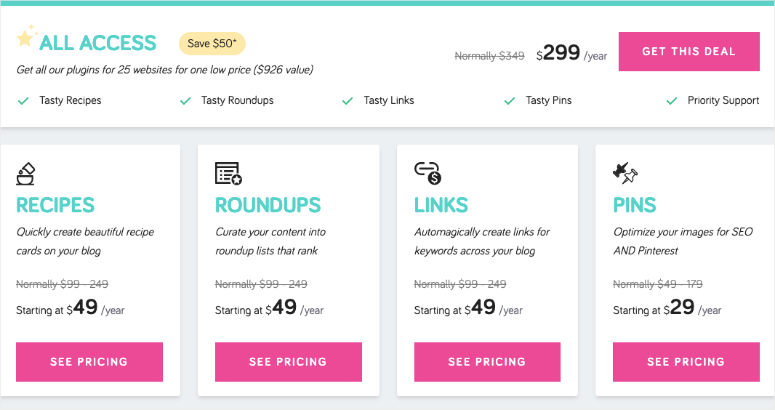 WP Tasty lets you buy a bundle that can be used on multiple WordPress websites or you can pick up plugins individually.
All Access: $299 per year. You get access to all Tasty plugins that can be used on 25 websites.
Tasty Recipes: $49 to $199 per year
Tasty Roundups: $49 to $199 per year
Tasty Links: $49 to $199 per year
Tasty Pins: $49 to $199 per year
There's a 100% no-risk money-back guarantee for 14 days.
WP Tasty Support & Documentation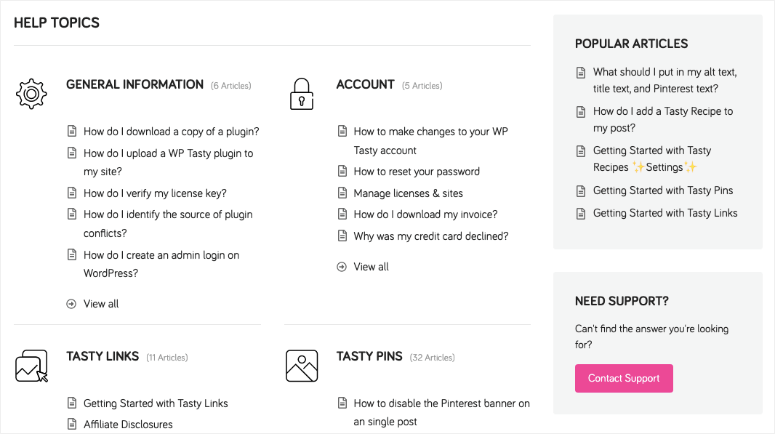 WP Tasty offers unmatched customer support. You can connect to a real person and get the answers you need as soon as possible. This personalized support is offered from the day you buy or install the plugin.
WP Tasty is also well documented. You can visit their help section to get answers to general queries you may have about your account or any of the plugins.
Added to all this, the team is active and constantly innovating to add new features and improve the software.
Verdict: Is WP Tasty Plugin Worth It?
After reviewing and testing out the plugin for ourselves, we can say with confidence that WP Tasty is the best plugin out there for food bloggers. It's packed with such powerful features to make your recipe site look professional and give your user the best experience.
Most importantly, you need a plugin like this if you want to monetize your site through affiliate marketing. If you're worried about making a big investment, you could start with one of the plugins that interest you the most.
You might also want to check out our roundup: 7 Best WordPress Recipe Plugins For Your Food Blog. You could also follow our beginner's tutorial: How to Create a Food & Recipe Website (and Make Money).
Here's a breakdown of our WP Tasty Rating:
Get WP Tasty »