Are you looking for a social media feed plugin that works seamlessly with your WordPress website? If so, you're in the right place.
Whether you run an online store, have a blog, or simply want an efficient way to merge your social channels together, Smash Balloon is the solution for you.
About Smash Balloon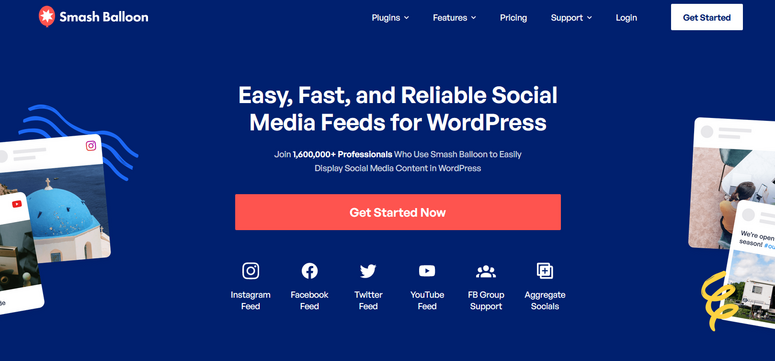 Used by more than 1,750,000+ users worldwide, Smash Balloon has become the #1 social aggregate plugin for WordPress users. Its powerful features and beginner-friendly interface make it the perfect solution for site owners, entrepreneurs, bloggers, and more.
Why Use Smash Balloon for Your WordPress Site?
There are several reasons why Smash Balloon is the perfect solution for your site.
1. Build Social Proof
To improve conversions and boost sales, you need to convince your site visitors that your brand is worth their investment. The easiest way to do so is by adding social proof to your website, which includes ratings, reviews, testimonials, and user-generated content. Adding this content to your site boosts brand credibility and improves recognition for your business.
2. Boost Social Engagement
Displaying social media content on your site encourages user engagement. Your audience already hangs out on social media, which gives you the perfect opportunity to show them your social content and start a conversation. People are naturally more active on social platforms and are more willing to engage with brands and businesses there.
3. Save Time
Before, you'd have to manually publish new social content to your website every time you created a new post. But with Smash Balloon, social feeds upload straight to your site as you post them so you don't have to worry about giving your audience the latest. It also saves you time to spend more wisely elsewhere so you can take advantage of every minute you have to improve your business.
Smash Balloon Review – A Quick Glance at Each Product and Features
Smash Balloon gives users 5 different social feed plugin products to choose from: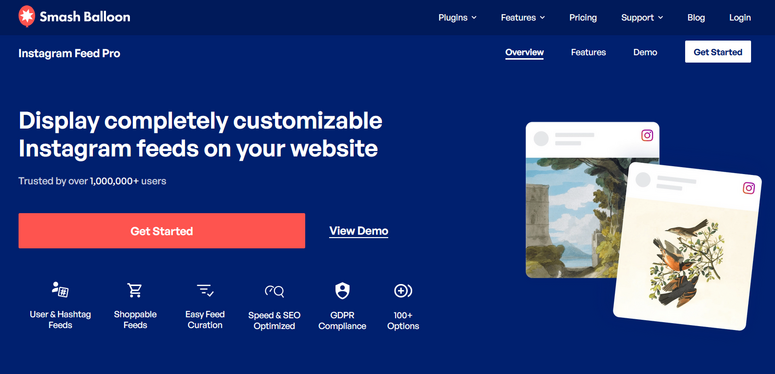 Instagram Feed Pro lets you add Instagram content to your website in real-time. You can display standard Instagram feeds, hashtag feeds, Instagram Stories and IGTV videos, tagged feeds, shoppable feeds, and more.
Plus, users can interact with your Instagram content, without having to leave your site.
Learn more here: How to Embed Instagram Feed in WordPress (With Share-Button)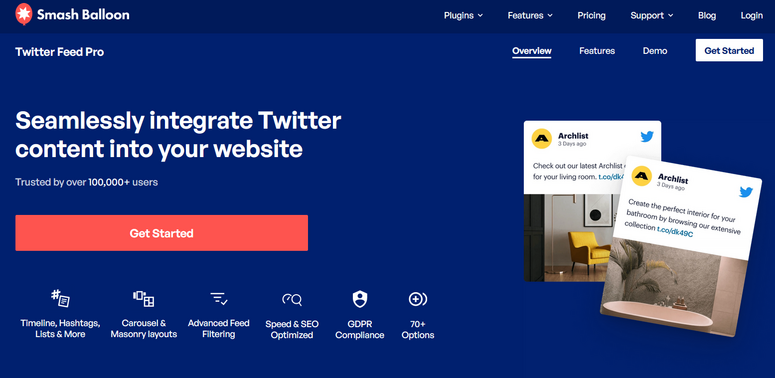 With Custom Twitter Feeds Pro, you can display live tweets on your site, create Twitter cards, combine multiple feed types, and more.
You can also create a feed of tweets that mention your account or use your branded hashtag. This is the perfect way to display social media testimonials on your site.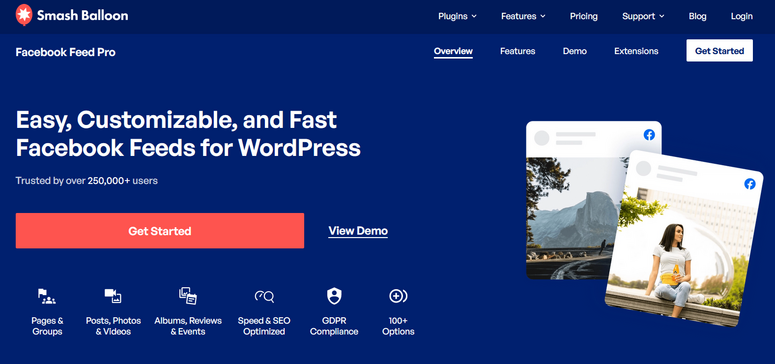 Custom Facebook Feed Pro lets you display Facebook statuses, photos, videos, albums, events, and more on your website.
You can also broadcast Facebook Live videos in your feed in real-time and showcase content from a Facebook Group.
Learn more here: How to Show a Facebook Feed in WordPress.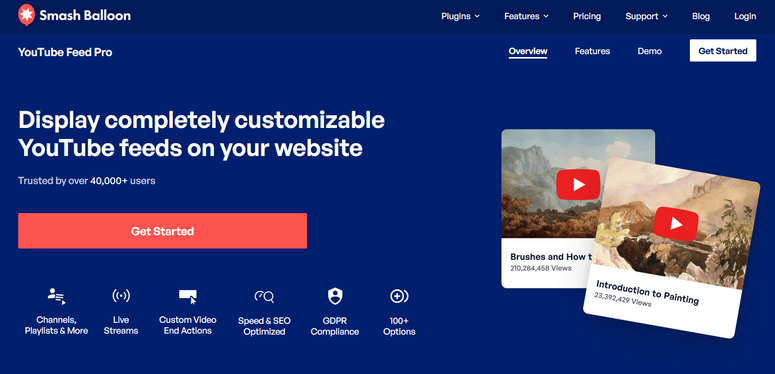 Use Feeds For YouTube Pro to display YouTube videos on your website from your channel or someone else's. Combine multiple feeds, display live streams in real-time, filter video content, and much more.
There's also custom pause and end actions. This lets you create an action, like displaying a link to a product page, when a video on your feed is paused or completed.
Learn more here: How to Embed a YouTube Feed in WordPress to Boost Engagement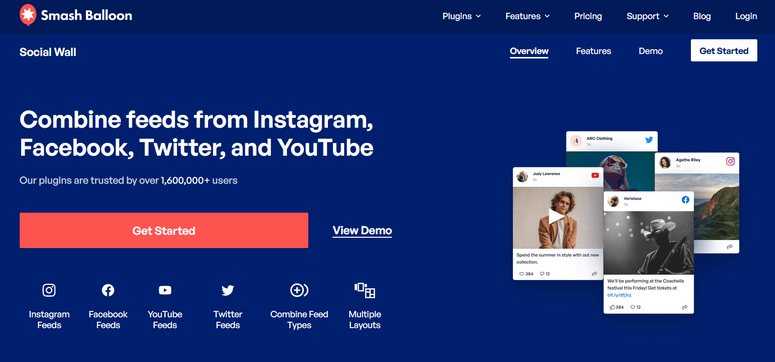 Social Wall Pro is a social media aggregator that combines all your channels into one social media wall on your website.
Depending on your active social media accounts and where your target audience spends time, you might only need a few of the above mentioned plugins. Or, if your audience and content are spread throughout channels, taking advantage of all of Smash Balloon's products might be the right move for you.
Smash Balloon's products are:
Easy to setup: It takes less than 5 minutes to set up and install Smash Balloon to your site.
Beginner-friendly: Because no technical knowledge is required, you don't need to mess with any code.
Responsive: Each plugin works seamlessly with any WordPress theme and any device so your content looks great no matter what.
Customizable: Smash Balloon feeds adopt your website's style by default so your branding and look isn't affected. It also comes with tons of customization options so your feeds look exactly how you want them.
Updated in real-time: Don't worry about manually updating and publishing the latest social content to your website because Smash Balloon performs real-time updates.
Installing and Activating Smash Balloon on Your WordPress Website
After you purchase your Smash Balloon product, download the file to your computer. You'll also be given a license key that you'll enter later to activate the plugin's features.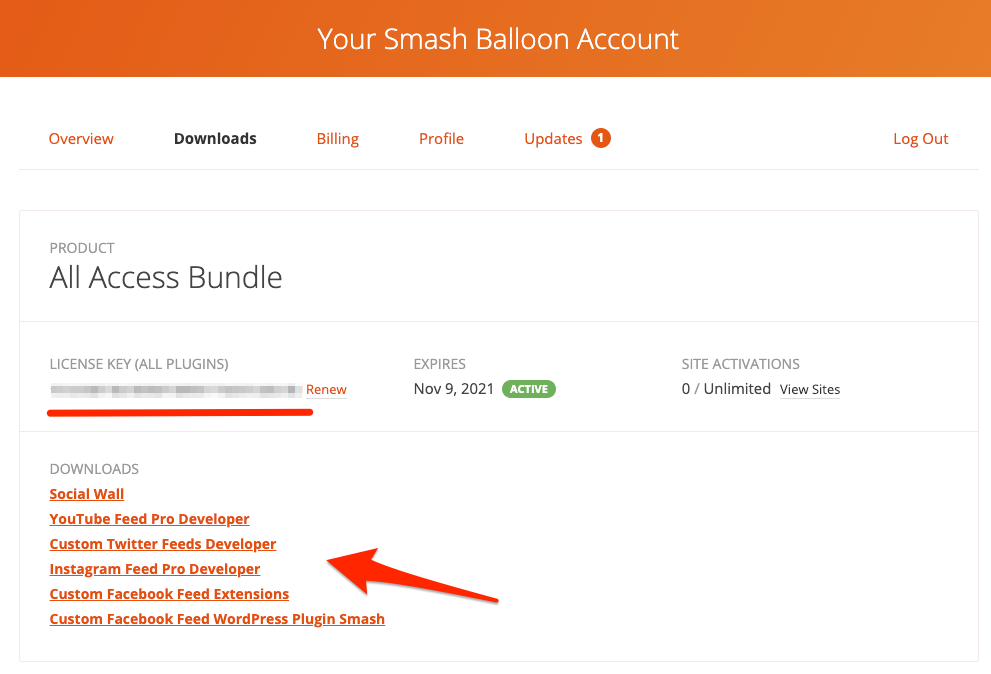 From your WordPress dashboard, go to Plugins > Add New.

Then, click Upload Plugin.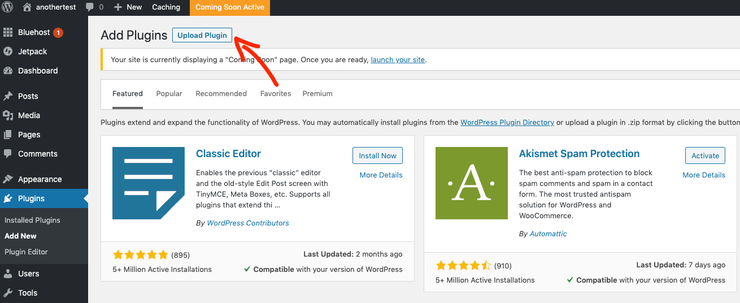 Choose and upload the file you just downloaded from Smash Balloon and click Install Now:

Click Activate Plugin: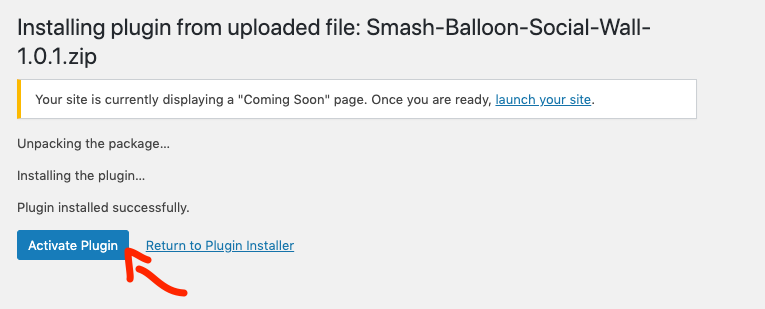 On the lefthand sidebar of your WordPress admin, you'll now see a new tab called Social Feeds. Click on that: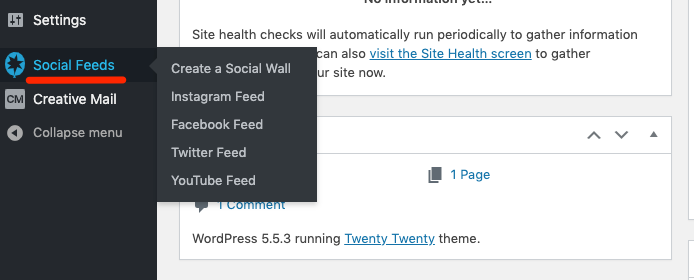 At the top, click the License tab:

Enter the license key you received earlier and click Activate License. Your license will now show as active. At the top lefthand corner, click the Configure tab: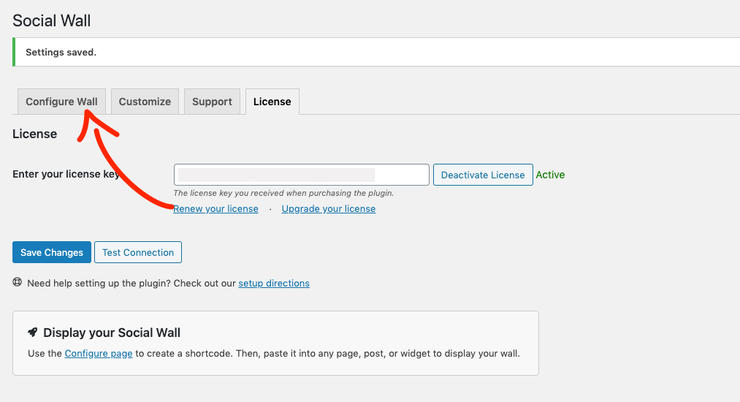 You can now connect your social media account to Smash Balloon and effortlessly stream your social content to your website.

Pricing for Smash Balloon
If you purchase one Smash Balloon product on its own, the prices are as follows for each plan:
Custom Facebook Feed Pro
Personal: $49 USD per year
Business: $99 USD per year
Smash: $199 USD per year
All-Access Bundle: $299 USD per year
Custom Twitter Feeds Pro
Personal: $49 USD per year
Business: $99 USD per year
Developer: $149 USD per year
All-Access Bundle: $299 USD per year
Instagram Feed Pro
Personal: $49 USD per year
Business: $99 USD per year
Developer: $149 USD per year
All-Access Bundle: $299 USD per year
Feeds for YouTube Pro
Personal: $49 USD per year
Business: $99 USD per year
Developer: $149 USD per year
All-Access Bundle: $299 USD per year
Social Wall Pro
Individual: $49 USD per year
Social Wall + Instagram, Facebook, Twitter, YouTube: $299 USD per year
Each pricing plan lasts for one year. At the end of your license period, you'll have to renew your subscription for the same price.
Our Verdict on Using Smash Balloon for Your WordPress Site
When it comes to social media plugins, it's clear that Smash Balloon is the top plugin option for WordPress. For most website and business owners, it's important to share social updates with their audience. Smash Balloon takes the pain out of the process and makes it easy even for the least tech-savvy people to create a website they're proud of.
Its smooth installation, beginner-friendly interface, and simplicity make Smash Balloon the best social media feed solution currently on the market. Its various pricing plan options make it a cost-effective solution for anyone wanting to improve their visibility, build brand credibility, and improve conversions.
Get Smash Balloon Now »