Looking for a slider plugin for your WordPress site? Soliloquy is one of the best WordPress slider plugins on the market. In this Soliloquy review, we'll take a look at its features, pricing, and performance.

About Soliloquy
Soliloquy was originally created by Thomas Griffin, the same mastermind behind OptinMonster, the best email marketing tool and Envira Gallery, the best WordPress gallery plugin.
Soliloquy's one of the most popular WordPress slider plugins in the official WordPress plugin repository with over 1 million downloads. Since its launch in 2012, Soliloquy has been helping bloggers, small businesses, and even Fortune 500 companies to create beautiful WordPress sliders.
In 2018, Soliloquy was acquired by Nathan Singh, an entrepreneur based out of Houston, Texas.
Soliloquy Review: Easy and Powerful WordPress Slider Plugin
Soliloquy is a 100% responsive and mobile-friendly WordPress slider plugin. It lets you create beautiful WordPress sliders in minutes, without having to hire a developer. They're also well-known as the fastest WordPress slider plugin on the market.
In our Soliloquy review, we've put their promises to the test, so you can decide if it's the right WordPress slider plugin for your site.
What's Wrong With Most Sliders?
The main problem with sliders is that they're too slow. A poorly-coded slider can significantly increase your page load time. As you know, speed is one of the most important factors in SEO. Not only can these inferior sliders hurt your site's SEO, they can also ruin the users' experience.
Another issue is ease of use. Most WordPress sliders are quite complicated and come with tons of options packed in a poorly-designed user interface. You'll have to struggle with the slider to get it done right.
In this Soliloquy review, we'll be looking at how fast it is and how easy it is to set up. We'll be also comparing features and pricing.
Easily Add Sliders in WordPress with Soliloquy
Soliloquy is, by far, the most easy-to-use WordPress slider plugin. It integrates beautifully with your WordPress user interface. Unlike some other slider plugins, Soliloquy feels like part of your native WordPress environment.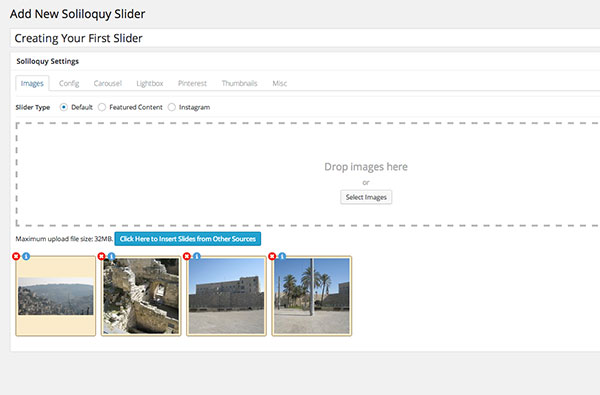 This is because Soliloquy uses the same best practices as WordPress itself. This makes it very standard compliant and easy-to-use for WordPress users.
Adding slides to your slider is incredibly easy. Simply upload your slides or choose them from your WordPress media library.
The configuration options are simple and straight-forward. Each option is clearly explained with contextual help.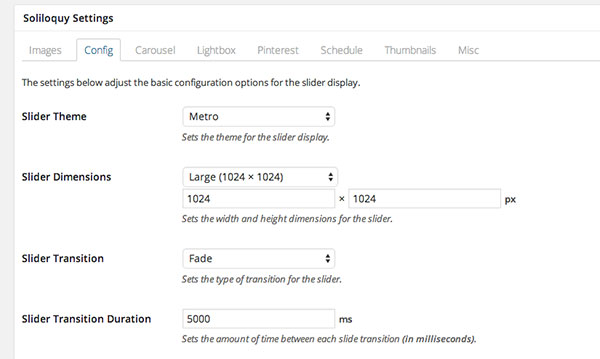 Adding your slider to any WordPress post and page is practically effortless. You can simply click on the button above the post editor to insert a slider. Alternately, you can also use the shortcode or template tags to add your slider anywhere.
For detailed instructions, take a look at this tutorial on how to easily create responsive slider in WordPress with Soliloquy
Blazing Fast Sliders with Soliloquy
The most amazing feature of Soliloquy is the speed. Sliders created with Soliloquy load incredibly quickly. The difference is clearly noticeable and will be appreciated by your users.
We didn't just stop there, we actually created sliders with the same images using other plugins and ran tests between them. Here are our results:
As you can see in the above scores, Soliloquy was the fastest-loading WordPress slider in our tests.
Soliloquy loads your cover slide first and then rest of the slides are loaded asynchronously. It's not just fast on tests, it feels fast to your visitors too.
Mobile Ready Sliders with Soliloquy
Soliloquy is responsive and mobile-ready out of the box. The sliders you add will look equally great on desktops, tablets, and even mobile phones.
Mobile users are quickly outnumbering desktop users for most WordPress websites. If you're using a slider plugin that doesn't work well with mobile then you're ruining user experience for a large number of your visitors.
Features and Addons in Soliloquy Slider
Soliloquy offers users a nice clean user interface free of clutter. Unlike other WordPress plugins that have too many options, Soliloquy offers extra features as addons.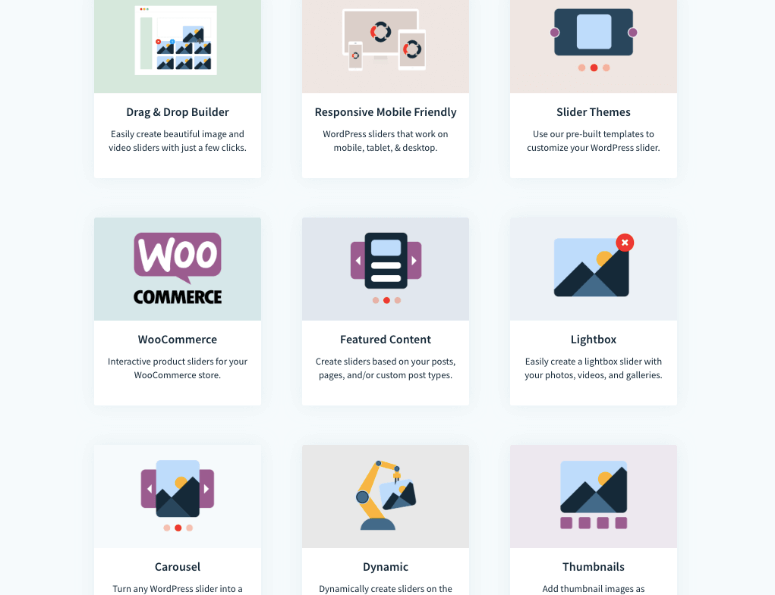 If you want to use an extra feature, then you simply activate it from the addons page. That way, you keep your slider interface clearer.
This approach also makes your sliders load faster. Because the plugin will only load the scripts it needs and not everything else that's packed in.
Here is a list of addons available for Soliloquy:
Multi-license addons
Slider themes: Choose from the list of pre-built templates to easily create your slider.
Schedule: Schedule your slides for specific time intervals.
Protection: Prevent users from downloading your slides by disabling right-click.
Instagram: Quickly import your images from your Instagram account.
Developer license addons:
WooCommerce: Sell more with interactive product sliders on your eCommerce store.
Featured content: Easily feature your articles on the homepage.
Lightbox: Create a lightbox slider with ease.
Carousel: Turn your slider into a responsive carousel.
Dynamic: Create sliders from various different sources.
Thumbnails: Add thumbnail images as navigation for sliders
Pinterest: Add a pin it button to your slider
PDF slider: Turn your PDF files into beautiful slides
Defaults: Speed up the creation process with your default settings.
CSS: Customize your sliders the way you want with custom CSS and styles.
3 Reasons to Purchase Soliloquy
Now that we've looked at different features of Soliloquy, you might be wondering whether Soliloquy is the best choice for your website. Here are a few factors that set Soliloquy apart from its competition:
1. Easy and Powerful
With Soliloquy, building a stunning image or video slider is a breeze. To create a slider, all you have to do is drag and drop the image or video files in the Native Slider box. Alternatively, you can choose External Slider if you want to upload images from an external source, such as Instagram.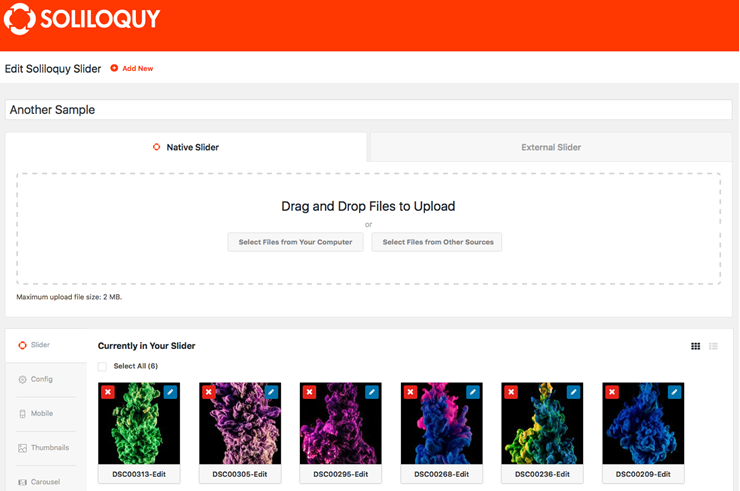 If you want, you can rearrange the images as needed and embed your slider anywhere on your website. Soliloquy also comes with many pre-made templates to enhance the look of your WordPress slider. You can even customize the slider with CSS.
2. Non-Bloated Plugin
Soliloquy comes with loads of features to help you create beautiful WordPress sliders the way you want.
To make the interface free of clutter, Soliloquy offers extra features as addons. Whenever you need an extra feature, you can activate it from the addons page.
3. High Performance
If left unoptimized, sliders can be a resource-heavy product on your site. This is why we recommend choosing a lightweight plugin that consumes minimal resources for creating a WordPress slider.
The Soliloquy plugin is highly-optimized for web and server performance. In fact, it's the fastest loading WordPress slider in our tests.
The core plugin only provides limited functionality to create a basic WordPress slider. Depending on your needs, you may want to opt for a higher license to get more advanced slider features and addons.
Support and Pricing for Soliloquy WordPress Slider Plugin
Pricing for Soliloquy starts from $17 for a single site license without any addons. Their Multi plan gives you access to basic addons for $44. But their best selling plan is priced at $89 for one year of support, unlimited sites, all the addons, and priority support.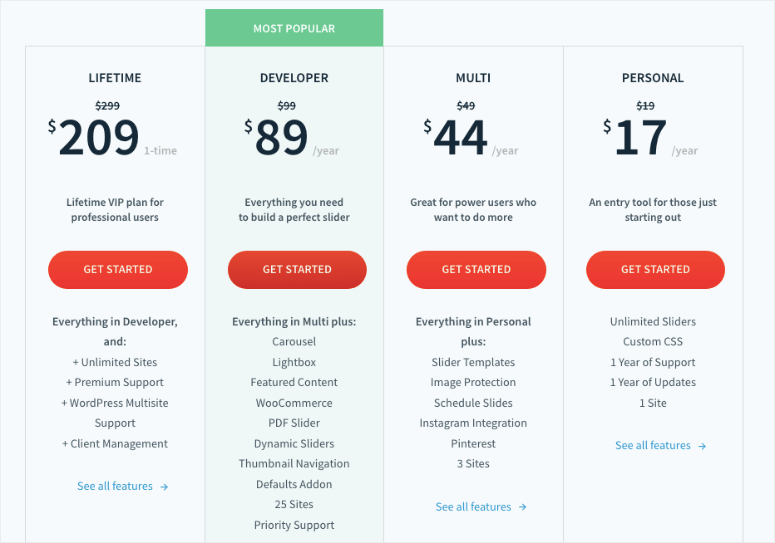 Soliloquy also has a master plan which gives you lifetime access to the plugin for $209.
There's a 14-day money back guarantee on all plans. We should also mention that prices may vary during sale periods like Black Friday, Christmas, and New Years.
Support is offered by a ticket-based email support system with great turnaround team. The plugin also gives you access to detailed documentation with step by step instructions and how to guides.
Our Verdict on Soliloquy as the Best WordPress Slider Plugin
Considering the bloat packaged in other slider plugins, we found Soliloquy to be a blessing. It's incredibly fast, has rock solid code, and a clean user interface. It's definitely 1 of the most easy-to-use WordPress plugins we've ever seen.
We think it rightfully deserves the title of the best WordPress slider plugin on the market. We give it 5/5 stars! Here's the breakdown of our review scores:
Get Soliloquy Now »