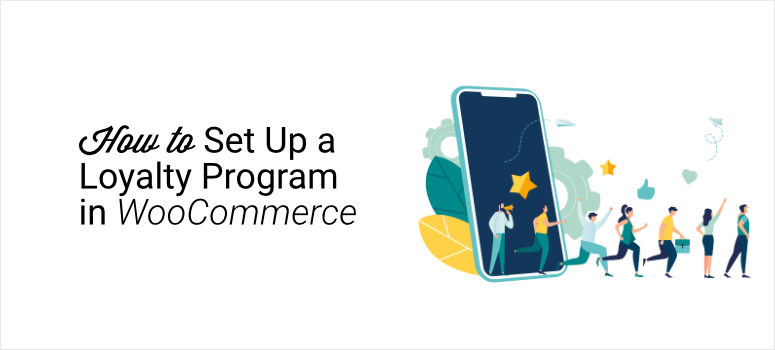 Are you interested in setting up a loyalty program in WooCommerce?
A loyalty program is a rewards program that companies create for repeat customers to collect points, earn discounts, and receive exclusive offers. You can reward them for certain actions like creating an account, purchasing an item, or spending a specific amount.
In this article, we're going to show you how to set up a loyalty program in WooCommerce. But first, let's look at why creating a loyalty program could be beneficial for your business.
Why Create a Loyalty Program in WooCommerce?
There are several reasons why creating a rewards program for your company could help you reach your marketing goals.
1. Strengthen Customer Relationships
Loyalty programs most benefit repeat customers who continue using them to gain rewards. The more they use your program, the more they interact with your business and add to its profits.
This leads to happy, healthy, and long-lasting customer relationships. The more satisfied consumers you have on your side, the easier it is to create relevant campaigns that gain traction.
2. Increase Sales
Rewards programs are great for eCommerce stores because they encourage customers to spend. Their efforts move their account toward a bigger reward, such as a free item or discounted offer, which further pushes them to buy your products.
When people know they're getting a good deal, it motivates them to take action and make a purchase. It's easier for consumers to feel good about their spending when they know they're receiving benefits in return.
3. Grow Your Customer Base
With so much competition out there, you need a reason for people to choose your business over others. When customers learn about exciting loyalty programs with special offers and promotions, they're quick to spread the word.
Word of mouth marketing is a quick and easy way to drive traffic to your business because people trust customer reviews. This type of social proof can rapidly increase your conversions and invite new customers to your company.
Now that we know why creating a loyalty program could help your business, let's go over how to set one up in WooCommerce.
Setting Up Your WooCommerce Loyalty Program
In this tutorial, we're going to set up a WooCommerce loyalty program using Advanced Coupons.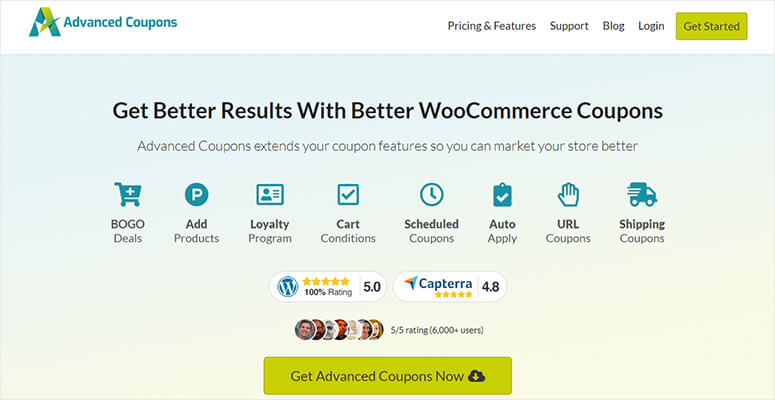 Advanced Coupons is the best coupon plugin for WordPress on the market.
It's easy to set up and can instantly help your business build a thriving rewards program.
First, you need to create an Advanced Coupons account and then download and activate the plugin. If you need help, check out our tutorial on how to install a WordPress plugin.
Once installed and activated, you need to enable the loyalty program module in Advanced Coupons.
From your WordPress dashboard, go to WooCommerce » Settings and click the Advanced Coupons tab:

Scroll down to the bottom of the page and check off the Loyalty Program checkbox. Click Save Changes:

From here, you can customize your program. Under the Advanced Coupons tab, click the link that says Loyalty Program:

Here is where you customize your loyalty scheme, meaning you choose how to reward your customers based on price and points.
The Price to points earned ratio automatically defaults to 1. So, the customer earns 1 point per $1 spent. Depending on your goals and what you want to achieve with your program, you can change this to any amount you'd like.
The Points to price redeemed ratio automatically defaults to 10. So, the customer needs to spend 10 points to get a $1 discount.
For this tutorial, we're going to customize these settings to give customers 10 points per $1 spent. But they need to save 100 points to get $1 off.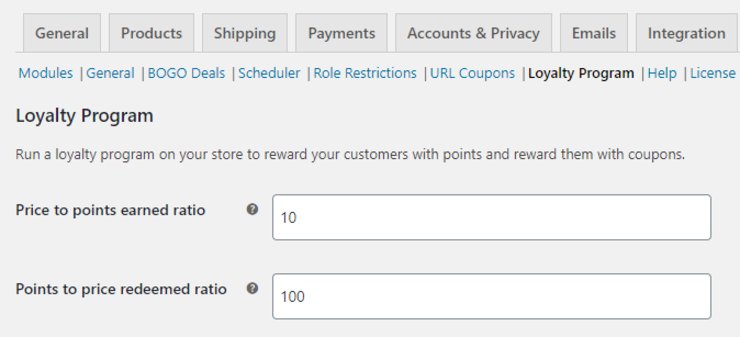 Now, you need to name your points:

Once you do that, your settings should look like this: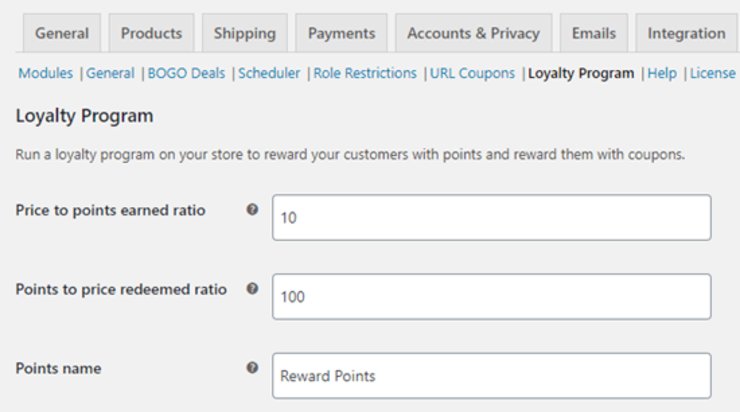 Next, you have to decide how you want to calculate the points in your program.
Advanced Coupons automatically takes discounts and taxes into account before awarding customers with points. You can also give customers points when they pay for shipping or other fees.

On this page, there are many settings you can customize to suit your needs. You can change the minimum amount customers need to spend to earn points, the minimum spend limits to redeem points, and when points expire.
You can also decide how customers who participate in your rewards program will earn points.
You can let your customers earn points by checking off any of the following boxes:
Purchasing products
Leaving a product review
Commenting on a blog post
Registering as a user/customer
After completing first order
Spending over a certain amount
Extra points to earn during period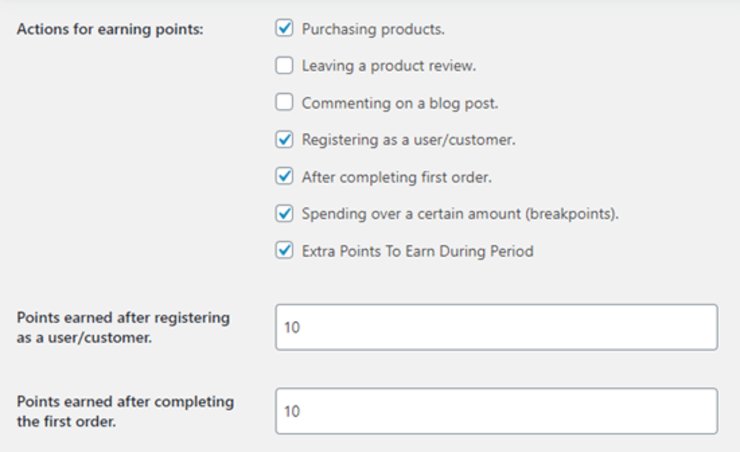 When you're done customizing your settings, click Save Changes at the bottom of the page.
Automatically Creating Customer Accounts
Your customers need to register for an account to be able to collect points from your program. If they choose to check out as a guest, they can't save their points.
You can set up WooCommerce to automatically create customer accounts once they make a purchase.
On your WooCommerce settings page, click the Accounts and Privacy tab: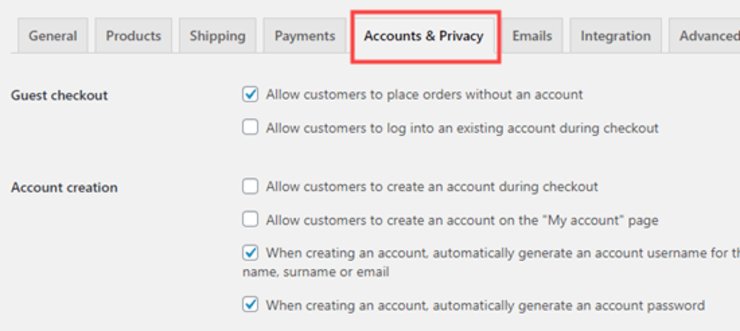 If you don't want customers to check out as guests, uncheck the box that says Allow customers to place orders without an account.

After customizing our settings, they look like this:

We want customers to be able to create an account during checkout and on the My Account page, so those boxes are checked off.
With these settings, customers will receive an email after checkout to give them access to their account.
Once you save your settings, your loyalty program is now set up and ready to go.
The WooCommerce Loyalty Program
When a customer reaches their cart about to make a purchase, they'll see how many points they're earning:

Once a customer has earned loyalty points, they can turn them into coupons to redeem. This is done under My Account » My Reward Points.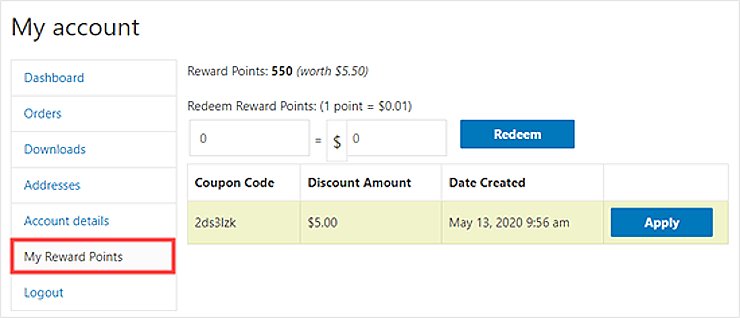 Customers can decide how many points they want to redeem as well as how much the coupon is worth. Clicking Redeem will create the coupon.
In this example, the customer created a $5 off coupon by redeeming 500 of their points. That means they have 550 remaining points to redeem.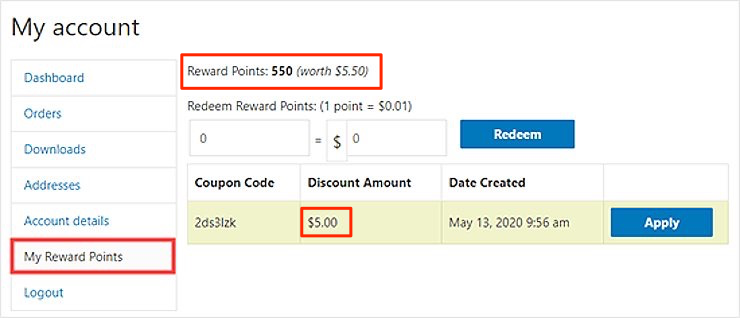 And that's all there is to it. You've now successfully set up a loyalty program for your WooCommerce store.
We hope you enjoyed this tutorial. Be sure to check out our post on the best WooCommerce wholesale pricing plugins so you can adapt prices and rewards for people who buy your products in bulk.