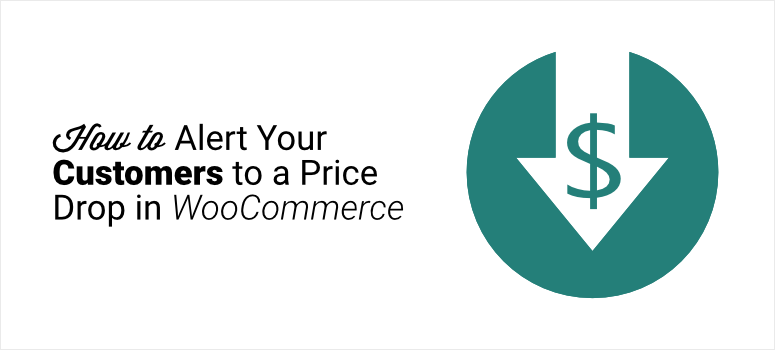 Are you looking for a way to alert your customers about a discounted price in your WooCommerce store?
Price drop campaigns show popup notifications when your brand reduces the price of a product. Sending your visitors alerts allows you to improve engagement and maximize sales on your website.
In this tutorial, we're going to show you how to alert your customers of a price drop in WooCommerce. But first, let's go over why doing so is good for your business.
Why Alert Customers About a Price Drop?
There are many benefits of using a price drop alert for your eCommerce store. Here are the top 3:
1. Re-engage Visitors
When customers receive a web push notification informing them about a price drop, it helps re-engage them. The notification leads back to your website which helps you improve engagement and collect user data.
2. Increase Revenue
If customers feel intrigued enough by your offer that they click through to your site, they're likely to make a purchase. This leads visitors through the sales funnel so your business increases its revenue.
3. Drive Traffic to Your Online Store
Visitors who receive an alert from your store have been waiting for a price drop. So when they finally receive a notification, they'll be quick to navigate to your online store. This increases your site traffic and increases your overall conversions.
Now that we know the benefits of using a price drop alert for your eCommerce store, let's look at how to make one for your WooCommerce site step-by-step.
How to Alert Your Customers of a Price Drop Using PushEngage
In this tutorial, we're going to alert customers of a price drop using PushEngage.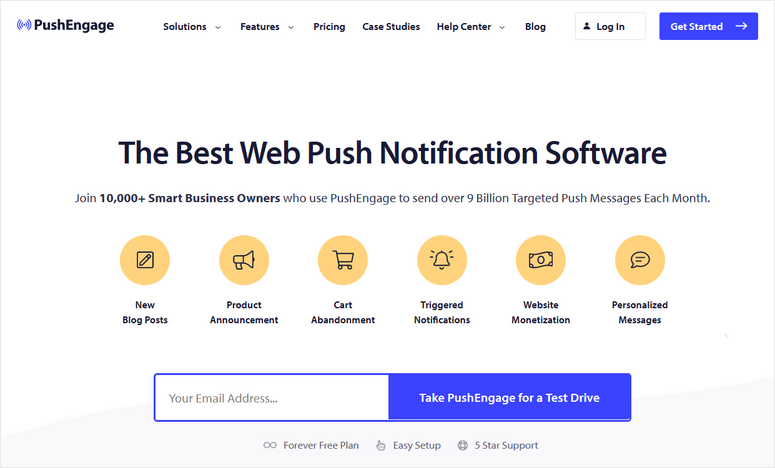 PushEngage is the best web push notification plugin for WordPress. It makes it easy to create web push notifications that appear on visitors' browsers and bring them back to your website.
With PushEngage's Enterprise plan, you gain access to its Price Drop Alert feature.
Customers choose their desired price range for a specific product. If that item's price drops, they receive a push notification alert that sends them back to that brand's website.
It takes as little as 15 minutes to create a Price Drop Alert campaign from start to finish. It's a quick and easy way to stay connected to your customers and encourage them to continue coming back to your website.
Let's get started on how to set up a price drop campaign for your website using PushEngage.
Step 1: Create a PushEngage Account
As previously mentioned, you'll need an Enterprise subscription to gain access to PushEngage's Price Drop Alert feature. You'll need to schedule a demo. This ensures that larger companies receive the proper estimate for their needs so they can reach their goals with the right plan.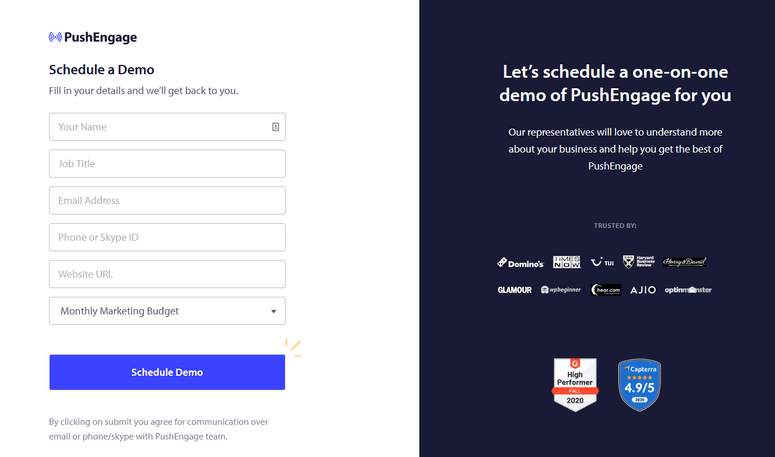 Once you submit your information, a member of the team will reach out to you to discuss your plan and the appropriate pricing.
Step 2: Create an Alert
After purchasing the Enterprise subscription plan, log into your PushEngage account. From the dashboard, navigate to Automation » Price Drop / Inventory Alert:

Then, click Price Drop / Inventory Alert:

You need to fill out the details of your Price Drop Alert campaign. This will determine how long the campaign lasts, daily and weekly trigger limits, campaign type, and campaign expiry:

For Campaign Expiry, you can choose a set number of days or a specific time to run a sale. The default is set to 30 days but you can change this at any time.
The Trigger Daily Limit determines how many notifications users will receive in a day.
The Trigger Weekly Limit determines how many notifications users will receive in a week.
In the section Send Notification if Price Falls By, you can alert customers based on a drop in percentage or a fixed amount. Simply click on the dropdown arrow to pick your preference:

In the next box, you can adjust the settings for the UTM parameters: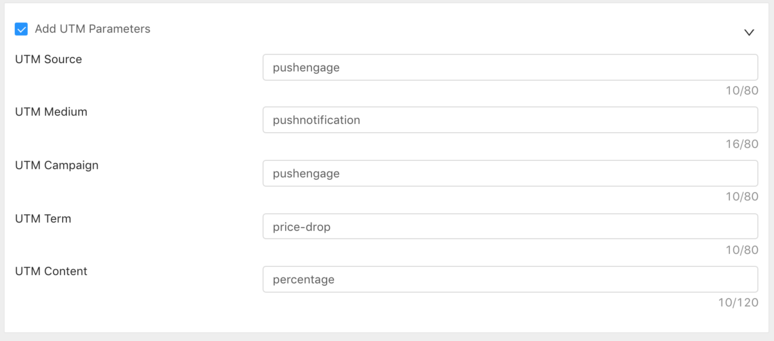 UTM parameters help you track your Price Drop campaign's performance so you can stay on top of your conversions. They're tags you add to your URL.
When a user clicks on that URL, those tags are sent back to Google Analytics for tracking. You can enable or disable this feature by checking or unchecking Add UTM Parameters.
In the next section, you can adjust your settings for the web push notification users receive when a product goes on sale.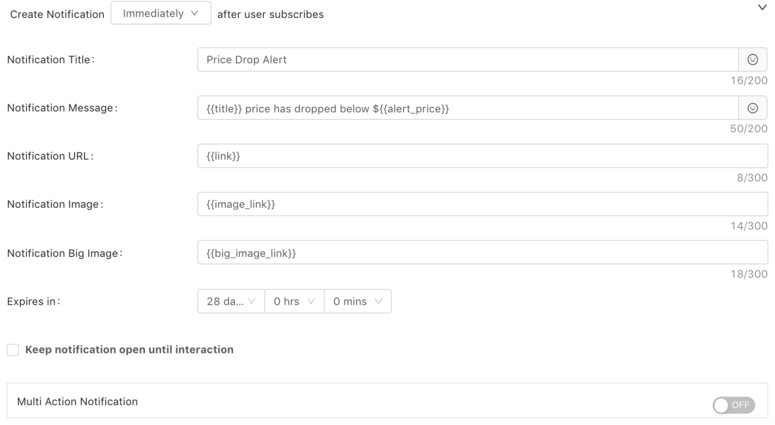 Here, you can change your settings, including:
Notification Title
Notification Message
Notification URL
Notification Image
Notification Big Image
When Campaign Expires
You can choose to show your price drop alert immediately after a user opts in or set a specific time:

When you click After, you'll be able to adjust your settings so your web push notification appears when you want it to:

Now that you've configured the settings for your Price Drop Alert campaign, it's time to add the code to your website.
At the bottom, click the button that says Your Code:

A popup will appear with the code you'll use to activate the price drop alert on your website. Click Copy at the top righthand corner. This will pass the highlighted views dynamically to match your settings: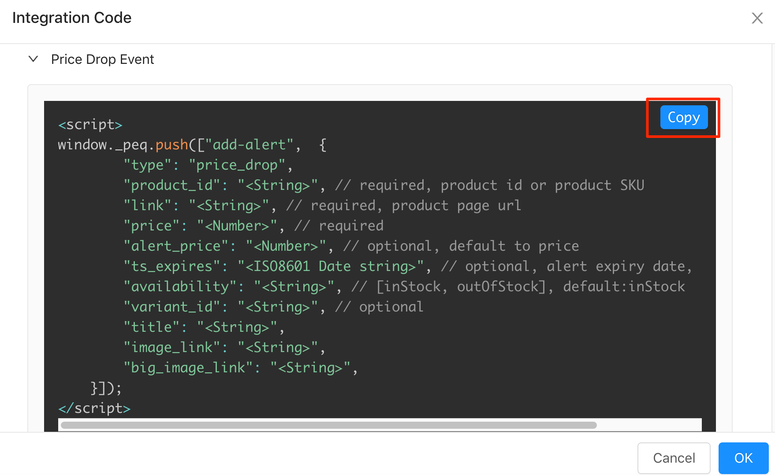 Click Create and Launch:

Your Price Drop Alert campaign is now live and ready to launch!
Step 3: Monitor Your Price Drop Campaign Analytics
Once your alert campaign goes live, it's important to track its performance so you know what's working and what isn't. Simply click on the name of your campaign to view its analytics:

Here, you can view analytics for your campaign including view count, click count, unsubscribed count, revenue, and more.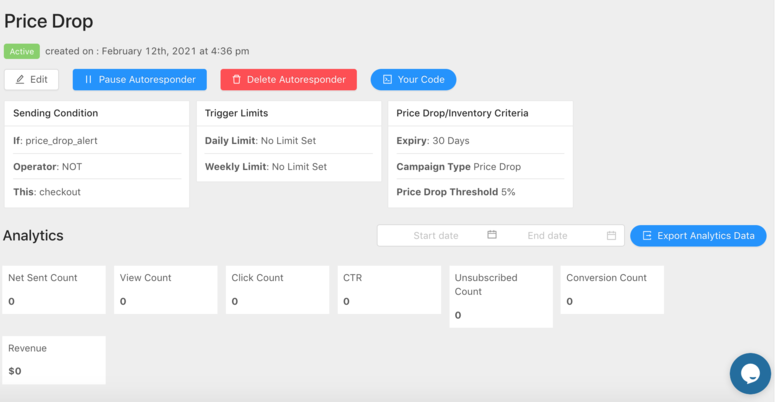 And that's it! You've now successfully set up and launched a Price Drop Alert campaign designed to bring customers back to your site and increase your sales.
We hope you enjoyed this tutorial. Feel free to check out our post on the best plugins for WordPress.
It breaks down the most popular plugins available to enhance your WordPress website and make more revenue from your WooCommerce store.