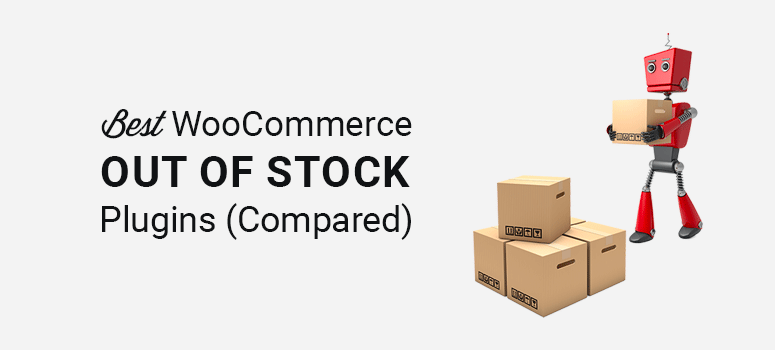 Are you looking for the best 'out of stock' plugins to manage inventory of your WooCommerce website?
When you run an eCommerce store, keeping track of inventory can be a challenge without a proper management system in place.
An 'out of stock' plugin will alert you when product inventory is reaching low levels so you can restock it in time. You can also use these plugins to alert customers about low stock to add a sense of FOMO (fear of missing out) to urge them to buy the product right away.
Added to that, these plugins make it easy for customers to sign up to be notified when the product is back in stock. This helps you delay a sale instead of losing out on it due to no stock. Plus, you can gauge demand for a product and restock inventory accordingly.
There are dozens of WordPress plugins that you can use to manage your products and keep users posted about a product's availability.
In this article, we'll share our pick of the best 'out of stock' plugins for WooCommerce stores.
Best 'Out of Stock' Plugins for WooCommerce
Below, you'll find the top free and paid WooCommerce out of stock plugins. These plugins can help automate stock management and boost your sales.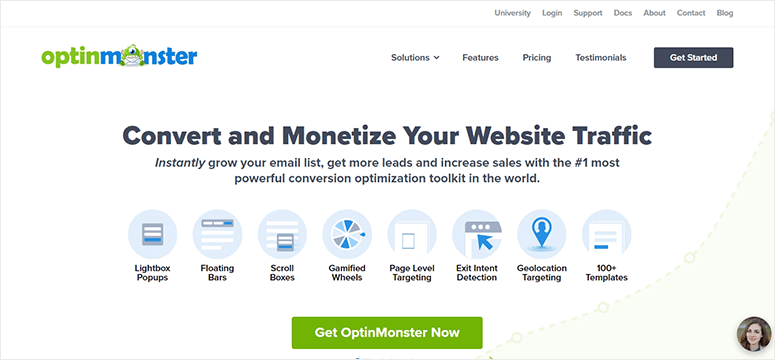 OptinMonster is the best lead generation and conversion optimization plugin. It seamlessly integrates with WooCommerce and lets you create beautiful 'out of stock' campaigns to notify customers about products availability.
Some of the best campaigns you can launch with OptinMonster includes:
Lightbox popups
Floating bars
Slide-in scroll boxes
The OptinMonster tool is versatile and flexible as it lets you create a range of campaigns to alert customers about low stock, out of stock, and back in stock products. You can schedule the campaigns to run at specific dates and times and even choose which page you want it to appear on.
You'll also find that OptinMonster has tons of options to reach your targeted audience based on page visits, location, items in cart, and cart abandonment.
The plugin is designed to be easy for anyone to use without editing any code, making it a great choice for beginners and small business owners.
Aside from that, here are some of the key features of OptinMonster:
Drag and drop campaign builder
Hundreds of ready-made templates
WooCommerce targeting addons
Behavioral targeting
Email integration
OptinMonster is not your usual inventory manager, but it's the most powerful WooCommerce plugin to professionally display 'out of stock' alerts to customers.
Pricing: It starts at $9 per month.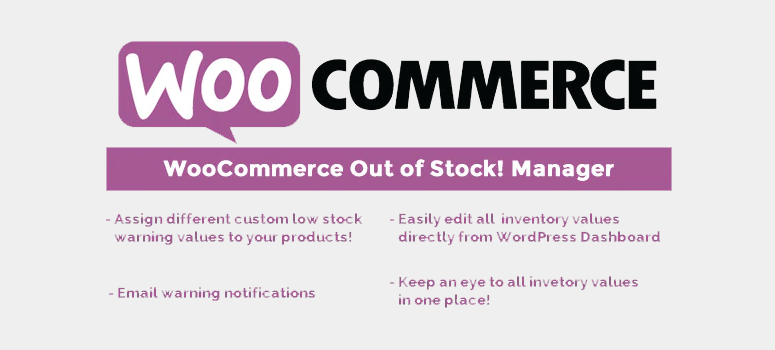 WooCommerce Out of Stock! Manager is fantastic plugin that lets you set up a robust inventory management system. To begin with, you can set product inventory limits and when the target is met, the plugin will send you a custom message to alert you that the product is low in stock or out of stock.
It's highly customizable which means you can assign different values and limits to products. You can also add email alerts for different products and product categories.
The Out of Stock! Manager is easy to configure and you can manage your inventory inside your WordPress dashboard.
Some of the top features of the WooCommerce Out of Stock! Manager plugin includes:
Custom stock threshold configuration
Multiple email recipients for notifications
Product based configuration
Simple 'out of stock' dashboard
Custom text messages
Their 'out of stock' dashboard allows you to see the status of the products in real-time. This way, you can stay updated on the in-stock and out-of-stock products all the time.
Pricing: The price starts at $16.
Get WooCommerce Out of Stock! Manager today!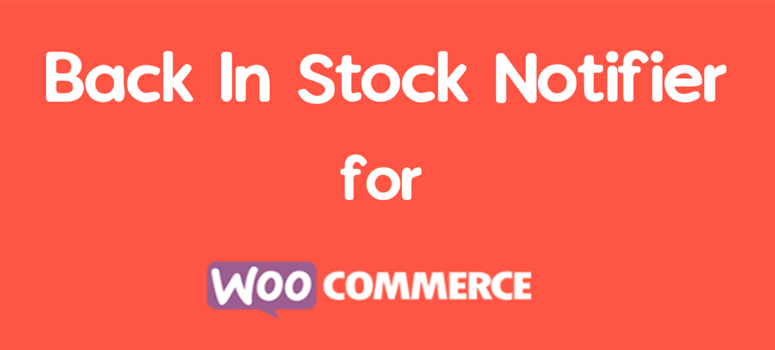 Back In Stock Notifier is a free WordPress 'out of stock' plugin for WooCommerce stores. The set up is as easy as plug and play. There are just a few simple configurations to tweak the settings to match your preferences.
Then the Back in Stock Notifier plugin displays an email sign up form for customers who want to be notified when an out of stock product is back on sale.
There are several flexible options to customize the form and automated email alerts. You can choose to display the form only to members, only to guests, or to both.
Coming to where this plugin really shines, it's designed to send large volumes of emails using a background process. This means it will never affect your server or website's performance.
In a nutshell, this plugin works great out of the box. And if you want to extend functionality and add more options, there are paid extensions available.
For example, there's an export addon to download the list of your subscribers. There's also a Mailchimp addon that lets you sync your email account and marketing campaigns.
Here's what you'll find in the Back In Status Notifier plugin:
Advanced waitlist for WooCommerce
Automatic email notifications
Google reCAPTCHA
Addons for WPML compatibility, Mailchimp integration, custom CSS, banning spam emails, and more
Pricing: This is a FREE out of stock plugin. Paid addons cost just $5 and can be used on unlimited sites. You can get a bundle deal of 8 addons at just $20.
Get Back In Status Notifier today!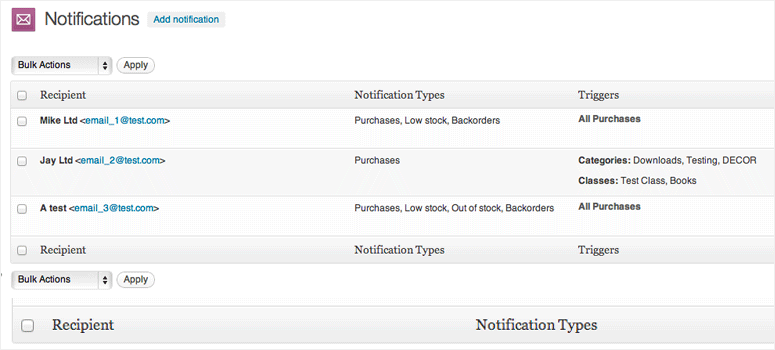 Advanced Notifications is a WooCommerce plugin to send new orders and stock notifications to people operating on the back end. You can set up notifications for multiple users including staff, users, suppliers, and dropshippers.
The plugin lets you send low stock, no stock, backorders, and new orders notifications. And you can view and manage your notifications inside your WordPress dashboard.
Moreover, the plugin lets you:
Send category based notifications
Send shipping class notifications
Send product based notifications
Include/exclude prices and order totals in notifications
Advanced Notifications works as a WooCommerce extension so you can easily integrate it with your favorite email marketing services to send email notifications.
Pricing: It costs $29 annually.
Get Advanced Notifications today!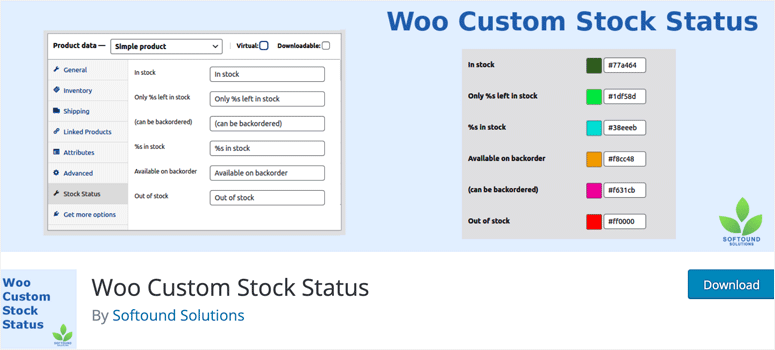 Woo Custom Stock Status is a free WordPress 'out of stock' plugin for your WooCommerce store. It lets you create and display color-coded stock status alerts on the product details page.
If you have multiple products and the stock status changes for any item, the plugin updates the product status automatically. It also allows custom text for in-stock, % left in stock, available on backorder, out of stock, and more.
It's a must-have plugin if you want to easily alert customers about the availability of different sizes, colors, and styles.
Some of the excellent plugin features include:
Backorder status in order confirmation
WooCommerce bundles plugin compatibility
Seamless WooCommerce integration
Product based custom stock status colors
The plugin is easy to configure and comes as an option within your WooCommerce settings.
Pricing: FREE
Get Woo Custom Stock Status today!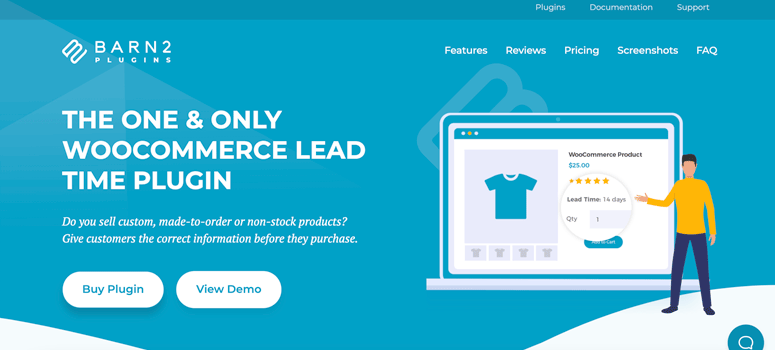 WooCommerce Lead Time is a premium WordPress plugin built for custom product stores. It lets you display the lead time on the shop page, categories page, products page, cart page, checkout page, and emails.
You can add the static lead time or let the plugin calculate lead time dynamically. It also allows you to set up the order processing time based on a product, product category, or location of users.
The best features of the plugin include:
Manage out of stock products
Show product availability
Display a message when products sell out
Set custom lead times for in stock and out of stock products
Your customers can look at the timeline for out-of-stock products in your store. A timeline can be set for all products separately.
Pricing: The plugin starts at $49 per year.
Get WooCommerce Lead Time today!
That's all we have for you. We hope this article has helped you find the best 'out of stock' plugins for WooCommerce stores.
We also recommend you to check out these guides:
This will further help you improve your WooCommerce site security, create a custom checkout page to engage users, and also learn to send price drop alerts to customers.