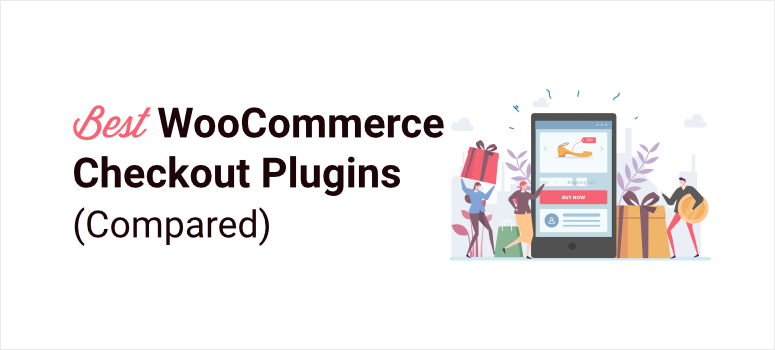 Are you looking for the best WooCommerce checkout plugin for your online store?
A checkout page is one of the most important steps in the customers' purchase process. It allows them to enter all their contact and shipping information, and select a payment option.
This means the checkout process can become complex and lengthy and result in customers abandoning their cart.
With the help of a WooCommerce checkout plugin, you can optimize your checkout process to improve user experience and sales for your online business.
In this article, we'll compare the best WooCommerce Checkout plugins on the market for a smooth checkout process.
How to Choose the Best WooCommerce Checkout Plugin?
There are several WooCommerce checkout plugins available in the market. However, you need to choose the one that offers powerful features to help you customize your checkout page without any trouble.
Here are some of the factors you need to consider when choosing the best WooCommerce checkout plugin for your online store.
Ease of use: Not every online store owner is familiar with customizing their checkout page. So a good checkout plugin must be easy to use for all types of users.
Checkout fields: Depending upon the type of product you sell on your online store, you need different fields such as billing/shipping information, name, email address, and more. So make sure the plugin you choose lets you add all the necessary checkout fields.
Customizable options: You need to choose a WooCommerce checkout plugin that lets you customize your checkout fields as per your preference. A good design helps to persuade your customers to complete the checkout process.
Payment methods: The purpose of a checkout page is to collect payments from your customers. The right checkout plugin will allow you to add multiple payment gateways and credit card support to sell your products.
Support: Choose a checkout plugin that offers a reliable and responsive customer support. So you can reach out to the support team whenever you run into any problem.
Now that you know what to look for, let's get started with our list of the best WooCommerce checkout plugins for WordPress.
Best WooCommerce Checkout Plugins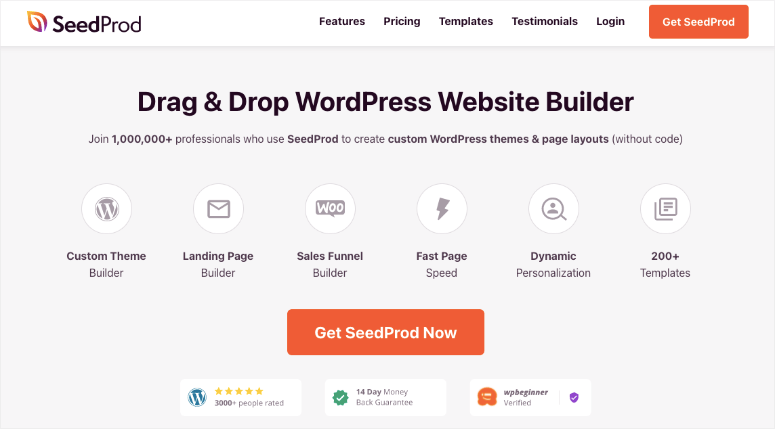 SeedProd is the best landing page builder for WordPress sites. It offers a simple drag-and-drop page builder that lets you create all types of landing pages, checkout pages, pricing pages, and much more.
With SeedProd, you get content blocks such as CTA buttons, testimonials, countdown timers, and more for generating more leads. You can easily add and remove blocks using the visual builder.
Most importantly, SeedProd integrates seamlessly with WooCommerce so you get powerful page elements like add to cart, cart, products grid, and checkout. The checkout block includes all the necessary fields for a successful payment.
You can also add other WooCommerce blocks such as recent products, sale products, best-selling products, and more to boost your sales.
SeedProd lets you customize all your checkout fields and the design elements so you can match the style of your brand. You'll find a vast range of designing tools for your checkout page color, typography, background settings, and much more.
Plus, you can integrate with major email marketing services like Constant Contact, Aweber,  Active Campaign, ConvertKit, and more. Once you connect your email account, you can easily set up autoresponder emails for your customers after checkout. 
Highlights:
200+ responsive landing page templates
Live preview for customizing checkout page
40 high-converting content blocks including WooCommerce blocks
Add contact forms and optin forms to collect customer data 
Checkout block with billing/shipping information and payment methods
Protect your checkout page from spam with the reCAPTCHA feature
Built-in maintenance, 404, login page, and coming soon modes
Connect with an email service provider and build your email list
Pricing:
Starts at $39.50 per year for the Basic plan.
Get started with SeedProd today!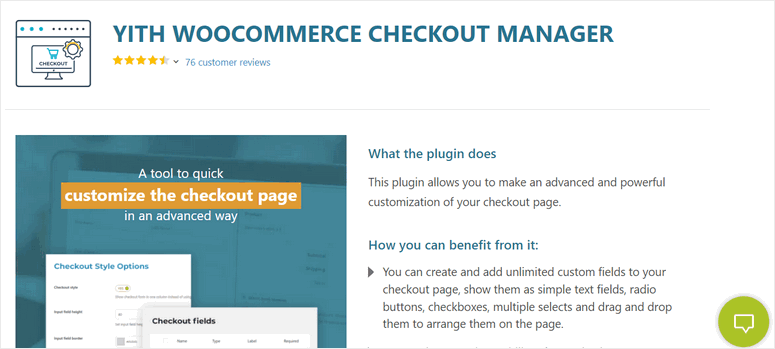 YITH WooCommerce Checkout Manager is one of the popular WooCommerce checkout plugins in the market. It lets you add unlimited custom fields such as text, radio buttons, multiple-choice, and more.
You can also add the billing and shipping information fields that are essential for every checkout page. All of these fields are fully customizable with options for colors, labels, and even tooltips to help customers fill out the fields.
YITH WooCommerce Checkout Manager offers a drag-and-drop editor that allows you to easily add and remove the fields as per your requirement.
With this, you can rearrange the order of the checkout fields and display the fields in a single column instead of the default 2-column option.
Furthermore, the plugin uses Javascript field validation for checking user input in real-time and notifying them about errors before making the payment.
Highlights:
Unlimited custom fields
Billing and shipping checkout fields
Styling and design options for checkout page
Compatible with translation plugins like WPML
Conditional options to show or hide checkout fields
Pricing:
Starts at $69.99 per year.
Get started with YITH WooCommerce Checkout Manager today!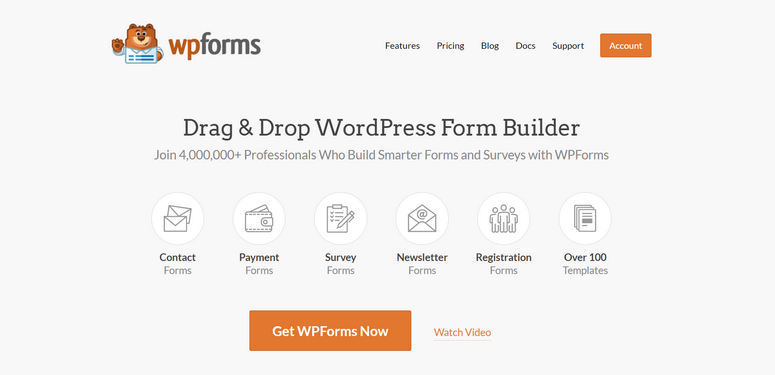 WPForms is the best form builder WordPress plugin that offers tons of features so you can create professional forms for your site.
WPForms is on our list of the best WooCommerce checkout plugin because it offers a simple solution to accept payments for your online store. 
With WPForms' simple drag and drop form builder, you can create an order form and add all sorts of fields like name, email, billing/shipping information, and more. It also lets you add payment options to your form and make users select their desired choice of payment.
Furthermore, you can divide your checkout process into multiple parts with the multi-page form feature. This helps to engage customers and motivate them to complete the checkout.
Plus, WPForms offers a form abandonment feature that allows you to collect information about the customers who abandon their checkout forms. You can reach out to them later to ask them to come back and complete their order.
WPForms is perfect for small business owners who want an easy way to sell online. You can see our guide on How to Sell a Product on Your WordPress site with WPForms.
Highlights:
List items on single and multiple fields with pricing and images
Integrate with payment gateways like PayPal, Stripe, and Authorize.Net
Multi-page form option to divide your checkout process into multiple parts
Easily insert your checkout form on any WordPress page or post
Add conditional rules for checkout fields
Send order confirmation email notification to your customers
Pricing:
Starts at $49.50 per year. The free version is available for download.
Get started with WPForms today!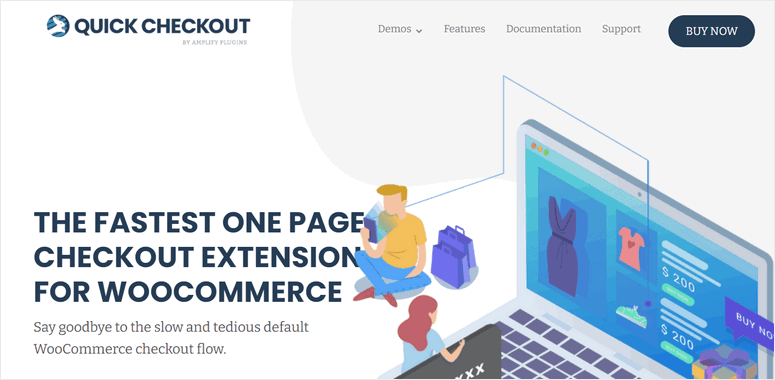 Quick Checkout is next on our list for the best WooCommerce checkout plugin. It helps you boost your conversion rates by adding a checkout option on your landing pages.
This plugin lets you add a buy now button on your product pages that open the checkout window. This allows your customers to complete their checkout without any redirects and extra clicks.
Quick Checkout also integrates with all the major WooCommerce payment gateway extensions and other extensions.
Other than this, the plugin is fast and lightweight which means it won't slow down your page load speed. It also offers regular updates and customer support for the users.
Highlights:
Supports shortcode for adding links and buttons
Add quick buy now buttons
Opens checkout form on the same page
Compatible with all WordPress themes
Pricing:
Starts at $76 per year.
Get started with Quick Checkout today!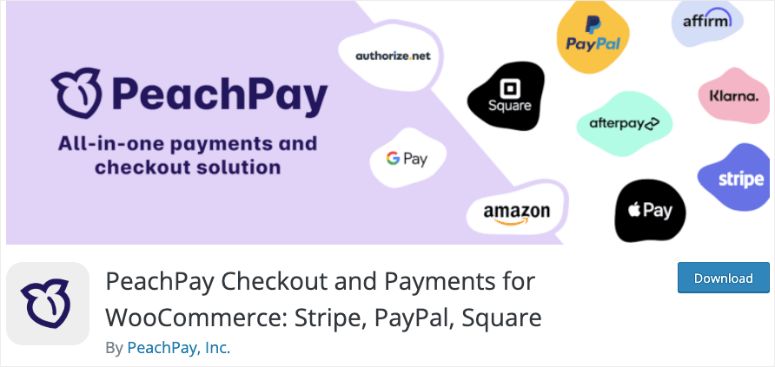 PeachPay is another popular WooCommerce checkout plugin for WordPress sites. It lets you add a buy now button on your product pages to simplify your checkout process.
To get started, you need to set up a PeachPay account. Then, you can install the free plugin on your site and link your WooCommerce store.
With PeachPay, you can create a streamlined checkout form for your first-time customers. This collects all the necessary information about the customers. So the next time these customers shop on your site, they get a quick one-click checkout option.
Also, the plugin allows you to integrate with Stripe to safely accept payments for your online store. You can add a payment option on your checkout form and manage your payments on the stripe dashboard effortlessly.
When it comes to optimizing your checkout page with design options and custom fields, SeedProd definitely offers more features than PeachPay.
Highlights:
Integrates with WooCommerce and Stripe
Saves customer information at the first checkout 
One-click checkout for repeat customers
Offers a mobile app that offers reordering, product tracking, and other features
Pricing:
Free.
Get started with PeachPay today!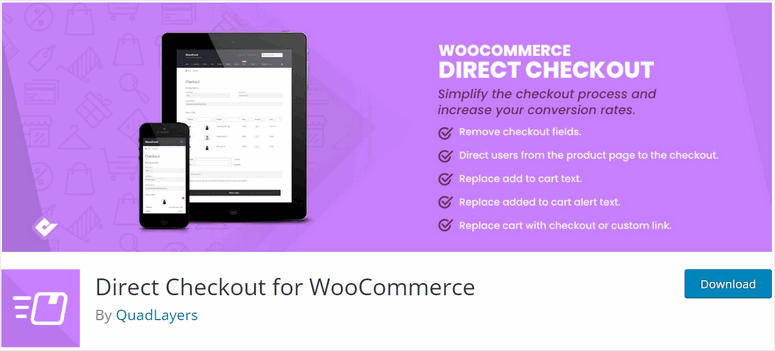 It allows you to make the checkout process short by skipping the shopping cart option. You can remove the add to cart option and add a purchase button for your product pages.
When customers click on the button, they are redirected smoothly to the checkout page instead of a shopping cart page. This helps to speed up your checkout process and reduces the cart abandonment rate.
You won't find the powerful features for customizing and design such as in SeedProd. However, the plugin is a useful tool for increasing the conversions for your online store.
Highlights:
Edit and remove checkout fields
One-page checkout
Ajax add to cart option
Quick view option for shop and products
Pricing:
Free version available. Pro plans start at $49. 
Get started with Direct Checkout for WooCommerce today!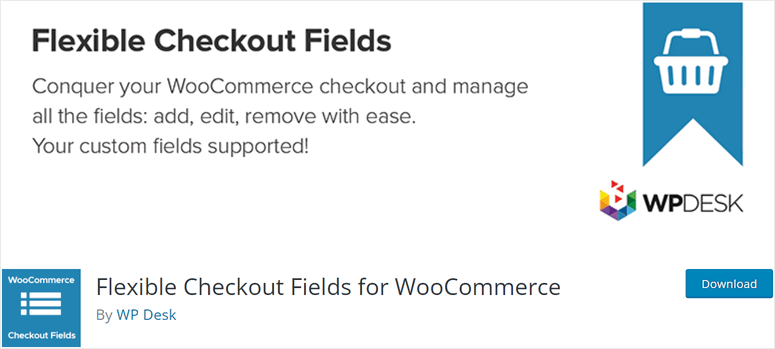 Flexible Checkout Fields is another great WooCommerce checkout plugin for your online store. It lets you easily customize your checkout page from your WordPress dashboard.
With this plugin, you can drag and drop the fields to change the order of the checkout page. You can edit the default WooCommerce fields and add new custom fields according to your needs.
Moreover, you can change the label and placeholders to help customers fill out the checkout fields with ease. The plugin also lets you add conditional rules and set field validation on your checkout page.
Highlights:
Customize checkout fields
Add custom fields for checkout
Drag and drop rearrange fields
Field validation option to identify errors
Translation ready
Pricing:
Starts at $59 per year. Free version available in WordPress repository.
Get started with Flexible Checkout Fields today!
Which is the Best WooCommerce Checkout Plugin?
As you can see, there are many checkout plugins available for WooCommerce stores in the market. We have reviewed and listed the best plugins for you in this list.
If you're still having trouble choosing the best WooCommerce checkout plugin for your site, you can choose any of these tools:
SeedProd is the best choice for creating and customizing a checkout page for your WordPress site. It offers tons of features and content blocks that help you convert better.
YITH WooCommerce Checkout Manager lets you easily add checkout fields such as billing and shipping information. You can also edit the field labels and add tooltips for a better user experience.
WPForms is a great option for those who want a simple checkout form to sell their products online.
And that's all! We hope you found this guide for the best WooCommerce checkout plugins helpful. For more resources, you can check these posts:
These posts will help you add more functionalities to your WooCommerce sites such as reviews and wholesale pricing. The last one will help your set up cart conditions for your products on your WooCommerce store.