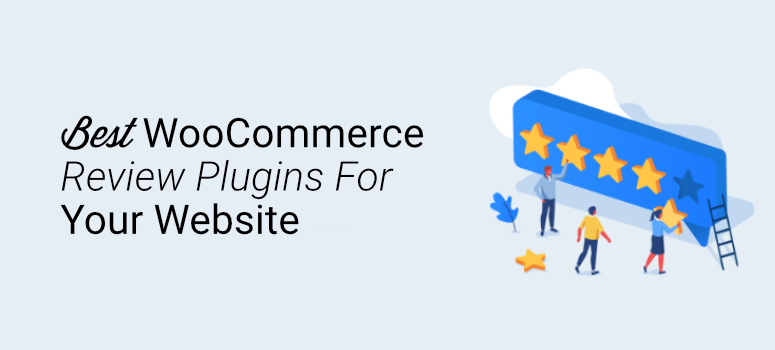 Are you looking for the best WooCommerce review plugins for your WordPress site?
Giving customers the ability to rate and review your products or services is crucial for boosting sales and building social proof. It's evidence that real people have tried and tested your products so they can share their thoughts about them online.
Before we go over the best WooCommerce review plugins, let's look at a few reasons why you might want to add one to your website.
Why Use a WooCommerce Review Plugin for Your WordPress Store?
1. Build Social Proof
Social proof can easily turn a website visitor into a paying customer by building brand credibility and sharing the experiences of other customers. To grow your online store, it's important to display social proof on your website to attract more customers and increase your conversion rate.
2. Boost Sales
When you provide high-quality products and services, it'll speak for itself in your ratings and reviews. Customers want to share their experiences with businesses, and if they're positive, it'll encourage more people to make purchases. In turn, this boosts sales and revenue for your business and helps you further grow your brand.
3. Improve SEO
Adding reviews to your website can boost its SEO by getting featured snippets in Google. These are selected search results displayed on top of Google's organic results. They receive a lot of traffic and hits since they're the first thing users see in their search, which improves your site's visibility and conversions.
Now that we know the benefits of having a review plugin on your website, let's look at the top choices currently on the market.
The Best WooCommerce Review Plugins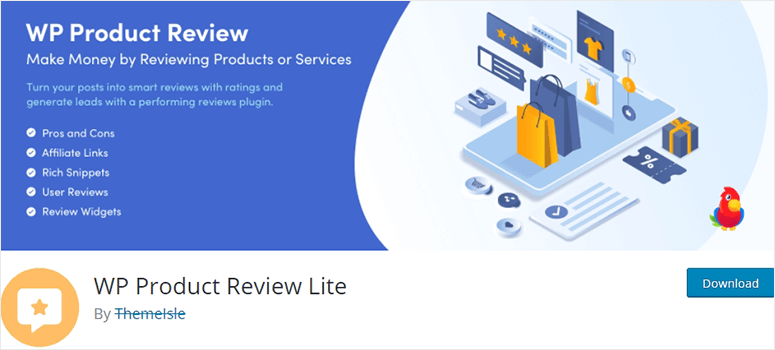 ThemeIsle WP Product Review lets you easily display user ratings and reviews on your website.
WP Product Review is easy to set up and install, so you can instantly start collecting and displaying reviews on your site. You can control the position of the review box with shortcodes and add as many as you'd like. You can also automatically generate comparison tables from existing reviews.
Some of its other powerful features include import and export, pros and cons fields, and affiliate link support. Its customization options let you adjust a review's width, colors, and borders to match your brand aesthetic.
You can position the review module anywhere on your site, so they show up exactly where you want. You can also create comparison tables based on the existing reviews on your website.
Get started with ThemeIsle WP Product Review today.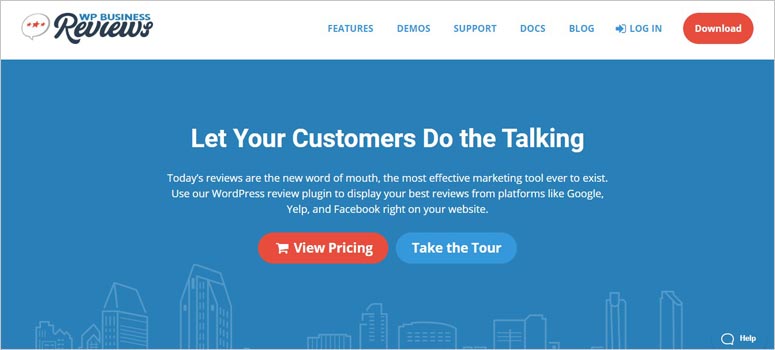 WP Business Reviews lets you showcase reviews on your site to highlight your positive customer experiences and boost lead generation.
With WP Business Reviews, you can display reviews from multiple platforms or just one. You have full control over which reviews to display as you can filter through negative reviews and add custom ones.
This plugin's user interface is easy to navigate and lets you search, style, and sort your reviews directly from your WordPress dashboard. Its Collections feature allows you to group reviews together or deal with them individually.
It's also easy to customize your reviews to fit your branding and appeal to your target market. Choose from multiple display formats like a gallery, carousel, or list view. You have full control over how to showcase your reviews by choosing each component and the length of each excerpt.
Get started with WP Business Reviews today.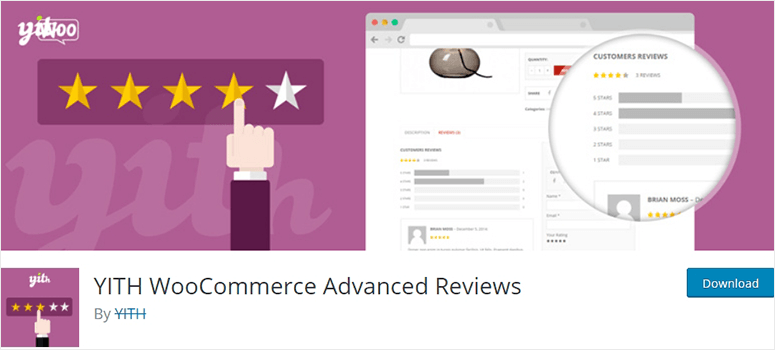 YITH WooCommerce Advanced Reviews is a simple plugin that allows you to showcase customer reviews on your WooCommerce site.
With YITH WooCommerce Advanced Reviews, you can display statistics with bar graphs, customize bar appearance, and allow users to attach files and titles to their reviews. You can also add rich snippets and choose how many files users can attach.
The premium version of this plugin comes with powerful features like review replies, disabled replies, open filtered reviews, reporting, reCAPTCHA, user edits, reviews from unregistered users, and much more.
Get started with YITH WooCommerce Advanced Reviews today.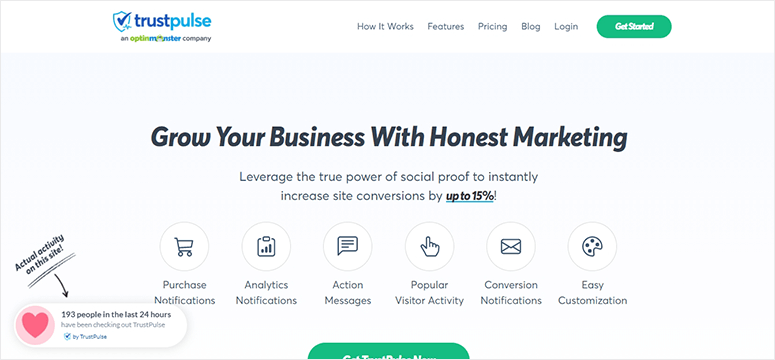 TrustPulse is a social proof platform that lets you display popup notifications on your site as they happen in real-time. Actions you can display include purchases, email signups, member registration, and more.
When visitors see customers taking action on your site, it convinces them to do the same. You can create TrustPulse notifications that display new customer reviews to boost your brand credibility and increase sales.
You can customize your notifications to match your branding, including colors, images, and messages. Its smart targeting ensures that you send the right message to your site visitors at the right time.
All of these features allow you to create notifications whenever someone leaves you a positive review. And once you do, your notification will inspire others to leave a review, too.
As a result, you'll get more positive exposure online and build more trust with your target audience.
Get started with TrustPulse today.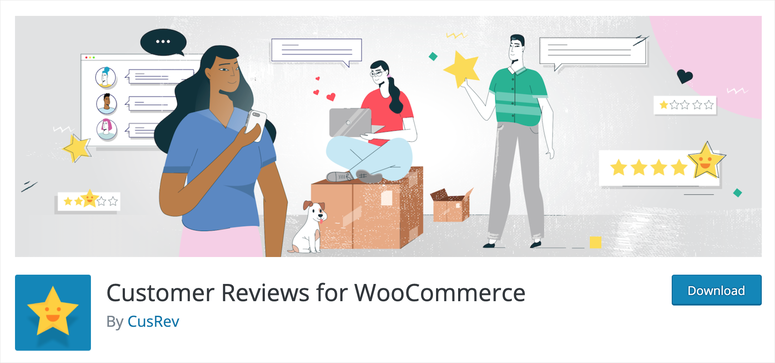 Customer Reviews for WooCommerce is another WordPress review plugin designed for WooCommerce users.
This plugin's main features include importing and exporting reviews, aggregated review forms, enhanced reviews with voting and filtering options, integration with Google Shopping, discounts in exchange for reviews, and more.
Customer Reviews for WooCommerce also lets you send automated, personalized email reminders to customers after transactions so you can increase your review rate.
All reviews submitted through this plugin are authenticated to ensure they're real and not the results of bots. Its reCAPTCHA also helps to remove potential spam reviews that could hurt the credibility of your online store.
Get started with Customer Reviews for WooCommerce today.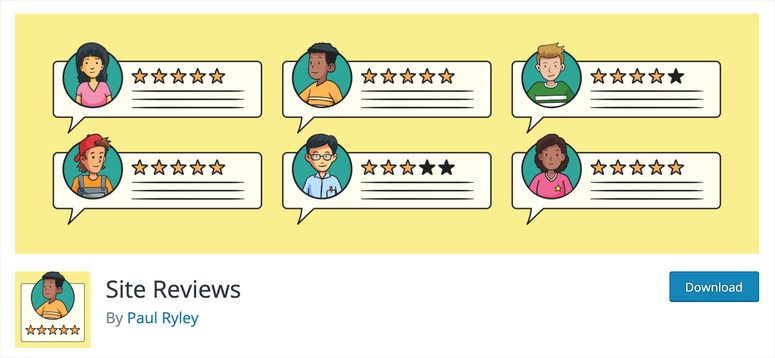 Site Reviews is a ratings and review plugin you can use on your WordPress site. You can display your reviews using shortcodes, widgets, and blocks.
Site Reviews is a simple plugin and is great for beginners looking for easy installation and setup. You can tag your best reviews to make them appear at the top and assign reviews to categories, pages, and users. It comes with a backup and restore feature to save and store your data.
This plugin also integrates with Akismet to block spam reviews, so only legitimate ones get displayed on your site. It comes with custom notifications, rich snippets, and moderation to ensure the best experience for customers submitting reviews.
Get started with Site Reviews today.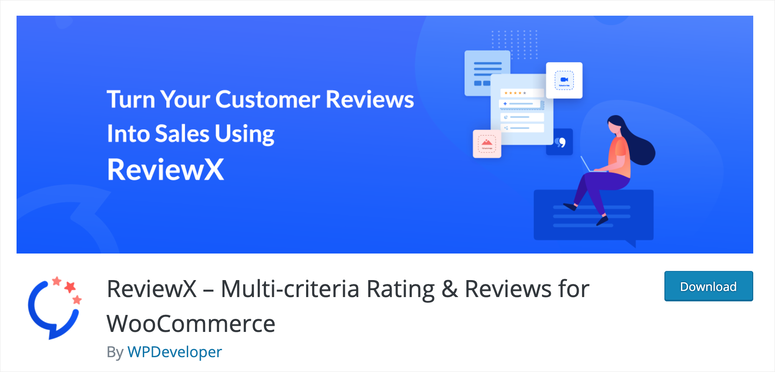 ReviewX lets you instantly collect and display reviews on your WordPress site or WooCommerce store.
With ReviewX, you can collect ratings, reviews, photos & videos reviews, scoring options, and more. You can create multiple review criteria to give users more detailed feedback. You can also send a reminder email to purchasing customers to encourage them to submit a review. Use the plugin's built-in presets or create your own email marketing content from scratch.
ReviewX is good for those that want a simple solution on a budget. It comes with all the basic features you need to set up reviews on your website and build social proof for your brand.
Get started with ReviewX today.
And there you have it! These are the best review plugins you can use for your WooCommerce store.
We hope you enjoyed this article. If so, feel free to check out our list of resources on the top WordPress plugins.
It breaks down the best plugins on the market so you can choose the right ones for your WordPress site.
You may also want to check our guide on the best WooCommerce checkout plugins. This will help you customize the checkout page for your eCommerce store.
Next, you can check our guide on the best WooCommerce payment gateways. This will help you add secure and quick payment methods on your WooC0mmerce site.