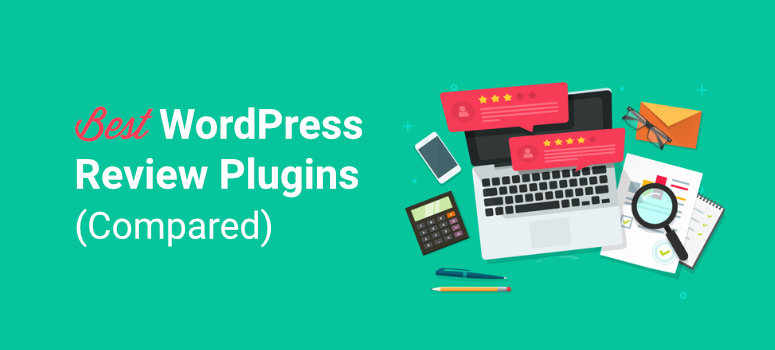 Are you looking for the best product review plugins for WordPress?
Whether you're running a review website, or just want to add customer reviews for your products, you'll need the perfect plugin to add ratings, display snippets, and more. This makes your site overall engaging for the visitors and helps to increase your conversion rates.
In this article, we're going to introduce you to the best WordPress review plugins in the market. But first, let's learn the benefits of using a review plugin on your site.
Why Use a Product Review Plugin?
There's a certain amount of razzle-dazzle readers expect from reviews. They want stars, snippets, links, and fancy-looking comparison tables.
Sadly, you can't deliver any of that using the WordPress post editor on its own. Your content might be awesome, but it'll be missing the "wow" factor your readers expect from a professional review.
The good news is by using the best WordPress review plugins, you can give your audience exactly what they crave.
The right plugin makes ramping up your reviews to professional-quality effortless. Simply write your review, figure out your scores, and add them to the appropriate sections within the plugin's editor component.
To make choosing the correct plugin easy for you, we've put together a list of the best WordPress review plugins. Check it out below.
Best WordPress Review Plugins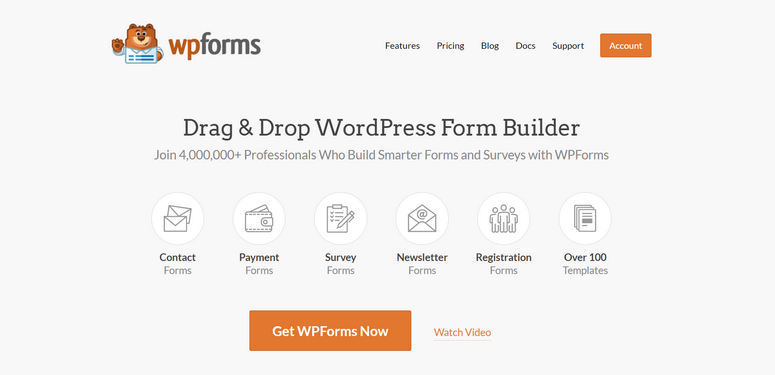 WPForms is the best WordPress form builder plugin that lets you create all types of professional-looking forms for your site. It offers an easy way to let your users and customers submit reviews on your site.
WPForms comes with a readymade template to create review and feedback forms. You get more than 20 form fields that help you collect customer information, feedback, star ratings, testimonials, and online reviews as well.
The rating fields include 3 icon options: Star Rating, Thumbs Up, and Smiley.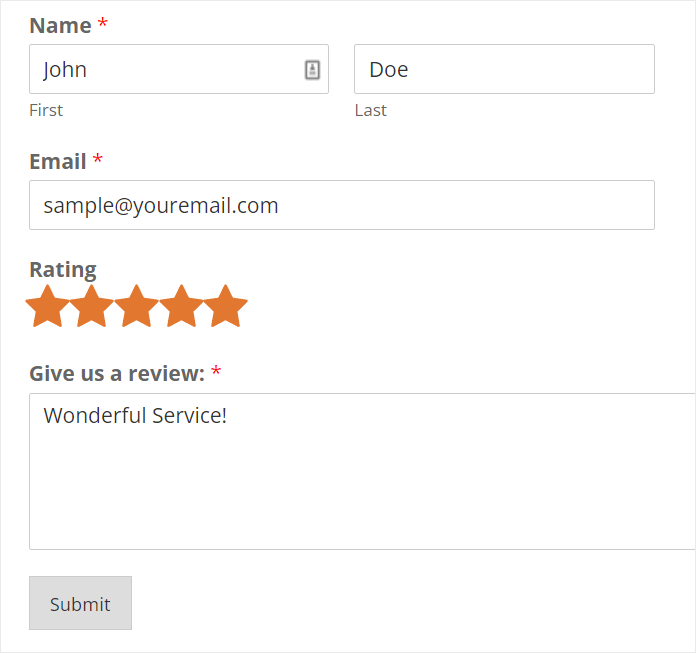 To personalize your review form, WPForms lets you customize the field options to change the label, description, color, and more.
The plugin also comes with the smart conditional logic option that helps you ask the customers personalized questions depending on their feedback. After the users submit their reviews, you can go through them and filter out the best ones to publish on your site.
To learn more, you can check our complete WPForms review!
Highlights:
100+ form templates to save your time
Customize your rating field and choose from the star, thumbs up, and smiley rating options
Allow file uploads and automate email notifications
Add product review forms to your post, pages, or sidebar with a click of a button
Integrate with email service providers such as Constant Contact, Mailchimp, and more
Responsive forms look good on any screen sizes
Built-in spam protection plus Google reCAPTCHA and custom captcha options
Pricing:
The lite version is available free. The pro version starts from $39.50 per year.
Get Started with WPForms Today!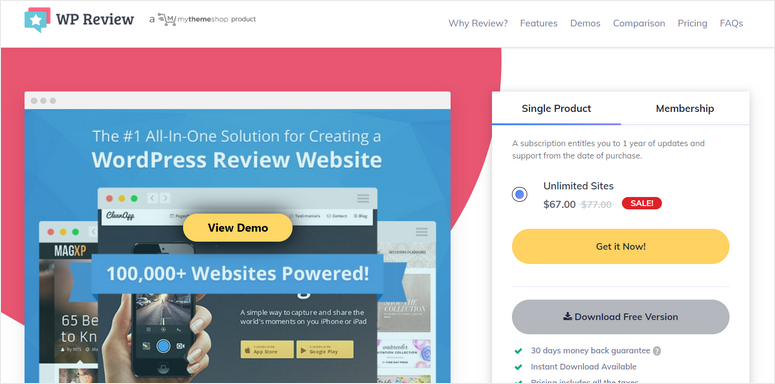 WP Review Pro is undoubtedly the best review plugin as it is packed with tons of features that make posting reviews a piece of cake.
The plugin comes with 16 pre-designed templates for displaying reviews on your site. So you can save time and get started with a template of your choice. It lets you customize the colors and other elements to match the style of your brand.
With WP Review Pro, you can choose from 19 different types of rich snippets for product reviews like books, movies, food, and more. And you can do all this without touching a line of code.
For reviewing different products, the plugin offers 5 rating systems: Star, Point, Percentage, Circle, and Thumbs Up. It also has an option for the customers to leave comments along with the rating for your products.
Plus, WP Review Pro lets you create comparison tables for comparing the features of multiple products at the same time. This helps the visitors to make purchase decisions faster.
What's more, you can integrate with third-party review sites such as Google, Yelp, and Facebook and collect customer reviews for your site. The plugin also lets you integrate with WooCommerce if you're running an eCommerce website.
Highlights:
User friendly and easy to set up
Mobile-optimized which means your reviews will look great on all mobile devices
2 review box templates
Ensures clean code and fast page speed
Integrations with Google, Yelp, Facebook, WooCommerce, and more
Compatible with all the major WordPress themes
Pricing:
Starts at $67 per year. The free version is also available on WordPress.org.
Get started with WP Review Pro!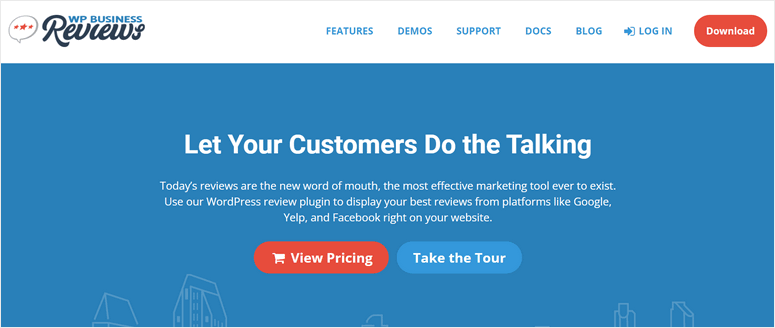 WP Business Reviews is one of the best WordPress review plugins available in the market. It offers powerful features that make adding customer reviews a breeze.
With WP Business Reviews, you can connect with different review platforms such as Yelp, Facebook, Google, and Zomato.
The best thing is that you don't need to manually collect customer reviews from these platforms. The plugin automatically extracts reviews from your accounts and displays them on your site.
Other than this, it lets you insert custom product reviews as you like. You can even allow users to write reviews on your site instead of going to other platforms like Google and Yelp.
WP Business Reviews also allows you to filter out negative reviews that hamper your sales and pin the best reviews on the top of the page.
Highlights:
Collects user reviews from platforms such as Google, Yelp, Facebook and Zomato
Customizable rating system
Option to filter customer reviews
Highlight customer names and platform names in the review
Match your reviews for the dark or light theme of your site
Pricing:
Paid plans start from $49.00 per year. 
Get started with WP Business Reviews!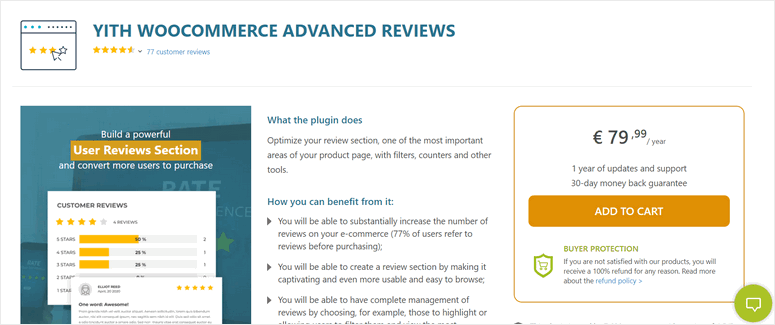 If you want a WordPress review plugin designed especially for WooCommerce sites, then YITH WooCommerce Advanced Reviews is the best choice for you.
With this WooCommerce review plugin, you can allow your customers to add reviews for your products to boost your sales. Users can add their full review with a star rating and a title to summarize their reviews. You can also let the customer upload attachments like files and images.
YITH WooCommerce Advanced Reviews gives you full control over how your reviews are displayed. It lets you customize your review section and change the color schemes, texts, and more.
There's also an option to manually approve WooCommerce reviews directly from your admin dashboard and filter out the negative reviews that affect your sales.
Highlights:
Present customer reviews with percentages and bar graphs
reCAPTCHA option for preventing bots and spam
Supports Google rich snippets and schema markup
Allow users to upvote and downvote reviews
Change styling for best reviews to make them more noticeable
Pricing:
Starts at €79.99 per year.
Get started with YITH WooCommerce Advanced Reviews!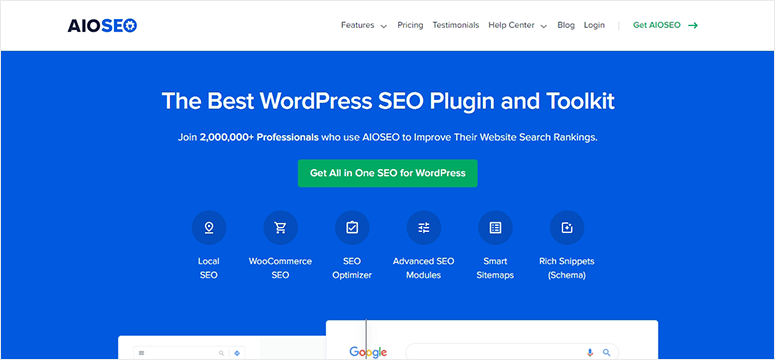 All in One SEO is the best SEO plugin for WordPress sites with over 3 million active installations. It lets you optimize your website so that it ranks well on SERPs of different search engines like Google and Bing.
The plugin comes with a user-friendly SEO toolkit that helps you optimize all your web pages and posts. This helps you boost the overall traffic on your website.
Added to that, AIOSEO lets you add schema markup to your product review blogs. The schema markup isn't visible to your visitors but it allows the search engines to learn more about your content and list your reviews on the search results with rich snippets.
The plugin automatically detects the Schema type as you write your product reviews and lets you add more information for the search engine bots to read.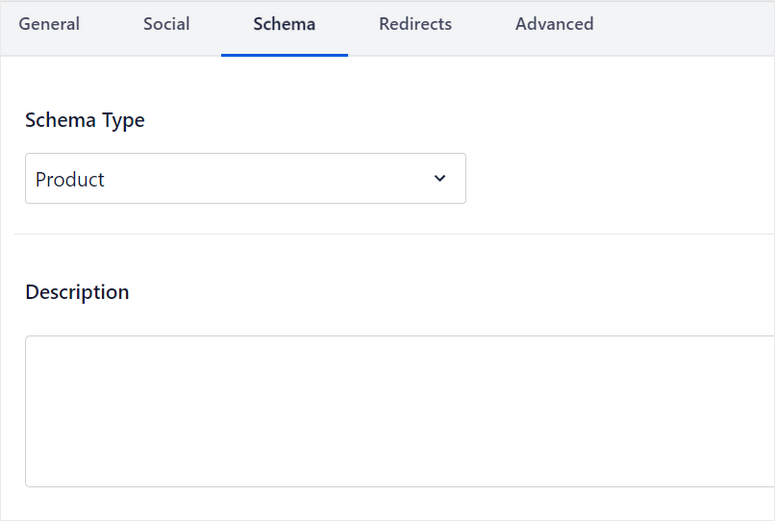 Apart from this, you get the option to add existing customer reviews and ratings to further improve your search result rankings.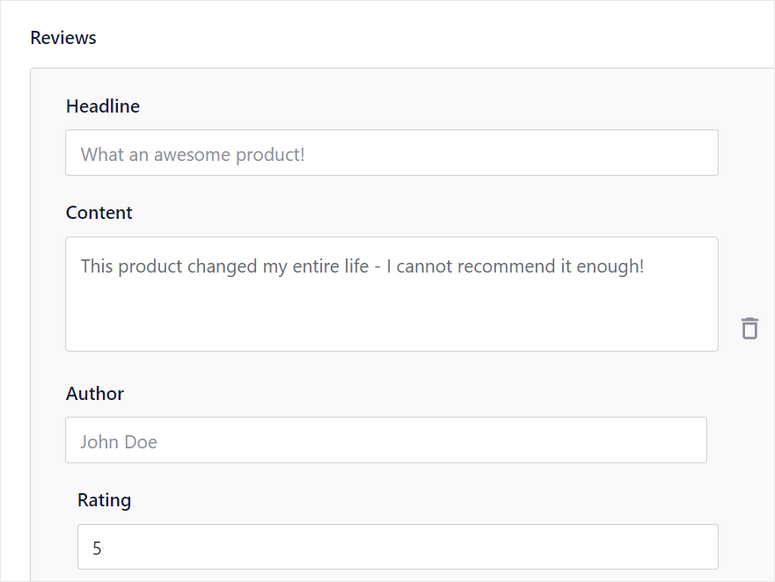 AIOSEO also offers tons of advanced SEO features like on-page optimization, site audits, headline analyzer, and more.
Highlights:
SEO audit checklist
Product review schema
Custom rating option
Rich snippets support
Supports local and WooCommerce SEO
Pricing:
AIOSEO is a free plugin available on WordPress.org. You'll have to upgrade to the pro version to get access to the product review schema feature. The pro plans start at $99.50 per year.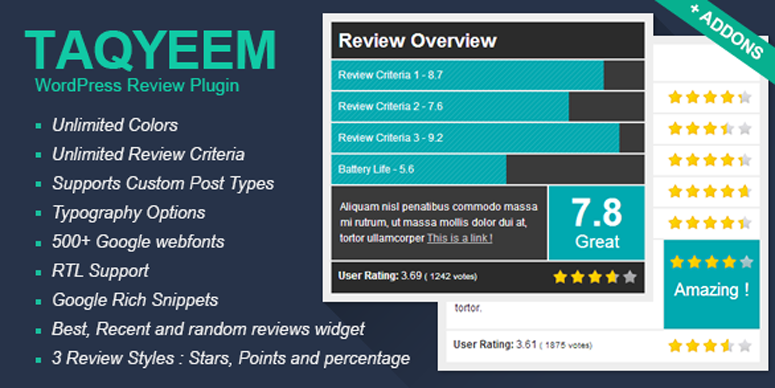 Taqyeem is next on our list of the best WordPress review plugins. It's incredibly easy to use and has tons of customization options to keep your branding on point.
With Taqyeem, you can add customer reviews to any page, post, and even custom post type. It also offers unlimited customization options to change the look and feel of your reviews.
You can easily customize the typography and choose from over 500 Google Web Fonts. The plugin is search engine optimized so the reviews are ready for the rich snippet.
Moreover, Taqyeem offers 3 different review types. They are stars, points, and percentages. It also lets you select from multiple images for the rating icon.
Highlights:
Unlimited colors and review criteria
500+ Google fonts and typography options
Translation ready and RTL support
Supports custom post types
3 types of rating options: star, point, and percentage
Pricing:
Costs $29 (one-time payment).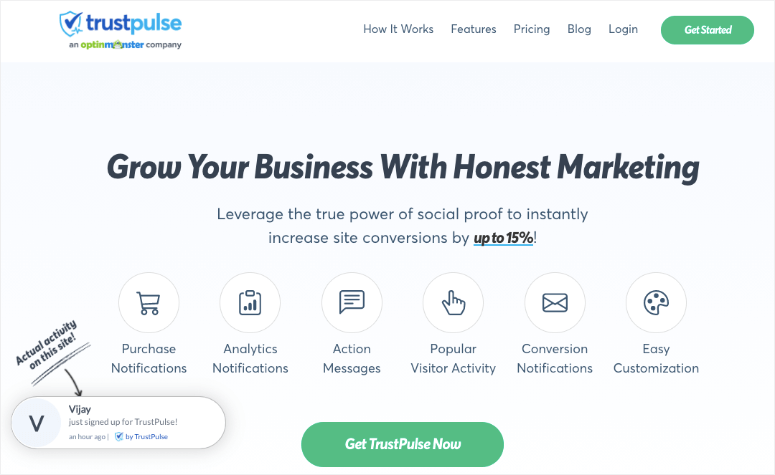 TrustPulse is the best social proof tool that helps websites build trust with their visitors and increase conversions.
With TrustPulse you can display live notifications of customer actions on your website. When your visitors see other people buying, signing up, and leaving reviews for your products, they'll want to do the same.
What makes this plugin great is that it allows you to fully customize your notification popups. You can edit the message title, add images and change the design of these notifications to display your customer reviews.

TrustPulse automatically detects the name of the customers who leave their reviews and adds them to the notification popups. If it cannot detect it, it adds "Someone" to the notification. You can change this text as per your liking.
Also, it lets you set up smart targeting rules to show your custom reviews to the right people at the right time. This will boost the credibility of your brand and increase your sales.
You can even display a static message asking users to click the popup to leave a review. You can then direct them to your review form where they can submit their rating and feedback.
TrustPulse is a bit different from the plugins mentioned in this list. However, it is the best tool for adding social proof and product reviews to your site.
If you want, you can check our guide on how to add social proof to your WordPress website.
Highlights:
Custom message popups
Real-time activity tracker
Flexible notification designs
Smart targeting and timed display
Recent activity and analytics notifications
Pricing:
The basic plan starts at $5 per month.
That's our list of the best review plugins to help you boost online conversions and revenue. We have a few more bonus plugins that you can check out below.
Bonus Review Plugins for WordPress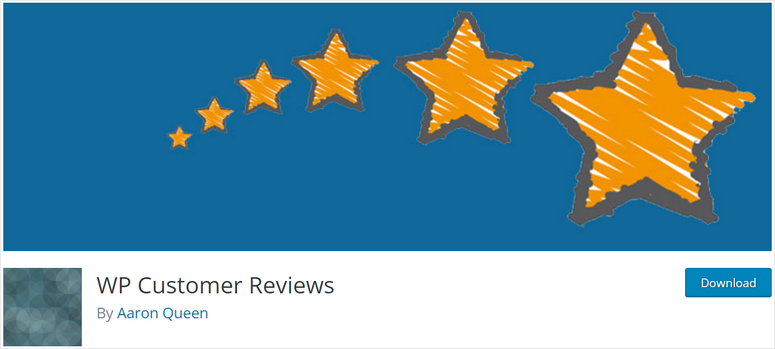 WP Customer Reviews is another popular review plugin for WordPress. If you're running an online business and want to add reviews for your products, it is the perfect solution.
With this plugin, you can easily set up a dedicated page to receive customer reviews and testimonials for your products and services. As the admin, you get to select the reviews you want to publish and edit the review content and date.
This helps your site get crawled faster by sites like Google Places and Google Local Search and boosts your ranking on the SERPs (Search Engine Results Pages).
WP Customer Reviews also allows you to customize your review forms the way you want. It supports shortcodes and Gutenberg block editor so you can add your reviews on any page or widget.
Highlights:
Fast and lightweight
Supports star rating and Google rich snippets
Compatible with caching plugins and custom themes
Option to create and show admin responses
Pricing:
Free.
Get started with WP Customer Reviews!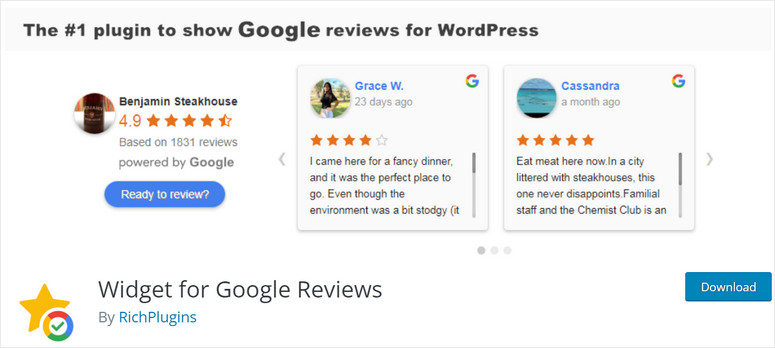 Google Reviews Widget is a great option for displaying reviews from Google Business on your website. This helps to promote your local business and create a greater online presence for your brand.
The plugin automatically updates the reviews and refreshes them to show relevant ones on your site. You can also enable location-based reviews and display up to 5 Google business reviews per location.
With the premium version of the plugin, you can even showcase Facebook reviews and Yelp reviews on your WordPress website.
Highlights:
Works even when Google is not available
Supports shortcodes to embed reviews on any page
Embeds Google Trust Badge on site
Compatible with page builders like Elementor, WPBakery, Divi, and more
Pricing:
The free version is available in the WordPress repository. The premium plugin costs $85 per year.
Get started with Google Reviews Widget!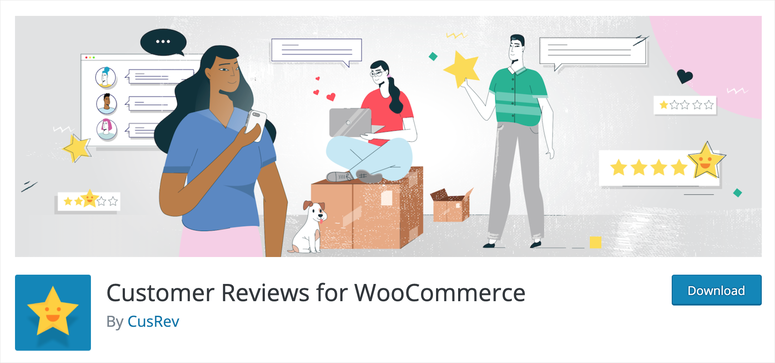 Customer Reviews for WooCommerce is another WordPress review plugin for eCommerce sites.
After every successful transaction on your store, this plugin automatically sends a personalized email to the customers asking them to submit their reviews. And in return, you can send them discounts and coupons to boost your review rate.
The plugin lets you create a review form that allows your customers to add a star rating, comments, and even product images. These elements improve the quality of reviews and social proof on your site.
There is also an option to provide helpful information for your customers by adding an FAQ section on your product pages.
Highlights:
Spam protection with Google reCAPTCHA
Add average rating for product pages
GDPR compliance for using customer reviews on your site
Display reviews according to the submission date
Pricing:
Free. The Premium version is also available starting at $49.99 per year.
Get started with Customer Reviews for WooCommerce!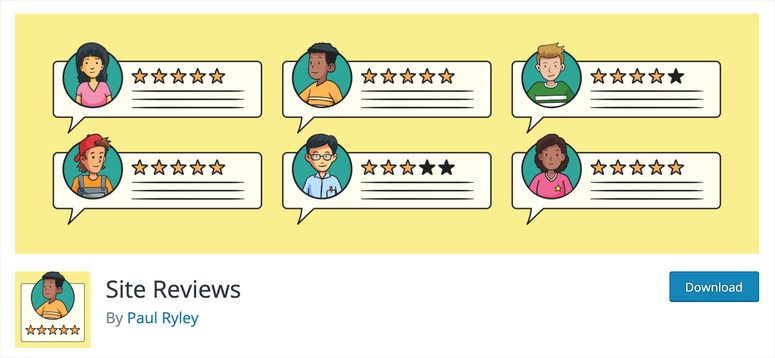 Site Review is a simple review plugin for WordPress that is great for beginners and small businesses. It lets you add reviews on your site using shortcodes, widgets, and blocks.
It offers a free WooCommerce add-on that lets you add a review section on your WooCommerce product pages to boost your sales. You even get the option to approve reviews and pin the best ones on top.
With Site Review, you can make users log into your website to submit their reviews. It also offers integrations with Akismet to protect your site from spambots and hackers.
Highlights:
Assign reviews to users, pages, and categories
Support Elementor page builder
Pre-built review form styles
Slack integration to receive notifications when a review is submitted
Pricing:
The free is available on WordPress.org. The premium version costs €89 per year for a single site license.
Get started with Site Reviews!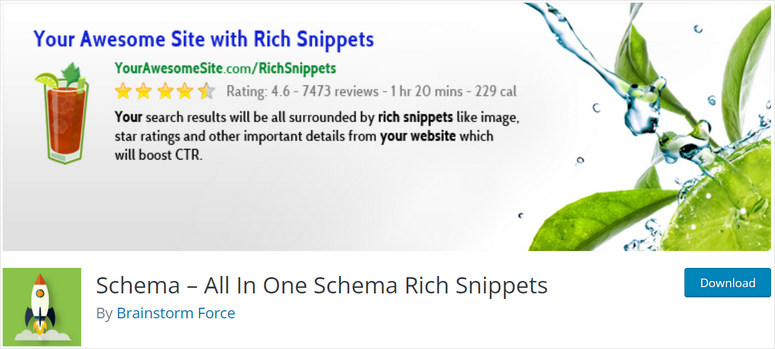 If you're looking to stand out from the crowd on search engines, All in One Schema Rich Snippets is the perfect plugin.
All in One Schema Rich Snippets combines your site's review systems and other visual factors like images for search result pages. It shows relevant information in the rich snippets for the search engines.
It doesn't allow your visitors to give reviews on your site. But you can use this plugin to boost your SEO rankings and show reviews and other data on your snippets.
Highlights:
Simple and lightweight plugin
Supports different schema types such as reviews, events, recipes, and more
Boost your SEO with rich snippets and schema markup
Compatible with Facebook sharing
Pricing:
Free.
Get started with All in One Schema Rich Snippets!
Which is the Best WordPress Review Plugin?
As you can see all of these WordPress review plugins offer a review system for your site. And, according to your choice of plugin, you'll find a unique review style that you can use.
Now that we have compared these plugins side by side in this list, we will recommend you the best WordPress review plugin for your website.
WP Review Pro: If you want a standard review system to boost the conversion of your products, then WP Review Pro is the best tool. It offers tons of features that allow you to choose the best review template and style for your site.
WPForms: This form builder is so much more than just WordPress forms. It helps you create a review form for your website so that you can let your customer submit reviews with just one click. There's no need to code. Just use the shortcode or Gutenberg block to insert the review form on any part of your site.
YITH WooCommerce Advanced Reviews: For eCommerce websites, this review tool allows customers to review your products and upvote the best reviews. This boosts the credibility of your store and increases product sales.
If you're running a review website or blog, you'll need a plugin like AIl in One SEO for adding product review schema and SEO optimization features.
Also, you may want to check our step-by-step guide on how to start a review website. It will help you create a profitable review site in WordPress from scratch.
We hope this article helped you discover the best WordPress review plugins for your website.
For your next steps, you'll definitely want to see How to Get More Online Reviews to Grow Your WordPress Business.
And you may want to check out these helpful resources:
These tutorials help you add more functionalities like online surveys to collect user feedback and push notifications to drive more traffic to your site. The last one will help you find the right tools for optimizing your website content to get better SEO rankings.