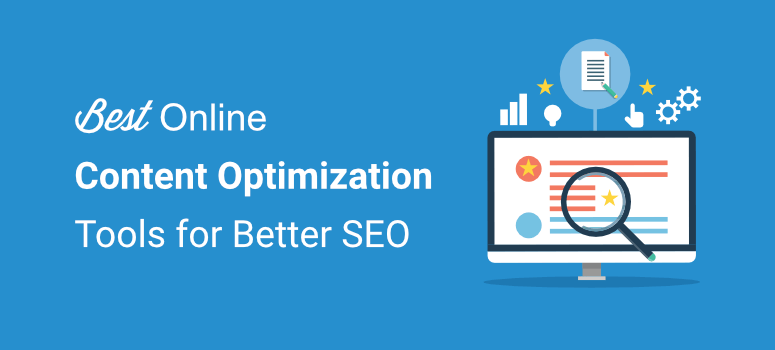 Do you want to drive organic traffic to your website? Are you looking for the best tools to help you optimize your content to get it to rank on search engines?
The right content tools can help you get maximum visibility for your blog posts and other content on your site. Having written content for so many years, we've used lots of online tools to get our own content to rank.
Today, we're sharing the best content optimization tools that give you all the features you need and make it easy to get your website to the top positions of search engine results.
Why You Need Content Optimization Tools
Google uses machine learning algorithms to index web content and display the most relevant results to its users.
One of the best ways to get your post into relevant results is to analyze the search intent of users for particular keywords and then optimize your pages and posts to suit that.
But even then, Google relies on over 200 ranking factors making it impossible for you to manually ensure you optimize your blog posts for every one of them.
Thankfully, there are plenty of powerful content optimization tools in the market for digital marketers, writers, content creators, and copywriters. These tools make it easy for anyone to rank on search engine results even if they have no prior SEO (search engine optimization) experience.
Content optimization software basically takes care of all the technical aspects involved and lets you add recommend SEO measures to your content with simple button clicks. Creating content that's optimized has never been easier.
Having said that, let's dive into the tools that will help you optimize your website content.
Best Online Content Optimization Tools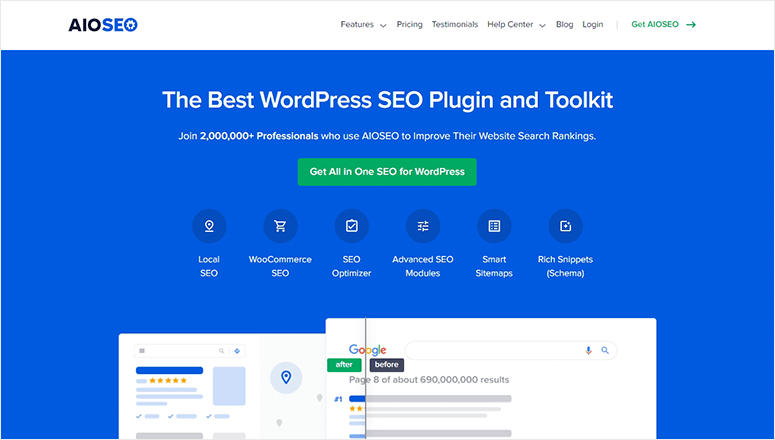 All in One SEO is the #1 SEO plugin for WordPress websites. It's beginner-friendly and at the same time, comes with advanced optimization features.
When you install the plugin on your site, it automatically identifies SEO errors and gives you recommendations on how to fix them. You can also easily create and submit XML sitemaps to search engines. This will make your website more SEO-friendly on the whole.
Added to that, there's a powerful on-page analysis tool that helps you optimize every page and post before you publish it. You can add in focus keywords, meta descriptions, and rich-snippets schema. It even supports WooCommerce so you can make sure your products are optimized to attract the right shoppers.
In a nutshell, All in One SEO lets you add all recommended SEO measures to your site with just a few clicks. You don't have to be an SEO expert to get your website to the top ranks. AIOSEO handles all the technical aspects behind the scenes.
Highlights
On-page analysis
Site maps, rich snippets, robots.txt editor
SEO audit with checklist
SEO custom user roles
Headline analyzer
Internal link assistant
Supports local and WooCommerce SEO
Control how website content looks on social media and RSS feeds
Pricing
Starts at $49.50 per year.
Optimize your content with All in One SEO!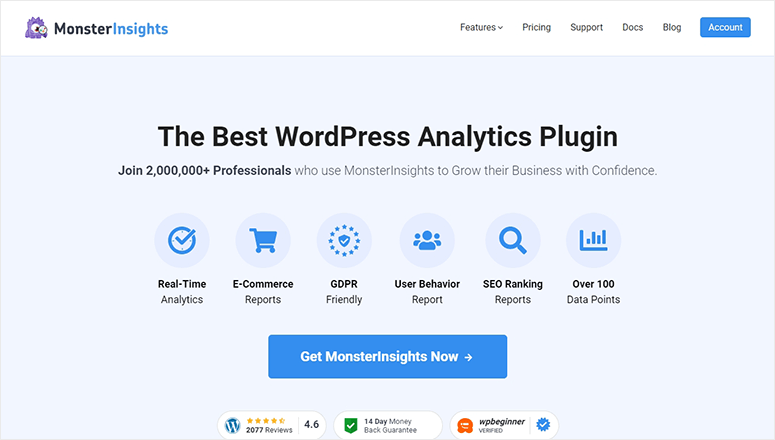 MonsterInsights is the best Google Analytics plugin for WordPress. It makes it incredibly easy to connect your website to Google Analytics, in fact, all it takes is a few clicks. You'll never need to touch your website's files or coding.
Once done, MonsterInsights gives you a Publisher's report that shows you the performance of your blog posts. You can find out what content your target audience is responding to the most and use this data to plan your future content calendar.
MonsterInsights also lets you enable 'popular posts' on your site. This feature will automatically find and display your most popular posts on your site so readers can easily access them. You'll be able to keep your readers engaged for longer and get more views for your blog posts.
Aside from that, you can view other analytics reports like your website statistics, audience details, eCommerce, and forms reports. It shows product performance, conversion rates, and transaction revenue as well.
So you'll be in a better position to improve session rates, reduce bounce rates, and keep visitors on your site for longer.
In addition to Google Analytics, you may also want to set up Google Search Console to get more insights into your website's data and performance.
Highlights
Find and display popular posts
Headline analyzer
Scroll tracking
Track events and custom dimensions
Advanced integrations with third-party tools
Pricing
Starts at $99.50 per year.
Optimize your content with MonsterInsights!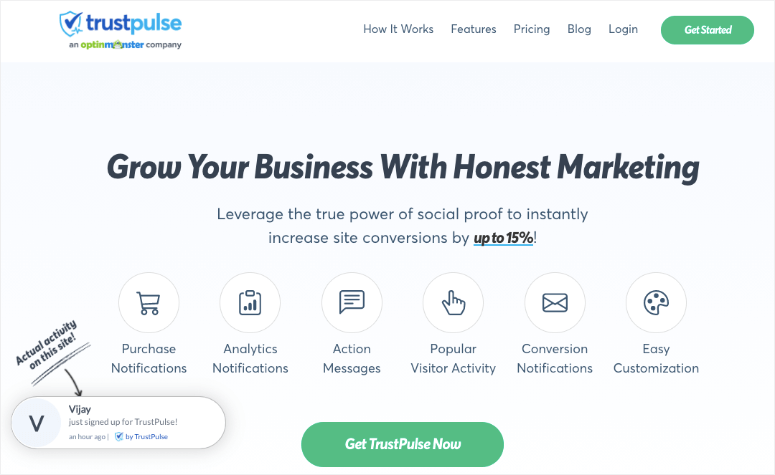 TrustPulse is the best social proof notification tool that you can use on any website. The app lets you track recent activity and visitor statistics on your site. It then displays this activity to your visitors in non-intrusive popups.
With this app, you can showcase recent sales, signups, and pageviews. You can even create custom messages to grab your visitor's attention to notify them about flash sales, offers, eBook downloads, and much more.
So for instance, you can track how many views a blog post gets and display these real-time statistics to your website visitors. These popups are designed to spark their curiosity and when they click on the popup, they'll be directed to your blog post where they can read it.
In this way, you can optimize your page visibility and views.
The best part is that the TrustPulse app uses an automated tracking system and comes with set-and-forget configurations. It takes just 5 minutes to set up these campaigns and then they'll run on their own, driving conversions and page views higher.
Highlights
Real-time activity tracker
Automated workflow
Smart targerting and timed display
Fully customizable responsive popups
Recent activity, analytics, and custom message popups
Pricing
Starts at $5 per month.
Optimize your content with TrustPulse!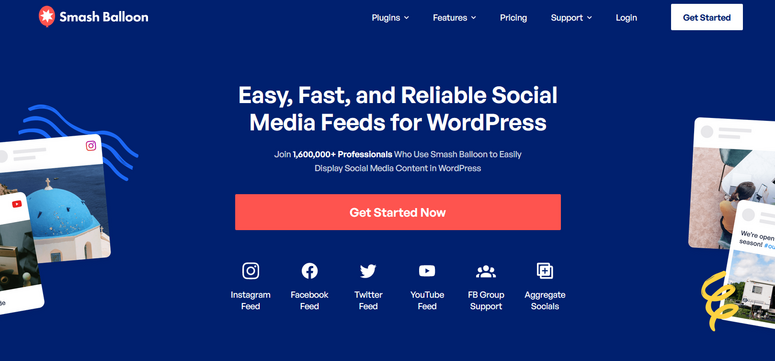 Smash Balloon is the best social media feed plugin for WordPress. It lets you showcase your social media content on your website in neat optimized layouts. This will help you optimize your social media followers, views, and engagement.
The plugin makes it easy to connect to all popular social media platforms including Instagram, Facebook, YouTube, and Twitter. Then it automatically fetches your social media content and displays it in attractive feeds on your site.
Smash Balloon also lets you tweak and filter the feed. Plus, you can also add social buttons so viewers can subscribe, like, or follow with a click. This way, your website visitors have easy access to view and engage with your social media channels without ever leaving your site.
Highlights
Simple setup with automated feeds
Customizable feeds with over a dozen layouts
Filter feed by hashtags, categories, and more
Supports Instagram, Twitter, Facebook, and YouTube
Social wall that combines feeds from different platform
Pricing
Smash Balloon offers individual plugins for each social media platform. They start at $49 per year. You can opt for the all-access bundle at $299.
Optimize your content with Smash Balloon!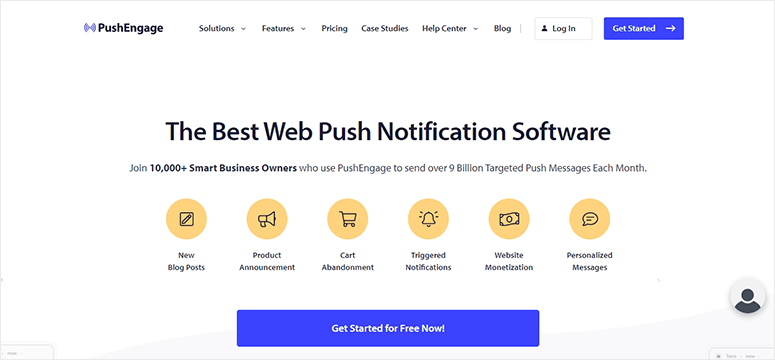 PushEngage is hands down the best push notification software in the market. It helps you maximize your blog post views by sending automated notifications about recently published posts to your subscribers. You can also create customized and personalized messages to alert visitors about popular posts, new features, sales, price drops, and so much more.
First, it's really easy to get your readers to subscribe to browser notifications. All they have to do is allow notifications without ever sharing their email address or phone number.
Then you can send notifications to their browser to build a long-lasting relationship with them. The tool also lets you segment your audience so you can send them relevant blog posts that they'll be interested in.
With PushEngage, you can schedule and send notifications according to the subscriber's time zone so they'll be more likely to see your notification when they're online.
Highlights
Triggered and scheduled notifications
Welcome and drip engagement series
Custom branding and domain
Dynamic segmentation to target right subscribers
A/B testing and analytics
Offline notifications
Pricing
Free plan for up to 500 subscribers. Paid plans start at $9 per month.
Optimize your content with PushEngage!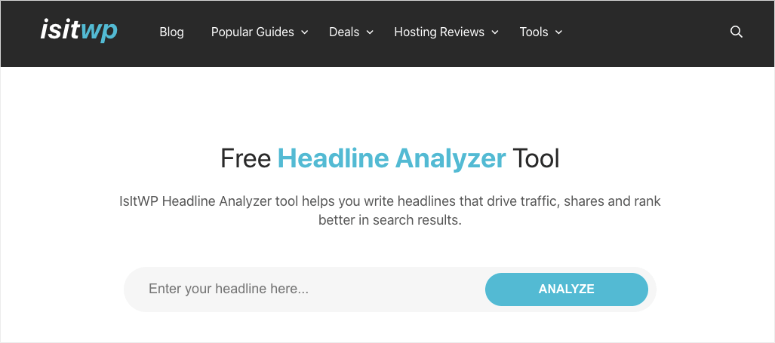 Headline Analyzer is our very own free content optimization tool to help you optimize your headlines so that they rank well on search engines. It's an absolute must-have tool for all content creators.
The tool helps you craft blog topics that actually rank better, drive traffic, and get more shares.
All you have to do is enter your blog title, and the Headline Analyzer will give it an overall content score along with suggestions on how to improve it. You can see if you need to increase or decrease the word count so it displays properly on SERPs (search engine results pages). It even shows you a preview of how your blog will appear in Google search results.
With the Headline Analyzer, you can find out if your headline appeals to certain emotions and sentiments. It also shows you common/uncommon, power, and emotional words are present in your headline.
Highlights
Easy to use
Get complete headline analysis in line with best SEO practices
Find the perfect word balance
Pricing
Absolutely free.
Optimize your content with Headline Analyzer!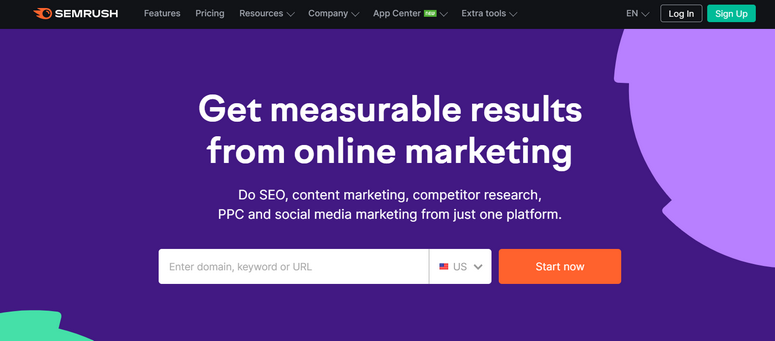 Semrush is a popular and powerful SEO tool used by thousands of professionals. It gives you an in-depth analysis of the performance of your website's posts and web pages.
The rank checker tool shows you which posts are popular and gives you insights into how to optimize them.
You can also research new and relevant keywords and blog topics to start publishing better content. You can see the search volume and long-tail keyword suggestions.
Plus, you can spy on your competitors' content to get a sneak peek into their top organic keywords, advertising strategies, backlink techniques, and more.
There's even a Writing Assistant where you can paste your content to get suggestions to improve readability and add the right keywords. It also flags keyword stuffing, plagiarism, and other issues.
With Semrush, you can find keywords and search terms you can easily rank for, keep track of your backlinks, and get other useful reports and data to help you succeed.
Highlights
Keyword research tool
SEO content templates
Rank tracking
On page SEO analysis
Competitor analysis
Data-driven content solutions
Linking building
Content marketing analytics and suggestions
Pricing
Starts at $99.95 per month if you bill annually.
Optimize your content with Semrush Today!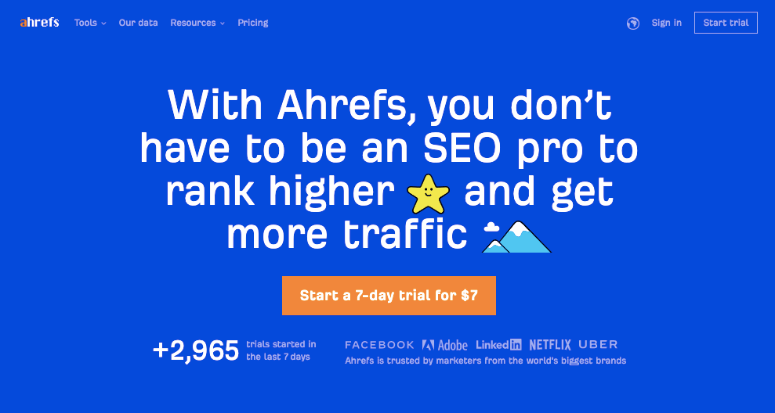 Ahrefs acts as an all-in-one SEO toolkit to optimize your website's content. It comes with a site audit tool to optimize your entire website.
You can also study what your audience is searching for so you can plan your content calendar according to what they want. This means you'll be able to publish high-quality content that's relevant to them.
You can also track your rankings and backlink profile to build a solid SEO and content strategy.
Added to that, Ahrefs uses powerful crawlers to monitor the web and give you insights into your competition. It shows you where the competition excels and their rankings. With these insights, you can better your content strategy, find SEO content gaps, and improve your own website's performance.
Highlights
Audit entire website's SEO
Explore target keywords
Spy on your competition
Pricing
Starts at $99 per month. Get 2 months free when you bill annually.
Optimize your content with Ahrefs Today!
And that's all we have for you today! We hope this list helped you find the best SEO content optimization tools for your site. If you want more options to improve your content marketing strategy, we recommend checking out the Hemingway Editor, Clearscope, and MarketMuse too.
We also have a list of content marketing tools that you'll definitely be interested in. Once you have your content creation and optimization process streamlined, you'll want to see these resources:
These posts will help you reduce admin work, target your audience through email, and also generate revenue from your blog posts.