Looking for the best Google Analytics plugin for your WordPress site? Even if you're not a numbers person, you know analytics are important: basing your strategy on real data is the most effective way to grow your site. Our MonsterInsights review will show you how this plugin can give you the actionable data you need.

Do You Really Need an Analytics Plugin?
Why not just use Google Analytics?
If you've used Google Analytics before, you know that it's a powerful tool with lots of valuable data — but it can be completely overwhelming. If you're not an analytics expert, it can be very difficult to know where to start, or how to put that data to use.
And what's the point of analytics if you're not using the data to improve your site?
For most users, you just need a tool that shows you the most important data at a glance, in an easy to understand format. Data that you can put into use right away to improve your site.
A good analytics tool will help you:
understand what topics and formats your audience likes best, so you can create more of it
see how people find your site, so you can focus your efforts on the marketing tactics that work
set and track your conversion goals, so you know how to improve and optimize your site
If you're an expert Google Analytics user, you can do that without a plugin. But a plugin like MonsterInsights will give you all that information at a glance, making analytics easy even if you're a beginner.
MonsterInsights is also much easier to set up than Google Analytics. A beginner to WordPress may not know how or where to place the tracking code. But setup with MonsterInsights is much easier — you don't have to edit any code on your site.
Previously "Google Analytics by Yoast"
If you're looking for a Google Analytics by Yoast review, you're in the right place!
MonsterInsights was originally developed by Joost de Valk, the developer behind Yoast SEO. As Yoast grew they decided to focus on SEO products exclusively, and the Google Analytics by Yoast plugin found a new home in 2016 with Syed Balkhi and was rebranded as MonsterInsights.
MonsterInsights now has a single goal: to make analytics easy for beginners.
MonsterInsights is brought to you by the same team that's behind WPBeginner, OptinMonster, and Envira Gallery.
(See our OptinMonster review and Envira Gallery review.)
How to Set Up MonsterInsights
Note: You will have to have a Google Analytics account already created before setting up this plugin.
Install and activate the plugin, and then navigate to Insights » Settings. Here you can connect your Google Analytics account without having to edit any code.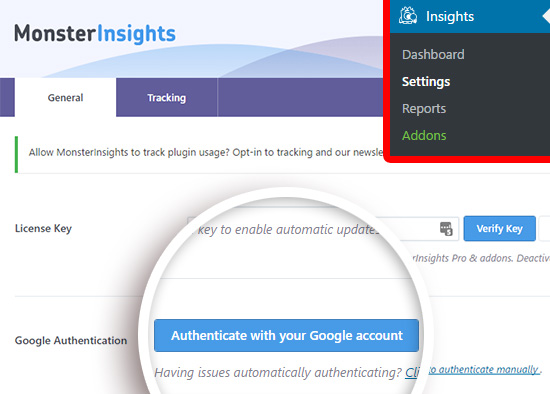 Click on Authenticate with your Google account to get started.
In the popup that appears, click Next » Click To Get Google Code.
Log in to your Google account and click the Allow button to grant MonsterInsights access to your analytics data.
Then copy the authentication code it generated for you. Paste the code in the popup field in your WordPress dashboard, and again click the Next button.
Now you can select an analytics profile from the dropdown, and then click Next.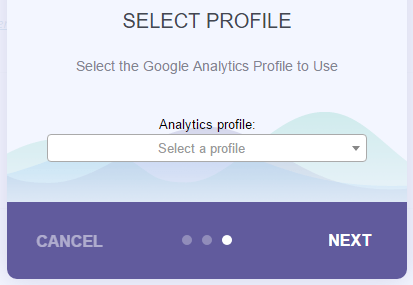 Beneath that are a few options to check off if you choose:
Track outbound click and downloads: This will keep track of all clicks and downloads as Events in your Google Analytics account.
Allow tracking of anonymous data: This will send information anonymously to the developer on how you use MonsterInsights, allowing them to know what configurations, themes, and plugins to test.
Anonymize IPs: This will help to anonymize the IP addresses of visitors.
Ignore users: You can set your analytics to not tracks the actions of the Administrator, Editor, and other user roles.
Disable analytics dashboard: This disables the dashboard and stops all data collection as long as it's checked off.
When you've chosen your options, click the Save Changes button at the bottom.
That's it! Now when you click on Insights » Dashboard, you'll see your traffic stats displayed.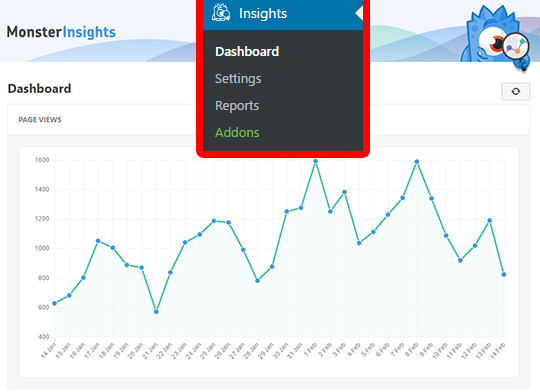 Take Your Data Further With MonsterInsights Pro
If you'd like more specific data or advanced features on your WordPress dashboard, plus premium support, check out the MonsterInsights Pro plugin.
With MonsterInsights Pro, you'll be able to:
see the most popular posts, pages and sections of your website
track custom dimensions like page views per author or post type
log 404 error pages
see your Google Adsense stats
create custom reports
…and more.
The team is continually working to add new features as well.
There's also a plugin add-on created especially for eCommerce sites. It allows you to easily setup eCommerce and goal tracking. It also integrates with WooCommerce and Easy Digital Downloads, making it easy to track all your sales.
Documentation and Support
The WordPress.org plugin page and the MonsterInsights website have all the tutorials you need to set up the plugin and fix any issues that may arise.
For the free version of the plugin, community support is available in the WordPress.org support forums.
Users of the MonsterInsights Pro version have access to highly-rated support from the developers.
Our Verdict
MonsterInsights fulfills its goal of making analytics easy for beginners. It gives you the powerful insights of Google Analytics, without the overwhelm. It's easily the best Google Analytics plugin for WordPress.
We feel confident in giving MonsterInsights 5 out of 5 stars. Here is the breakdown of our review scores: