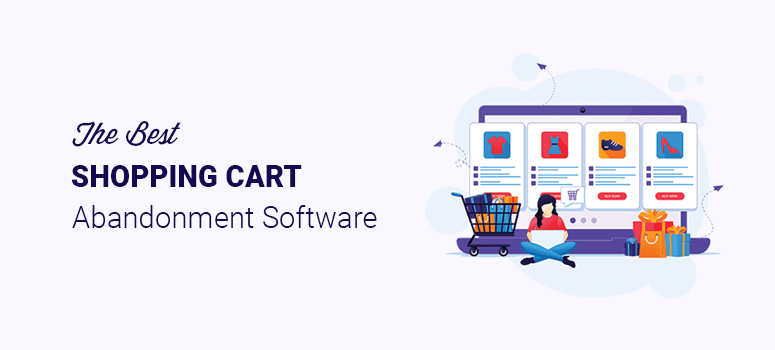 Are you looking for the best shopping cart abandonment software?
You may have hundreds of thousands of website visitors. But this isn't a complete indication of your business's growth.
For an eCommerce website, growth means sales. It means that your visitors make purchases on your website and become customers.
The problem occurs when these visitors add products to their shopping cart and then leave your eCommerce site without completing the checkout process.
There can be many reasons for shopping cart abandonment. This includes internet connection failure, high shipping costs, long delivery times, confusing checkout pages, and more.
Once a potential customer leaves your website, there's no coming back. And this is how you lose business.
This is where shopping cart abandonment software comes in. These tools can bring customers back to your website to complete their purchases.
These solutions can automate communication with your potential customers to save you time and increase sales.
In this article, we'll share some of the best shopping cart abandonment software for eCommerce stores.
Best Shopping Cart Abandonment Software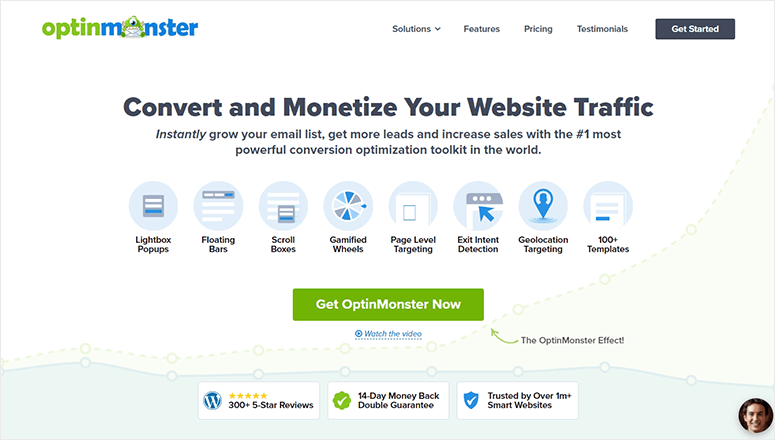 OptinMonster is the best lead generation and conversion optimization software. It comes with hundreds of ready-made templates to create lightbox popups and engage users when they're about to exit from your store.
It also comes with powerful Exit-Intent® Technology to convert abandoning visitors into customers.
OptinMonster tracks and monitors the movement of each user to detect that a customer is leaving, and it presents your lead magnet or offer to reduce cart abandonment and increase sales.
You can create a fully custom lightbox popup to show a targeted message. This includes an invitation to chat with live customer support, a special discount on instant purchases, asking for an email address to add to the email list, and much more.
OptinMonster ensures that a customer who reaches the checkout page shouldn't leave your website without making the purchase. It's easy to set up using a drag and drop builder and comes with built-in campaign templates.
That means anyone can create high-converting and professional campaigns in minutes, even with no technical experience.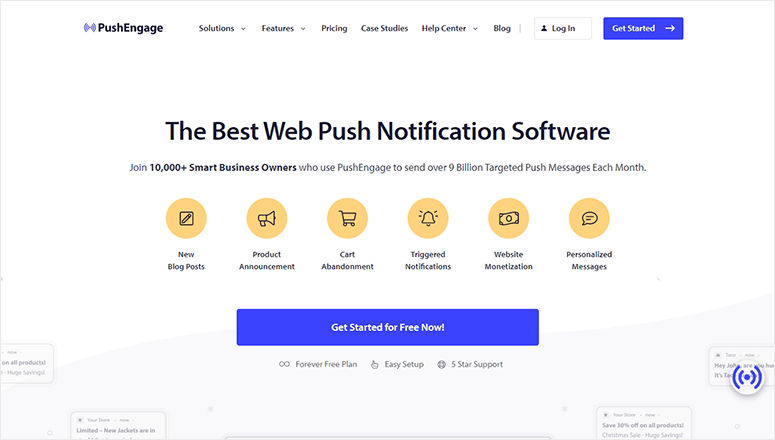 PushEngage is the best web push notification software on the market. It comes with a cart abandonment reminder feature to automatically trigger abandon cart push notifications.
This helps recover lost revenue and increases conversions. PushEngage integrates with WordPress, Shopify, and other popular eCommerce platforms to send push notifications.
These notifications are fully personalized with the name, address, and other personal attributes to get your users' attention. You can also add location, language, product name, and more details to the notification.
PushEngage allows you to send messages based on the time zone of the customer, too. This way, you get more engagement and conversions.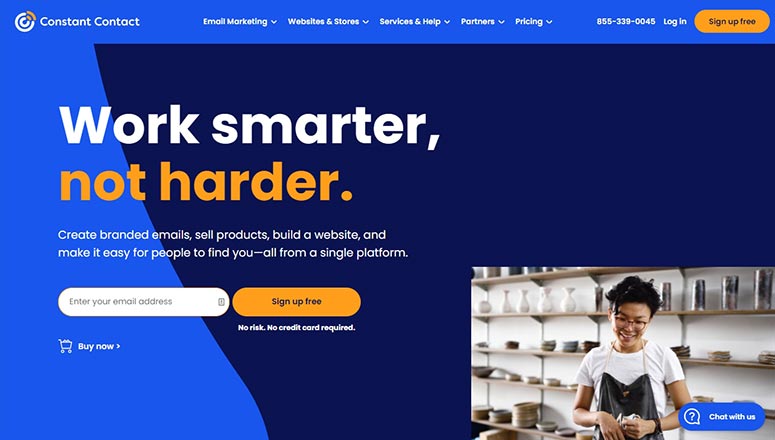 Constant Contact is the best email marketing software to connect and communicate with users. It lets you reach out to customers who abandon shopping carts to increase your sales.
Constant Contact comes with a drag and drop email builder and beautiful email templates to engage users. You can send promotional emails to bring customers back to your website.
Constant Contact tracks emails in real-time and shows open rates, click-through rates, and non-openers. It also automatically sends emails to non-openers for more user engagement and to boost your sales.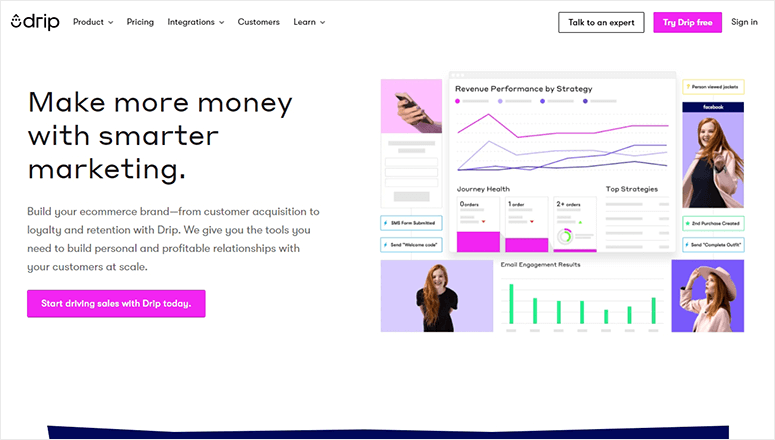 Drip is a popular eCommerce, email marketing, and client retention software. It comes with professional tools to build relationships with customers and helps reduce shopping cart abandonment.
Drip monitors customers' behavior and sends emails regularly to convert abandoning visitors into paying clients. With revenue dashboards, you can look into insights and engagement reports to design better strategies for customer retention.
It also comes with built-in workflows and proven strategies for increasing sales. This allows you to offer personalized deals to customers and attract them to make more purchases on your site.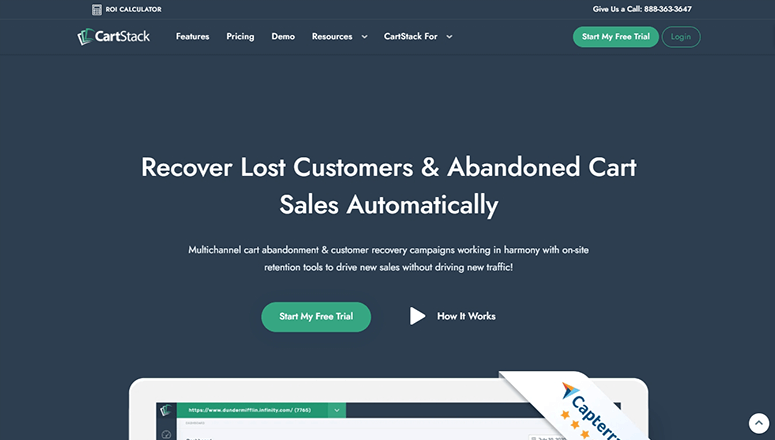 CartStack is the ultimate shopping cart abandonment software on the market. It allows you to create multichannel customer recovery campaigns to find your lost customers and bring them back to your eCommerce store.
It also comes with premium-quality retention tools to get more sales. This software offers email reminders, push notifications, SMS reminders, and several other features to send the right message to users and boost your revenue.
CartStack observes early-stage visitors and potential leads. It filters your top visitors and communicates with them to convert abandoned carts into sales.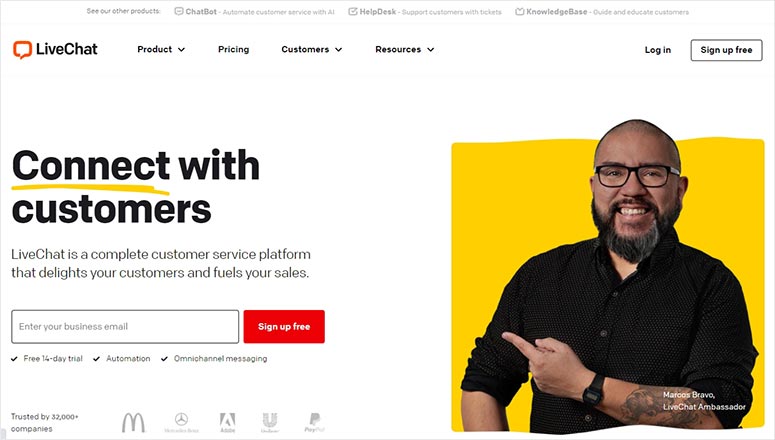 LiveChat is a powerful customer service platform to communicate with customers using hundreds of tools and channels. It seamlessly integrates with Facebook messenger, chatting apps, and other software for quick communication.
Unlike other shopping cart abandonment software, LiveChat reaches out to customers when they're visiting your website. This allows you to display beautiful product cards and make more sales while talking to customers.
Your agents and experts can share the cart links in the chat to ask customers to complete the checkout. It's multilingual, and you can add a live chat option in any language on your website.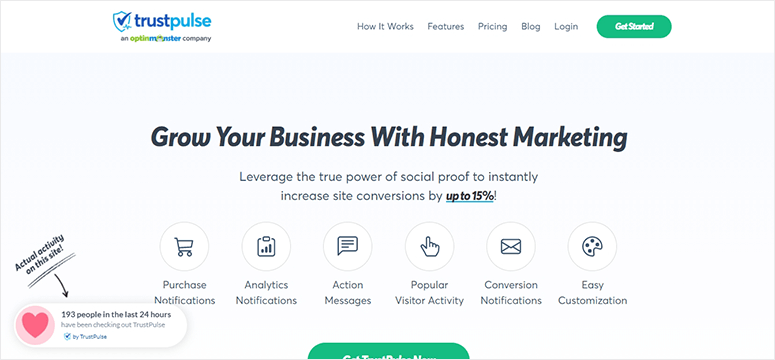 TrustPulse is the best social proof notification software. You can use it to track what users are doing on your site and then showcase this activity in non-intrusive popups on your site.
New users may abandon their cart because they have doubts about whether your site is secure or trustworthy. When you show them others are buying from you, this gives them that much-needed push to complete their purchase.
TrustPulse also lets you create and display custom notifications. You can target them by which page they're viewing. If the user is on the checkout page, you could display a notification with a one-time discount to urge them to complete their purchase.
And that's all for now! We hope this article has helped you find the best shopping cart abandonment software for eCommerce websites.
You may also want to check out our guide on how to set up WooCommerce cart conditions.
This will further help increase customer engagement and boost your eCommerce business sales.