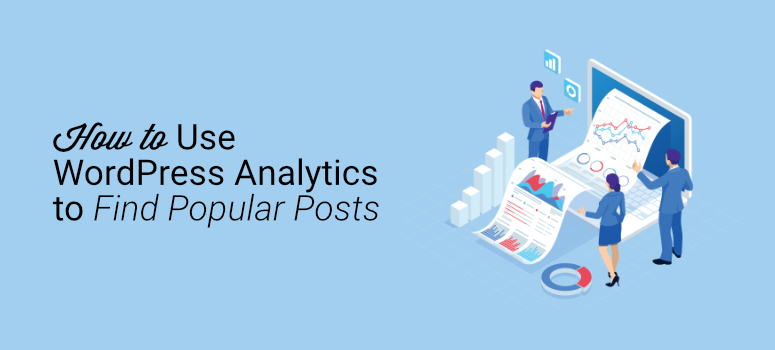 Do you want to find the most popular posts on your WordPress website?
Finding your site's most-visited posts can tell you a lot about your target audience and the effectiveness of your content marketing strategy. With the right tools on your side, you can easily monitor your posts and find out what your visitors are most interested in.
But before we get into the step-by-step process of how to find the most popular posts on your WordPress site, let's go over why doing so is important.
Why Find Popular Posts on Your WordPress Site?
There are several reasons why you should pay attention to your site's popular content.
1. Understand Your Audience
To create a website that builds traffic and generates leads, you first need to understand your target audience.
Without knowing who they are, you fail to understand their wants, needs, pain points, and more. Your site's popular content tells you a lot about your visitors, including their goals, desires, interests, and problems.
The more you learn about them, the quicker they'll take action and move through the sales funnel.
2. Identify Valuable Content
If your site has pages or posts that rarely drive traffic or cause a high bounce rate, it doesn't suit your audience's needs. They don't find it relevant so it doesn't serve a purpose.
Identifying your site's popular posts shows you what your audience values and what they're interested in. You can use this to your advantage by creating similar content that's relevant to their needs and solves their problems.
3. Streamline Future Content Strategies
Your website analytics provide you with crucial user data. It gives you deeper insight into their pain points, questions, interests, and needs so you can cater to them more efficiently. You can use these valuable insights to improve future marketing campaigns, boost lead generation, and grow your brand.
4. Improve SEO
To rank well on Google, your site's search engine optimization (SEO) needs to be top-notch. With so much competition available, it's important that your brand stands out and shows up for its audience.
Because your site analytics show your visitors' likes and dislikes based on their activity, you can use that information to publish relevant content. This drives more traffic to your site and shows your content to the right people who are more likely to convert.
Now that we know why identifying popular posts on your site is important, we need a WordPress plugin that's going to integrate with Google Analytics.
For this article, we'll be using MonsterInsights: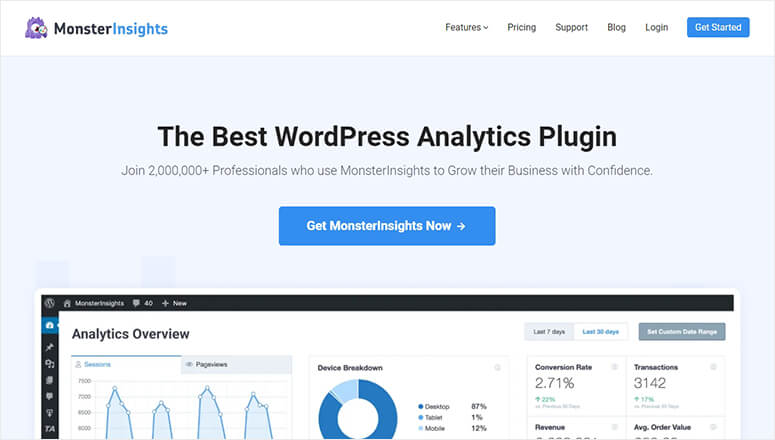 Yes, you need Google Analytics to find your site's most popular posts and pages.
But MonsterInsights makes it possible to connect those analytics to your WordPress site and understand its reports.
Many website owners complain that analytics reports are confusing and difficult to use on a practical level. But with MonsterInsights, it's easy to break down how users navigate and spend time on your site.
Using Google Analytics on its own poses many potential problems, including:
Losing tracking codes
Setting up custom event tracking
Reconfiguring tracking codes every time you switch themes
Those are just a few problems you'll run into if you use Google Analytics on its own. MonsterInsights eliminates these issues as well as the need to hire a developer. It takes only a few minutes to set up and install so you can start analyzing your site visitors in no time.
Let's dive into the steps of using Google Analytics and MonsterInsights to find popular posts on your website.
How to Find Popular Posts on Your WordPress Site with MonsterInsights
To get started, you need to install and activate the MonsterInsights plugin to your WordPress site. If you need help, check out our guide on how to install a WordPress plugin.
Once you've successfully installed MonsterInsights, you'll notice the widget appear in your dashboard: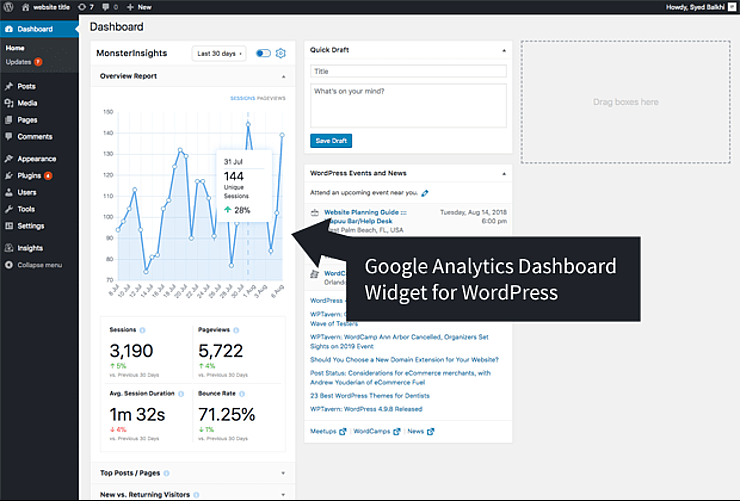 This shows an overview of the last 30 days of your site's analytics so you get the full picture as soon as you enter your WordPress admin. It's also customizable so you can choose which reports to see for your overview.
At the top right of the widget, click the Settings button:

From the drop-down menu, select the option that says Top Posts / Pages: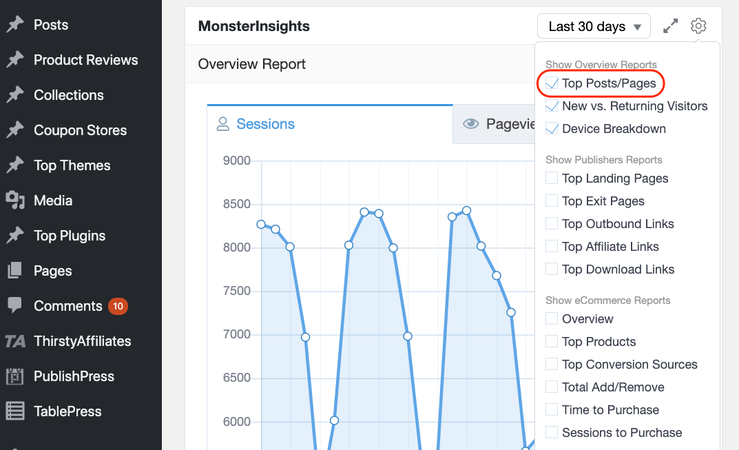 From here, you can easily access and review your site's popular posts and pages to stay on top of high-converting content and drive even more traffic.
You can also access this report by clicking on Insights from your WordPress sidebar:

When you scroll down, you'll see a list of the top posts and pages on your site called Top Posts / Pages: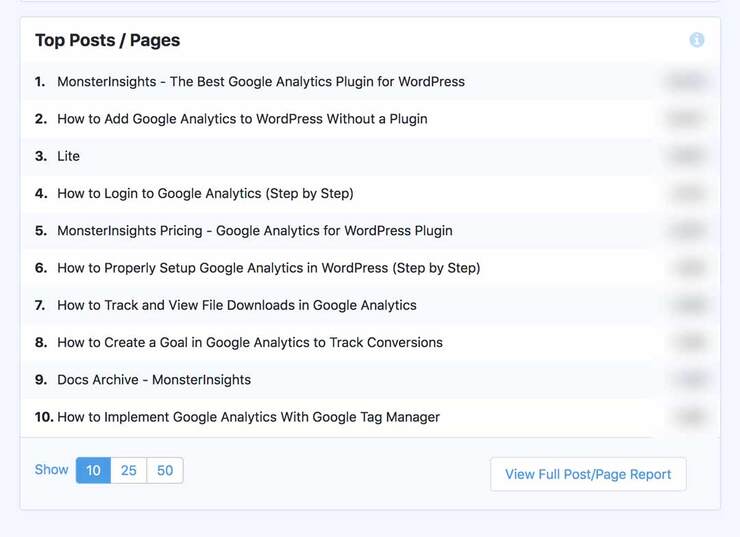 You can also access this report by navigating to the Insights » Reports tab. There's a Publishers tab that gives you 2 options: Overview and Pages Report.
Under the Overview tab, you'll get more data on landing pages, outbound links, affiliate links, download links, and more.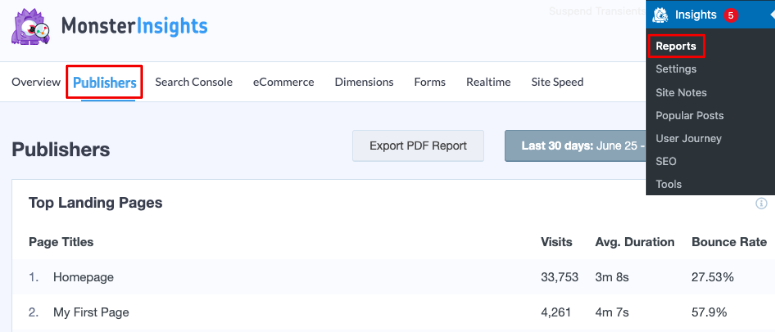 In the Pages Report, you can see stats about each page on your site that includes page views, engaged sessions, bounce rate and more.

And that's all there is to it! You've now successfully integrated MonsterInsights with your WordPress site and used it to identify your most popular content.
Again, MonsterInsights makes this process insanely simple. Read more about MonsterInsights here.
For an alternative to MonsterInsights, you can use ExactMetrics which was previously known as Google Analytics Dashboard for WordPress (GADWP). It is one of the oldest and popular analytics plugins for WordPress sites.
For more details about the features, you can check out our ExactMetrics Review.
If you enjoyed this tutorial, you should definitely check out our post on the best WordPress analytics solutions.
This resource will help you to pick and choose the perfect analytics tool for your WordPress site.