Are you in search of a powerful yet user-friendly Google Analytics plugin? Want to know if ExactMetrics is the right analytics tool for your site? 
ExactMetrics is one of the popular Google Analytics plugins for WordPress sites. It is packed with features that'll help you connect with Google Analytics and track your website traffic.
As the name suggests, it gives you the exact metrics that help you make the best decisions for your site.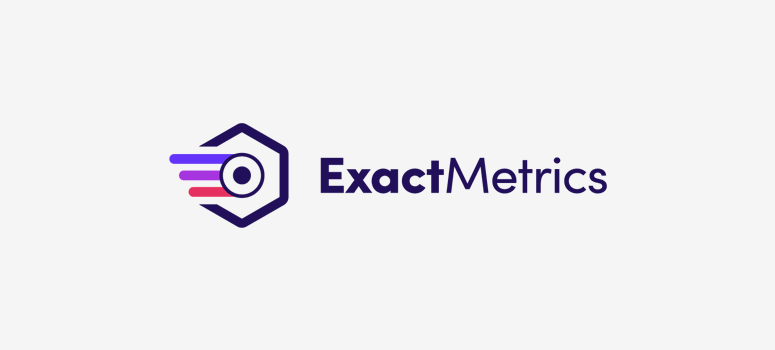 In this ExactMetrics review, we are going to discuss in detail the features, pricing, and other factors that ExactMetrics has to offer. 
Let's get started! 
About ExactMetrics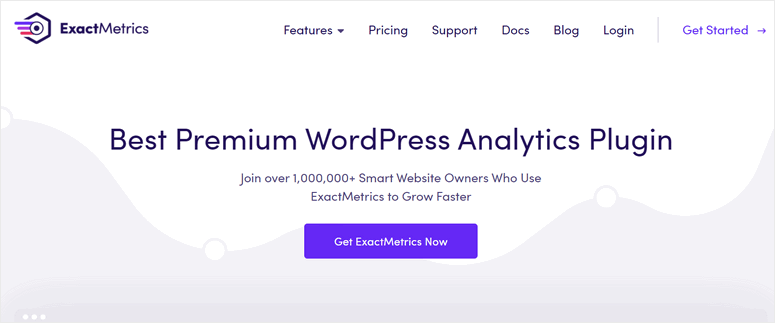 ExactMetrics (previously known as Google Analytics Dashboard for WordPress) is a top WordPress plugin that makes it easy to integrate your WordPress site with Google Analytics. 
All it takes is a few clicks. No need to hire a professional developer or edit any code. This means you don't need to manually enter your Google Analytics tracking code to connect your site. 
So even if you're a beginner with zero experience, ExactMetrics makes it easy to sync your website and start getting the data you need to grow your business. 
You easily get access to all your reports and analytical data from Google Analytics right inside your WordPress dashboard. So you'll never have to leave your site or open multiple apps to view analytics.
ExactMetrics offers a free version that you can install on your site to get started with the plugin. However, you need to upgrade to a pro plan to get access to advanced analytics features such as engagement tracking, eCommerce reporting, form conversions, and more. 
This is just a brief introduction to the ExactMetrics plugin. In the next section, we'll go over each feature to find out what the plugin has to offer. 
ExactMetrics Features
ExactMetrics is packed with powerful features so you can easily set up accurate tracking from Google Analytics on your WordPress site. Let's dive right into the features in detail. 
1. Easy to set up and connect Google Analytics
Once you install and activate the plugin on your WordPress site, an easy setup wizard will appear.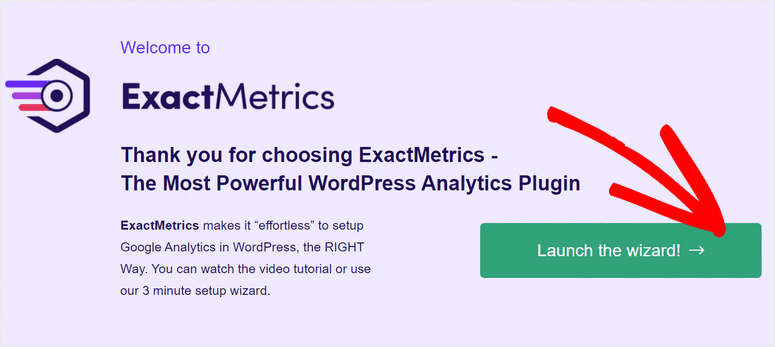 All you need to do is click on the button to launch the step-by-step setup wizard and easily connect your ExactMetrics account. It also allows you to integrate your Google Analytics property in a few clicks.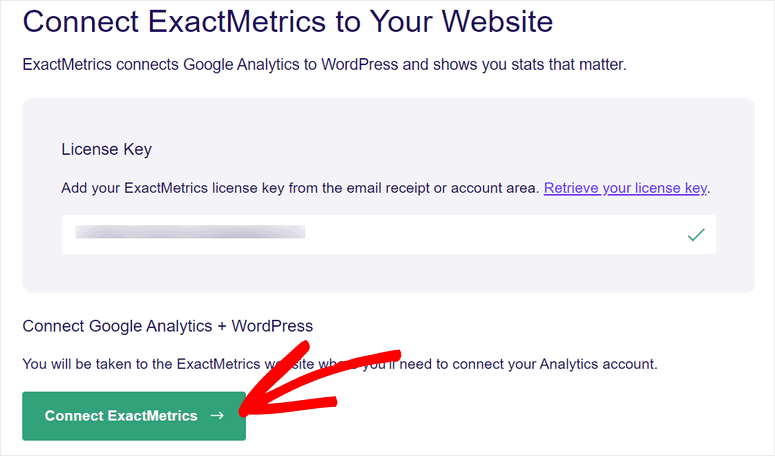 With ExactMetrics, you don't need to worry about entering your Google Analytics tracking code on your site. If you just follow the easy steps, you can connect your website without touching a line of code.
2. Dual Analytics Tracking: Connect GA3 and GA4
ExactMetrics offers the dual tracking feature that lets you seamlessly integrate both GA3 and GA4 properties on your WordPress site.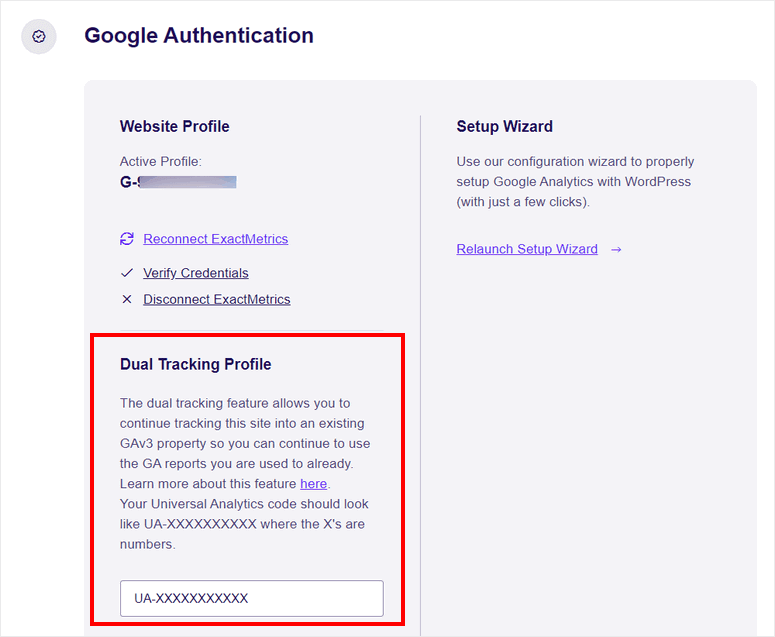 Google Analytics 4 (GA4) is the newest version of the Google Analytics platform. It offers tons of new features such as automatic event tracking, funnel report builder, and more. 
However, the new interface is not as user-friendly. So beginners who are not used to managing advanced reports will find it difficult to navigate the GA4 interface. 
Also, it lacks some of the features from GA3 like bounce rate metrics, form submission tracking, Google Search Console integration, and top landing pages report.
That's why ExactMetrics allows you to enable the dual tracking option for your site.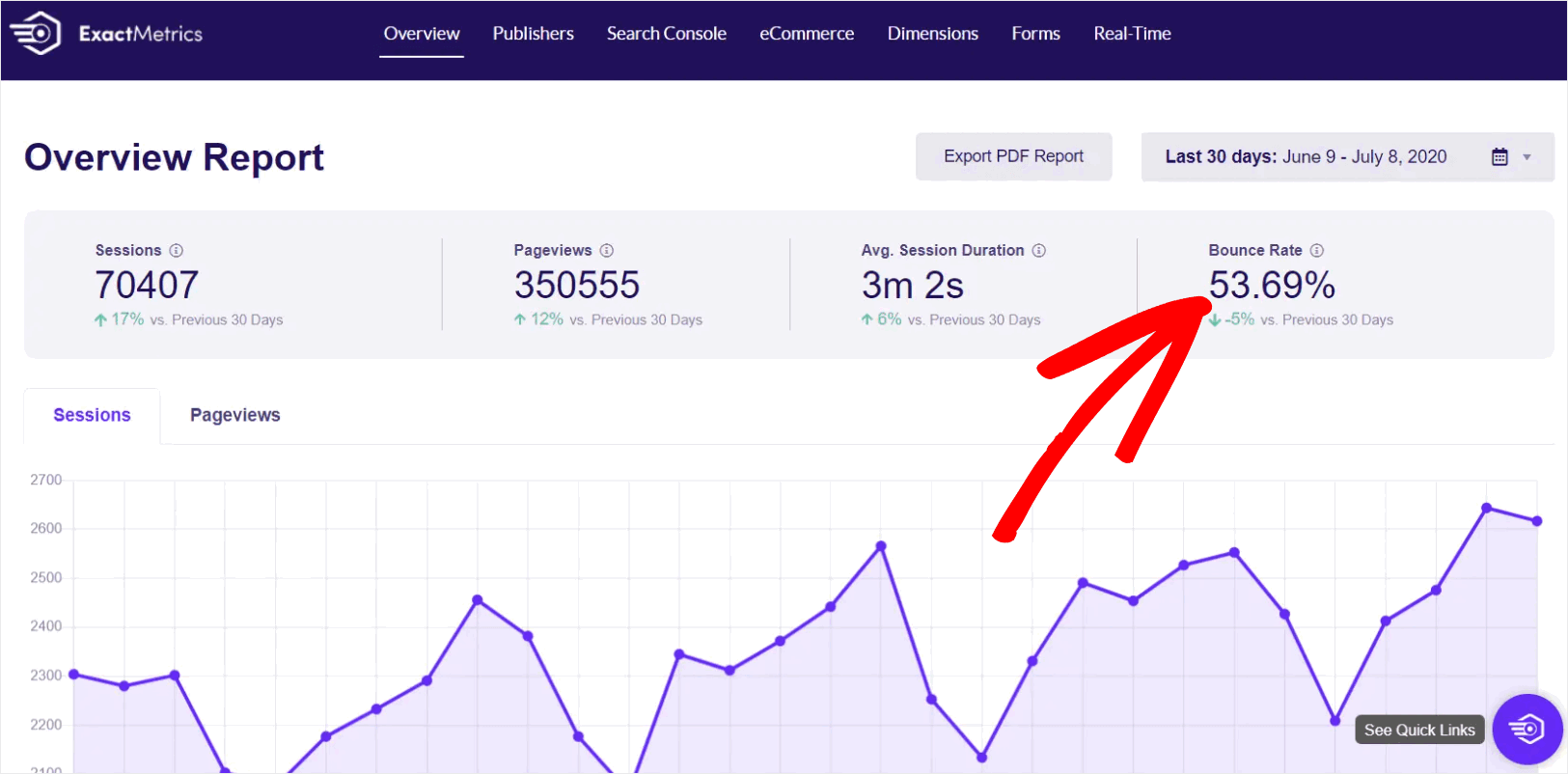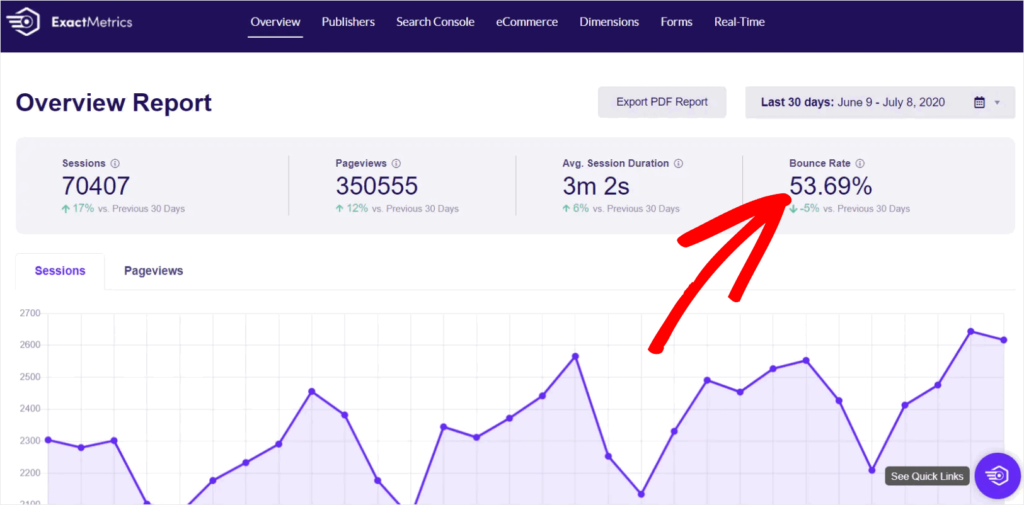 With this, you can keep using your Universal Analytics data and get additional GA4 data on your WordPress dashboard. 
See our guides: Google Analytics 4 vs Universal Analytics and How to Set Up Google Analytics 4 in WordPress
3. Set Up Advanced Tracking Functions
Along with Google Analytics, ExactMetrics lets you set up multiple advanced tracking options for your site. You'll get several features that help you track your website traffic and get accurate reports for each functionality.
Some of the advanced tracking options that you'll enjoy when using ExactMetrics are:
eCommerce Tracking
With ExactMetrics, you can track the performance of your eCommerce store in no time. When you set up the eCommerce tracking feature, you will get insights about customer actions and best-selling products right inside your WordPress admin panel.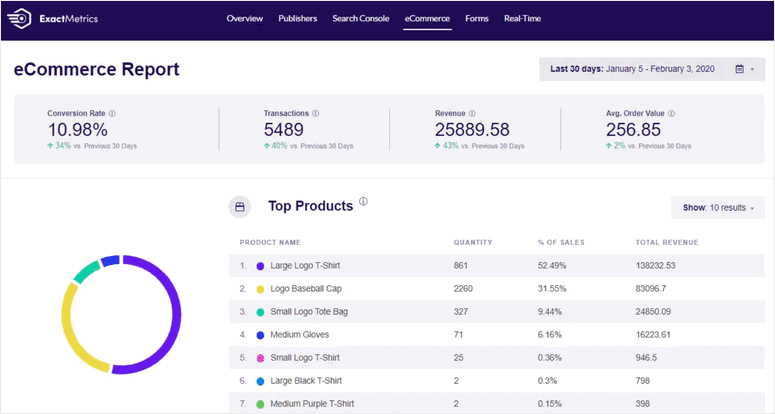 Moreover, ExactMetrics allows you to integrate with popular eCommerce plugins such as WooCommerce, MemberPress to see conversion data and insights.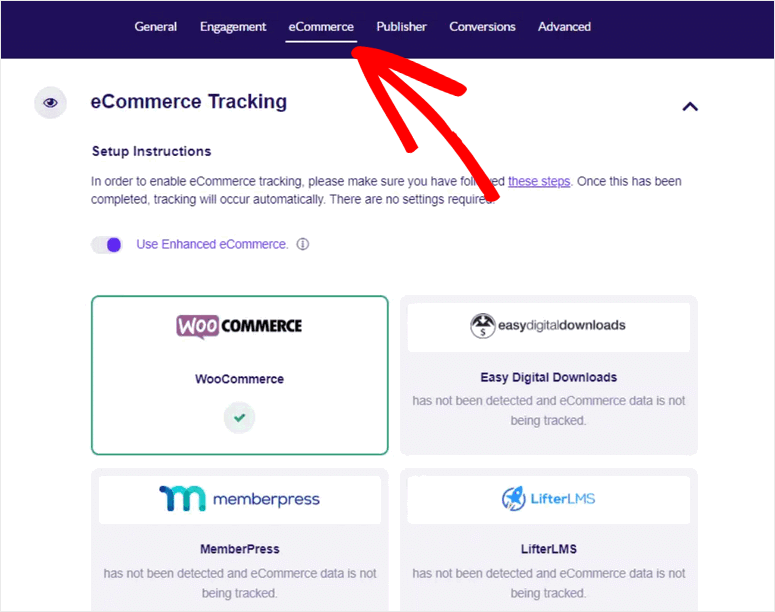 Affiliate Link & Ads Tracking
If you want an easy way to manage your affiliate links, you can set up the affiliate link and ads tracking feature in ExactMetrics. It lets you find out which affiliate links and ads on your site are bringing the most revenue.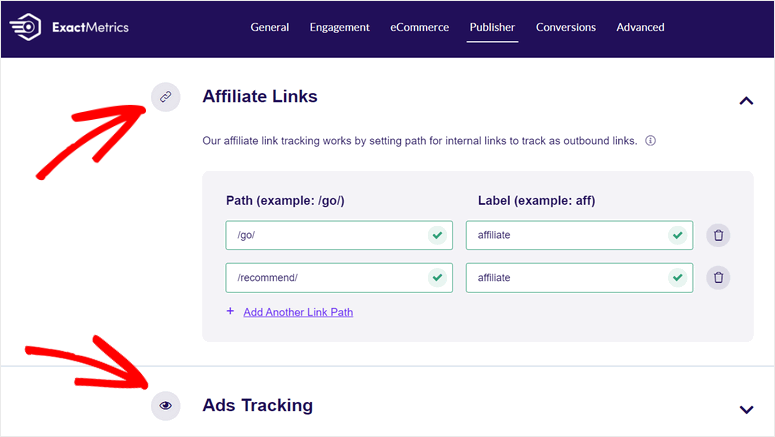 Form Conversion Tracking
ExactMetrics offers the form tracking addon which allows you to automatically track WordPress form submissions. Whether it is lead forms, contact forms, or registration forms, you can see overall performance along with conversion and abandonment rates.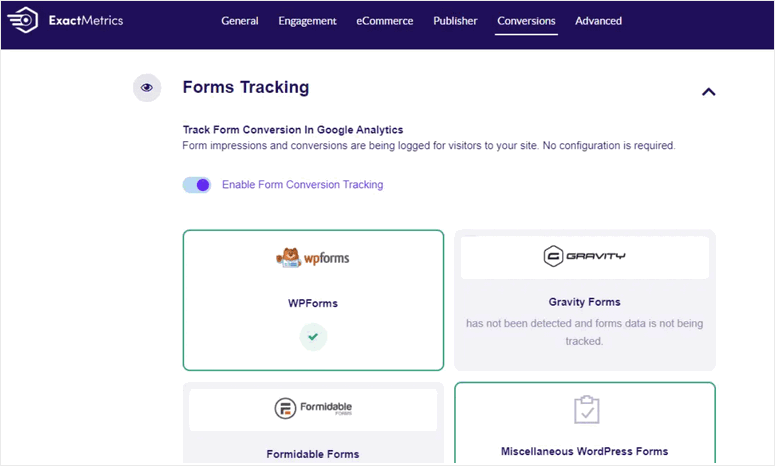 Other advanced tracking features are:
SEO and Keyword Tracking: Integrate with the Yoast SEO plugin and get stats for your search engine results rankings. With this feature, you can easily track your focus keywords and optimize your content effortlessly. 
Custom Event Tracking: For tracking custom events on your WordPress site, you'll need to hire a developer or insert custom tracking codes yourself. ExactMetrics saves you from all the trouble by automatically tracking custom events with a simple shortcode. 
File Download Tracking: Enable event tracking for file downloads on your site. This way, you can see which files are downloaded on each page, country, and other factors. Plus, ExactMetrics allows you to integrate with the popular file downloads tool, Easy Digital Downloads.
Google Analytics for AMP: Setup AMP (Accelerated Mobile Pages) tracking for your site with ExactMetrics. It helps you keep track of visitors when they switch between your AMP and non-AMP pages.
4. Google Analytics Dashboard
One of the best reasons to use ExactMetrics is that you'll get access to all your Google Analytics reports and stats right inside your WordPress admin panel.
For beginners, navigating the Google Analytics dashboard can be confusing. With so much data and stats, it is not easy to make the right decisions for your business.
This is where ExactMetrics comes to your rescue! It brings all the important stats and insights from Google Analytics inside your WordPress admin dashboard. 
All the reports are categorized and formatted neatly so you don't waste your time looking for the data you need.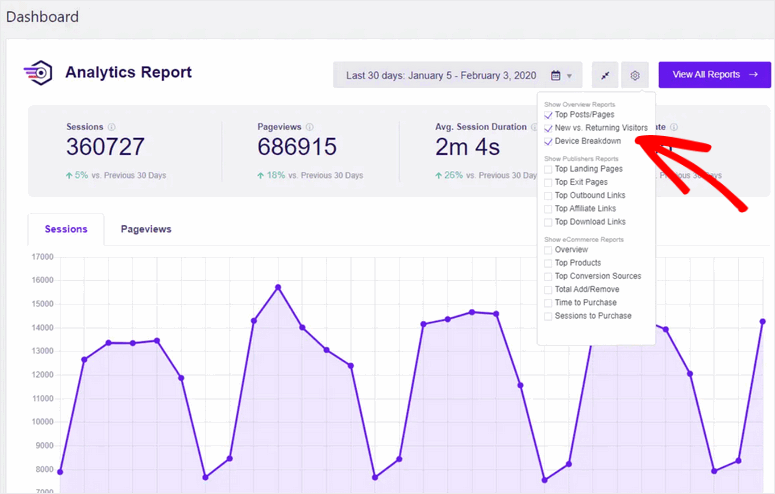 The first thing you see when you log in to your WordPress site is your Google Analytics stats. With the exact metrics right in front of your eyes, you won't miss any shift in your website traffic. 
Moreover, you can see both your universal and historical analytics data in one place which is very convenient.
5. Real-time Stats and Custom Reports
ExactMetric offers a real-time reporting system that lets you view the online users and their information on the same dashboard. 
Aside from Search Console reports, ExactMetrics lets you view detailed reports for useful stats such as popular authors, categories, tags, SEO score, and more. This helps you understand visitor behavior and improve your content for better conversions.
This analytics tool gives you a new way to understand your visitors with the exact metrics about visitor demographics. It lets you analyze your audience with insights like country, interest, device preference, browser, age, gender, and much more.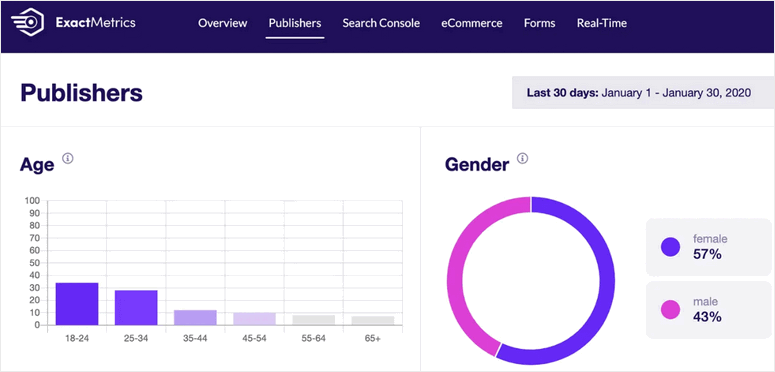 6.  Get New Partnership Opportunities
Another great ExactMetrics feature is Top Referrals reporting. With this, you can get data about all the referral sites that refer to your products and brands. 
This is a great opportunity for businesses to increase website traffic and sales revenue. These stats are useful for identifying and building new partnerships with your referral sites.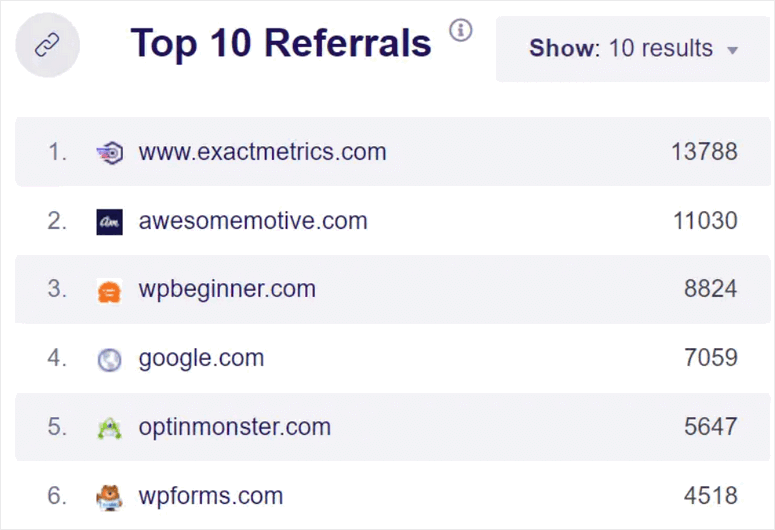 7. Share Analytical Reports
With ExactMetrics, you can not only view analytical stats on your WordPress site but also share these reports with others. And all of that without having to share access to your Google account.
Let's see some of the easiest ways to share your analytics data using ExactMetrics.
Email Summaries: 
Want to view your traffic stats and report without logging in to your Google Analytics account? If your answer is yes, then ExactMetrics has just the right feature for you. 
All you have to do is enable Email Summaries and the plugin will send your weekly analytical reports straight to your email inbox. This way, you can stay on track with your marketing efforts. 
Export PDF Reports:
The next method is exporting your reports as PDF files. To share your traffic reports with others, ExactMetrics lets you simply download all the data in a PDF file. Then, you can save these files for further analysis or share them with a team member. 

8. Make your Site EU compliant (GDPR)
If you have visitors on your website from Europe, you need to ensure that your analytics are GDPR (General Data Protection Regulation) compliant. 
With GDPR, you need to ask your visitors' consent for tracking their information on your site. When you don't comply with the rules and regulations, you can face high penalties up to €20 million or 4% of annual revenues. 
For this reason, ExactMetrics comes with the EU Compliance addon which ensures that your Google Analytics integration abides by the GDPR rules.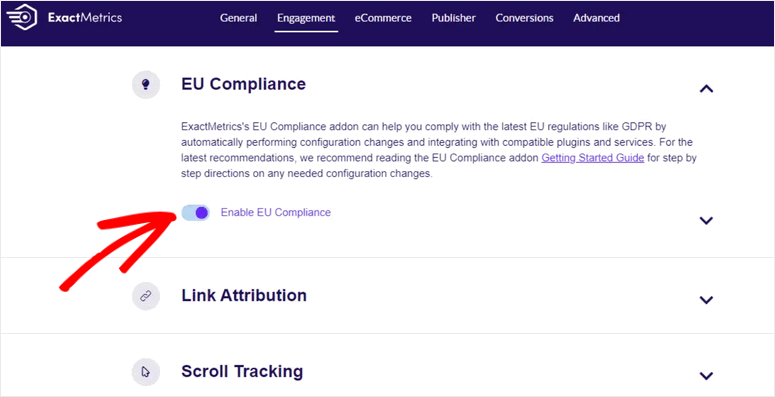 How Does ExactMetrics Stay Ahead of the Competition?
ExactMetrics is a powerful tool that helps all types of websites view analytics reports effortlessly. 
There are several analytics plugins in the WordPress repository but very few match up to what ExactMetrics has to offer. 
After comparing it with all the popular Google Analytics plugins, these are the advantages that we picked out:
1. Beginner-friendly
The most important factor for the success of any WordPress plugin is the user interface. An easy-to-navigate interface is crucial for making the user experience great for all types of users. 
With ExactMetrics, you can integrate your site with Google Analytics using the one-click setup wizard. Plus, it's easy to navigate the dashboard and find what you need instantly. 
2. All the Stats and Reports in One Place
Data is the most important asset for any organization. That is why you'll need Google Analytics no matter what type of website you own.
Whether you own an eCommerce store or a professional blog, you need website traffic data to understand your customers and audience. 
ExactMetrics offers all the Google Analytics tracking and custom events tracking options. All your analytics reports and custom reports are categorized into manageable tabs so that you can easily find them. 
3. Oldest Google Analytics WordPress Plugin 
As we have mentioned earlier, ExactMetrics was known as Google Analytics Dashboard for WordPress before. 
With over 1 million active installations, it is one of the most popular and trustworthy analytics plugins for WordPress sites. The plugin is also built with the best practices so you don't need to worry about your site speed and performance.
4. Suitable for All Website Sizes and Budgets
The good thing about ExactMetrics is that any type of website can utilize it to analyze data and boost conversions rates.
Depending on the functionalities that you need such as eCommerce tracking, AMP tracking, form tracking, you can choose a pro plan for your site. 
Even if you don't have the budget for a premium plan, you can get your hands on the free version. ExactMetrics Lite is free to download on the WordPress repository.
5. Do More Than Just Track Data
In addition to analytical tracking, ExactMetrics offers many unique features to optimize your website performance. 
Let's have a look at some of these features: 
Headline Analyzer: In-built tool that helps you write compelling and SEO-friendly headlines for your website content
Scroll Depth Tracking: Find out where your visitors lose interest in your website
Site Speed Report: Track the speed and performance of your site without leaving the WordPress dashboard
Display Popular Posts: Display the best content on the visible parts of your site 
Google Optimize: Integration with Google Optimize for A/B testing
1-Click Integration with Popular Tools and Plugins: Get insights from plugins like WooCommerce, WPForms, MemberPress, and more 
ExactMetrics Customer Support and Documentation
ExactMetrics has one of the best support teams that respond to customer queries at lightning speed. It offers a ticket system for answering support questions based on the customers' plan type. 
If you are on the higher pro plans such as Pro and Elite, you'll have access to priority support for help. 
Apart from support, the ExactMetrics users will get access to helpful tutorials and guides for each functionality. Documentation is important for users to learn how to use the features correctly. 
ExactMetrics Pricing 
Exactmetrics has a plan to suit every budget.
For premium plans, you get to choose from 4 packages to match your analytical requirements.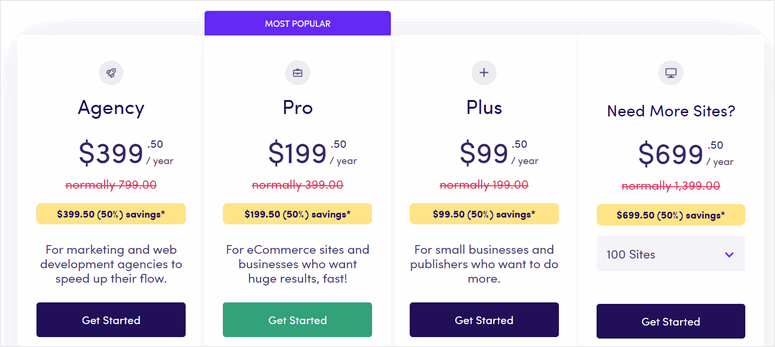 The pricing for the Plus plan starts at $99.50 per year. This basic plan is perfect for publishers and small businesses to monitor analytics data better. 
For 1 site, you get features such as Analytics Dashboard, Email Summaries, Affiliate Links, EU Compliance, Real-Time Report, File Downloads Tracking, and more.
ExactMetrics offer a Pro plan for 5 sites which starts at $199.50 per year. It includes all the features in the Plus plan plus features like eCommerce report, form conversions, custom dimensions, Google Optimize, and more integrations.
Also, there is the Agency plan that starts at $399.50 per year. You can use this for up to 25 sites. This plan offers all the features in the Pro plan with more benefits. 
Additionally, you can choose a premium plan for a large number of sites like 100, 200, or 500. This plan starts at $699.50 per year. 
ExactMetrics Alternatives
ExactMetrics is one of the oldest and reliable Google Analytics dashboard plugins for WordPress sites. With its free and premium plans, both analytics beginners and pro users can integrate it to get the exact metrics for their site. 
But, you'll find some other solutions for connecting your website with Google Analytics. These are some of the top ExactMetrics alternatives on the market right now.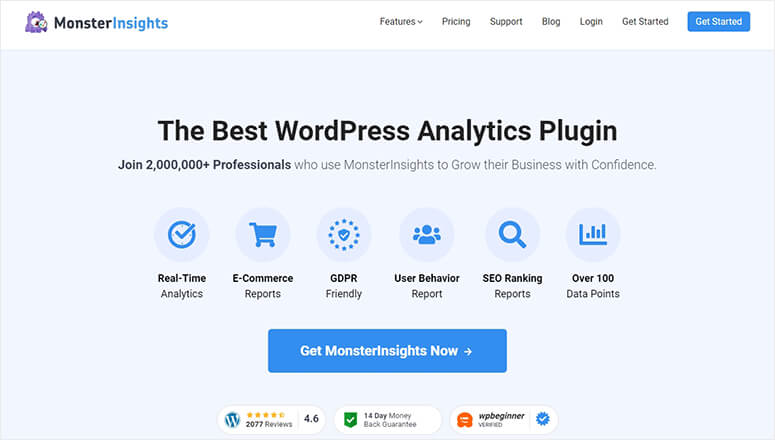 If there's any Google Analytics tool that is better than ExactMetrics, it is MonsterInsights. It is one of the most popular plugins for WordPress sites. 
With MonsterInsights, you can set up universal tracking for all types of devices and visitors on your site. And the best thing about this tool is that you don't need any coding knowledge to add analytics data to your site.
In just a few clicks, you get all the tracking reports and stats on your WordPress dashboard. No need to leave the site and navigate back to your analytics account. 
MonsterInsights offers all the advanced tracking features such as affiliate linking, file download tracking, form conversions, and more. Also, it lets you set up eCommerce tracking so you can track how your online store is performing.
Like ExactMetrics, you get dual tracking options that lets you connect the Universal Analytics and Google Analytics 4 properties at once. So, you can benefit from all the features in the old and the new versions. 
Highlights
WordPress Dashboard Analytics Reporting
Advanced events, scroll, and eCommerce tracking
Option to share  stats on PDF and email
GA3 and GA4 analytics integration
Integrate with major WordPress plugins like MemberPress, Yoast, and WPForms
Compliance with EU and GDPR
For more details, see our MonsterInsights Review!
You may also want to read our comparison ExactMetrics vs MonsterInsights: Which Is Better?
2. Analytify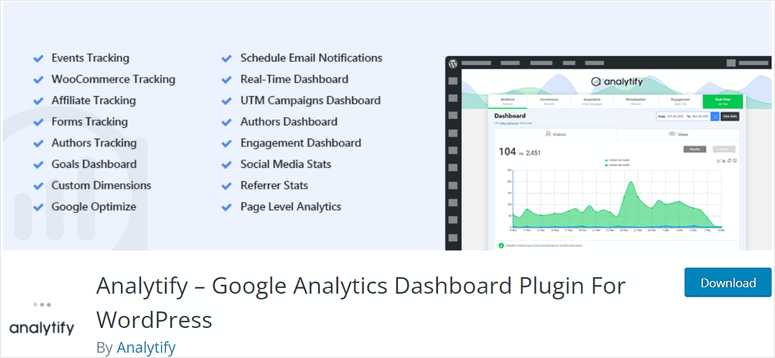 Analytify is another great analytics plugin for WordPress sites. This plugin brings Google Analytics reports right inside your WordPress site just like MonsterInsights. 
It is a freemium analytics plugin that lets you view stats such as page views, visitors, and geographic data in the free version. You can upgrade to a premium plan to enjoy advanced options for tracking such as real-time stats, bounce rate, campaign stats, and many more.
With Analytify, you can also track conversions and customer data from your eCommerce store. It lets you integrate with WooCommerce and Easy Digital Downloads plugins so you can get reports on tools as well. 
Highlights
Get Google Analytics stats in WordPress dashboard
eCommerce tracking and detailed reports
Publish analytics data on the frontend
Track your campaigns with UTM parameters
Automated email reporting
Our Verdict: Is ExactMetrics Worth it?
Undoubtedly, ExactMetrics is one of the best Google Analytics plugins with advanced tracking options. It is quite popular among WordPress users as the oldest and reliable analytics dashboard tool. 
ExactMetrics lives up to the name as it gives you the exact metrics to track your website traffic. Here is a recap of all the notable features that it offers:
Set up Google Analytics without coding
Detailed dashboard reports and stats
eCommerce addon to track your product sales
Google AMP tracking option 
Enhanced link attribution
Form conversions tracking
Integration with all the popular eCommerce plugins 
Custom event tracking
Search console report
Tracks 404 errors in analytics
When it comes to pricing, ExactMetrics has 4 different pro plans so you can choose one according to the requirements and size of your website. 
ExactMetrics is perfect for all types of users. Doesn't matter if you are a beginner or a pro analytics user, it gives you the right data to make important decisions to boost your business. 
After doing a full review, we can confidently say that ExactMetrics is the most user-friendly and powerful analytics plugin in the market. We give it a 5/5 star rating. 
Here's the breakdown of our review scores.
Get ExactMetrics Now »