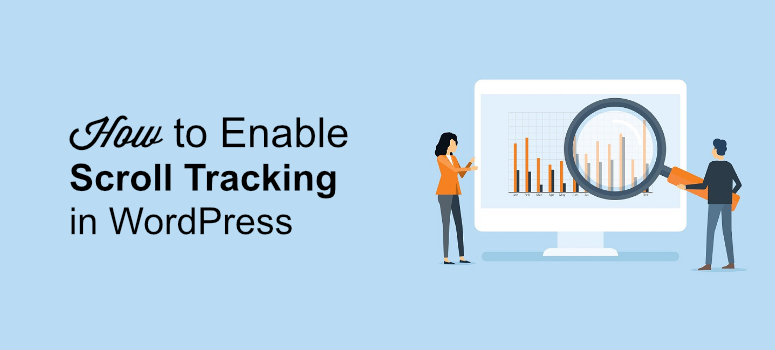 Want to enable scroll tracking on your WordPress website?
By tracking scrolling activity on your site, you can easily find out how far a user scrolls down on each post. By knowing the depth of their scroll, you get to know the exact section in which they lose interest and abandon your site.
This helps you modify that specific section and make it interesting enough to engage your audience until the end. This helps you gain more traffic, reduce your bounce rate and boost conversions on your website.
Google Analytics is a great tool to help you discover your user's scrolling activity on site. That said, with the default Google Analytics setup, scroll tracking is not enabled on your site.
Google Analytics Scroll Tracking in WordPress Made Easy
The easiest way to enable scroll tracking in WordPress is by using a plugin. And the best option, in this case, is the MonsterInsights plugin. MonsterInsights is one of the most popular Google Analytics plugins for WordPress.

With this plugin installed on your dashboard, you will never have to switch tabs to track your site's performance. Everything can be managed and viewed right from your WordPress dashboard and it lets you track each and every user interaction on your site, such as eCommerce transactions, affiliate link clicks, file downloads, author tracking, SEO score, and a lot more.
MonsterInsights even offers you real-time stats right from within your dashboard.
To know more about this plugin, read our detailed review on MonsterInsights.
The best thing is that one of MonsterInsights important features is scroll-depth tracking. You can also create UTM codes and track URLs on your WordPress site.
Let's now check how to enable scroll tracking in WordPress with MonsterInsights.
Step 1: Install MonsterInsights for Scroll Tracking
The first step to getting started is to install the MonsterInsights plugin on your WordPress site. This feature comes with the MonsterInsights Plus or a higher plan.
MonsterInsights lets you easily connect your website with Google Analytics without writing a single line of code.
Here's how you can set up a Google Analytics account and connect it to MonsterInsights.
Step 2: Enable Scroll Tracking
Once all the setup is successfully done, scroll tracking will be automatically enabled on your website. You don't need to go through any additional settings. To check that go to MonsterInsights in your WordPress dashboard and click on Insights » Engagement.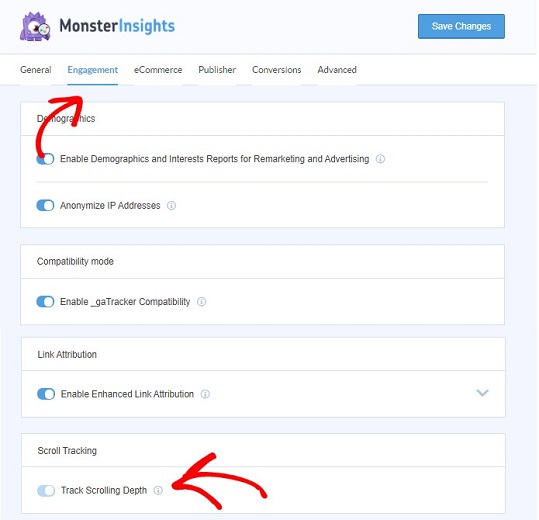 If it's not automatically enabled, make sure you're using version 7.6.0 and above.
This option is activated on your site by default without the need for an addon. As your visitors scroll through 25%, 50%, 75% or 100% on your site, MonsterInsights will trigger events on Google Analytics.
Step 3: Viewing Scroll Tracking Reports in WordPress
This report is available right on your WordPress dashboard. To view it, go to Insights » Reports » Publishers in your WordPress dashboard. You'll see it right next to the Interest section.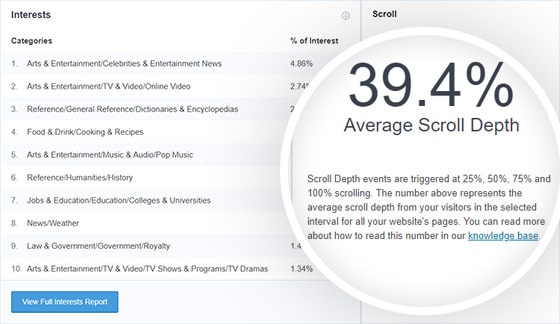 In this report, you'll be able to see the average scroll depth percentage for your entire website. So you know exactly how your visitors are interacting with your content. And it also offers you a chance to optimize your posts for better engagement. You can also clearly decide where to place your ads and call-to-actions for more clicks.
If you want, you can view these reports on your Google Analytics dashboard as well.
Viewing Scroll Tracking Reports on Google Analytics Dashboard
By enabling scroll tracking with MonsterInsights, you can check your reports directly on your Google Analytics dashboard too even without logging into your WordPress dashboard.
For that log into your Google Analytics account. Now go to Behaviour » Events » Overview.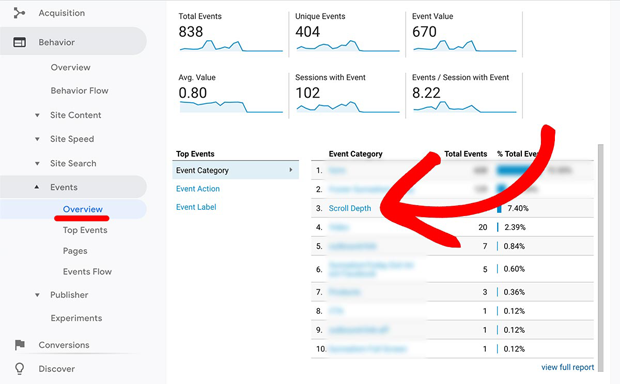 You'll see the Scroll Depth link under the Event Category option as shown in the screenshot above. Just click on that link and you'll find a detailed report right away. If you want to check the total events triggered for each listed percentage of scrolling, then click on the Event Label option.

If you want to check the real-time scrolling data, that's possible too. For that go to Real-time » Events on your Google Analytics dashboard. You'll see the real-time scrolling activity that happened in the last 30 minutes.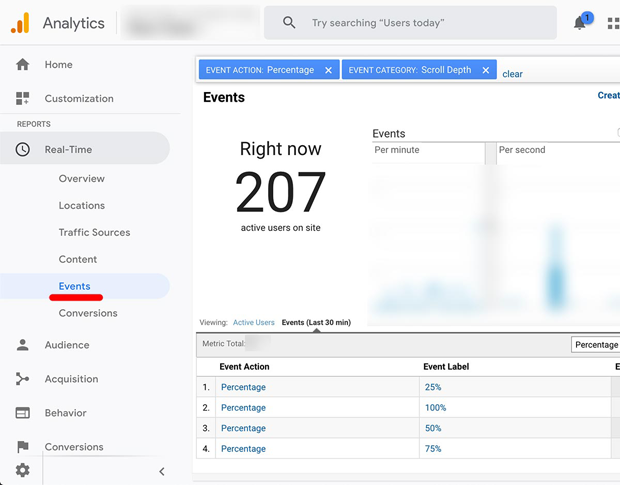 So that's it. Isn't it easy to enable scroll tracking with MonsterInsights?
You might also want to check out how to enable download tracking in WordPress.