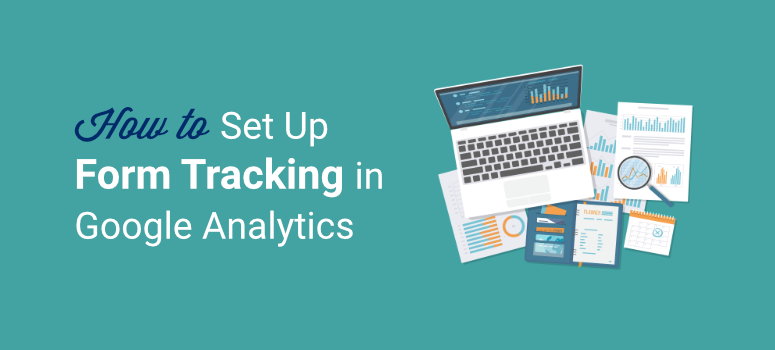 Want an easy way to track your WordPress form submissions in Google Analytics?
If you've added multiple forms like contact forms, registration forms, and order forms to your WordPress site, it'll be difficult to monitor them individually.
By setting up form conversion tracking in Google Analytics, you can get detailed insights to help you understand how your forms are performing and where your users are coming from.
In this post, we'll show you a much easier way to set up Google Analytics form tracking for your website. You'll get all the information you need in neat reports that are easy to understand so that you can actually use this data to improve your forms.
How to Track Forms with Google Analytics – The Easy Way
Forms can tell you a lot about your website's users. You can find out what they respond to and which kinds of forms convert better. You can even find out where users abandon forms so you can fix the issue.
With Google Analytics, you can retrieve all this data about your forms. It allows you to find out which forms have higher submissions and how to optimize these forms to improve your conversions.
But Google Analytics doesn't have a default option to track form submissions. You'll need to go through several steps to set up form tracking on your own using scripts, tags, and triggers. Plus, navigating Google Analytics can be hard, especially for beginners, so it isn't easy to compare your forms' performance and you could miss out on critical insights.
But you needn't worry about that because there is a powerful yet easy-to-use WordPress plugin called MonsterInsights that lets you set up form tracking in Google Analytics in a few clicks.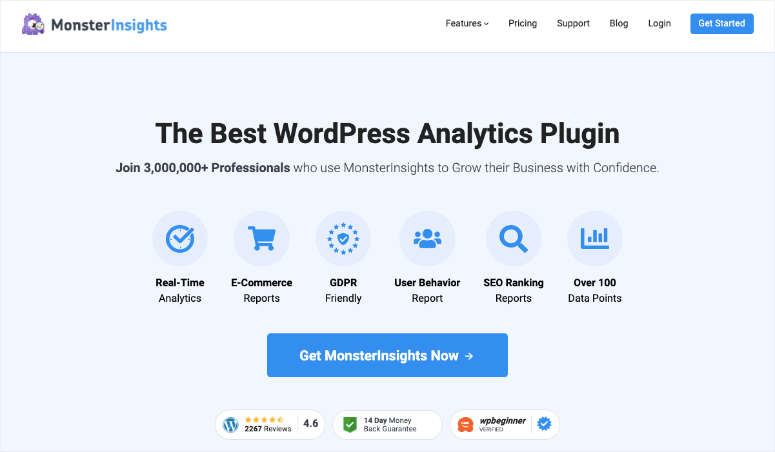 MonsterInsights is the best Google Analytics plugin that lets you connect your site to Google Analytics and view your reports right inside your WordPress dashboard.
And the best part is that you'll never need to write any code or set up tags to integrate Google Analytics on your WordPress site.
After you install and activate the MonsterInsights Forms addon on your site, you can:
Automatically track all your WordPress forms with your Google Analytics account
Connect with all the major WordPress form plugins like WPForms, Gravity Forms, and more
Enable event tracking for your form submissions in Google Analytics
So this plugin is great for beginners and anyone who wants a simple yet powerful method for tracking data in Google Analytics. And once set up, you can see monitor the performance of each form with detailed reports of form impressions and conversions without leaving your WordPress site.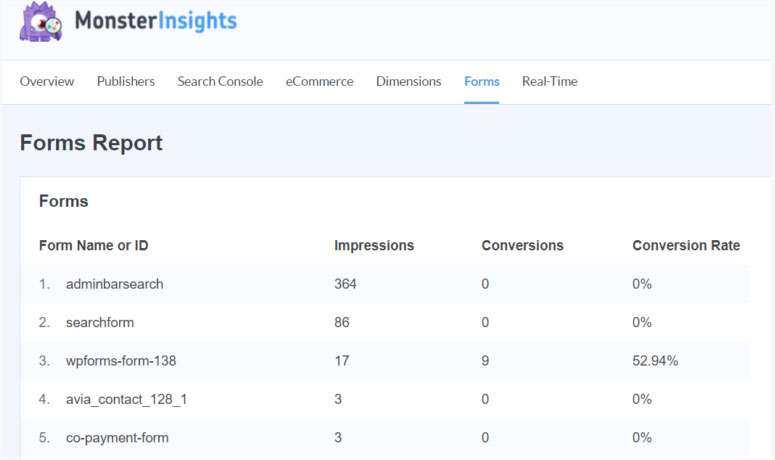 For instance, if you have an eCommerce store, you can track checkout forms. If customers are abandoning their order, you can find out where they're dropping off.
This will help you understand what's happening. So maybe the form is asking for too much personal information that they don't want to disclose or maybe the 'Submit' button isn't functioning on mobile devices.
You can then take steps to improve your forms and make them more engaging so your visitors complete the form every time.
With that said, let's get started with our step-by-step guide on how to set up form tracking in Google Analytics.
Setting Up Form Tracking in Google Analytics
MonsterInsights is incredibly easy to set up and use. All you have to do is follow these 4 simple steps to easily set up form tracking in Google Analytics.
Step 1: Install and Activate MonsterInsights Plugin
First, you'll need to sign up for your MonsterInsights account. The free version is available to download.
You can upgrade to a premium plan to get access to advanced tracking features. The plans are affordable with prices starting from $99.50 per year for the Plus plan.
After you sign up, you can download your plugin file and find your license key from your MonsterInsights dashboard.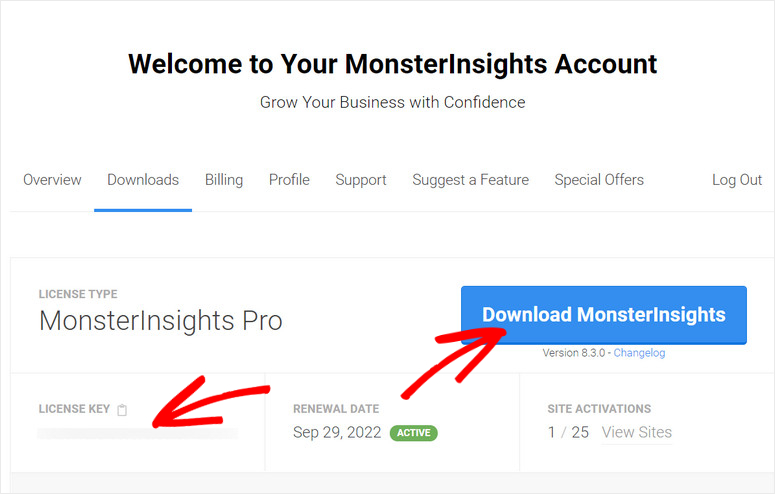 Now, you need to install the MonsterInsights plugin on your WordPress site. If you want help with this, you can check our guide on how to install a WordPress plugin.
Once you install and activate the plugin, head over to the Insights » Settings tab on your admin panel.
Here, you'll need to enter your license key and verify your MonsterInsights account.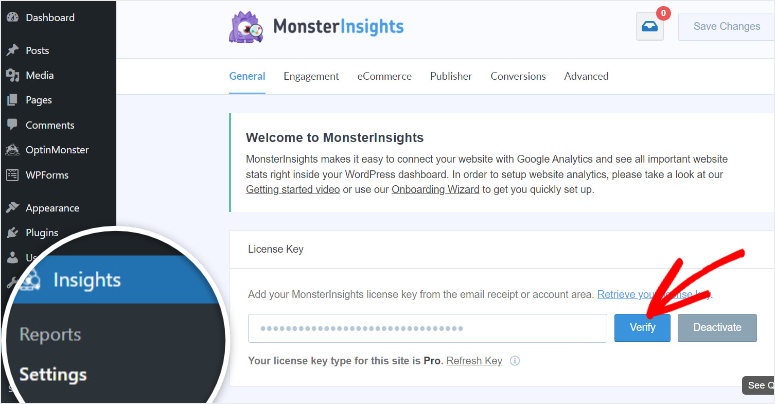 Then, you're ready to set up Google Analytics on your WordPress site.
Step 2: Set Up Google Analytics
MonsterInsights lets you add your Google Analytics account to your WordPress site with just a click of a button.
If you scroll down the Settings page, you'll see the Connect MonsterInsights button.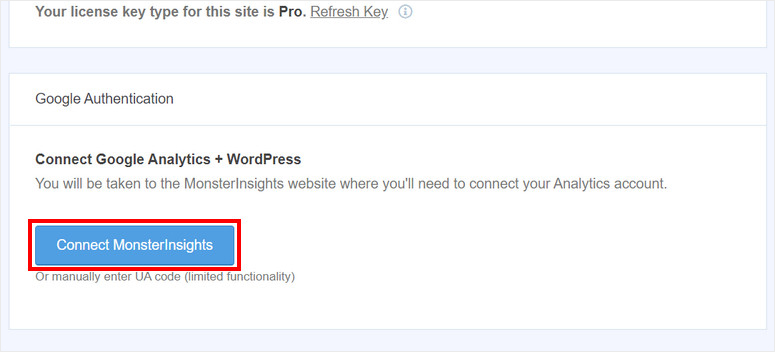 When you click on it, in the next window, you can select your Google account and the website where you want to track form submissions.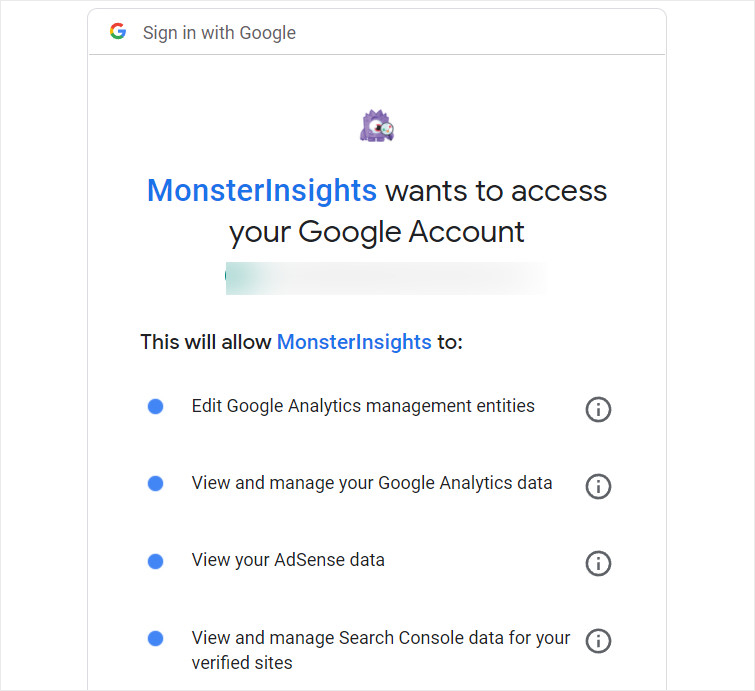 Next, you'll see the authentication options on the settings pages.
By default, the new Google Analytics 4 is integrated into your website. If you want to continue using the universal analytics data, then enter your GA3 tracking code on the Dual Tracking Profile field.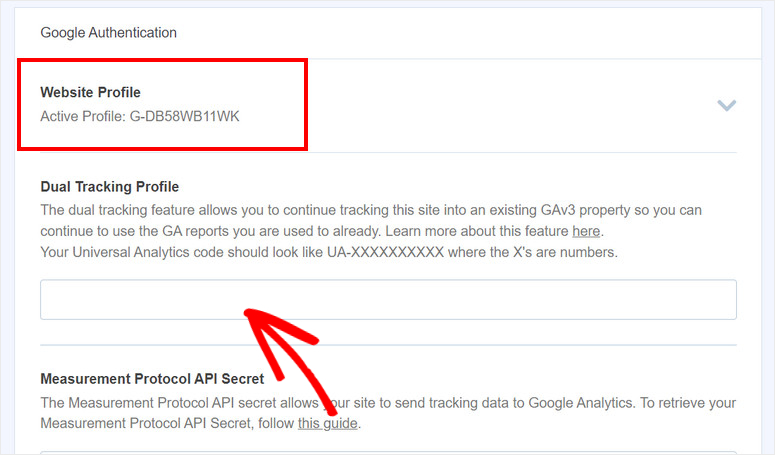 Now that you've configured Google Analytics for your site, you can set up form tracking with MonsterInsights Form Tracking addon.
Step 3: Install MonsterInsights Forms Addon
For form tracking, you'll need to install the MonsterInsights Forms addon. You'll find it on the Insights » Addons page.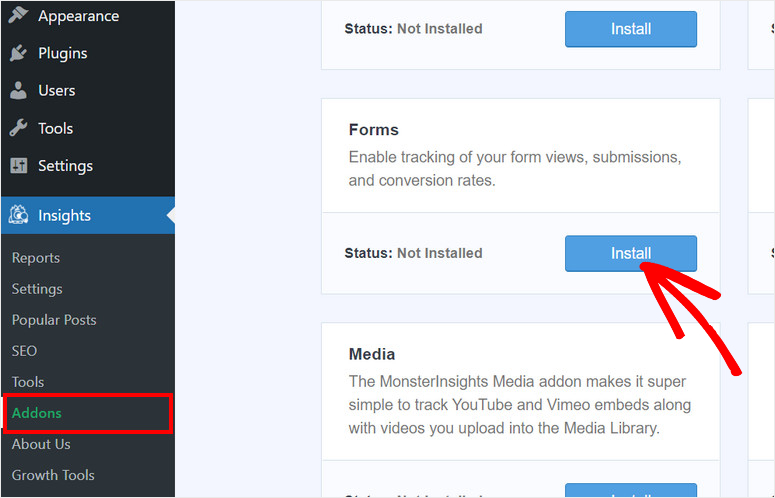 Once you install and activate the addon, MonsterInsights will automatically track all the forms on your WordPress site.
If you use different form builder plugins, then you can choose which forms to track as well. For this open the Insights » Settings tab and open the Conversions tab there.
Here you'll see the Enable Form Conversion Tracking option is enabled already. You can select the WordPress Form plugin of your choice.
For this tutorial, we are connecting with WPForms, the best form builder for WordPress sites. If you haven't used WPForms before, you'll want to see our guide on how to create a form in WordPress using WPForms.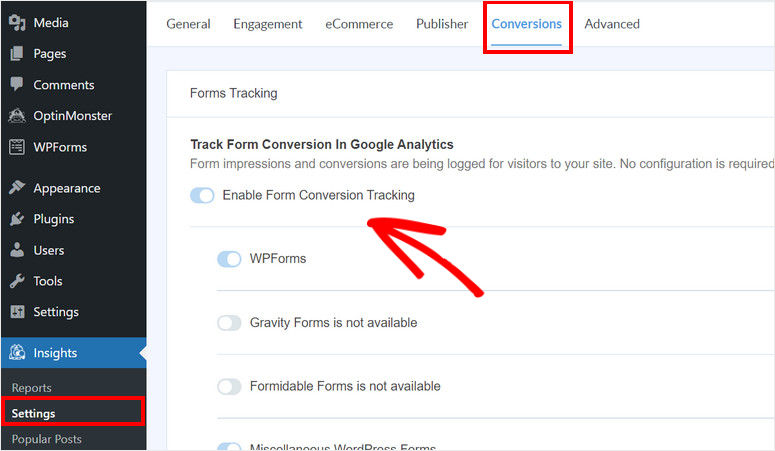 Now, you won't need to manually create a goal in your Google Analytics dashboard to get insights about your form submissions.
Step 4: View Form Conversions
To see your form conversion data, navigate to the Insights » Reports page on the WordPress dashboard. Then, click on the Forms tab to see the complete report for all the forms on your site.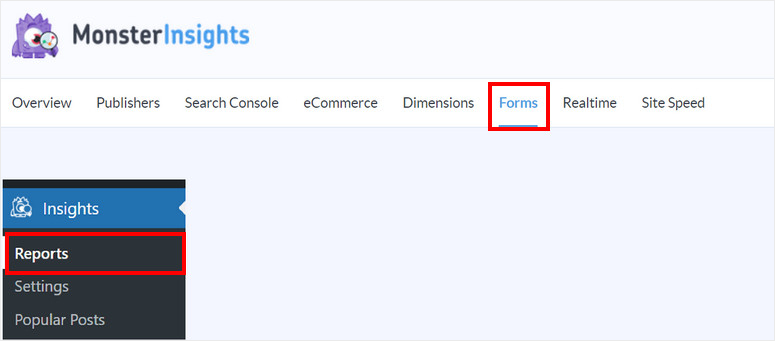 MonsterInsights will show the number of impressions, conversions, and conversion rates for each WordPress form. You can even set up form tracking for a custom date range.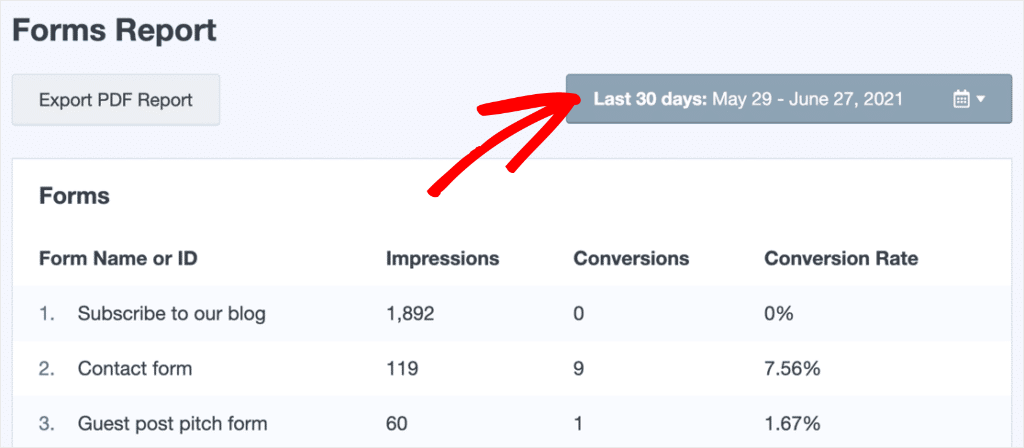 That's it! If you want deeper insights, you can click on the View Full Forms Report button at the end of the reports page.
If that's not enough and you want to analyze your forms' performance even more, we'll show you how to access and filter this data inside Google Analytics.
Tracking Forms Inside Google Analytics
Google Analytics lets you filter and sort through your data so that you can get actionable insights.
To find this data, on your Google Analytics dashboard, navigate to the Behavior » Events » Overview tab.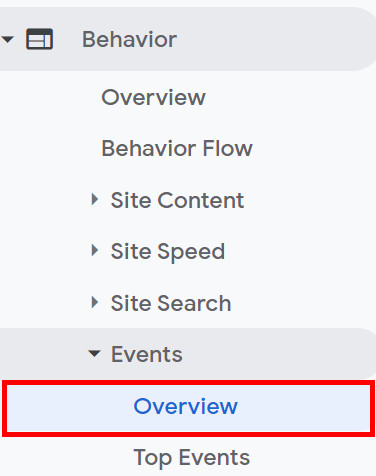 All the events such as CTA button clicks and forms are tracked here. In the Event Category section, click on the form option.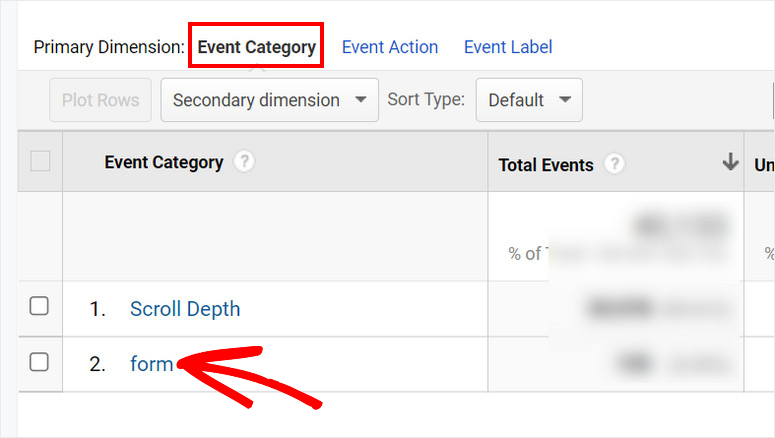 Now, click on the Event Action in the primary dimension tab. You'll see your form impressions and conversions here.
Click on conversion to see the list of forms that gather the most user submissions.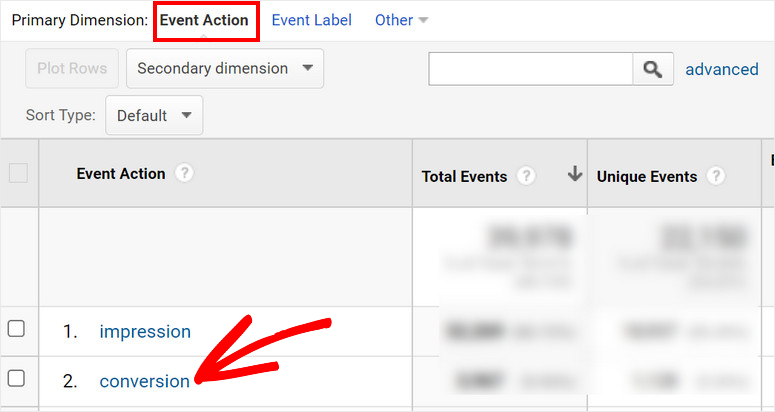 You can filter this data further to see which sources, campaigns, pages on your site have higher form conversion rates.
All you have to do is click on the Secondary dimension option and choose your filter. So for instance, if you choose Page from the dropdown menu, you can see which pages get the highest form conversions.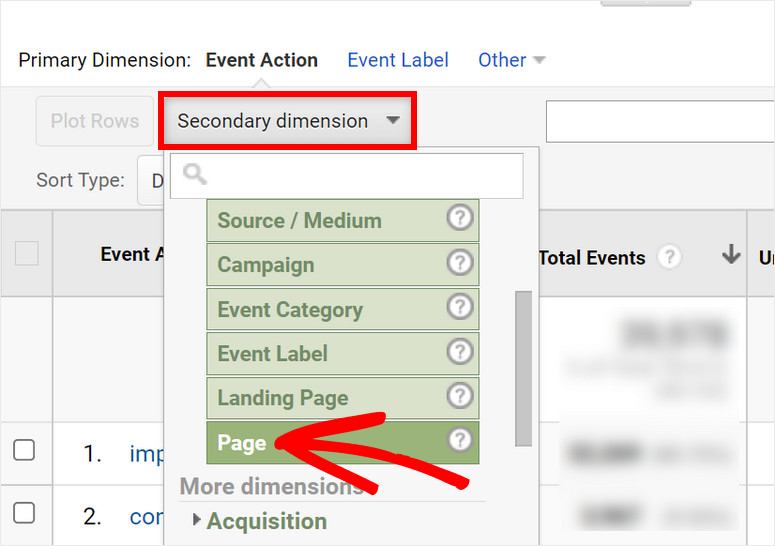 Congrats! You've successfully set up form tracking in Google Analytics.
Bonus: Track User Behaviour with WPForms
Want to get more insights into the actions and behavior of the visitors on your forms?
If your answer is yes, then you've got to check out the User Journey addon by WPForms.
Apart from creating amazing WordPress forms, WPForms lets you view stats and reports about user activity.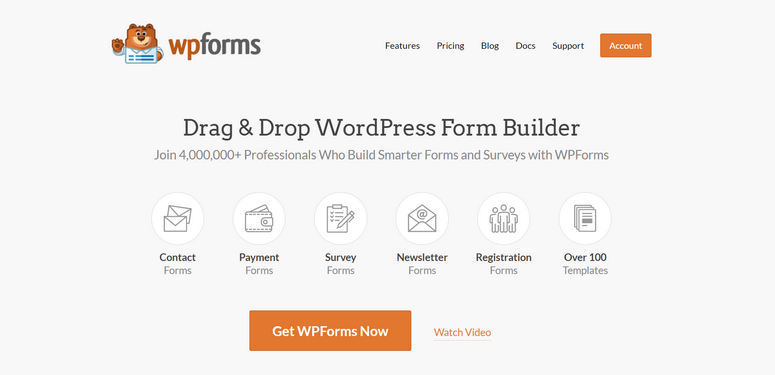 With its User Journey addon, you can see what actions your visitors take on your site before they submit your forms. It gives you more info on the customers' journey so you can understand what works for your site and what doesn't.
To use this addon, you'll need to sign up for a WPForms account first. WPForms offers flexible pricing plans that are suitable for all types of businesses.
Then, all you need to do is install both WPForms and the User Journey addon on your WordPress site. After you create and add forms to your website, you can start tracking user actions.

You get to see which time they visited, the pages and posts they viewed, time spent, and so much more. Every step the user takes is time-stamped so you can see which pages are engaging and converting more.
And that's all for today! We hope you've learned how to set up form tracking in Google Analytics without any trouble.
If you want to do more with your forms, then you may want to check these resources out:
These posts will help you set up automated form notifications and protect your forms from spam submissions. The last one will help you grow your email list and collect valuable information from users.