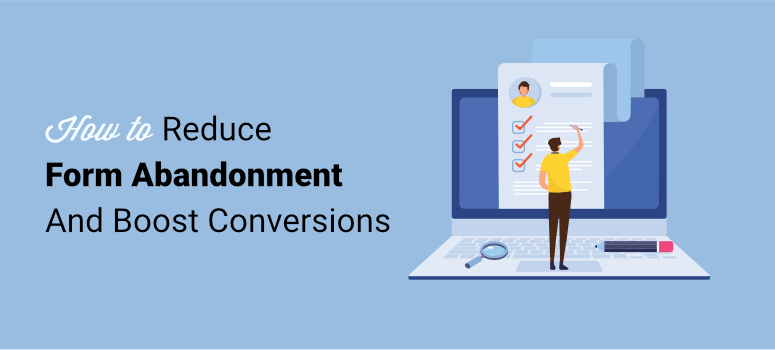 Do you want to improve sales and conversions by reducing form abandonment?
Form abandonment is a big challenge for site owners with 81% of people leaving forms incomplete. For every abandoned form, you stand to lose conversions, sales, and revenue.
In this post, we'll show you 9 effective ways to get visitors to complete forms so you can increase conversions on your site.
But first, let's get clear on what we mean by the phrase "form abandonment."
What Is Form Abandonment?
Form abandonment happens when a visitor starts to fill out a form on your site and leaves the page without submitting it.
It could be a contact, registration, checkout form, or any other form you have on your site.
But keep in mind that each form plays a role in bringing conversions and revenue. So it's important to reduce form abandonment across your site.
By doing so, you can grow your email list, increase purchases, and scale your business.
But you may be wondering, "Why do people abandon their forms in the first place?"
In most cases, site owners simply don't know the reason why users abandon their forms.
It could be that the visitor was distracted, the form was too long, or they didn't want to disclose the information that you asked for.
So before we show you how to reduce form abandonment, we'll get started by teaching you how to track your forms.
This will give you a clear picture of which forms are being abandoned so you can make improvements accordingly.
Tracking Form Abandonment in WordPress
The easiest way to track form abandonment on your WordPress website is by using MonsterInsights.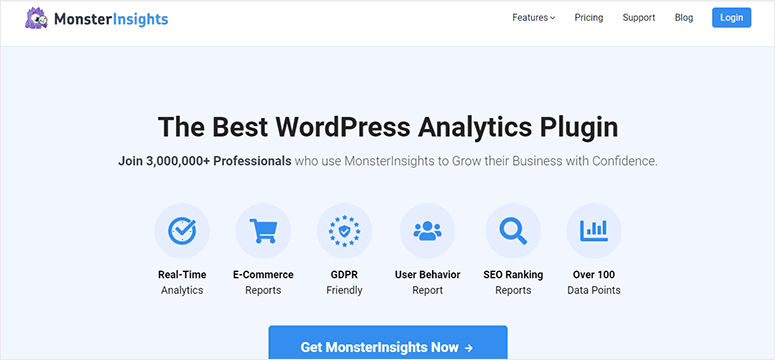 MonsterInsights is the #1 Google Analytics plugin for WordPress that turns complex website data into easy-to-read reports.
MonsterInsights has a Forms addon that's available in their Pro plan. This lets you track your form impressions and conversions.
First, you need to install and activate the MonsterInsights plugin. For more details, see our step-by-step guide on how to install a WordPress plugin.
Then, from your WordPress dashboard, go to the Insights » Addons page. Search for the Forms addon and install it.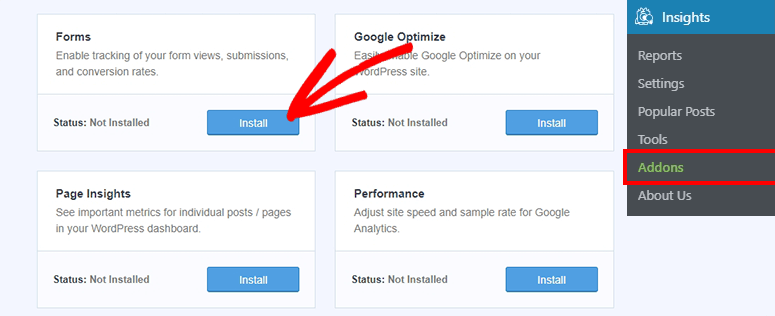 Now you'll need to access the Insights » Settings page and select the Conversions tab.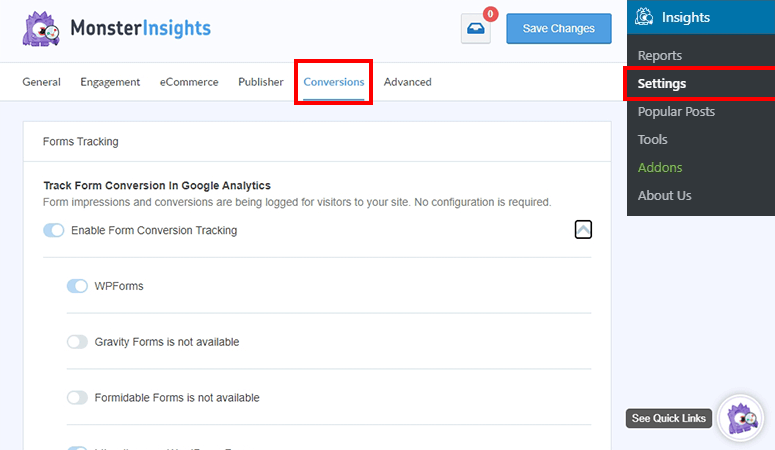 Make sure that form conversion tracking is enabled here. After that, MonsterInsights will automatically detect the form plugin you're using and start tracking your forms' performance.
With that, MonsterInsights form tracking is set up. You'll want to wait for at least 48 hours so that it collects enough data to display a report for you.
To view the report, go to the Insights » Reports tab and click on 'Forms' from the top menu.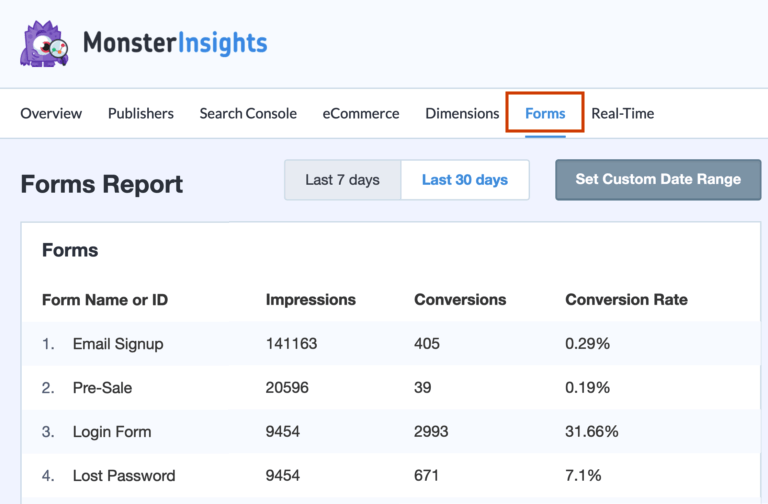 This report shows you the impressions, conversions, and conversion rates of all forms on your site. You can see which forms are performing well and which forms have high abandonment rates.
In the report above, you can see that the email signup form has a high number of impressions but a low conversion rate. This means users are viewing the form or partially filling them out without submitting them.
Now that you know how to track your forms, we'll show you the best way to reduce form abandonment on your site.
Recovering Abandoned Form Entries with WPForms
The best tool to reduce form abandonment is WPForms.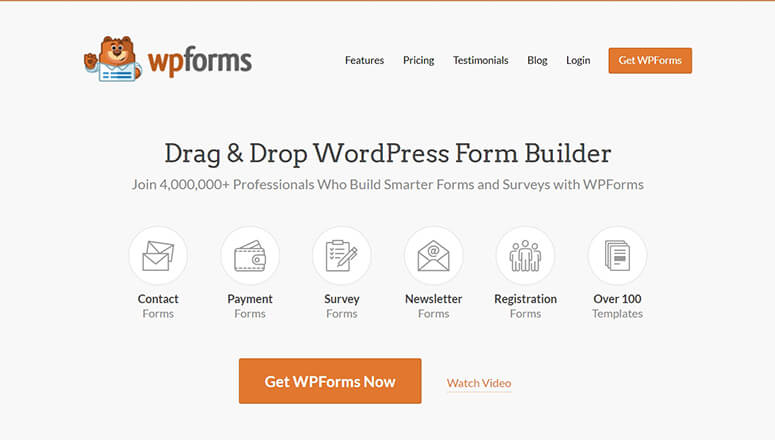 WPForms is a user-friendly form builder that lets you create all kinds of forms. It comes with 5 out-of-the-box features to reduce form abandonment. We'll show you how to set up and use all of them.
1. Save Abandoned Form Entries
WPForms lets you capture partial form entries so you can collect leads even if the user doesn't submit the form.
To get started, install the WPForms plugin on your site. Then, from your WordPress dashboard, go to the WPForms » Addons page.
Find the 'Form Abandonment Addon' and install it.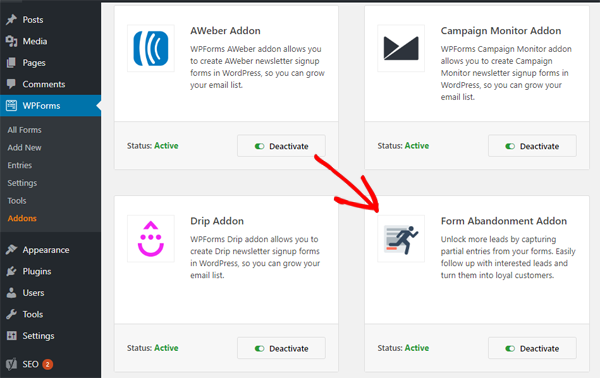 Once installed, you're ready to create a form that saves abandoned entries.
Head over to WPForms » Add New page to create your first form. Here, you'll need to add a form title and select a template or you can start with a blank form.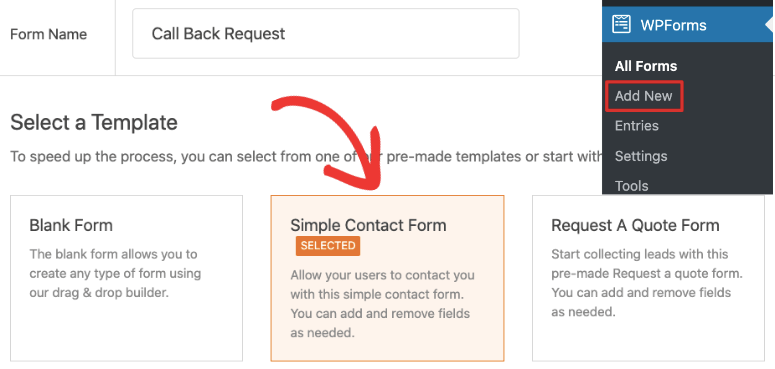 When you do that, WPForms will load the form builder where you can customize the form. This is a visual drag and drop builder so you can click on any form element to edit it.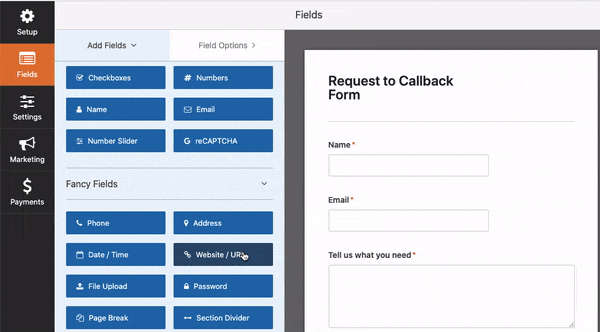 You can also move them up and down, or add new fields from the left column by dragging and dropping them into the form.
When your form is ready, navigate to the left menu and go to the Settings » Form Abandonment tab.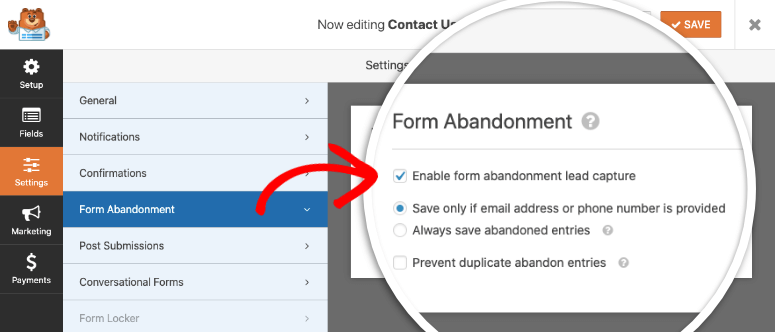 Here, you can enable the form abandonment feature. This will let you capture leads by saving partial entries with email IDs or phone numbers.
You can also save all abandoned entries even if there's no contact info. That way, you'll know exactly how many forms are being abandoned.
Once you've set your preference, save your form to store your changes.
Next, to add the form to your site, edit any page or post where you want it to appear.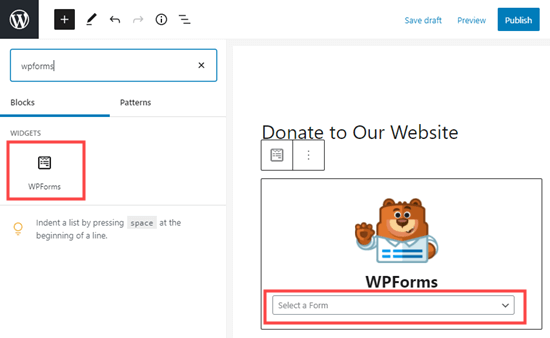 Then add the WPForms block and select the form from the drop-down menu. All that's left to do is save or publish your post or page.
Now WPForms will record abandoned form entries and store them for you. You can access this data in the WPForms » Entries page.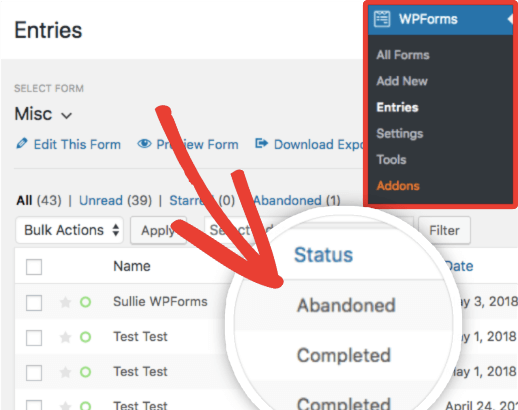 You can see if the form was abandoned or completed. If the visitor has entered their contact info, you can reach out to them and remind them to complete the form.
2. Turn Boring Forms Into Conversations
A popular reason for abandoned forms is that users lose interest and drop off because the form is too long and boring.
WPForms helps you overcome this by turning your form into a conversation that keeps the user engaged till the end.
It creates an experience that feels more human, so you can improve form completion rates.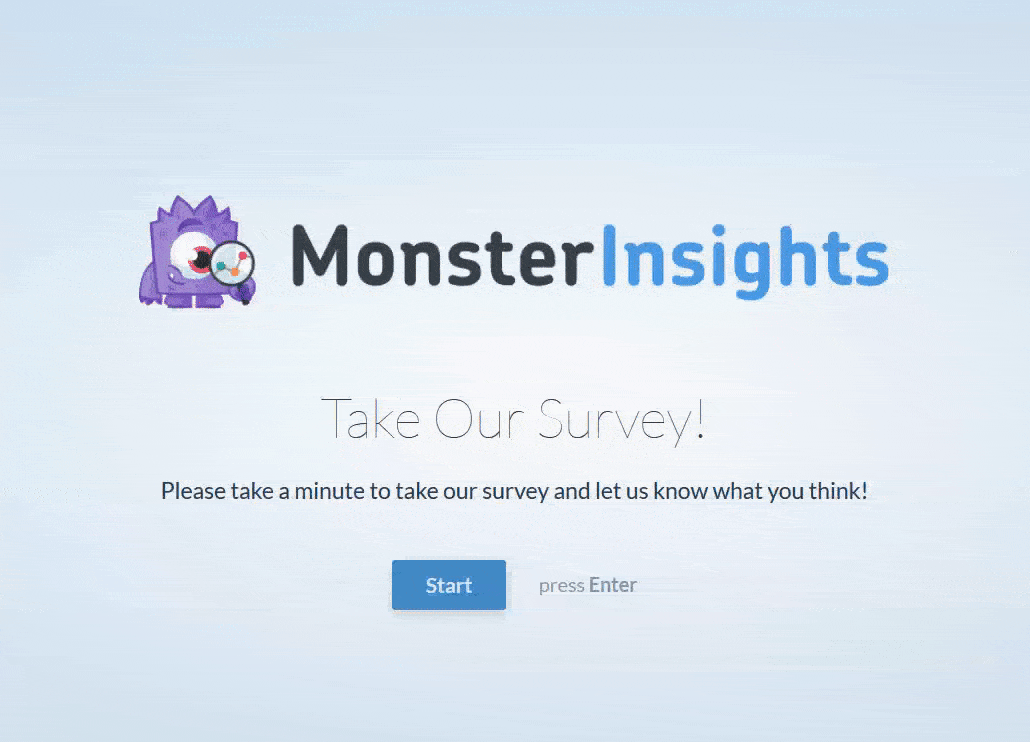 To create conversational forms, go to the WPForms » Addons page and install the Conversational Forms addon.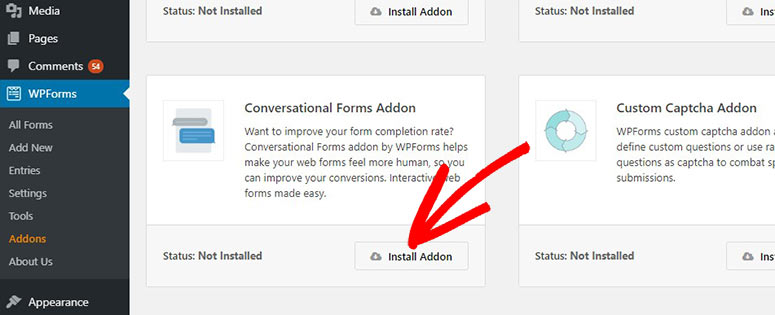 Next, create a new form or edit an existing one to access the WPForms form builder.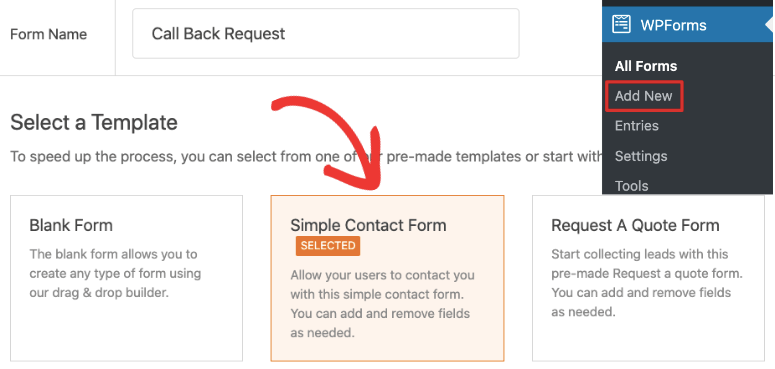 Inside the builder, open the Settings » Conversational Forms tab. You'll see a checkbox to enable conversational form mode.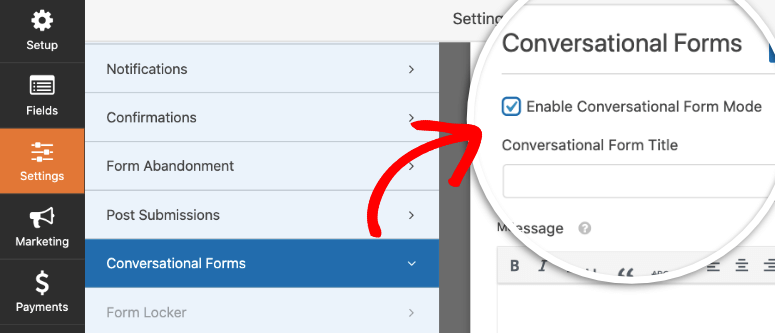 Once this box is checked, you'll see more options to add a title, message, and custom branding for your form.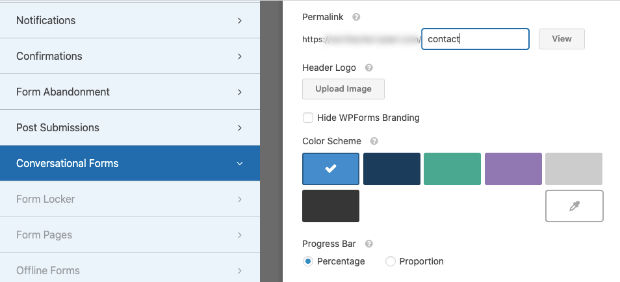 You'll also need to create a permalink for the form here. This will let you share the form on your site, in emails, and on social media.
Lastly, WPForms displays a progress bar for users to see how much of the form they've completed. You can also choose to display a percentage of the number of questions completed.

With that, you've created a beautiful engaging form that feels like a conversation.
3. Use Templates To Keep Forms Simple
If your form has unnecessary fields and asks for too much info, it can annoy users. Using the MonsterInsights form tracker, you can find out if lengthy forms are left incomplete.
To make improvements here, you need to keep your form simple and collect only the data you need.
WPForms comes with 150+ templates that minimize the fields required so your visitors aren't overwhelmed by how much they have to fill out.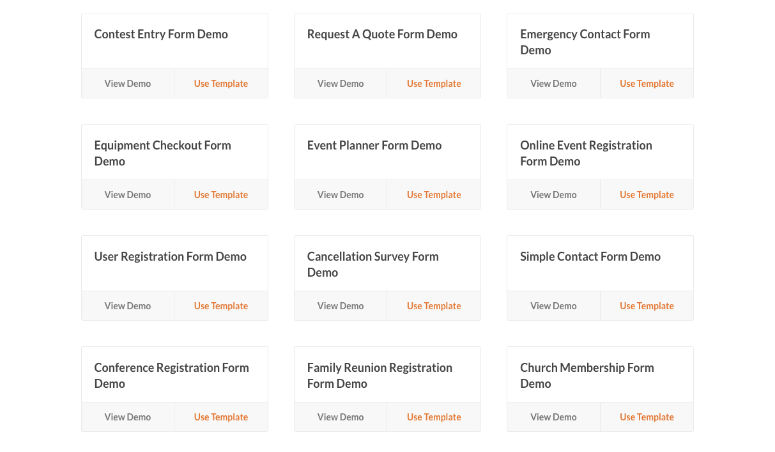 These templates are designed to collect only relevant data to maximize form completion.
You can access the templates by navigating to the WPForms » Add New page.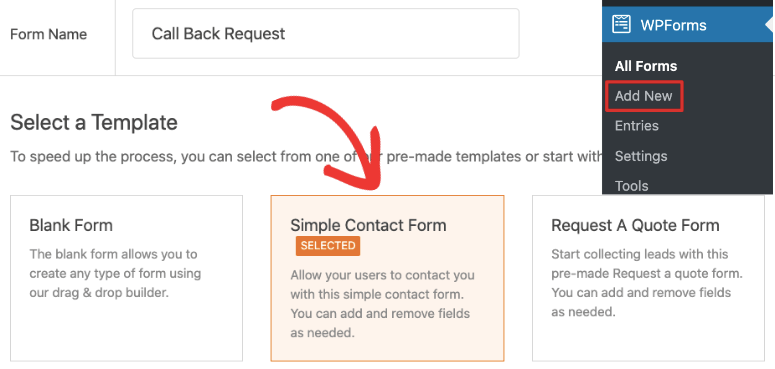 Simply select the template you want and the form builder will open where you can easily customize the form.
4. Create Smart Forms With Conditional Logic
To improve the user experience of your forms, WPForms lets you enable smart conditional logic.
This allows you to show or hide fields based on the user's answer to the previous question.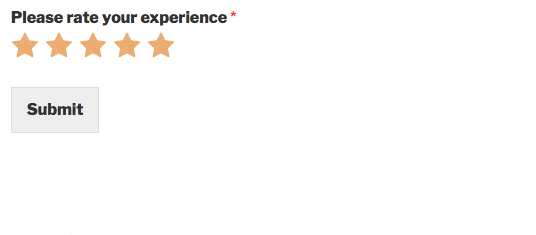 This feature is also helpful when you want to reduce the length of the form.
For instance, in surveys and feedback forms, you can ask customers if they liked your services. If they say yes, you can ask them to leave a review.
But for those that say no, you can ask them follow-up questions about what didn't they like and how you can improve.
To enable smart conditional logic, in the WPForms form builder, select a form field. Then, in the left column, scroll down to find the Conditionals section.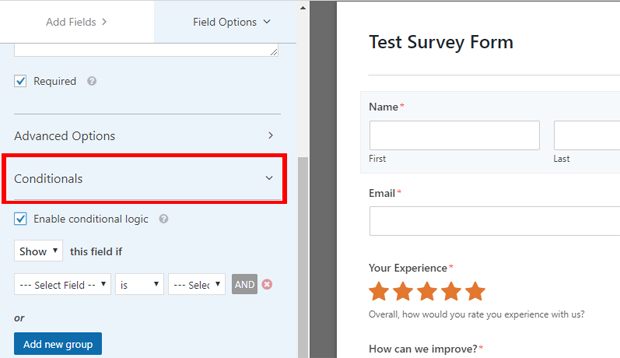 Open the drop-down menu and check the box to enable conditional logic.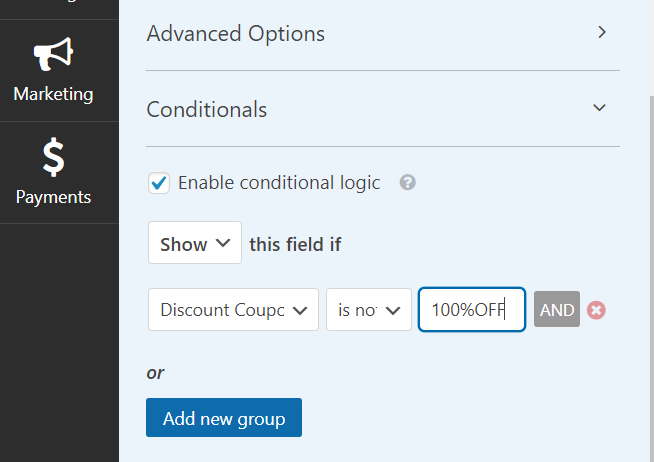 Then you can add condition rules to display different questions or fields based on the user's answers.
With conditional logic, you can create smart and powerful forms to increase conversions.
5. Improve Form Security to Build Trust
Many customers abandon forms because they feel their information isn't safe. By adding a CAPTCHA check to your forms, you can boost your site's credibility.
CAPTCHA helps protect your forms against spammers and hackers. It does this by asking users to solve a puzzle or check a box to prove they are not a robot before they are allowed to submit the form.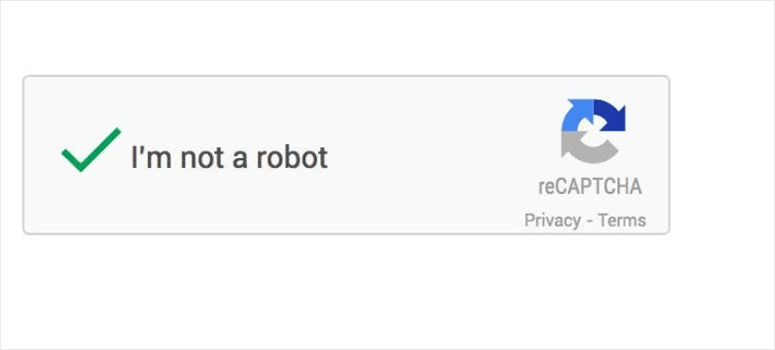 You'll find the option to add CAPTCHA to your forms in the WPForms » Settings tab.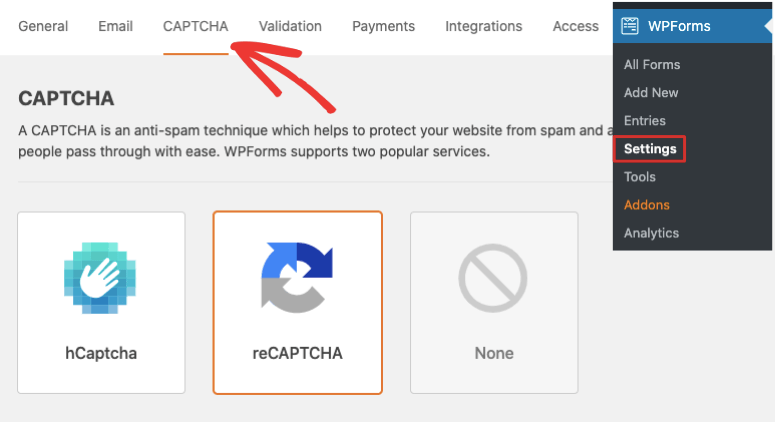 WPForms supports hCaptcha and reCAPTCHA. Once you enable it here, you can add the CAPTCHA field to your form in the form builder.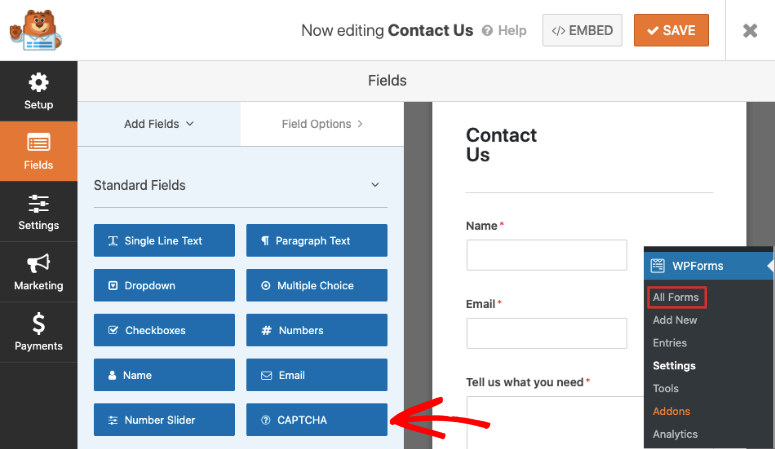 This shows users that your site is safe to engage with and will increase form conversions.
For step-by-step instructions on this, follow our guide on adding CAPTCHA to your forms.
And with that, you've learned to reduce form abandonment with WPForms. WPForms is the only tool you need to create high-converting forms, reduce abandonment, and boost revenue.
Get started with WPForms today!
Before we wrap up, we'll share a few bonus tips to improve form conversions on your site.
Bonus Tips To Improve Form Conversions in WordPress
While WPForms has awesome features to reduce form abandonment, there are a few steps you can take on your own to make sure your forms get the most conversions.
1. Use A/B Testing
A/B testing or split testing lets you try out two versions of the same form to see which one performs better.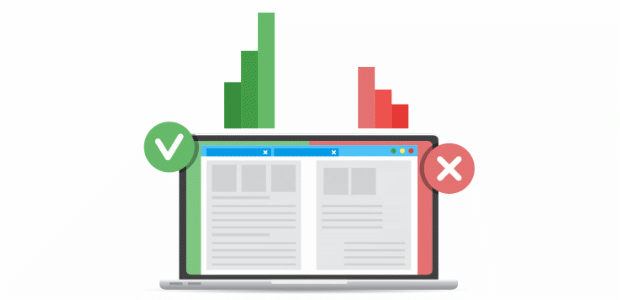 From the test results, you can find out what your audience prefers and tailor your forms accordingly.
You can use MonsterInsights to run A/B tests on your forms. Simply activate the Google Optimize addon to get access to A/B testing.

Then you can set up different versions of your form and run experiments.

You'll want to run your experiment for at least 2 weeks before checking the results to gather enough data. Then, you can view your results to see which one is the winner.
Learn more about this in our helpful guide to A/B split test your WordPress forms.
2. Make Your Forms Mobile-Friendly
Many times, forms look good on desktop and go haywire on mobile. In these cases, visitors are more likely to abandon mobile forms.
To avoid this, test your forms on all devices to make sure they look good and work correctly.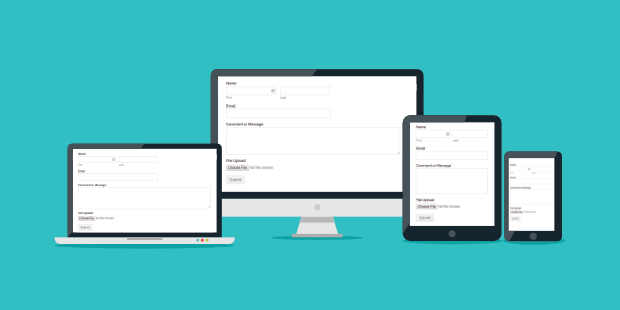 By default, WPForms templates are responsive and mobile-friendly. After you customize a form, it's best to check its performance on mobile and desktop before publishing it.
3. Use Exit Intent® Popups
Exit Intent® popups appear when a visitor is about to leave your site. So you can remind them that their form is incomplete and ask them to finish it before they go.
You could even make it simple by asking them to leave just their name and email address.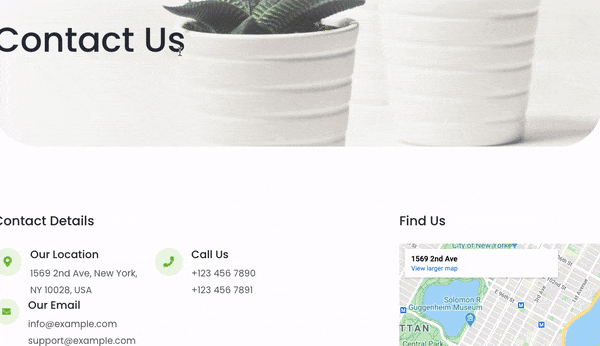 This way, you can reach out to them over email and build a relationship with them.
OptinMonster is hands down the best conversion optimization tool to create Exit Intent® popups.
It has 50+ templates to create popups in minutes. And it has powerful targeting rules so you can personalize your offers and messages to convert as many abandoning visitors as you can.
Want to see it in action for yourself? Sign up for your 100% risk-free OptinMonster account today!
4. Retarget Abandoned Users With Emails
Once you capture email addresses from partial form entries, you can reach out to them with email campaigns and get them to come back. If you send a retargeting email within an hour, it converts 20.3% of users.
This number drops to 12.2% after 24 hours have passed.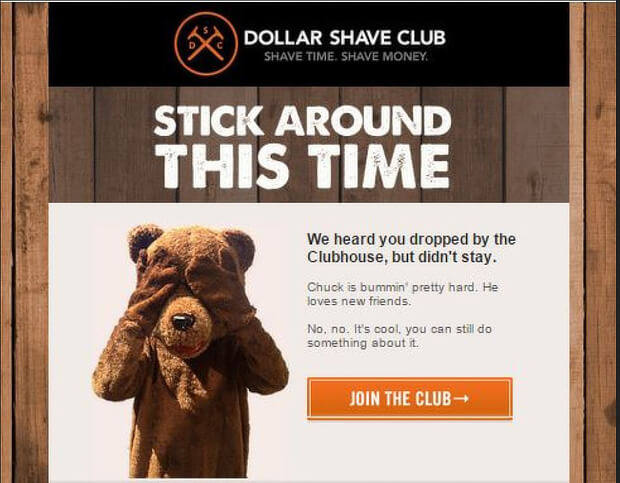 That said, we know not everyone has the time to follow up with abandoning visitors immediately.
That's where WPForms integrations come in. You can connect your form to popular email service providers like Constant Contact. Then you can create an automated email series to retarget visitors who abandoned a form.
You can even use WPForms to allow users to save form progress and resume later on your WordPress site.
And that's all we have for today. We hope you enjoyed our guide on how to reduce form abandonment and boost conversions.
If you're looking for more ways to optimize your form, check out our resources on:
These posts will help you improve your forms' performance to boost sales and conversions.