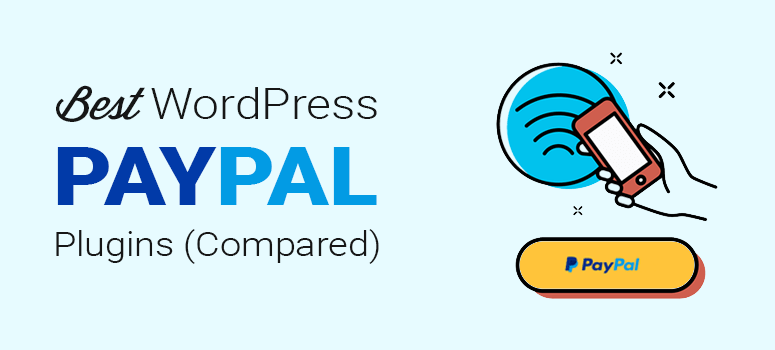 Are you looking for the best WordPress PayPal plugins?
PayPal is the most popular online payment solution in the world. It makes it easy to accept payments from your website for your products and services. You can find several WordPress PayPal plugins to collect payments, which makes it difficult for beginners to choose a perfect one for their site.
In this article, we'll share some of the best WordPress PayPal plugins to collect payments from your site.
Choosing the Best WordPress PayPal Plugin
There are dozens of free and paid PayPal plugins available in the WordPress repository. To accept payments on your website, you can choose a plugin based on your requirements.
We list down some of the key factors that you should look for in a WordPress PayPal plugin:
A simple payment collection form
Express and secure checkout solution
Recurring payment subscription
Compatibility with WordPress themes and plugins
Custom styles for PayPal button
Multilingual support
Integration with email marketing services
The best WordPress PayPal plugin can offer a lot more. It depends on your need and requirements for online payment collection.

WPForms is the most beginner-friendly WordPress contact form plugin. It comes with a drag and drop form builder that lets you create any type of form in WordPress. You can use this plugin to create custom PayPal forms and accept online payments.
With WPForms, you can easily integrate payment gateways like PayPal and Stripe. The plugin allows you to link your PayPal account with any form. So you can create contact forms or registration forms with PayPal payments with ease.
You can also fully customize the form and buttons to match your website's theme. It gives you complete control over colors, fonts, and background. When the users submit the form, you can redirect them to any landing page, or a custom thank you page.
The form fields are easy to customize. Plus, you can add information/details next to each field. It has an option to make the required fields that are mandatory for users to fill. For the payments, you can either display a predefined amount or let users select the custom amount. This comes in handy for non-profit organizations to collect donations.

PayPal Pro and PayPal Express is a premium WordPress PayPal addon for the popular Easy Digital Downloads plugin. The add-ons help users securely checkout after paying for their purchases.
You can use these addons for recurring payments, multiple currencies, and in-context checkout.

WordPress Simple PayPal is an excellent PayPal plugin for WordPress eCommerce sites. It allows you to add an 'Add to Cart' button to your product pages, posts with products, and any page in WordPress. You can use this plugin to convert your simple website into an eCommerce store quickly.
The plugin is perfect for small online stores that need a simple solution to accept payments without the bloat.

PayPal Buy Now Button is a simple WordPress PayPal plugin. You can use this plugin to add a buy now button to your WordPress pages or posts or wherever you want to sell something. The users can connect their PayPal account to make payments easily.
It also allows your users to pay using their credit or debit cards. The best part is that you don't need to create an online store to sell your products. Rather, all you have to do is to install this plugin and embed the buy now button anywhere on your website.

WP Easy PayPal Payment Accept is a super flexible WordPress PayPal plugin to accept payments on your website. It comes as a widget and shortcode to add PayPal buy now or donation buttons anywhere including the sidebar, footer, posts, and pages.
Configuring this plugin is super easy. It supports multiple currencies to accept payments from your users. The users can also specify a reference for the payment, add a payment subject, and insert custom amount especially for donations or crowdfunding.

WordPress PayPal is another PayPal plugin for WordPress sites to start your eCommerce stores quickly. With shortcode, you can add payment buttons such as Add to Cart, Buy Now, Donation or Subscription.
The plugin supports PayPal Sandbox to test the features before you share it with real users. You can create test buyer and seller accounts to make dummy transactions and make sure everything is running smoothly.

PayPal Events is a smart WordPress PayPal plugin that lets you sell tickets for your events. It allows you to add the payment button on your event's page using a shortcode. It works seamlessly to generate e-tickets for users with QR codes. You can use any QR scanning app on your mobile phone to scan the tickets at the event.
The plugin automatically emails tickets to buyers. It comes with multiple PayPal button layouts, PayPal windows, and more.

PayPal Donations is a free WordPress PayPal plugin to add a donation button to your website. You can use a shortcode or sidebar widget to display a button and accept donations. The plugin streamlines the fundraising process to support your cause.
It allows you to customize the page where you're adding the PayPal donation button. You can also add a 'Thank You' page to show gratitude to your donors.

PayPal Donation is another free PayPal plugin to collect online donations on your WordPress website. It allows your users to choose a donation amount and enable recurring payments with their PayPal account or credit card. The plugin is shipped with a widget to add a donation button to your sidebar or widgetized area.
You can create multiple buttons in different languages and styles. The plugin also supports popular currencies to accept donations from all over the world.

PayPal Express Checkout is a premium-like free WordPress PayPal plugin for express checkout. You can install this plugin on your WooCommerce store or any WordPress eCommerce site to sell products. It skips the order review or summary page to complete the checkout quickly.
It enables your users to pay with their credit cards, debit cards, and PayPal money.
Bonus: WPSimple Pay
If you're looking to add more payment methods to your site. in the most simplest way, we recommend WP Simple Pay. It is a powerful payments plugin that lets you accept one-time and recurring Stripe payments on your WordPress site. And, all of that without having to set up a WooCommerce store and a shopping cart.
With WP Simple Pay, you can seamlessly integrate your site with Stripe payment service without hiring a developer. It comes with a user-friendly interface so anyone can start selling products straight from their website. No need to touch a single line of code.
It even lets you accept payments via Google Pay, Apple Pay, and other non-card payment services as well. Read more in our review: WP Simple Pay Review.
We hope this article helped you find the best WordPress PayPal plugins. You may also want to check out our guide on best Stripe payment plugins for WordPress.