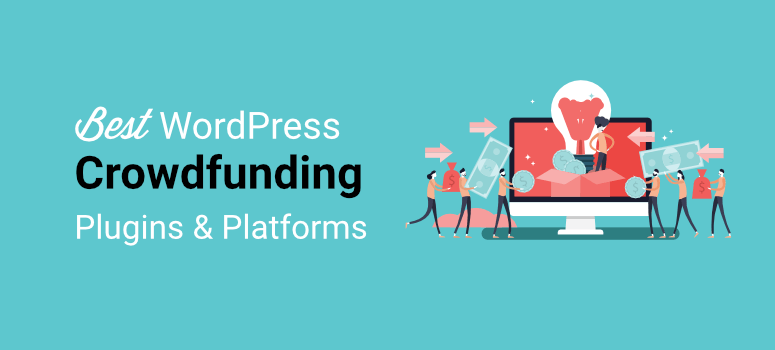 Are you looking for a seamless way to create fundraisers on your site?
Crowdsourced fundraisers can help you turn ideas into a real business. It's also an effective way to raise money for charity, relief funds, and special causes.
We've rounded up the best crowdfunding plugins for WordPress so that you can easily promote your cause, collect payments, and manage the campaign.
Choosing the RIGHT WordPress Crowdfunding Plugin
The right crowdfunding plugin will be unique to your needs. This means there's no plugin that's the absolute best. You need to pick a plugin to raise funds based on factors like:
What kind of fundraiser are you planning? Is it to develop a product or is it for charity?
What payment methods do you want to provide?
Would you need recurring payment options?
Do you need to issue receipts and confirmation emails?
Do you want to collect email addresses for your marketing campaigns?
So before we get started, you need to consider the different factors that could affect your decision.
We've selected plugins that are easy to use, affordable, and highly customizable as well.
Best WordPress Crowdfunding Plugins
Here's our top pick of the best WordPress plugins to run successful crowdfunding campaigns online.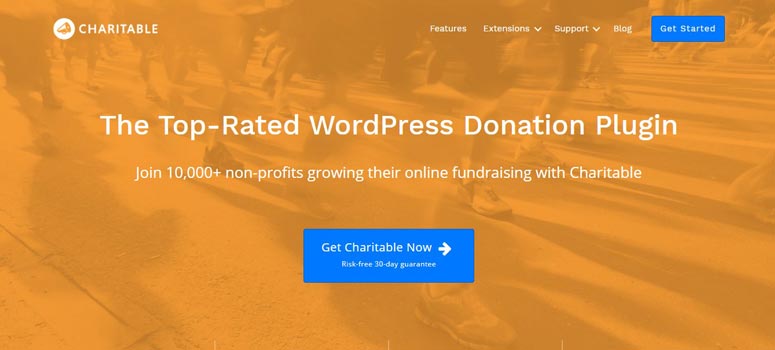 The Charitable WordPress plugin makes crowdfunding easy and affordable. You can create stunning campaigns in minutes and there are zero transaction fees.
The plugin lets you create campaigns with time-sensitive goals or monetary goals.
You can create as many crowdfunding campaigns as you want. And the best part is that the campaigns inherit your theme's style. So your campaigns will seamlessly integrate with the rest of your site.
For more details, see our full WP Charitable Review.
Key features
Provide suggested amounts or allow donors to select their own
Load modal form modes
Embed donation forms on any page
Collect payments through PayPal
Add offline payment options
GDPR-ready
Send donation receipts and admin notifications
Pricing
Starts at $119 per year.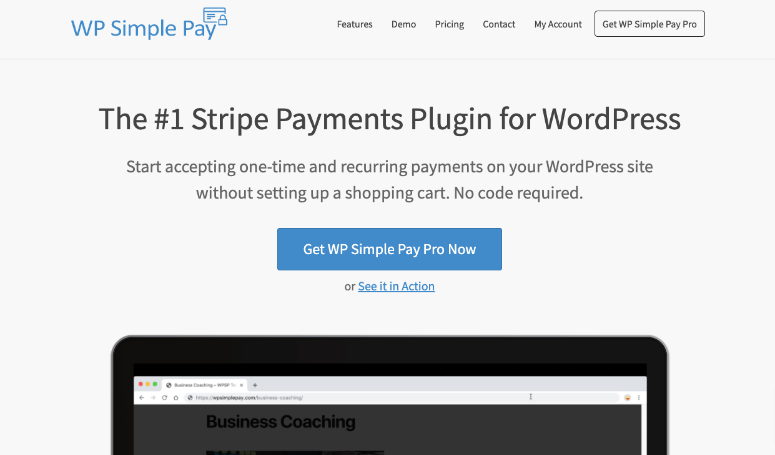 WP Simple Pay is the best payments plugin for WordPress. It lets you accept payments for fundraisers, donations, products, merchandize, and much more.
WP Simple Pay acts as an all-in-one crowdfunding solution. You can create payment forms, add subscription options, offer installment plans, and charge initial fees. You can even offer a trial period after which the customer will be charged.
You won't need to set up a complex eCommerce platform or add a shopping cart to your site. Once you install this plugin, you can accept secure payments through Stripe. You can also add Apple Pay and Google Pay modes of payment.
Built with user experience in mind, the payment process is optimized to work seamlessly on mobile, tablet, and desktop. Donors can also choose to donate a set amount or enter a custom amount they wish to contribute.
Need more details? See our WP Simple Pay Review.
Key features
Supports Stripe, Apple Pay, Google Pay, non-card payments, and more
Simple yet completely secure payment processing
Multi-language and local currency support
Fully customizable payment form
One-time and recurring payments
Pricing
Starts at $99.50 per year.
Get started with WP Simple Pay!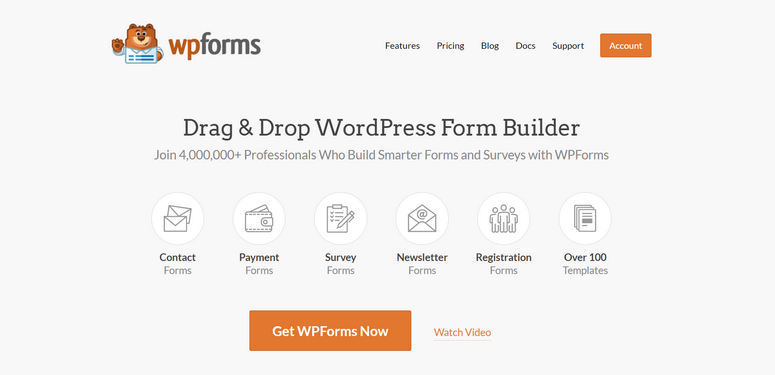 WPForms is hands down the best form builder for WordPress. It lets you create donation and fundraiser forms in a matter of minutes.
Inside WPForms, you'll find templates that are prefilled with the form fields you'll need to get started with fundraising.
Then, there's an intuitive drag and drop builder to customize your form the way you like.
You can enable payment options like PayPal, Stripe, and Authorize.Net with just a few clicks.
And if you need to send donation receipts, WPForms lets you set up automated email confirmations and other custom notifications.
Added to that, if you have long donation forms, you'll likely see abandoned and incomplete forms. WPForms has features designed to overcome this. First, there's conditional logic that lets you display questions dynamically based on the user's response.
You'll also find advanced features like distraction-free form mode, conversational forms, and captcha protection to improve form completion rates.
Key features
Incredibly easy to use (front end and backend)
Multi-purpose form builder with plenty of addons
Integrates with email marketing services
Secure payment options
One-time and recurring payment
Built-in spam protection
Pricing
Free version available. Paid plans start at $39.50 per year. WPForms offers a special discount for nonprofit organizations.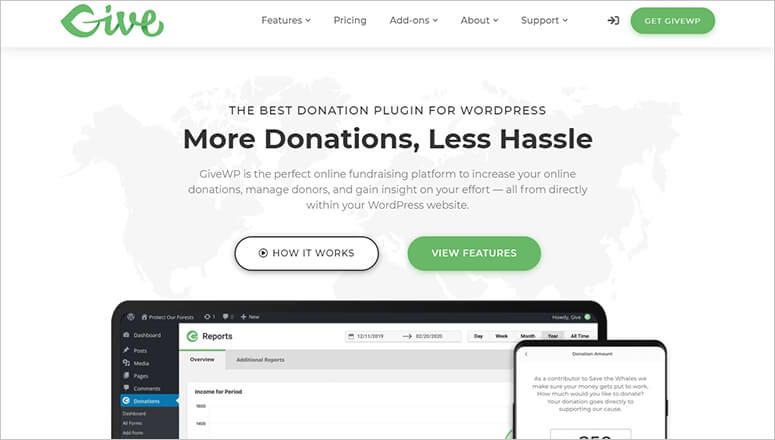 GiveWP is the best WordPress donation plugin to raise money online. It's at the top of this list because it has all the features you'll need to run successful full-fledged fundraisers.
All you have to do is create and customize donation forms for your website. Then users can make donations through 18+ payment gateways.
It also lets you set up recurring donation payments if you want to use a subscription model. Plus, GiveWP supports text-to-give options to make it even easier for donors to support your cause.
GiveWP comes loaded with full-featured reporting and powerful donor management. And the best part is there are no added fees!
For more details, you can check out our GiveWP review.
Key features
Multiple display options with custom funding goals
Recurring donation subscriptions
Integrate with popular third-party tools
Generate donation tax receipts
Send donors custom PDF receipts
Pricing
Starts at $249 per year with a 30-day money-back guarantee.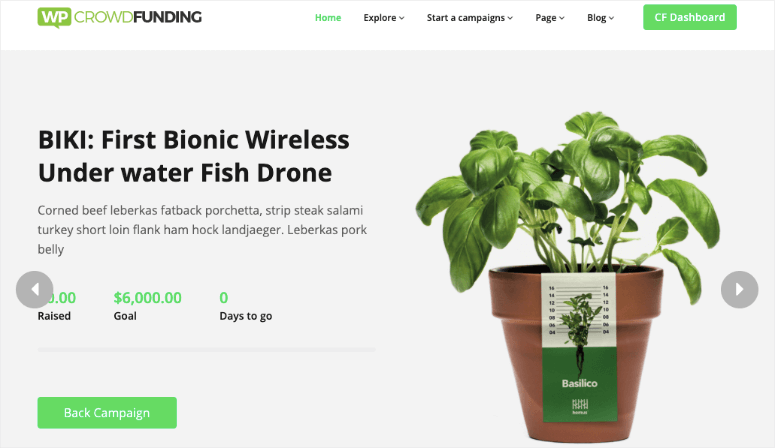 WPCrowdfunding by Themeum is the perfect solution for those who want to create a crowdfunding website that's similar to Kickstarter, Indiegogo, or GoFundMe.
You can set target goals and campaign end dates. This will allow users to see how much has been raised so far and how much is left to reach the target.
You can display campaigns by categories and what's trending at the moment. The platform also lets you track the progress of your campaigns.
Built-in campaign creator for users to get started quickly
Tracking and reporting
Integrates with Stripe, PayPal, and Authorize.Net
WooCommerce support
Pricing
There's a free version of the WPCrowding plugin though it's limited. The pro version starts at $149 per year.
Get started with WPCrowdfunding by Themeum!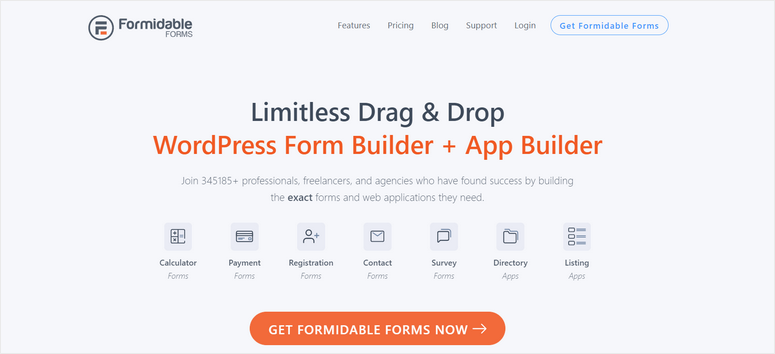 Formidable Forms is an advanced WordPress form builder that lets you create donation forms to collect money online. It's beginner friendly and comes with premade templates to help you get started.
Once you start collecting funds, you can view donation stats. There are beautiful graphical charts to see your campaign's performance.
If you need to use your campaign info on other platforms, you can easily export your data and use it outside of WordPress.
Key features
Templates and a drag and drop builder
Payment integrations
Polls and surveys
Conditional logic functionality
Pricing
Starts at $39.50 per year.
Get started with Formidable Forms!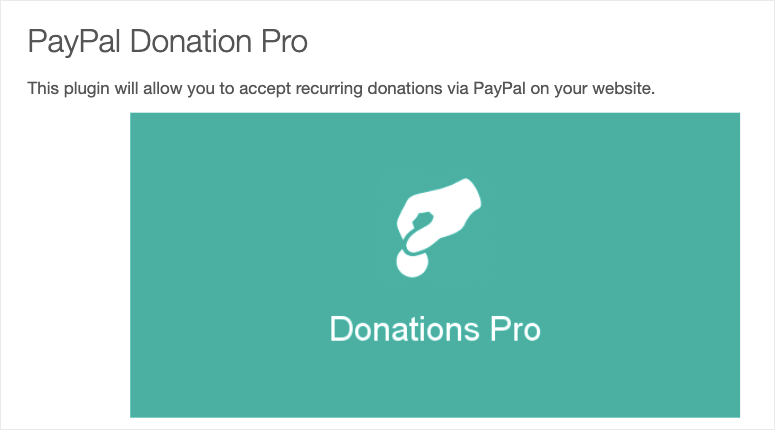 PayPal Donation Pro is a WordPress fundraising plugin that lets you accept recurring donations using PayPal. The setup is quite easy. You need to install the plugin, enter your PayPal details, and add a donate button to your WordPress site.
Once you do that, users can click on this button and donate to your cause. While you accept payments in your PayPal account, donors don't need to have a PayPal account. They can use their credit card instead.
The downside to this plugin is that you'll need to use a shortcode to add the donation option to your WordPress website. And another thing to keep in mind is that PayPal charges a fee of 2.2% + $0.30 in the United States. This may vary by country.
Key features
Simple set up
User-friendly frontend
Accept recurring donations with PayPal business account
Lots of tutorials and documentation
Pricing
Starts at $39.99 per year.
Get started with PayPal Donation Pro!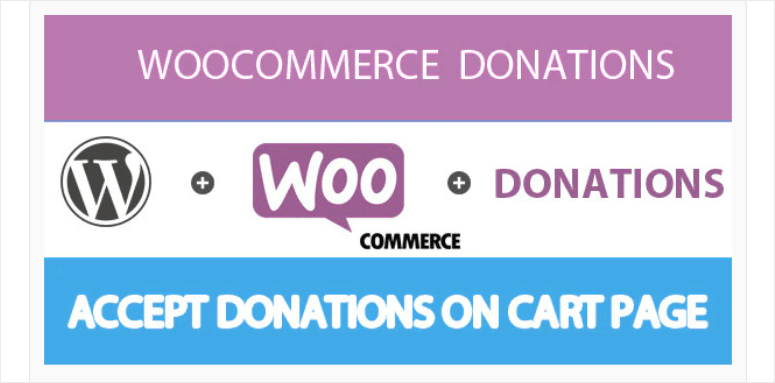 WooCommerce Donation Plugin lets you create fundraiser campaigns just like you would create eCommerce products. It's super easy to use making it a top beginner's choice.
Donors can add the fundraiser campaign to cart and checkout. They can also add any amount they wish and make the payment.
When you activate the plugin, you'll find the 'add donation' field appear on your cart page. So if a user skips the cart page and goes directly to checkout, they'll see the donation option here too.
The plugin easily integrates with any template design making it easy to add the donation feature to your existing site.
Key features
Beginner friendly interface
Customization for campaigns and calls to action
Simple reports
Seamless integration with WooCommerce plugin
Pricing
Costs $19 (+taxes) with 6 months of support.
Get started with WooCommerce Donation Plugin!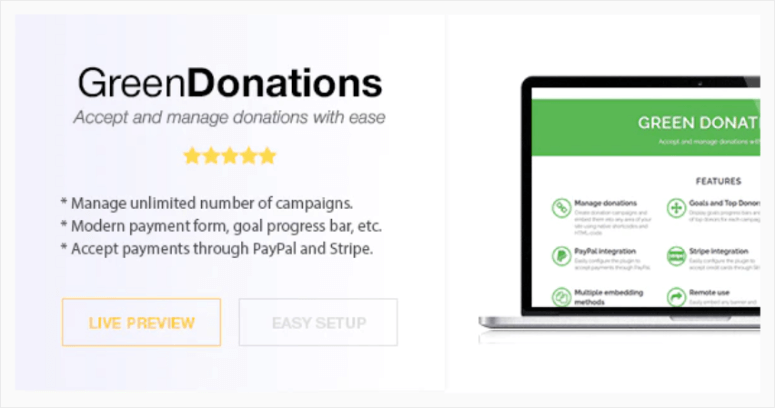 Green Donations is a simple WordPress plugin to accept and manage donations online. It lets you create as many crowdfunding campaigns as you like. Plus, you work directly with donors so you won't incur commission fees from 3rd party donation services.
Once you set up your fundraisers, you can embed them anywhere on your site using widgets, shortcodes, and HTML.
When users view a campaign, they'll see a goal progress bar and a list of top donors. They can contribute through PayPal or Stripe. And as soon as the payment is made, they'll get an email notification to confirm the donation.
It's worth noting that the Green Donations plugin is optimized for performance so your site's speed will never be affected.
Key features
Easy to create and manage donations
SEO-friendly and performance optimized
Custom donation amounts
Multiple form embedding methods
Pricing
Costs $19 (+taxes) with 6 months support.
Get started with Green Donations!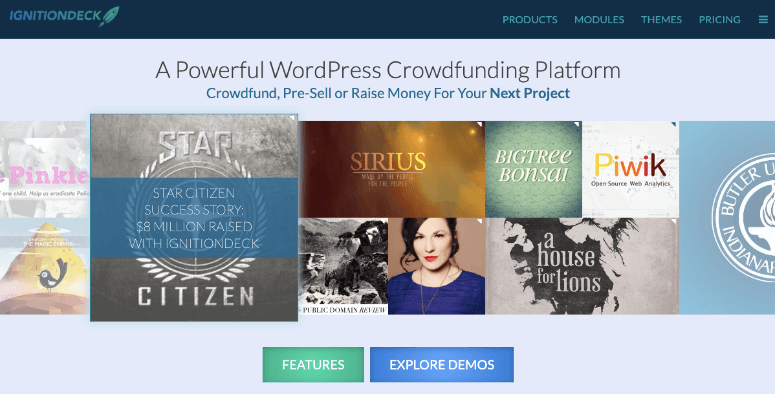 IgnitionDeck is a DIY crowdfunding platform for WordPress. It comes with a free WordPress crowdfunding theme that you can use to get started. Plus, it works with any WordPress theme so you can easily integrate it with your existing website if you prefer to do that.
You can allow users to create their own crowdfunding campaigns. And donors can instantly donate or pledge an amount towards their goal. This means you can create both immediate donations as well as backer crowdfunding campaigns to fuel ideas and potential businesses.
This platform is a great choice for those who want to reach a wide global audience and get investments for their startup idea. You'll be able to accept payments through PayPal Standard or Adaptive Payments in 24 currencies.
Key features
Mailchimp integration
Real-time statistics
Flexible campaign dates with stretchable goals
Manage contribution and reward levels
Social sharing and social media integrations
Translation ready
Pricing
Get started for free. Paid licenses start at $149 for 12 months.
Get started with IgnitionDeck!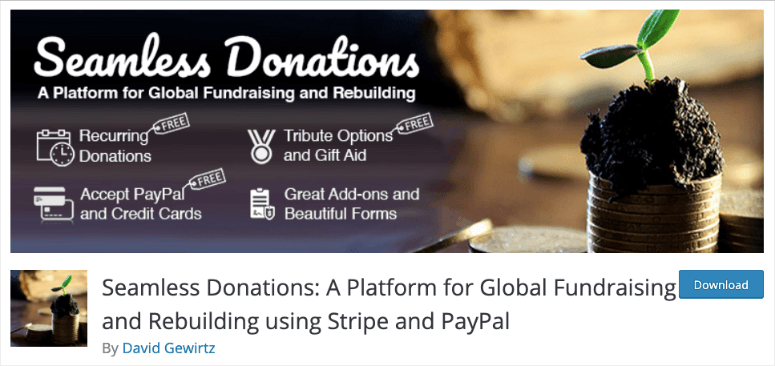 Seamless Donations is a user-friendly donation plugin for WordPress. You can configure your website to accept online donations in just five minutes.
The plugin is free to use and there's no commission or percentage fee.
With Seamless Donations, your users can choose to repeat their donations automatically so your cause will get regular support.
Key features
Reponsive forms
Donor and donation tracking
Cutomized emails and thank you messages
Tutorials and support team
Pricing
Free with paid extensions starting at $19.95 per year.
Get started with Seamless Donations!
There you have it! That's our list of the top WordPress plugins for crowdfunding and donations.
Which is the BEST WordPress Crowdfunding Platform?
After reviewing and comparing the best crowdfunding platforms, we give you our verdict:
WP Charitable is a complete solution for all crowdfunding platforms.
WP Simple Pay is the #1 choice for a simple, feature-rich, secure fundraising plugin. It has everything you need to create a professional fundraising site without any coding.
WPForms is a great option for those who want a simple donation form on their site
We hope you found this editorial roundup of crowdfunding plugins helpful. Next, you'll want to see these resources:
We've selected these posts to help you set up your crowdfunding site and get started with marketing to build a large audience for your campaigns.